Frushi is one of our all-time favorite Epcot Flower and Garden Festival snacks, and to celebrate the restock of our Lil Chef apron and tee this Monday at 10 AM, we thought we'd have our own anyone can cook party and recreate this classic Epcot dish!
This Monday night, we'll be going live on Youtube to make our frushi at home alongside all of you! More details on that later, but now we wanted to share the recipe so everyone could gather their ingredients to prepare for the event!
Ingredients
2 cups sushi rice, cooked per package directions
1 tablespoon cream of coconut
16 soy wrappers
16 fresh strawberries, hulled and quartered
1/2 cantaloupe, cut into four-inch-long by 1/4-inch-wide rectangles
1/2 pineapple, peeled and cored cut into four-inch-long by 1/4-inch-wide rectangles
toasted coconut
raspberry puree
whipped cream
Instructions
Cook the sushi rice. Let sushi rice cool slightly; stir in cream of coconut. Set aside to cool to room temperature.
Lay one soy wrapper on a flat surface. Place about 1/4 cup sushi rice on the soy wrapper, pressing with moistened fingers to cover the whole sheet.
Place one piece each of pineapple and cantaloupe, and four pieces of strawberry in the center of the rice-covered sheet.
Starting at one end, fold about 1/3 of the roll up, then roll the sheet into a cylinder, keeping the fruit in the middle. Moisten soy wrapper to seal.
Cut into 4 equal pieces
Garnish with raspberry puree, coconut, and whipped cream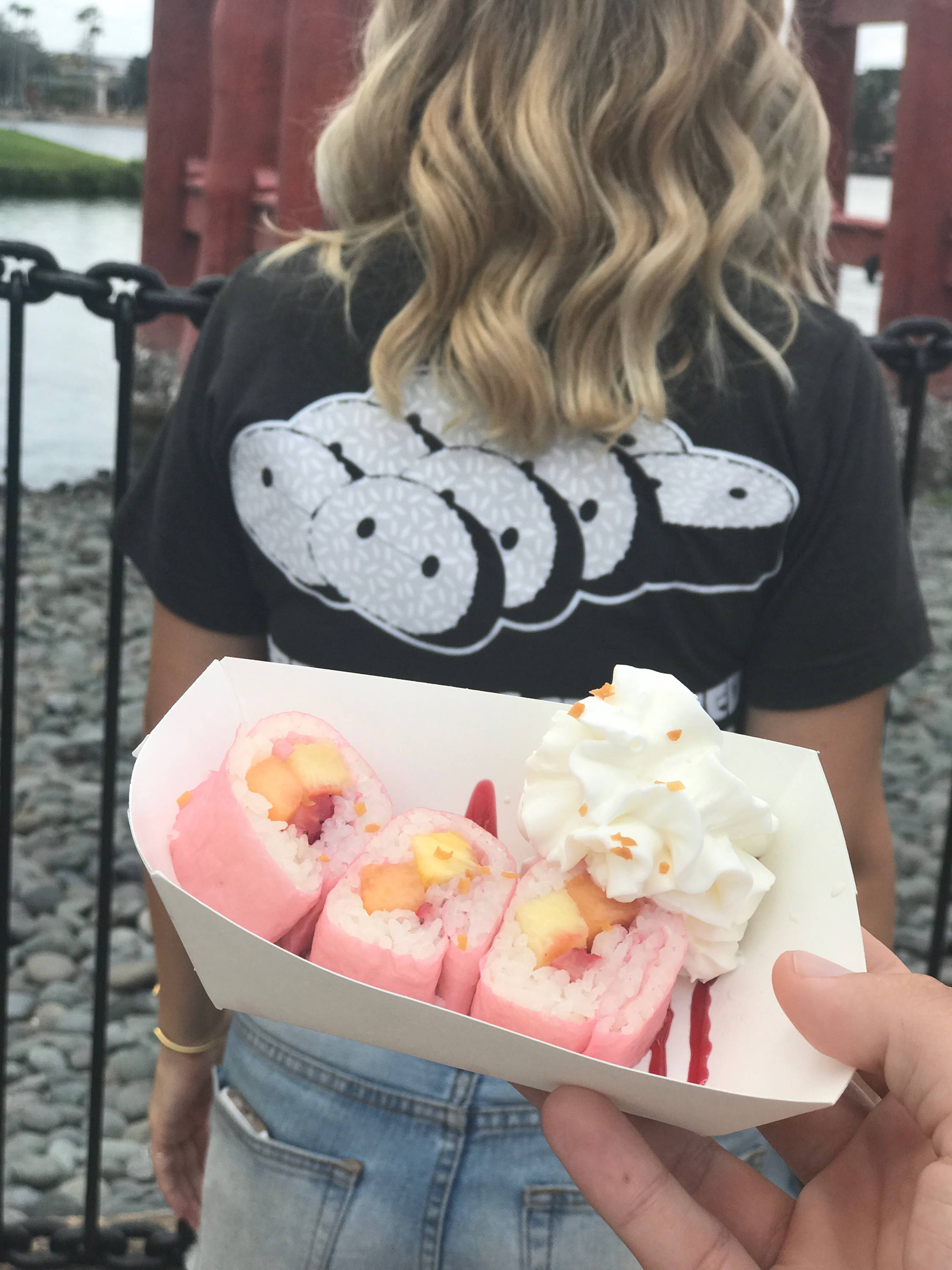 It's as easy as that! We're definitely gonna have to practice our sushi wrapping skills ahead of time. Don't forget to pick up tour Lil Chef tee and apron this Monday at 10 AM and we'll see you Monday night for our anyone can cook party!