Bar Riva at Disney's Riviera Resort is one of the best 'pool bars' at Disney World. After reopening along with the other Disney parks, we returned to the bar to revisit some old favorites. We returned to a highly modified menu with limited offerings, as well as new social distancing procedures in place which can be found resort-wide. We did get to enjoy the limited menu with some returning favorites, let's take a look!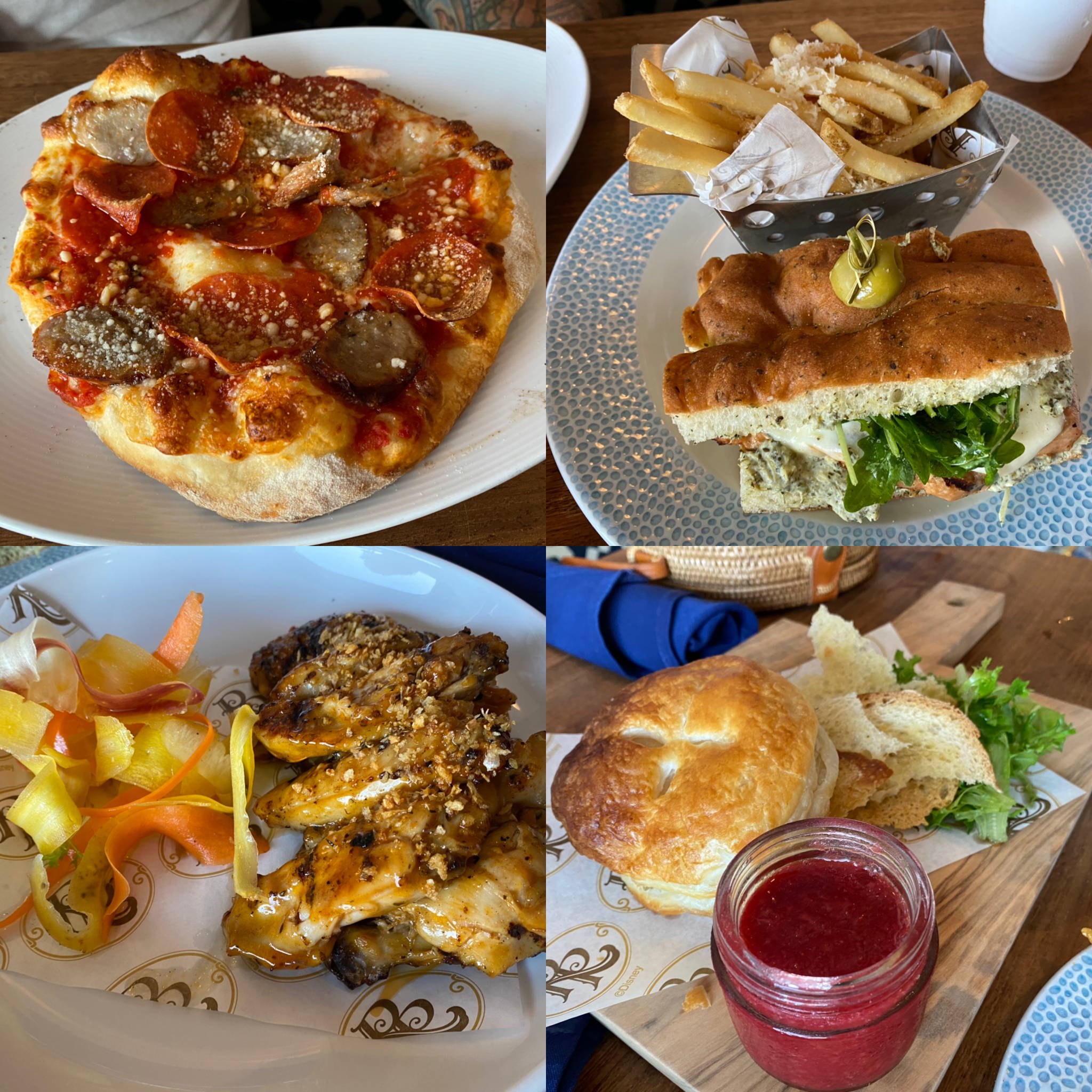 The limited menu is EXTREMELY limited. If you aren't looking for a salad, the Grilled Chicken Wings, Baked Brie in Puff Pastry, Spicy Italian Sandwich, and Grilled Chicken Sandwich are your only four options. Your two salad options are Greek Salad (you can add chicken or shrimp for extra) or Tuna Niçoise Salad. That's quite literally the only menu options currently available besides kids' meals. The most disappointing item to be absent from the menu is the famous Monte Cristo, which is temporarily unavailable. We went with the Grilled Chicken Sandwich, Grilled Chicken Wings, Baked Bri in Puff Pastry, and a Sausage and Pepperoni Pizza from next door at Primo Piatto (Pro Tip: you can get the full menu from Primo Piatto served at Bar Riva!).
The new safety measures ensure a safe guest flow for both guests walking up to the bar, and guests who are dining in at a table.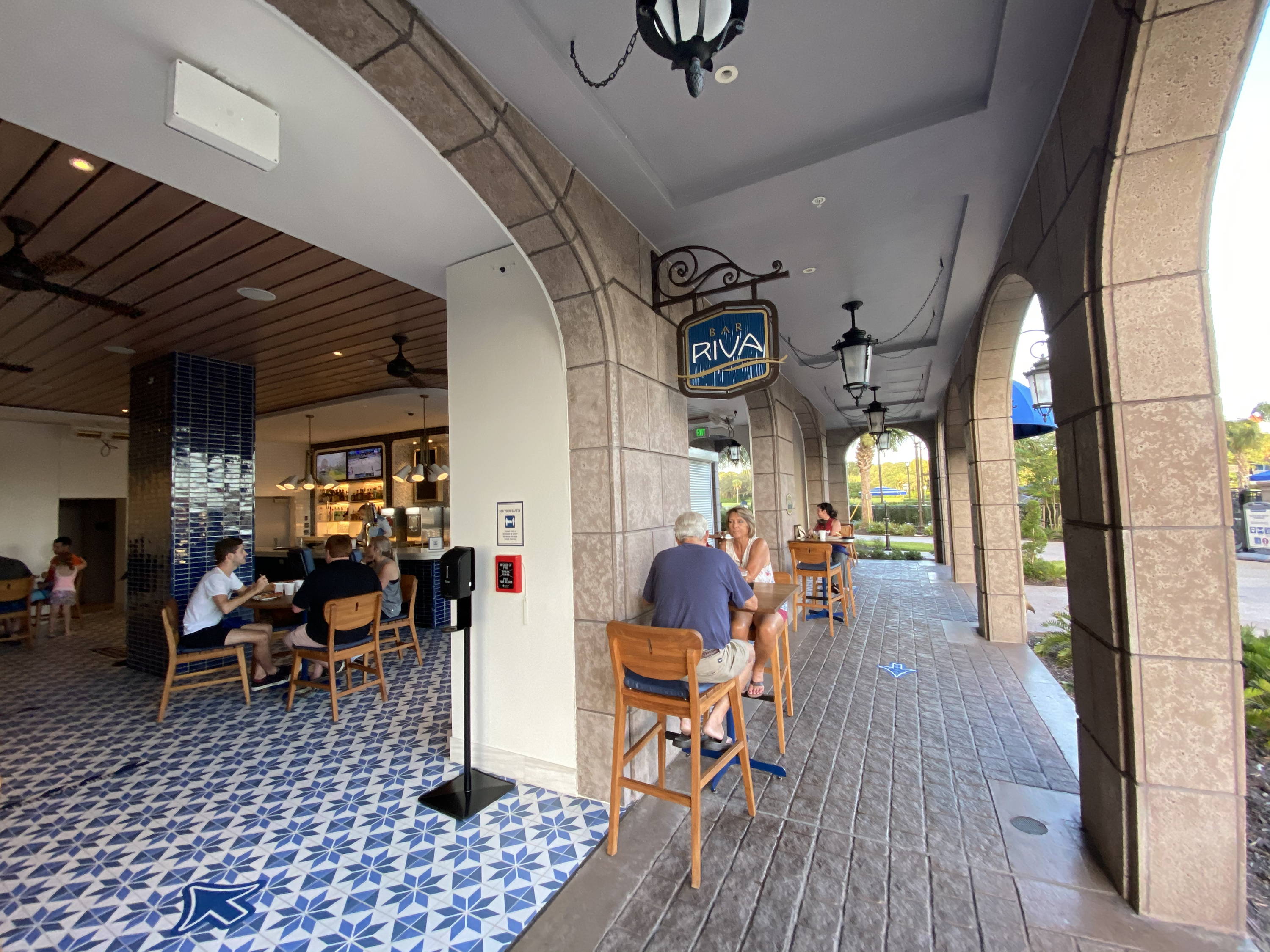 Seats are distanced from each other and directional arrows are in place on the floor to help guide guests in the right direction.
Hand sanitizer and social distance reminders are also in position at the door.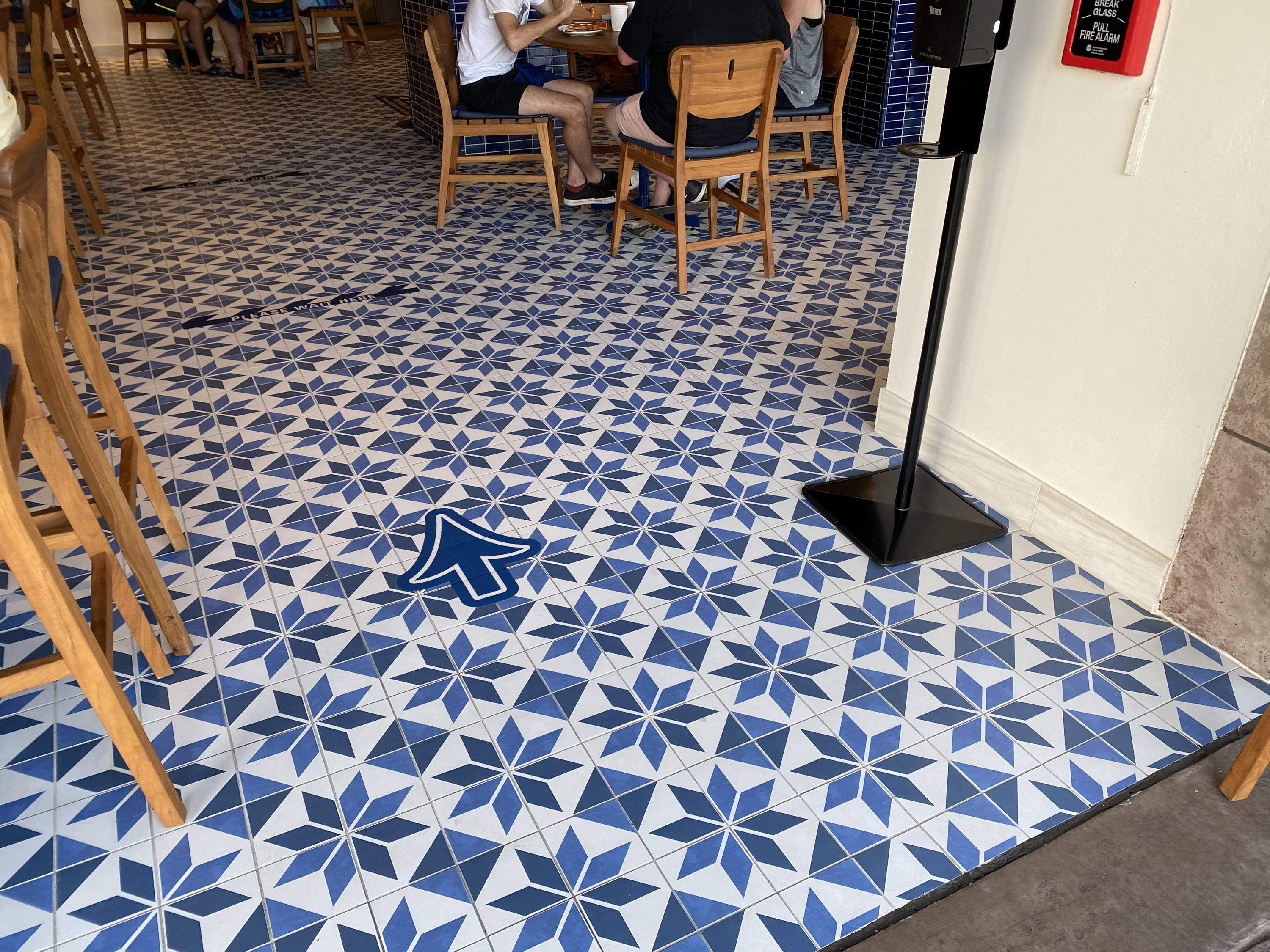 A closer look at the directional arrows that direct guests to the queue for service. social distance markers are also seen throughout most of the restaurant in case of long lines.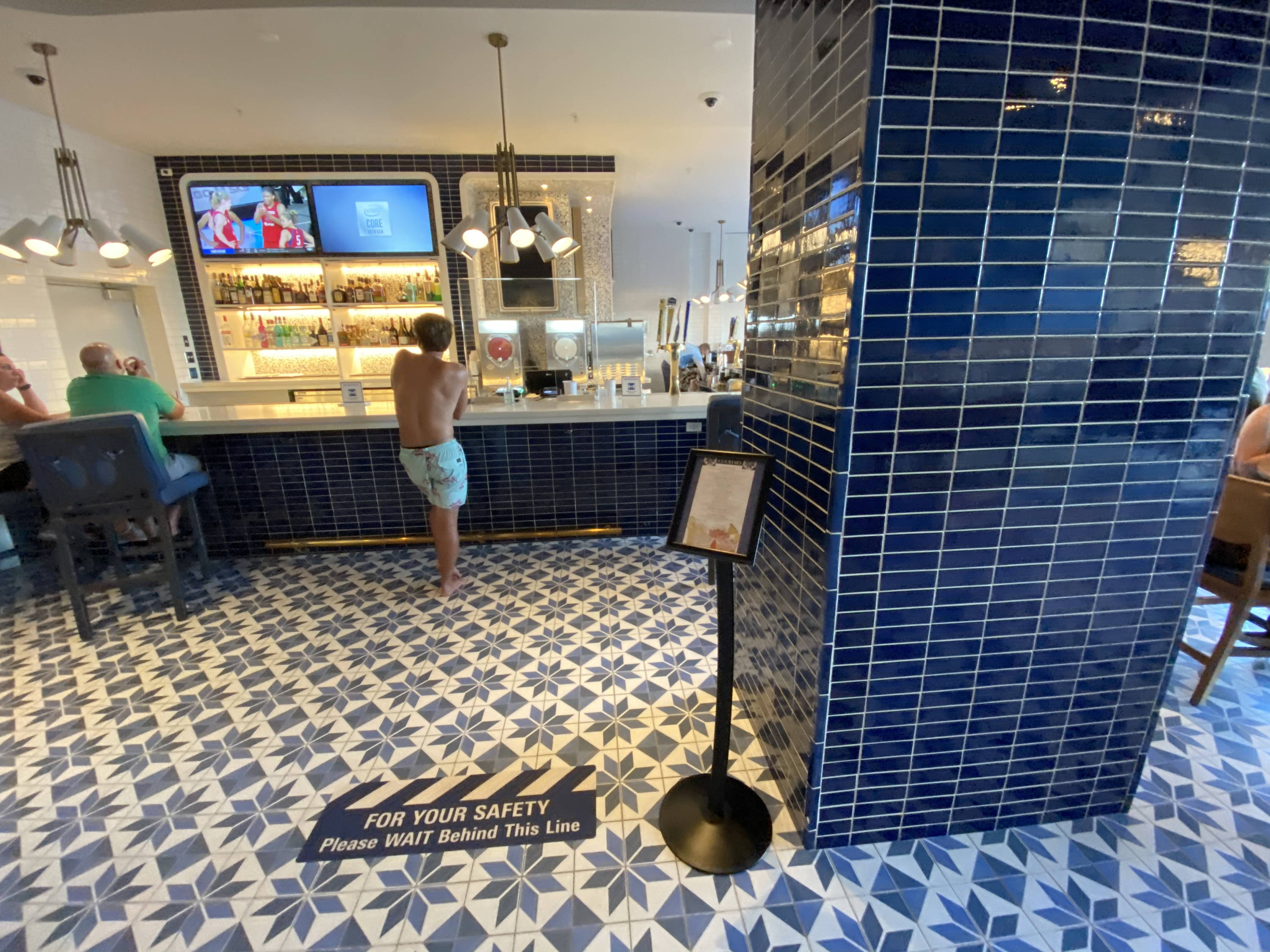 As you can see, the order area is divided with plexiglass and there's a cocktail menu on display for the next person in line to read.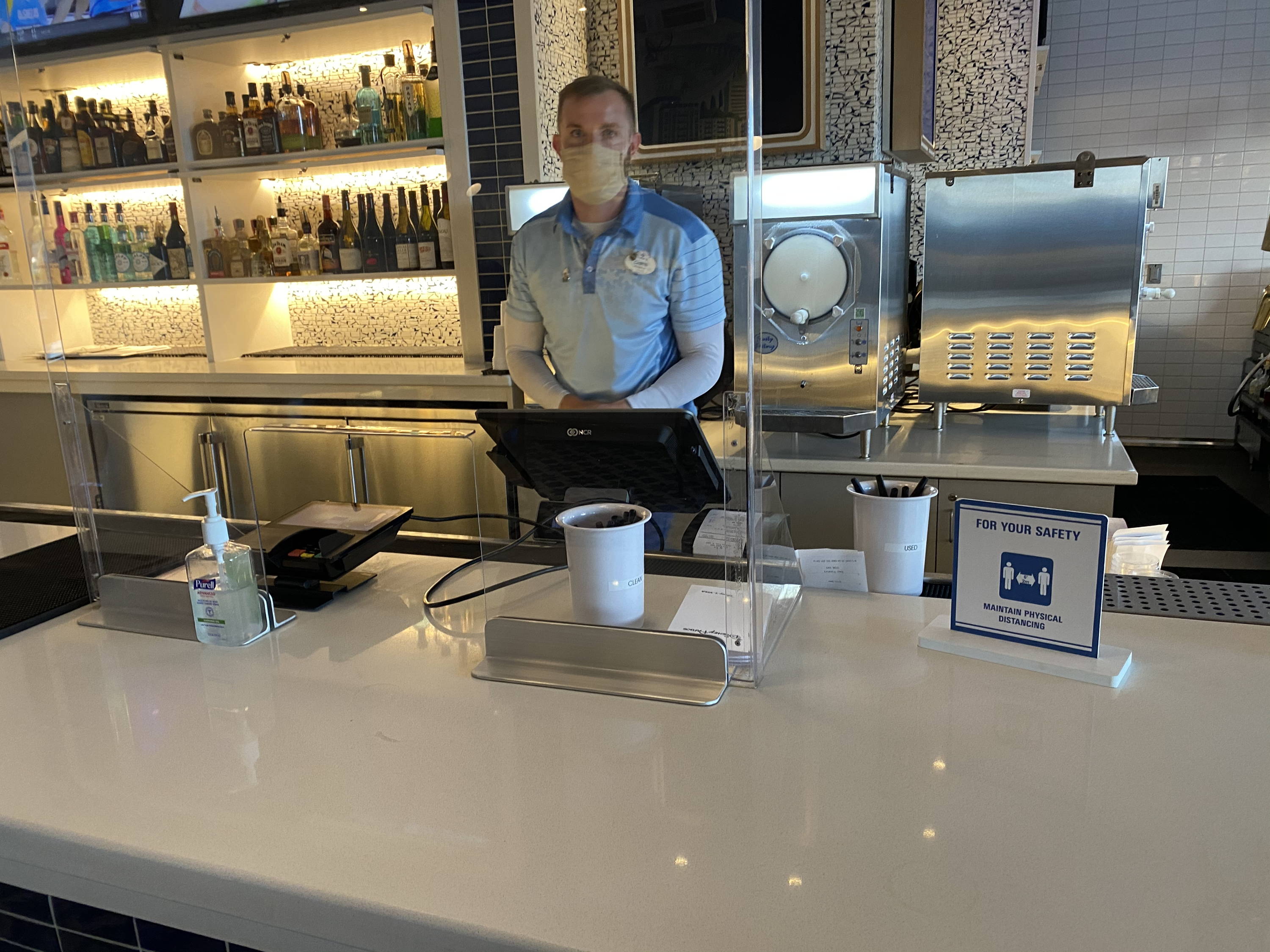 Here's a closer look at the divider and hand sanitizer station by the cash register. Special apology to the great Cast Member who had no idea I was taking a picture.
Sausage and Pepperoni - $11.99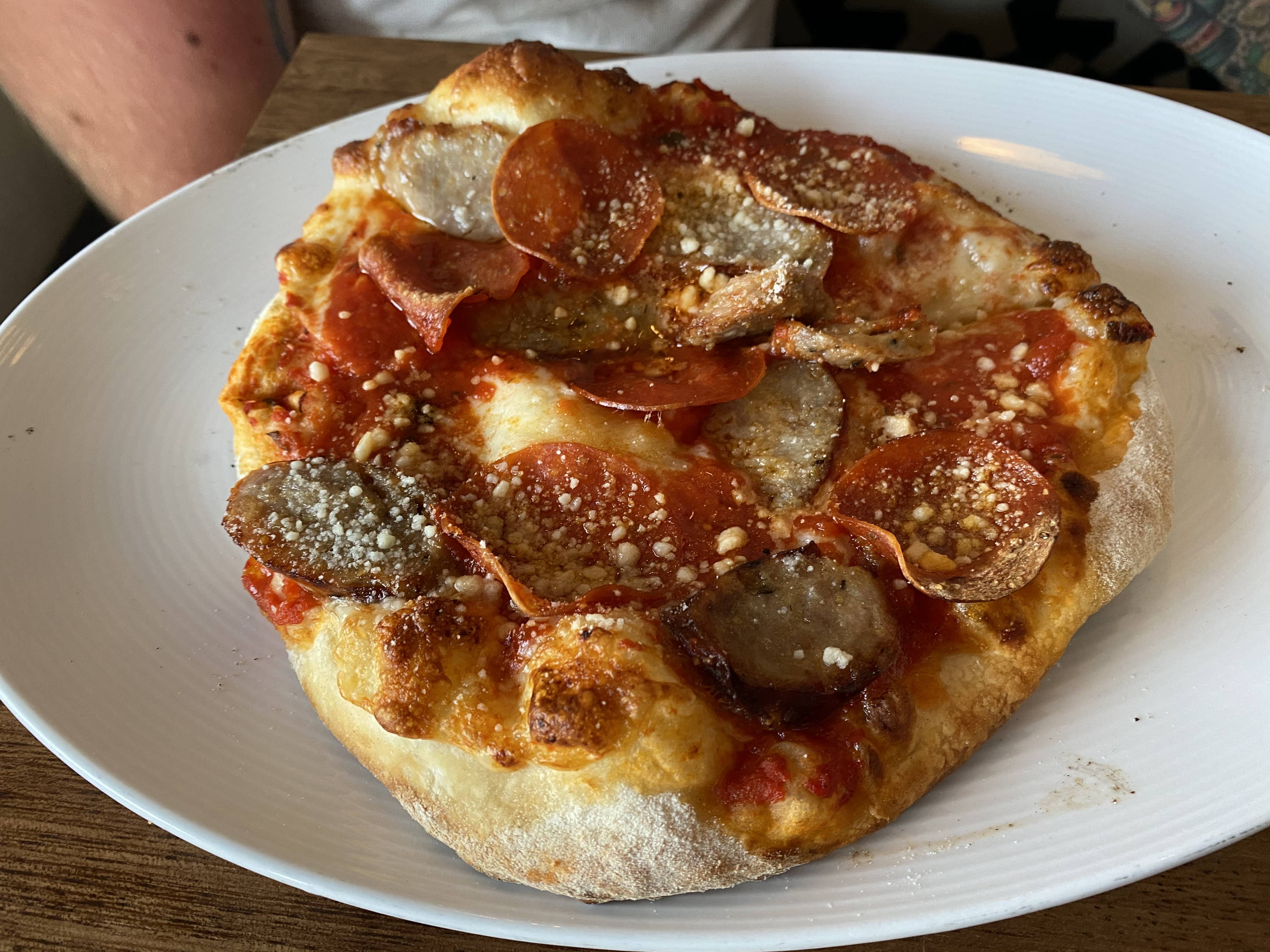 The Pepperoni Sausage Pizza is a small personal pizza. It was loaded with meats and while it doesn't come with a side, it's still the perfect size to fill you up for a lunch or dinner meal. The pizza was doughy and the cheese was melted well and overall a great choice for a safe dinner.
Grilled Chicken Sandwich - $12.49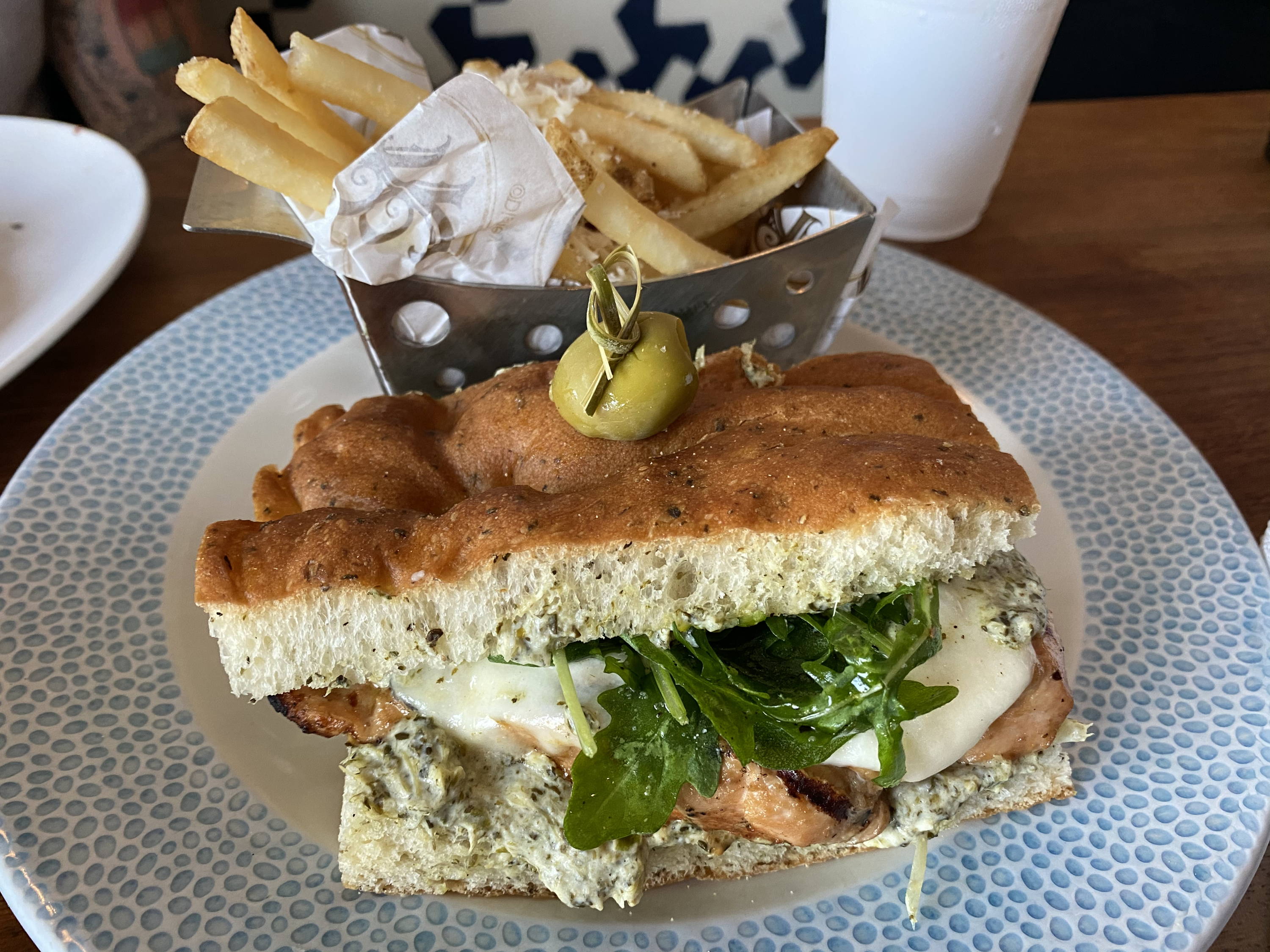 Next up was the Grilled Chicken Sandwich and this one was probably a favorite for the table. The sandwich was made up of Roasted Tomatoes, Mozzarella, Spinach Artichoke Spread, on a Toasted Focaccia and was served with a side of truffle fries. You can never really go wrong with focaccia on a sandwich and this one was no exception. The spinach artichoke spread that was lathered on both sides of the bread tied the entire sandwich together and made it unique. The chicken was tender and far from dry (a common thing for chicken around Disney Property) and the toppings and cheese complimented it well. If you're going to go with a sandwich during your next visit to Bar Riva, I can't recommend this one enough!
Grilled Chicken Wings - $13.99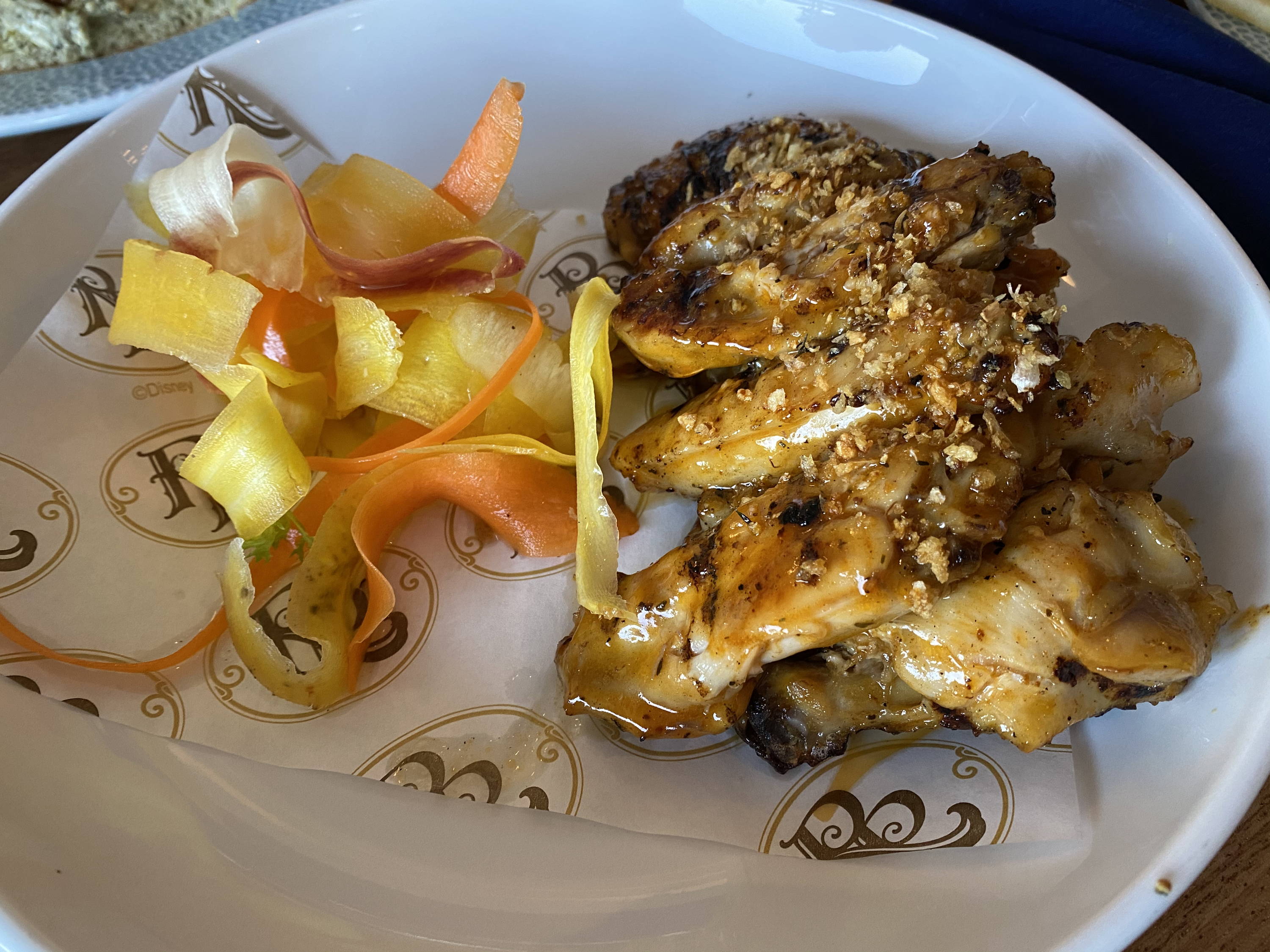 The grilled chicken wings might have been our most highly anticipated dish, yet could have been the biggest let down of the meal. The wings themselves were phenomenal, they came straight off the bone and the portion of the dish was massive with 9 wings. However, they lacked any real flavor and while they certainly did come with the lemon-herb butter sauce on them, it didn't add anything to the wings and they were ultimately pretty bland. The dish was garnished with shaved pickled veggies which were a nice palate cleanser.
Baked Bri in Puff Pastry - $10.99
Finally, the Baked Brie in Puff Pastry is a go-to for us. We get this one every time we visit Bar Riva and we just can't get enough. The cheese is baked into the grilled sourdough which naturally melts the cheese in advance so it's ready to eat immediately. The fruit preserve jam is the ideal spread to go along with the cheese and adds a sweet touch to the dish that we didn't know we needed until we tried it. While this dish is thought of more as an appetizer, you truly can't go wrong with this one.
Overall with such scarce dining options available around Disney Property at the moment, Bar Riva is a great option for a quick dinner on the Riviera and offers better options at the moment than it's next-door neighbor Primo Piatto (Don't forget you can also order their menu at Bar Riva). We can't wait till more menu items begin returning and I become reunited with my favorite Disney sandwich of all-time, the Monte Cristo.