The (extremely) long awaited attraction Mickey and Minnie's Runaway Railway is less than a month away from grand opening! If you're a Cast Member, you'll get an exclusive sneak preview of the new attraction before it opens to the public! Eligible Walt Disney World, Florida site, Disney's Hilton Head Island and Disney's Vero Beach Resort Cast Members are invited to experience Mickey & Minnie's Runaway Railway at Disney's Hollywood Studios. This brand-new attraction will be the first ride-through attraction featuring Mickey Mouse and Minnie Mouse, and Cast will be among the first to get an exclusive look at it during special Cast Previews on select dates Feb. 22-March 2.
Mickey & Minnie's Runaway Railway will feature a new original story and lovable theme song, as it takes Guests on a journey inside the wacky and unpredictable world of Disney Channel's Emmy Award-winning "Mickey Mouse" cartoon shorts. On the attraction, the fun begins when you see the premiere of the new cartoon short, "Perfect Picnic," with Mickey and Minnie getting ready for a picnic. As they head out, they drive alongside a train and find out that the engineer is Goofy. Then, one magical moment lets you climb aboard the Runnamuck Railroad for a zany adventure through a cartoon universe crammed with surprises.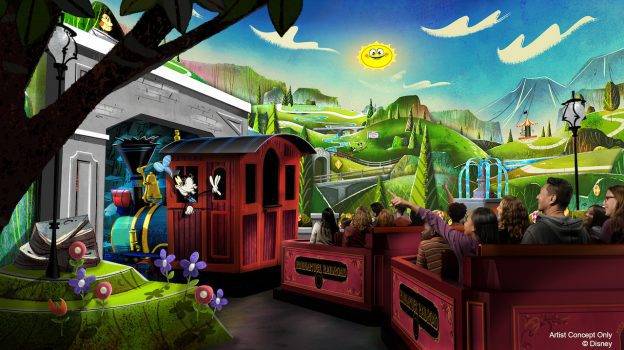 This event is for Cast Members only. Registration for this Cast-exclusive opportunity will be available on the Event page of the HUB beginning February 16th at 11:59 EST. Disney also teased that there will be upcoming Star Wars: Rise of the Resistance previews for Cast Members only in the near future.
Will you be attending the Cast preview for Mickey and Minnie's Runaway Railway? Or will you be lining up with the regular day guests on opening day, March 4th? Let us know in the comments below! And if you're a Cast Member, be sure to take advantage of our exclusive Cast Member discount in our store! As for us, we'll see you on March 4th for the big day!
If you liked this article make sure to check out our store here, and use LOSTBROSBLOG for 10% off your first order!