Chefs de France in the France Pavilion at EPCOT has long been known as one of the more beautiful restaurants at Epcot. The food and service have also long been debated as it seems to fluctuate often. Last week the restaurant reopened for the first time since the COVID-19 pandemic began and we decided to venture out try it. Let's take a look!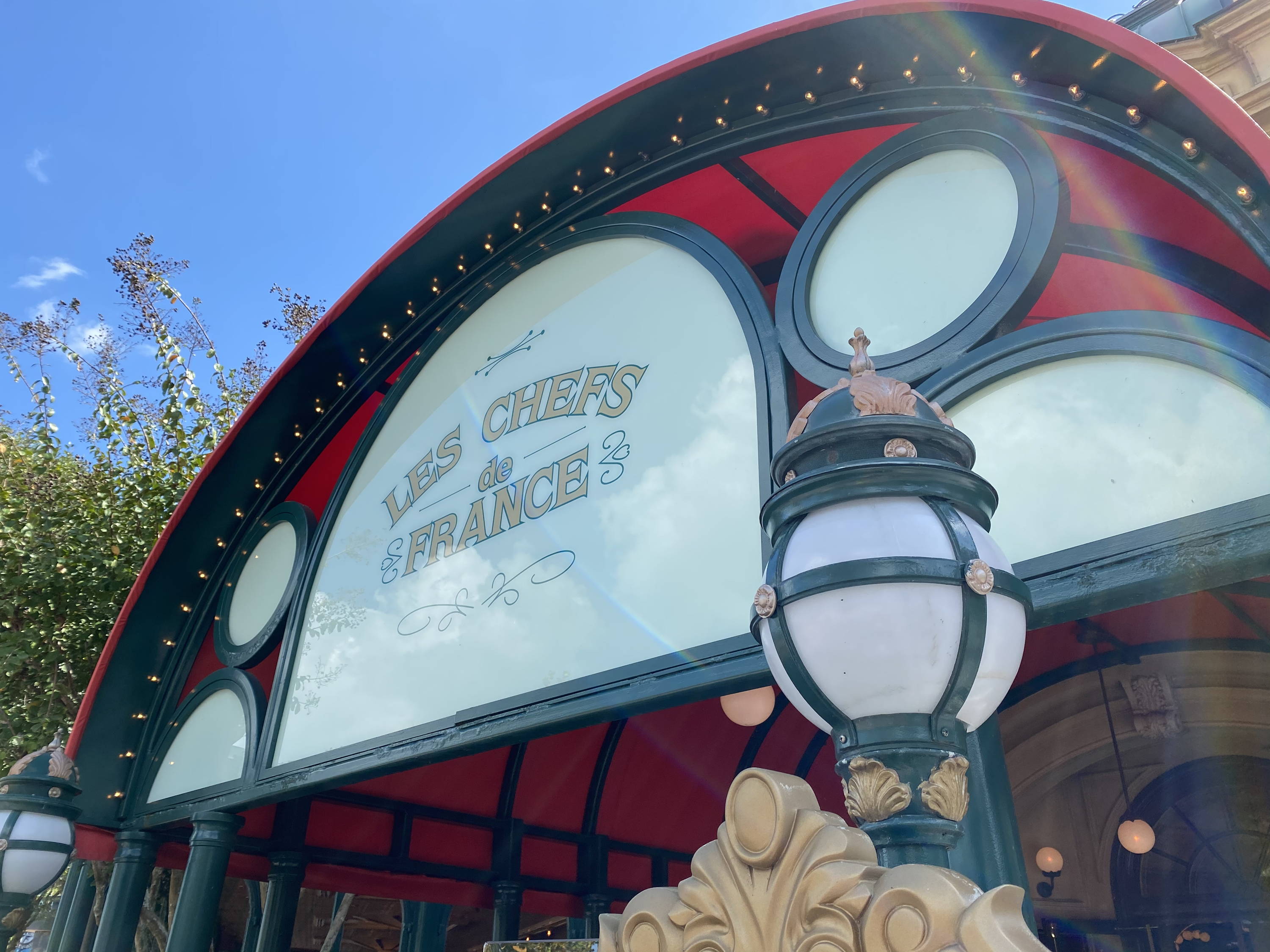 The restaurant was seating at about half capacity so naturally, there was about a 20-minute wait after we checked in for our reservation. Once our table was ready, we were promptly taken to our table and seated. The menu is extremely modified at the moment, with just four appetizer offerings, four entree offerings, and three dessert offerings. They're currently offering a prix fixe $50 meal that includes one appetizer, one entree, one dessert, one glass of wine, and a soda. It's really a no-brainer and a great value if you're looking to try a little bit of everything. There were three of us, so two of us opted for the prix fixe and one of us went for just an appetizer and entree. We also noticed that the virtual menu was offered in multiple languages for the first time, an important new offering in the restaurants.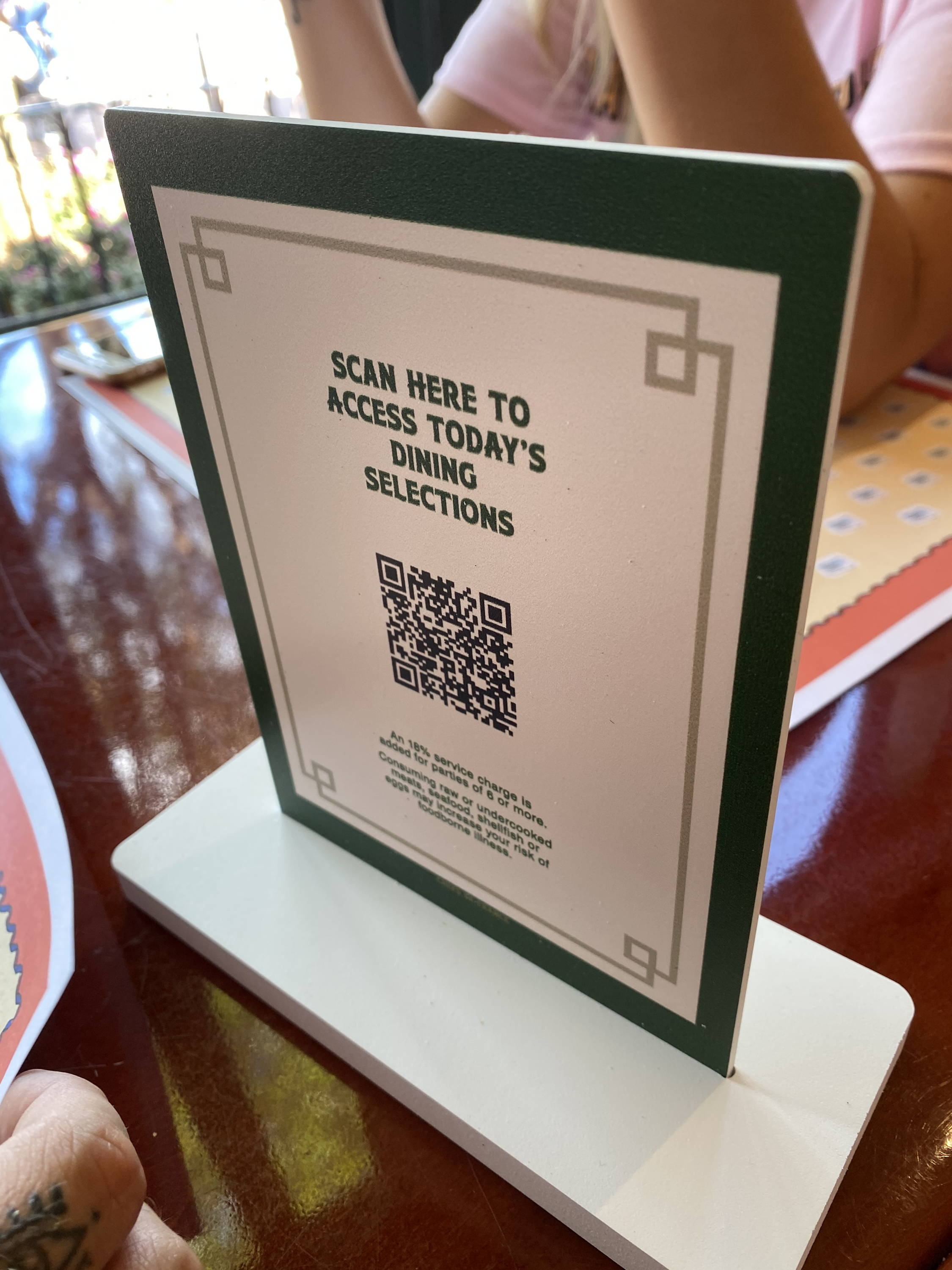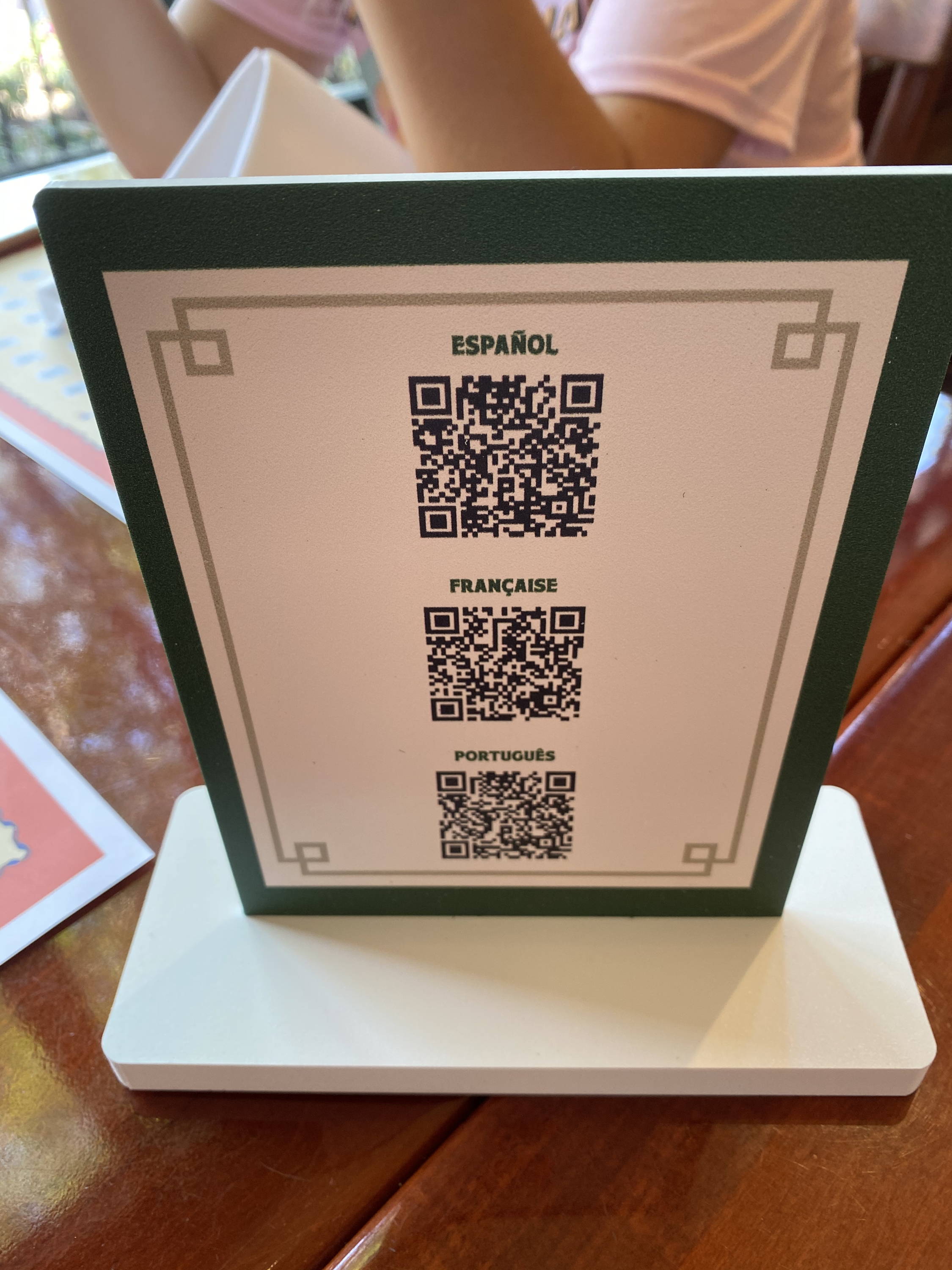 After around 8-10 minutes of waiting for service, we were brought bread service and water. The bread is quite literally a full baguette, which is the perfect sharable way to kick off the meal. We weren't served any plates or utensils however, so be prepared to wait a little longer for those.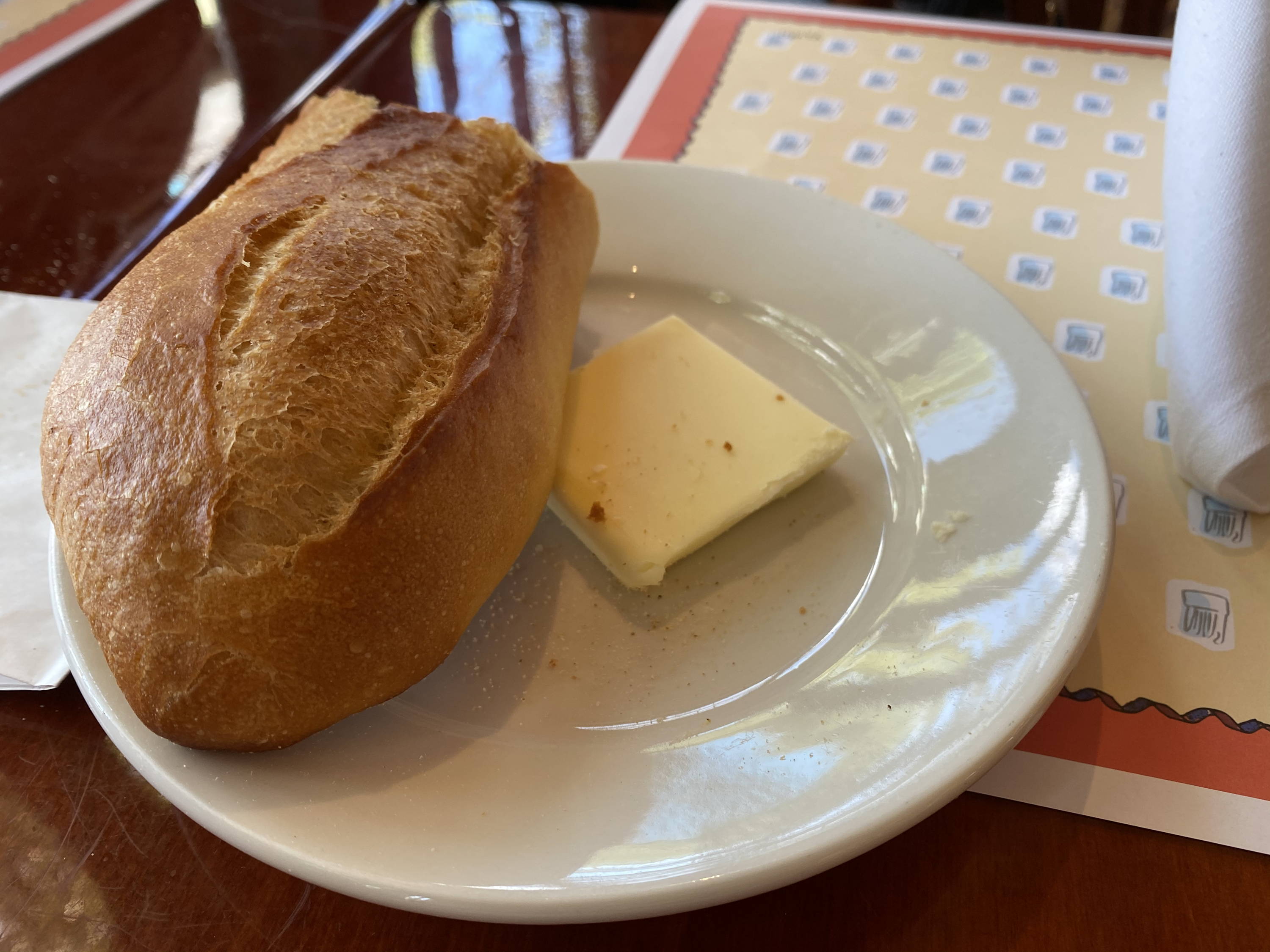 We went for 3 of the 4 appetizer offerings. The Escargot, French Onion Soup, and Plateau de fromages et charcuteries are all returning favorites to the restaurant.
Cassolette d'escargots de Bourgogne au beurre persillé (Escargot)
- $13.99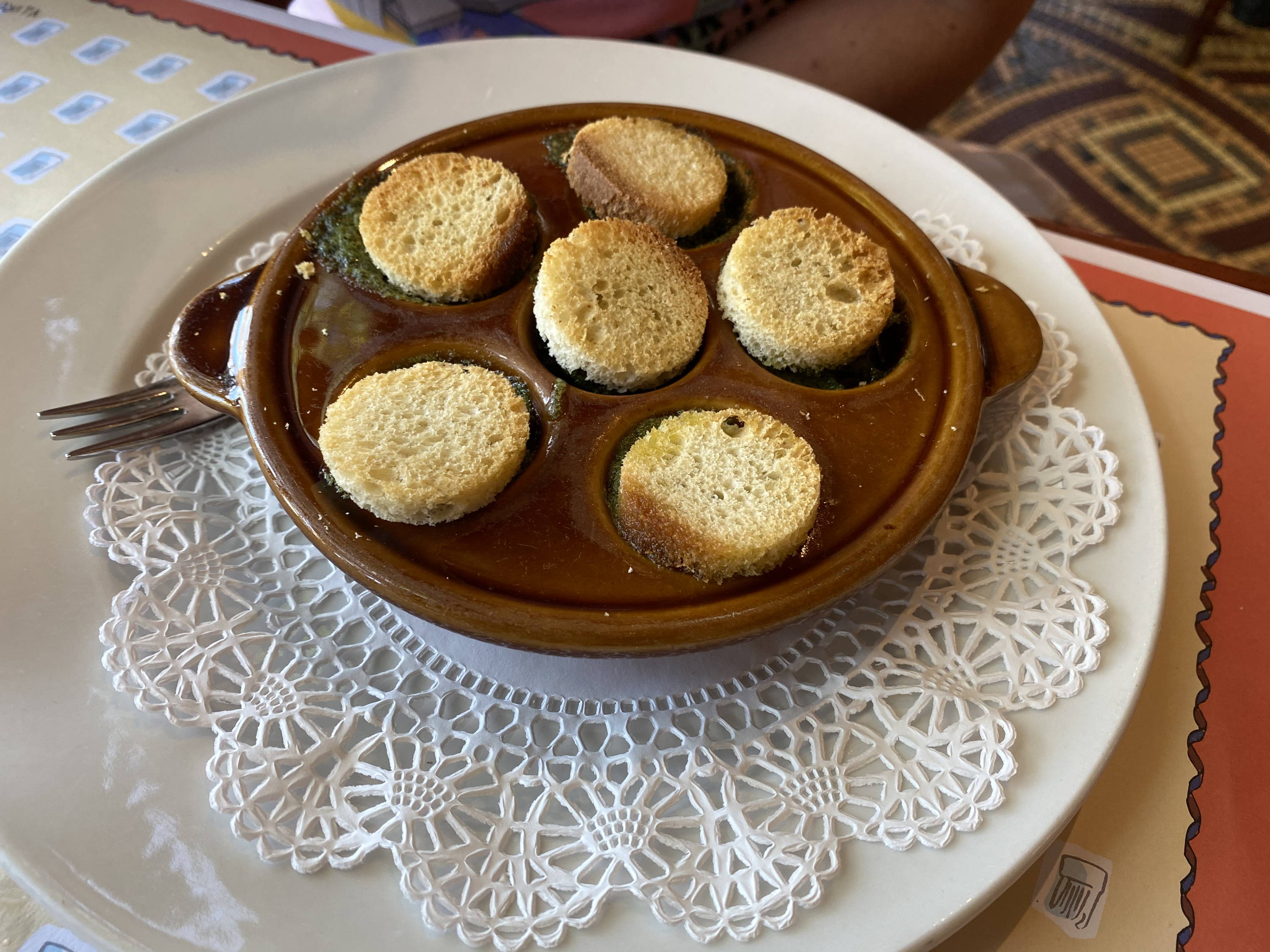 We got the escargot more so for the novelty of getting them. None of us were particularly excited to try them, but we did nevertheless. Lex wasn't even remotely a fan, and could barely keep the somewhat exotic dish down, and Cody thought they weren't bad, but at the same time, wasn't blown away. If you're a fan, go for it. But I certainly wouldn't waste the money on the novelty of trying escargot.
Soupe à l'oignon gratinée (French Onion Soup) - $9.99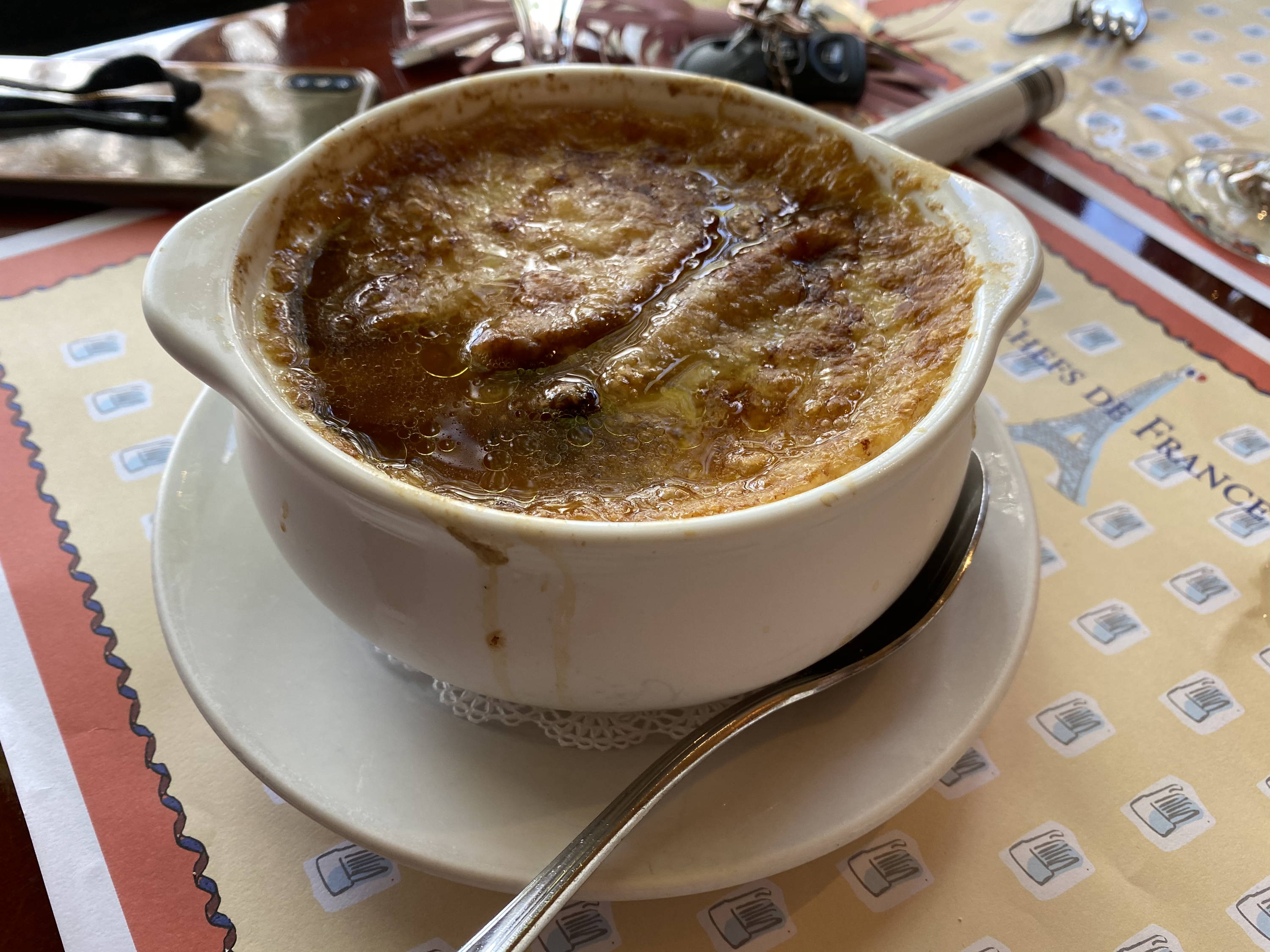 The French Onion Soup remains the undisputed best dish at Chefs de France. As a matter of fact, I'd go as far as saying its the only satisfying dish currently offered at the restaurant. While it's not visually appealing at all, the warm broth topped with baked Gruyère cheese keeps us coming back for it again and again. The sitting oil on top is a little off-putting, but it can be excused for the incredible flavor this dish packs. Plus, at a $9.99 price point, you just can't beat it. This is absolutely a must-try!
Plateau de fromages et charcuteries - $15.99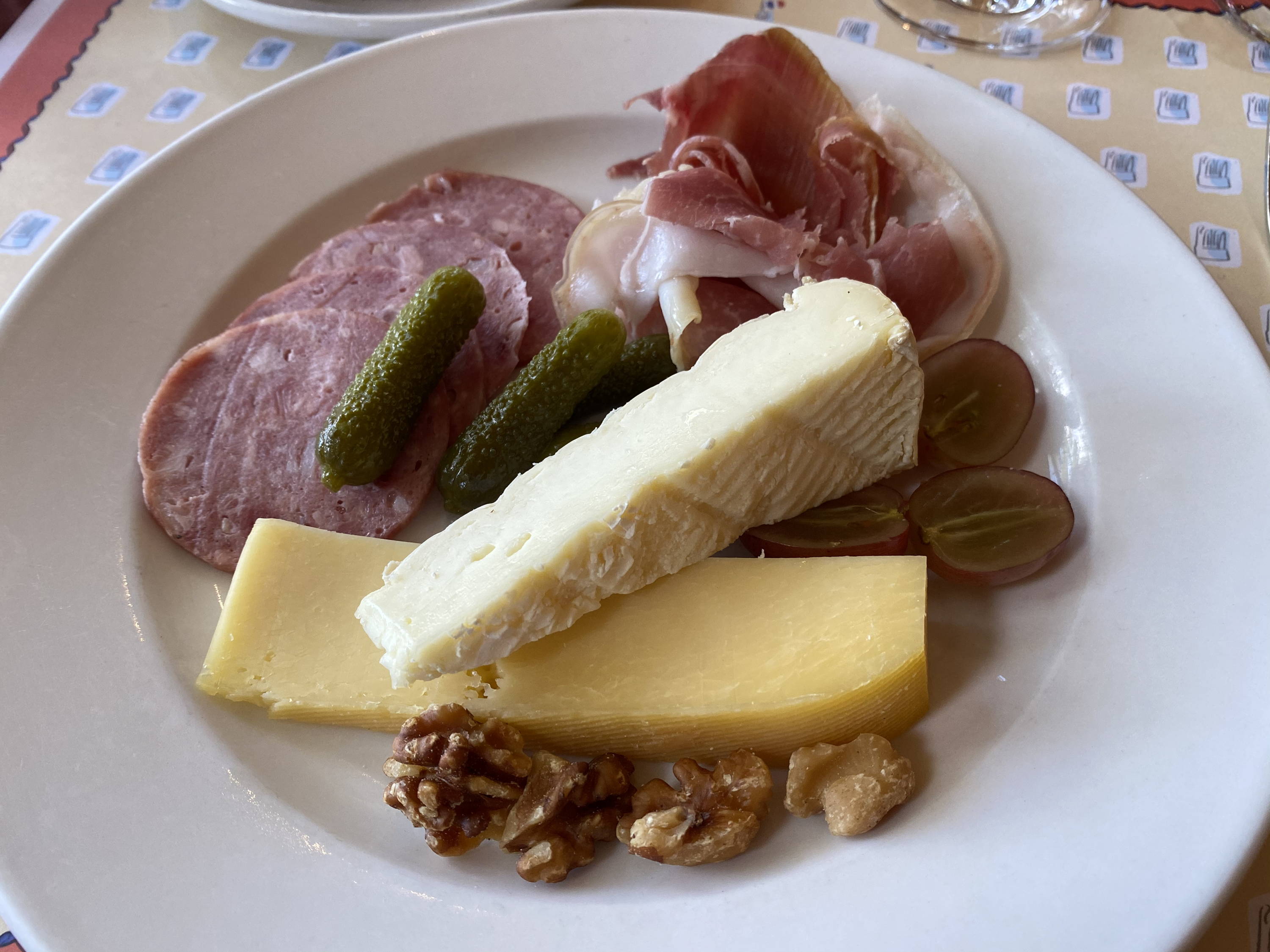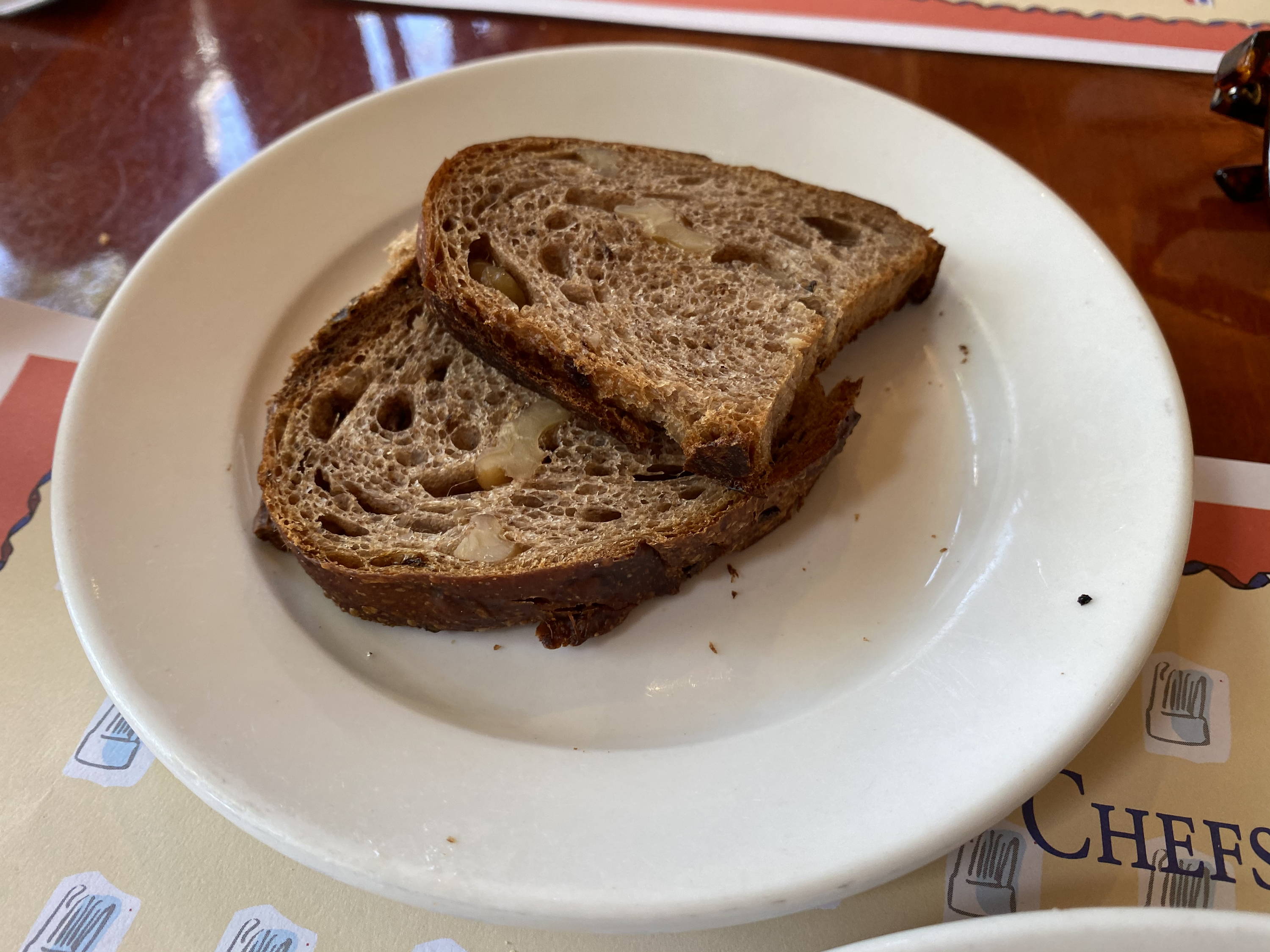 I truly can't think of a more boring way to start off your meal than with a charcuterie board. I'm begging you to please opt for something more exotic like the French Onion soup or even the escargot, but nevertheless, we did it for science. The plate is served with two meats, two cheeses, grapes, French pickles, walnut crumbles, and a side of house-made bread. at a $15.99 price point, it felt criminal to be offered on the menu. There's really nothing good to be said about this appetizer, please just stick with the French Onion Soup.
Moving on to our entrees, two of us went with the Boeuf Bourguignon and one of us went for the Filet de boeuf grillé, sauce au poivre vert pommes purée et haricots vert. We're certainly not the type to order two of the same thing, but the other two menu offerings of Salmon and Chicken Salad were so boring that we didn't feel we had a choice.
Filet de boeuf grillé, sauce au poivre vert pommes purée et haricots verts - 36.99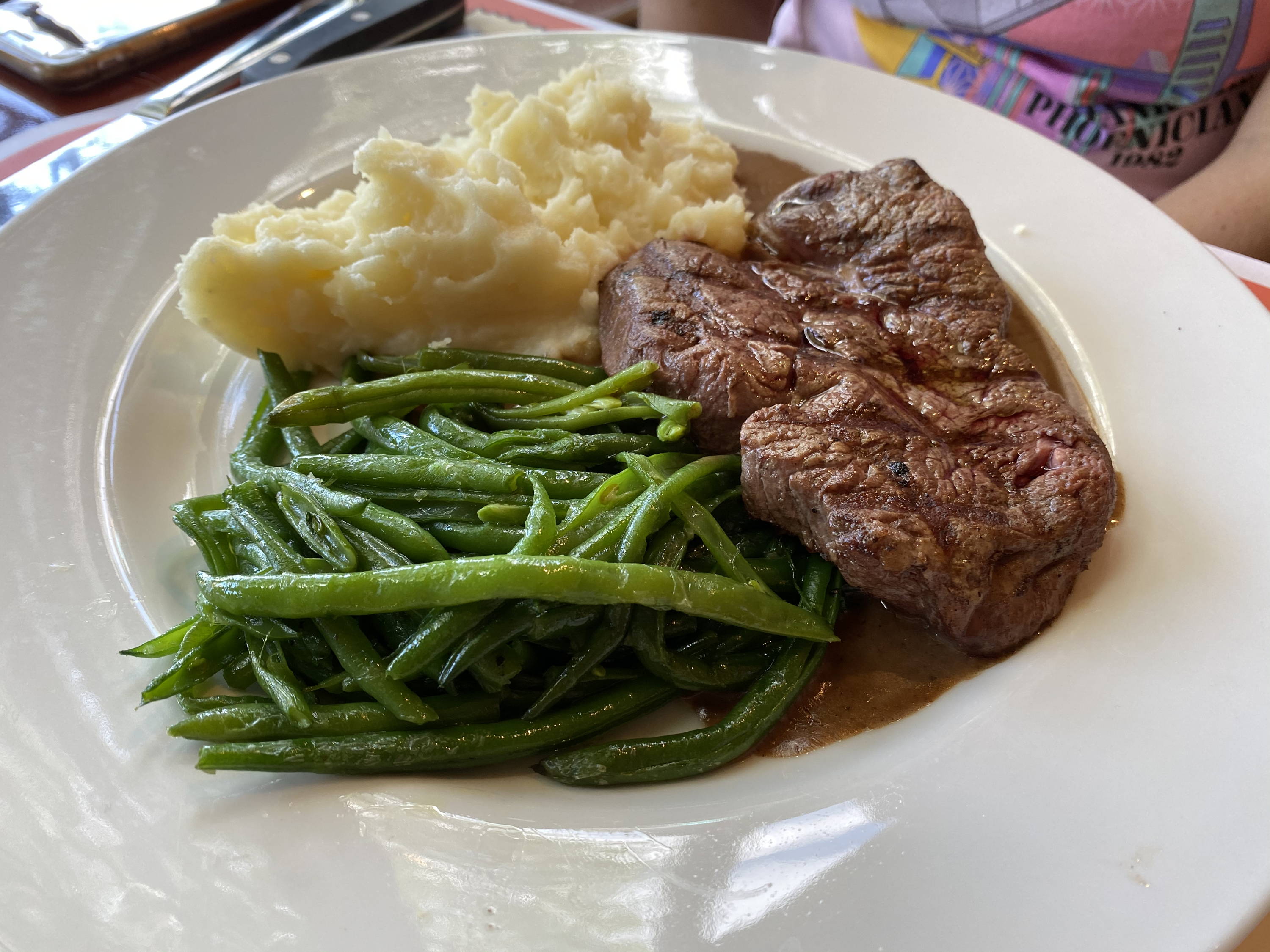 The Filet de boeuf grillé, sauce au poivre vert pommes purée et haricots verts was your traditional steak with mashed potatoes and green beans. It was served over a green peppercorn sauce which was quite literally the saving grace of the dish. It was a delicious sweet sauce similar to gravy that paired perfectly with the steak and mash potatoes. The steak itself was juicy and cooked well, and the two uncreative sides paired just about as well as they could with the steak. We'd certainly recommend this dish at Chefs de France, but only because the other offerings are so subpar.
Boeuf Bourguignon - $29.99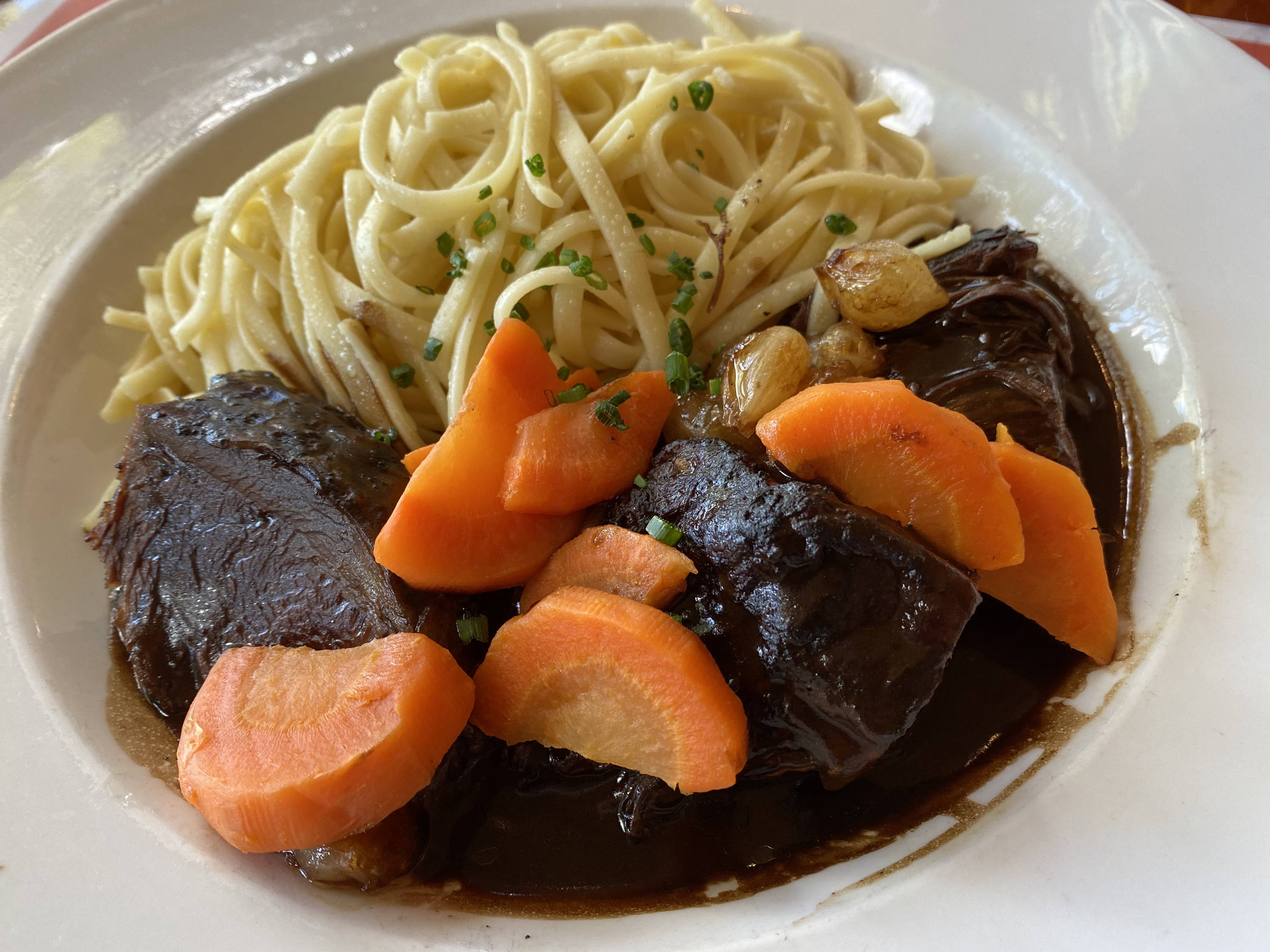 The Boeuf Bourguignon was a short rib pasta braised in Cabernet and served with baby onions, carrots, and linguine pasta. You may notice that no sauce is listed in the description, which is because there was no sauce included with the dish. The noodles were literally served plain with the exception of some butter. This wasn't a mistake, it was by design, and to this day I'm still wondering why. I'll admit that the braised beef was delicious and the carrots and onions added some nice unique texture, but without any sauce to provide any sort of flavor to the noodles, it was like eating a kids meal. To add to it, the whole dish was completely unseasoned and it just wasn't good. Had the dish been coated in the green peppercorn sauce that was used in the steak, it would have made this one a must-try, but without it, it's a massive disappointment.
For dessert, we got the Crème Brûlée and Tarte au Chocolat. It's worth mentioning that by this time, we were all completely stuffed and felt we had already gotten our prix fixe moneys worth without adding dessert.
Crème Brûlée - $11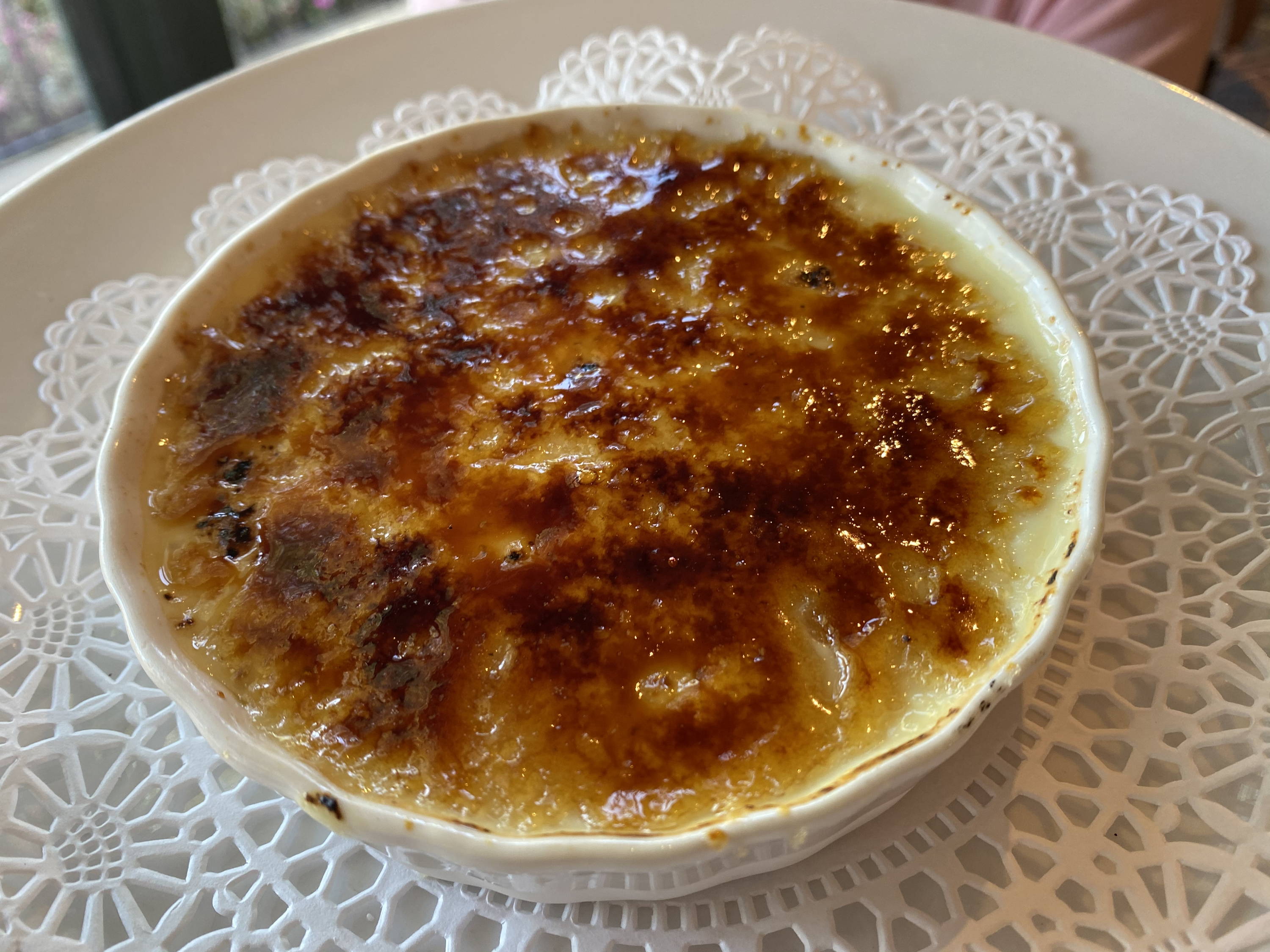 Last time we ate at Chefs de France, the Creme Brûlée was vastly overcooked and the whole thing was burnt to a crisp. This time, it was MUCH improved and so much more pleasant to eat. The top was crisped to perfection and the texture underneath was exactly what you'd expect from a goodCrème Brûlée. This one is a must-try for dessert.
Tarte au Chocolat - $11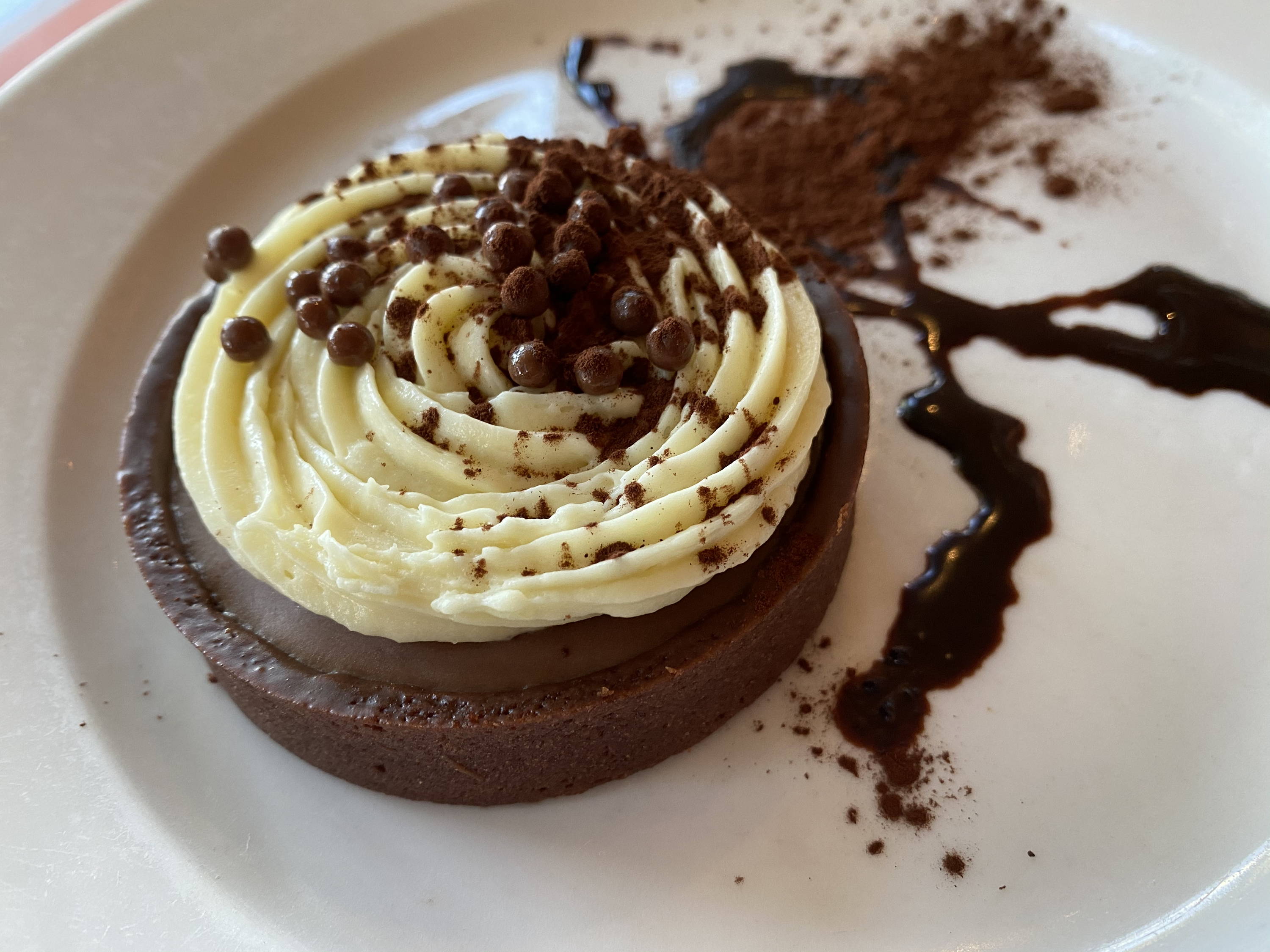 If you're looking for a rich, heavy chocolate dessert after dinner, the Tarte au Chocolat is the way to go. It was a little difficult to get into first as the flavors weren't all there and the chocolate was just so rich, but the portion size was good and it satisfied the chocolate sweet tooth we had after dinner.
Also included in our prix fixe meals was our choice of Chardonnay or Cabernet Sauvignon by the glass, which greatly increased the value of the meal and when combined with the soda, Coffee, or tea offering, truly made it unbeatable.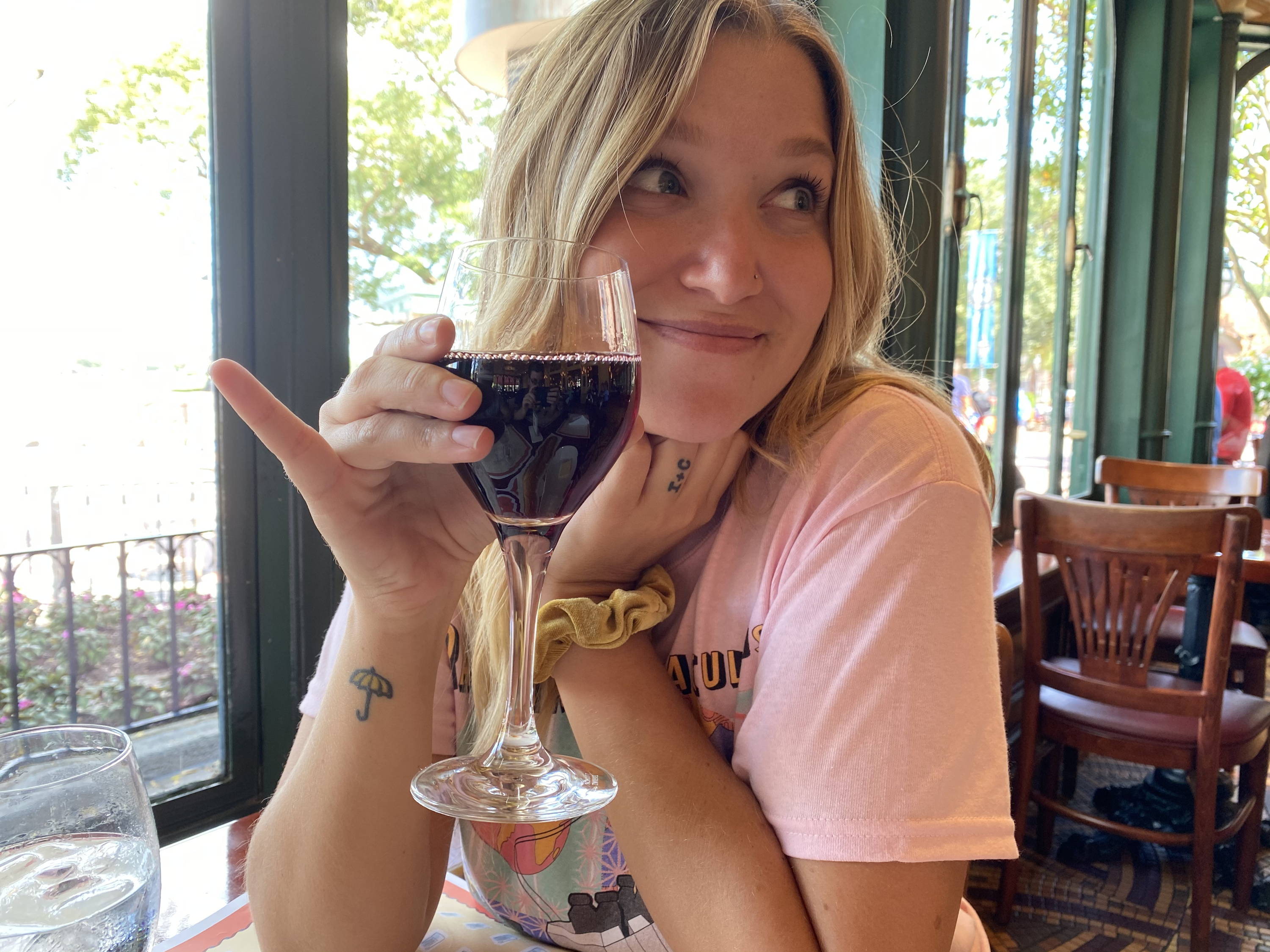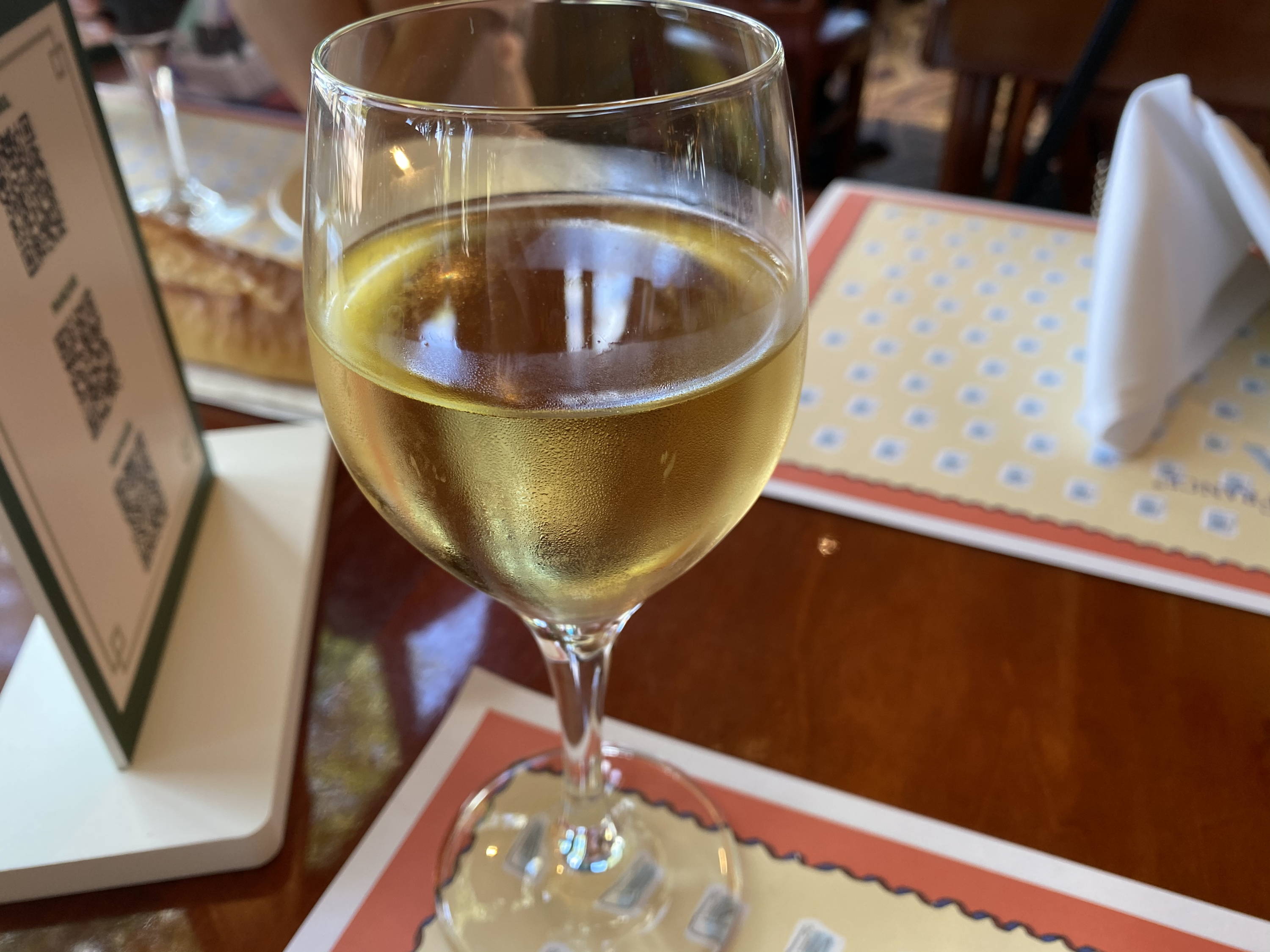 Overall, Chefs de France is a skip in my book. There are plenty of other great restaurants at Epcot, and there were just times during our meal where it felt like they weren't even trying. This isn't to say Chefs de France will always be bad. There have been times that we've been extremely pleased with our experience. We look forward to returning in a few months with hopes of them figuring out all the reopening kinks.
If you liked this article make sure to check out our storehere, and use LOSTBROSBLOG for 10% off your first order!