Crystal Palace reopened this weekend at Magic Kingdom joining Chef Mickey's and Hollywood and Vine as the third buffet to reopen at Disney World. The restaurant has now transferred to family style starters and desserts with one choice of entree per person. While we're so excited to be getting more dining options back, Magic Kingdom is notorious for it's less-than-desirable dining options. Let's take a look and see how Crystal Palace ranks!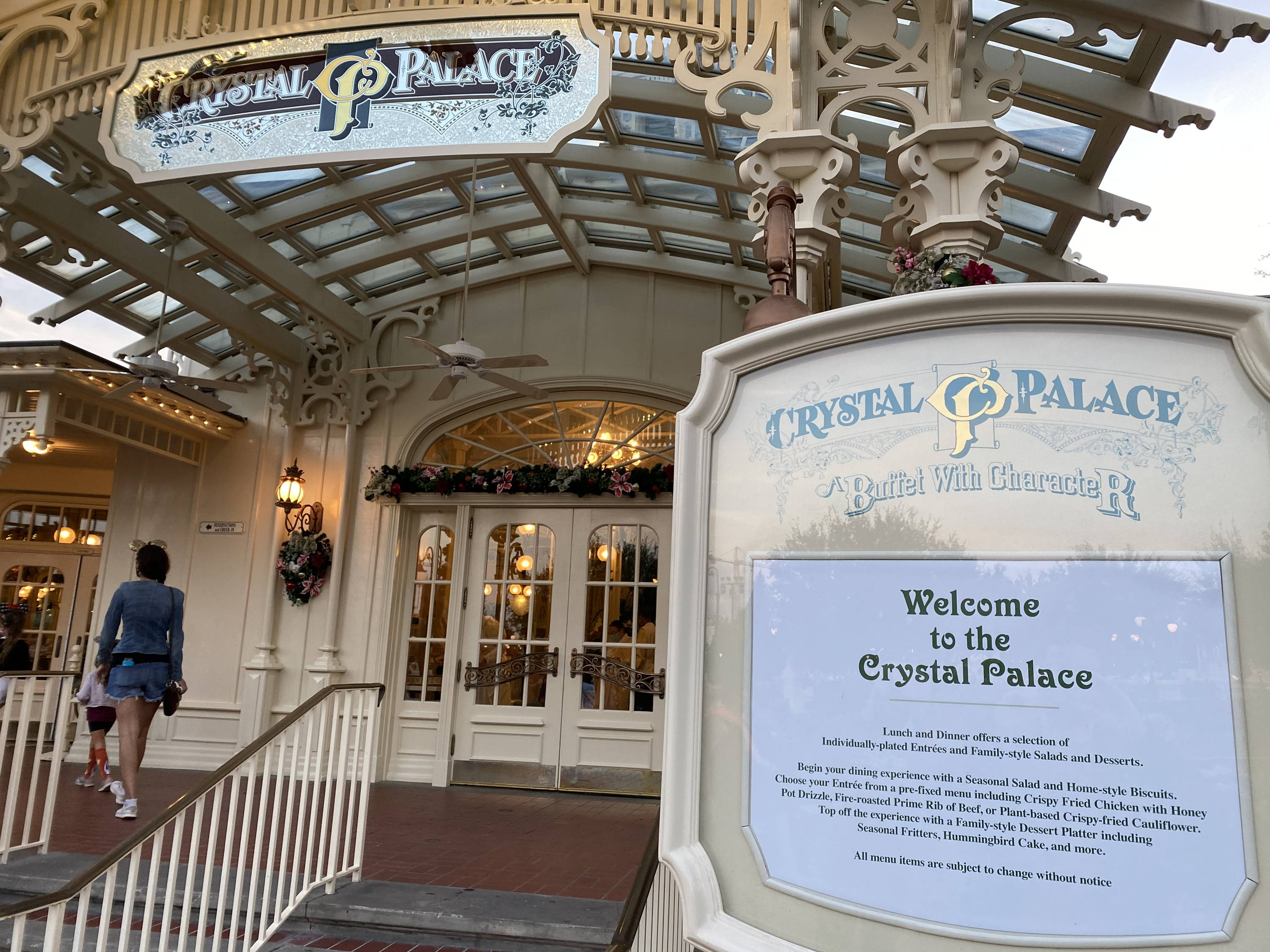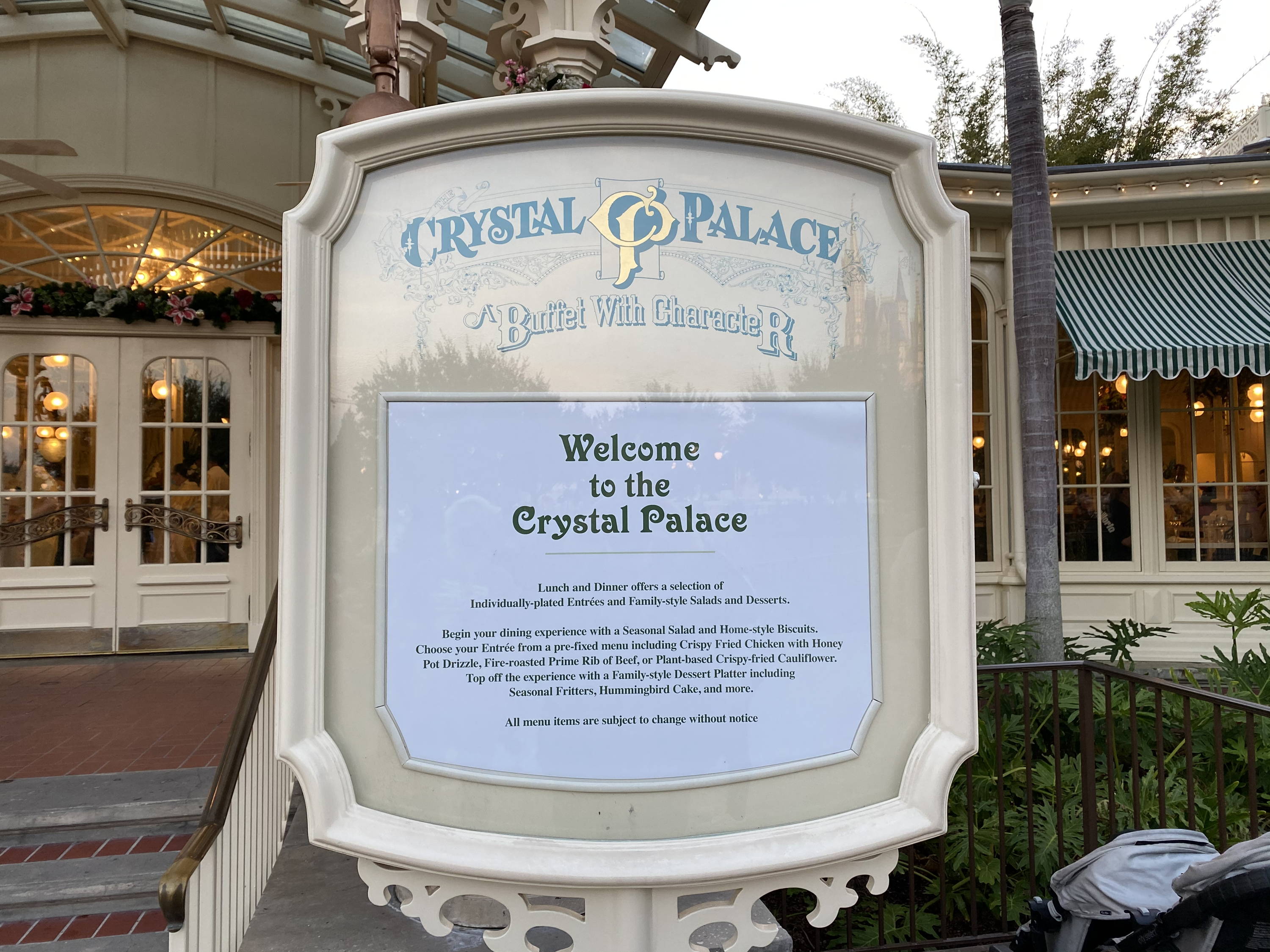 As per usual, guests are offered QR code menus, and silverware is brought to your table to be set while you're being seated.
We were seated promptly and started off with biscuits and starters, which are served family style.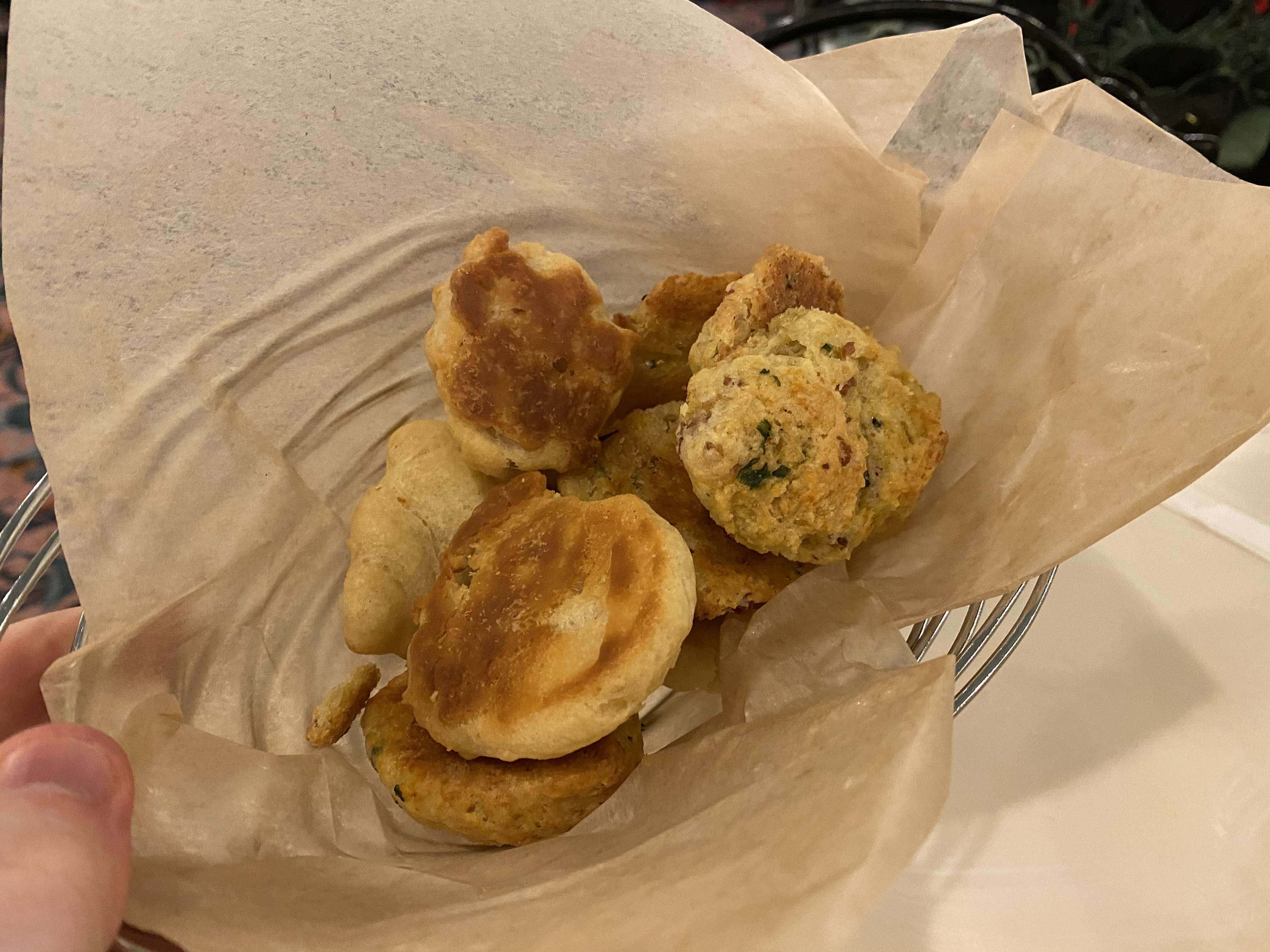 The biscuits are served with both Homestyle Buttermilk and Cheddar Bacon options. It also comes with sides of Honey Butter, Caramelized Onion Butter, and Hot Pepper Jelly. The serving was pretty small but both versions of the biscuit tasted great and the butter and jam pairings went extremely well with each of them.
Seasonal Salad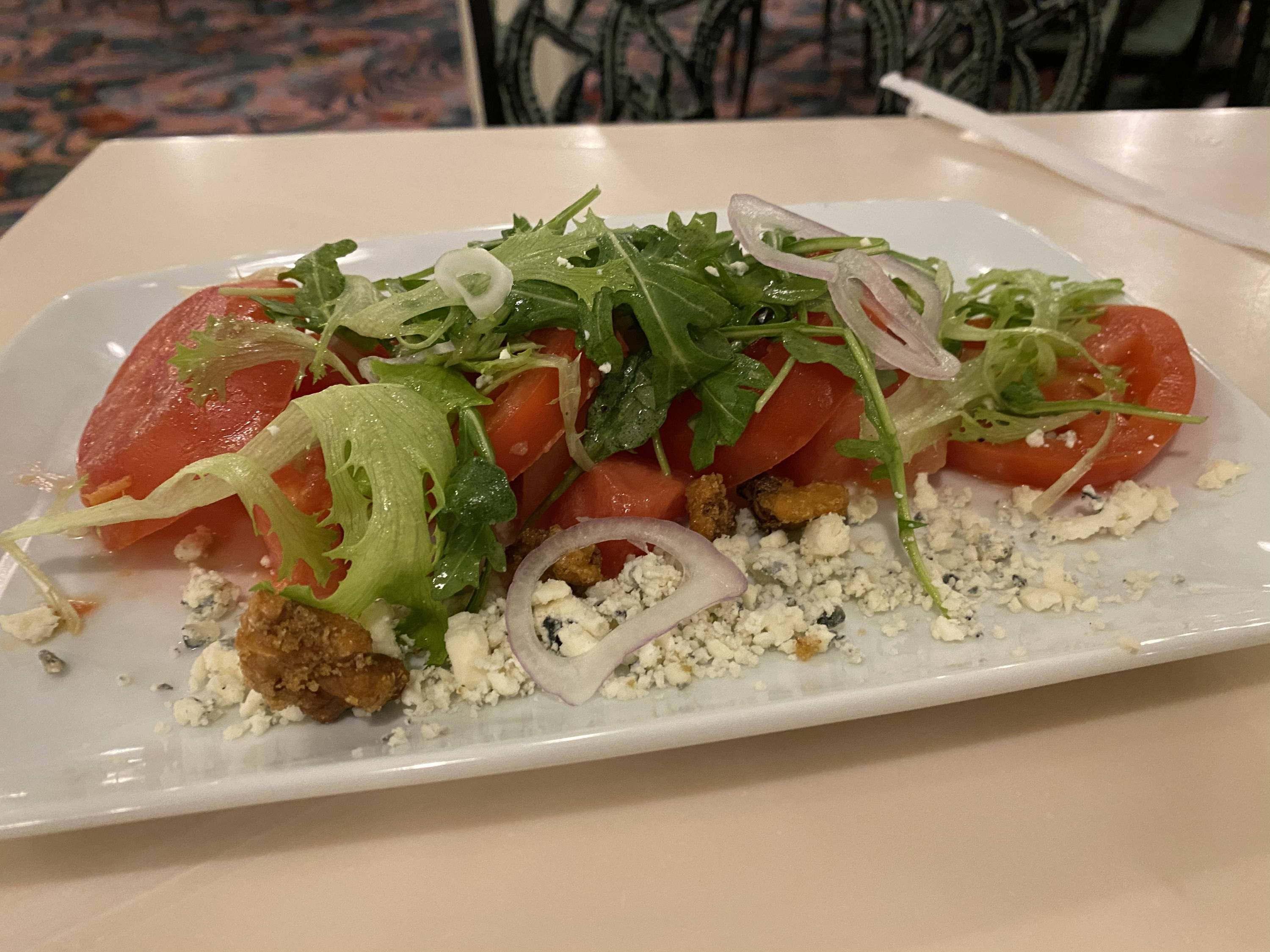 The seasonal salad is currently made up of Tomato and Watermelon with Crisp Greens, Blue Cheese, Candied Walnuts and a Hot Pepper Jelly Vinaigrette. This was a really weird salad and made for a pretty weird dish overall. It's like someone just took what they had in their fridge and combined it to make a salad. The combination of watermelon and tomato is something I still can't wrap my head around. While it wasn't exactly bad, it seemed more appropriate to just have a more traditional salad to start out with. Also note that the Hot Jelly Vinaigrette tasted almost absent from the dish.
Crispy Fried Chicken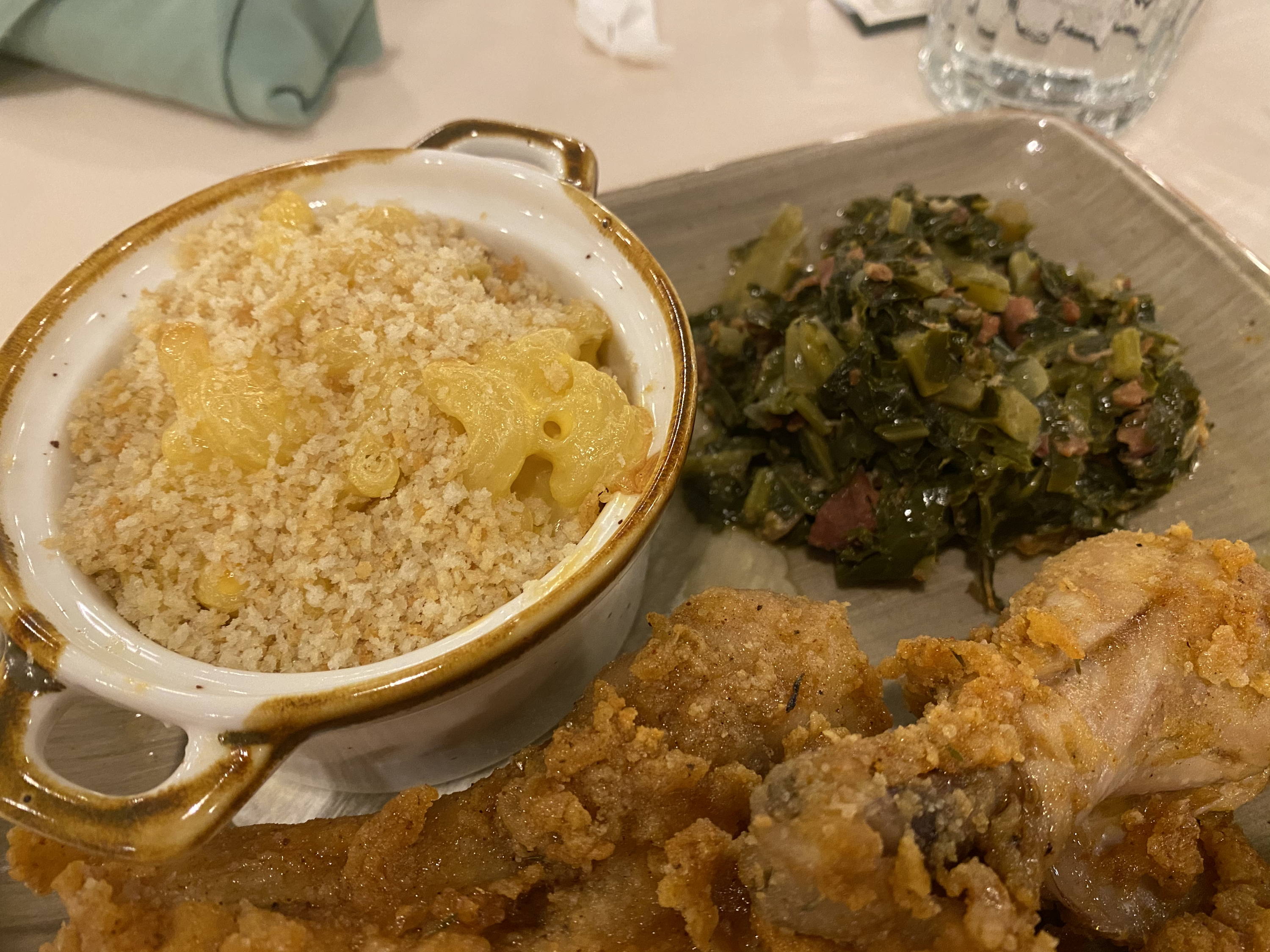 The Fried Chicken was probably our most anticipated dish. It's served with a Honey Drizzle, Macaroni and Cheese, and Collared Greens. The chicken was sweet and the honey drizzle was extremely present, in a good way. Unfortunately both sides were extremely disappointing, as the macaroni and cheese had almost no cheese and lacked any flavor at all, and the collard greens were salty and unexciting. You can sub out sides, so I'd recommend doing so for this one.
Fire-roasted Prime Rib of Beef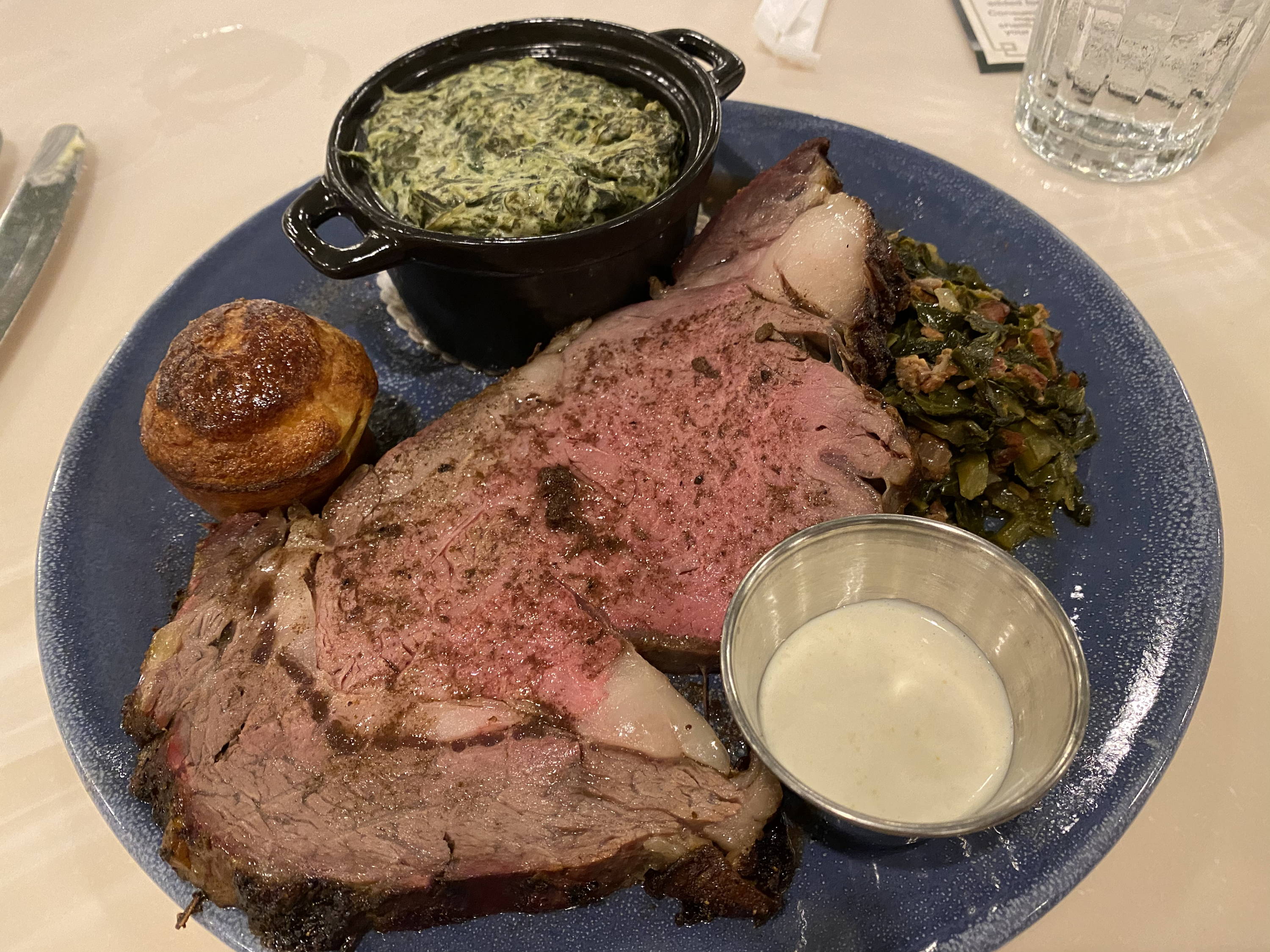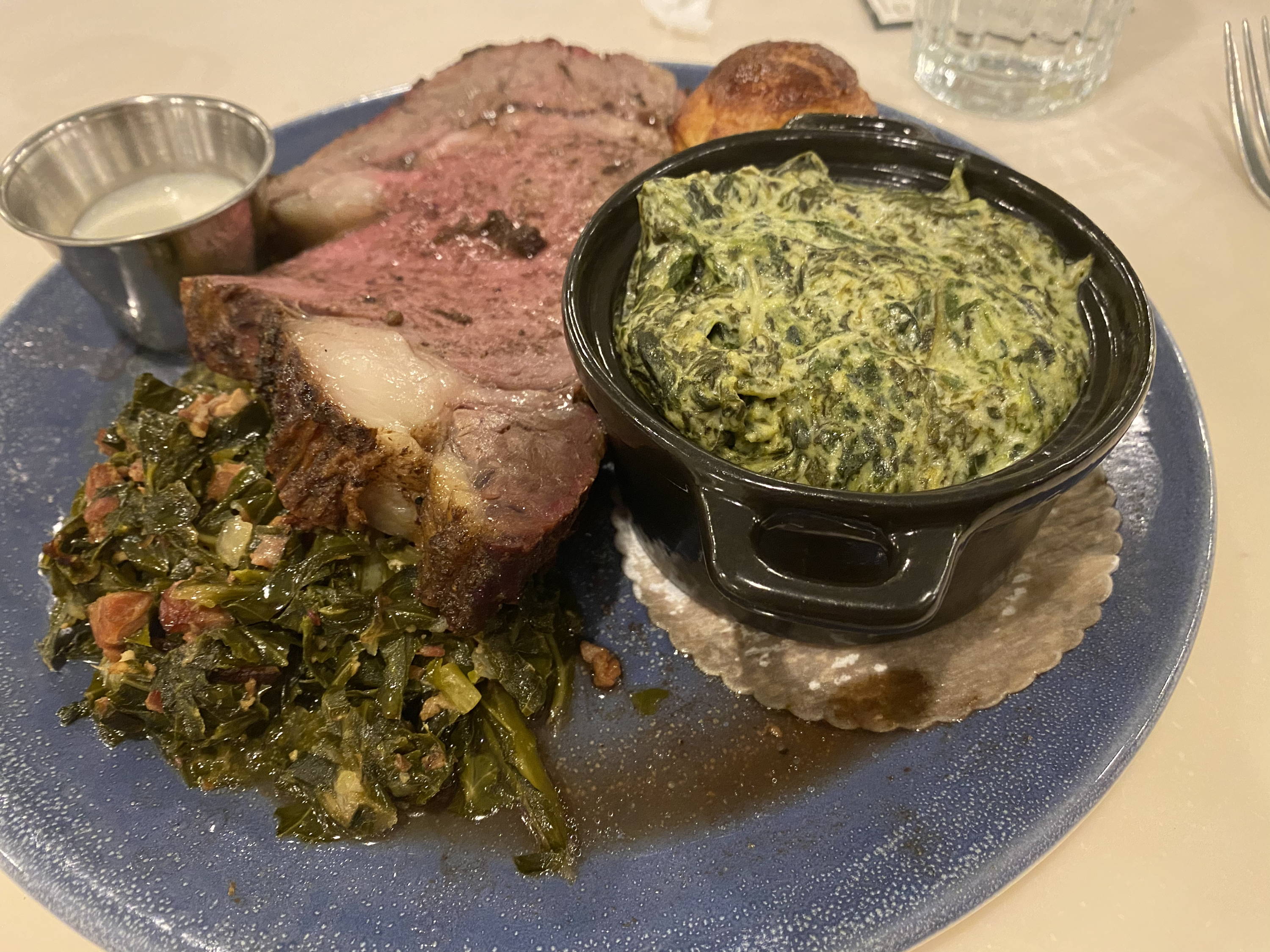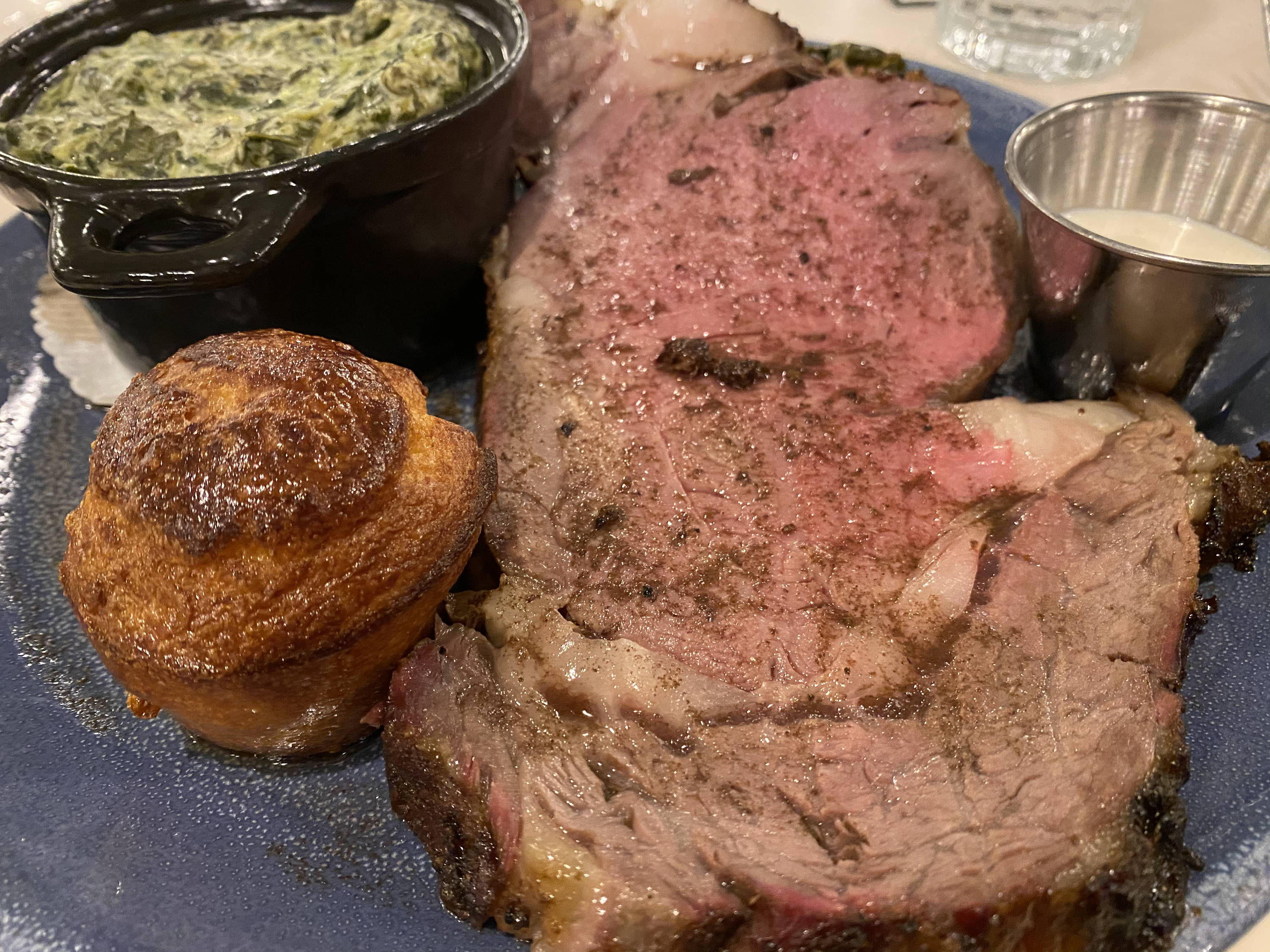 The Fire-roasted Prime Rib of Beef was my personal favorite of the three entrees. This one was served with Asiago Potatoes au Gratin, Creamed Spinach and Horseradish Cream. The prime rib was cooked extremely well and while it wasn't different from any other prime rib on property, it was still a great, safe option. The horseradish cream added great flavor and it was great to have on the side so I could add to my liking. The cream of spinach was extremely creamy and paired well with the rest of the dish. The small Yorkshire pudding on the side was extremely overdone on the outside which made it difficult to bite into, but the inside was much better in terms of consistency. We were also missing an item entirely from our plate, as the potatoes gratin was completely absent and instead replaced with more of the salty collared greens. This was a huge disappointment.
Brown Sugar-glazed Bone-In Pork Chop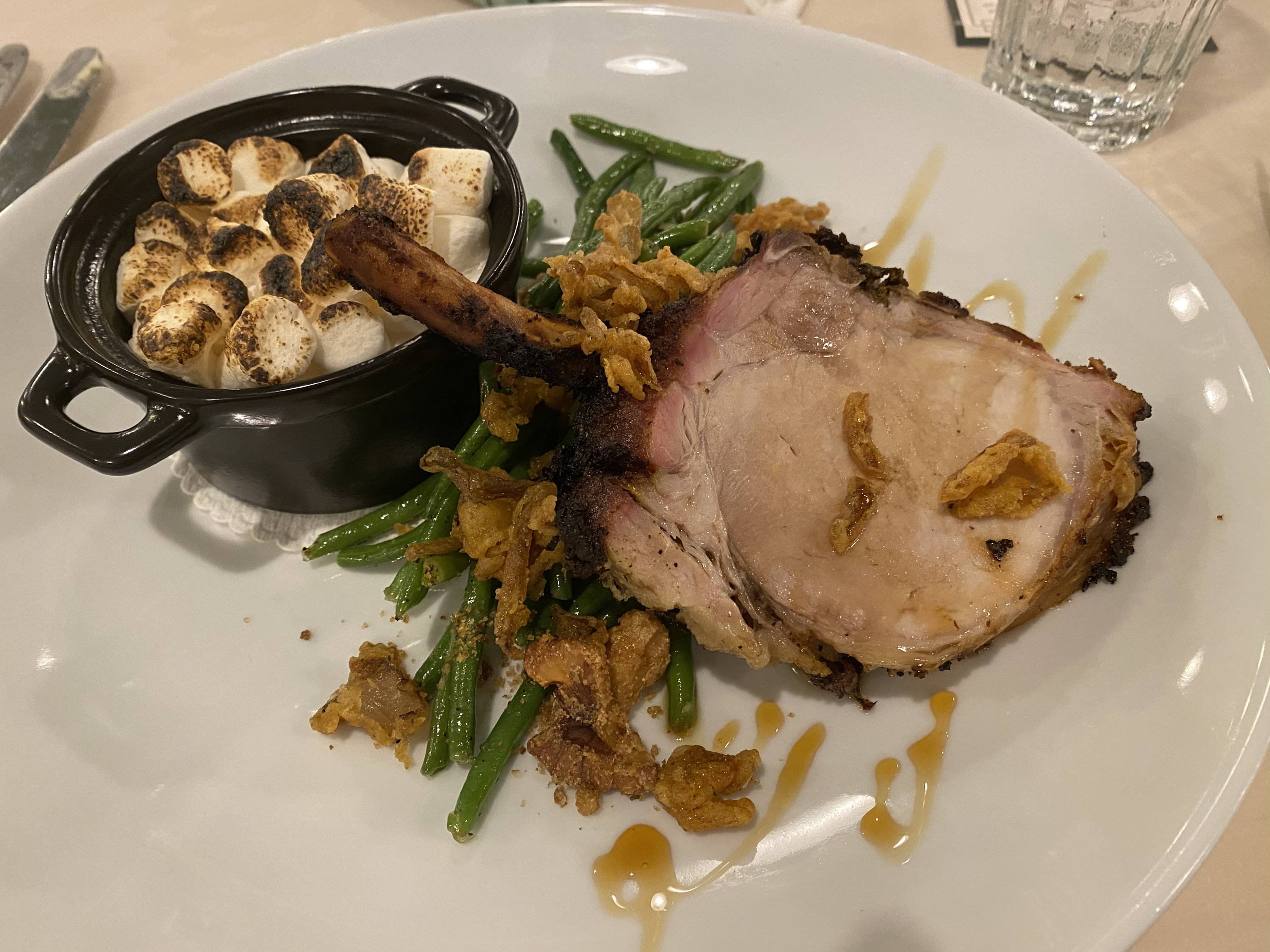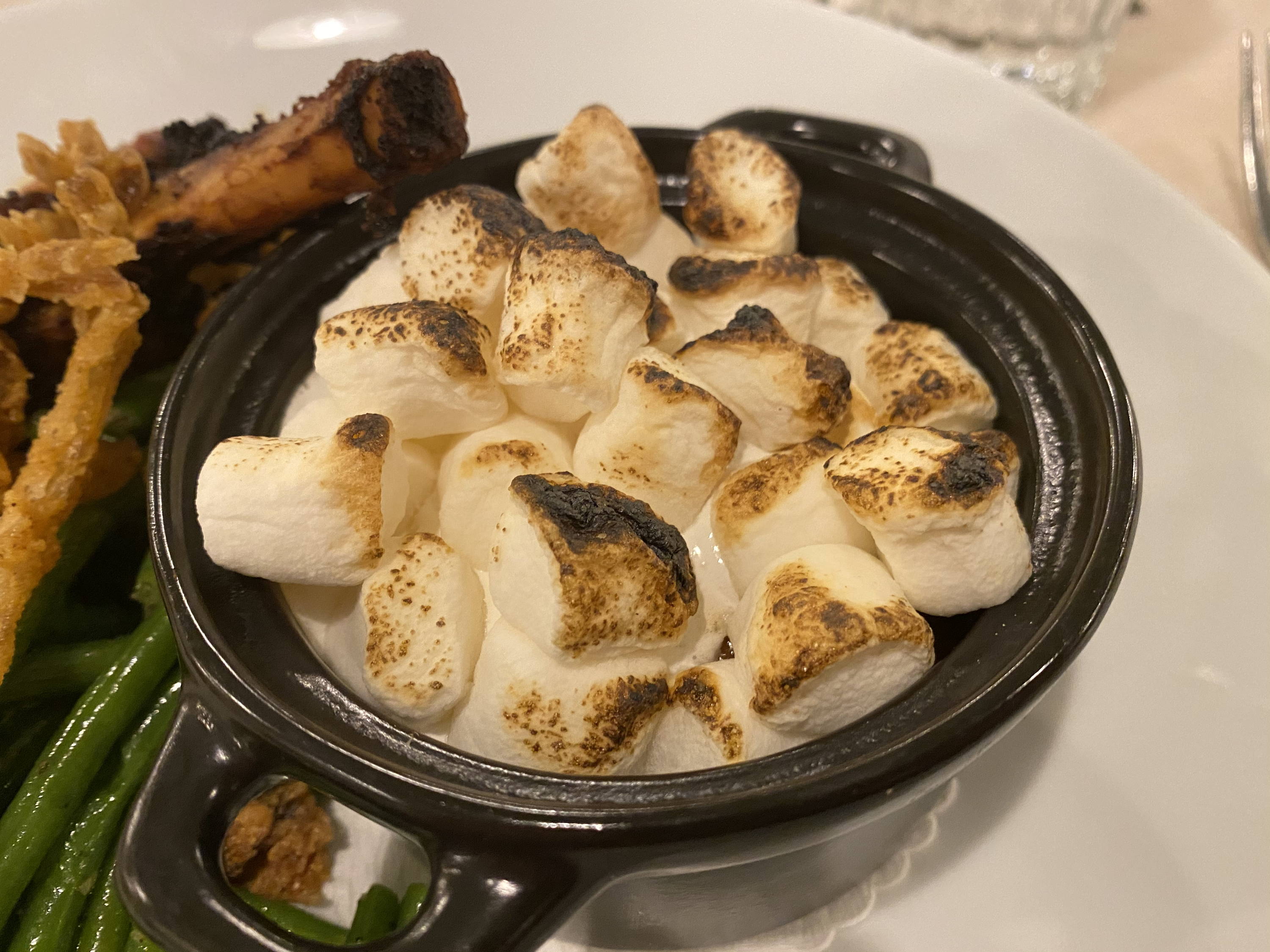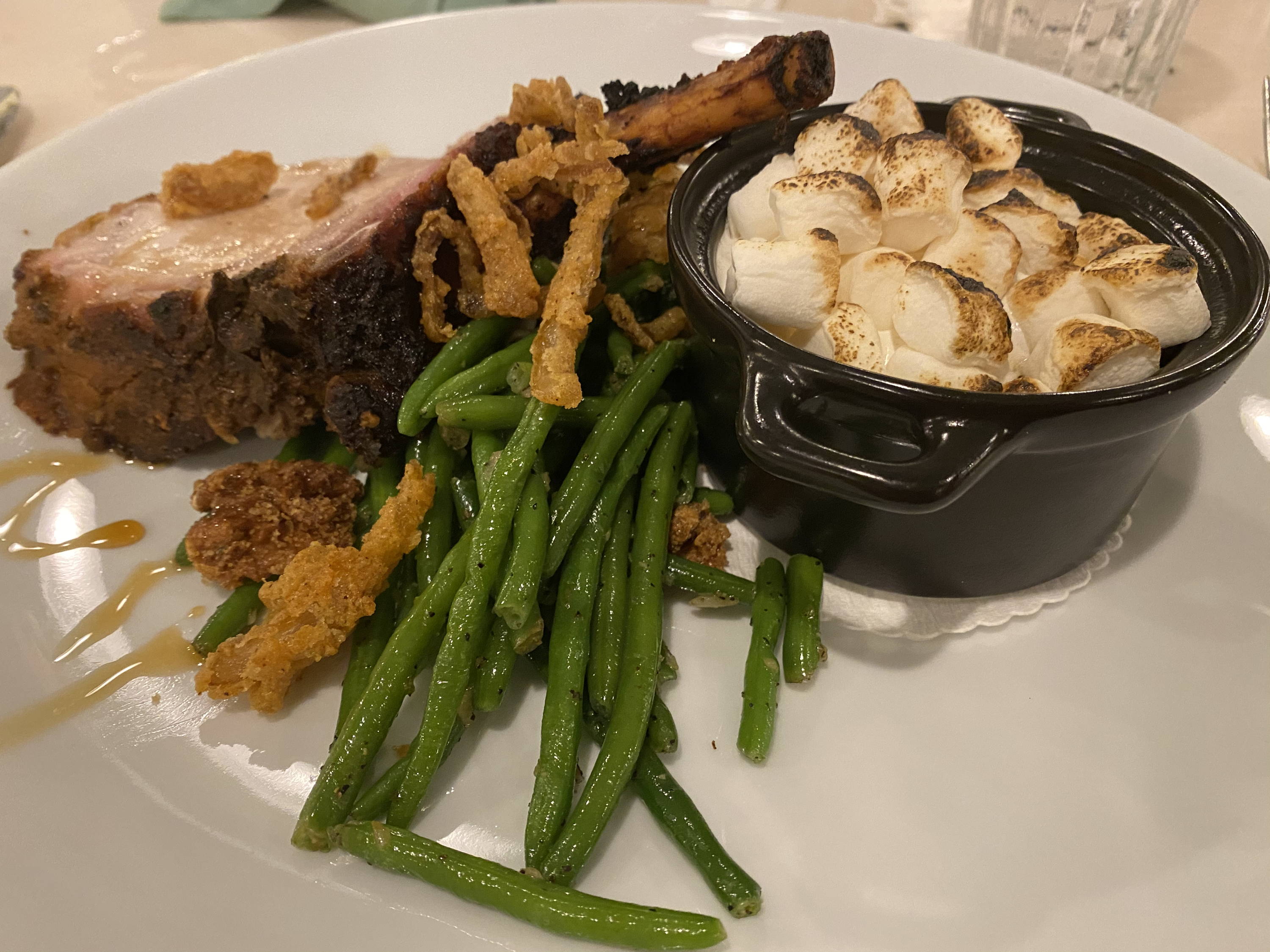 In terms of sides, this dish was by far the winner. Served with Sweet Potato Casserole, Seasonal Vegetables and Spiced Apple Reduction. The Sweet Potato Casserole was cooked extremely well and the marshmallow on top was crispy and added texture. It also came with seasonal vegetables, which were just green beans and crispy onions. They were a much more appropriate side than the collard greens and I enjoyed them a lot. The Pork Chop was good but lacked a lot of the Spiced Apple Reduction, which made it a little dry. Overall this was another great dish.
Family Style Dessert Platter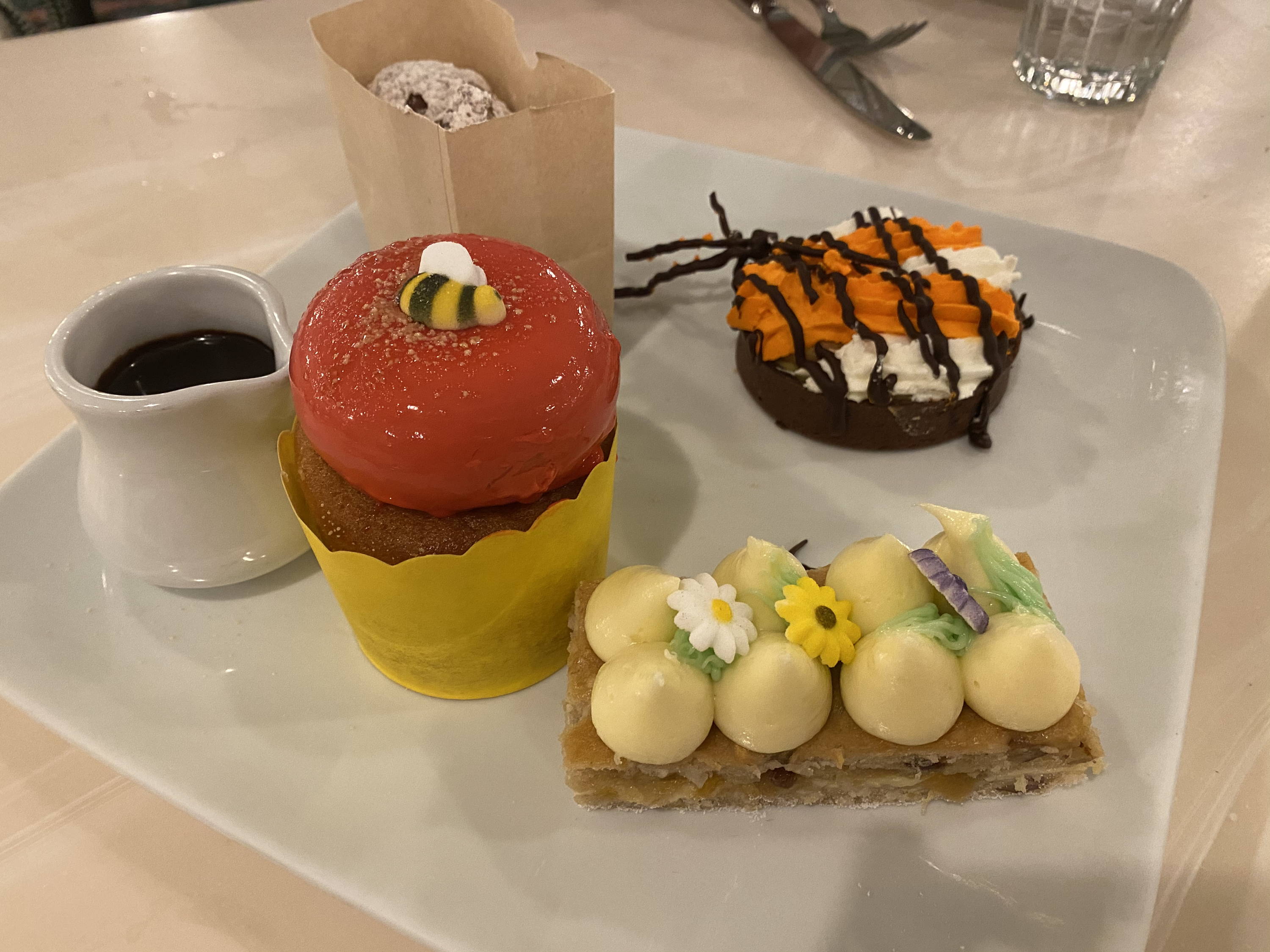 The Family Style Dessert Platter consisted of Seasonal Fritters with Powdered Sugar and Chocolate Dipping Sauce, Banana Cream Pie, Hummingbird Cake, and a Honey of a Cupcake.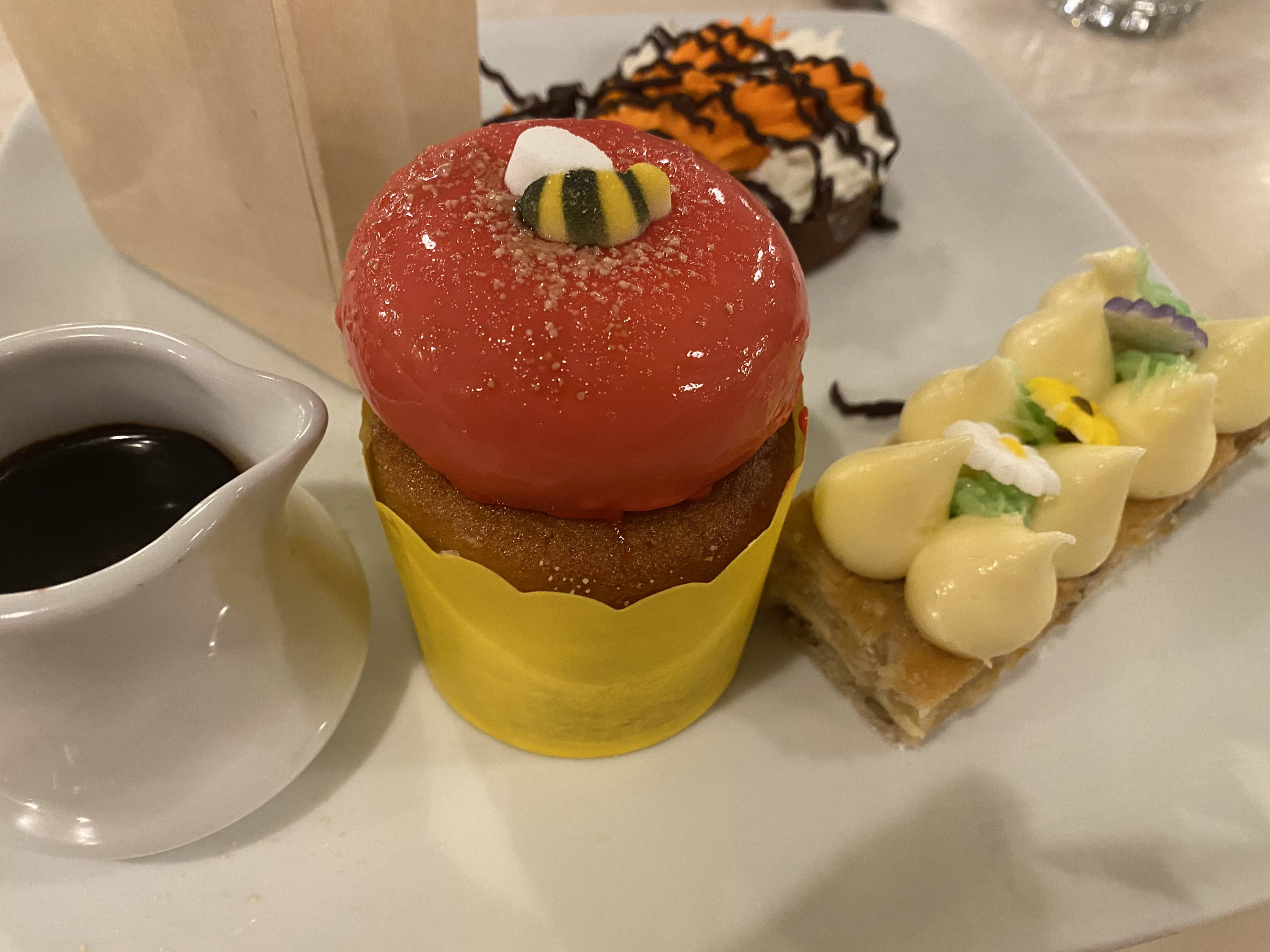 The Honey Cupcake was a gelatinous mold on top of a basic cupcake. The gelatin was fruity and sweet, and tasted really great. I don't think it paid particularly well with a cupcake, but it was a great fruit dessert to just pick from the top.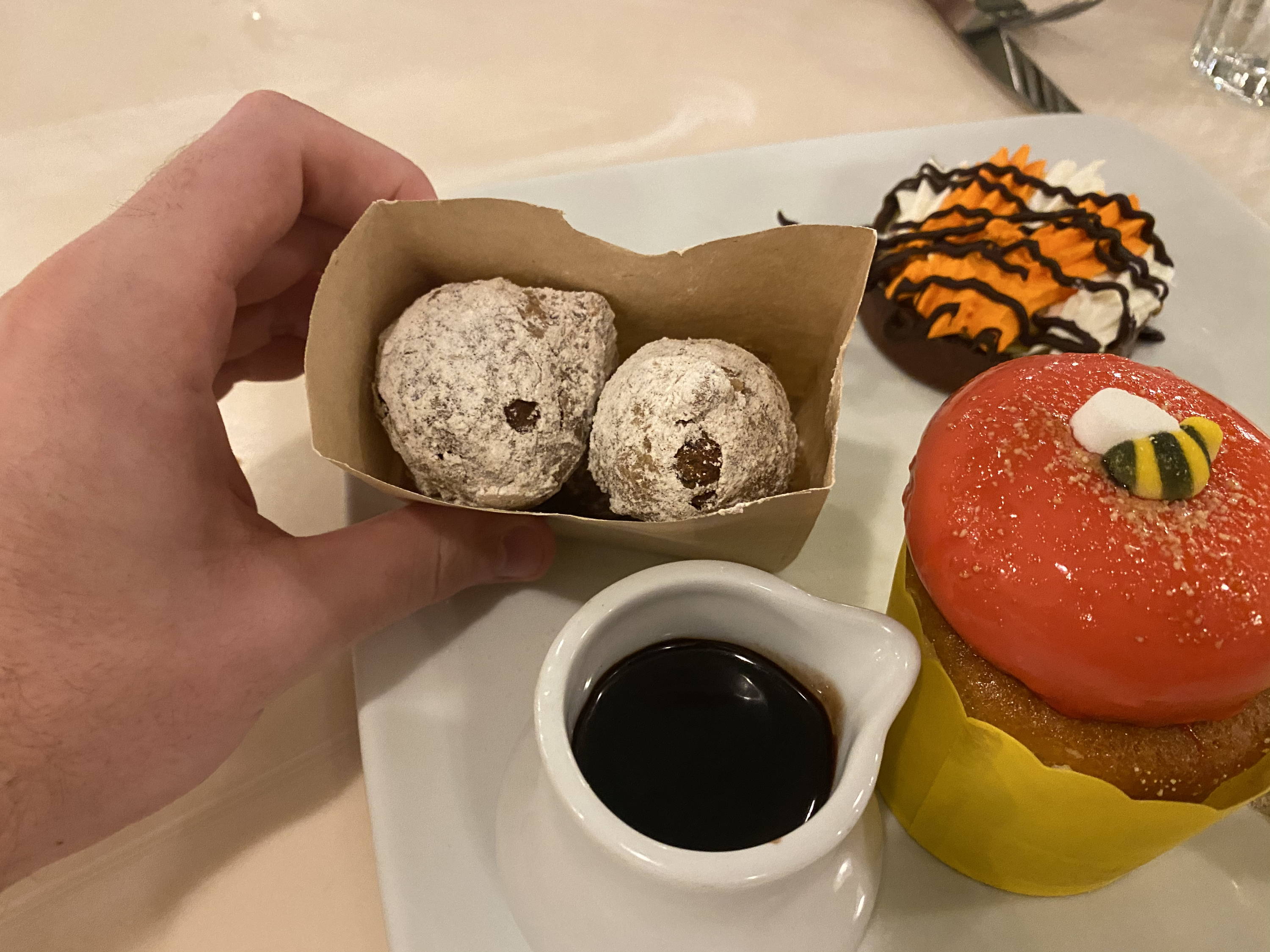 The Seasonal Fritters were the most disappointing of the lot. It was easy to tell they had been sitting for a long time and were hard to bite into. The chocolate was extremely warm and helped slightly to bring back flavor and texture, but overall these weren't an ideal dessert.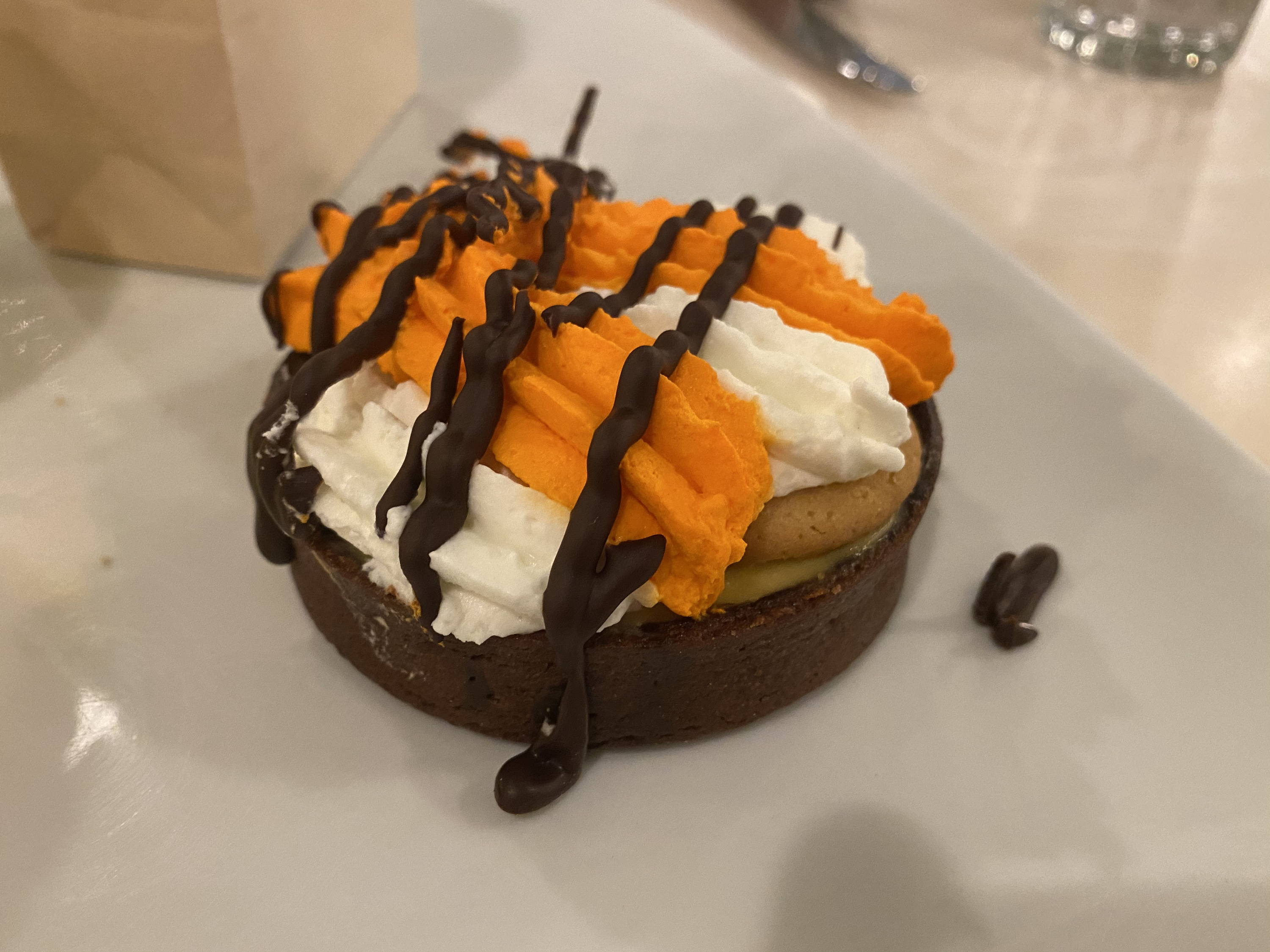 The Banana Cream Pie was my personal favorite (although Cody and Lex preferred other elements of the plate) and was a chocolate dough filled with banana cream with nabisco biscuits on top. There was frosting and hardened chocolate drizzled all over to top off the dish. The bananas were mushy and fresh, and the chocolate crust added even more flavor and texture to the unique dessert.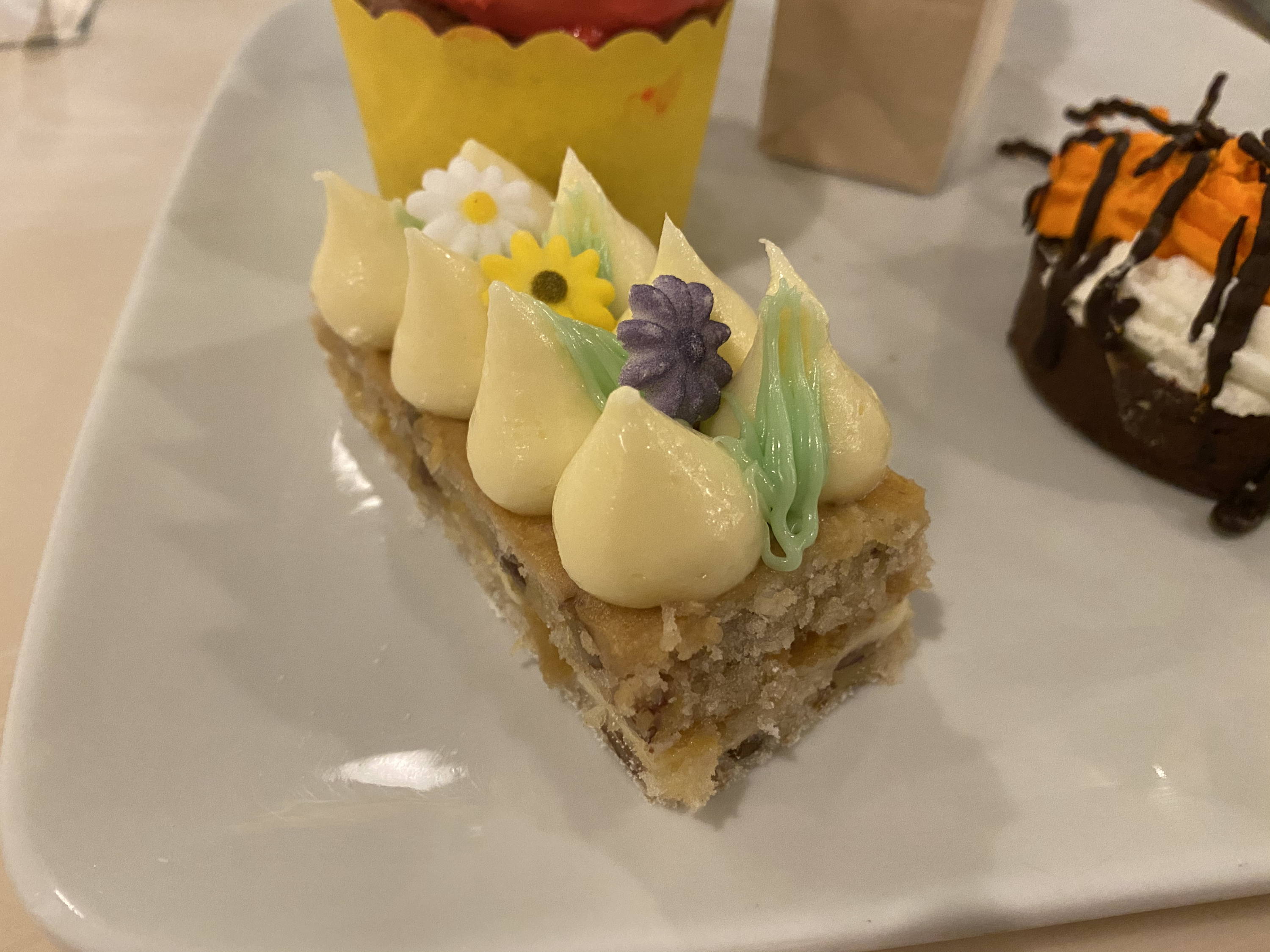 The Hummingbird Cake was Cody and Lex's favorite, and certainly didn't disappoint me either. It was topped with cream cheese frosting, and filled with walnuts and coconut, and overall was a sweet yet satisfying way to end the meal.
The former buffet line was converted into a line for servers to run up, grab the food they need, and run to the table. The area is now blocked off to guests for safety.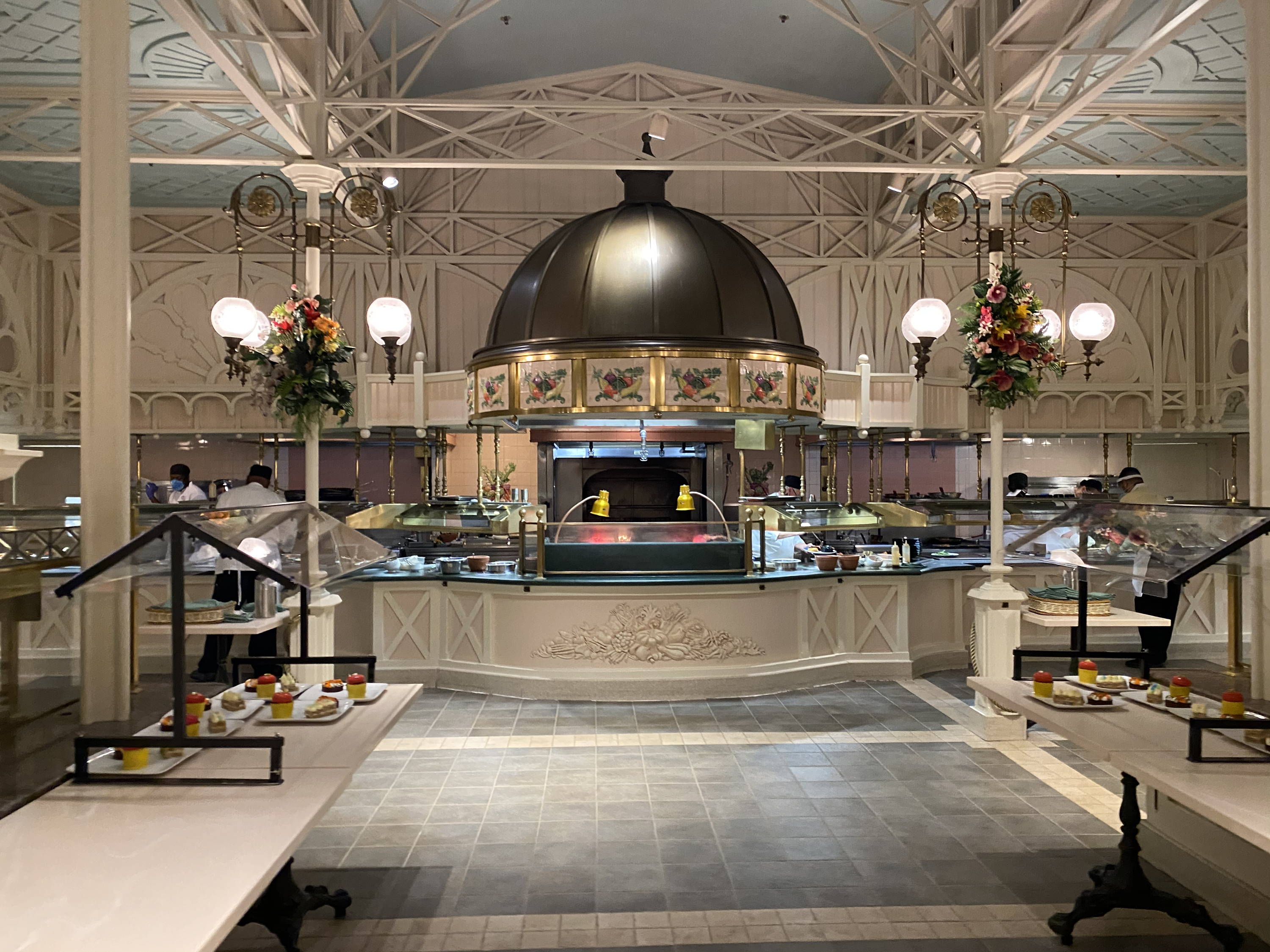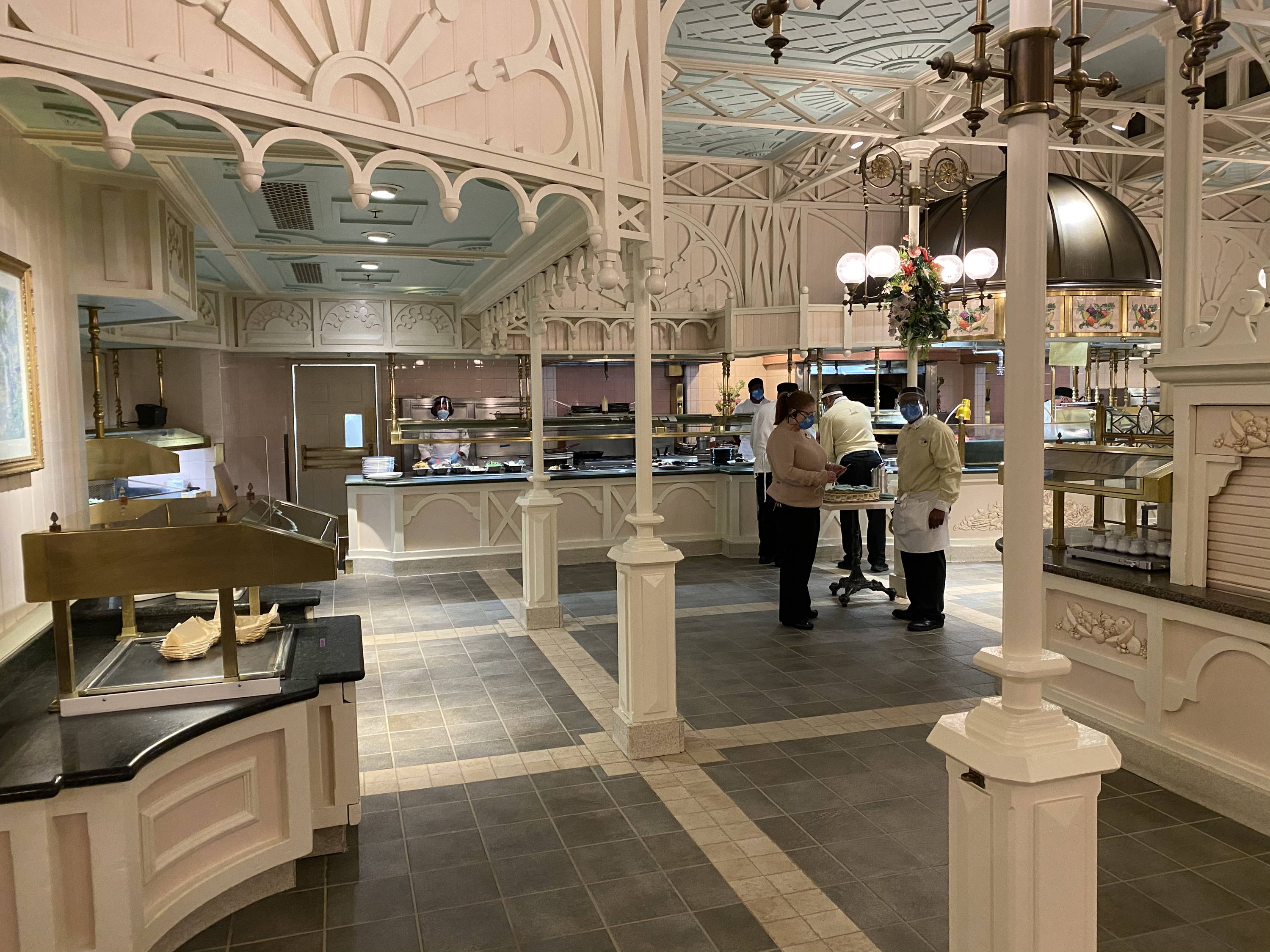 While characters currently aren't meeting at all within Crystal Palace, you can still find photo op's with Pooh and Friend's Topiaries in front of the entrance.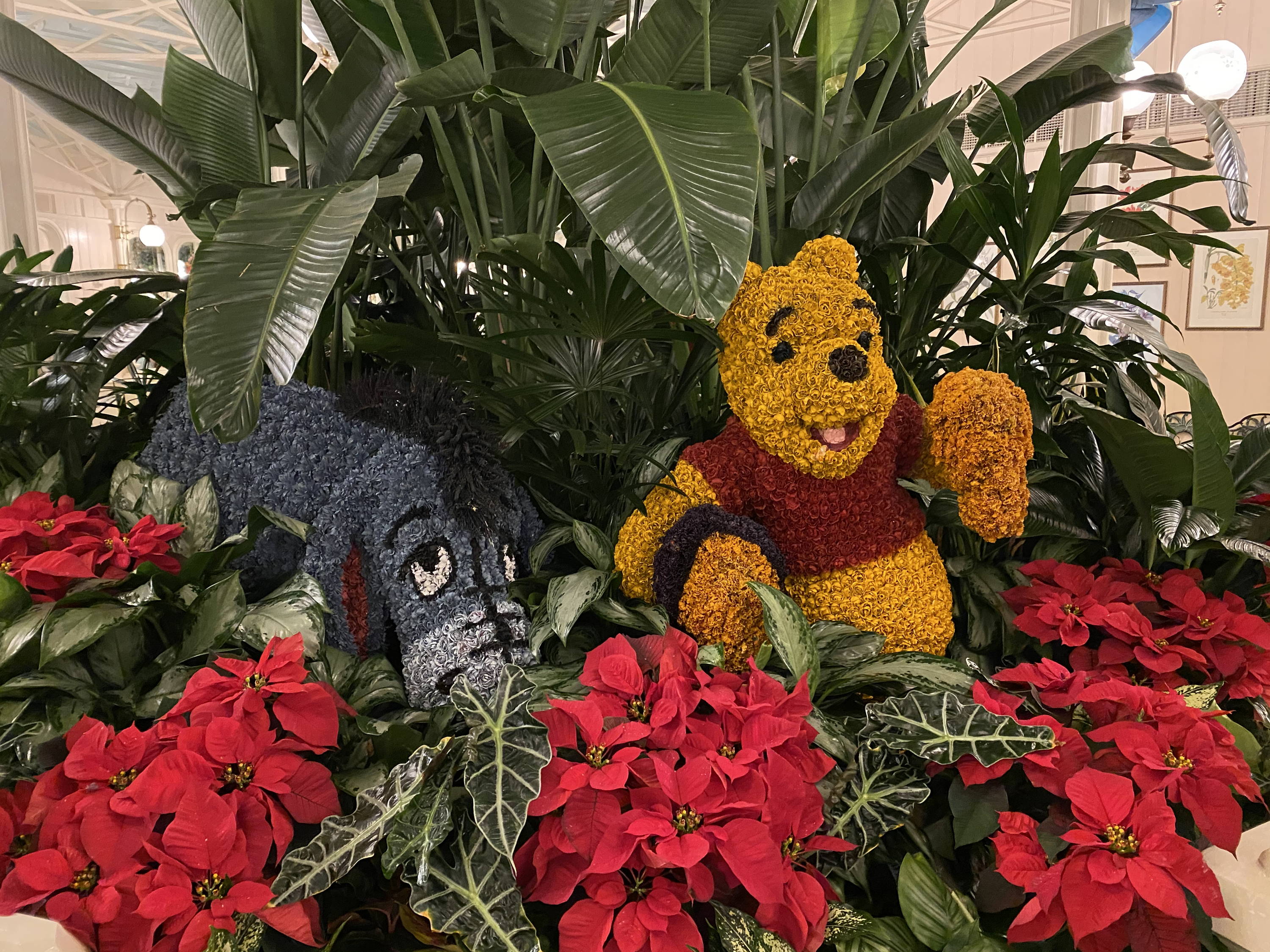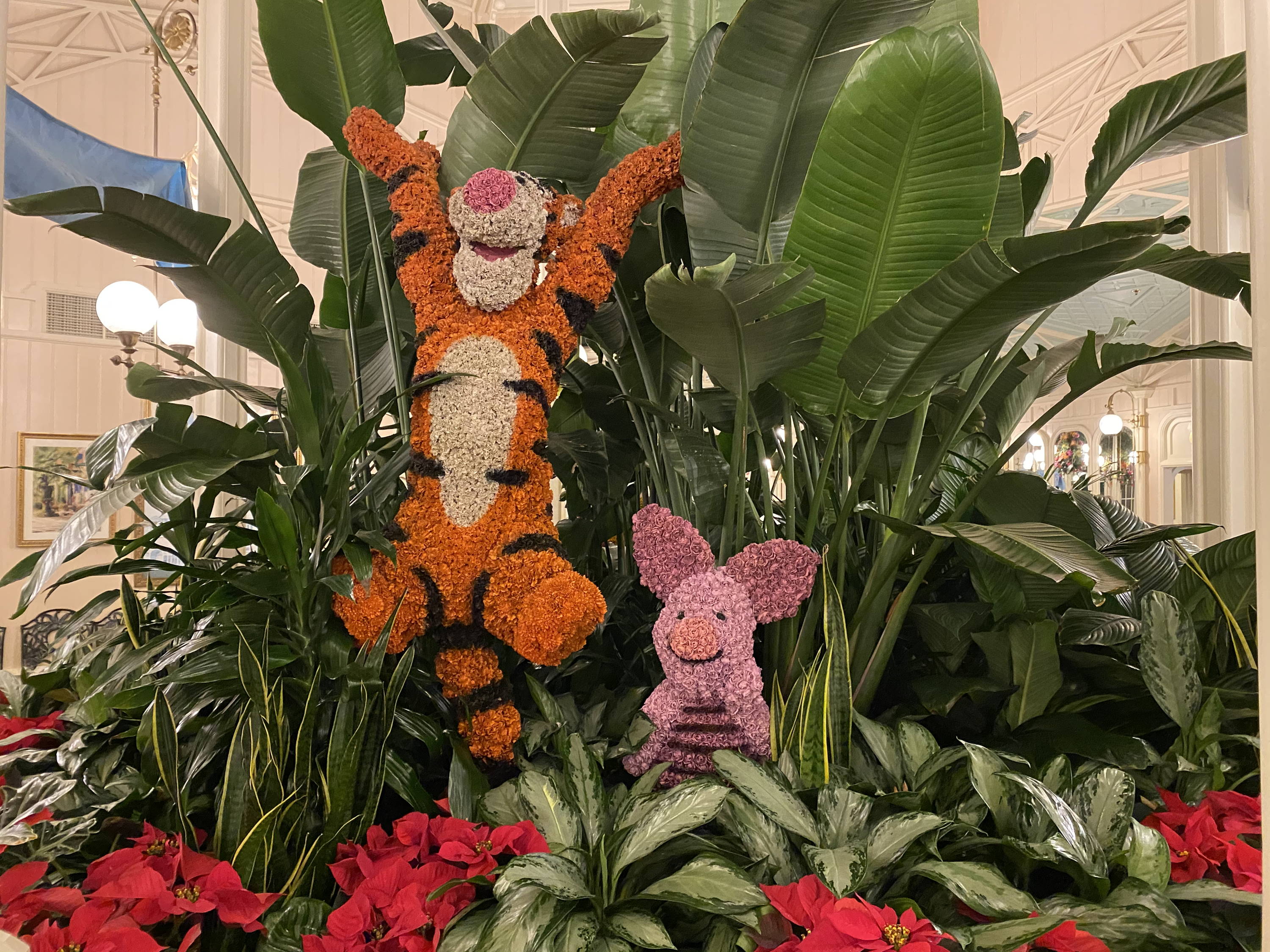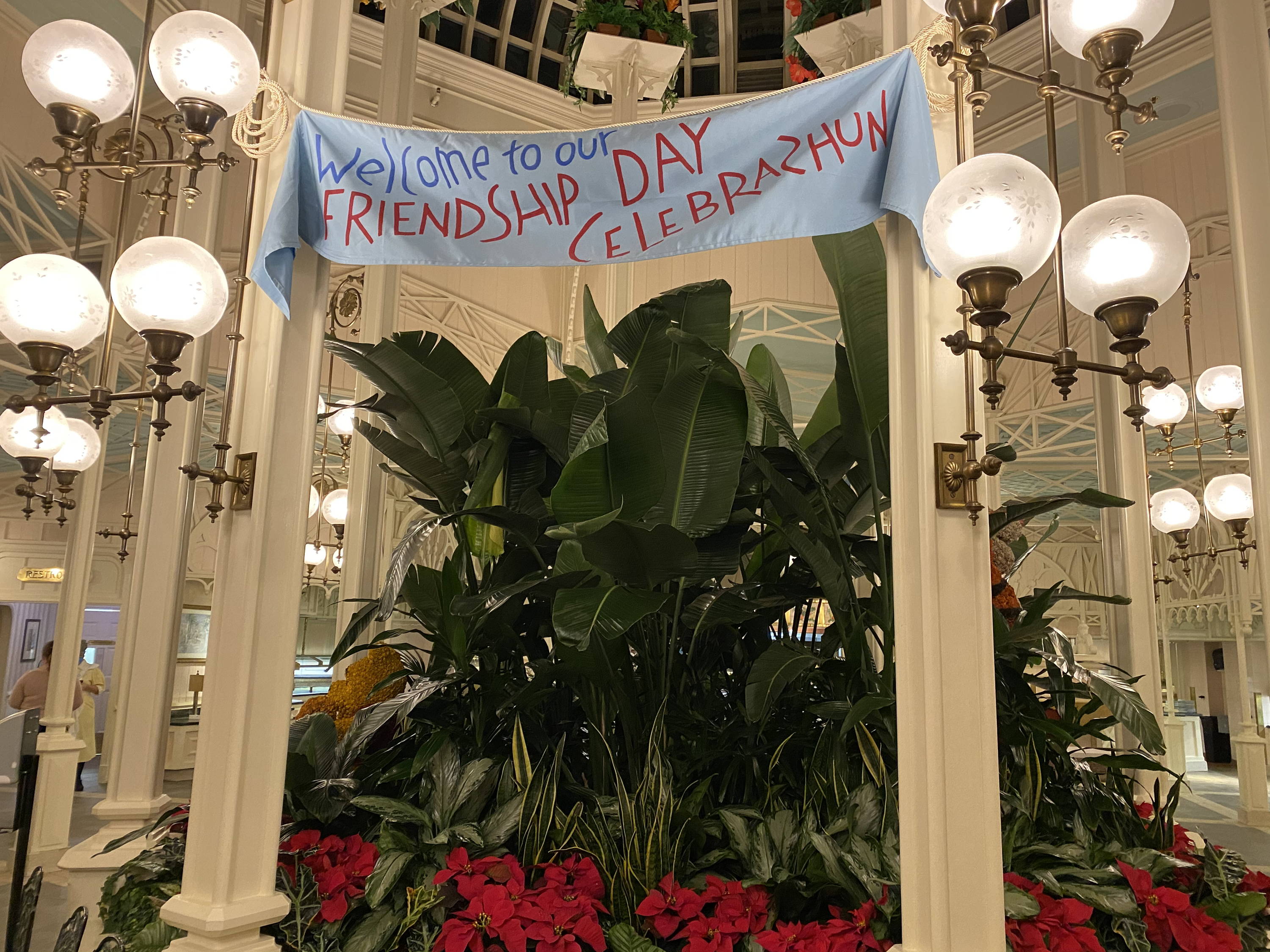 Overall, I'd say this was another pretty average meal at Magic Kingdom. The average theme park food that's becoming increasingly repetitive across property combined with the many opening day issues the restaurant was having in terms of service made for a rough reopening for the restaurant. Thankfully for what it was, it was mostly enjoyable and it was great to be back in a Main Street Restaurant.
If you liked this article make sure to check out our storehere, and use LOSTBROSBLOG for 10% off your first order!