Disney World is beginning to reopen in phases which means we're starting to see all-new snacks pop up around property. Yesterday we hit up The Boardwalk to check out what was open and what wasn't (the resort itself is still closed) and noticed the Boardwalk Bakery serving up an all-new Chocolate Chip Mickey Waffle Sundae! Now, this isn't the first time we've seen Chocolate Chip Mickey Waffles in the parks. They were featured as one of the exclusive snacks for Mickey's Not So Scary Halloween Party last year. However, with the cookie dough ice cream, this new snack looked too good to pass up! Word on the street is that you can upgrade your sundae to come in a Mickey Ears souvenir bowl, however, it wasn't available during our visit.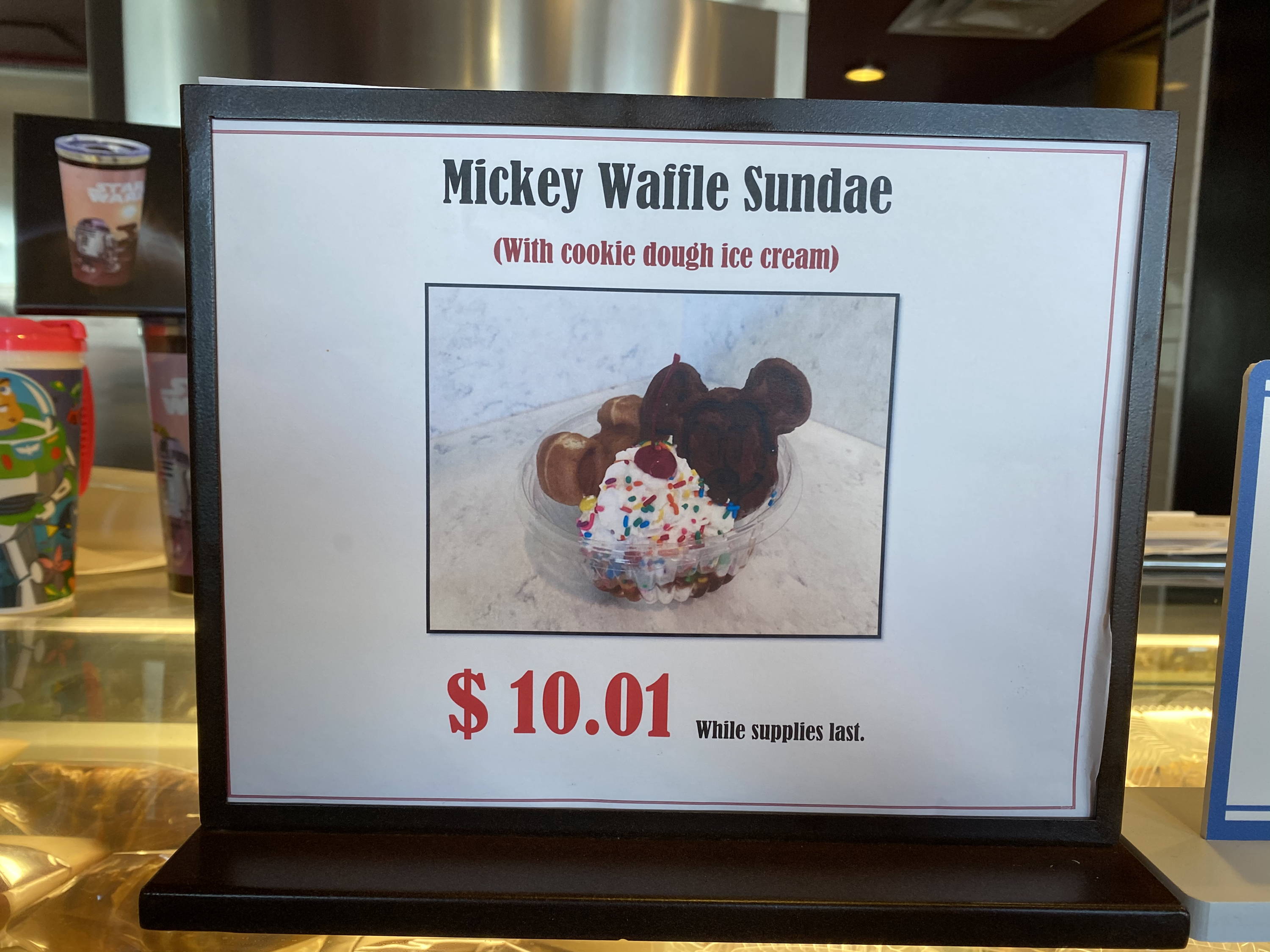 The Sundae is located at the Boardwalk Bakery and costs $10.01 (don't forget your extra penny). It's available all day every day alongside the Boardwalk Bakery's regular menu.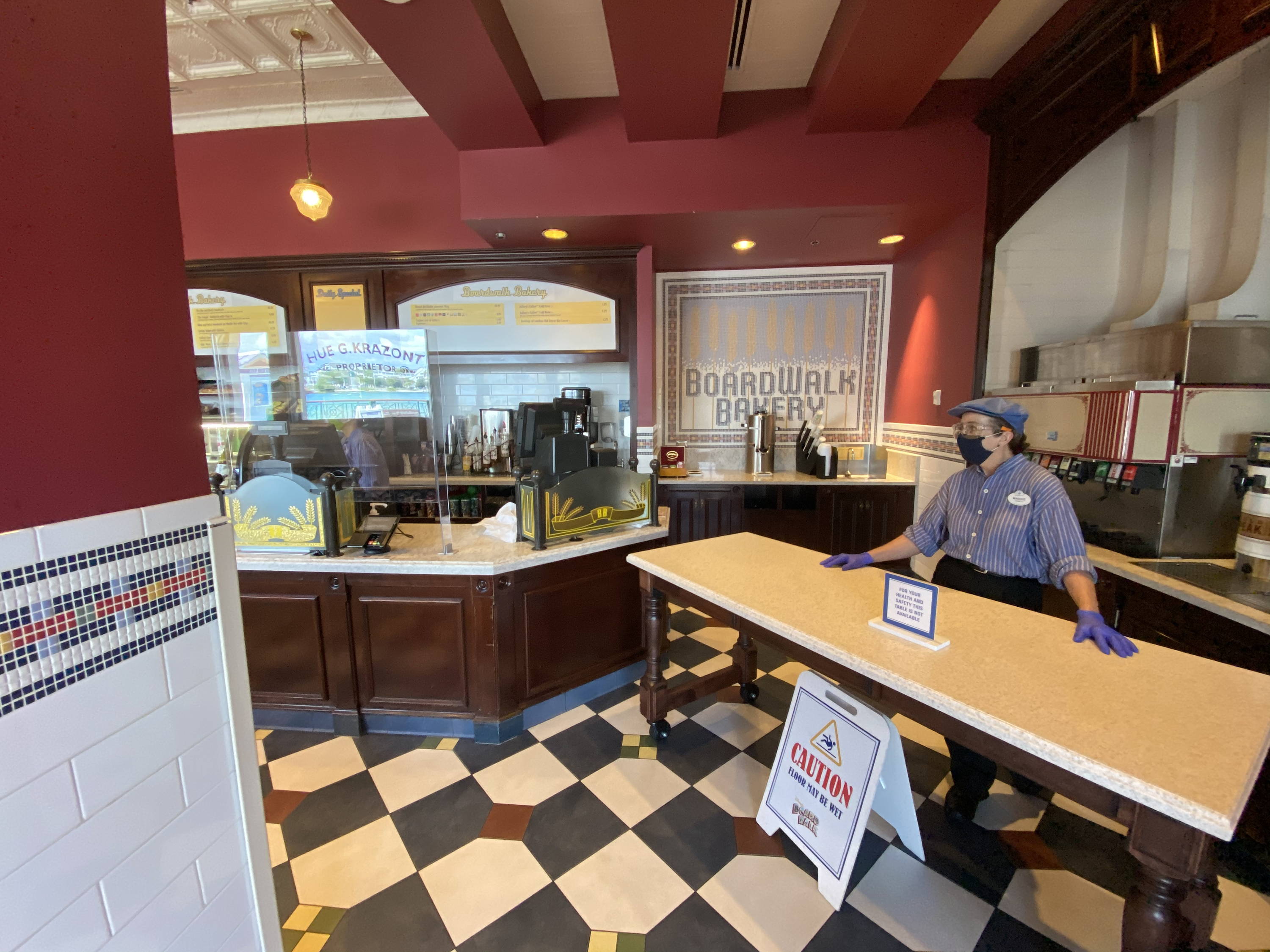 New social distancing measures inside the bakery include a separate service table as well as a separate drink fill station, where a Cast Member will distribute your food as well as fill your drinks for you. There's also a serve yourself condiment and silverware bar. Be careful while you're waiting for your food though, the corner is very small and can get crowded quickly with just a few people, making social distancing virtually impossible.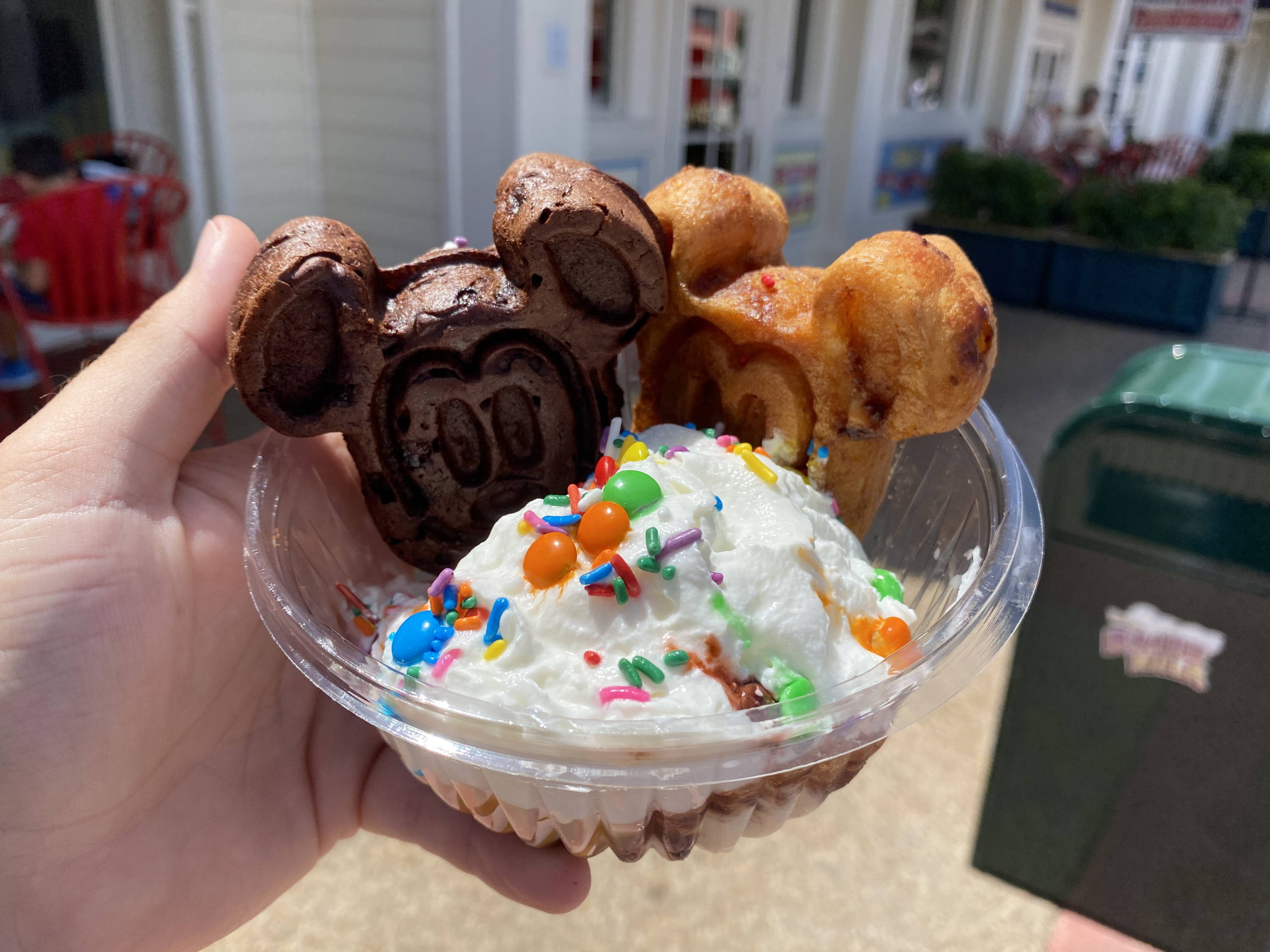 We got our Sundae and headed outside to take our couple hundred Instagram pictures before settling in to eat.
The sundae is loaded with pretty much everything you need. It comes with one chocolate waffle and one vanilla waffle, with a scoop of cookie dough ice cream. It's topped with caramel, whipped cream, sprinkles, and m&m's, and a cherry to top it all off, making for an absolute unit of a snack.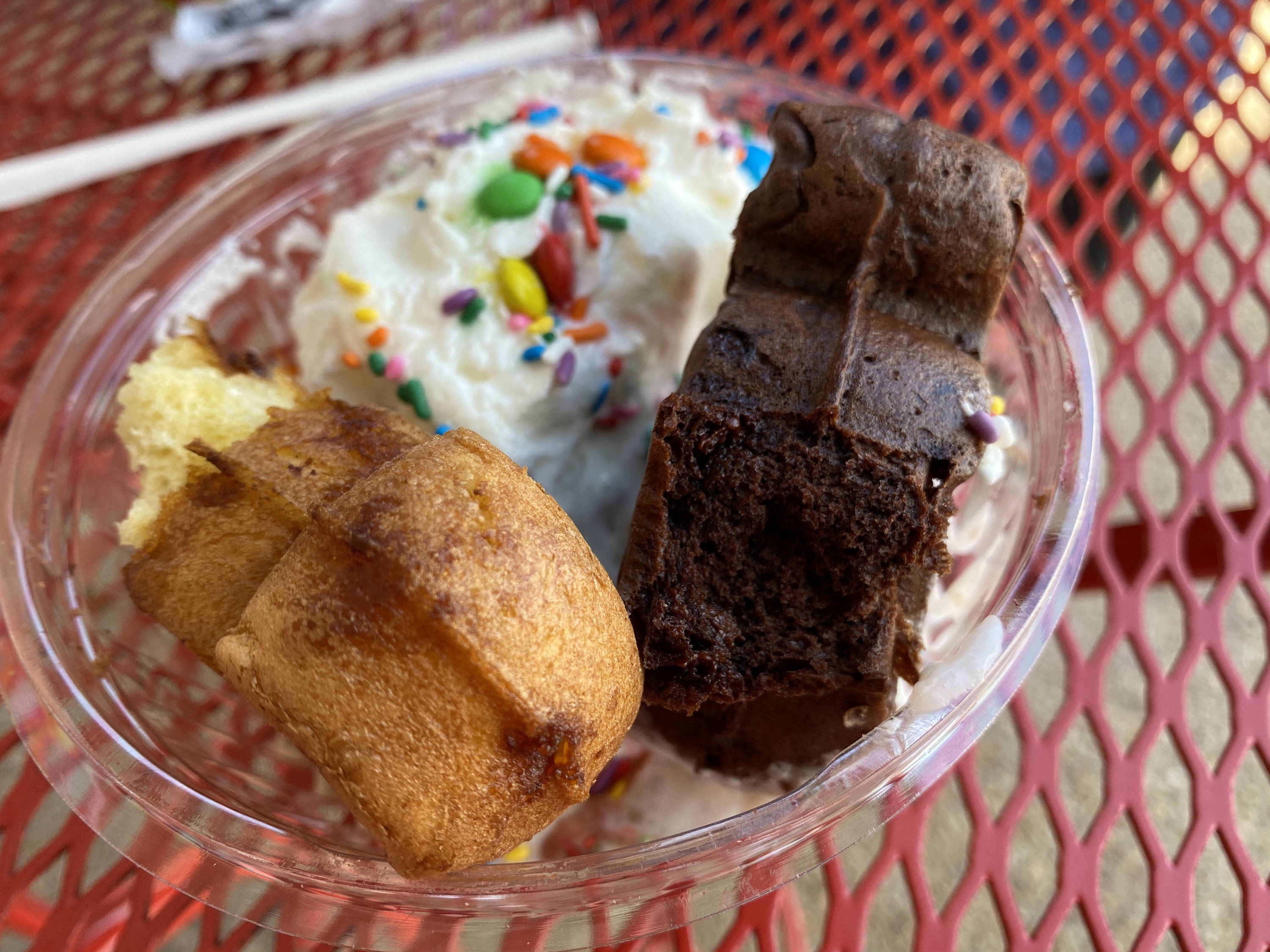 Like yin and yang. The perfect combination of chocolate and vanilla. It's art, really.
We bit the ears off to show the near-perfect consistency of the waffles. It was clear that these bad boys were fresh out of the oven and not sitting for any longer than a few minutes. The dough was warm and fluffy, and the ice cream surprisingly held up well in the 100-degree Florida heat for a few minutes (and by that I mean it wasn't a complete puddle when we ate it, I'd be lying if I said it didn't begin melting considerably.)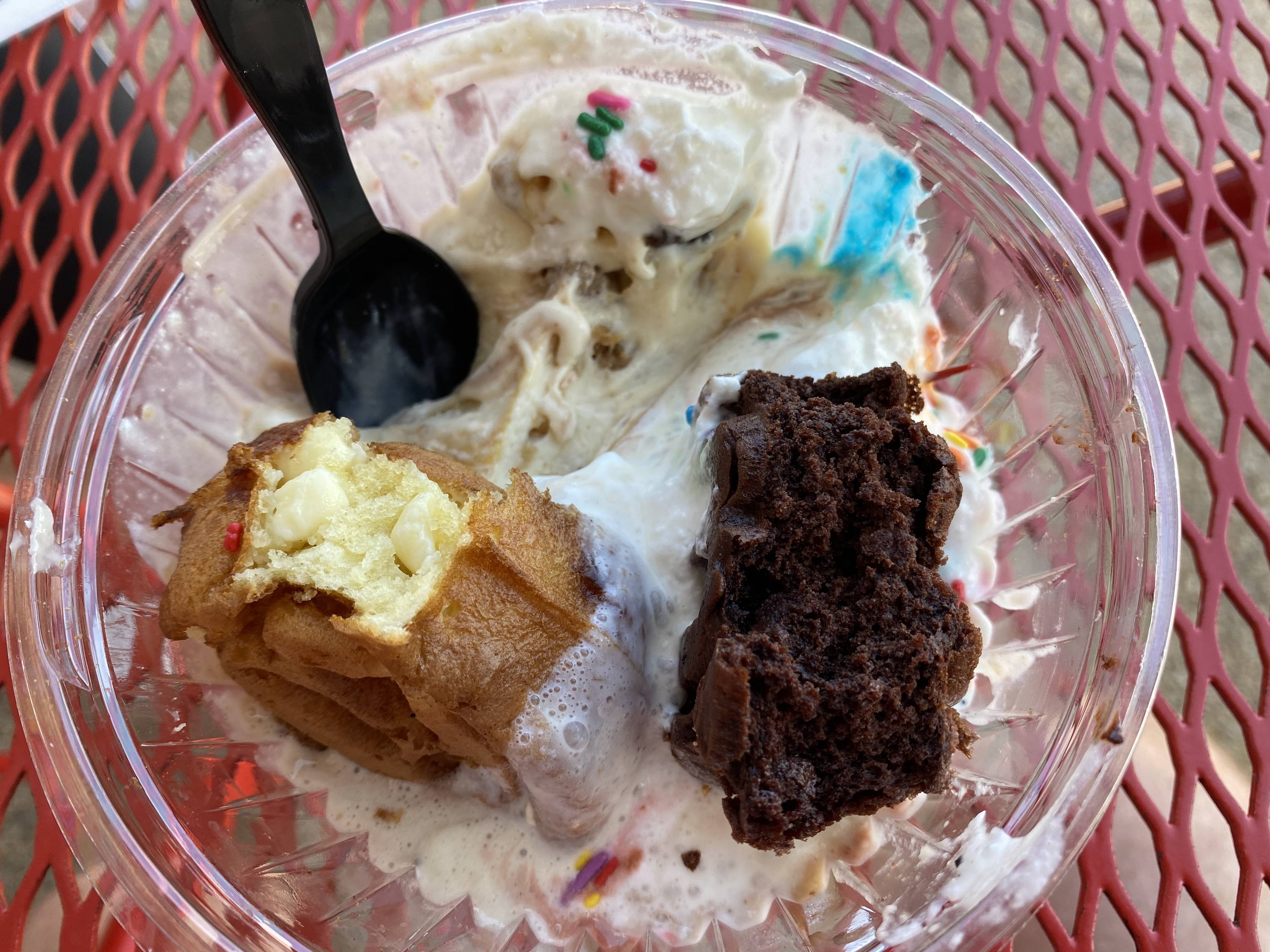 If you look closely you'll see that the vanilla waffle has white chocolate chips baked into it. I thought this was an amazing touch and it really added to the flavor. There was no crunch, as the chips had all but melted with the heat. The chocolate waffle was equally as delicious and while this one didn't come with chocolate chips, the chocolate flavor was extremely distinguishable and it was easy to tell the two apart. As for the ice cream, the caramel was lathered on heavy and it almost tasted like caramel ice cream as opposed to cookie dough ice cream, but the other toppings like the whipped cream and M&M's helped to add flavor and texture. Overall I thought the portion was on the smaller side but still plenty to share between two people as a snack or post-dinner dessert.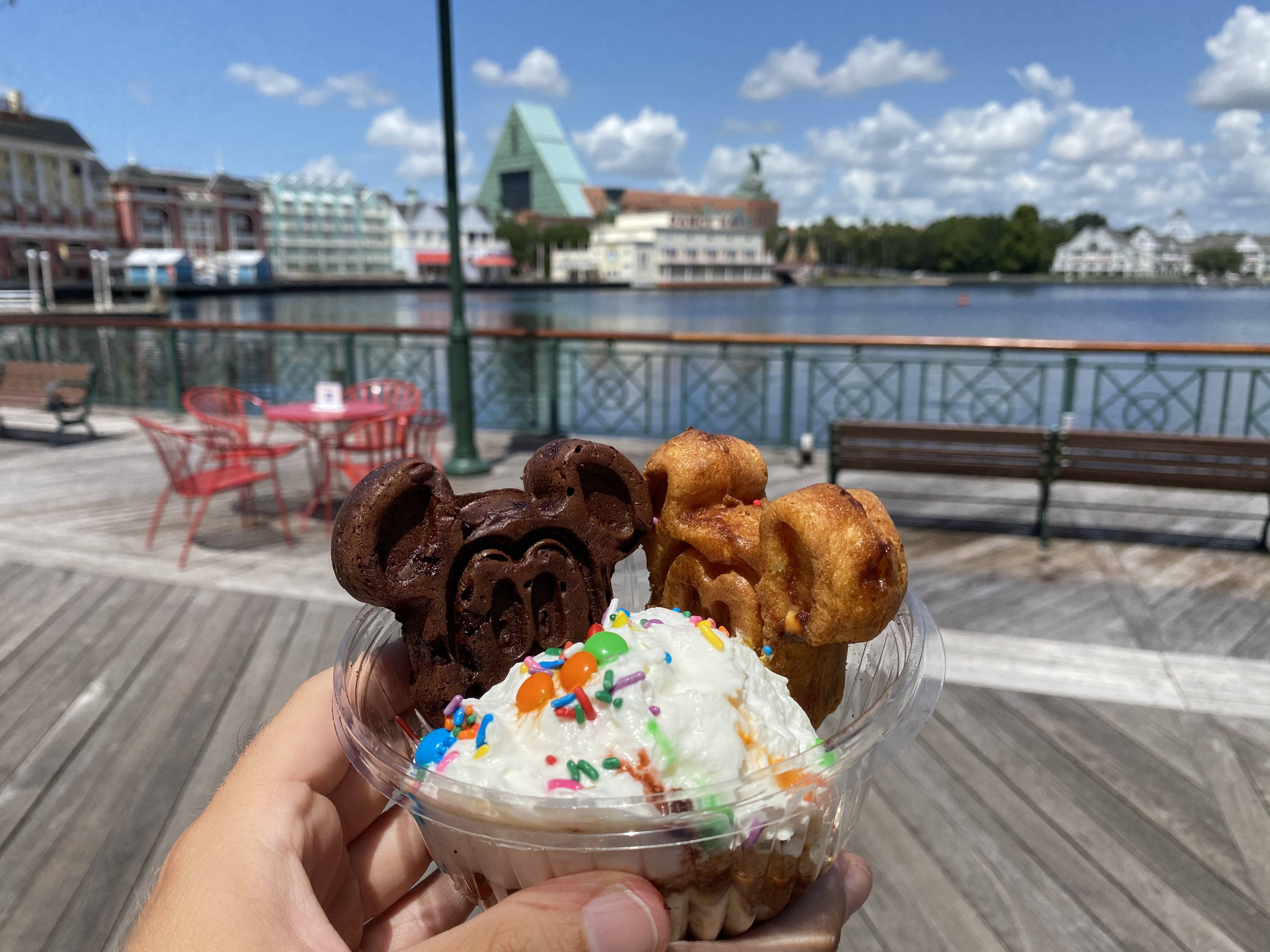 While most things at the Boardwalk are still shut down, if you'll be in the area this is a must-try for the Chocolate Mickey Waffle alone. It's great to see some of the Mickey's Not So Scary favorites being reincarnated in other snacks for guests to enjoy this year, even if the event is canceled.
If you liked this article make sure to check out ourstore here, and use LOSTBROSBLOG for 10% off your first order!