AMC Theaters have announced that they'll be reopening many of their theaters nationwide beginning August 20th. The Disney Springs AMC will be included in this reopening and will participate in a 15 cent movie ticket promotion on the theaters reopening day.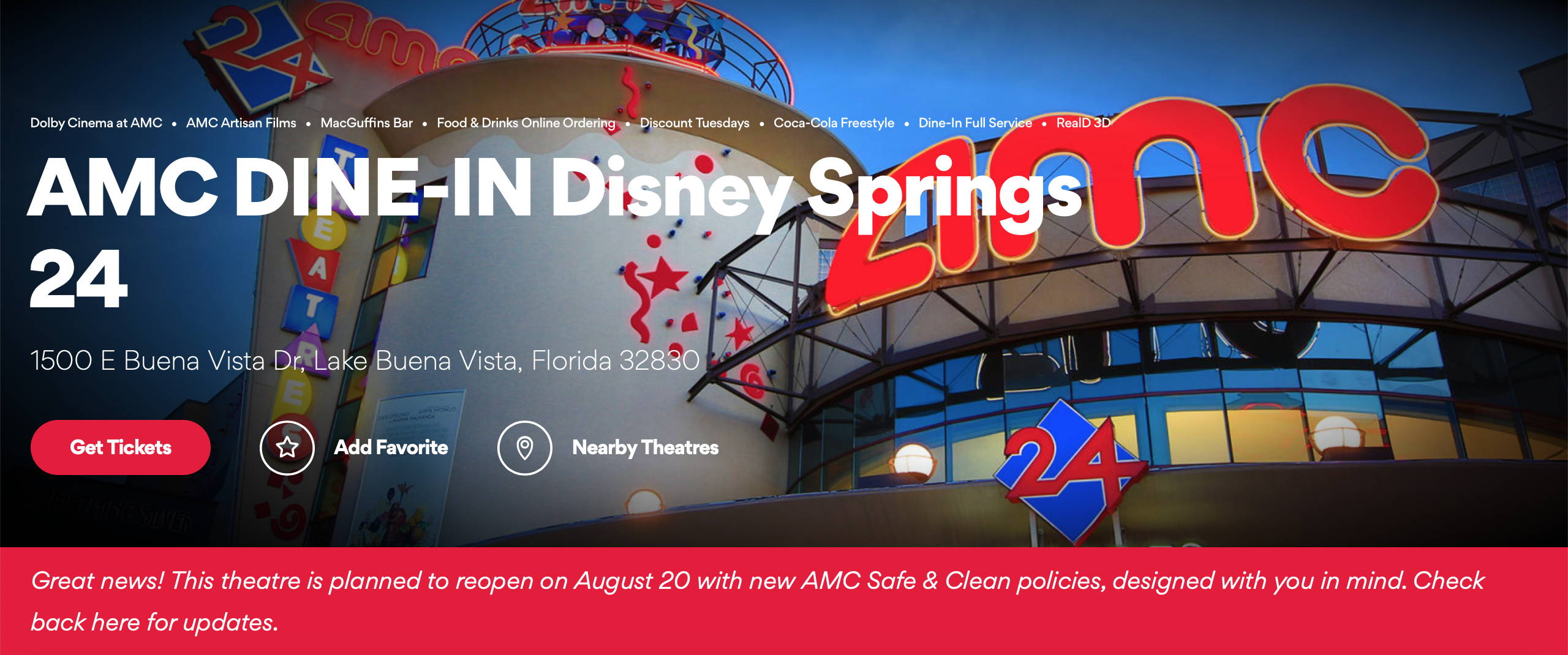 The theater will reopen with several other promotions to help get guests back in the theaters as well as to celebrate 100 years of AMC movies. Some promotions include a first month of AMC A-List for only $5, and concession promotions including a regular drink, regular popcorn, or kids pack for only $5
The 15 cent ticket promotion will be for one day only, on August 20th to celebrate the reopening of the theater. After continence fees, the ticket's total over $2, however, it's still the lowest movie "since the 1920's" when the company first began.

Select classic movies will be shown in theaters when they reopen including Black Panther, Beauty and the Beast, Back to the Future, Grease, Ghostbusters, and Star Wars: Episode V – The Empire Strikes Back.
AMC has also announced that Marvel's New Mutants will hit theaters including IMAX starting on August 28th.
The theaters are taking precautionary measures to help prevent the spread of COVID-19 with AMC Safe Clean Policies and Procedures. These include simplified menus for shorter lines at concessions and reduced auditorium capacities for social distancing.
Masks will be required for all except when eating or drinking in the auditorium. Social distancing standards as well as reduced theater capacities will be in place as well as cashless payments and simplified menu selections. Hand sanitizer will be available inside theaters, and all staff will be required to undergo a health screening prior to reporting for work. Condiments at concession stands will be by request only, and refills will be temporarily unavailable upon reopening.
AMC has also stated "We've stepped up our cleaning game throughout the theatre and added extra time between movies so our crew can take extra care disinfecting the auditorium before your show. Check out our new cleaning policies, advised by Clorox®, the world leader in all things clean."
You can find complete information about AMC's efforts to prevent the spread of COVID-19 here.
You can check to see if your local theater will be reopening next week here. You can also reserve showtimes for upcoming showings of classic movies, including AMC's 15 cent reopening day promotion here. 
If you liked this article make sure to check out ourstore here, and use LOSTBROSBLOG for 10% off your first order!