We Want You To Have The Best Disney NYE Ever!!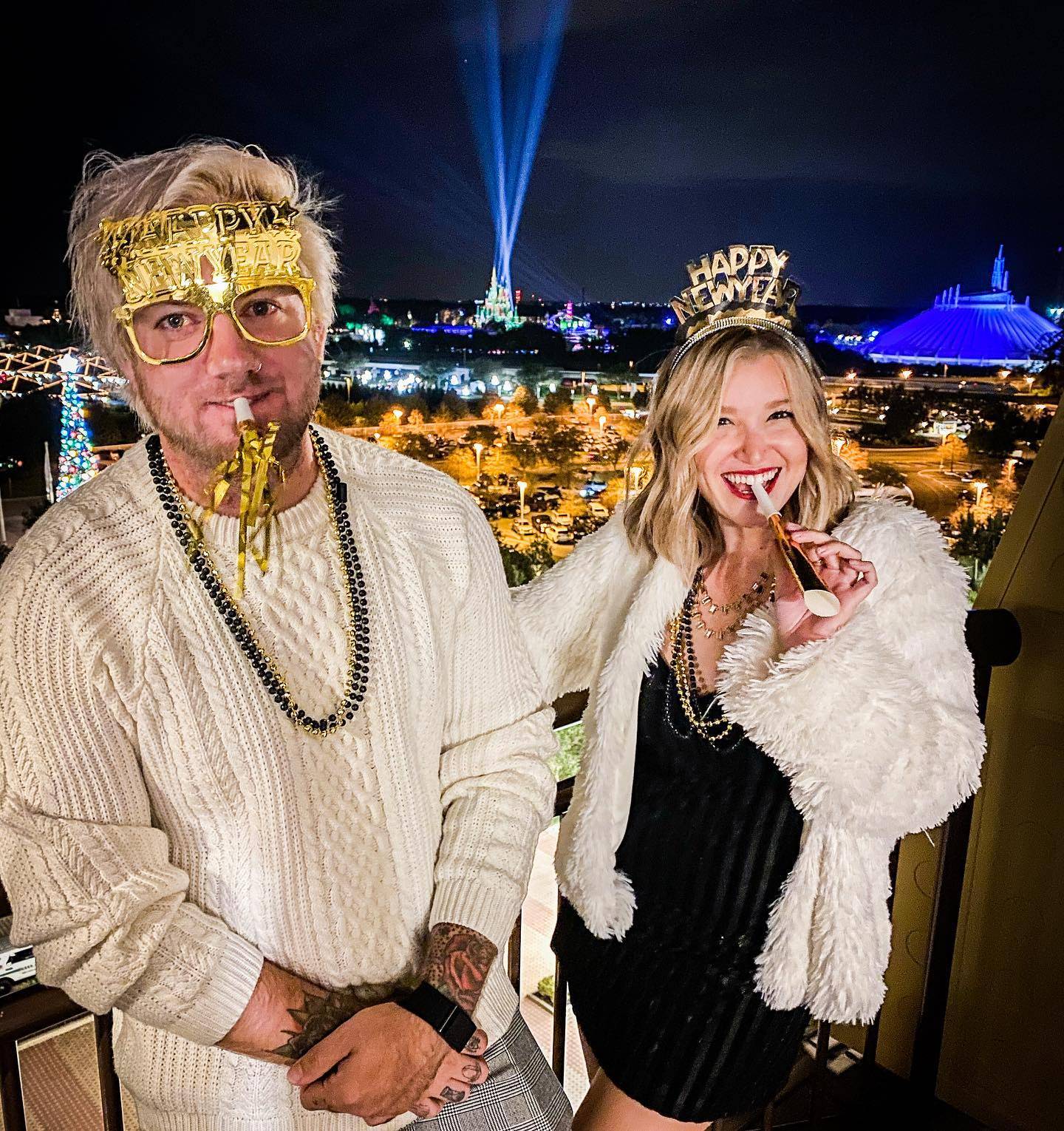 I don't know about you guys, but 2022 rocked me- like HARD.
As much as I love the hustle and bustle of the holiday season ( big time heart eyes @ Gertie w/ her santa hat), something about the new year is so exciting and fresh!!! Spending time in Walt Disney World is magical enough, but put yourself in the crowd on New Year's Eve? And you're immediately feeling an energy unlike anything else.
Also sometimes stressful, but mostly magical!
Today I'm sending us all on a magical trip of what to expect coming into WDW for New Years Eve. No stone unturned!
So, 3… 2…. 1…. Happy New Year Bros… Here's how we're celebrating!
---
---
What to Expect on New Year's Eve in WDW
Crowds & Long Lines:
The crowds during the holiday season are nothing if notincredible. Sometimes, I sit back and wonder how they manage to fit this many people into the Magic Kingdom… and NYE is no exception. The morning may vary bc people will be sleepily making their way to the parks to party all night, but night will be a doozy. So here is how to help: Pack your patience pants :).
I mean it! You're with your family, you're enjoying a very special holiday, and while it may be crowded and you might be popping over to at 120 minute Mine Train Wait (which is not worth it- and I tell you why rightHERE), take a break, remember where you are and who you're with, and know that no day is ever perfect, but you can choose to start the New Year in Disney with a great attitude even if everything is taking twice as long as you thought it would.
That's why we loooove planning ahead!
Dining Reservations:
Make those reservations early! Plan ahead! People will be eating in WDW and there will be very full table service restaurants. So talk to your party and figure out where you want to eat BEFORE the trip starts. Good news- you can now modify or cancel your reservations in the My Disney Experience App up to 2 hours before your reservations (!!) Pro tip: if you have a larger party- talking like 8+ people, you can always make two separate, smaller reservations and ask our friendly neighborhood cast members to see if they can combine them into one larger one.
Some places may have extended hours and be open later than usual for the holiday. (You can make reservations as late as 10:45 in some places!)
**Be sure to call ahead and ask if restaurants are doing any kind of special champagne toast/dance event or party the night of NYE!**
Special Events & shows:
Tis the damn season!!! This is why we love the parks on Holidays!!!
Disney Springs:
Open from: 10:00 AM to 11:30 PM
Magic Kingdom:
Early Entry for Deluxe Resort Guests: 8:30 AM to 9 AM
Regular hours: 9 AM to 1 AM
Park hopping available after 2 as long as capacity isn't full at the park!
Magic is also doing some very special performances of Holiday Favorites!!
Holiday Fireworks (!!) Fantasy In The Sky Fireworks @ 6:30 PM & 11:50 PM
Special viewing of Fantasy in the Sky is also available the night before New Years Eve in case you want to ring in the new year a day early with (maybe? maybe not?) less people- same times as above :)
Mickey's Most Merriest Celebration Castle Show @ 7:45 PM, 9:00 PM, & 10:00 PM
Mickey's Once Upon a Christmastime Parade @ 12:00 PM & 3:00 PM
EPCOT:
Early Entry for Deluxe Resort Guests: 8:30 AM to 9 AM
Regular hours: 9 AM to 1 AM
Park hopping available after 2 as long as capacity isn't full at the park!
A Performance of the Nighttime Spectacular Harmonious will take place @ 6:30 PM
This may be one of your last chances to catch this one, as it is slated to go away after the 50th anniversary celebration ends and EPCOT is getting a neeeewwwwwwww spectacular next year!
Dance Parties and Live Music will be happening throughout the World Showcase as well in the evening time!
And a Countdown to Midnight will appear on Spaceship Earth around 11:55 PM.
Hollywood Studios:
Early Entry for Deluxe Resort Guests: 8:00 AM to 8:30 AM
Regular Hours: 8:30 AM to 12 AM
Park hopping available after 2 as long as capacity isn't full at the park!
Fantasmic! Wil have viewings at 8:00 PM & 9:30 PM
Wonderful World Of Animation (The show projected on the Chinese Theater) Will take place at 9 PM.
Hollywood Studios has some unconfirmed but usual yearly occurrences such as a lowkey countdown to midnight and specialty food/drink options.
Animal Kingdom:
Early Entry for Deluxe Resort Guests: 7:30 AM to 8 AM.
Regular Hours: 8AM to 9 PM.
Probably some DJ and special food at DAK, but beyond that a very chill NYE. No fireworks here so we don't scare the sweet animals <3
---
---
Our Pro Tips for NYE (and every other busy season)
Call ahead and ask! Cast members are always happy to help with any information they have about what's going on around them- and if they don't know, they can usually find someone else who does!

Have patience!! Reiterating because this is the time of year when things get stressful because you're waiting and you're hangry and your Aunt Carol decided at the last minute to get a Turkey Leg and you planned a nice family dinner at Crystal Palace and she ruined her appetite. It's vacation! Enjoy it!

Get everywhere early. If you have a dining reservation at 7:30? Check in at 7. If you want to see the 3PM Parade, you should line up and be ready at probably 2 pm. People will be sitting and waiting for these events, so line up early and be prepared to wait. Even grab some snacks and drinkies to enjoy while you wait for the best parade of all time. (BRB Crying I won't be seeing it again this year)

Be Nice to Cast Members!!! They literally do so much and they are spending their holidays helping your family and they deserve the kindness and recognition of 1000 thank yous. You always catch more flies with honey than vinegar and you truly never know what cast may be able to make happen for you if you treat them with kindness. :)
Happy Happy New Year You Guys!! Y'all are not ready for what's to come with the Bros in the New year and we are so excited to share it with you all.
Meet up Soon?! Events?! Music?! Merch you never wanna take off?! It's all comin :-)