The Disney Parks Blog has just shared a first look at all-new Walt Disney World entrance signs coming to the resort ahead of the 50th Anniversary next year. Check them out below!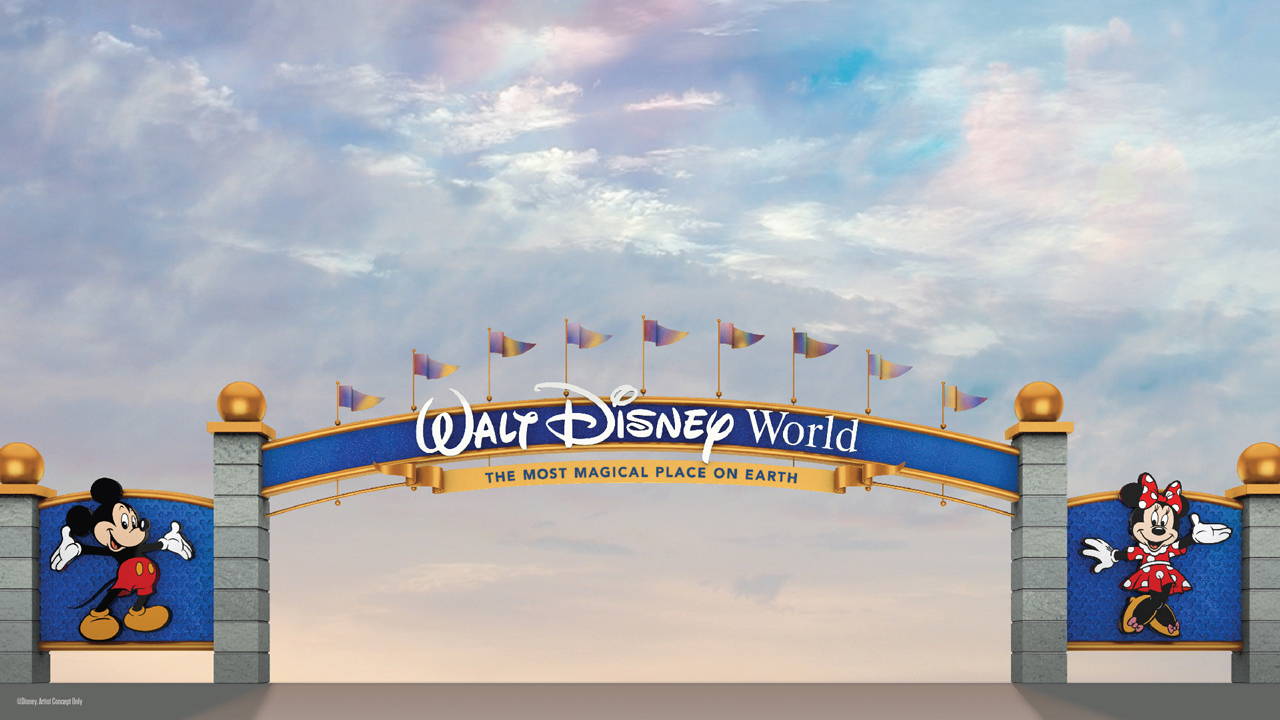 "If you've ever traveled to Walt Disney World Resort with children – or maybe even adults! – I'm sure you've heard that phrase once or a hundred times. Everyone's just so excited to experience their favorite attraction or grab their best bite to eat, the trip can feel like it takes FOREVER.
When you stop and think about it for a moment, though, the very first bit of magic you experience is actually driving underneath the Walt Disney World gateways – those grand arches stretching over the roadways that tell you, yes, you've finally arrived at The Most Magical Place on Earth. You are here!
Starting today, these gateways to a Disney vacation are about to get some pixie dust as we begin to adorn them with a new color palette that complements the recent royal makeover of Cinderella Castle at Magic Kingdom Park. The rendering above gives you a first glimpse at what the entrances will look like when they're finished; in addition, you'll see these colors appear on the Magic Kingdom Park Auto Plaza as we bring a new shimmer to that iconic entryway.
These refreshed gateways will continue to set the tone for all the stories you'll tell and the memories you'll cherish long after your visit. They're also part of the broad tapestry of new experiences happening across Walt Disney World as part of the resort's historic transformation that includes expansive themed lands like Star Wars: Galaxy's Edge, new attractions like Mickey & Minnie's Runaway Railway, and new places to stay like Disney's Riviera Resort.
Keep checking back with us here at the Disney Parks Blog for more updates on this exciting project and more as we continue to chronicle the transformation of The Most Magical Place on Earth!"
If you liked this article make sure to check out our storehere, and use LOSTBROSBLOG for 10% off your first order!