The Epcot International Festival of the Arts 2020 is less than a week away now! We're so excited to hit Epcot all day long this Friday and try all the new food the festival has to offer this year. Today, Disney previewed some of those new offerings with some insanely delicious-looking pictures and descriptions for the new food offerings. Cody and Lex got together and highlighted some of their most anticipated new dishes, and broke them all down into savories and sweets, so let's check them out!
Vanilla, Rose Water, and Pistachio Panna Cotta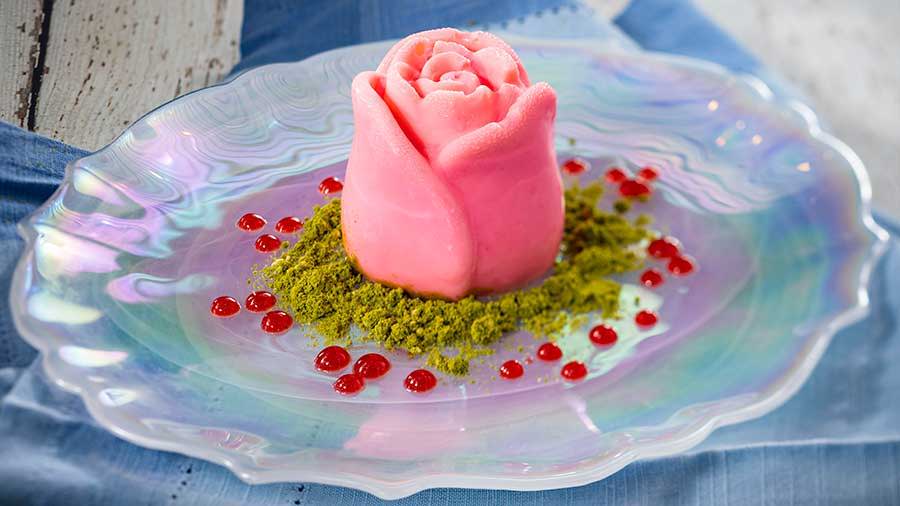 So to my understanding, this was served last year, not sure how I missed it, but as a cute lil dome?? somehow I missed that, but now I get to see it for the first time as this beautiful rose!! I love rose water (I like my cocktails either mega light and floral, or manly and whiskey-y) so that flavor with the sweet nuttiness of pistachio, and vanilla, I'm hoping this is one of the best desserts I've ever had at Disney in the light earthy and floral category. it just sounds so romantic in flavor 🥺 -Cody T
Ok, how on earth did I miss this one last year?! One thing I love about Festival of the Arts is how creative they are when it comes to presentation. This Vanilla, Rose Water, and Pistachio Panna Cotta is the perfect example of that!! All the different flavors sound like they are going to be such a fun experience to dive into. I hope I am just as happy with the taste as I am the presentation. -Lex
The Deconstructed Dish - Deconstructed Ruben and Deconstructed Strawberry Cheesecake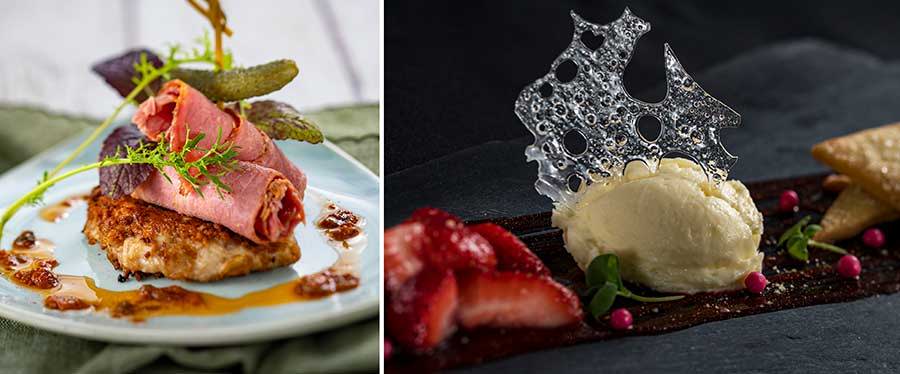 The Deconstruct Dish is always a winner and only they could take a deli classic Rueben and turn it into art. it looks so amazing with a great portion of corned beef and a Jarlsberg cake??? A cows milk cheese baked into bread?? COME ON!!! it got me drooooolin and boolin. this dish is going to be fantastic and I'm rueben...rootin for it!! -Cody T
The Deconstructed Strawberry Cheesecake was one of my FAVORITES last year, so I am so happy it's coming back!! I don't even like cheesecake but I love this one so that says a lot! Cheesecake can be very overpowering in taste, so it helps that I can decide how much of the actual cake I want in each bite. Ugh, I just love this one. So excited to try again! -Lex
L'Art de la Cuisine Française - Tomate Farcie Façon Paul Bocuse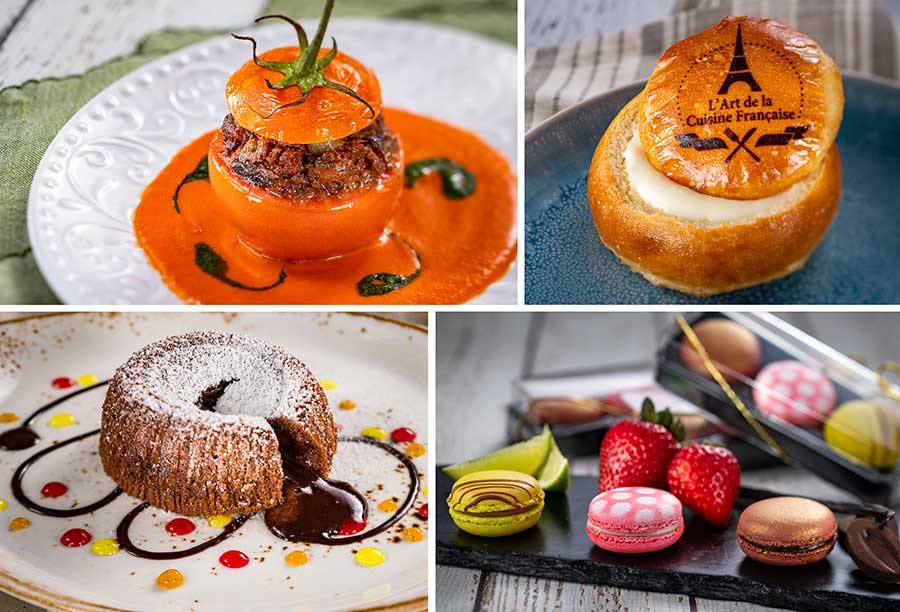 So I'm stoked to try the Tomate Farcie Façon Paul Bocuse. I've stuffed peppers and mushrooms before, but this will be my first adventure into the french whipping of braised ribs in a tomato. I honestly can't say much cause I have no idea what to expect from it and I hate tomatoes, but I think this is the thing that makes me realize I love something I hated in my late 20s lmao. -Cody
If I am being honest.. I usually don't have much luck at the France booth during festival season. But the food offerings this year have me so intrigued, especially the Braised Ribs in a TOMATO! Let's hope the presentation is just as well done in person as it is in the picture here. -Lex
Funnel Cakes (Located in The American Adventure) - Peanut Butter & Jelly Sandwich Funnel Cake with Peanut Butter Ice Cream, Marshmallow Cream, and Raspberry Glaze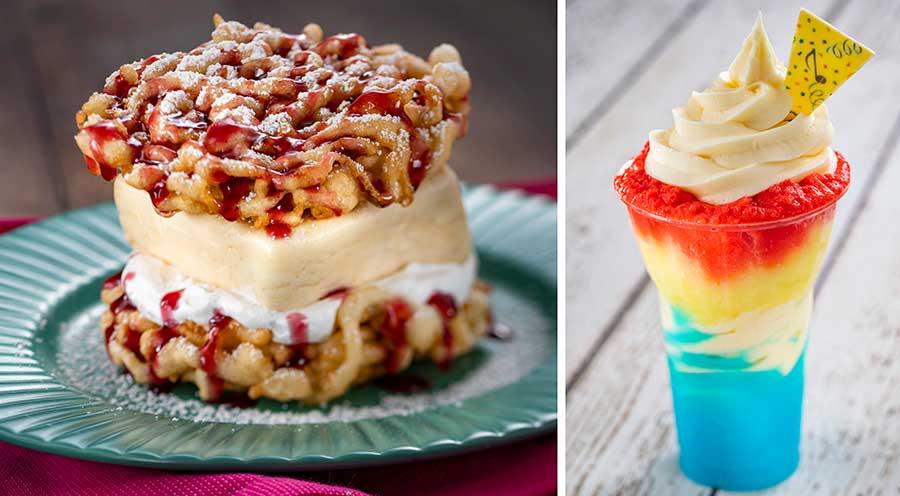 Now is no time to front...I've hated peanut butter my entire life. Reeses, protein shakes, and yes...PB&J sandwiches. I'm sorry to report, however, I am known across the universe to be stern, but fair. lol. Even though I don't love peanut butter much I still know when it's been used wisely in a dish, and for a theme park funnel cake dessert this honestly looks great for PB&J lovers and I'm stoked to eat...one bite, pay my respects to the chef and move along lol. -Cody
THIS FUNNEL CAKE WAS MADE FOR ME! Growing up funnel cake was always a part of my theme park experiences, but this is on a whole different level. Unlike Cody, I am a HUGE peanut butter fan. And then the marshmallow cream?? I mean come on.. this was seriously made just for me. -Lex
El Artista Hambriento - Sopes de Barbacoa and Agave Pork Belly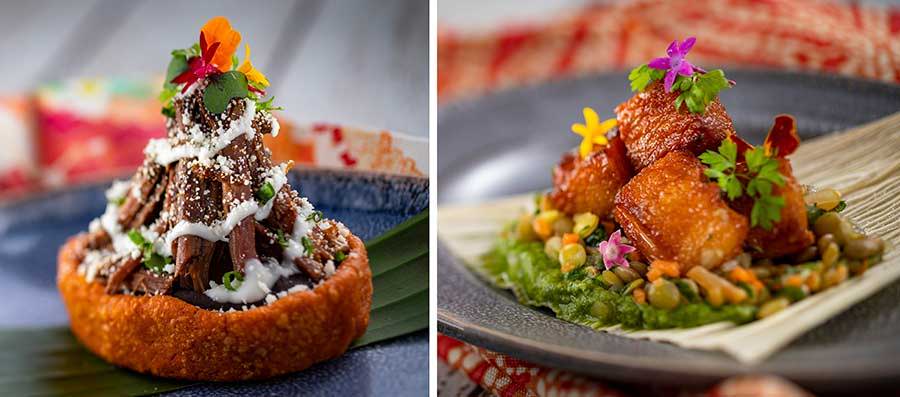 It's crazy how some of the dishes at Festival of the Arts blow post-Food and Wine Festival out of the water in terms of thoughtfulness. I'm so stoked to try the Sopes de Barbacoa and Agave Pork Belly. The sweetness from the agave and the nice crispiness that's going to give that thicccc cut of pork belly got me SHOOK. throwin' in the toasted nuttiness of those pumpkin seeds in the pesto to balance out all that sweet/fat, this dish has the potential to be in Epcot Festival history, no doubt! -Cody
El Arista Hambriento is another booth I am STOKED for. While the entire menu sounds amazing, the Agave Pork Belly already has me crying. Crying in the best possible way. The toasted pumpkin seeds in pesto….I just… I cry. -Lex
The Painted Panda - Char Siu Pork Bun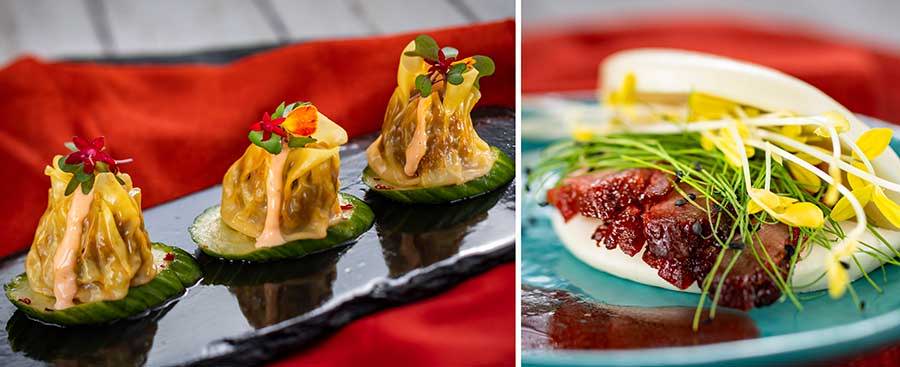 Call it low-hanging fruit if you want, but The Painted Panda always throws down. I do think they cyclically recycle their concepts (bao, noodles, dumplings) HOWEVER, if it ain't broke maybe don't fix it. nothing there almost ever disappoints, and the portions are always reliably fire. So while the Char Siu Pork Bun is probably just the Celebration Pork from the last festival slapped on a bao instead of rice, I have no shame in saying I'm excited to eat it suckas. -Cody
The Painted Panda is one of my favorites every year. While the Char Siu Pork Bun looks great, I think I am most excited about the Spicey Beef Shumai! I know I will be happy with either of those options as long as I also have the Fortune Cookie drink. ByeJoe Spirit, Amaretto, Coconut, and Pineapple?? Yes please!
We literally can't WAIT to try all of those new dishes on Friday! We'll definitely be keeping you updated as we eat our way around the world on what we actually did and didn't like so stay tuned!
Be sure to check out the full lineup of brand new food dishes coming this Friday to the Festival of the Arts on the Disney Parks Blog.
If you liked this article make sure to check out our store here, and use LOSTBROSBLOG for 10% off your first order!