Here Are Our Most Anticipated New Menu Items for EPCOT's Flower and Garden Festival 2020!
The Epcot Flower and Garden Festival 2020 will bloom to life in just a few more days, and the one thing we're most excited about here at the Lost Bros is the insanely good looking new food that will be available at the festival! We've seen so many sneak previews of what the festival will consist of this year, from the Annual Pass Holder magnets, to the new merchandise, to the full menus for the outdoor food booths. We decided to search through every new and returning food item and made a list of our most anticipated new and old offerings to get ready for this year's festival! Let's get started.
Bauernmarkt: Farmer's Market
Toasted Pretzel Bread topped with Black Forest Ham and Melted Gruyère Cheese (KA)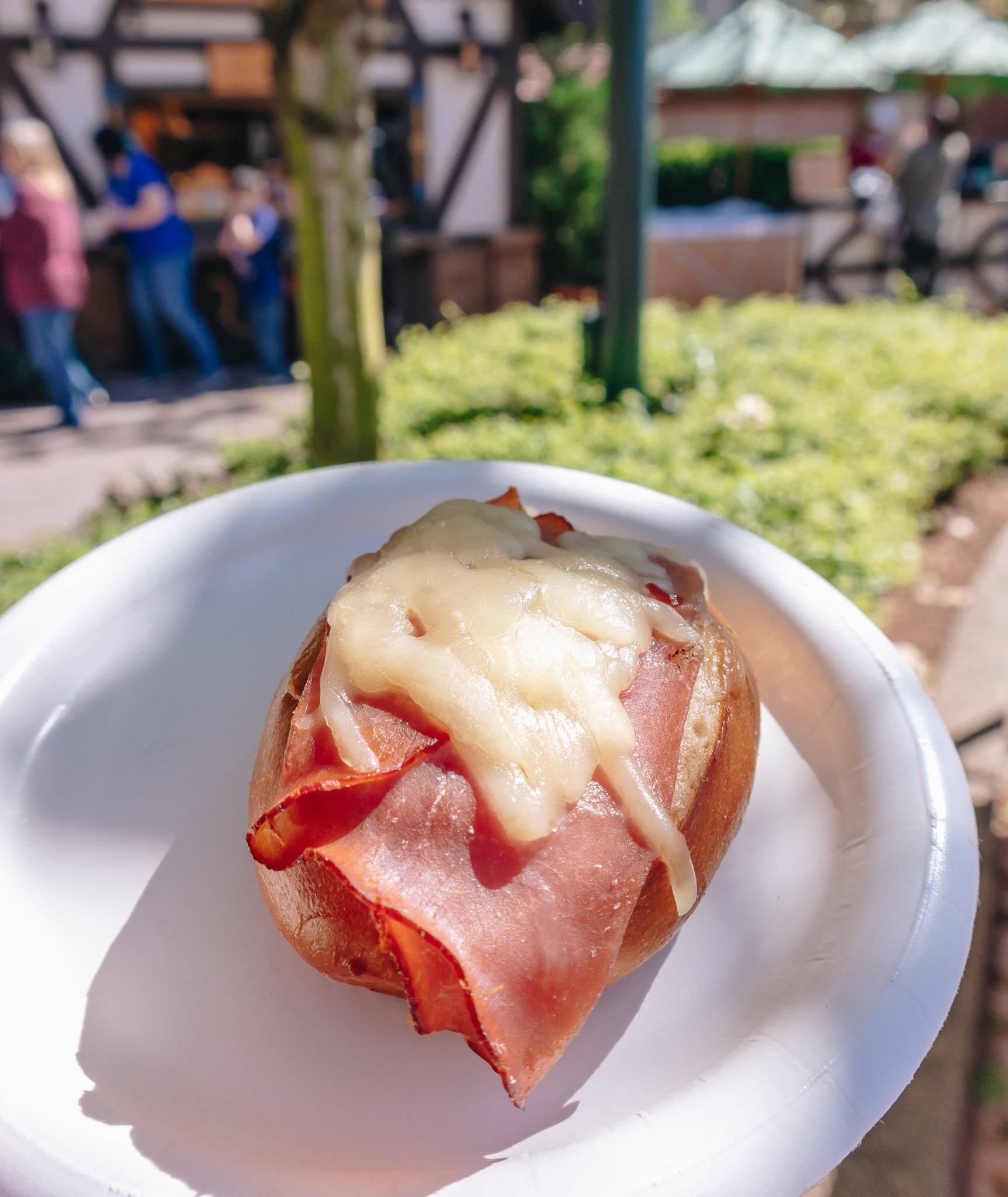 One of our favorite classic dishes from Bauernmarkt is making a return! This was a festival highlight last year. It had warm, gooey cheese and fresh black forest ham, with perfectly toasted pretzel bread. We're gonna order like 5 of these on the first day alone!
Pineapple Promenade
Spicy Hot Dog with Pineapple Chutney and Plantain Chips
The hot dog has a slight kick to it while the pineapple chutney works to add both flavor and cool down the dish. Plus the crushed plantain chips on top add an extra crunch to the hot dog which we absolutely love! Plus, this is a full-sized hotdog so it's super filling!
Taste Of Marrakesh
Fried Cauliflower with Capers, Garlic Parsley and Chili Ranch Sauce (KA)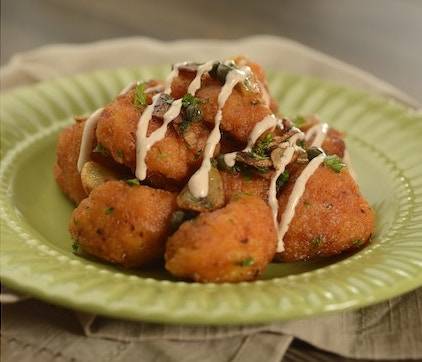 Another returning favorite from last year is the Fried Cauliflower. This dish came served with a generous portion, the insanely spicy chili ranch sauce is perfect for spicy lovers, and everything was served super fresh. We can't wait to get our hands on these again!
Honey Beestro
Honey Tandoori Chicken Flatbread with White Cheddar Cheese, Charred Vegetables, Clover Honey Sour Cream and Micro Citrus Greens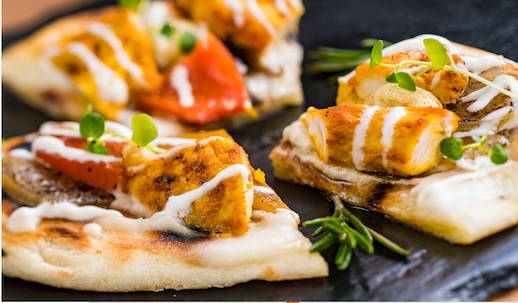 We LOVE flatbreads and this one is one of our all-time favorites! The honey sour cream is such an amazing touch and the one we had last year was extremely fresh, with watercress and the sour cream complimenting the charred veggies, cheese, and tandoori chicken!
Northern Bloom
Griddled Maple Pound Cake with Warm Peach Compote and Sweet Corn Gelato, featuring Burton's Maple Syrup (KA)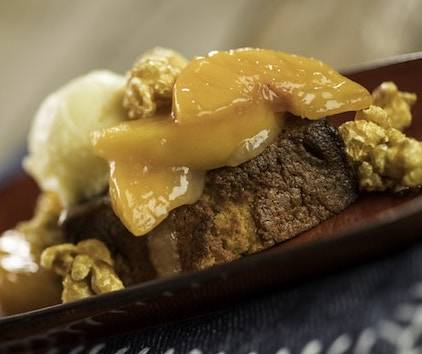 We LOVED the unique Maple Pound Cake last year. It came with warm peach compote and sweet corn gelato (WHAT?) with maple syrup and actual kettle corn! The flavors all complemented each other and, while there was a pretty corn dominant flavor to the dish, the textures were unique to make this one memorable.
Hanami
Menchi Katsu Slider: Japanese-style Panko-breaded Beef Patty topped with Tonkatsu Sauce, Mayonnaise, Cucumber, and Pickled Lotus Root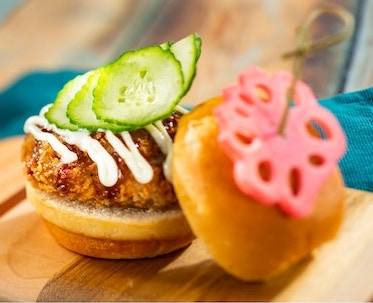 This slider looks INSANE! The Tonkatsu Sauce sounds insanely intimidating on its own, plus it's backed up with Mayonnaise, Cucumber, and Pickled Lotus Root. The Japanese-Style Panko-Breaded Beef Patty also sounds unique to the traditional slider patty and we really think this one is gonna be another memorable dish!
Jardin De Fiestas
Choriqueso Torta: Bolillo Roll filled with Chorizo and Monterey Jack Cheese, Avocado Mousse and Jalapeños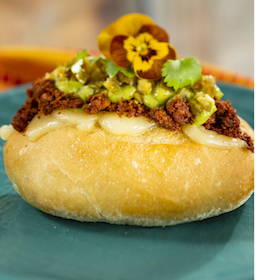 This new dish looks insanely interesting with a Bolillo Roll instead of a traditional taco shell. It's filled with Chorizo which is already making our mouths water, and the Monterey Jack cheese is a great choice for cheese. The Jalapeño will add a unique kick and to top it all off the Avocado Mousse will be an insanely interesting element to this dish. We can't wait for this one!
Trowel and Trellis
Impossible™ Farmhouse Meatball with Lentil Bread, Spinach, Marinated Vegetables, and Creamy Herb Dressing (Plant-based)
Impossible is now the preferred plant-based product of the Walt Disney Resort and we can't wait to start trying their products! The plant-based meatball comes served with Lentil Bread, Spinach, Marinated Veggies, and a Creamy Herb Dressing. This sounds like a great combination of plant-based options and another anticipated one on our list!
Refreshment Port
Popsicle Trio: Honeydew, Raspberry-Mint, and Coconut-Lime (KA)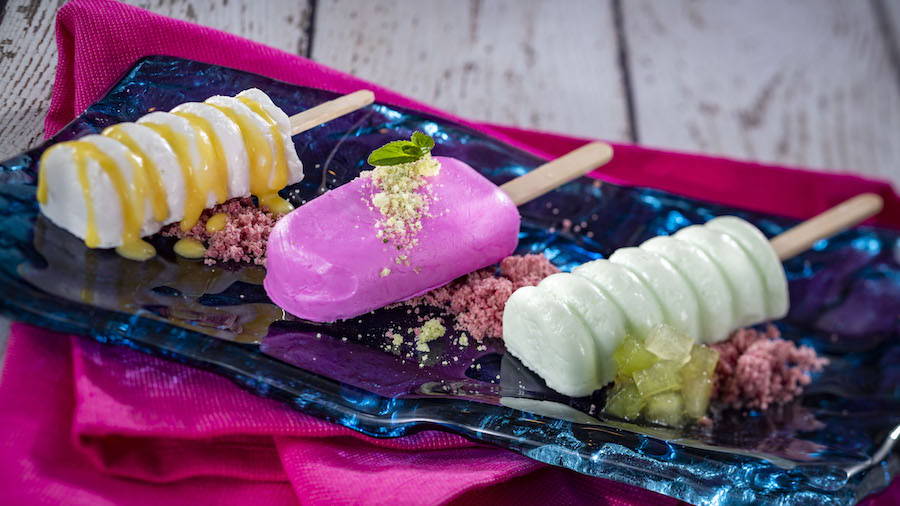 Of all the new dishes, these popsicles are by FAR the most instagrammable, and probably our most anticipated new dish coming this year. The trio includes a Honewdew, Rasberry-Mint, and Coconut-Lime popsicle and if they look anything like this picture, they're gonna be DELICIOUS!
La Isla Fresca
Tropical Mousse Cup: Layers of Passion Fruit Cake, Coconut Mousse and a Tropical Fruit Glaze with Fresh Pineapple (KA)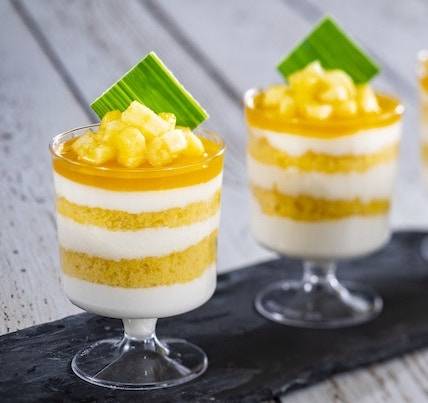 This tropical new dessert looks delicious and uses a unique blend of passion fruit, Coconut, Fresh Pineapple, and a Tropical Fruit Glaze to create a delicious and fruity sounding new dessert!
Those are our are top 5 old and new food items coming to Flower and Garden 2020! What looks good to you? Are you as excited as we are about those popsicles? Let us know what you'll be getting in the comments below! We'll see you out and about at Epcot on March 4th for the first day of the Flower and Garden Festival!
If you liked this article make sure to check out our store here, and use LOSTBROSBLOG for 10% off your first order!