Welcome back to our 2022 EPCOT Flower and Garden Festival coverage! We're continuing today with our top 5 overall picks for this year's festival. After you read, be sure to check out every new item we tried and see what was good and what was bad! Now, let's get started on our top 5 picks!
Tupelo Honey and Sweet Corn Spoon Bread
With jalapeños, bacon, and house-made whipped honey butter (Gluten/ Wheat Friendly)
@ The Honey Bee-stro Hosted by National Honey Board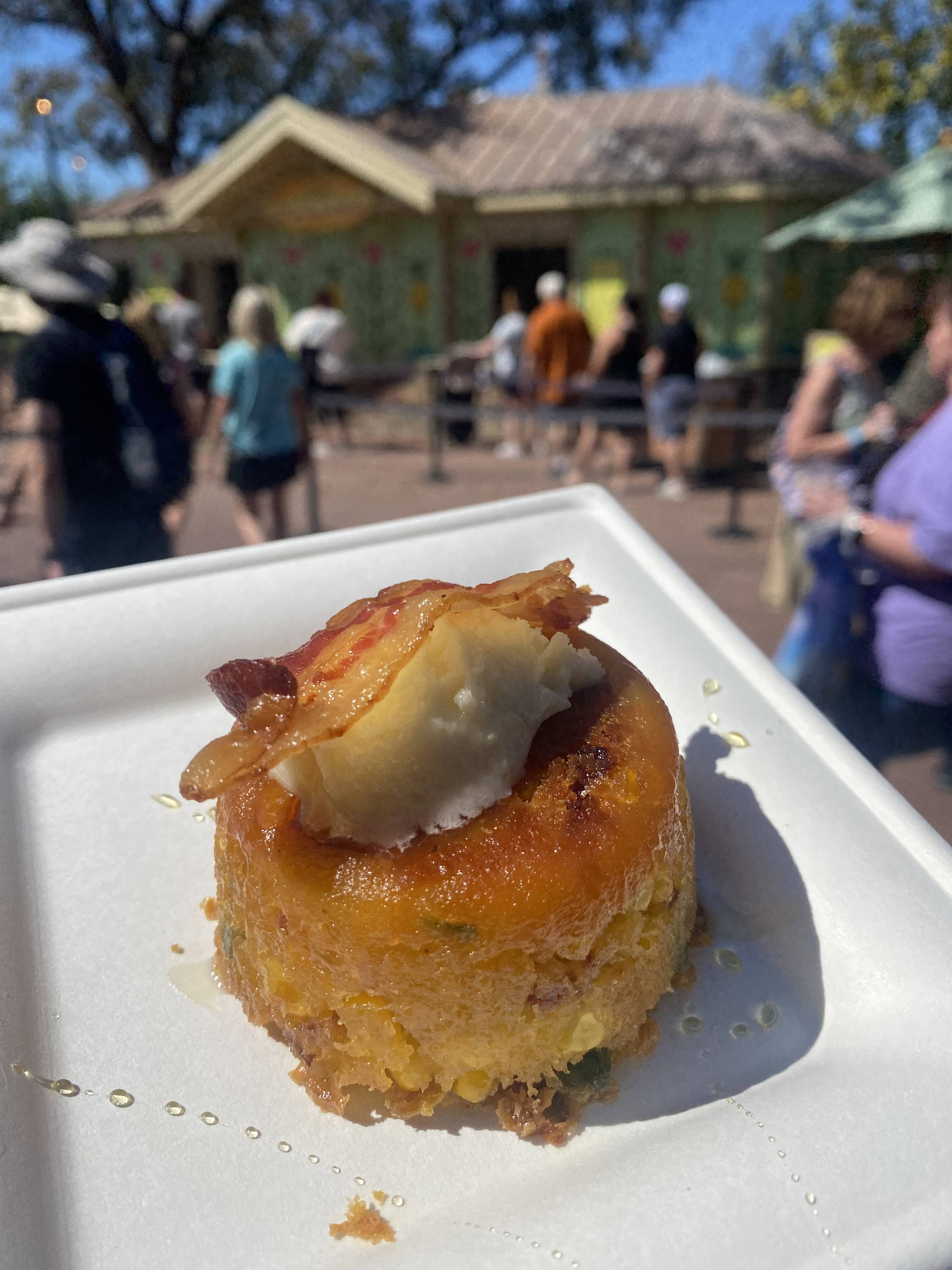 This returning favorite is basically the world's greatest piece of cornbread. While that can sound plain, honey Bee-stro has put a unique twist on this one and included jalapenos, bacon, whipped honey butter, and of course a drizzle of honey. The cornbread itself had full pieces of corn inside (As all good cornbreads should) and was moist and clearly fresh out the oven. The butter only helped to add to the consistency and the bacon added crunch while the jalapeno worked to add spice. All elements of this dish work in such harmony that it's hard not to put it up there with the best of the best at Flower and Garden.
Crispy Mojo Marinated Pork Belly
With avocado cream, corn salsa, salsa verde, and plantain chips (Gluten/ Wheat Friendly) (New)
@ The Citrus Blossom (Near Port of Entry)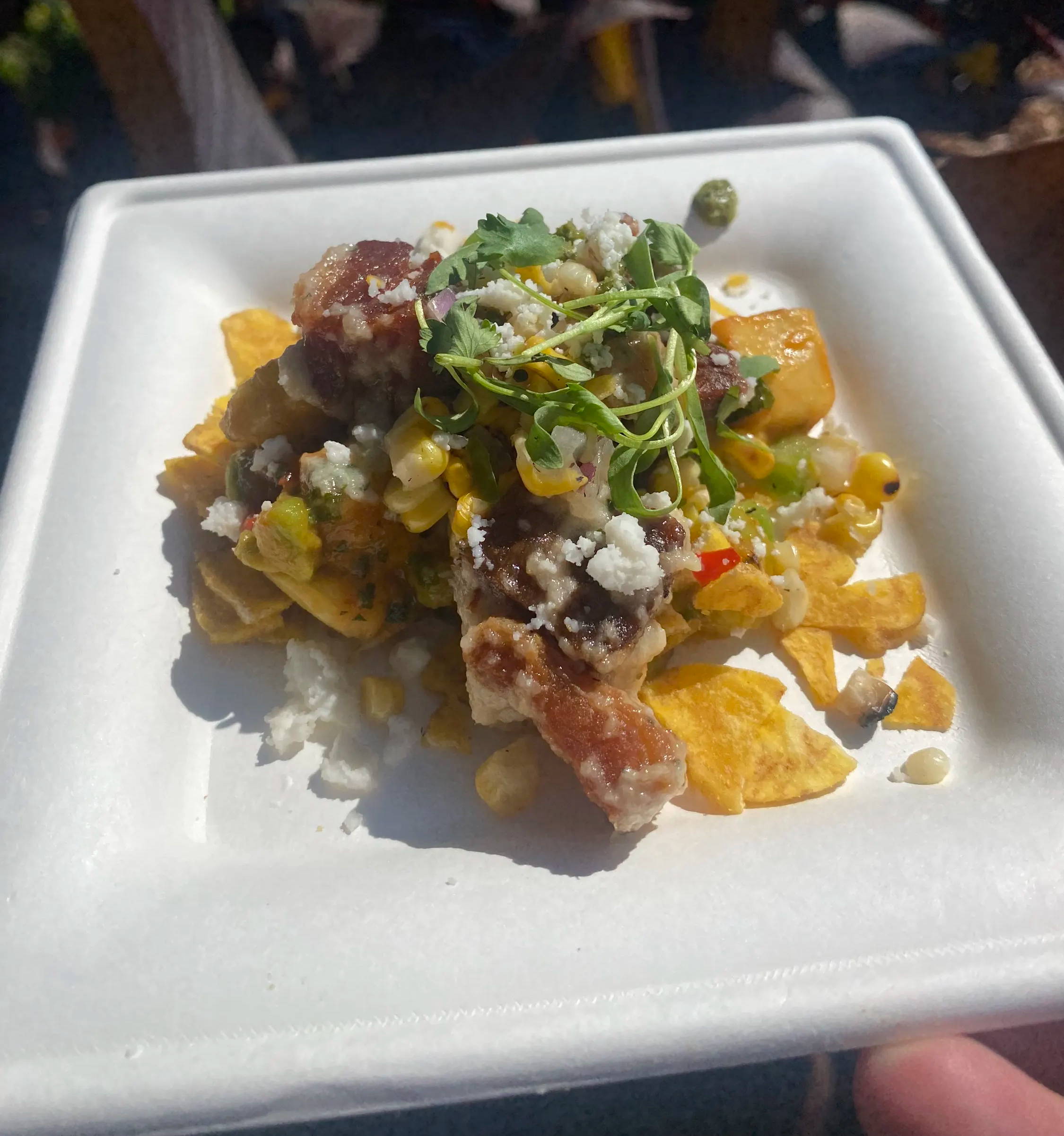 New this year is one that we'll be back for time after time. Everyone in our party agreed that this was a big winner. It had great flavors with a great blend of different textures. The corn salsa was great and the pork belly was cooked perfectly. The plantation chips added what was an unnecessary but welcome crunch in addition to the crunchy tenderness of the pork belly. This is another huge winner and one worth coming to the festival for on its own!
Vanilla, Rose Water, and Pistachio Panna Cotta
@ Tangierine Café: Flavors of the Medina (Morocco)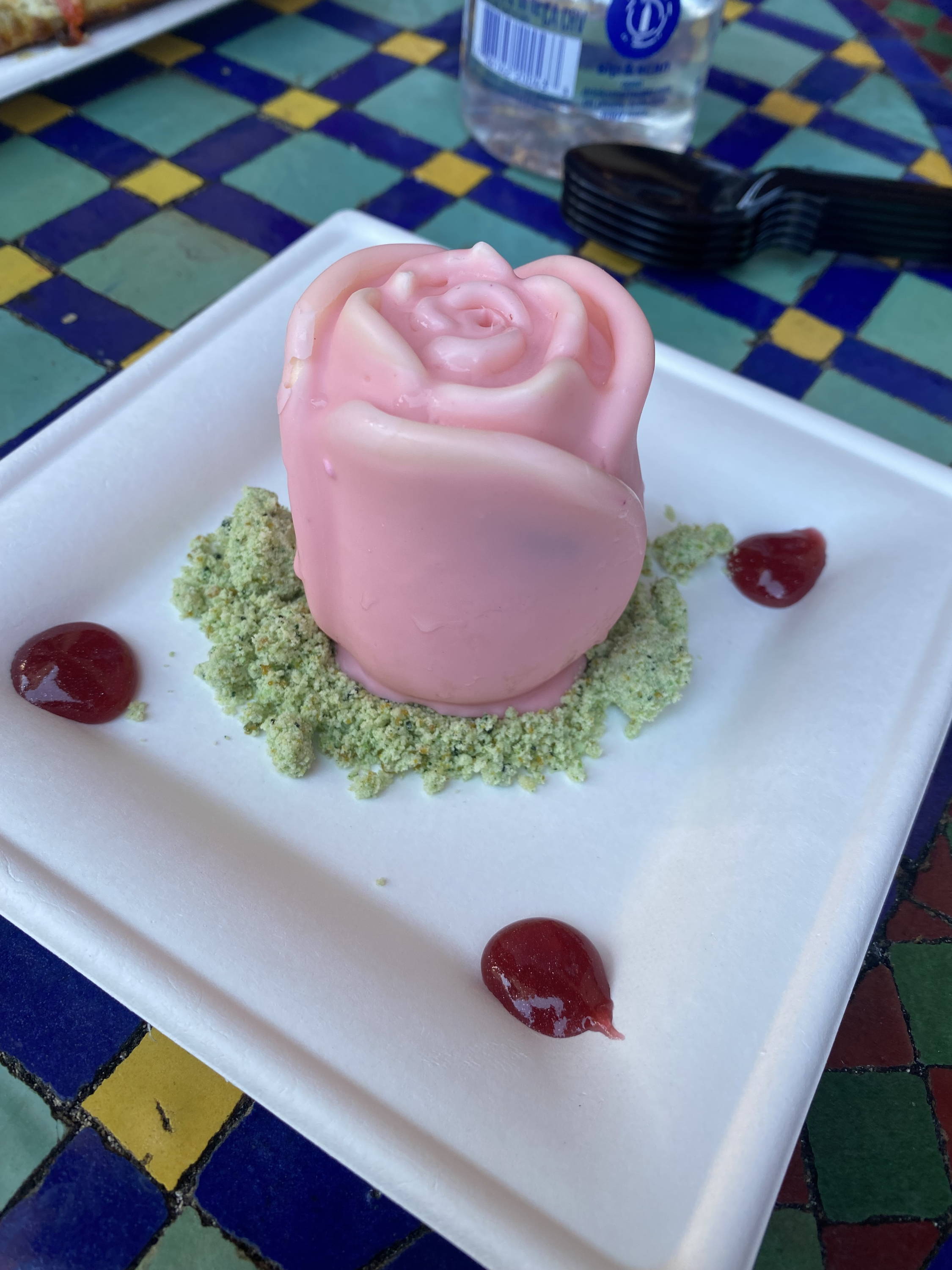 The Rose Water Panna Cotta has been around for several years now and we still just can't get enough of it. The hard outside shell that makes up the "rose" breaks easily to reveal the light and creamy panna cotta on the inside. While the flavors on their own are somewhat bland, the pistachio and garnish help boost the flavor to just the right amount and work in harmony to create a truly memorable dish. This has been and still is a must-try at the festival and one of our all-time favorites!
Char-grilled Bison Ribe-Eye

With creamy leek fondue, roasted carnival cauliflower, Romanesco and port wine-goat cheese butter (New) (Gluten/ Wheat Friendly)
@ EPCOT Farmers Feast (Near Test Track)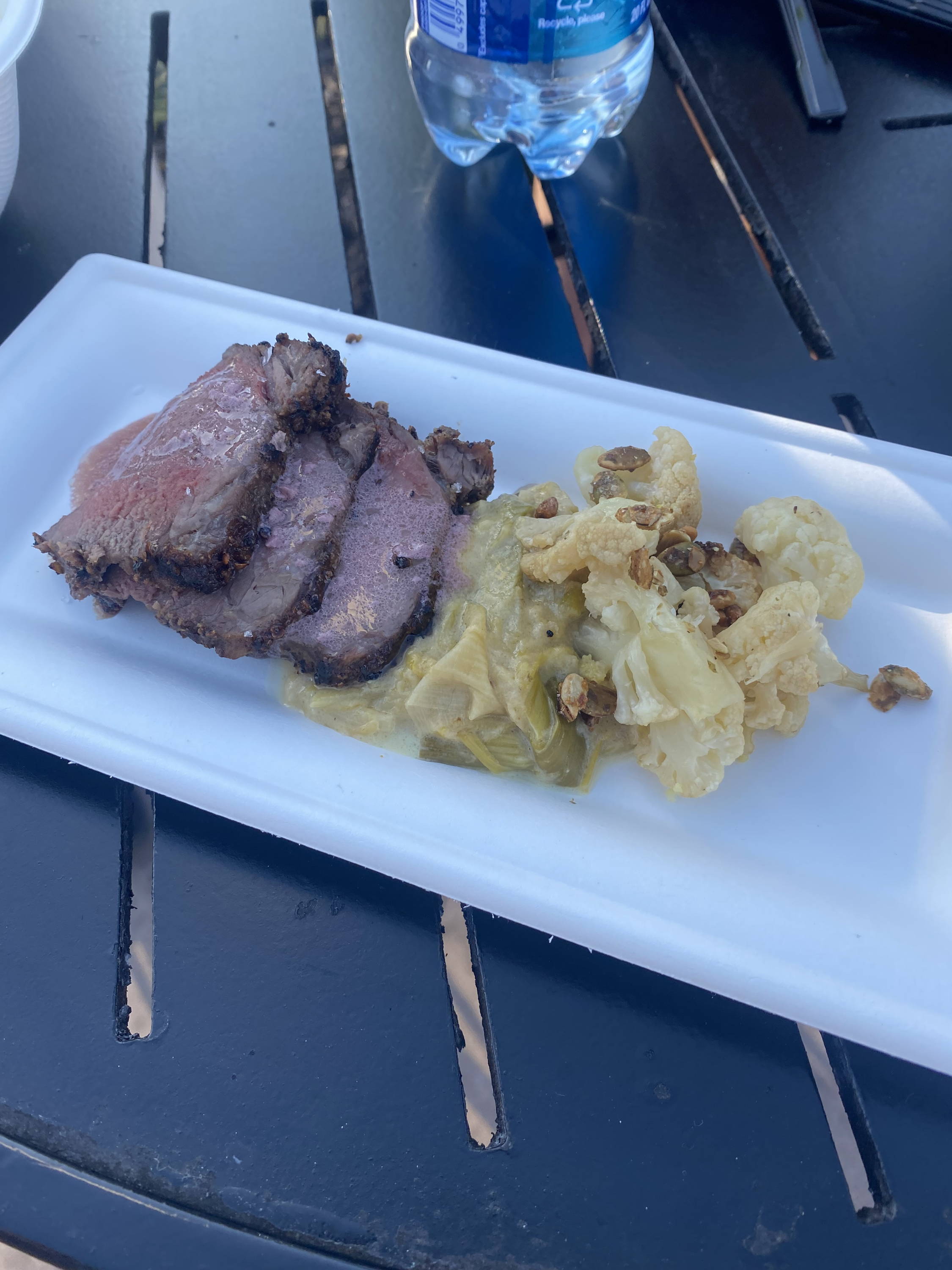 The menu mechanic for Farmer's Fest as a whole this year is really interesting. They'll be doing three rotating menus throughout the run of the festival and the Bison Rib-eye is on the first of the three. Keep in mind this offering will be available for a more limited time than the rest due to this rotating menu. However, the bison ribeye was probably one of the most impressive dishes we've ever had at the Flower and Garden Festival. The portion size was insanely large for the value and the meat itself was the quality you'd expect from a table service restaurant. It came garnished with leek fondue which was a nice change from your traditional mashed potatoes yet still safe enough to make this a more traditional dish. The roasted cauliflower was another great addition and only added to the portion size. This is absolutely a must-try and honestly enough food for a light lunchtime meal on its own.
With Nueske's applewood-smoked bacon, sundried tomato, and basil (New)
@ Cider House (United Kingdom)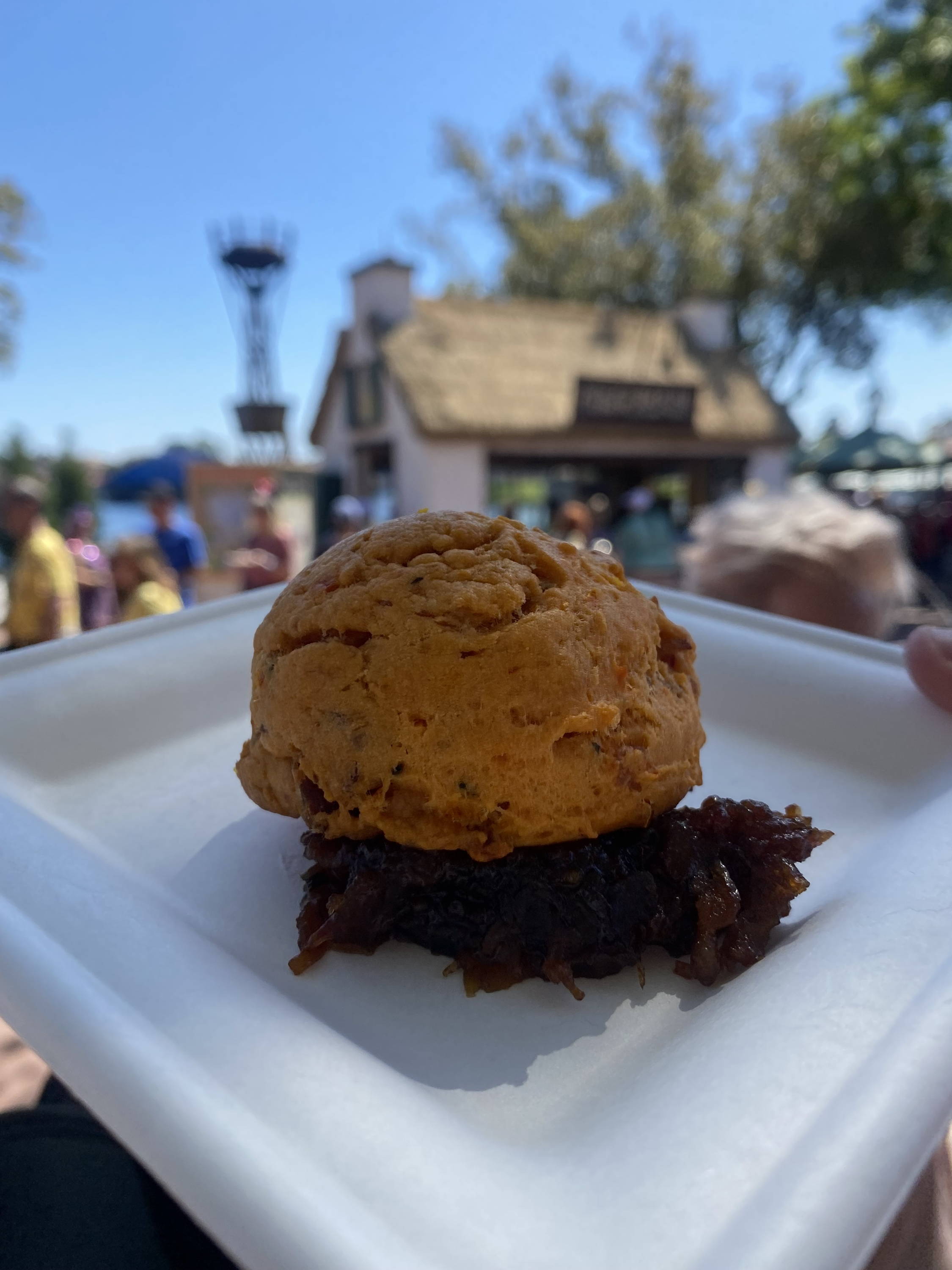 Last but not least was the new BLT Scone from Cider House which we all really enjoyed too. At a $5 price point, the portion was fair and the bacon, sundried tomato, and basil it came with would have gone perfectly with some deli meat. The scone was fresh and flavorful and overall this was a great addition to Cider House that's worth picking up!
Those are our top 5 must-tries for this year's Flower and Garden Festival! Let us know which ones you chose in the comments below and be sure to check out our continuing coverage of the 2022 EPCOT Flower and Garden Festival including:
Best desserts from this year's festival (coming soon)
Plant-based offerings at this year's festival (coming soon)
Gluten-free offerings at this year's festival (coming soon)
If you liked this article make sure to check out our storehere, and use LOSTBROSBLOG for 10% off your first order!