Sushi is a go-to food item here at Lost Bros. We eat sushi for pretty much every meal of the day. At Disney World, Sushi isn't too hard to come by if you look hard enough and to help you out, we created a list of our favorite sushi spots around property! From the traditional Japanese style rolls at Tokyo Dining in Epcot, to the Island style rolls at Kona Cafe at the Polynesian Resort, there's a sushi-style for everyone around Disney Property. let's take a look!
California Grill - Disney's Contemporary Resort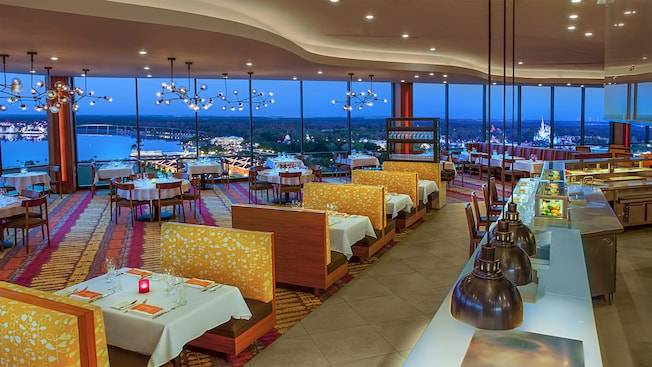 We start our list with what is probably our all-time favorite sushi spot at Disney World. Nestled high atop Disney's California Grill Resort is their upscale dining location, California Grill. They advertise their rolls as appetizers but we almost always make our own meal out of them. (Although they're still great to share for appetizers too). There are 8 hand-rolled sushi rolls on the menu, including the Sunburnt Roll with Spicy Jumbo Lump Crab, Charred Verlasso Salmon, Lemon, Jicama, Mango, Zesty Yuzu Sauce. The innovative Crudo Roll is also impressive with Salmon, Tuna, Hamachi, Tiradito Marinade, Ají Amarillo Mayonnaise, Sweety Drop Peppers, Purple Sweet Potato, Breakfast Radish, Fried Hominy, Micro Wasabi. Finally, the Angry Dragon Roll is a favorite with Shrimp Tempura, Barbecue Eel, Spicy Tuna, Ikura, Cucumber, Avocado, Honey Sriracha, Wasabi Cream. Whether you come to California Grill for just sushi or venture on for additional entrees, this is one of our favorite dinner spots in general at Disney with an absolutely gorgeous view of the Magic Kingdom, great food, and a must-try at Disney World for sushi lovers!
Tokyo Dining - The Japan Pavilion at Epcot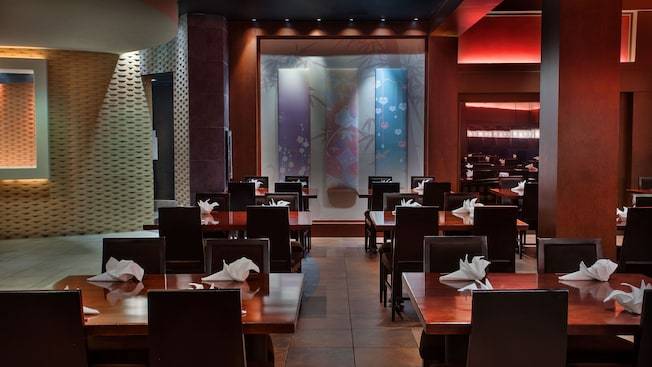 Tokyo Dining is an extremely unique and traditional sushi experience located in the Japan Pavilion in Epcot. Their extensive menu includes straight forward options like Nigiri and classic rolls such as Avocado Rolls, Tempura Shrimp Rolls, and Salmon or Tuna Rolls. They also have more adventurous specialty rolls such as the Yuzu Ginger Beef Roll with Seared Beef, Leaf Lettuce, Ginger-Marinated Carrot, Topped with Micro Wasabi and Creamy White Sauce, the Volcano Roll with California Roll topped with Tuna, Yellowtail, Salmon, Smelt Roe, Tempura Crunch, and Spicy Chili Mayo, or the Citrus Shrimp Roll with Shrimp with Yuzu Zest, Avocado, Smelt Roe, Shiso Leaf with Dynamite and Volcano Sauces. While this menu is a pretty traditional and basic sushi menu, the quality of the rolls always impresses and the prices are unbeatable! We can't recommend stopping at Tokyo Dining enough for your next lunch or dinner around Epcot's World Showcase.
Kona Cafe - Disney's Polynesian Resort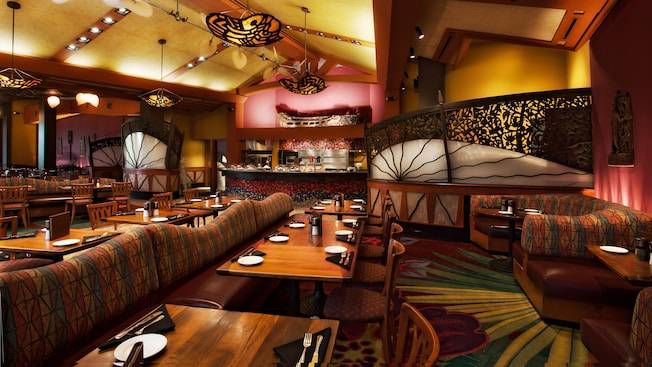 Located in a much more casual setting in the upstairs area of Disney's Polynesian Village Resort, this tropical restaurant serves up some great sushi. For both lunch and dinner, you can get traditional sushi rolls such as the California Roll, Shrimp Tempura Roll, or Hamachi-Tuna Roll. You can also get more adventurous with their specialty rolls including our favorite, the Polly Lolly Roll with Fried Soft Shelled Crab, Shrimp Tempura, Crawfish Tails, Grilled Asparagus, Chives, Spicy Mayonnaise, or the Surf and Turf Roll with Kona-spiced Filet, Cucumber, Chili-spiced Lobster, Crab, Avocado, Yuzu Aïoli, Sriracha. We also recommend going for some of the amazing Nigiri and Sashimi Sampler Dishes such as the Kona Sampler with Tuna Poke, Two pieces of Nigiri, Two pieces of Sashimi, and Three pieces of California Roll, or the Nigiri or Sashimi Sampler with the Chef's Choice of 5 or 8 pieces of fresh seafood. The great part about Kona Cafe is that they offer a whole other menu full of both seafood and non-seafood items so even the non-sushi lovers can enjoy!
Kimonos - Walt Disney World Swan and Dolphin Hotel
Kimonos at the Disney World Swan and Dolphin Hotel has easily the biggest selection of sushi on Disney Property. They do only serve sushi, appetizers, and soups and salads so beware that there won't be anything to choose from if you have anyone in your party that doesn't do sushi. They arrange their menu between cooked sushi and raw sushi (a very helpful way of organizing) and each category contains 8-10 rolls to choose from. On the cooked side, we love the Dancing Eel Roll with Krab, Avocado and Eel, and the Ichiban Roll with assorted vegetables. On the raw side of the menu, we absolutely LOVE the Bagel Roll with Smoked Salmon, Cream Cheese, and Cucumber, the Alaskan Roll with Crab Salad, Avocado and Salmon, or the adventurous Cajun Roll with Spicy Crawfish. Another reason this restaurant is one of our favorites is because of the nightly karaoke! If you're ok with only having sushi available on the menu and looking for a traditional sushi spot at a really decent price point, with some added nightly entertainment, this is the spot for you!
Morimoto Asia - Disney Springs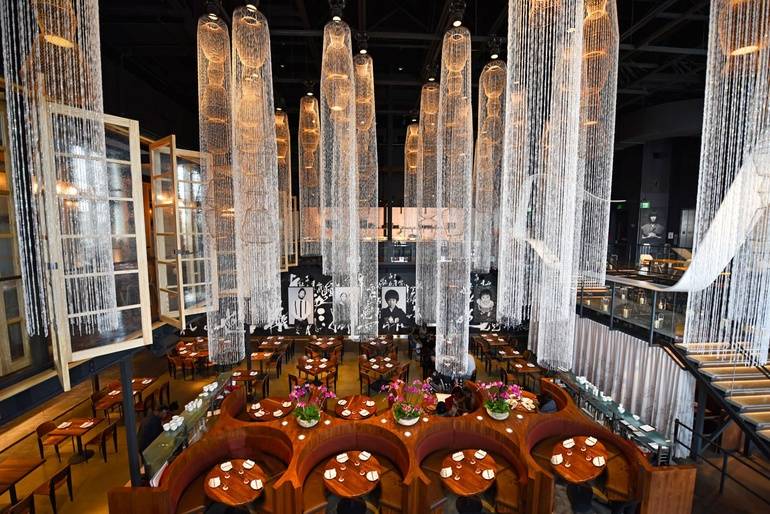 The Morimoto Asia Sushi Bar is one of our favorite places to go watch the sushi chefs at work. Morimoto has an extensive sushi menu with pricy yet plentiful portions like the Sushi Towers or the platters and combos which feature rare seasonal selections of fish and multiple varieties from Japan. They do also have a large menu of traditional rolls, but if you're looking for sushi at Morimoto we'd get a group together and split one of the unique towers or platters! Note that there are plenty of other menu offerings available for those who may not like sushi.
Splitsville Luxury Lanes - Disney Springs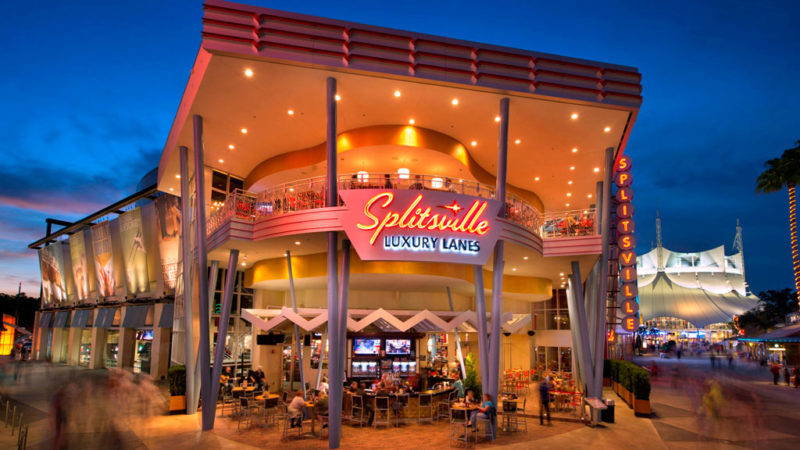 A theme park bowling ally isn't exactly where we'd expect to find some of the best sushi on Disney property, but alas, we LOVE Splitsville's sushi! With 11 different rolls to choose from, some of our favorites include the Fantasy Roll with Fresh salmon, cucumber and avocado are rolled in soy paper and topped with steamed shrimp and ahi tuna drizzled with spicy kimchee ponzu sauce, and the Ninja Crunch with Tempura-fried salmon and Kani Kama krab rolled with fresh salmon and topped with tempura crunch, spicy mayo and eel sauce. You can enjoy sushi for both lunch and dinner at Splitsville, and you can choose to dine at a table in the dining room, or get a lane and go bowling while enjoying some high-quality sushi!
Disney World offers such a unique and wide variety of dining options on its own, and even more unique and adventurous choices when it comes to sushi! Where will you be headed for sushi on your next Disney World vacation? What rolls can you absolutely not WAIT to try? Let us know in the comments below!
If you liked this article make sure to check out our store here, and use LOSTBROSBLOG for 10% off your first order!