Valentine's Day 2020 is just a few weeks away and Disney World is already getting prepared for the special day! In order to help you have the most magical day possible around the parks, we compiled a list of our favorite restaurants at Disney we recommend celebrating Valentine's Day at! To make this a little more fitting for everyone, we broke our favorites down into categories. FANCY, FUN, and FOR DRINKS will all be represented in this list, so let's take a look!
Nothing says Valentine's Day like an elegant evening out to a fancy restaurant at the most magical place on earth. These places are some of the most elegant and enjoyable nights out we could think of!
 California Grill - Disney's Contemporary Resort - ($35- over $59.99 per adult)
California Grill is known as the best of the best on Disney Property. The absolutely stunning rooftop view is enough to make this a lasting outing on its own, but the food and service make this restaurant go above and beyond. We LOVE the sushi at California Grill, which is always a great date night cuisine. If you can get ahold of a reservation around fireworks time at the Magic Kingdom, this only enhances your experience even more. We should also point out their extensive wine list, and recommend splitting a new-to-you bottle to celebrate the special day. We should warn you that the last time we visited, the Sunday brunch and overall vegan menu weren't very impressive, so be aware of that going in! Finally, be aware of the dress code at California Grill. Ladies, you'll want to wear Capri pants, skirts, dresses or dress shorts. Jeans may be worn if in good condition. And Fellas, wear khakis, slacks or dress shorts and collared shirts. Jeans may be worn if in good condition. Sport coats are optional. If you don't abide by the fairly strict dress code, you might not be allowed in the door! Ultimately, this is a Valentine's Day must-do that we highly recommend splurging on if you can snag a reservation!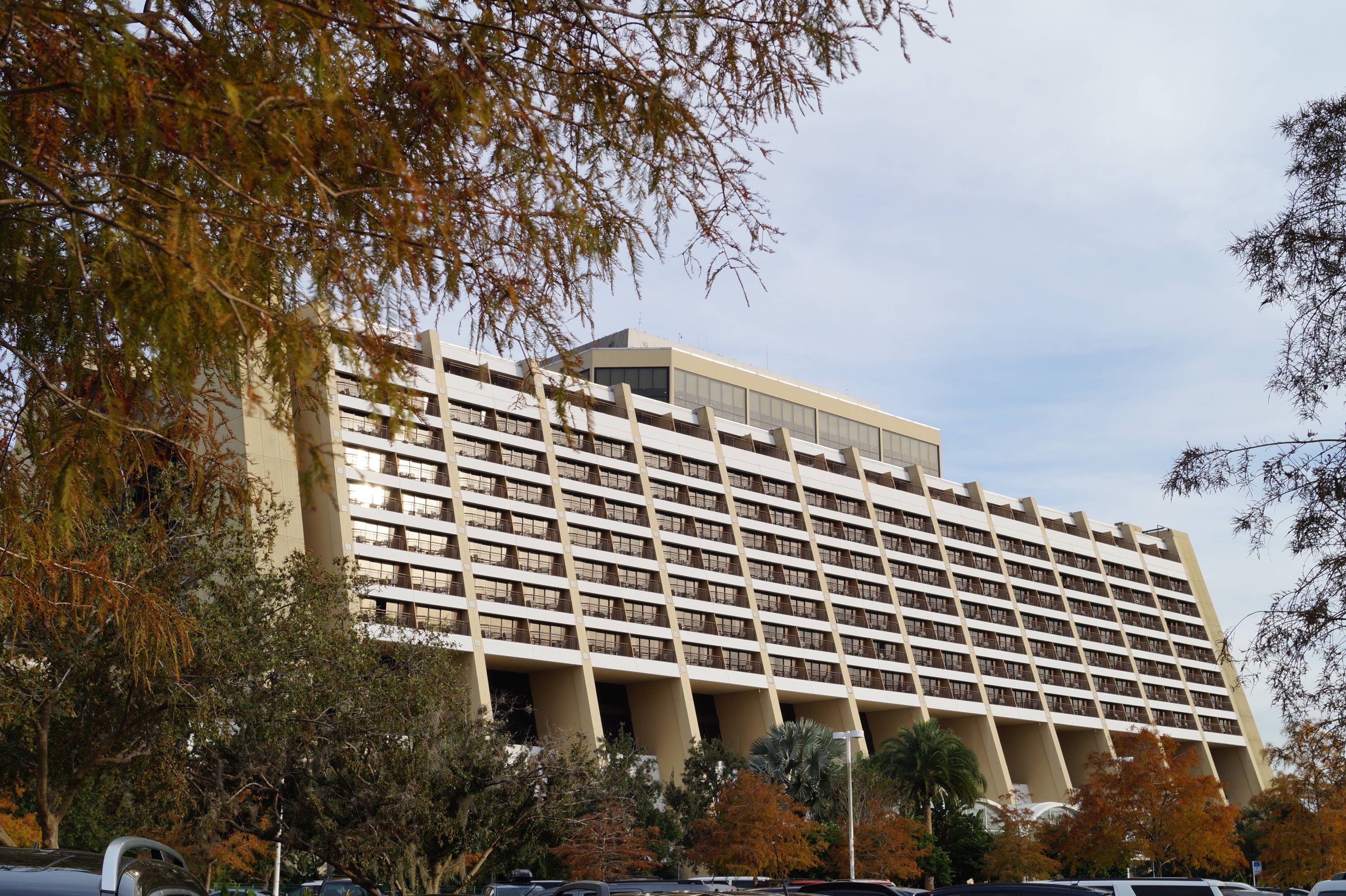 Narcoossee's - Disney's Grand Floridian Resort - ($35-59.99 per adult)
So, maybe California Grill is just a little bit out of your budget. We get that! Narcoossee's is a fantastic alternative at a more attractive price point, while still upholding a similar element of elegance. This restaurant features a panoramic view of the Seven Seas Lagoon and the Magic Kingdom (while at ground level, as opposed to California Grill's rooftop view). The other great news about this restaurant is it tends to be much easier to snag a reservation here than California Grill. We also love the theming, with a very marine vibe, to match the coastal cuisine. This is another great restaurant to watch Magic Kingdom fireworks from for a further enhanced evening. Be aware that Narcoossee's has the exact same dress code as California Grill, so be sure to abide by it at the risk of not being allowed in! We can't recommend this restaurant enough for a more budget-friendly elegant night out!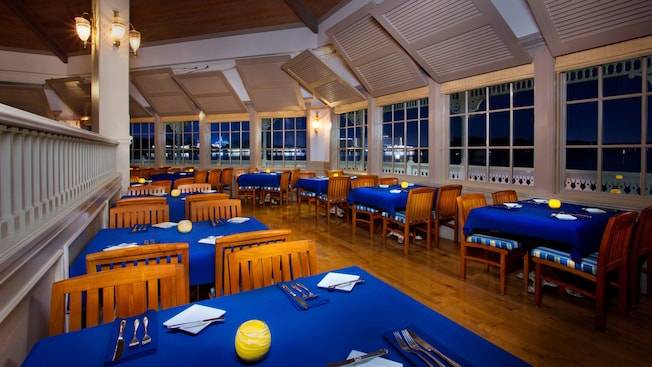 Ravello Italian Restaurant - The Four Seasons Resort Orlando - ($36-$59.99 per adult)
Ravello at the Four Seasons Resort Orlando is arguably the Lost Bro's absolute favorite restaurant on Disney Property. Ravello hosts the undisputed best Italian food at Disney World and possibly the entire city of Orlando. The meal starts with bread service which is ALWAYS a plus. But on top of that, the restaurant tends to be on the quieter side, there's a stellar lobby bar you can take advantage of for pregame drinks, and the food is extremely fairly priced compared to our recent trip to the tragedy that was - Tony's Town Square restaurant. Ravelo is located at the Four Seasons Resort which isn't owned by Disney, however, it is still on Disney Property. Located within Disney's Golden Oak community, you'll have to let the guards know you're dining at Ravello to get in. Also note that the Four Seasons Resort doesn't have a self-parking option, only valet, So be aware of that before arrival! Ravello doesn't offer the panoramic scenery or fireworks views that our other two fancy restaurants do, but if you're willing to forfeit that for exquisite food, a quiet and intimate atmosphere, and overall memorable meal, this is the place to head to this Valentines Day!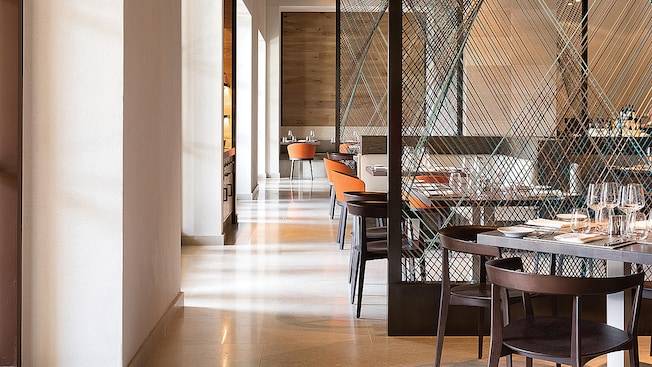 ---
Sometimes you just wanna spend some time having fun with your loved one. These restaurants around Disney Property are some of the most highly-themed, fun places to just kick back and enjoy our meals.
Be Our Guest - Magic Kingdom Park - ($34.99 - over $60 per adult)
Be Our Guest could be considered both a fancy and fun Valentine's Day location. This elegant yet extremely well-themed restaurant is in Fantasyland at the Magic Kingdom, which is a great Valentine's day park outing in itself (they almost always bring out Cinderellas Carriage for photos in Fantasyland). The food here has slowly declined over time, however, while not the best, it's still good and we all enjoy coming back for the overall experience. All three themed rooms in the restaurant, the West Wing, the Castle Gallery, and the Ballroom, are all romantic for different reasons and there's really no bad seat in the restaurant. Finally, commemorate your night out with a picture with the Beast, who meets within the restaurant. This fun and delicious restaurant is a great way to blend the elegance of a fancy restaurant with the fun and theming of Disney for a romantic Valentine's dinner. We have to warn you though, the breakfast and lunches aren't full service, and the menu items are extremely pricy for the quality of food, we highly recommend sticking to dinner for this one!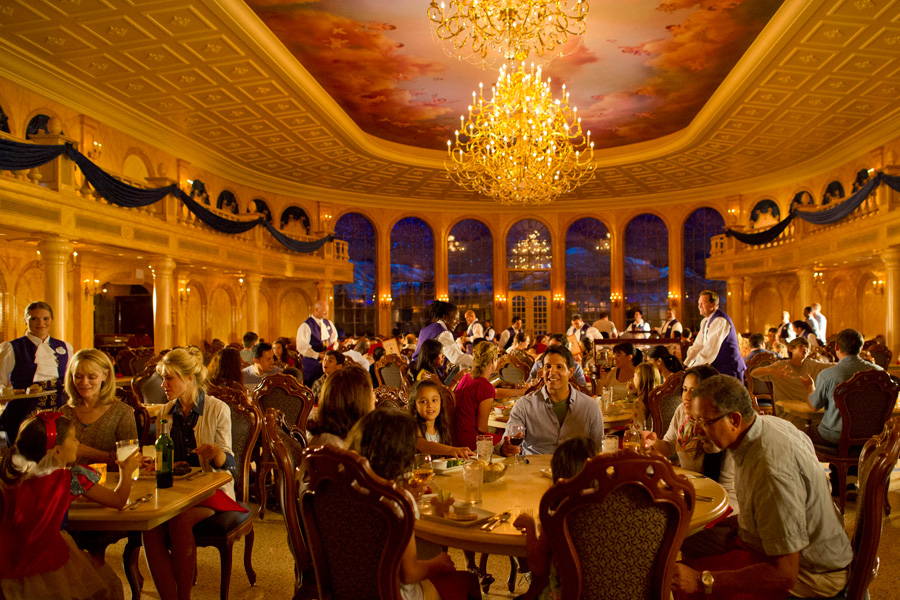 San Angel Inn Restaurante - The Mexico Pavilion at Epcot - ($15-$34.99 per adult)
Nestled within the Mexico Pavilion at Epcot, this dimly lit restaurant sits on the "waterfront" of the Gran Fiesta Tour Starring the Three Caballeros. It's an extremely well-themed restaurant with the passing boats and the view of the hustle and bustle of the Mexican marketplace. The food here can be unique if you really look into the menu, we LOVE the Mole Poblano with the nuts, spices, and a hint of chocolate! Afterword, you can go enjoy Epcot. Hit up La Cava Del Tequila for some drinks, or go watch Epcot Forever (while you still can!). It's hard to go wrong with San Angel Inn for a romantic night out in this extremely well-themed restaurant.
Chefs De France - France Pavilion at Epcot - $15-34.99 per adult)
Staying in Epcot, over in the France Pavilion lies one of our absolute favorite restaurants at Epcot. Chefs de France has a pretty simple menu with simple ingredients, but the end result is almost always a great dish. The Gratin De Macaroni is to die for, and if you're going for a full three-course meal, they have a prix fixe menu that covers pretty much all the highlights in three courses. The restaurant is also elegant and the high ceilings with tall windows allow for a great view of the France Pavilion as a whole. You also have the opportunity to dress nicely for this one, however, it's not a requirement! If you find yourself at Epcot for Valentine's Day, we can't recommend Chefs de France enough for a romantic dinner out!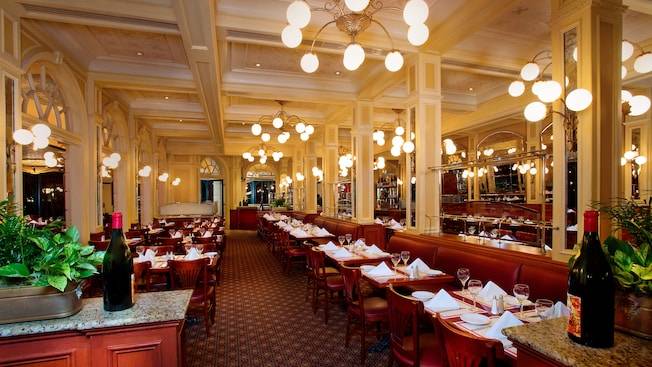 Maybe a full-service dinner just isn't in the cards this Valentine's Day. Bar hopping for some drinks around Disney is another great alternative, so here's our list of most romantic bars at Disney to consider!
Boathouse Waterfront Bar - Disney Springs
If you're heading out for drinks this Valentine's day, the Boathouse waterfront bar is a Must-do. The gorgeous Disney Springs waterfront marina setting is enough to entice you, but the full menu and delicious hand-crafted cocktails, make this one a winner for Disney bars. We highly recommend the Orlando Pride, which is a Boathouse specialty cocktail. If you're looking for food, the Filet Mignon Sliders are one of the best-valued dishes on Disney Property and taste incredible. Keep in mind that this is an extremely popular restaurant, so it can get loud and busy. However, if you can get down with a busy bar, this is an absolute gem of a bar and restaurant that would be perfect to start or end the night at Disney Springs.
Enchanted Rose - Disney's Grand Floridian
Enchanted Rose is a newly opened Beauty and the Beast themed bar and Lounge that replaced the popular Mizners Bar and Lounge. The new bar offers a well-themed drink menu with "Story" table-side cocktails and an impressive food menu. The decor is pretty with subtle hints of the classic Beaty and the Beast story throughout and a great outdoor seating area too. This is another lounge that offers the chance to dress nicely, being at the Grand Floridian, but again isn't required. This is also a lounge, so you can sit and talk for as long as you'd like while enjoying drinks and light food, or hit Enchanted Rose and continue to the other Magic Kingdom Resorts and make the night a monorail crawl (Which you can find out more about in the Lost Bros 2020 World Travelers Guide below!).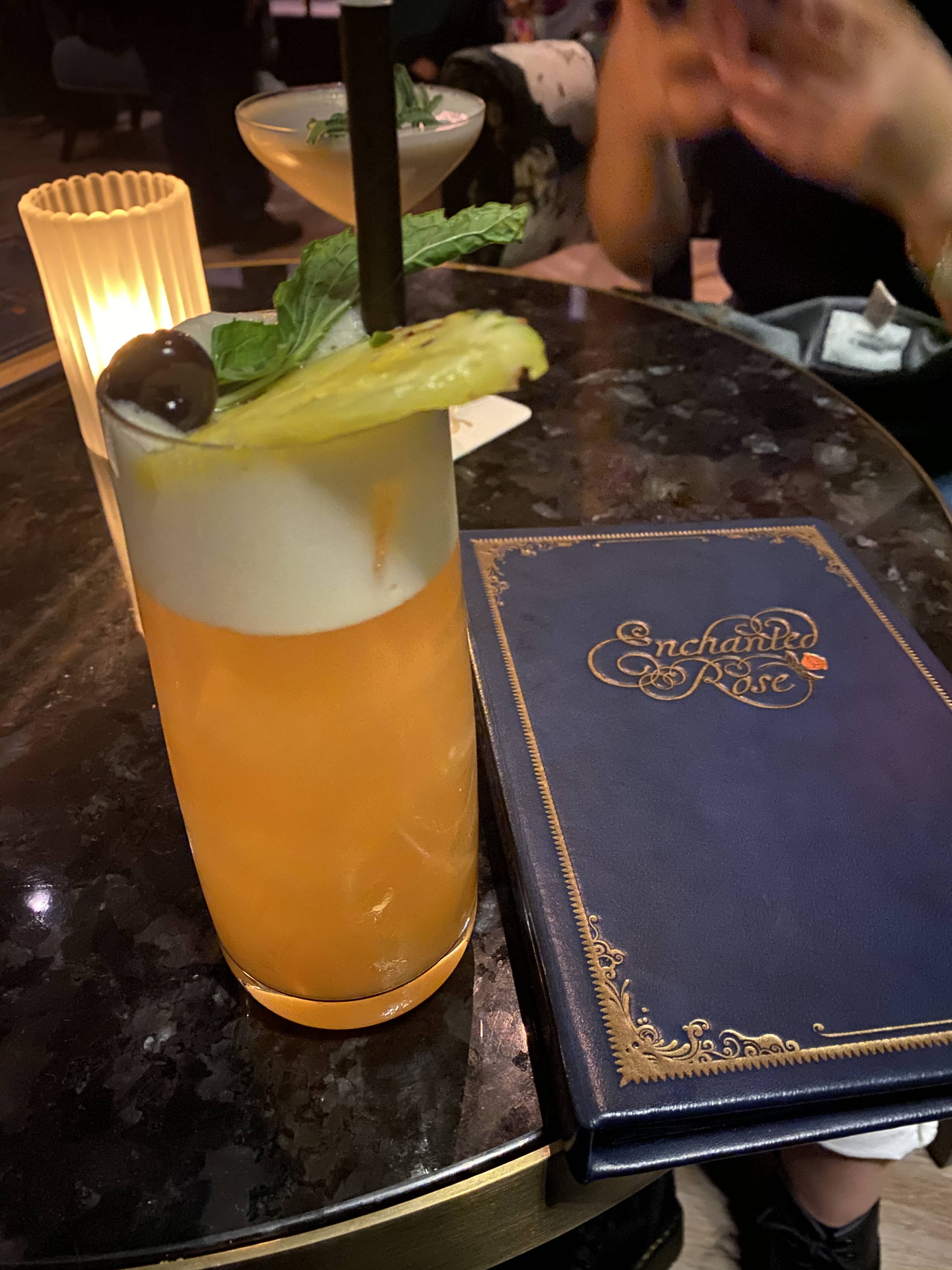 Tutto Gusto Wine Cellar - Epcot
If you've been a Lost Bros fan for any amount of time, you know that drinking around the world is one of our favorite things to do at Disney, and we recommend doing it during any day of the year, Valentine's Day included. But to spice up your lap around the world this Valentine's Day, we recommend hitting the romantic Tutto Gusto Wine Cellar in the Italy Pavilion at Epcot. This isn't a regular drink around the world stop, but for Valentine's Day would make a great stop whether you're drinking around the world, or just going to one location for some drinks. Tutto Gusto is an intimate wine cellar with no windows, and a dimly lit, candlelight setting. The small plates offered inside are for two or more, which makes the price points a great value. With over 200 wines to chose from, this is a vino lovers paradise. This lounge really feels completely detached from Epcot and we highly recommend changing it up a bit and giving Tutto Gusto a try for a romantic stop on your drink around the world tour!
So those are our most highly recommended restaurants for a Valentine's Day date at Disney! No matter what your preferred setting or budget, we think we have a little something for everyone. What will you be trying with your loved one this valentines day? DM us on Instagram @TheLostBros and let us know! Be sure to check out our Valentines Day 2020 line Here and whatever you choose to do, Happy Valentines Day!
If you liked this article make sure to check out our store here, and use LOSTBROSBLOG for 10% off your first order!