If you're planning on heading to Disney World this weekend, you may want to think again. Hurricane Season is officially underway here in Florida and meteorologists are already tracking what could become the first major storm of the season to impact the Central Florida area. Tropical storm warnings have already been issued for parts of the Caribbean, including Puerto Rico, as the disturbance which is expected to officially become tropical storm Isaias barrels toward Florida with the highest impact on the Central Florida area between Sunday and Monday.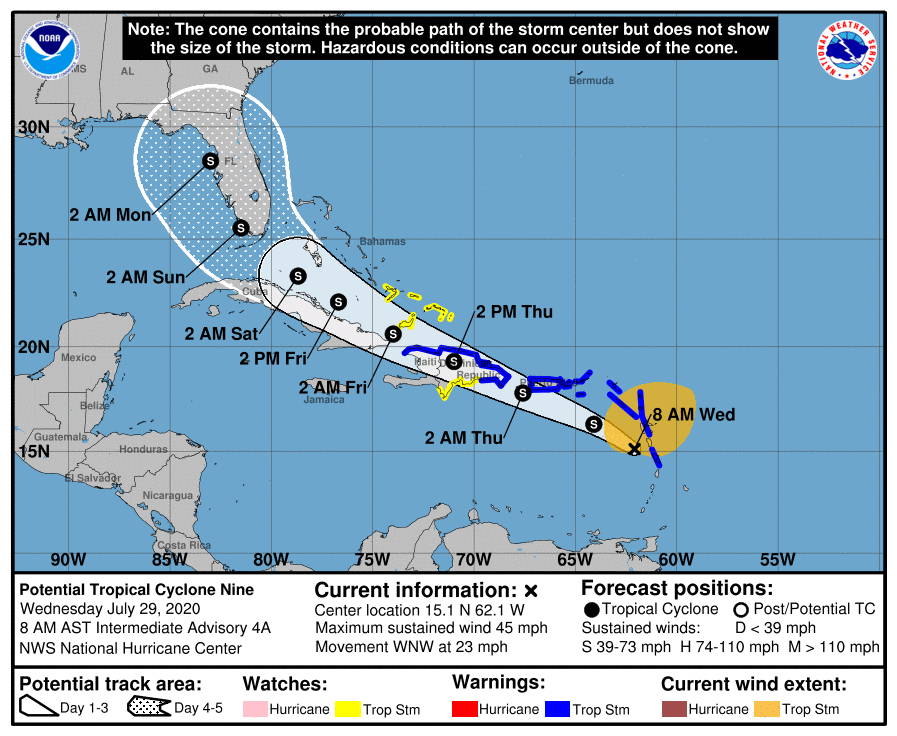 "The National Hurricane Center (NHC) dubbed this system "Potential Tropical Cyclone Nine" Tuesday, a procedure allowing the NHC to issue advisories, watches and warnings for a system that hasn't yet developed, but poses a threat of tropical storm-force or hurricane-force winds to land areas within 48 hours.
While this large system is slowly consolidating its thunderstorms, it has not yet developed a well-defined closed low-pressure center.
Once it develops enough thunderstorms near a closed low-pressure center, this system will be designated Tropical Storm Isaias.
The NHC projected path below shows that this system could be located near or on either side of the Florida Peninsula by this weekend. However, this forecast is not as straightforward as it might seem. This system may also have to battle unfavorable upper-level winds - producing what meteorologists refer to as wind shear - and/or dry air along its Caribbean and Bahamas track. These are both nemeses of tropical cyclones" said the Weather Channel.
As with any storm, the projected path is likely to change over time. Right now, odds of the storm strengthening don't seem to be in favor. However, those visiting the Central Florida area, specifically Disney World, are likely to experience heavy thunderstorms and high-speed winds throughout the weekend and into early next week.
We'll be monitoring the storm all week. Be sure to keep checking back to the Lost Blog for the latest on Potential Tropical Storm Nine and any preparations Disney may take. As of right now, operations are scheduled to continue as normal throughout the weekend.