Continuing our coverage of the grand opening week of Disney's Rivera Resort, we stopped by Topolino's Terrace Restaurant for dinner on day one of our stay! Topolino's Terrace character breakfast offering completely blew us away, so we were all incredibly excited to try dinner too.
The restaurant's beauty really shines at night. The elegant lighting and added holiday decor give the restaurant a classy, cozy feel. Thankfully, the food only added to the atmosphere as we were just as impressed with the dinner offerings! Let's take a look.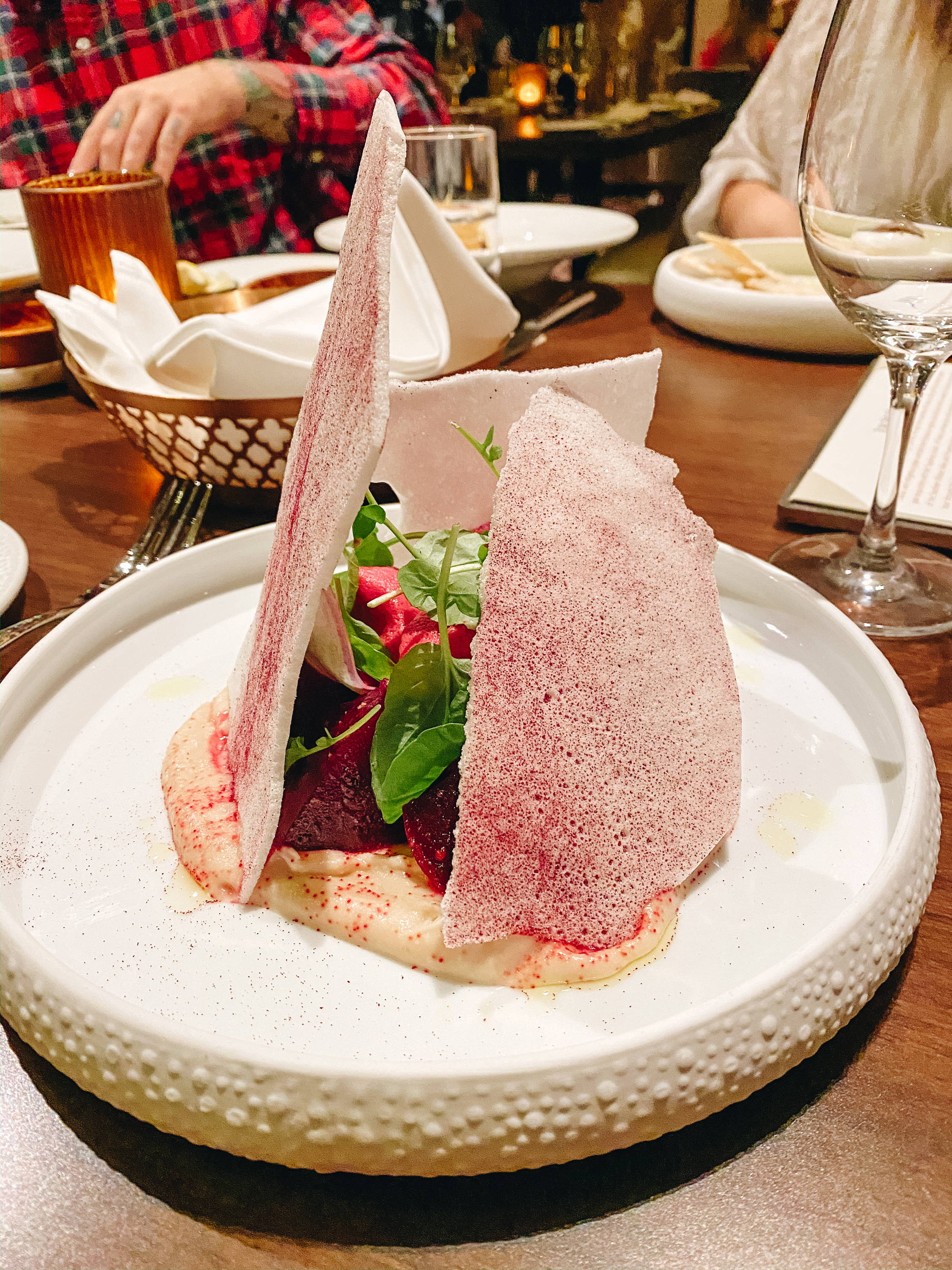 "I went into this year hating beets, and then slowly I tried to train myself to like them, and I actually really like them now" -Jambo Joe
With White Beans, Watercress, Garden Radish, Lemon Meringue. The presentation of this dish is gorgeous, and if you're training yourself to like beets, this is a highly recommended tool to do so. Would recommend.
Burrata con Panna - $18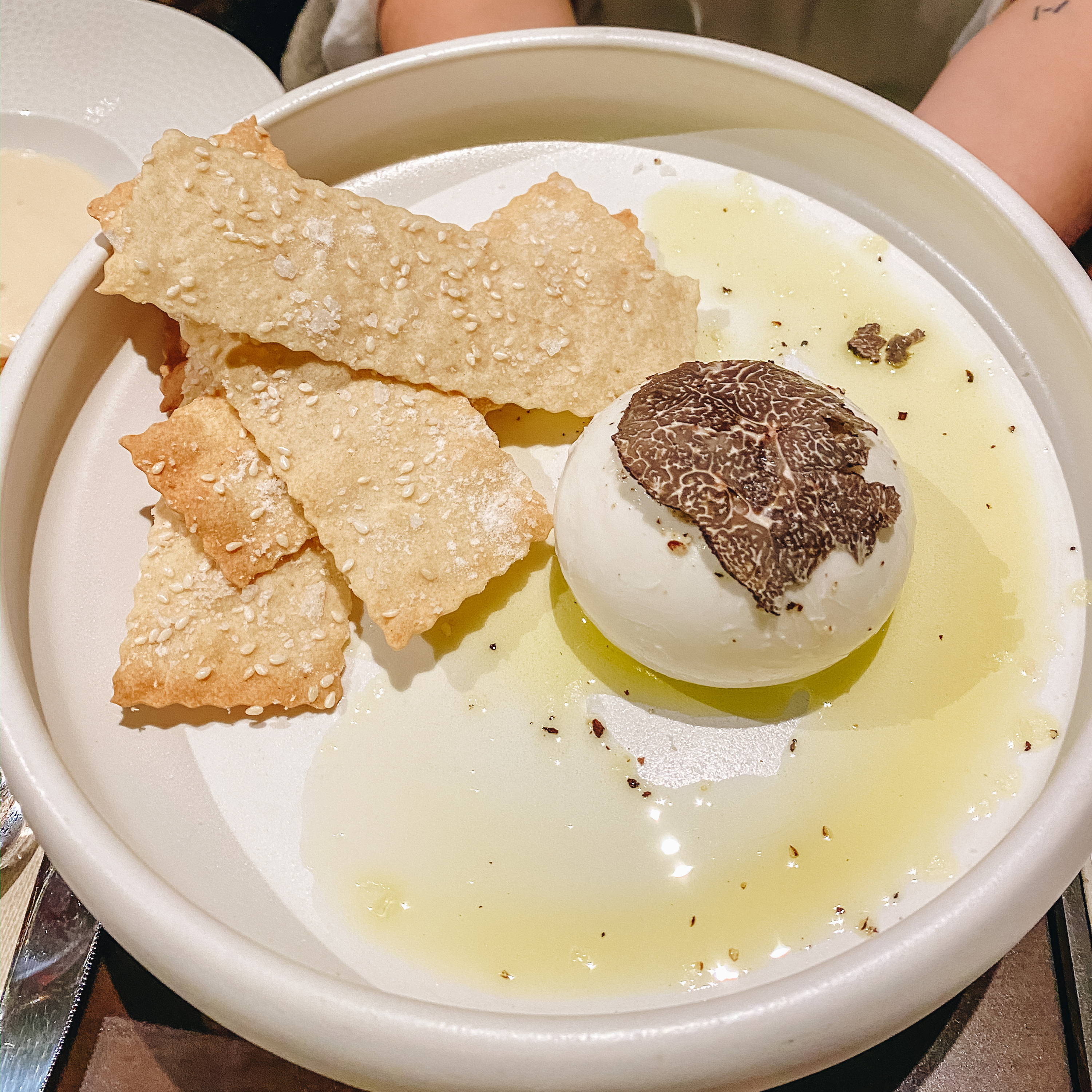 With Black Winter Truffle, Italian Olive Oil, Seed Lavosh, Sea Salt, the truffle was excellent and we'd highly recommend this dish as a starter that pairs well with and of the meat and seafood entrees.
Root Bisque - $13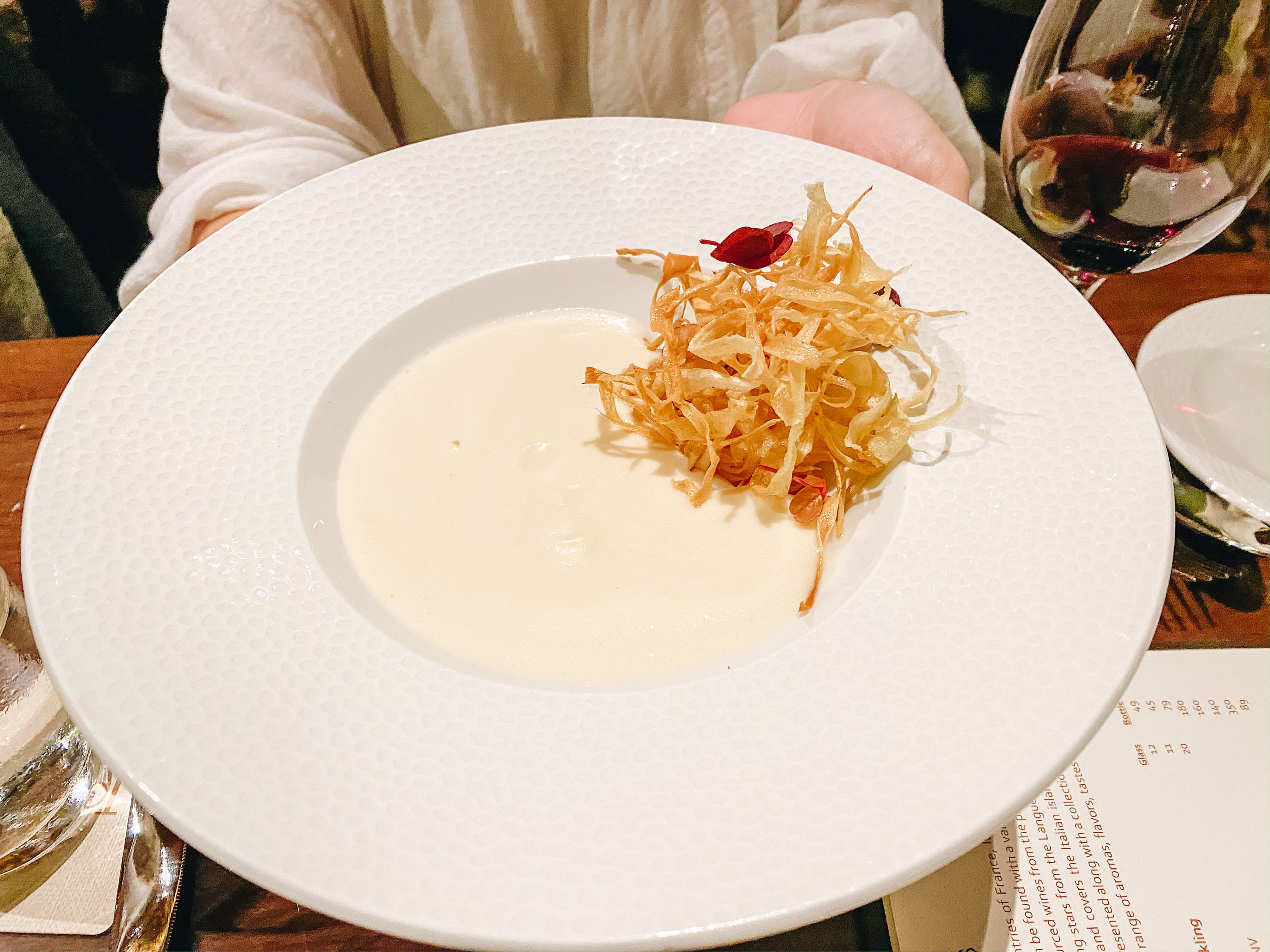 Made up of Parsnip, Celery Root, Heirloom Apple, Cocoa Nibs, Sorrel, the surprise and overall winner of the night was the Root Bisque. The soup was creamy and had fried root shaved vegetables throughout which gave it texture. There was also a winterberry flavor profile which prevented any plain, earthy soup taste.
Romaine Insalata - $15
With Ricotta, Watercress, Acciuga, Lemon, Italian Olive Oil. This is a pretty basic salad but sometimes that's all you're looking for in an appetizer. The lemon compliments the Italian Olive Oil well and the blend of romaine lettuce and watercress makes for an intestine yet satisfying starter.
Gnocchi - $16
Made up of Duck Confit, Pesto Bianco, Garden Kale, Pine Nuts. This dish was overall great. The gnocchi might have been slightly overcooked and was a little too tender for my liking. Everything else about the dish was fresh and highly recommended.
Winter Pumpkin Ravioli - $16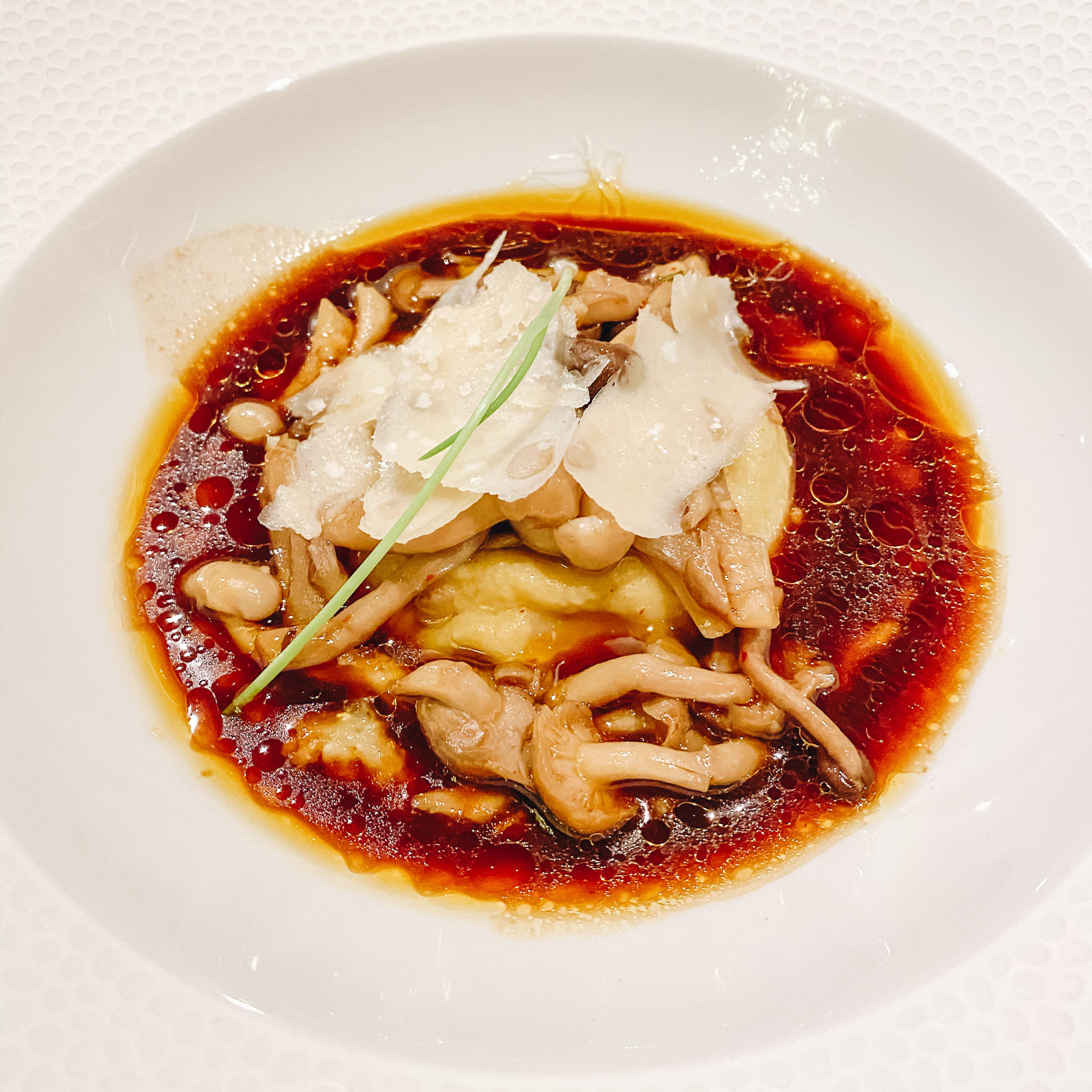 Wild Mushroom Conserva, Brodo, Pumpkin Seed Oil. The vegetable broth in this one was extremely flavorful. At some points, the broth was the only present flavor in the dish, but the texture of the other components helped to salvage the dish. Overall it was good but could be improved with more flavorful elements.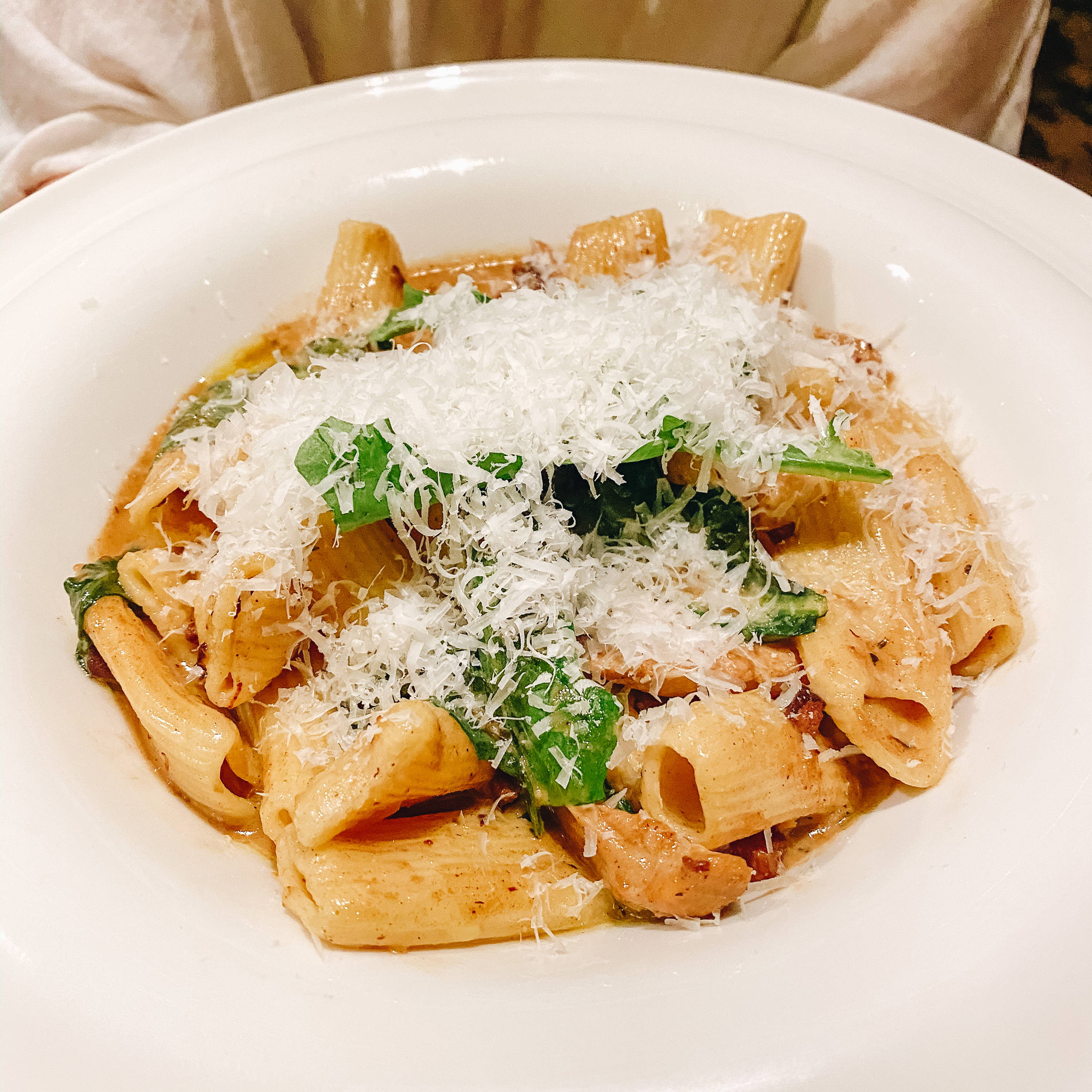 Braised Chicken Sugo, Dandelion Greens, Parmesano-Reggiano. In a huge surprise, this was the winning dish of the night. The pasta was cooked well and the greens worked so well with the sauce to create a truly memorable pasta dish. We'd highly recommend this one!
Filet Mignon - $54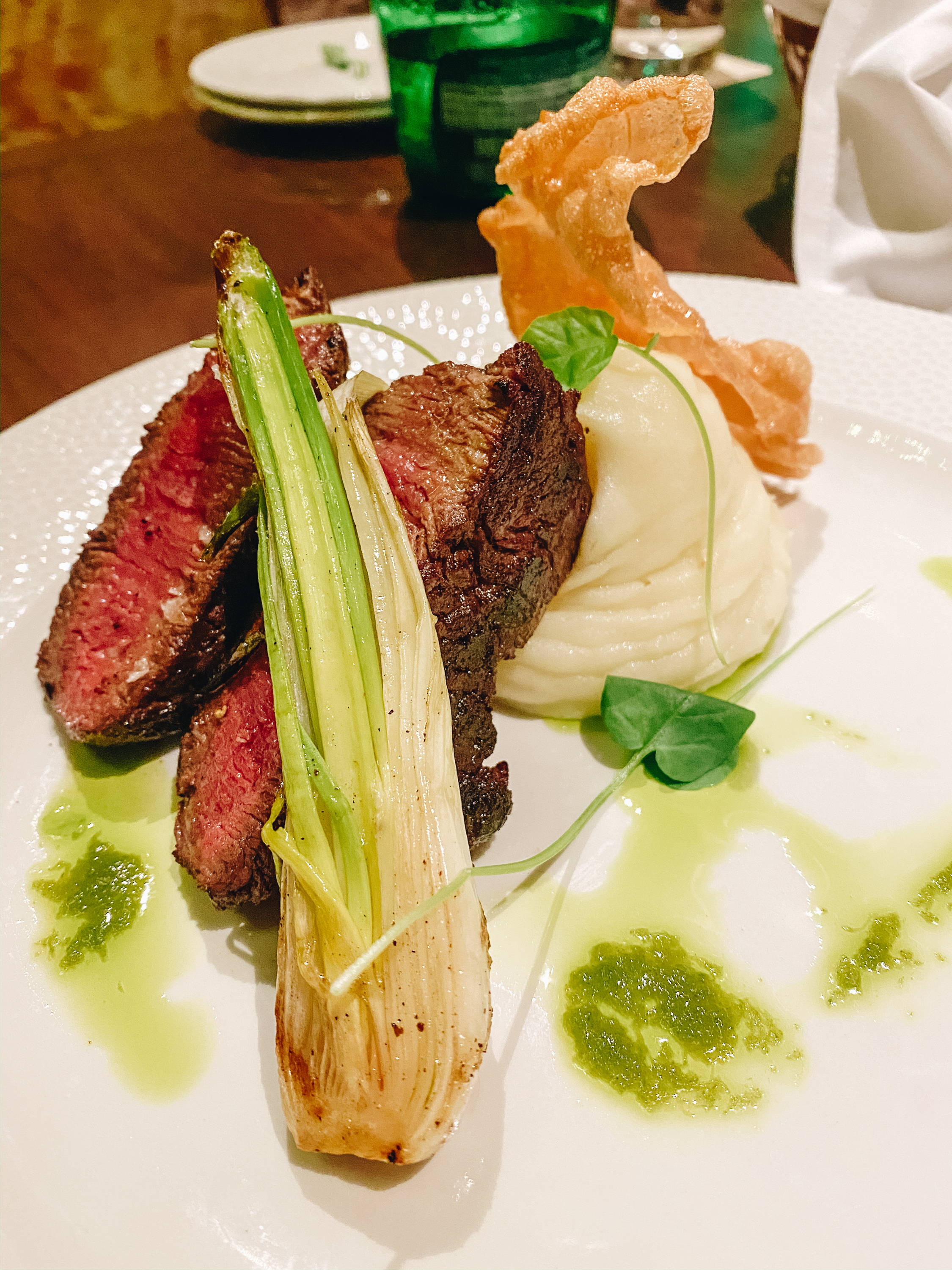 Truffled Mashed Potatoes, Charred Torpedo Onion, Forest Mushroom Purée, Vinaigrette. The filet was cooked perfectly. The truffle mashed potatoes paired perfectly with the steak and were fresh and warm. The portion is slightly smaller than average, which is common with such a high-end steak. Some extra veggies on the side would have fixed this issue but other than that the dish was impressive.
Tomahawk Veal Chop - $52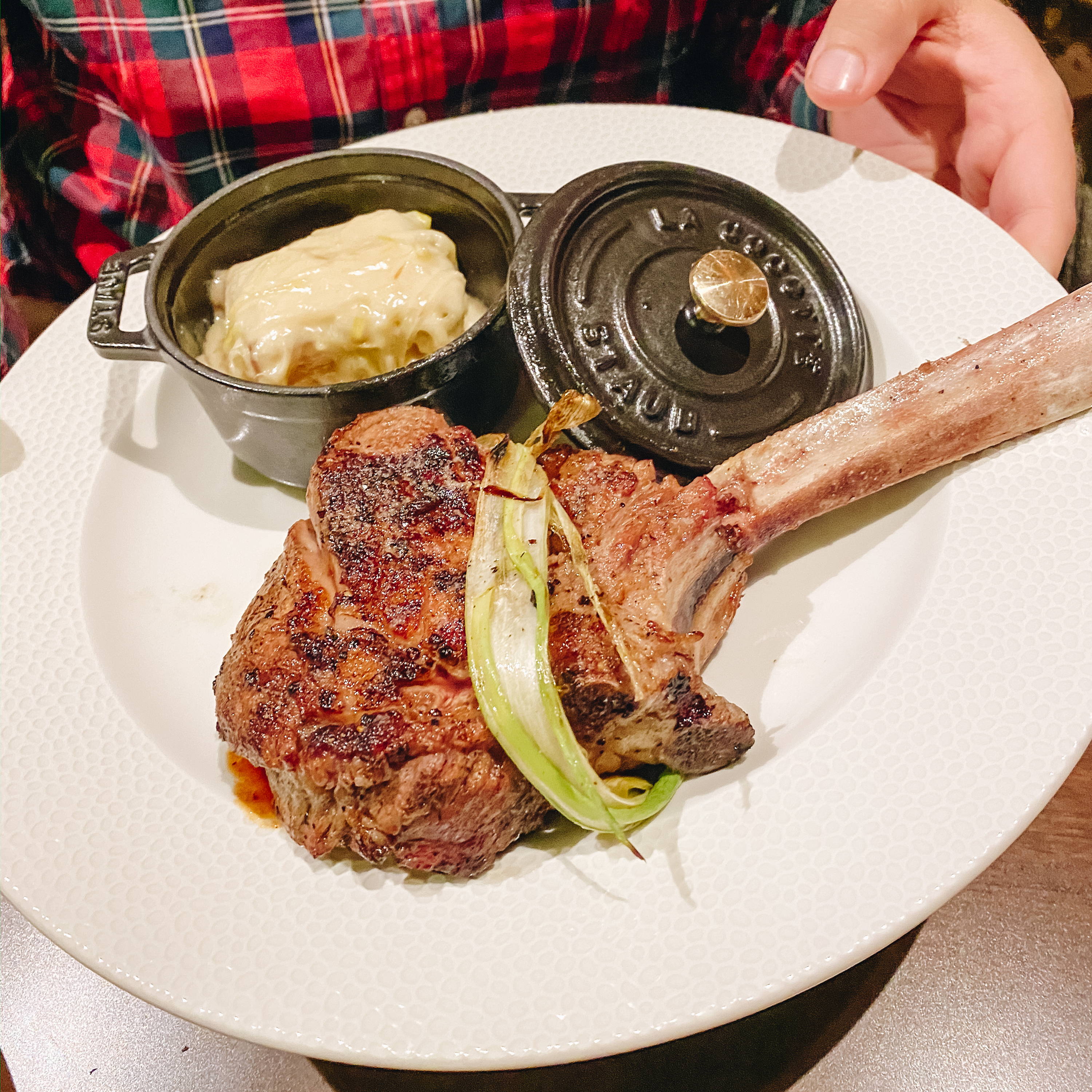 Potato-Torpedo Onion Gratin, Lemon-Veal Jus. This was one of the top 10 meals Cody had ever had at Disney. The portion was massive and came with an additional side of potatoes gratin. The meat was tender and juicy and hit the spot as one of the best meat dishes available in the restaurant.
Linguine Scampi - $36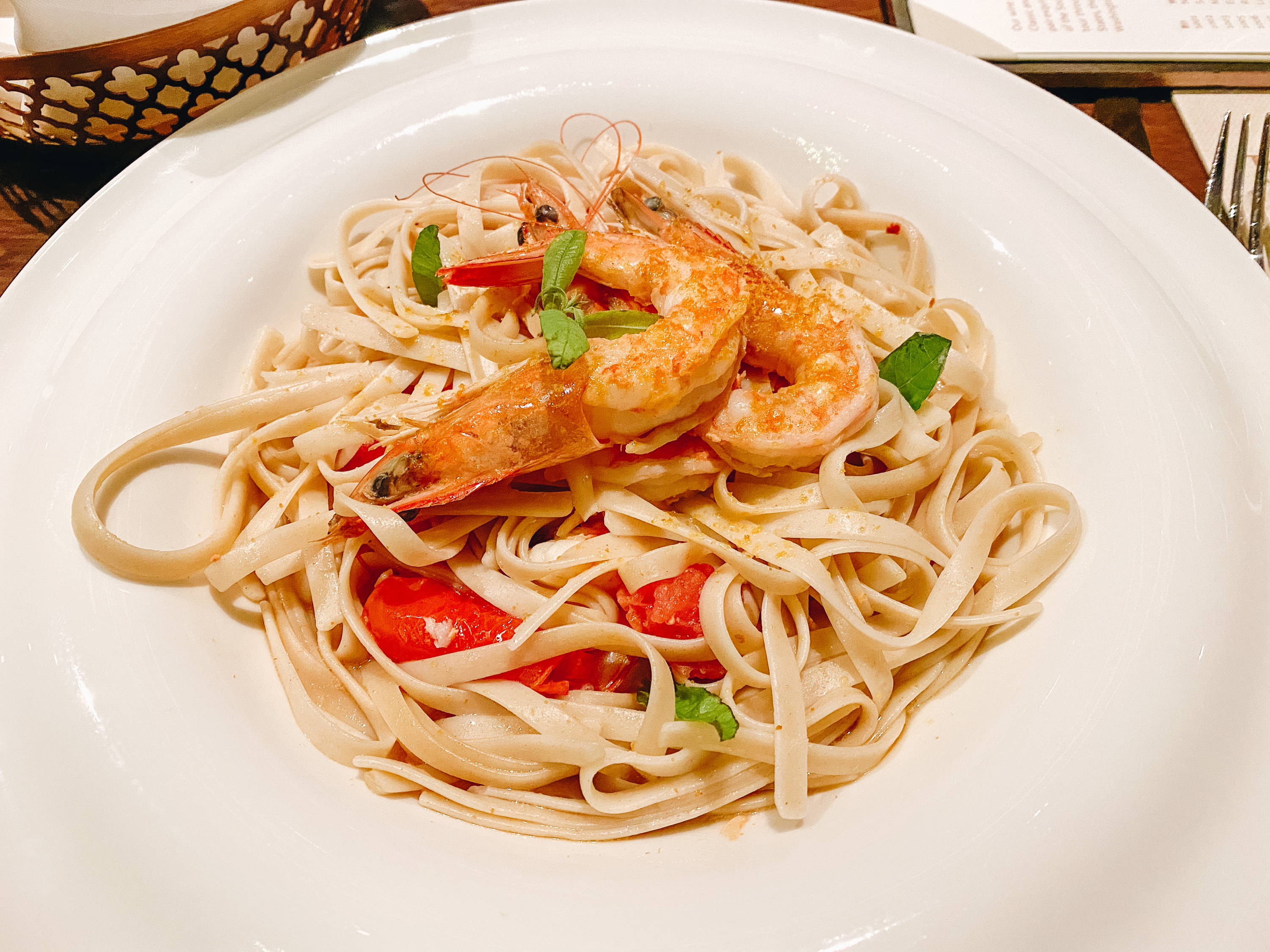 *WARNING - the shrimp still have their heads on when the plate hits the table*
Shrimp, San Marzano Tomatoes, Garlic, Lemon, Italian Olive Oil, Verbena, Bottarga. If you can get past the fact that your shrimp will be served head-on, this is a good dish. The linguine is a great choice of noodle for the dish and it pairs well with the shrimp. Otherwise, it is served with a basic blend of garlic, lemon, and olive oil. It could have used a more ambitious sauce or flavor profile, but otherwise enjoyable.
Pistachio Mousse - $12
If we could have, we would have skipped dessert and went elsewhere for a sweet after-dinner treat. The desserts, while gorgeous in presentation, were slightly underwhelming in flavor and skippable.
Thankfully, the pistachio mousse was the winner of dessert amongst the table. With just subtle hints of pistachio, it allowed for a filling yet not overbearing way to end the meal.
Warm Valrhona Chocolate Cake - $14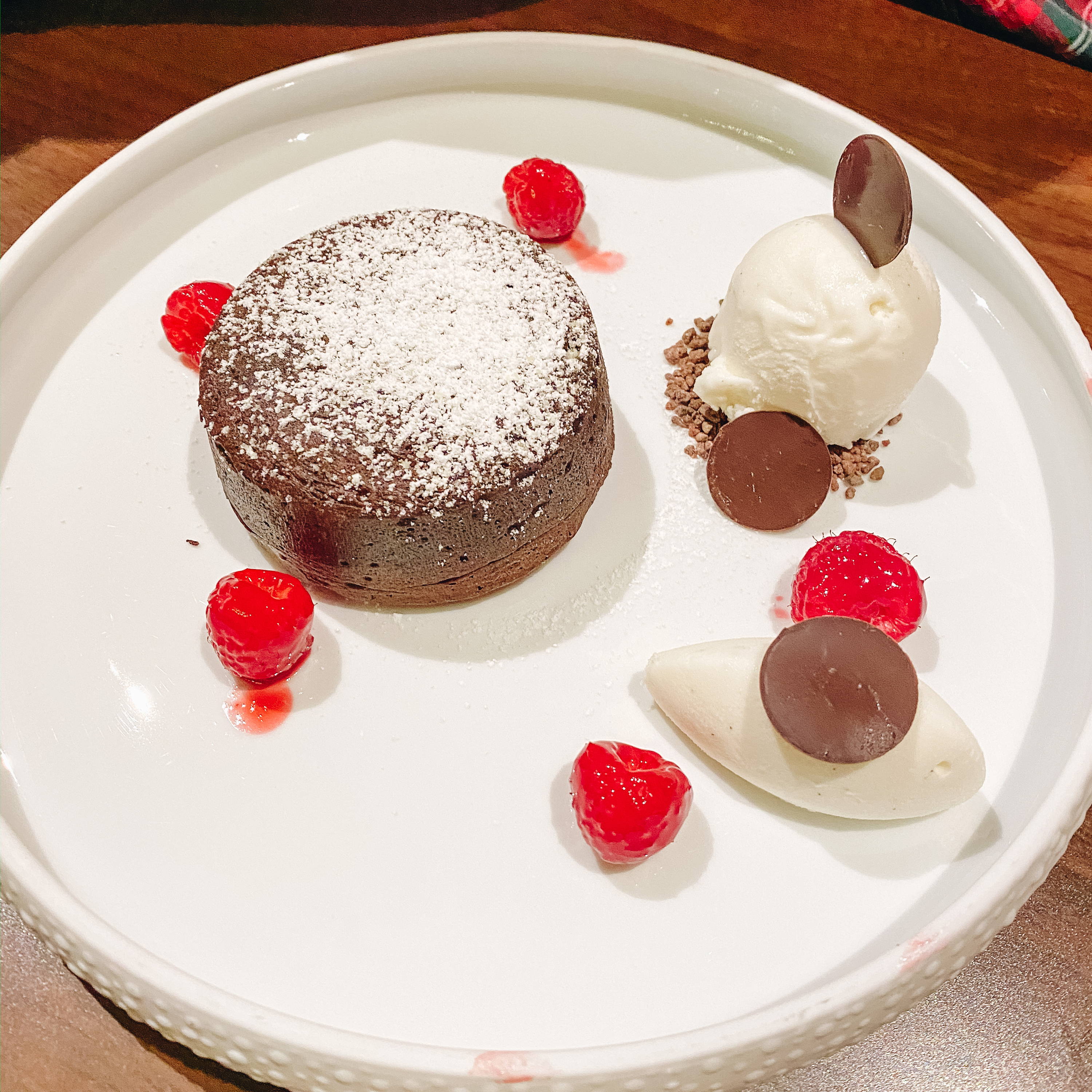 The chocolate cake was warm and filled with caramel in the center. The cake was sweet and savory and served with a side of vanilla ice cream. While the desert was good, this was another fairly un-adventurous dish that could be skipped.
Fruits of the Forest - $14
This dessert was plated flawlessly and had all kinds of color to it. The sorbet was fantastic and the meringue was a hit amongst the table.
Fruits of the Forest (Gluten Free)
Overall Topolino's Terrace Dinner was a brand-new restaurant that has some work to do to perfect some imperfections (similar to Teledo at Gran Destino when it first opened). We were overall impressed and would return, but found that some dishes were a hit and some were a big miss. We can't wait to return in the coming weeks to give our dishes another try and see how they've improved. If you're looking to play it safe on your next Disney vacation, we'd recommend California Grill over Topolino's Terrace, however, don't count this one out as there's a lot of potential here!
If you want to hear even more about our trip to Riviera this week, head over to our youtube page and check out the latest episode of Oh Boy! The Podcast.
If you liked this article make sure to check out our store here, and use LOSTBROSBLOG for 10% off your first order!