He's adorable. He's precious. He's EVERYTHING! I'm talking about The Child or as he has been dubbed - Baby Yoda. If you are like me, you absolutely love Baby Yoda. He has taken the Star Wars Universe and World by storm. You cannot walk into a store and not find something Baby Yoda related. It's crazy!
To celebrate the new season of The Mandalorian premiering October 30th on Disney Plus, and to celebrate our all-new The Child and Bounty Hunter Jerseys which are NOW AVAILABLE, we thought we'd share some of our absolute favorite Baby Yoda-inspired merch from around the galaxy!
Every time I see something with that cute face on it, I think to myself - "I must own it". And let me tell you, I own quite a bit of merchandise. They know how to get me for sure. With that being said and with the 2nd Season of The Mandalorian premiering right around the corner, I want to share with you some of the best Baby Yoda merchandise that I have seen. Maybe you will find something to help you get prepared for the new season!
TARGET
Let's start with everyone's favorite store. We all know Target is that store that you go in with a list and end up buying things you absolutely did not need. They carry so many great things that you may not know you need in your life.
If you're a collector, they have some pretty cool items. While I am not the biggest LEGO fan, they are releasing the LEGO Star Wars: The Mandalorian The Child Buildable Toy. According to Target, it is a build and display model with a poseable head, mouth, and ears. It releases on October 30, 2020, but you can preorder it now. They also have a couple of the Mandalorian Funko Pops and the Star Wars The Bounty Collection Series, which are great pieces to display. The Bounty Collection Series has 2 different 2-packs with different Baby Yodas. I am going to share my favorite set below.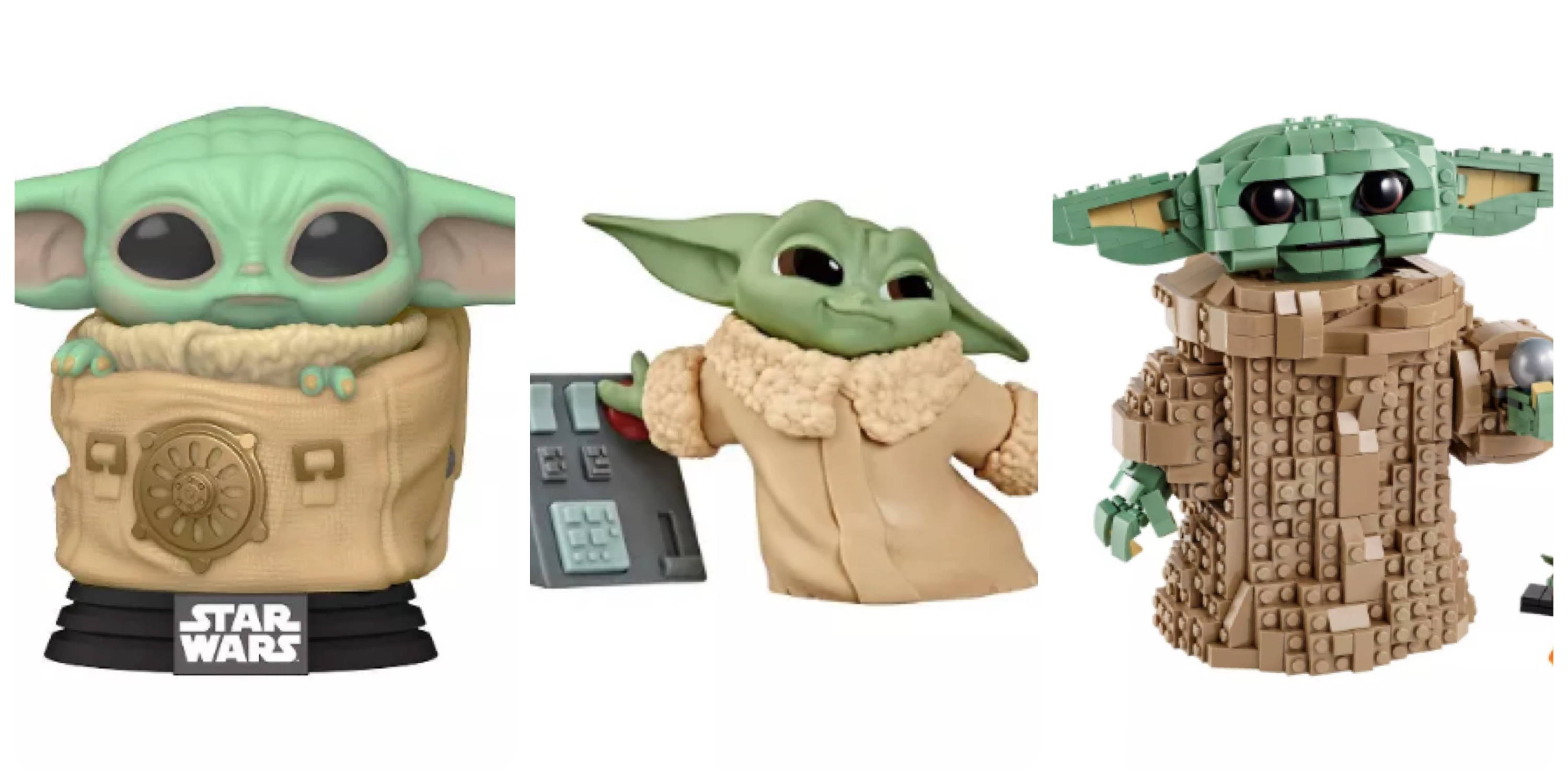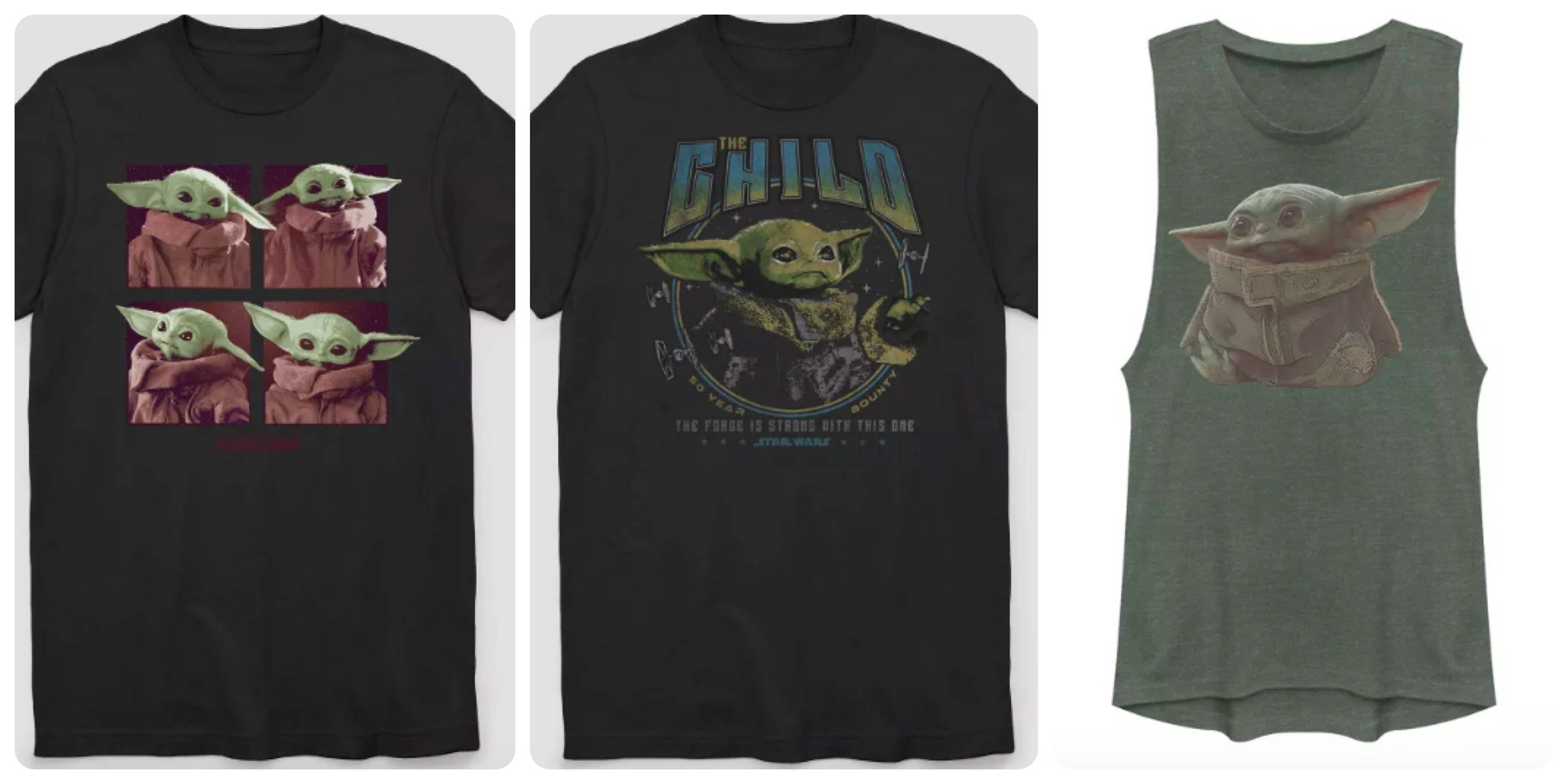 Photo Cred: Target Online
Men's Star Wars The Mandalorian Child Short Sleeve Graphic T-Shirt - Black
Men's Sweet Child Short Sleeve Graphic Tee
Juniors' The Child Portrait Festival Muscle Tee
shopDisney
You can never go wrong with shopDisney. They have something for everyone and are always adding items to their website. Let's highlight the products that are out of this world! I am an avid Tervis buyer. I think their products are incredible and of course, they created multiple Baby Yoda designs. If you do not own a Tervis cup, I highly suggest making this one your first purchase. They have a couple of phone cases that are great. My personal favorite, which I currently have on my phone right now, is the Child 3-D phone case. It has different Baby Yodas all over along with little frogs. Even though I like shopping at WDW for ornaments, there is just something special about the Sketchbook Ornament Collection. They released a Baby Yoda ornament and it is perfect for any fan of this little guy. The last thing that I thought was great is the fact that there are matching Spirit Jerseys for you and your pet. Yes, Spirit Jerseys are the big item when it comes to shopping at Disney but this set is too cute for words!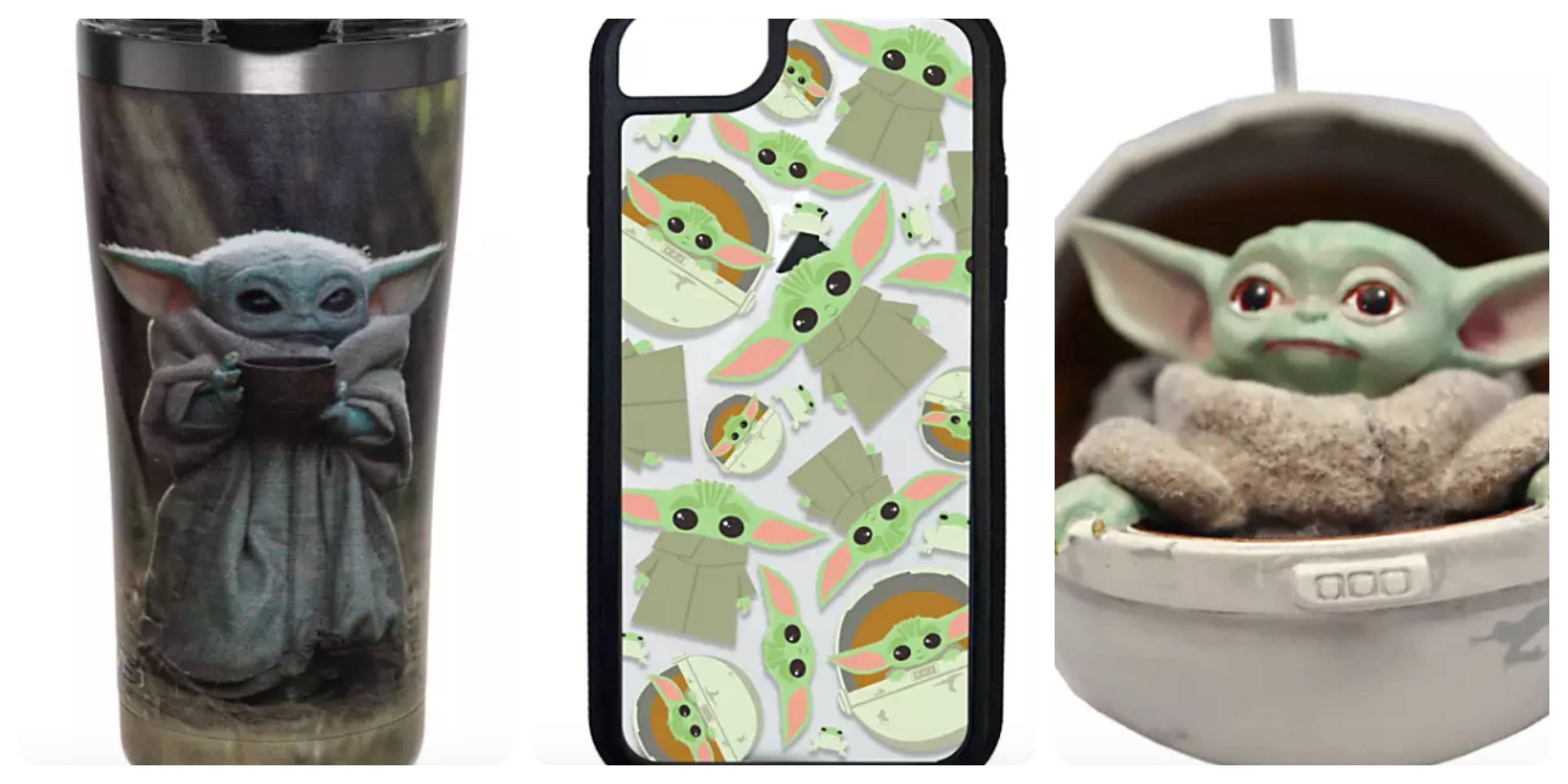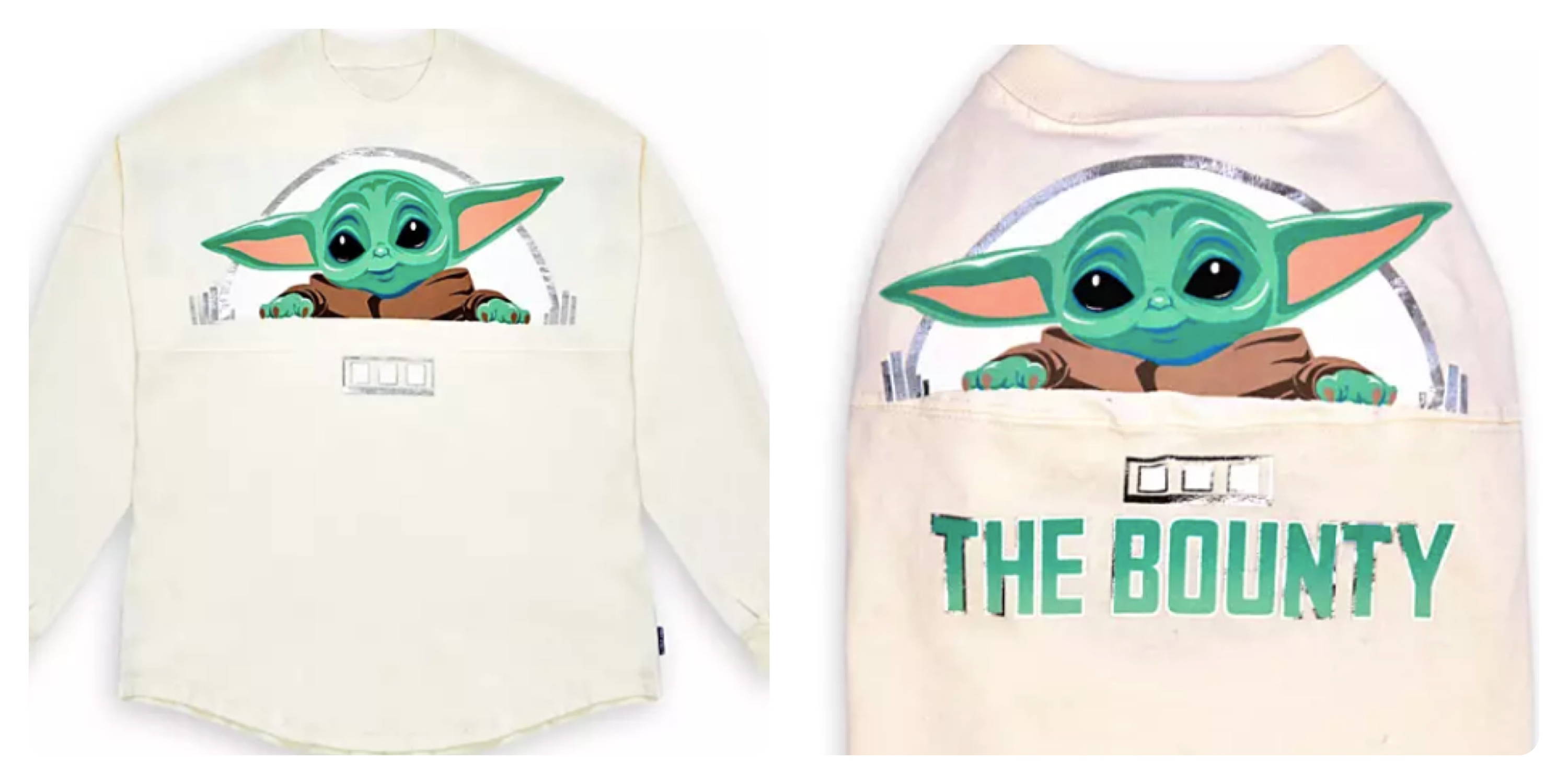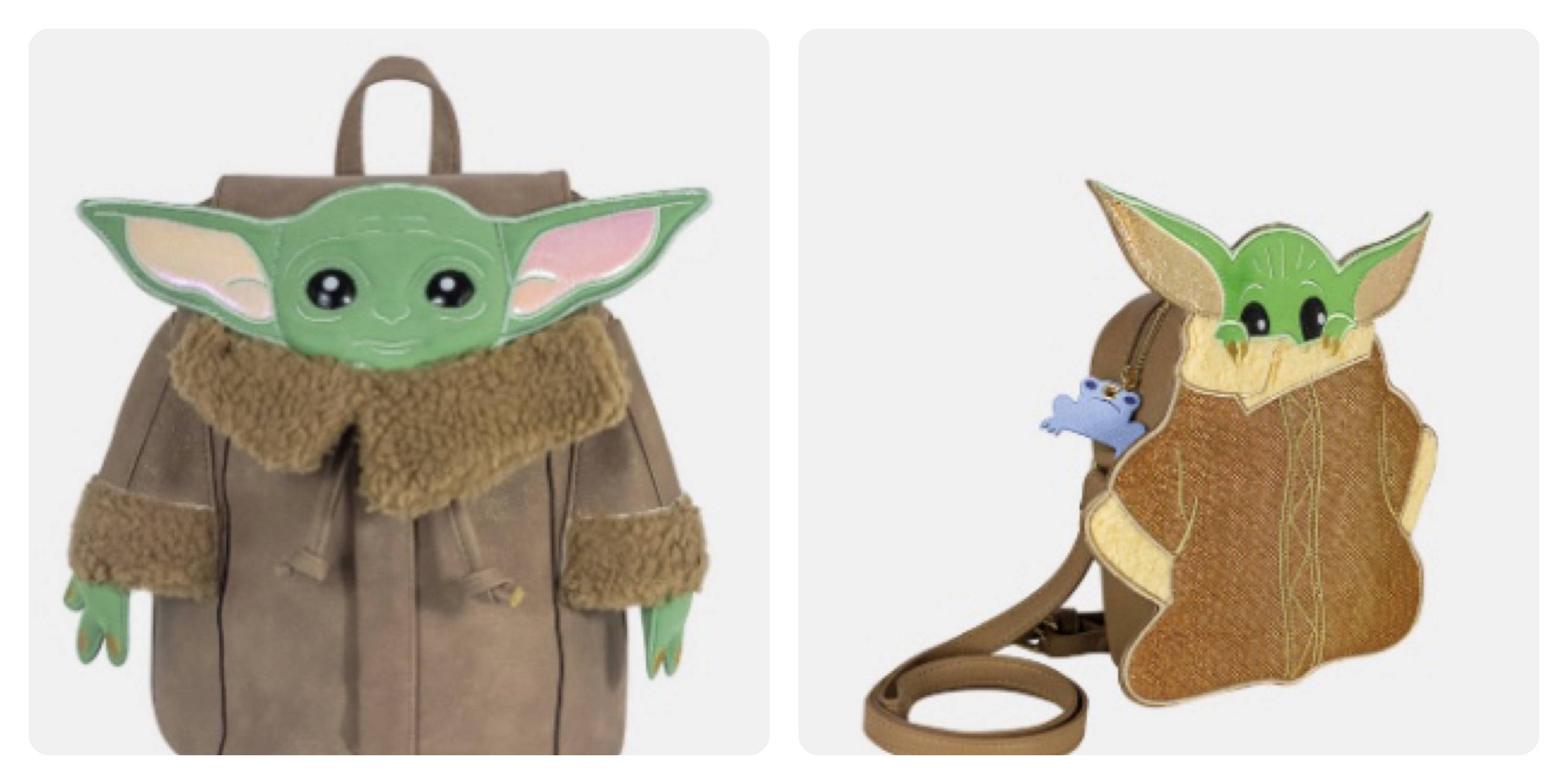 Photo Cred: Danielle-Nicole website
BOXLUNCH
BoxLunch carries everything that you can think of - clothing, fashion accessories, home decor, kitchenware, and even car accessories. I always find what I am looking for when I shop there...plus things I do not need but must-have. Aside from the tees, plushies, mugs, and Funkos, you will find an array of face masks with our cute little alien. There are pages and pages of Baby Yoda items but these are the ones that truly stuck out to me.
Loungefly has a backpack for almost everything. When it comes to Baby Yoda, they released different designs but there is an exclusive BoxLunch bag. It is so cute! It features Baby Yoda and has a few frogs. This is the perfect bag for your next galactic trip to Galaxy's Edge. For you succulent lovers out there, there is a planter just for you! This planter features Baby Yoda in his pram. For the breakfast fans, they have a Baby Yoda themed coffee maker and a Mandalorian and Baby Yoda toaster. The real winner in kitchenware is the Baby Yoda Waffle Maker! Out of the kitchenware, this one is the best! If you cannot have Mickey waffles at WDW, have the next best thing!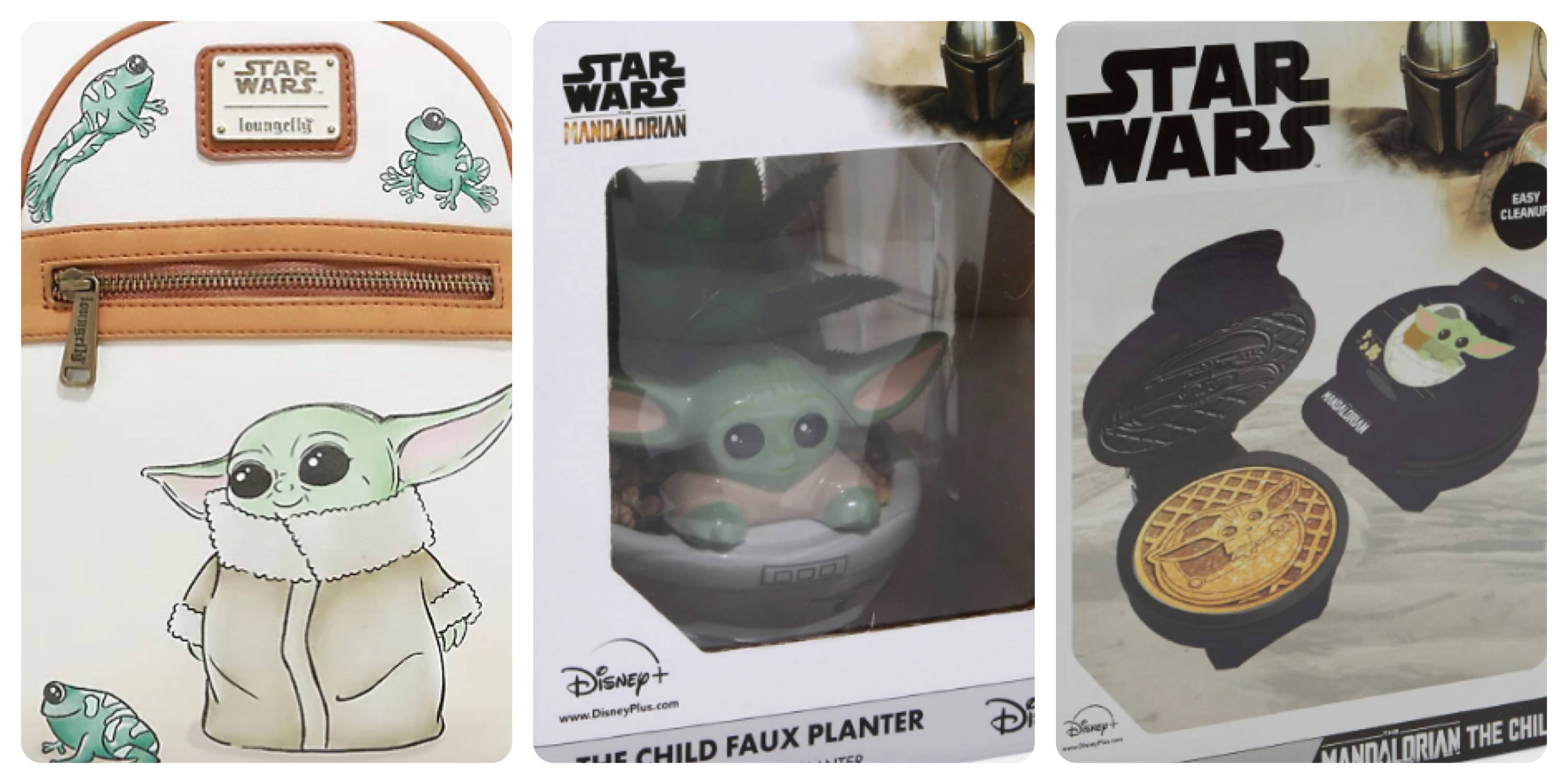 Photo Cred: BoxLunch
Loungefly Star Wars The Mandalorian The Child with Frogs Mini Backpack - BoxLunch Exclusive
The Child Faux Succulent Planter
KOHL'S
This last store may not be the first one you of but you would be surprised by the options that they have. Not to mention, there is always some sort of sale or coupon. My absolute favorite Baby Yoda item that I own is from Kohl's. With the holidays approaching, there is an entire family collection of matching pajamas. I love this trend for the holidays and this would make such a cute look for a holiday card! Hasbro created a Baby Yoda talking plush. This talking plush has 10 sounds that can be triggered when hugging the plush's belly. If you want a buddy for your next binge-watching session. An item that I am seeing that is taking social media by storm is LOVEPOP cards. I have seen all of their Star Wars ones but I saw the Baby Yoda one for the first time while scrolling through the Kohl's website. If you're looking to brighten someone's day, this is the perfect card to send to someone special.