Okay, yes, your day always tends to go a bit better when you get your cup of coffee (right, Brendon Fraser?) but sometimes you need something a little stronger than just caffeine. We rounded up a list of the best bars on Universal Orlando property for the next time you need a drink (so like, always, amiright?).
Moe's Tavern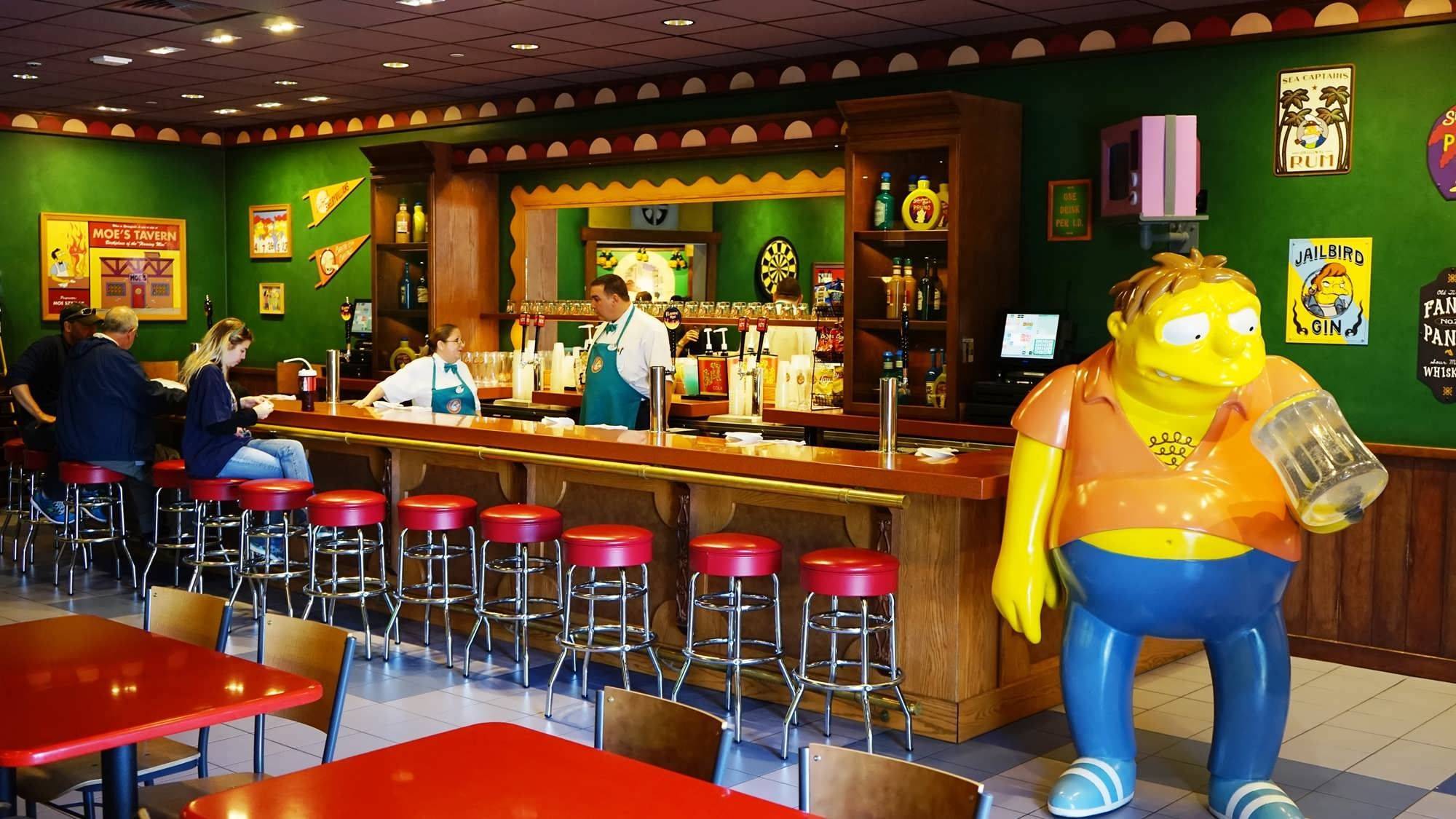 If you've ever seen a single episode of the Simpson's, (and even if you haven't) Moe's Tavern is one of the most iconic and recognizable pubs in pop culture. It's located in the Springfield area of Universal Studios Florida, and you can order a real Duff Beer, brewed exclusively for this location (and its actually the only alcoholic beverage on this menu.) The other iconic specialty drink of this bar is the Flaming Moe, which isn't actually flaming, and isn't actually alcoholic. It's a very orange flavored soda that comes in a souvenir cup that traps a bit of dry ice in the bottom to make the drink bubble and smoke as if it was flaming.
Fat Tuesday, Universal CityWalk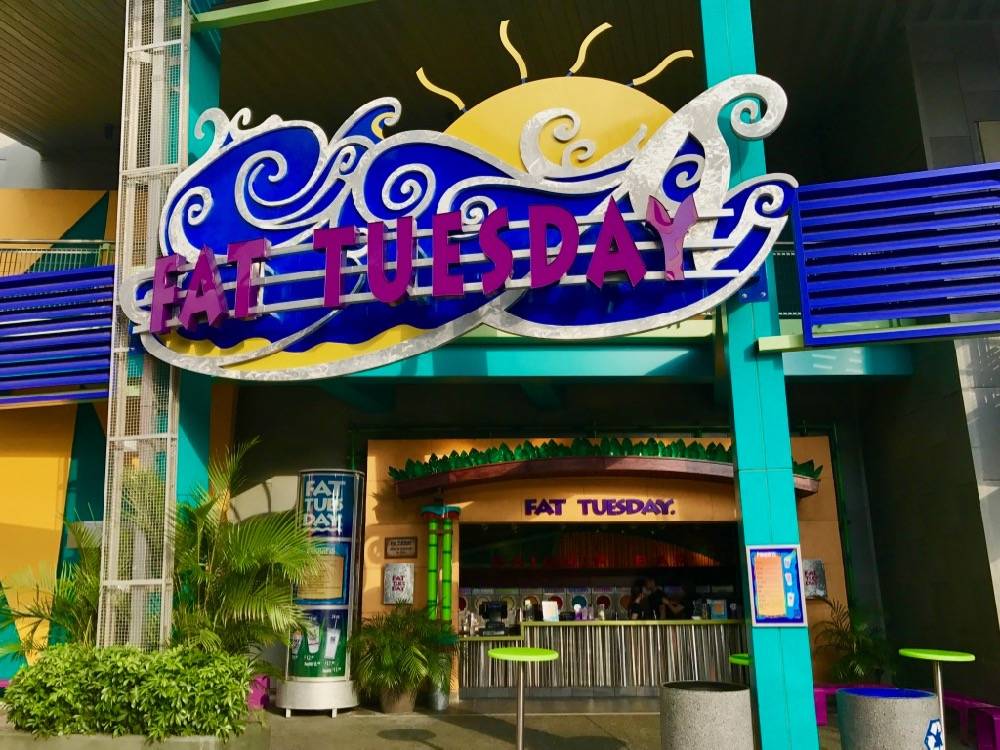 at Tuesday is a walk up counter-service bar with two locations in Universal CityWalk, which makes it considerably easier to grab a drink here versus at a restaurant bar. Fat Tuesday was made famous from their original location on Bourbon Street in New Orleans (bet you couldn't have guess that from the name), and they specialize in frozen daiquiri style cocktails that come in a rainbow of flavors and colors. They have a bunch of flavors that you'd be familiar with, such as strawberry, Pina colada, and Rum Runner, but their specialty is the 190 Octane, a VERY potent mixture of orange juice concentrate and 190 proof grain alcohol that will definitely sneak up on you and knock you on your ass if you don't pace yourself. If you've got a high alcohol tolerance though, they also offer the option of an added floater for $2, which is an extra shot of alcohol in a tube that you can release into the drink when you're ready (the sooner the better, if you wait til the end, you might as well have just taken the shot directly).
Finnegan's Bar & Grill, Universal Studios Florida

Finnegan's Bar & Grill is located in Universal Studios Florida, right off of the Streets of New York. It's a full service traditional Irish-American themed pub, with arguably the very best bar on Universal property. The bar has a separate entrance than the restaurant, right across the street from the Revenge of the Mummy coaster, so whether you're in need of a little bit of liquid courage to get on one of the best attractions at Universal, or you need a drink to calm you down after you've already experienced the thrills, this is the place to be. With it being pub, there's often live music being played in a stage right next to the bar if you want to grab a Guinness and sit and relax, but drinks to go are an option as well, to keep your adventure on the move. They make Lemon Drops especially well here, both as a shot and a drink, so if beers aren't your thing, this is your order, thank us later.
Hog's Head, Islands of Adventure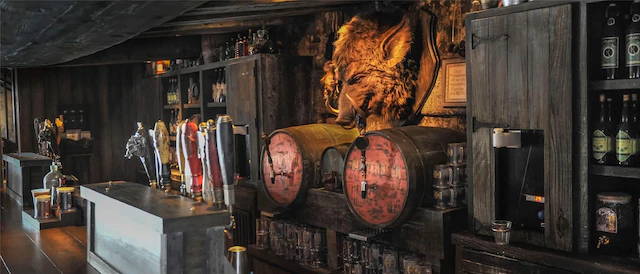 Hog's Head is taken directly from the pages of the Harry Potter books, as the bar where Harry, Ron, and Hermione initiated the Order of the Phoenix. At Universal, its located inside Islands of Adventure, in the Hogsmeade area of the Wizarding World of Harry Potter. Its slightly hidden away in the back of the Three Broomsticks, but it does have its own separate entrance if you know what you're looking for. Outside of just the alcohol offered here, this is actually the very best place to get a butterbeer in Universal. Since it is kind of tucked away versus the butterbeer carts that are stationed outside around the land, it normally has a shorter line, PLUS you can use AP discounts on any drinks that aren't alcohol, which isn't offered at the butterbeer carts. If alcohol is more your thing, this is a full service bar, AND there is actually an exclusive beer only available here called the Hogs Head Brew, specifically created for the land. If you're in need of something stronger than the smooth red ale of the Hogs Head Brew, take your chances with another exclusive drink at this bar, the Hogs Tea, which is similar to a traditional Long Island Iced Tea with one major exception; instead of cola, the Hog's Tea uses a splash of iced raspberry tea as a mixer, and is decisively strong for how sweet it tastes. Don't say we didn't warn you.
Chez Alcatraz, Universal Studios Florida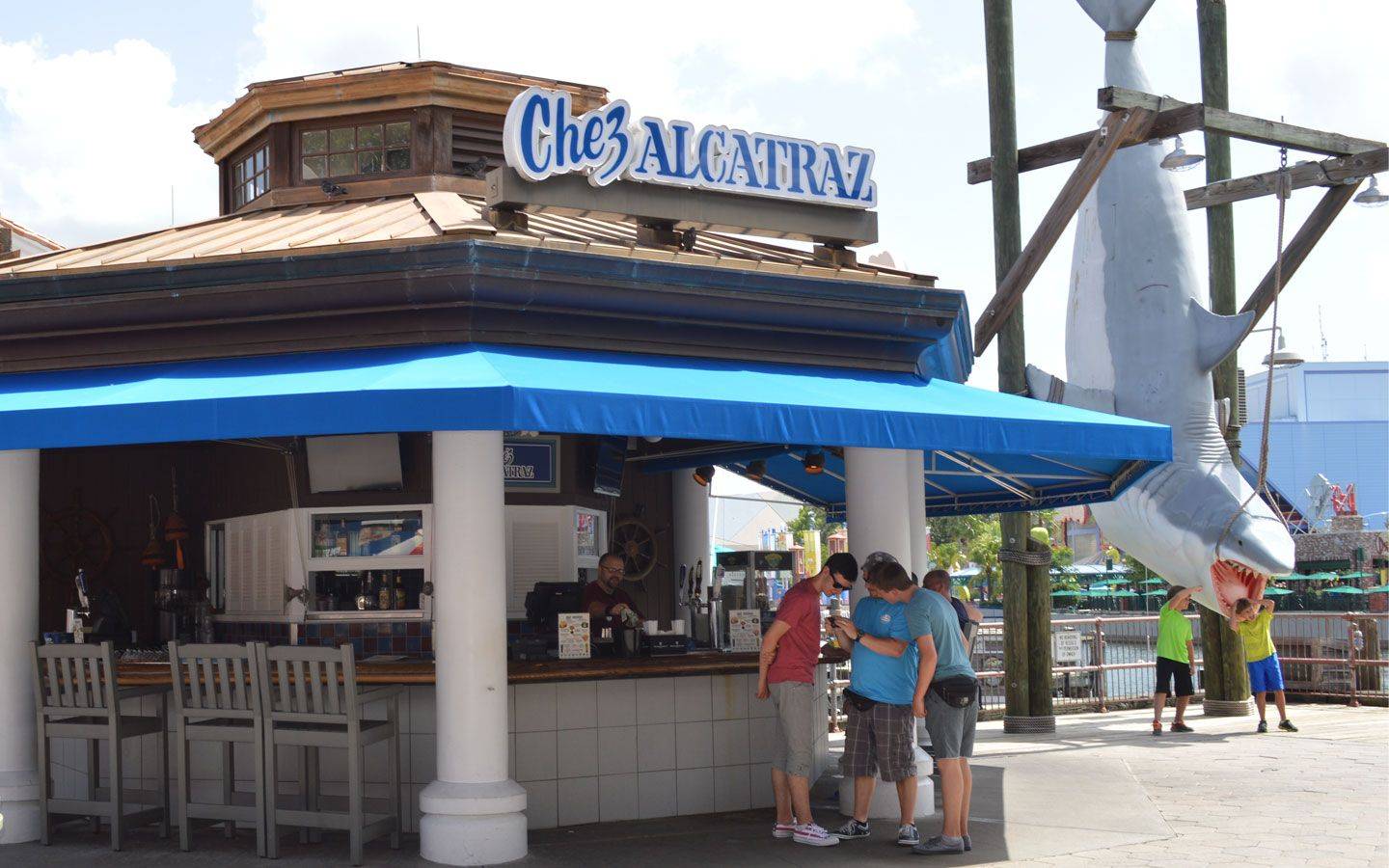 Chez Alcatraz is one of the last remaining relics of the Amity Island themed area of Universal Studios Florida. Amity Island used to be home of the Jaws attraction, and the photo op of Bruce the shark that lived at the entrance of the attraction was relocated next to this bar after the closure of Jaws in 2012. One of the best drinks at this bar is the Ocean Attack, formerly known as the Shark Attack. It's a very blue, ocean water looking drink, with a splash of red grenadine thrown in right as its served to you, to simulate the "attack" portion of its name. If you're missing Jaws, this bar and this drink will definitely quench your thirst for blood. An honorable mention for this bar is that it is actually the only place in the Universal Parks to get a White Claw, if the hard seltzers are more your speed (they stock the 16oz cans, too, not the standard 12oz).
With the Universal Parks already reopen, we're definitely excited to get back to Universal Property soon, and after more than 3 months in quarantine, I don't know about you guys, but we're definitely going to need a drink. See you at Finnegan's!
If you liked this article make sure to check out ourstore here, and use LOSTBROSBLOG for 10% off your first order!