The Top 5 Disney Power Couples That Make Us Believe in True Love
With today's announcement of our new reimagined Ducks Jersey Tee shirts, we got to thinking about some of the biggest power couples in Disney. Obviously Donald and Daisy are amongst the most well-known couples in Disney history (more on that later), but who are some of the other couples that, despite their ups and downs, stuck it out and stayed committed? So without further ado, the top 5 Disney couples who showed us the meaning of love.
5. Roxanne and Max
At the beginning of A Goofy Movie, we see Max chasing after his dream girl and all-around baddie Roxanne, who initially shows signs of vulnerability and interest in him too. During that 'one' scene in the principal's office, Max finally gets his big break with Roxanne when he invites her to a party, and she humbly agrees, launching Max and Roxanne's love story.
Throughout the movie, Max jumps through all kinds of hurdles to try and salvage Roxanne's interest in him after he cancels their date and straight-up lies to her about why he had to cancel. Not a good look Maxie. Ultimately, Max actually pulls off the promises he made to Roxanne, but not before breaking into the Powerline concert in order to get on stage with him. Upon returning to his (and our) queen, he comes clean and tells her the truth about the trip, which results in a second chance from Roxanne and their first date. Their entire relationship is relatable and feels realistic, which makes them our first power couple to make the list.
4. Mike Wazouski and Celia Mae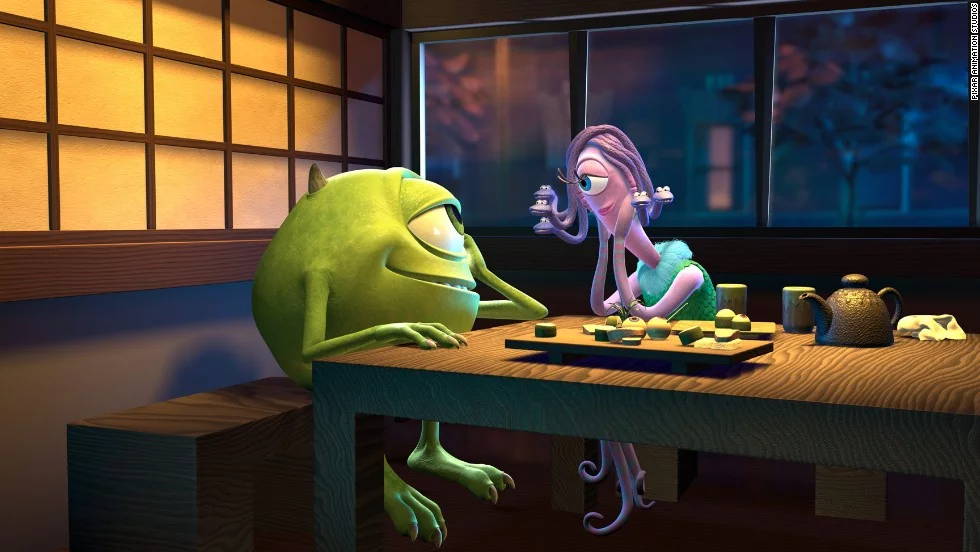 Ah yes, the Googaly Bear Schmoopsie Poo lovers who make us gag every time we watch the movie. As we know, Celia is the receptionist at Monsters, Inc. and Mike is the sidekick to the famous James P. Sullivan. The two are clearly madly in love at the beginning of the movie, however during their date to Harryhausen's Sushi for Celia's birthday, chaos erupts and Celia goes full 'Karen' on Mike.
Mike's antics through the movie anger Celia even more until Cilia reaches her breaking point and breaks up with Mike. Poor lil guy. Toward the end of the movie when Sully and Mike are celebrating their success returning Boo back safely, Mike and Cilia return to their love affair and live happily ever after. A true power couple if you ask me.
3.Donald Duck and Daisy Duck
We all knew this one was coming. Donald and Daisy certainly have their up's and down's, but that's what makes their relationship so unique. Even in Donald and Daisy's most recent television appearance in the third season of Ducktales they get off to a rough start, but always come full circle back to each other. They aren't perfect, but we love them for it (and don't forget to pick up your favorite power couple's shirt this Monday at 10 AM).
A tale truly as old as time, who could ever love a beast? The story of Beauty and the Beast is a testament to loving someone for who they are on the inside as opposed to who they are on the outside. Throughout the entire movie, the Beast tries hard to impress Belle and improve his flaws for her. In the end, she sees him for who he truly is and falls in love. Ultimately, this breaks the Beast's curse and turns him into a daddy so they can live happily ever after as the kingdom's baddie power couple.
Obviously. Who else would it be? The fact that Minnie is willing to put up with all of Mickey's shenanigans is a true testament of their love. Just take Carried Away for example. Minnie just wants to give Mickey a special song and he has to spend the entire song dealing with all kinds of issues just because he couldn't sit still for 5 minutes. Anyway, these two are the age-old lovebirds, The OG cartoon couple. The charming persona these two give off radiates into all of our love life's and that makes them the ultimate Disney power couple.