Disney parades are easily one of the most magical parts of the Disney vacation experience. They've been happening at Disney Parks around the globe since opening day and provide a mid-day boost of magic or a late-night close to the day. Parades such as Magic Kingdom's Festival of Fantasy and Disneyland's upcoming Magic Happens parade are non-specific parades that showcase the magic of Disney as a whole, where parades like California Adventure's Pixar Play Parade or the now extinct Hollywood Studios Star Wars Weekends Celebrity Motorcade focused on a specific subject or timeline such as Pixar stories or Star Wars. One things for sure, Disney has had many parades in it's past and present, and some have certainly been better than others. To celebrate our all-new Magic Aglow shirt dropping this Monday at 10 AM, we figured we'd take a look back at the best (and maybe some of the worst) Disney parades of all time. Let's get started!
Disney's Electrical Water Pageant - Magic Kingdom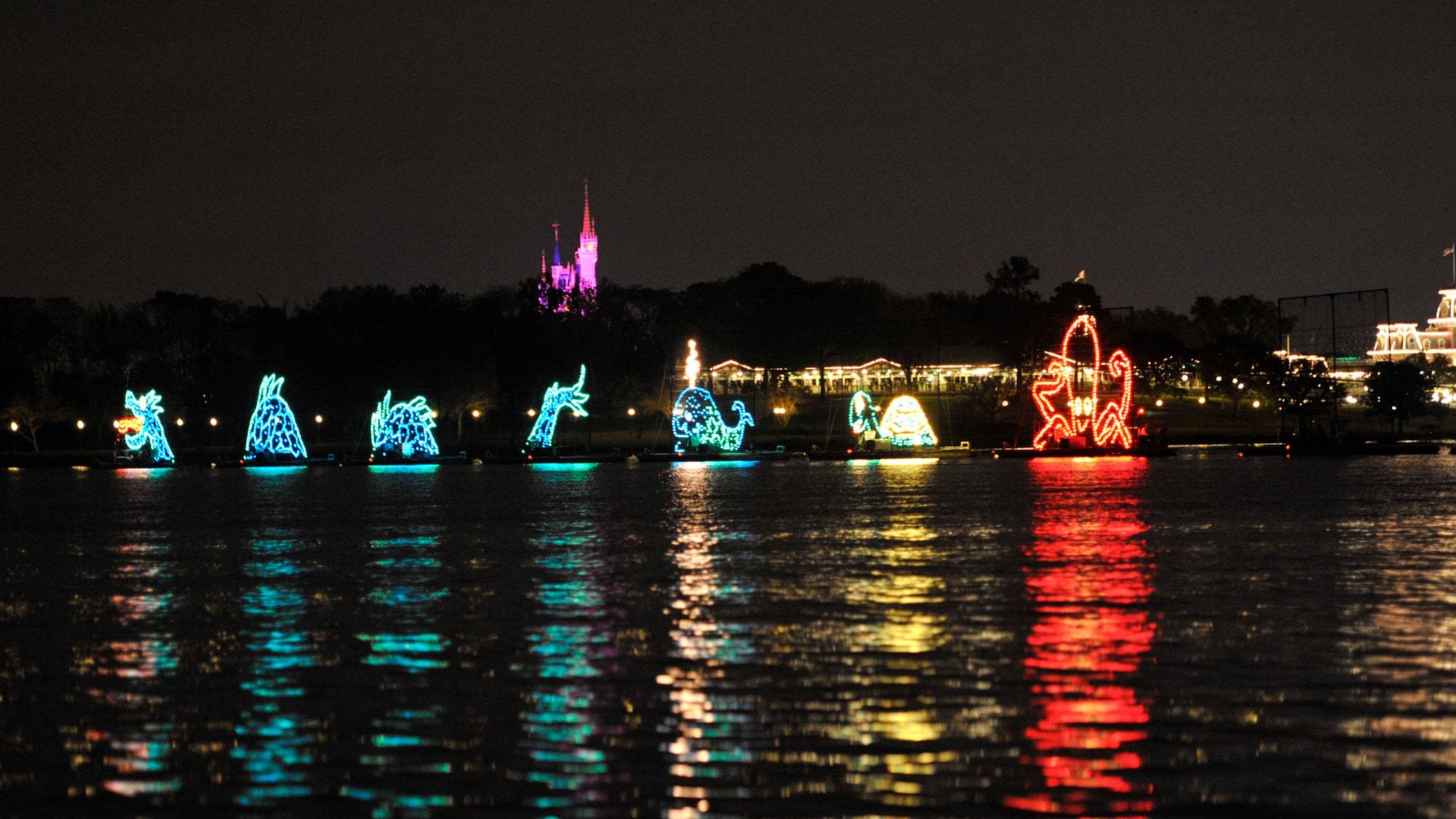 Disney's Electrical Water Pageant debuted on the Seven Seas Lagoon in 1971. It still runs to this day and remains one of the only opening day shows still in operation at Disney World. The parade delights guests exiting the Magic Kingdom with 14 floats depicting sea creatures, American flags and stars images, and an incredibly catchy theme song (you know the one). The show takes place every evening (weather permitting) and consists of the same floats in the same formation dating back to 1977. However, the show has received three different versions since it's debut in 1971. This is one of the most classic and historical offings at Disney World and is by far the most classic parade still running in the parks. The Electrical Water Pageant is a Golden Age parade that must be protected at all costs!
Spectromagic - Magic Kingdom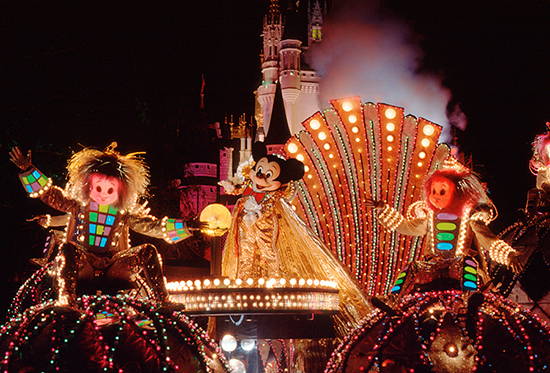 Spectromagic is arguably the greatest nighttime parade, and potentially the greatest parade of all time. It debuted at Magic Kingdom in 1991 as part of the parks 20th-anniversary celebration and replaced the Main Street Electrical Parade. The parade was about Mickey Mouse, along with the SpectroMagic Spectromen, who together create the power of SpectroMagic. After the first part of the parade with Mickey Mouse and the SpectroMagic Spectromen, the parade progressed through five different themes including Silly Symphonies, Sleeping Beauties Garden, The Little Mermaid's Ocean, The Imagination of Fantasia, and The World of Dreams in a Grand Disney Cavalcade. The parade ran from October 1st, 1991 to May 21, 1999, and had a second run from April 2nd, 2002 to June 4th, 2010. You can watch the full parade in all it's 2010 glory here.
Paint the Night - Hong Kong Disneyland and Disneyland
Paint the Night is Disney's only "modern age" nighttime parade. It's important to note here that Magic Kingdom at Disney World hasn't had a nighttime parade in almost two years, as Disney continues to neglect the park's night entertainment offerings. With that being said, this parade premiered in Hong Kong in September 2014, and move to Disneyland in California about eight months later in May 2015 as part of the park's 60th-anniversary celebration. The parade is the successor to the Main Street Electrical Parade and ran at Disneyland from May 2015 to September 2016. The parade featured an electronic, neon take on popular Disney characters such as Peter Pan, Cars, Monsters Inc., The Little Mermaid, and more. The parade's theme song was also the insanely catchy theme song to Wreck-it Ralph "When Can I See You Again?". The parade is currently running once again at Hong Kong Disneyland, and the whole parade can be watched here.
Tapestry of Nations - Epcot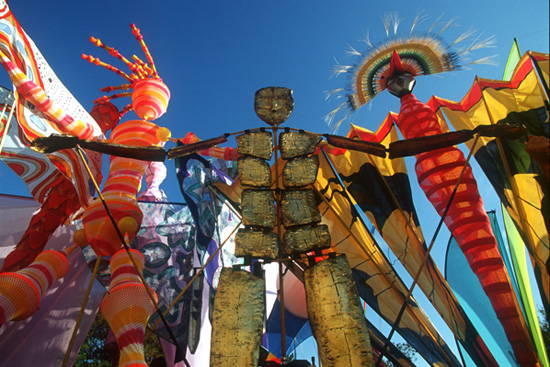 Tapestry of Nations was one of the extremely few Epcot parades ever made. The parade was produced to help the park usher in and celebrate the Millennium Celebration. The parade ran around the World Showcase Lagoon from 1999 to 2001. It featured massive puppets, drum and other musical units, and a "World peace" theme. This parade was so good and so fitting to the time that it represented, it was used as the theme for the Super Bowl Halftime Show for Super Bowl XXXIV in 2000. The entire parade can be watched here.
Mickey's Share a Dream Come True - Magic Kingdom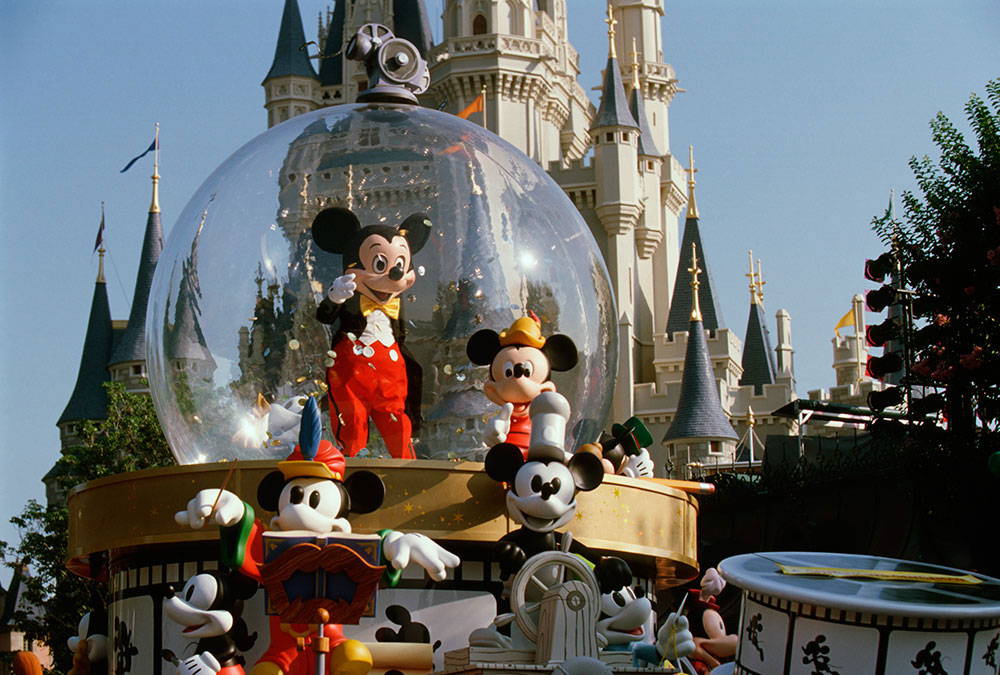 Mickey's Share A Dream Come True Parade, in my personal opinion, is the most nostalgia-inducing Disney parade of all time. This parade ran from October 1st, 2001 to August 9th, 2006. This was a time when many of us were experiencing Disney World as younger children, or even for the first time. The parade was produced as part of the 100 Years of Magic Celebration and featured "snow globe" style floats. It was also narrated by Julie Andrews which is pretty much the coolest thing ever. The parade was pretty peak "90's esqe. Disney Store", which gives it so much nostalgia looking back on it today. The parade can be viewed in it's entirety here, and you can read a 2014 Disney Parks Blog article about the parade here.
Festival of Fantasy - Magic Kingdom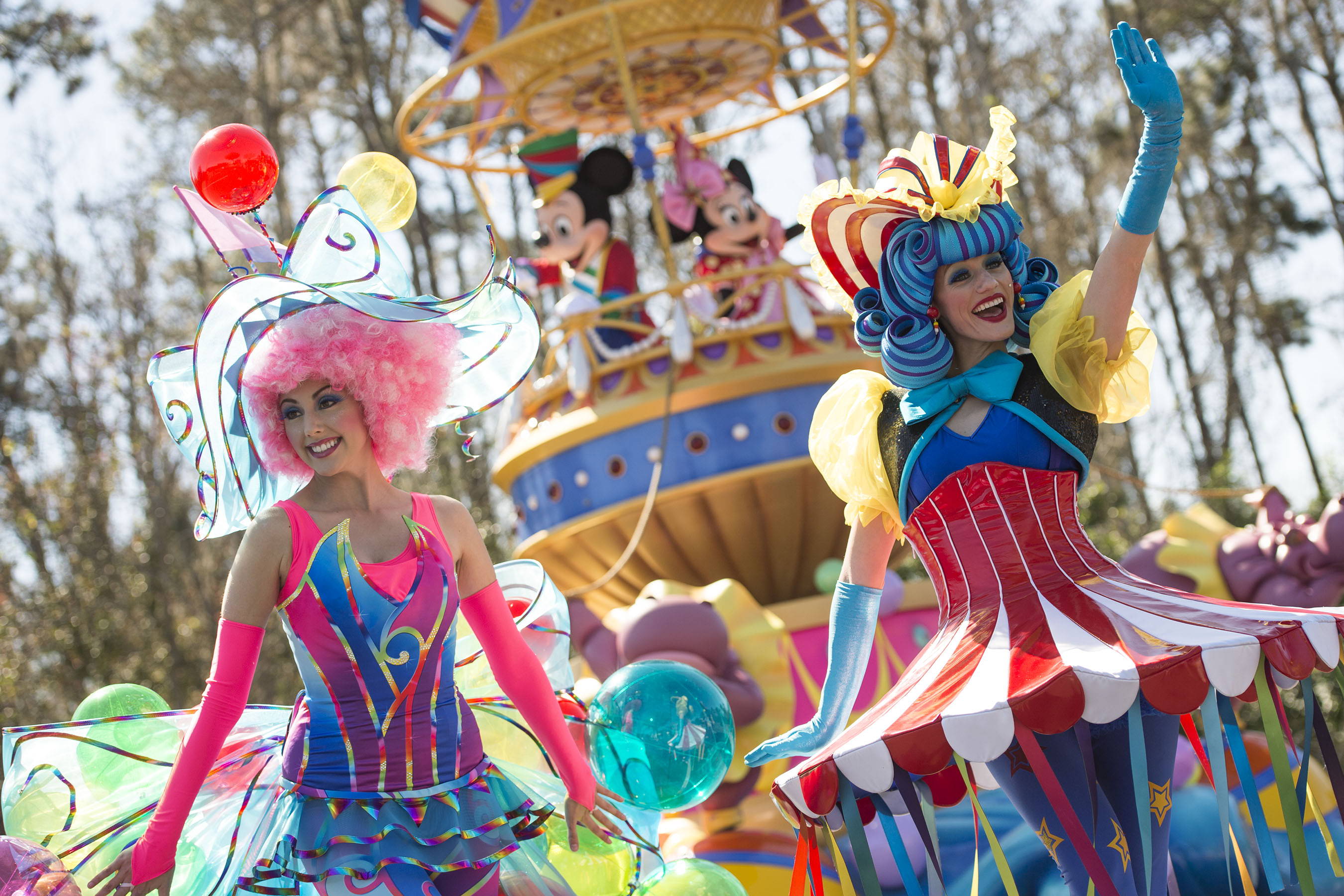 Disney's Festival of Fantasy parade is the current running show at the Magic Kingdom. The parade debuted March 14th, 2014 and can be seen daily at the Magic Kingdom. It was produced to celebrate and showcase the park's newest additions to Fantasyland and features a kawaii neon color scheme. The parade pulled two floats from Tokyo's former daytime parade "Jubilation!". The parade reigns in a new era of daytime parades and as we eagerly await the all-new Magic Happens parade debuting February 28th at Disneyland, we reflect on the similarities in storytelling and modern-day aesthetic that Disney parades have adapted.
Unfortunately, not every parade Disney has produced has been one to remember. Let's take a look back at some of the more forgettable parades of Disney's past.
Main Street Electrical Parade
This parade just won't die. Ever. It's literally been around since 1972 and, while it has come and gone intermittently throughout the years, it just won't go away. The show was Disney's original nighttime parade, covered in over 600,000 electronically controlled LED lights and a synchronized soundtrack triggered by radio control, this was a first of its kind for it's time (not including the legendary Electrical Water Pageant). There have been three versions of the parade in its time, and it has been run at Disney World, Disneyland, Disney's California Adventure, Disneyland Paris, and Tokyo Disneyland. The parade's latest return was back to its original park, Disneyland, in 2019 for an extremely limited run from August 2nd, 2019 to September 30th, 2019. While this parade is a classic, everyone must die eventually, and this parade's death is long overdue. The parades latest run at Disneyland can be watched in its entirety here.
The World According to Goofy - Magic Kingdom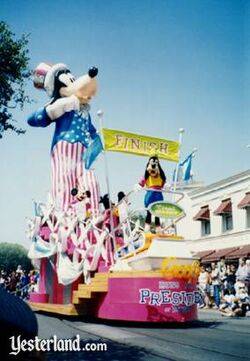 Photo Credit Yesterland
The World According to Goofy ran for five months in 1992. It was shown in celebration of Goofy's 60th birthday and featured floats showing the history of the world with Goofy-esqe characters portraying real ones. For example, one of the floats showed a large dinosaur that had some of Goofy's features. The parade is ultimately remembered for it's insanely random "Goof Ball" character which was literally just a golf ball with Goofy's face on it... What?. If you're a die-hard Goofy fan, this is the parade for you. But other than that, the parade just seems unappealing to general Disney World visitors. The parade can be viewed in its entirety here.
That about wraps up our list of best and worst Disney Parks parades! Which ones were your favorites and least favorites? Let us know in the comments below! We're so excited about the future of the Disney Parks parade and can't wait to see the all-new Magic Happens Parade debut at Disneyland later this month. We're also holding out for the return of the Magic Kingdom nighttime parade (perhaps for the resorts 50th anniversary?). Be sure to grab your Magic Aglow tee this Monday at 10 AM in our shop, we'll see you there!
If you liked this article make sure to check out our store here, and use LOSTBROSBLOG for 10% off your first order!