We're officially entering Summertime and that means pool days, grilling with you squad, and trips to the beach (unless you live in Florida in which case Summer means rain for 10 days straight). While Disney is still closed, we can't help but miss our all-time favorite pools around property. No pool trip is complete without sipping a cocktail poolside, and Disney is known for not only having the most over-the-top pools in Central Florida, but also the best pool bars. Let's dive right into summer and rank our favorite pool bars at Disney World.
5. Barefoot Pool Bar - Disney's Polynesian Resort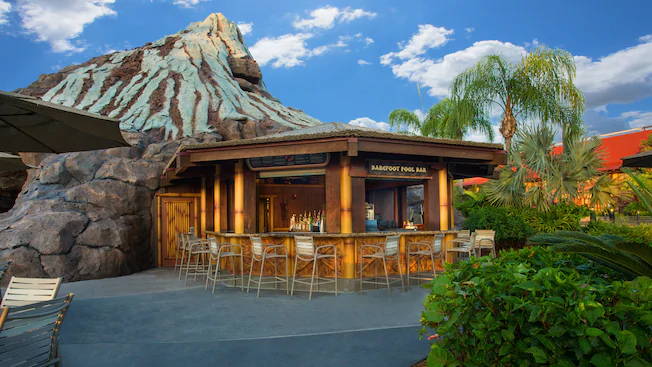 The Barefoot Pool Bar at the Polynesian is one of the most conveniently placed bars on property. Fixated right in-between the pool and the pool slide (which happens to be inside a volcano), this bar boasts an incredibly well-themed Polynesian-inspired menu with both food and drink options. The Frozen Margarita with Dole Whip Lime is one of the only lime Dole Whips you can get on property, and comes alcohol-infused using tequila, plus a chili-lime seasoning around the rim for an extra kick, it's PERFECT for a hot summer day. Other Barefoot Pool Bar favorites include the Lava Flow with Bacardi Rum blended with Cream of Coconut, Pineapple Juice and Strawberry Purée and the Pago Pago Painkiller with Plantation Original Dark Rum, Orange Juice, Pineapple Juice and Cream of Coconut served over Crushed Ice.
4.Petals Pool Bar - Disney's Pop Century Resort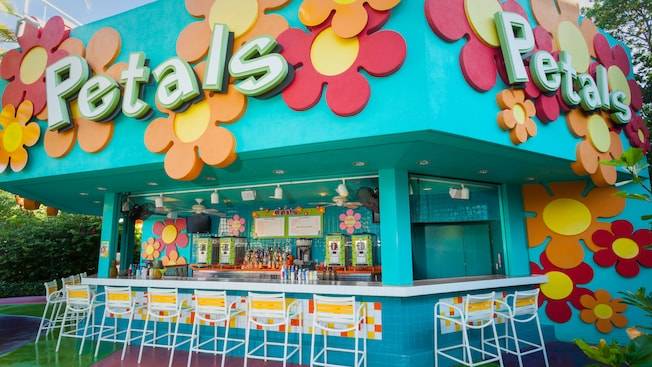 Petals is a simple bar with brightly colored 70's style flower petals scattered around the building, and a totally groovy menu. Located just outside the main pool at Disney's Pop Century Resort, the area around the bar has tables that are perfect for a poolside picnic, or just a place to gather around and talk about your day in the parks with friends or family. The Petals menu is the real winner here. While the bar doesn't offer food, the drinks are a highlight of the entire resort! The Piña CoLAVA is the famous favorite, made up of Bacardi Raspberry Rum blended with flavors of Coconut, Pineapple and Raspberry Purée, it's truly one of our favorite drinks on Disney property. The Blueberry Lemonade with Three Olives Blueberry Vodka, Bols Blue Curaçao, and Lemonade with Juices of Lemon and Pomegranate topped with Sprite is another classic summertime refresher. Finally, if bourbon is your thing, theBourbon Breeze is the way to go; with Jim Beam Black Extra-Aged Bourbon with Cranberry, Lime and Pomegranate Juices topped with Fever Tree Ginger Beer.
3.Hurricane Hanna's Waterside Bar and Grill - Disney's Yacht & Beach Club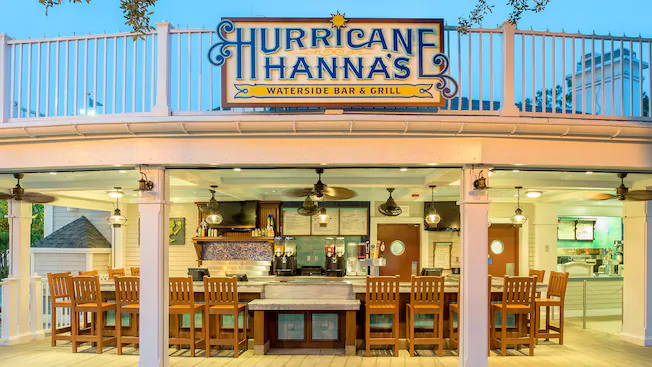 Hurricane Hanna's Waterside Bar & Grill is the pool bar of the famous Stormalong Bay pool. The massive pool that serves as the main pool for both the Yacht and Beach clubs needs a pretty heavy-duty pool bar to go along with it, and Hurricane Hanna's does not disappoint. With a full lunch menu, as well as snacks, appetizers, and an all-star drink menu, this is the granddaddy of all pool bars. For the lunch menu, the Barbecued Pulled Pork Sandwich with Barbecue Sauce and Coconut-Apple Slaw served with choice of Waffle Fries or Apple Slaw is a must-try. The Seafood Roll on Parker House Bread with Citrus-Mayonnaise served with choice of Waffle Fries or Apple Slaw is another lunchtime favorite. For drinks, the Category 5 is a must-try with Captain Morgan Original Spiced Rum, Crème de Banana, Peach Schnapps, Orange and Pineapple Juice and a splash of Grenadine with a float of Gosling's 151 Rum. The Storm Chaser is another Hurricane Hanna favorite with Tito's Handmade Vodka, Bacardi Superior Rum, Blue Curaçao and Sweet-and-Sour topped with Sprite.
2.Gurgling Suitcase - Disney's Old Key West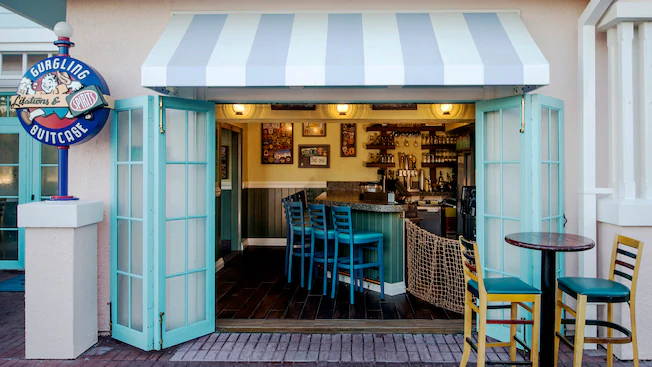 The Gurgling Suitcase is a tiny hole-in-the-wall bar tucked away along the waterfront of Disney's Old Key West Resort. This one is open pretty late and has a huge food menu along with a plethora of specialty cocktails. For lunch, the Mango-Rum Barbecue Pulled Pork Sandwich speaks for itself, topped with Coleslaw on a Kaiser Roll served with French Fries. TheKey Lime Pie is another winner for dessert or a snack and is themed true to the resort. The specialty cocktail menu is huge and it's hard to find a bad drink on this one. Highlights include Olivia's Strawberry Lemonade with Patrón Silver Tequila, Key Lime Juice, Strawberry, and Lemonade with a Sugared Rim. The Key West Freeze is another unique one with Svedka Vodka, Bols Melon Liqueur blended with flavors of Coconut, Pineapple and Strawberry. Gurgling Suitcase is a winner both during the day as a poolside bar and later at night as a meeting place to enjoy the night with friends and family.
1.Banana Cabana - Disney's Caribbean Beach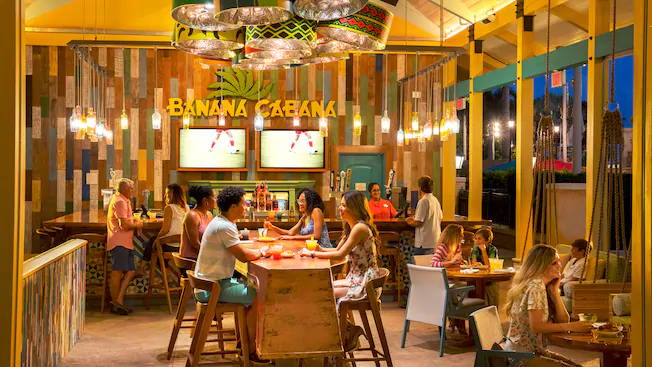 Finally, Banana Cabana at Disney's Caribbean Beach is a tropical paradise that also has a full lunch and dinner menu as well as a specialty cocktail menu that EASILY outweighs the rest of the bars on this list in terms of size. The bar was refurbished and reopened in late 2018 and now offers TV's to catch the games on, and a cozy yet plentiful seating area to gather around n the shade. For food, the Loaded Sweet Potato Fries are a go-to appetizer and can be plenty to share as a snack with Cotija Cheese and fresh Pico de Gallo with choice of Jerk Chicken, Pulled Pork or Braised Beef Brisket. Entree highlights include the Jerk Chicken Sandwich with Toasted Ciabatta, Grilled Pineapple and Roasted Chili-Mayonnaise. Served with Sweet Potato Fries, French Fries or Jicama-Apple Slaw. The Jerk sandwich can also be made plant-based which is equally as satisfying. The Caribbean-Style Cheesesteak is another winner with Braised Beef Brisket, Smoked Gouda and Grilled Bell Peppers on a Cuban Roll. Served with Sweet Potato Fries, French Fries or Jicama-Apple Slaw. For drinks, there are over 17 specialty cocktails alone on the menu, so there is truly something for everyone. The Pink Guava Colada with Cruzan Guava Rum and Disney Select Single Barrel Rum blended with Guava, Cream of Coconut and Pineapple Juice is an excellent choice, as well as the Jamaican Frozen Runner with Appleton Estate Reserve Blend Rum and Baileys Irish Cream blended with Pineapple Juice, Cream of Coconut and fresh Banana.
We can't wait to get back to the Disney pools and the incredible bars that offer so much added value to the luxury of a Disney pool. For now, we'll just have to keep making our Piña CoLAVA copycat at home.
If you liked this article make sure to check out our store here, and use LOSTBROSBLOG for 10% off your first order!