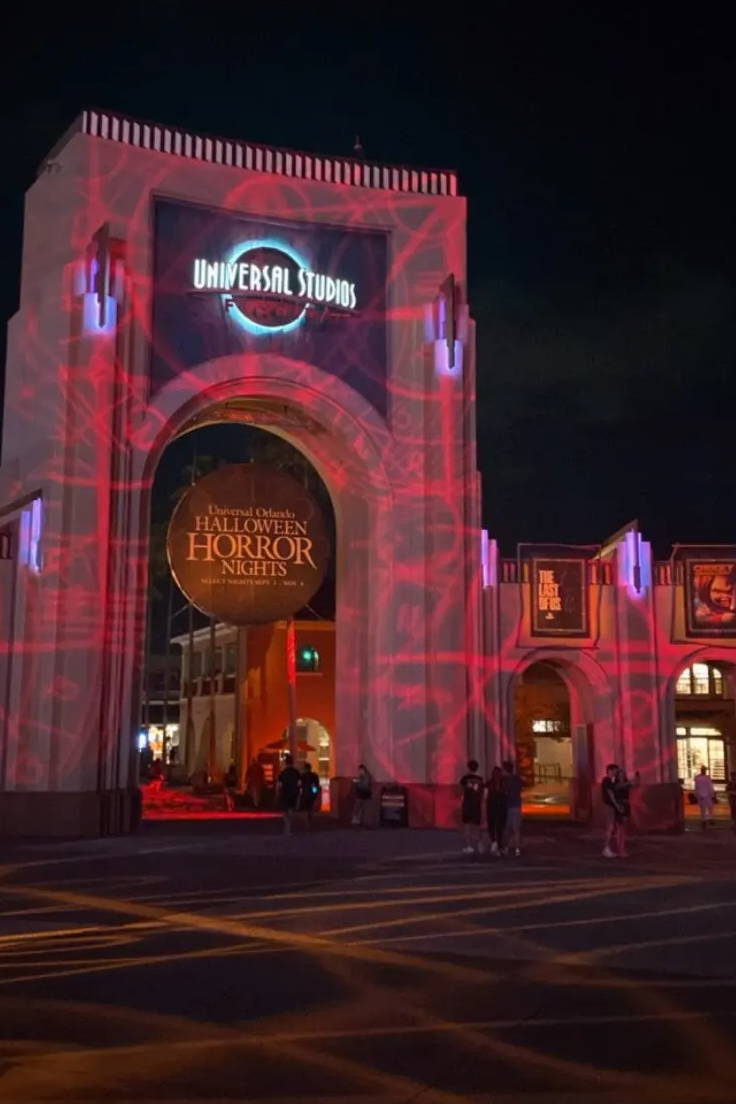 Welcome to the terror!
The following is my personal ranking of the Haunted House Mazes from Halloween Horror Nights 32. Because it feels only fair to do so I'm ranking 2 different times, once based on personal preference and once based on fear factor! I'm going to try to keep these as spoiler free as possible, but if you're reading this, you probably kinda wanna know what you're getting yourself into.
Let's get SCARED!!!
our favorite tees to get scared in
1. Exorcist: Believer
You probably know what I'm about to say, because it's literally the exorcist. With nods to the 1970's original movie, this "trailer-like" house that showcases points from the upcoming movie release of the same name is super eerie, incredibly well-crafted, and high intensity. The pop-ups are ridiculous, and there was even one that had me staring so hard I didn't want to keep walking. This one I thought would be so scary it was a "one and done" for me like, (spoiler alert) Oddfellow's, but I was pleasantly surprised and truly enjoyed this house- but don't get it twisted. It's scary. It's haunting. It will follow you home. I did jump a ton and this one also got the biggest scream out of me that any of them have gotten. I was shaken up, but I'd do it again.
2. Universal Monsters: Unmasked
Universal Monsters is always high on fear every year, and this one is no exception. In the Paris catacombs you find yourself face to face with Dr. Heckyl/Mr. Hyde, Quasimoto, The Invisible Man, and The Phantom of The Opera, all scary in their own characterization, but this house is beautiful, tormenting, and soooo repeatable. The smells alone you won't catch the first time, so it's worth the fright again and again. The scares change and their energy is always high- plus there's a couple that get me every time even if I know it's coming. Don't underestimate these guys.
3. Dr. Oddfellow's Twisted Origins
This is the kind of scary I will not, repeat will not, do again and again. *Spoilers* but if you hate clowns and the circus and think "maybe I can do this one" you're probably wrong. I plugged my ears the whole time, and I like to think I'm not the biggest scaredy cat! I tend to recover okay from jump scares and not a ton gives me nightmares, but this house had all of us looking at each other like "wtf was that- I am terrified" in a way that was a one and done for me. But if you LIKE circus stuff, this will be your magnum opus, congratulations on your favorite house!
4. Blood Moon: Dark Offerings
Something about sacrifices of ~any~ kind really gives me the heebie-jeebies, so this house is creepy skin-crawly fantastic. The coloring in this house gives a whole different kind of horror aspect, and the creativity of the scares and sets has us all on edge for sure. First time I did it, I had to call it a night after that one, but after doing it more, I've come to enjoy it more (with a little alcohol in my system so I'm a little more relaxed lmao)
5. The Last Of Us
Joel and Ellie are fighting off the Clickers (aka zombie fungi people for anyone unfamiliar with TLOU) and they're trying to get you to safety. This house is beautiful and haunting, and sometimes makes you feel icky- a good HHN tactic. The jumps are well-timed and have been known to surprise you, changing frequently so you don't know what to expect, and even those who aren't familiar with the story will enjoy this one. Do not skip!
6. Yeti: Campground Kills
Another Legend in the HHN community, the Yeti lore continues with campground kills, a terrific story house with jump scares and yetis meant to make you jump in the air (and they do). Scares around every corner (literally and figuratively), a set that spooks everyone, and some well placed surprises make this one scary and fun! Our favorite combo.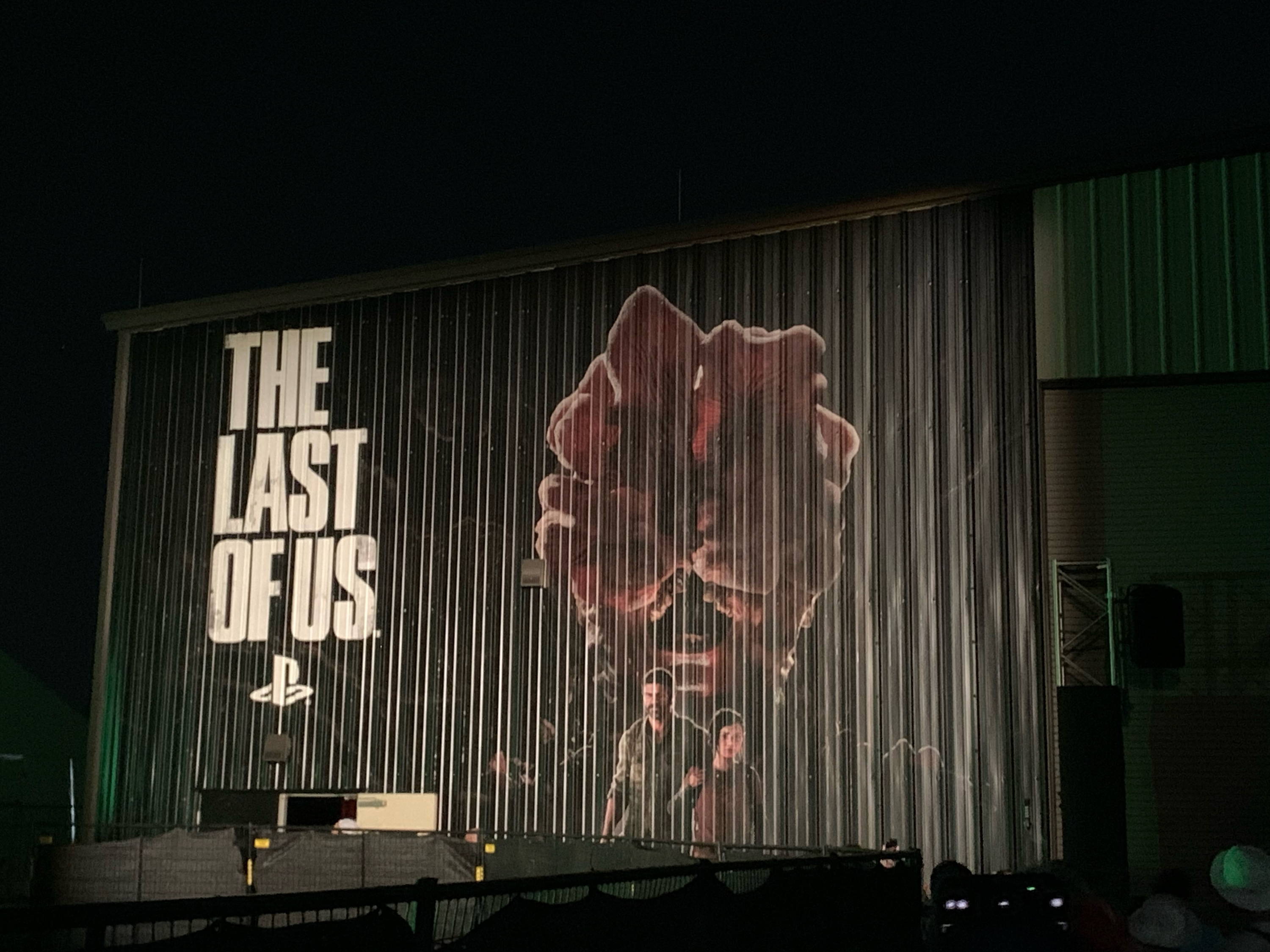 7. Chucky: Ultimate Kill Count
This one is prob the most *spoiler* filled, so I guess skip if you don't wanna know about this little menace. This house is scary for 2 possible reasons: Dolls and Gore. If you hate dolls- avoid avoid avoid. If you hate blood- avoid avoid avoid. Chucky takes over his haunted house because he decides Universal just didn't kill enough people, so in true chucky fashion, the little rascal terrorizes all who inhabit this place and spares nothing to bring the most creative and twisted kills you'll see come from a 2 foot tall doll. It was a meh for me lol.
8. Stranger Things 4
My most hyped house for the year when it was announced did NOT disappoint as far as theming goes. It feels very real and immersive, with incredible character performers and good jump scares. I shake off these scares easier than their predecessors, maybe because I'm so familiar with the show, but it's only low on fear factor because of that- someone unfamiliar may find this house terrifying.
9. Dueling Dragons: Choose Thy Fate
Wildly anticipated by fans of the defunct roller coaster from Islands of Adventure, this original concept house did not disappoint when it came to set pieces, immersion, and really wondering how it was going to end. This house has consistently high waits and it is really fun! Beautiful to look at and has some good jumps, but much like Stranger Things above it, this one is easily shaken off for me and I won't carry the fear of the dragons home with me. But I will still repeat this house again and again.
10. The Darkest Deal
Based on the old folk story of a musician selling his soul to the devil, this story follows singer and performer Pinestraw Spruce who makes a deal with "the collector" to sell his soul for fame and fortune, but we all know how that goes. This house is by no means bad, just because I have it ranked this low for fear factor! It does give some good jumps, the set is super intriguing, and I personally love any kind of music, so this is still entertaining! I just don't get as spooked by the story over time, it's more of a "spooked in the moment" house, then it's easy to shake off!
runnin up that hill to my man eddie
My Personal Faves Ranking
1. Universal Monsters: Unmasked
Like I said above- the sets, the scares, the tension. All soooooo good. This house is surprisingly my fave- not that I expected it to be bad, I just had no expectations and they surpassed everything. Scary and repeatable.
2. Yeti: Campground Kills
Another banger I was not anticipating. Pre-going to HHN this year I really did not give a flip about the Yeti, the back story, or any of it. Going through this one is a different story- it is so fun and scary and twisted in the best way. Plus, watching my boyfriend get scared in front of me has its perks too.
3. The Last Of Us
I watched this show, but have not played the video game that this house took inspo from, so while I knew WHAT to expect, I was not expecting to be blown away by this one. So much so that even when I got scared I just sat and stared at the actors to see how cool they looked lol.
4. Exorcist: Believer
Like I said, I really thought this would be a one and done for me- and I loved this house. It was so well done and deserves high praises- but my personal connection now to the ones above, makes this one Number 4.
5. Stranger Things 4
It literally pains me to have this one as number 5, but every house this year was ridiculously good and it is unfair to have to rank them like this. Consider everything on this list "top 3" except 8-10 LOL- they all just had to go somewhere and this was where my baby Eddie landed. But I love him no less.
6. Dueling Dragons: Choose Thy Fate
Again- pained to put this one so low because omg it is a glorious and repeatable house. I love the scares and the action, but again, I have to give credit where credit is due and this is not even the same REALM as monsters or exorcist. But that's not a dig! I love this house.
7. Blood Moon: Dark Offerings
Getting into the houses that traumatize and or bore me, this one is trauma inducing for me lol. I have no personal connection to being sacrificed and yet every trip through this house has sent me spiraling after it's over. Will I be sacrificed? Did this actually happen in colonial times? Why did they drip *you know what* all over that one girl!?! I have questions HHN.
8. The Darkest Deal
This one after doing a couple times kinda is just like *meh* to me. Not crazy scary (although some spooks!) and I do like the smell of fresh dirt in a way I can't explain, but truly just skippable for me on account of, I prefer the musical stylings of Eddie Munson and the little girl screaming at me in Exorcist more.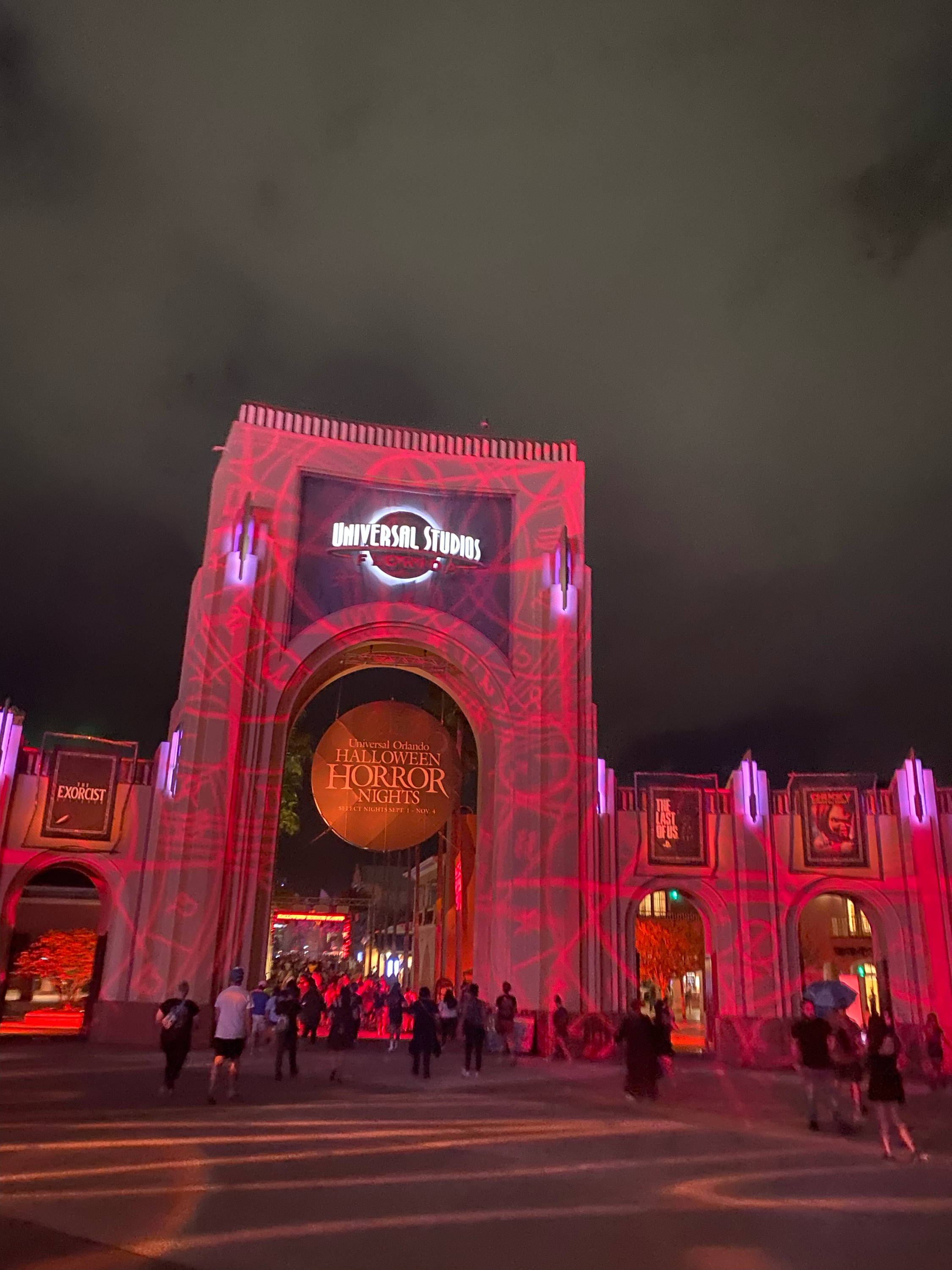 9. Chucky: Ultimate Kill Count
A controversial house among the community bc you either love it or hate it. Chucky is a little $*@t if you ask me and honestly I just find him annoying, soooo personally this one is a nah from my dawg. Will I do it again? Probably, cause I'm sure there's things I've missed- but I don't wanna wait a long time for it, so it will either be a stay and scream day before the crowds or a past midnight after-crowds situation. Plus the oddity of it being in the Fast and Furious Queue is like wildly confusing in a whole different way.
10. Dr. Oddfellow's Twisted Origins
No reason other than I hate clowns. I hate them. I hate the circus. This scared the crap out of me and we nearly left for the night after this one. I need 5 shots to be able to power through this one. No bueno. It's scary and there's not enough oddfellow! I'd rather go through the scare zones with him in them tenfold.
Some of Our Food Faves :-)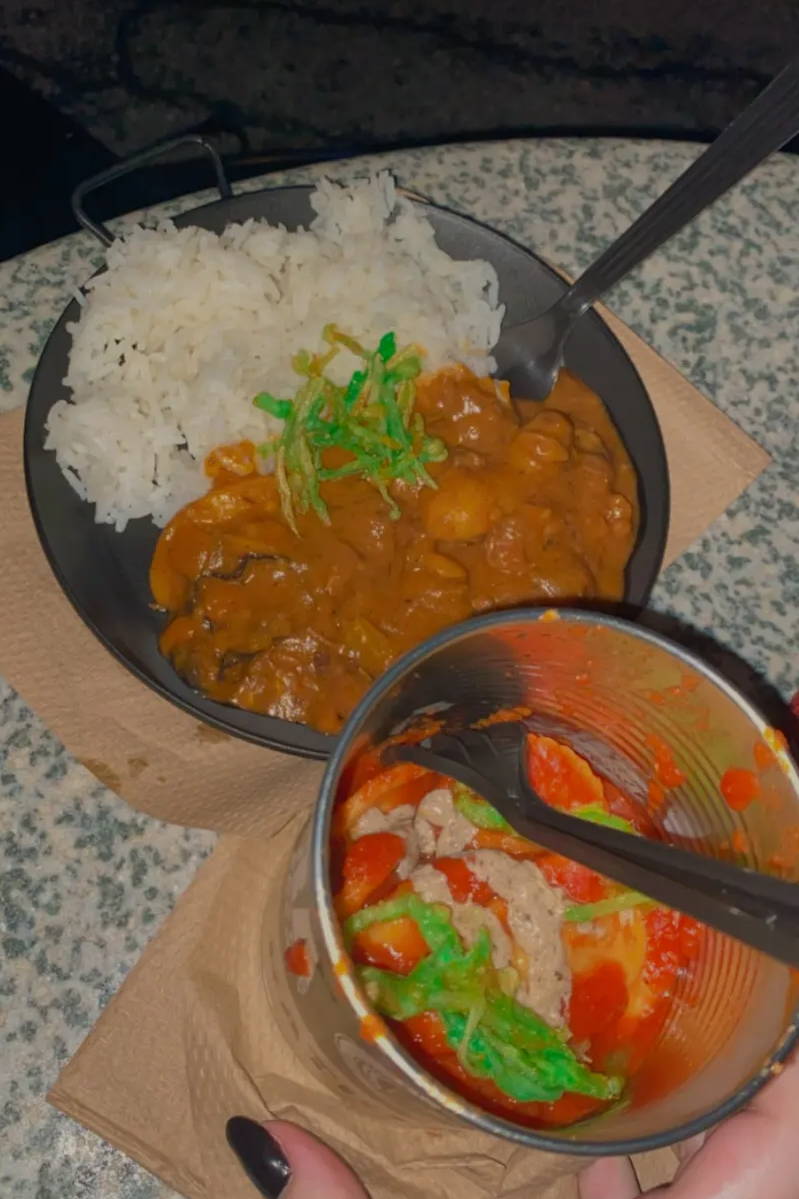 Left: Lakeside "meat" Stew Right: Left Behind Ravioli (Sting Alley)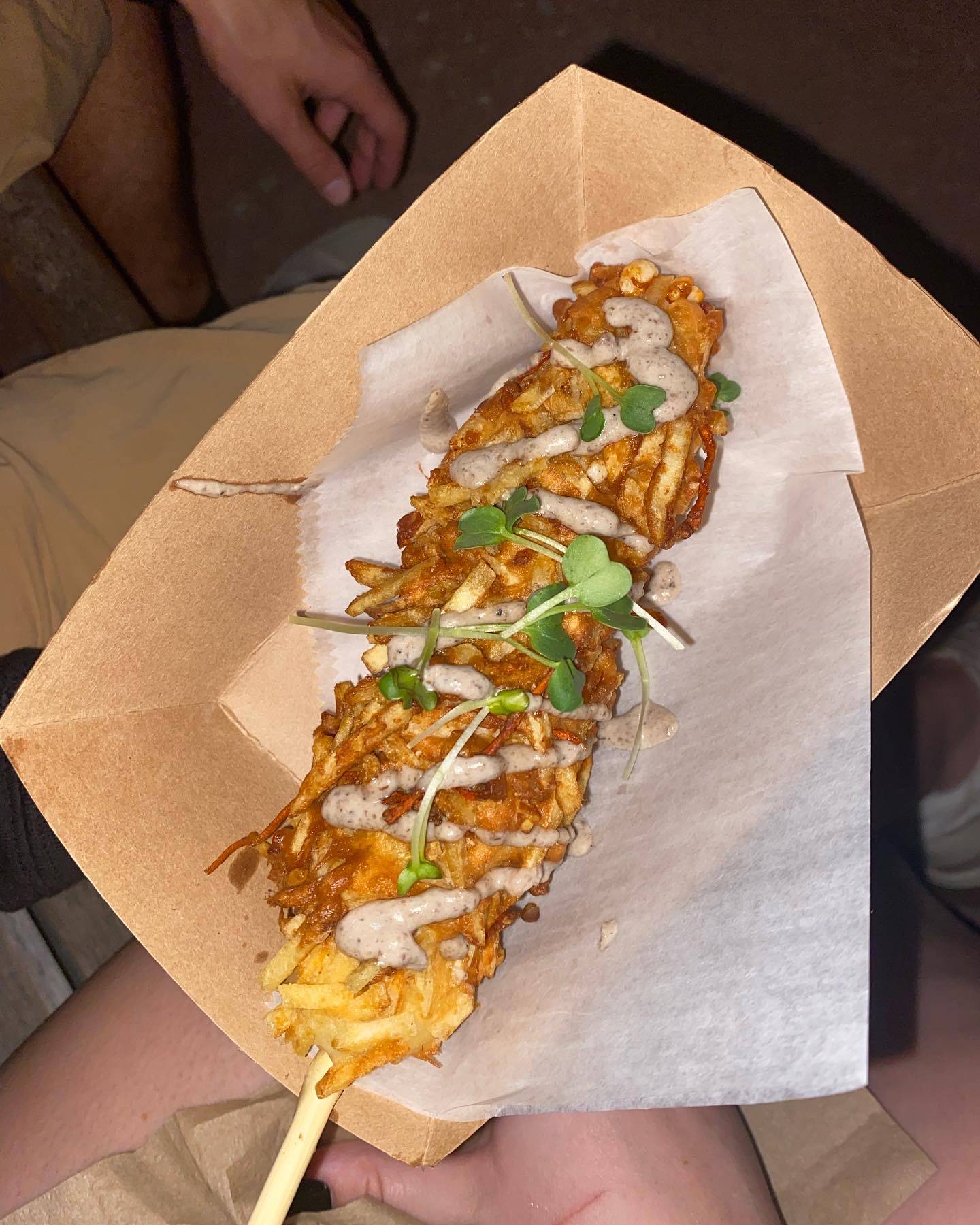 Cordyceps Corndog - Last Of Us Food Booth in New York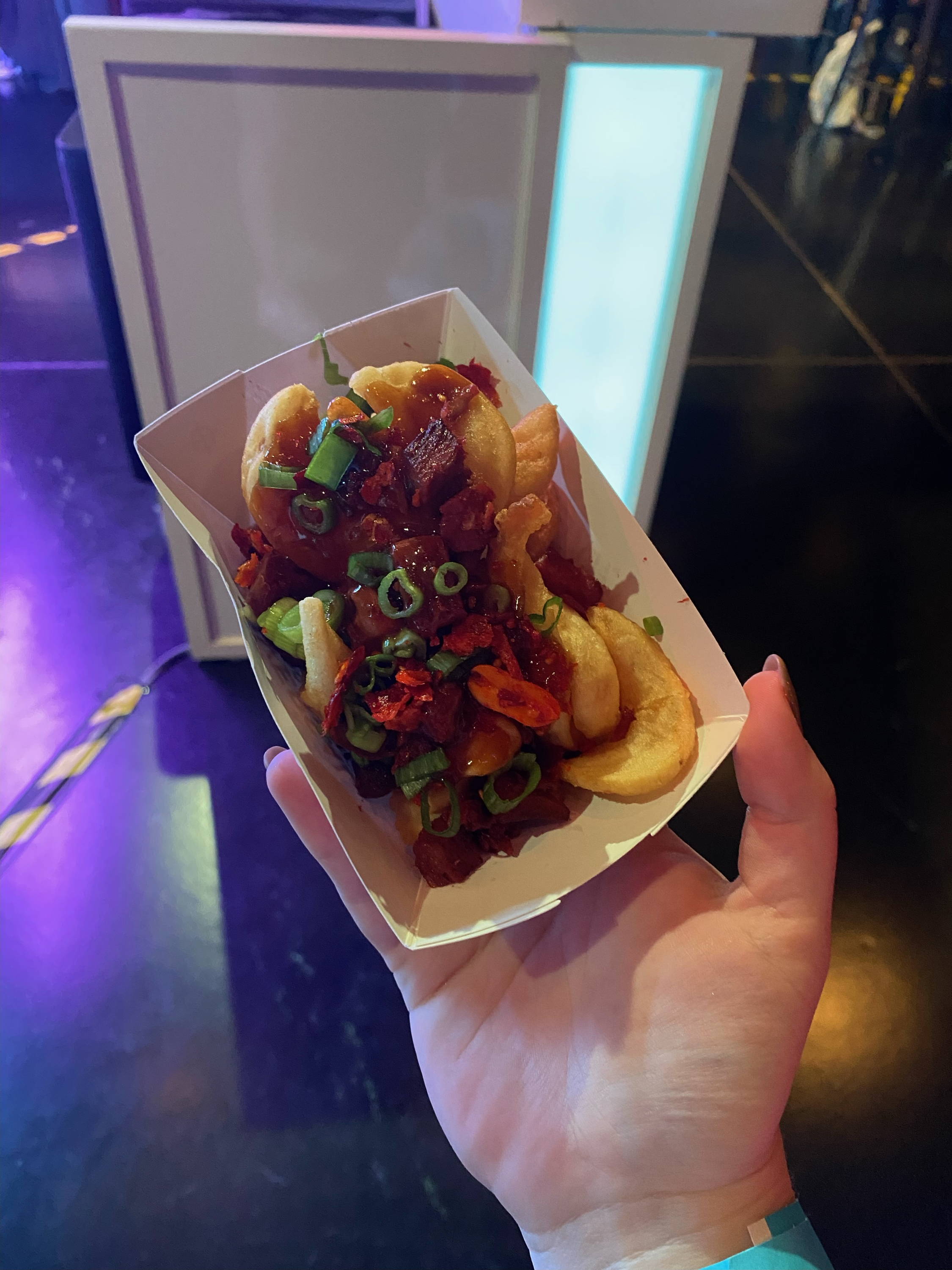 Bloody Campfire Poutine - Campground Eats in New York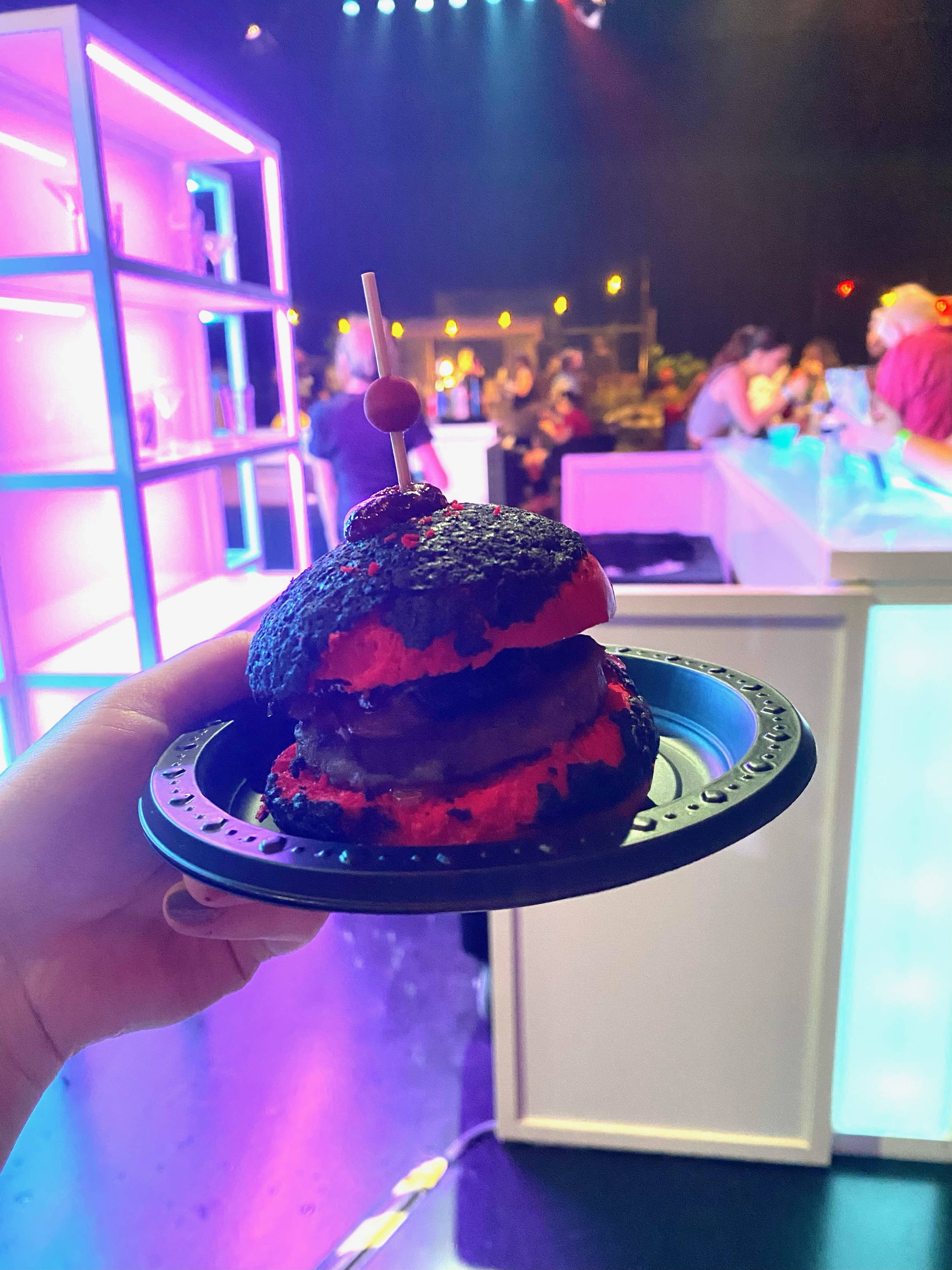 Peanut "Blooder" Burger - Mel's DIE in
Some Pro Tips
(if you can call me that lol)
You can meet Dr. Oddfellow at the park entrance and he does photo ops!!! He is so cool up close and incredibly creepy- he's the best.

The tribute store is a blast and full of easter eggs, so go through it when you can!

In scare zones- the trick to not getting scared is to not look scared LOL - stupid I know, but if you look confident they will bug you way less. They always go after people who looked freaked out of their mind in my opinion.

If you wanna see the show Nightmare Fuel- line up at least 30 minutes before it starts.

The refillable drink cups are 1000% worth it if you start early. You stay hydrated (and boozed up if that's your game) and you also have something to clutch in the houses like an emotional support object. Helpful for me!
There you have it folks! My HHN rankings!! This year is incredibly strong and definitely worth a visit. We are ~loving~ the energy and the number of lost bros shirts i've seen has been SO FUN, so we hope you're loving it too.
Happy Horror Nights :-)
***
If you liked this blog be sure to use code LOSTBROSBLOG for 10% off your next order!
If you want to see more of what we're up to day to day- be sure to follow us on
Insta @thelostbros + tiktok @thelostbros + Twitter @lostbrostweets