Our Ultimate Universal Foodie Guide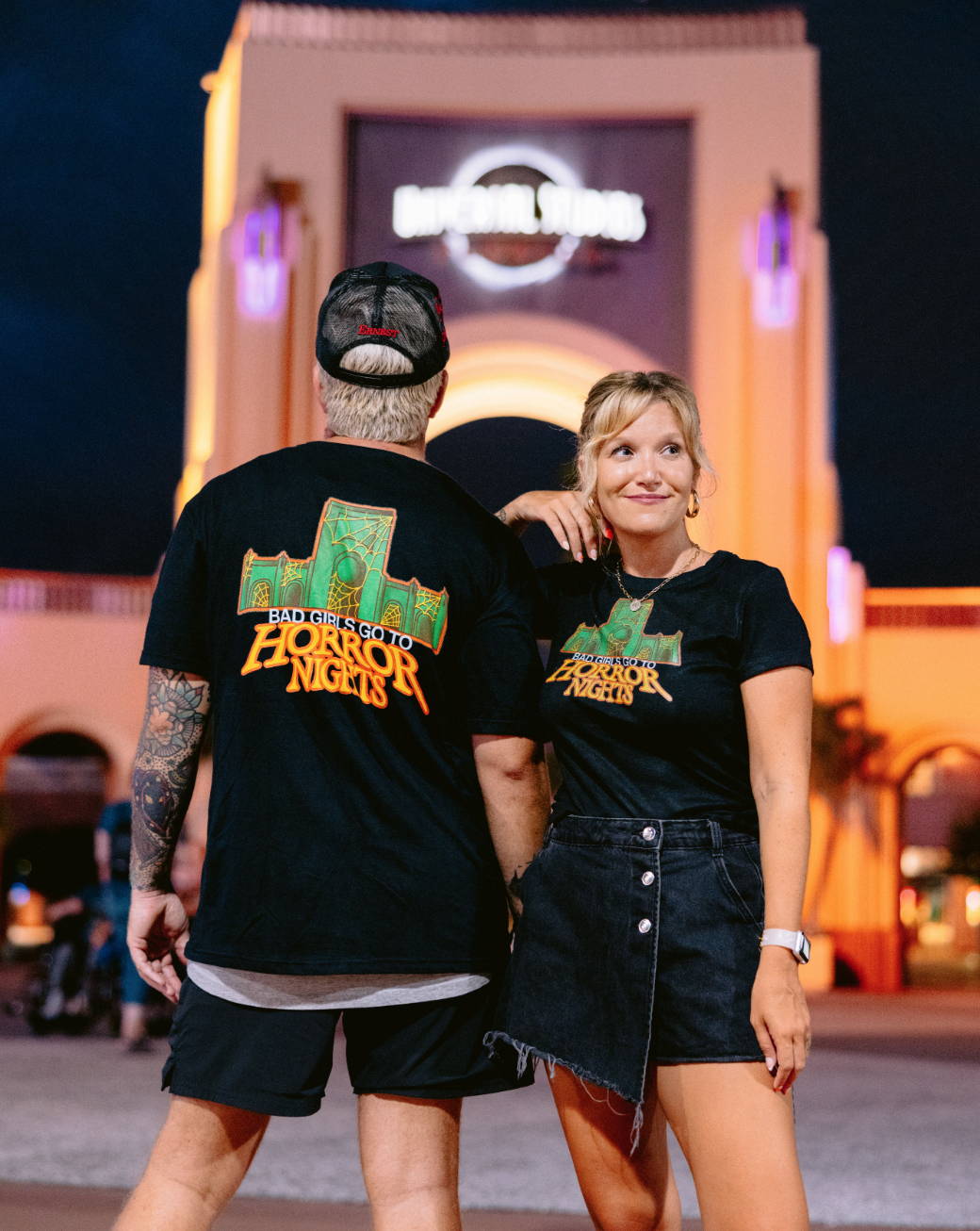 At Universal Orlando Resorts, one of the best things is the parks proximity to their shoping district Citywalk, where guests can shop, dine, and float beween both theme parks! This close distance makes it super easy to grab a high quality, non-theme park meal in the middle of a crazy park day if you'd like to, so we have broken down all of our favorite (and least favorite) things about the Universal Citywalk dining options, so you know the good, the bad, and the ugly, on UO Citywalks restaurants and bars! Let's get started!
Red Oven Pizza Bakery:
It
's above average pizza but frankly there's more exciting stuff in the parks, if you're staying on property and want a solid pizza option for night 3 then we're not going to stop you, but if you've only got one day at Universal, there are more unique options you can go for.
Pros: who doesn't love pizza?
Cons: nothing you can't get any other day of your life
Panda Express, Moes, Burger King Whopper Bar:
These quick service are exactly the same as what you have at home! If you're with picky eaters or looking for the most budget friendly option, you can't go wrong with the combo Panda/Moes/Burger King!
Pros: Cheap, familiar food
Cons: The lines can get very long after park close
Just like the name leads you to believe, Hot Dog Hall of Fame serves hot dogs. If you're in the mood for a dawg or just miss the Jaws hot dog stand, Hot Dog Hall of Fame has you covered. A combo will run you around $10, so it's not quite as much of a deal as Costco's food court, but it's still one of the more affordable options at CityWalk.
Cons: The line moves pretty slowly considering they just sell hot dogs
This walk-up bao window features bao buns of various flavors, allowing you to build your ideal combination! We suggest getting a few that sound good to you - these are great for sharing. Bend the Bao is the last stop on the left when heading back to the parking structure! These aren't the best Bao in Orlando, but they're definitely solid enough for a quick meal on your way to your car; just head up the stairs over the theater!
Pros: Quick to just grab and go
Cons: Sometimes not the freshest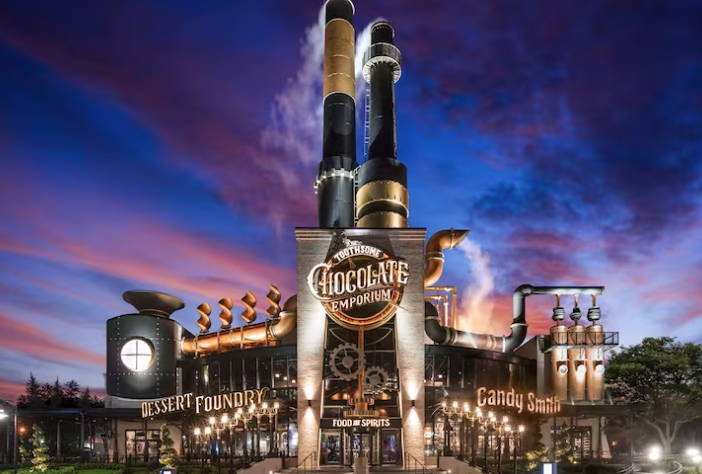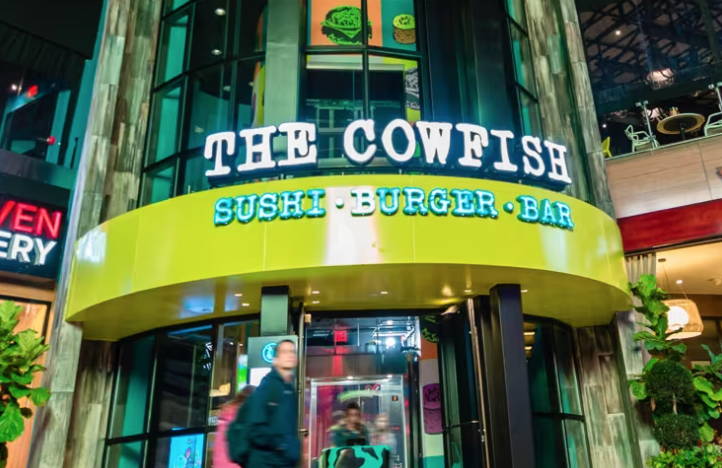 Photos Courtesy Of Universal Orlando Resort
The Toothsome Chocolate Emporium & Savory Feast Kitchen:
Toothsome is an exciting spot to grab a giant milkshake on the go or a full meal! They have a massive selection of chocolate themed pastries and shakes available in the front, but the real star of the show is their dinner menu. Reminiscent of restaurants like Cheesecake Factory or Cheddar's, there are offerings like sandwiches, flatbreads, pasta entrees, and a deep lineup of desserts such as crepes and cakes! For a sit down restaurant, the prices are fairly reasonable, with lots of options in the $15-25 price range.
Pros: Menu has lots of variety, lots of great sweets.
Cons: Limited hours, some of the food looks better than it tastes
Cowfish Sushi and Burger Bar:
One of our favorites at citywalk, another busy spot, Cowfish Sushi and Burger Bar is one of the weirder combos of foods, but somehow it really works. Their sushi is top tier, high quality, and the burgers are also really good. We love the crab rangoon dip to start, and any burg-ushi on the menu. Yes that's a real word. Yes, it sounds gross, but it's actually delicious. The drink menu has always been good, with spiked milkshakes that will have you in a coma, and unique cocktails you can't get anywhere else.
Pros: The outside bar serves the menu as well, so if this place is poppin' off, you can visit the bar upstairs. Plus the atmosphere of this restaurant is so cool.
Cons: Definitely on the expensive side. Not great for all types of eaters, as there are a lot of adventurous things on the menu.
When it comes to Bubba Gump, I say, "once you've seen one, you've seen them all". Bubba's is exactly how Forrest would have wanted it. Family friendly, casual, and easy to get into, so it goes without saying that this restaurant is a mid tier seafood place. It's easy to get a good plate of fried shrimp or fish for not terribly expensive, so in that realm we'll never complain, but for more adventurous seafood enthusiasts, if you ask me where to get seafood at Universal, I'm going to tell you other options too.
Pros: Great for families, something to eat for everyone, and easy to get into.
Cons: Mid-tier level seafood from a chain restaurant based on a 90's movie, so it's more about the name and the building than food quality.
Hard Rock Cafe:
In the spirit of Bubba Gump- Once you've seen one, you've really seen them all. The Hard Rock Cafe has your traditional burger and fries situation. Think of it as the Planet Hollywood of Citywalk. It is "theme park food" and the drinks are decent- but pricey! The menu is decent, and for people who can't decide what to eat, it's a great spot for everyone to find something to enjoy, but it really like all the others, so you can get this food at a lot of places.
Pros: alwasy reliable, the theming is fun and the memorabilia is always neat to look at, a little something for everyone, easy to get into
Cons: The menu is kinda boring, it gets super loud in there, over-priced for what it truly is.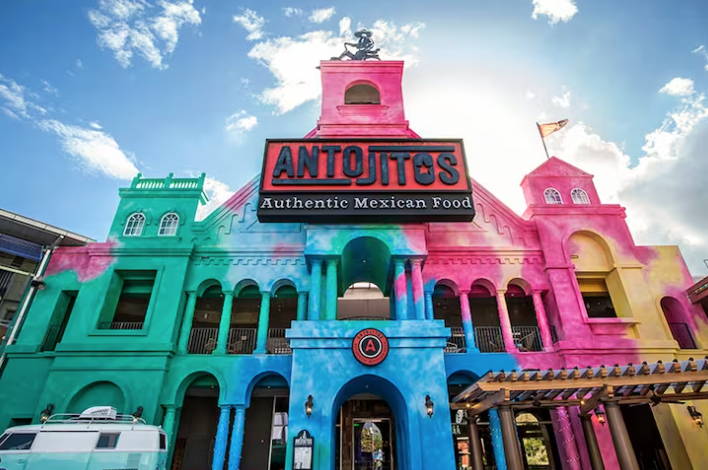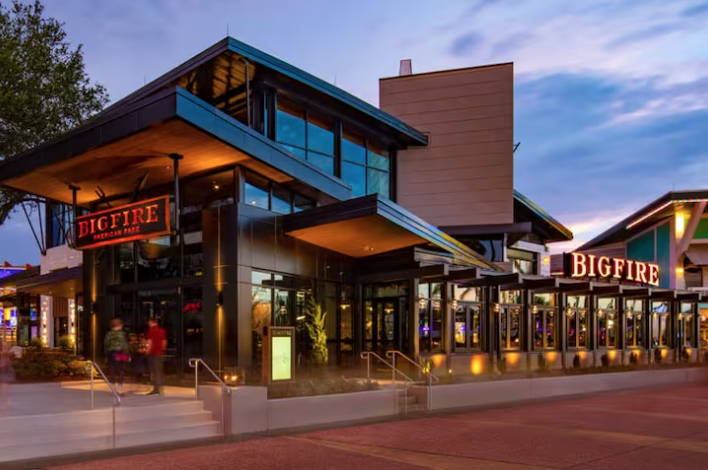 Photos Courtesy Of Universal Orlando Resort
Bigfire:
The vibes at Bigfire as def top tier. Some of our favorite food in Citywalk comes from this place and we don't say that lightly. The bar outside is a great spot to stop and grab a drink, and the the menu is full of curated meat selections that you can easily choose a favorite from. The Mac and Cheese is heavenly, and their fresh bread (much like our next pick) is like drool-worthy.
Pros: Great food, solid drinks, and while the food can feel heavy after a long theme park day, we find that to be really rewarding lol
Cons: It is hard to snag a table at this place because the seating is so limited. Some may say overpriced for what it is, but it does not feel "theme park-y" at all, so maybe that's a pro for you.

ViVo is the spot to grab Italian Food in City Walk. The entire menu is made from scratch, so that means fresh pasta, bread made every morning, and the best sauces even your grandmother would be proud of. Their array of wine and cocktails is extensive and the wait staff in our experience have been both knowledgable on the menu and also incredibly fun to talk to. We gentuinely love ViVo.
Pros: The freshest meal you'll find in citywalk with calamari to die for. The prices are also not bad for the level of food you get here.
Cons: Hard to get a reservation because it is busy. Also our waiter told us Encanto was better than Coco and that's just wrong.
Antojitos Authenitic Mexican Food:
Antojitos features a wide variety of Mexican fare with a fun atmosphere. Their menu features tons of authentic Mexican foods, like nopales (grilled cactus), enchiladas mole (MOH-lay, a thick and complex Mexican sauce), and fresh tortillas, but the standout here table side guac. The food here is certainly good, but there are other theme park Mexican spots we prefer, like Epcot's San Angel Inn Restaurante. That said, Antojitos is a solid spot for dinner if you're staying on Universal property or want to try something a little more exotic.
Pros: Adventurous menu with authentic Mexican options
Cons: Sometimes the food quality suffers when they're busy
Bob Marley - A Tribute to Freedom:
While it sometimes feels silly to call something that's in a hugely popular resort a "hidden gem," Bob Marley - A Tribute to Freedom is certainly under-appreciated! They have a Jamaican inspired menu, live music, and an amazing courtyard setting. The food is unique for the resort, with lots of jerk and citrus flavors on offer. This restaurant offers an amazing break from the hustle and bustle of the parks, since it's got a relaxed vibe and a location that's off the beaten path.
Pros: A chill outdoor atmosphere, fun menu, and don't skip the yucca fries
Cons: There is sometimes a cover charge to enter or they'll be closed for events
Just a hop, skip, and a jump from Tribute to Freedom is Pat O' Briens! If you're looking for some New Orleans vibe, Pat O's has it in buckets. More pub than restaurant, they offer a full liquor and beer bar with somewhat reasonable prices for a theme park adjacent bar, but the highlight is their draft cocktails ($12 combos of complimentary beers and ciders). Their food menu is stacked with Cajun inspired selections like crawfish dip and jambalaya, so if that's your vibe, then you can't go wrong.
The real reason to visit Pat O' Briens is their dueling piano show – every night you can catch live performances by their singing pair of pianists, and they take requests (make sure to tip)!
Pros: Giant bar selection, fun live music
Cons: There's a cover after 9PM, it can get really loud and rowdy (might be a pro if that's what you're into)
Jimmy Buffett's Margaritaville:
Fans of beachy country music and expensive drinks rejoice, Jimmy Buffett's Margaritaville is here to fulfill your Parrothead dreams! There are several Margaritaville locations around the US, but this one stands out with its volcano and Jimmy's real life airplane! That's right, the Lone Palm Airport bar across the way was Jimmy's actual private plane until he retired it and moved it to CityWalk. If you want a some Margaritaville vibes on the go, you can island-hop over to the outdoor bar for a quick drink or bite to eat.
The drinks and food at Margaritaville aren't cheap, and it's probably closer in quality to Red Lobster than OceanPrime, but the vibes are good, especially if you're into fun, cheesy, and touristy island vibes. If you've already caught a buzz at the Jurassic Park Watering Hole and want to keep the party rolling after park close, you can't go wrong with a few margs and live music from local Orlando cover bands.
Pros: Live music, a huge porch bar, and cheugy island theming
Cons: It's basically a Chili's in a Hawaiian shirt
Strange(r) Things Are Coming To Halloween Horror Nights 32 This Year
We hope this list was able to give you some insight on where to sit, eat, and take a breather before, during, or after a busy park day.
If you're headed over to Halloween Horror Nights, be sure to check out our First Timers Guide, as well as our guide on Everything You Need To Know ForHHN 32 right here on the blog!
* * *
If you liked this blog be sure to use code LOSTBROSBLOG for 10% off your next order!
If you want to see more of what we're up to day to day- be sure to follow us on
Insta @thelostbros + tiktok @thelostbros + Twitter @lostbrostweets