If You Need Me, You Can Find Me Crying Over The Last Of Us.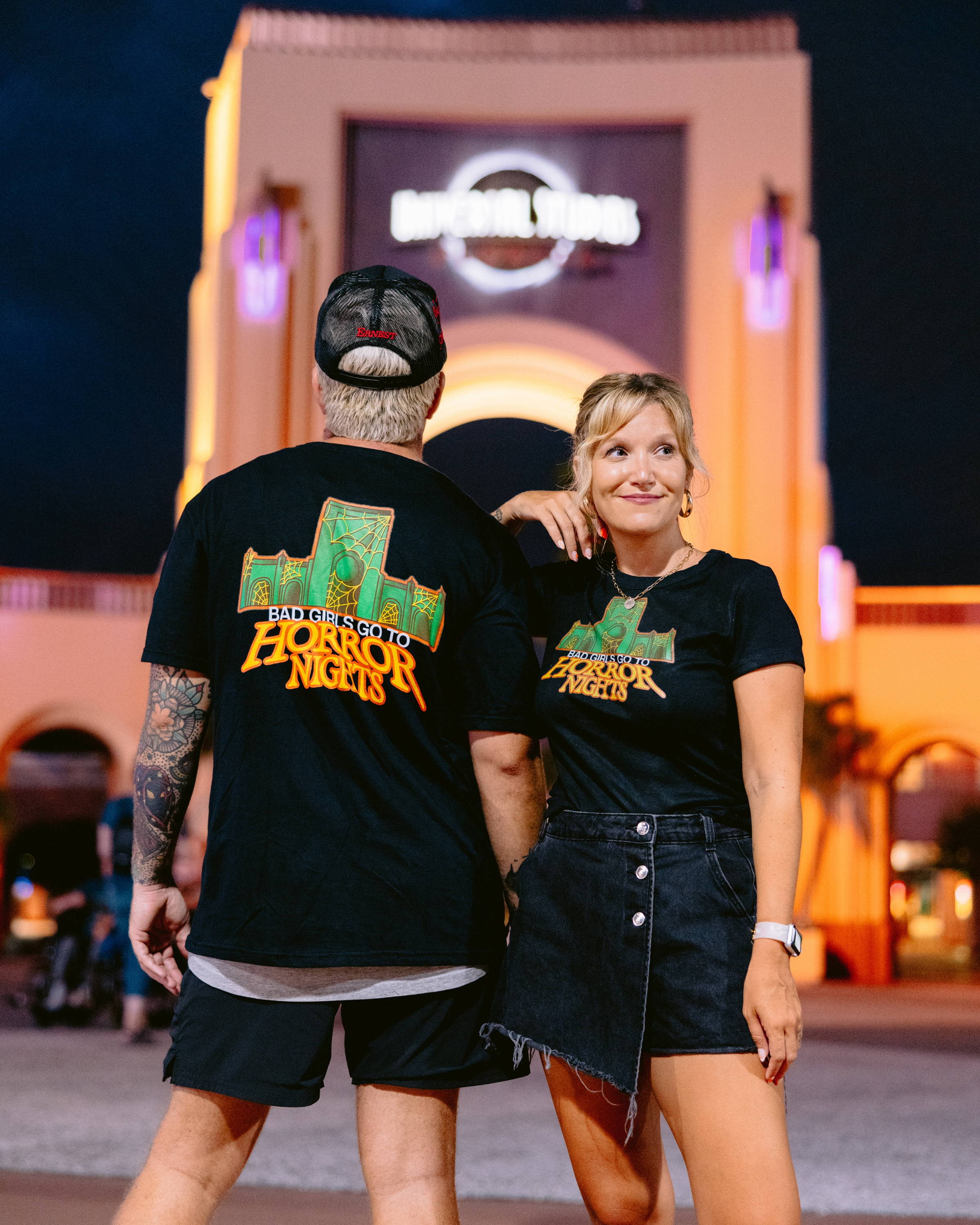 At Universal Orlando Resort, Halloween Horror Nights 32 is taking its name very seriously this year. The lineup of haunted houses and scare zones is unlike anything we've seen from the event in the past. With unprecedented Intellectual Property partners and original story houses coming, we are sure this event is going to be one of the biggest the theme park has seen, and we want you to be in the know before you visit HHN 32!
This year, the 10 house lineup consists of 5 houses based around IP, 5 houses that tell original stories, and 5 outdoor Scare Zones coming for this event. Here is a quick rundown of the concepts for each.
Houses
The Last of Us (Based on the Video Game - Not The Show)

The Exorcist: Believer

Stranger Things 4

Chucky: Ultimate Kill Count

Universal Monsters: Unmasked

Dr. Oddfellow's Twisted Origins

Dueling Dragons: Choose Thy Fate

Yeti: Campground Kills

The Darkest Deal

Blood Moon: Dark Offerings
ScareZones
Dr. Oddfellow's Collection of Horror

Dark Zodiac

Jungle of Doom: Expedition Horror

Vamp '69: Summer of Blood

Shipyard 32: Horrors Unhinged
IfIf you are a single night ticket holder and do not plan on doing any kind of seasonal pass like Frequent Fear, we most definitely recommend getting to Universal Orlando before 5 pm. The parking for events like this can be crazy, and parking at city walk does start at around $25 per car, so making ample time for parking and security checks will be a must.
With any annual pass you can get ether discounted or free parking, just depends on the pass you have!
"Rope Drop" This event, or see if you can qualify for their Stay and Scream Package, where some houses open early for HHN ticket holders with day tickets or annual passes before it opens to the rest of the event-goers.
This year, Universal is also offering a Scream Early ticket add-on for $40 from 3-5pm, where you are able to get into the park to enjoy houses even earlier.
The earlier you are able to get into Universal Studios, the better, because lines for popular houses (i.e. Stranger Things 4 or The Last Of Us) are going to be upwards of 2 or 3 hours long. Unlike many theme park attractions, the lines for these houses will get cut off if the line becomes too long, so there is a chance on popular nights like weekends or Halloween, this can be the case. This event does go until 2 am, so if you want to get everything done in one night and you can power through the crowds and stay until 2, there is a great chance of these lines being much lower from around 11 pm on until closing.

This is a pro tip for anyone with a seasonal pass that gets you in for multiple days, go late and stay late. The majority of the crows will be at HHN from about 5pm - 9pm every night, so if you don't want to deal with the bigger crowds, take a nap, have a 3rd coffee, and make it to HHN around 9pm for a different atmosphere entirely.
If you're a newbie or this is your first time going and you maybe have no idea what to expect, check out our Guide to Halloween Horror Nights for First Timers, and get some tips!
Universal Studios is basically one big circle with branches off of it, so this makes going from house to house easy! But, we would definitely recommend finding a house to start at (maybe it's not the one right next to the entrance like everyone else) and then going in order!
While we would usually tell you not to bounce around the park, we find that monitoring the wait times on the apps are setting alerts for certain wait times has been super helpful. If you want to do a house, set a wait time alert on the Universal App for the time you're looking to wait (or a little higher since these are inflated usually), then if you're not in a line, go to that house the moment you get the alert saying the wait went down. This is how you avoid the longest lines!
Again, for Frequent Fear Passholders, our recommendation is always a little different because you may not cram everything into one night. If you're someone who can only handle 2-3 houses per night, this isn't as hard to bounce around, find a scare zone you enjoy people watching in, and hang out on the sidelines.
*Pro tip about Scare Zones* there are walkways that avoid these areas if they are not your cup of tea! Any sidewalks along these zones will not have scare actors coming at you or in your personal space, so keep that in mind when trying to get from one place to another if being scared outside of that house environment isn't for you!
Okay- not so hot take, but the food at Horror Nights is really good! We enjoy the fries, the Pizza Skulls, and the Twister Tater (which is super internet-hyped, but does live up to being a pretty good salted spiralized potato on a stick). The food is worth trying, for sure, and the drinks (especially souvenir cups that charge less on refills) are worth it for friends with Frequent Fear.
This year, the food themed to the houses is actually phenominal- The Ravioli from the Last Of Us, The Cordyseps Corndog and the Poutine from Yeti: Campground Kills were among our faves! We personally like to avoid some of the big name drinks that tend to be very sugary, but there are many full bars open around the park that will serve you alcoholic beverages that are not sickly sweet. Like at Surfer Boy Pizza, there's a delicious tropical punch that can be alcoholic or non-alcoholic.
You can only bring 1 sealed bottle of water through security and emotional support water bottles will have to be dumped out at security because they don't know it's actually water (if you're catching my drift), so bring your reusable bottles, but know they need to be empty until you get into the park! You can however purchase a refillable light up alcoholic beverage cup for $16.50, after that every refill is only $12.50. You can also bring in your freestyle cups and pay a flat activation fee for non-alcoholic refills during the event.
You can bring food and drink into the lines- so if you know you're about to wait a while in line for Stranger Things (and you will) bring your Surfer Boy Pizza in line with you and snack while you wait! You just have to have everything tossed and empty by the time you reach the front of the line.
If you're looking to grab a bite and a drinkie before you make your way into the fog, we definitely suggest checking out our guide on Where To Eat At Universal Citywalk Orlando. This guide is for HHN folks and non-HHN folks alike, and you can use it year round tbh. We love eating at Citywalk and this list proves it.
Head Into The Upside Down
This event is entirely outside besides the indoor attractions that are open and the haunted houses, so there is a big chance that you will get rained on. Hurricane Season in Florida is peak during HHN season, so we tend to see rain almost every night of this event. Bring an umbrella, and bring your patience, because with rain comes changing plans. Scare actors in Scare Zones will not be out if there is lighting within a certain radius, so the atmosphere does change if there is bad weather in the area. Plan accordingly with clothes you don't mind possibly getting wet, and always have a backup plan for if this event is rained out. If a Hurricane pops up, Universal will do everything they can to refund or reschedule your tickets, but bad thunderstorms won't usually warrant a new nights ticket because it really does rain and storm here almost every day from June until October.
The lines are mostly outside and not under a ton of cover, so be sure to bring sun screen if you're planning on going during daylight hours. Our favorite Lex Tipis sunshine umbrellas- bring an umbrella even when it's sunny!! One, it'll be great in the eventual downpour that inevidably takes place in Florida every day, but also the shade is like 10 degrees cooler than the sun- so even a little cover in the sunshine is helpful in staying cool!
That is our Know Before You Go for HHN 32!
We are more than excited to join the event this year, so be sure to let us know what you love about HHN so we can all geek out over Stranger Things and The Last Of Us together!
* * *
If you liked this blog be sure to use code LOSTBROSBLOG for 10% off your next order!
If you want to see more of what we're up to day to day- be sure to follow us on
Insta @thelostbros + tiktok @thelostbros + Twitter @lostbrostweets