HAPPILY EVER AFTER IS BACK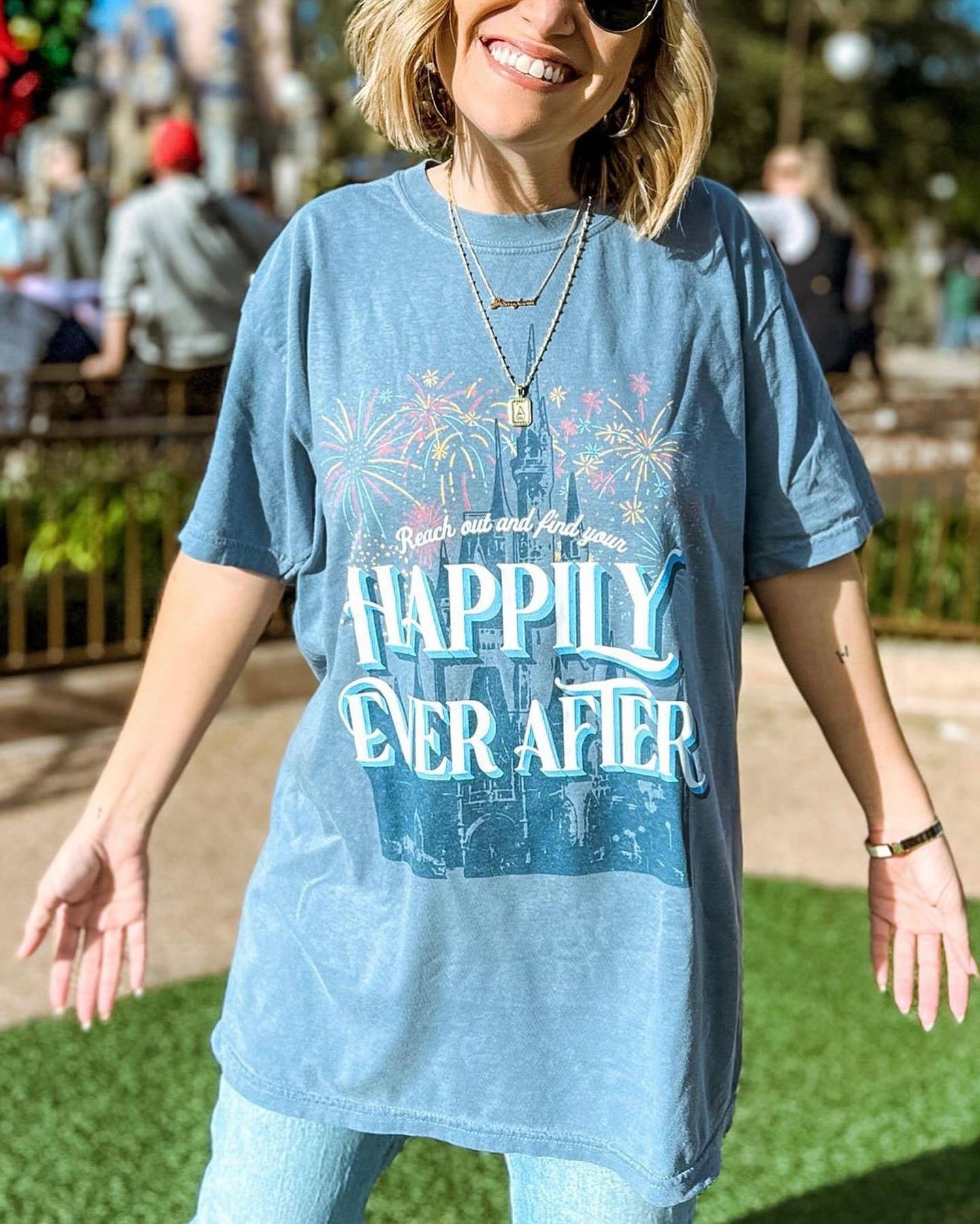 It's the dayyyy we've all been waiting for!!
She's back, she's back, she's BACK. Lex's Rain Dance WORKED.
Just announced, The Magic Kingdom Nighttime Spectacular Happily Ever After is coming back on April 3rd, 2023 (!!!) We are spinning in the office this morning and that's not even an exxageration.
To celebrate we are bringing back the Happily Ever After tees we all know and love!
Throwback to pandemmie times when we created our own hub grass on the driveway and celebrated HEA in quarantine 😭
When Happily Ever After comes back there will be ~all new~ projections along Main Street USA, new updates to projections on Cinderella Castle, and of course the sobs of a million Disney Fans collectively crying over our favorite show being brought back. (Sorry Wishes :-( )
To CELEBRATE this day, we're bringing back our SOLD OUT Happily Ever After Returns Tee + Crewneck so everyone has a chance to snag them before the show comes back!!
---
Along with the biggest (and probably most anticipated news), we also have BIG EPCOT NEWS...
The BARGES ARE GOING BYE-BYE.
This may be bigger for us than HEA (lol sorry) but these things are a logistical nightmare that are always breaking down and not to mention they really ruin the view of the World Showcase Lagoon... So with the end of Harmonious on April 2nd, there will be a phased removal of these fireworks monstrosities (too much? ehhh). Nighttime Spectacular EPCOT Forever will make a temporary return while they work to prepare EPCOT's new permanent spectacular later this year.... TBD on that one....
HELLOOOOOOOO - We have a TRON OPENING DATE!
TRON: Lightcycle Run is opening in Tomorrowland on April 4th, 2023!!! So April is about to be a BIG month for Disney newness. We had a feeling this was coming ya know- with the return of the railroad and the constant teasing of testing and lighting and track rides and me crying as I ride the Peoplemover cause I can't wait to be on Tron... but I digress- and baby is finally opening and I will be crying like I did when found out we were getting Inside Out 2!!!!!
What part of HEA coming back are you most excited about?! (ALSO WHAT WILL IT LOOK LIKE TO RIDE TRON AT NIGHT WHILE THERE ARE FIREWORKS!? AGH! SO. MANY. QUESTIONS.
And can we talk about the harmonious barges going away TOO!
We're ready to beginnnnnnnnn...