Our Top 5 Favorites from EPCOT Food and Wine 2022!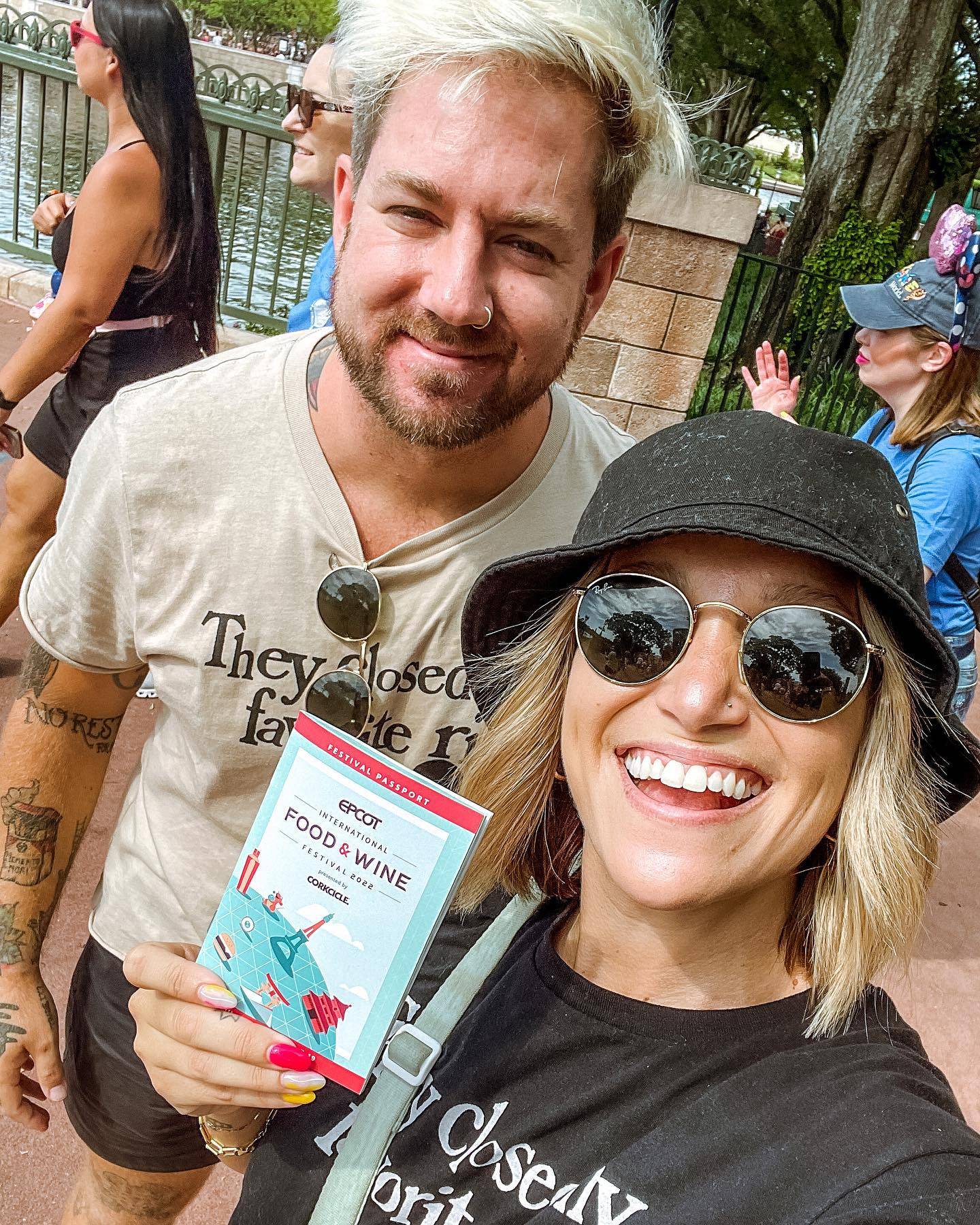 We get it. Hitting every festival booth requires planning like none other (shout out our social team for planning everything to a T). To make it as easy on you during your vacay- we're giving you the definitive Lost Bros Top Five of Food and Wine 2022™️ (not actually trademarked but maybe we'll get there). AKA- if you skip anything it cannot be these.
In no particular order because we could argue for hours over it....
Our top 5...
---
The Mexico Booth near Port of Entry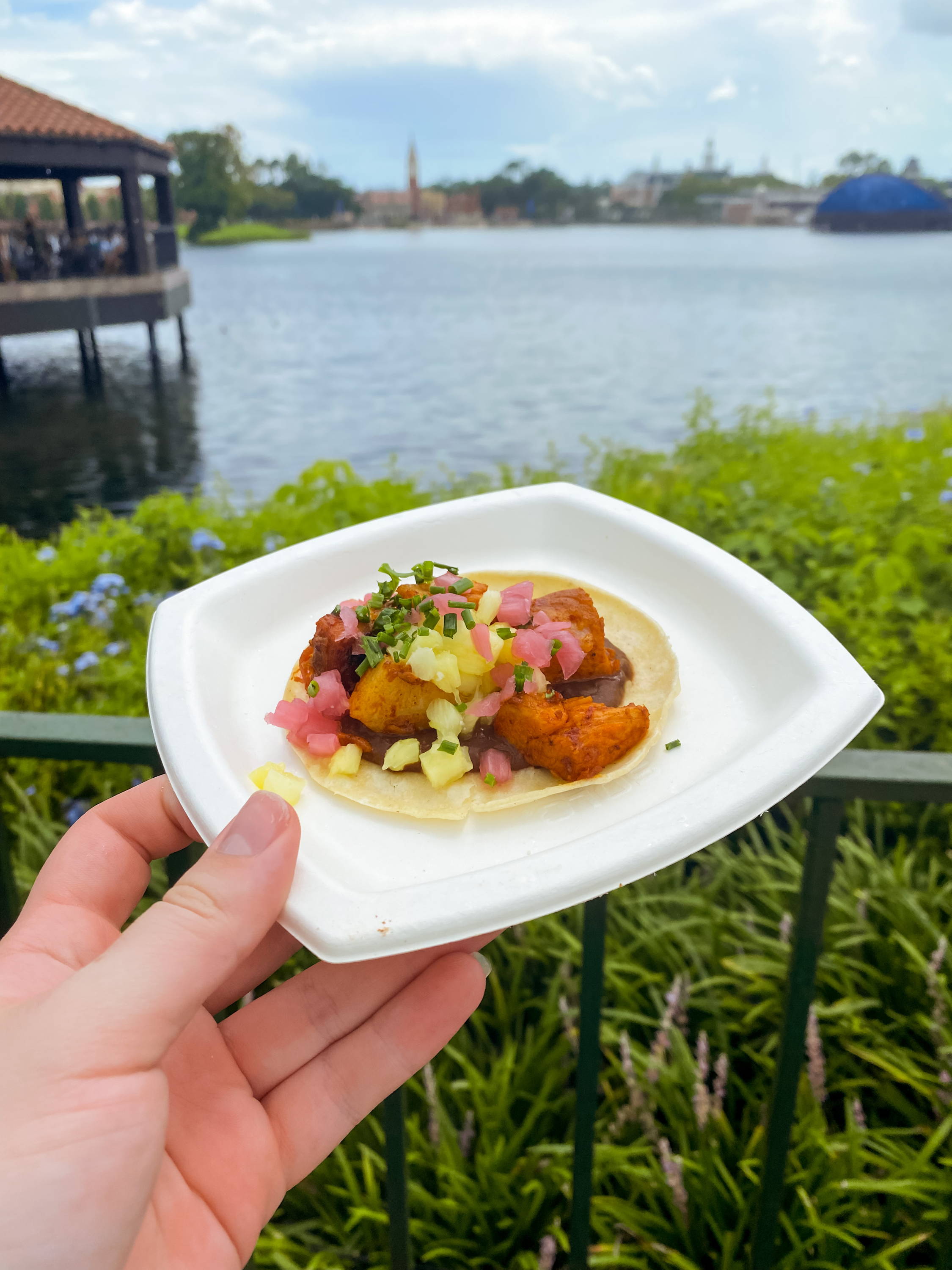 At the Mexico Booth you've gotta try this one. The way Lex talked about this taco- you would think it made everyone on our team see stars. Everyone loved it and gave it a 10/10. This was seared pork belly pastor on a corn tortilla with chipotle black beans, pineapple, pickled onions, and chives. A big winner for team LB- Lex especially, who quite literally ate on camera to show how good it is. (ok this might be our actual favorite). The pineapple compliments this one SO wellllll. The pork is cooked really well too! We loved this one.
($7.50)
---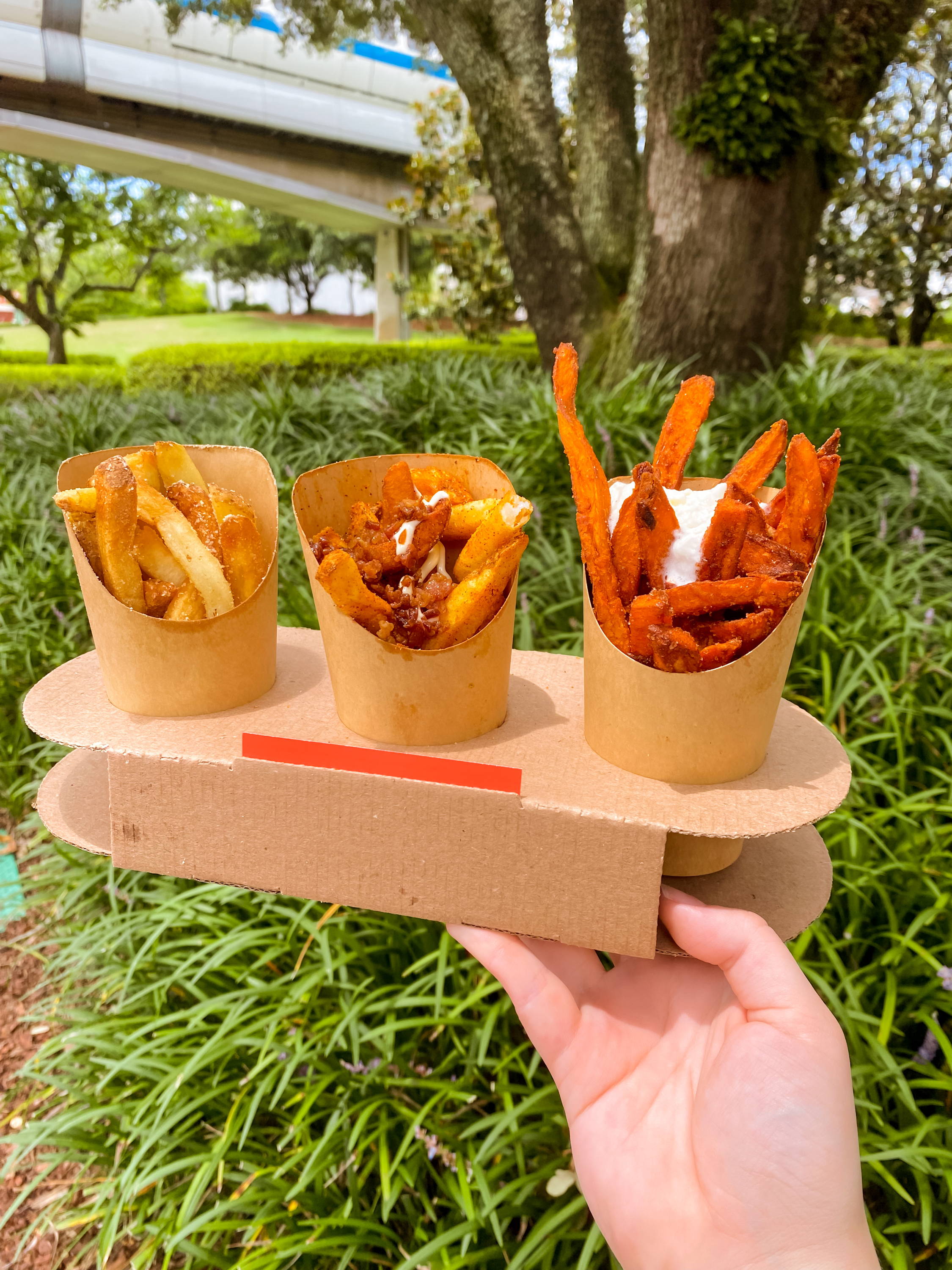 Disney gets a kiss for making a fry booth (Too much? I beg to differ). Fries are a way of life. I won't go on my soapbox about my love of potatoes, but I will tell you that this fry flight satisfied every fry craving we could have at once. 3 Different fries: Sea Salt and Malt Vinegar Fries (plant-based), Barbecued Bacon Fries with Smoked Aïoli, Sweet Potato Casserole Fries with Candied Pecans, Toasted Marshmallow Cream and Caramel Whisky. Yeah- Toasted marshmallow cream on a freaking sweet potato french fry!!! I don't even like sweet potato fries and this felt like dinner and dessert all in one and I loooved it. The BBQ was good cause I loved the aioli. And the sea salt and malt vin are really good for anyone who just wants a classic fry! I think I'll be living in Epcot until November thx.
($7.50)
---
Beignet aux Trois Fromages (!!)
The France Booth in the France Pavillion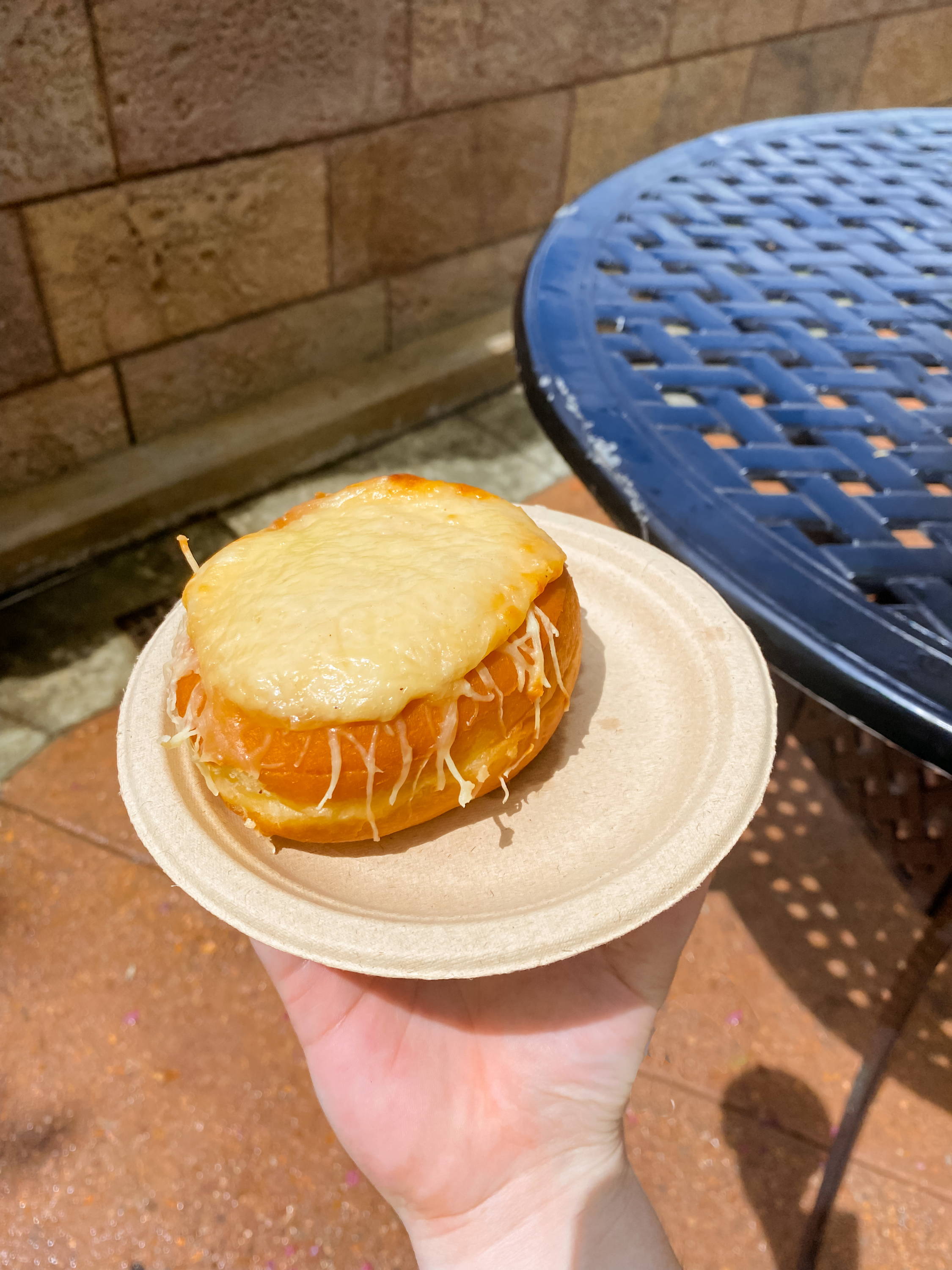 France! Thank you! Thank you for this! In plain English its a three cheese beignet. Three cheeses in bread. Nothing better than cheese and bread! We're very much team bread and team cheese here. You can see Cody's face light up when he eats this- so you know its good. Honestly think savory donut filled with fondue ? thats the vibe.
($6.00)
---
---
Crispy Brussels Sprouts (!!!)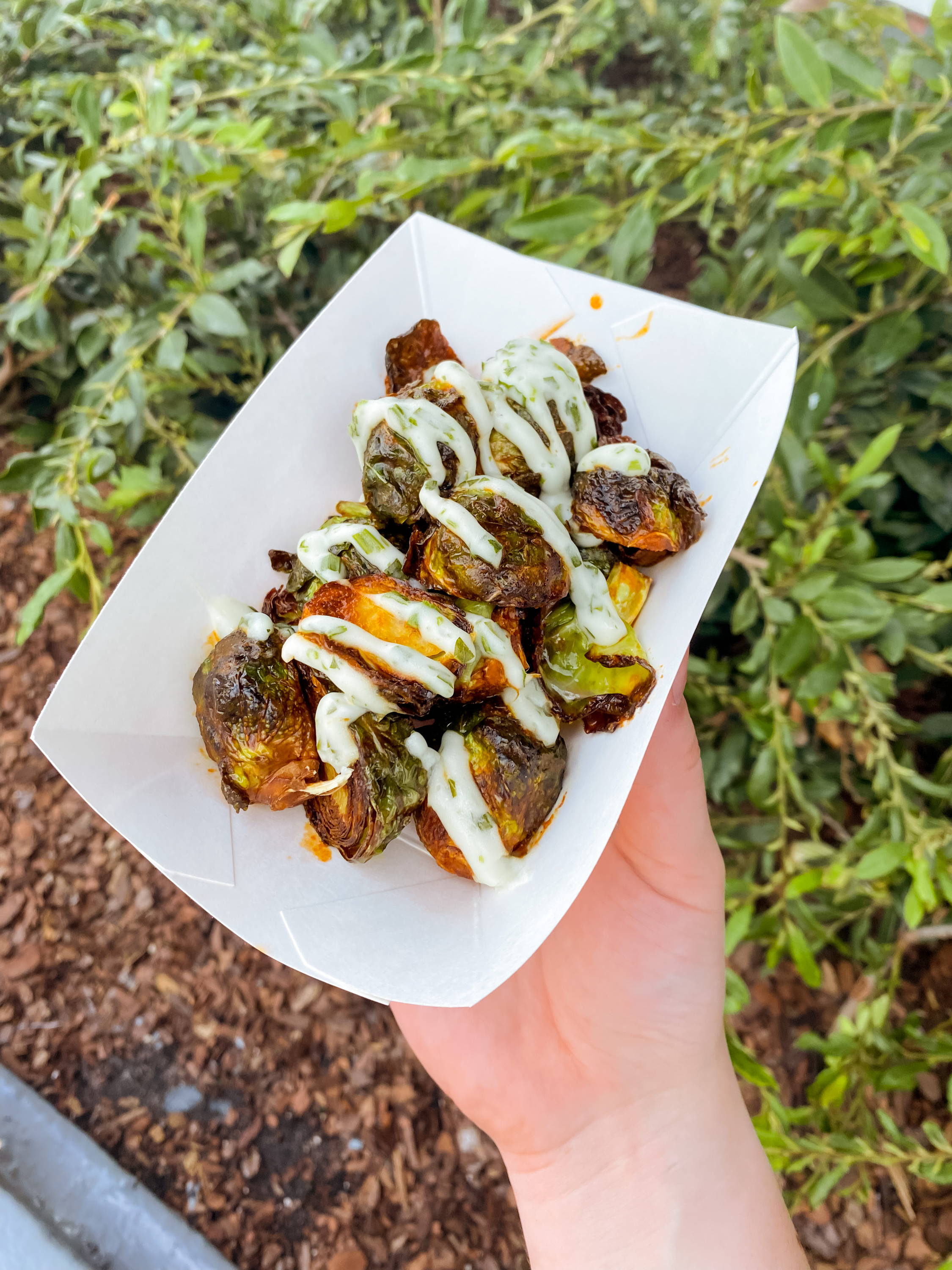 Brew-Wing. Killing. It. We have Crispy Brussels Sprouts with Buffalo Sauce from this place. This is their plant based option and for veggie lovers- its literally heavenly. It's a tad spicy- but the portion is PERFECT for a snack and its only $5. It opened EARLY! and we made it. Grab a cider flight. Enjoy the AC. Reminisce about the good old days when the Epcot Experience mentioned Mary Poppins and a big Festival Pavillion.... Anyways, i'm gonna go make an Epcot reservation and eat more brussel sprouts.
($5.00)
---
The India Booth between the China Pavillion and the Outpost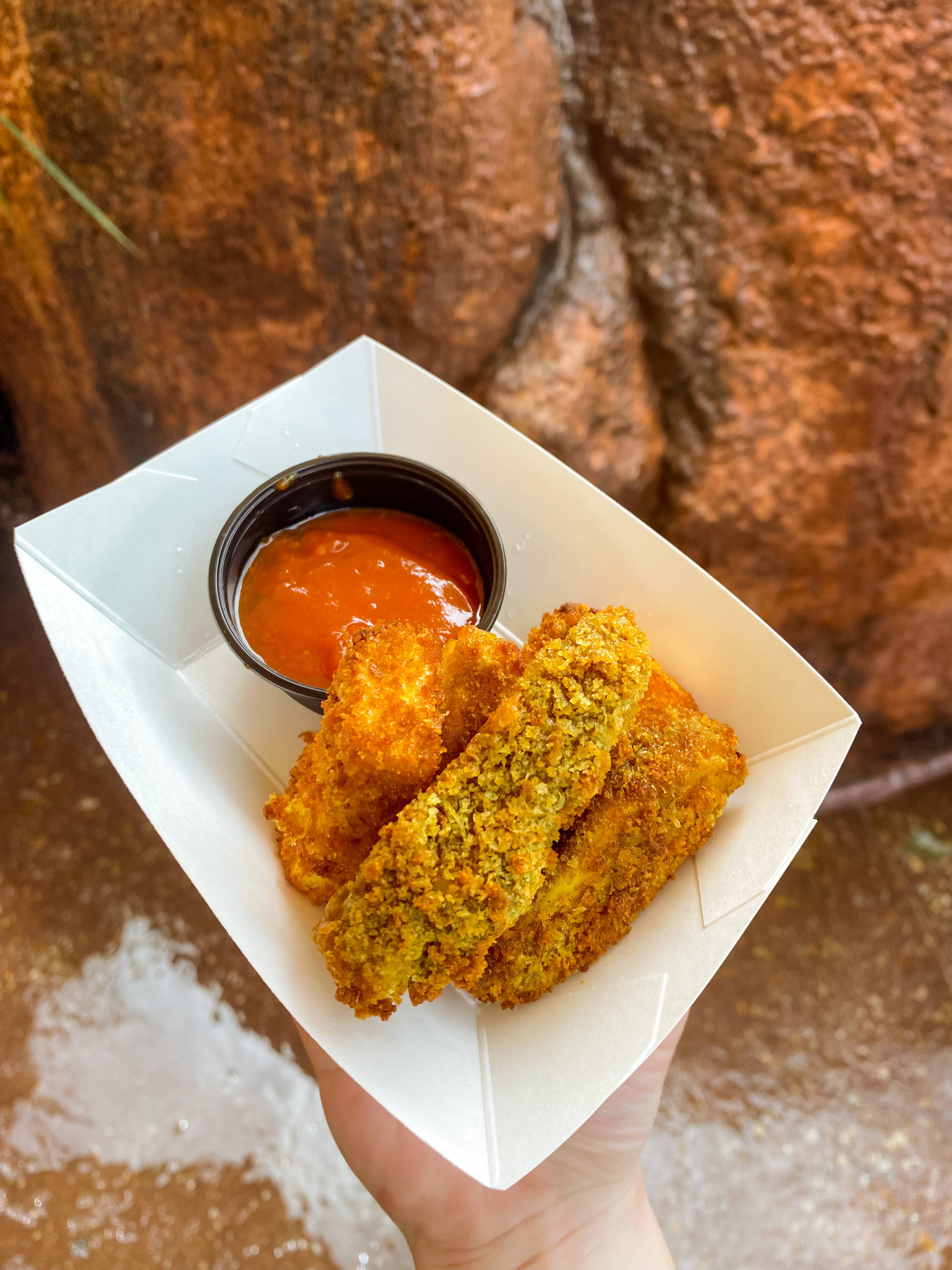 Cheese lovers unite again. It's a giant Mozzarella stick (not sure if it is actually mozzarella cheese or a fancier cheese?) But either way we loved this lol. It's like a little more bread-like and no pull like a tradtional mozz stick, but Cam's face says it all. And Cody literally went back to get this for breakfast sooooo- I think its safe to say we love it. Who doesn't like mozzarella sticks?! The mango- curry ketchup is good too! But dang. Cheese. Wow. Enough said.
($5.00)
Okay- those are our top 5 faves of the Food and Wine Festival. We ranked EVERYTHING NEW we tried from F&W 2022 in this post right here, so check that out and make your own list!!!
Be sure to check out all of our socials for sick food and wine content + content in the parks all the time.✌🏼
Tap to shop our favorites for your EPCOT Park day! And if you like our blog be sure to use LOSTBROSBLOG for 10% off your next order!
---
---
Enter your email and receive 10% off your first order.