The Milk Stand in Star Wars Galaxy's Edge in Disney's Hollywood Studios is now the third location in the land to offer breakfast! You can now get your Ronto Morning Wrap from Ronto Roasters, Mustafarian Cinnamon Roll from Oga's Cantina, and now Green Milk Bread Pudding from the Milk Stand! We landed on Batuu bright and early this morning to give the new offerings a try, so let's take a look!
Saka Farm Egg Bite - $6.99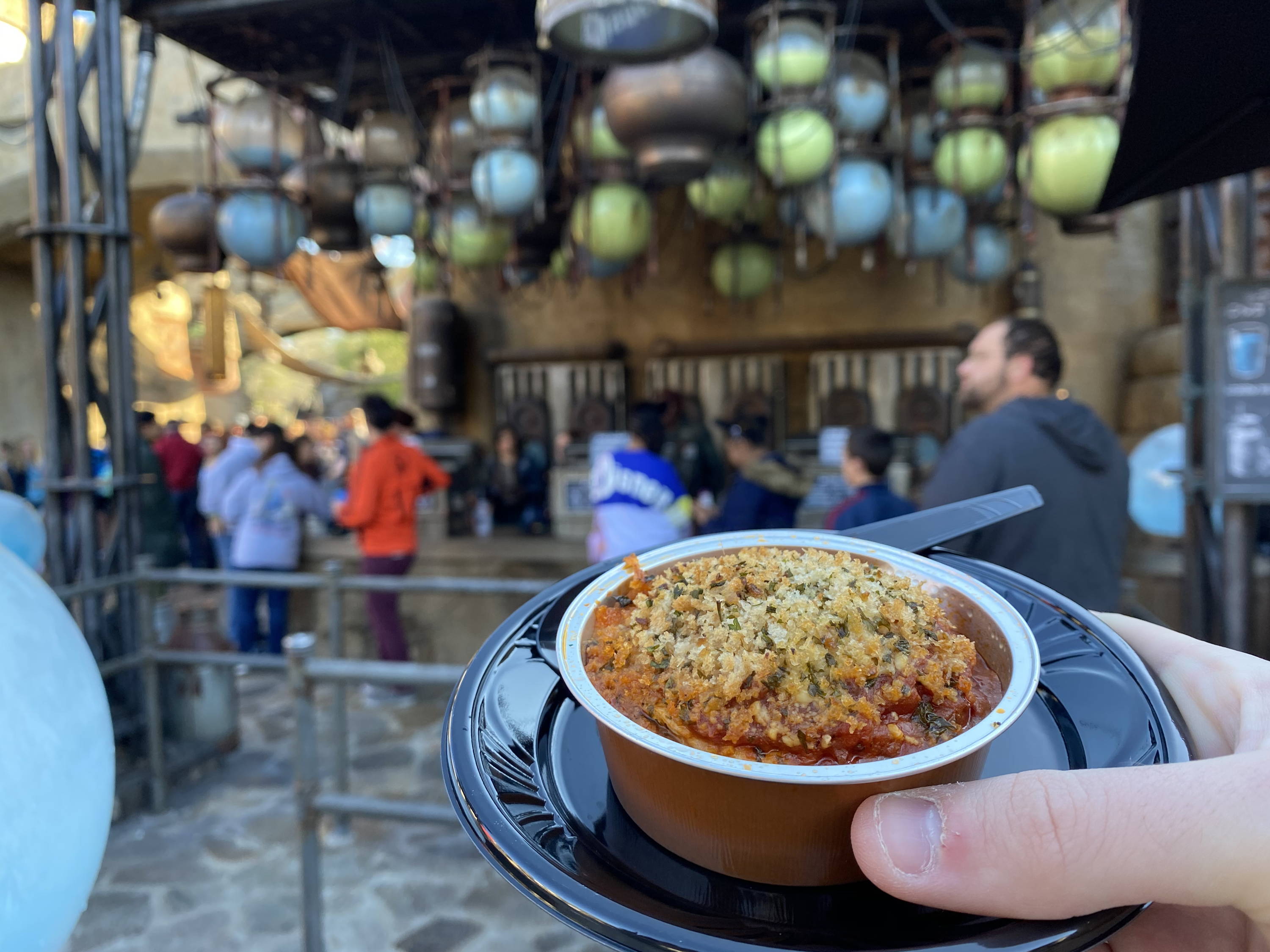 ---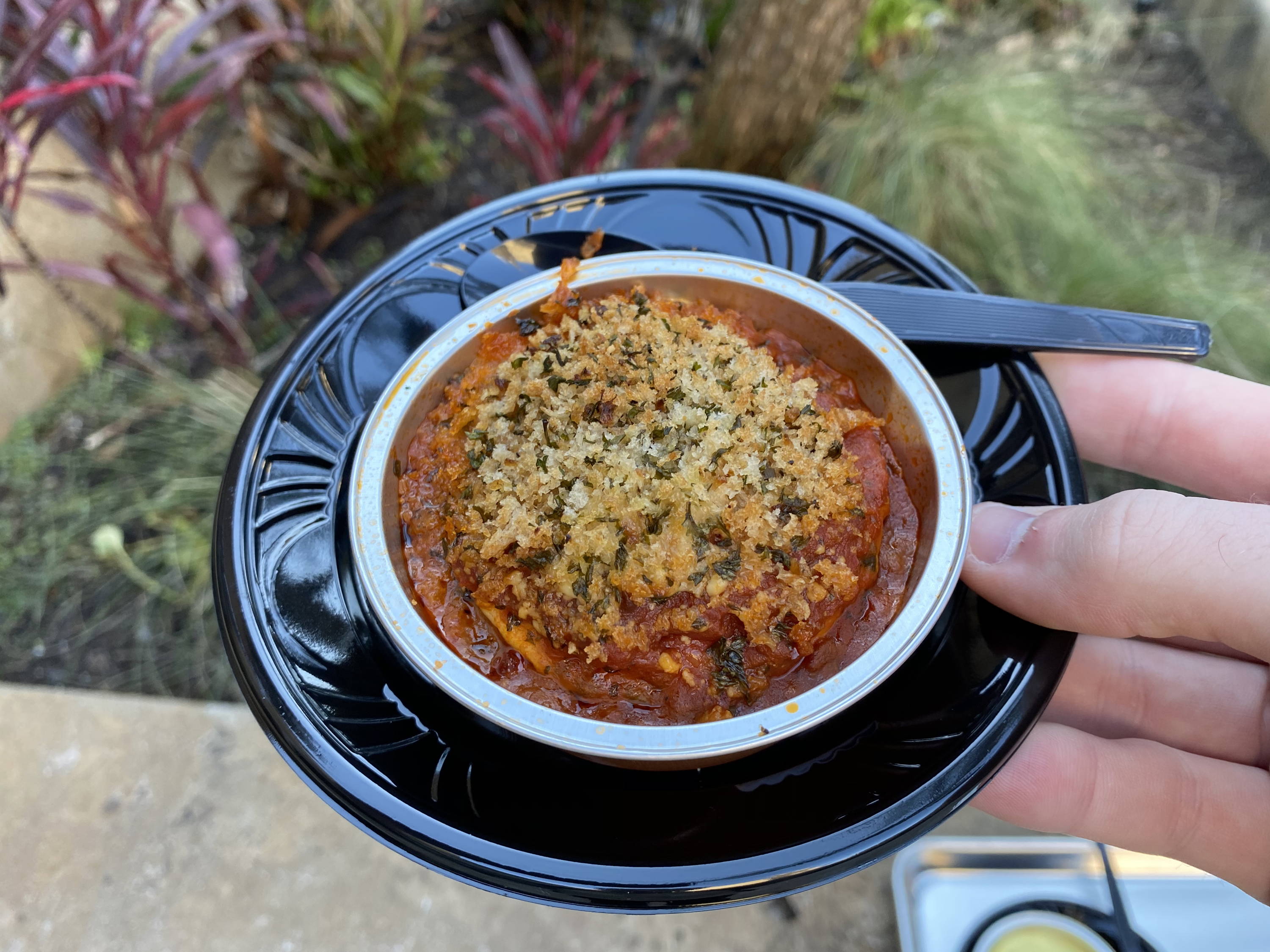 Egg-White Bite with Spicy Tomato Sauce, Crumbled Feta, and Garlic Bread Crumbs.
If you love spicy breakfast, this one is for you. This egg-white is covered in tomato sauce and bread crumbs which I thought was an extremely strange mixture, however, it worked really well. The portion is pretty big for a single egg, however do keep in mind that portion sizes for all three new offerings are roughly the same size, as they're all served in the same container. The feta cheese helps to tie the dish together. I love the bread crumbs, which add extra texture to the dish but beware, this is truly a spicy dish so order at your own risk!
Green Milk Bread Pudding - $6.49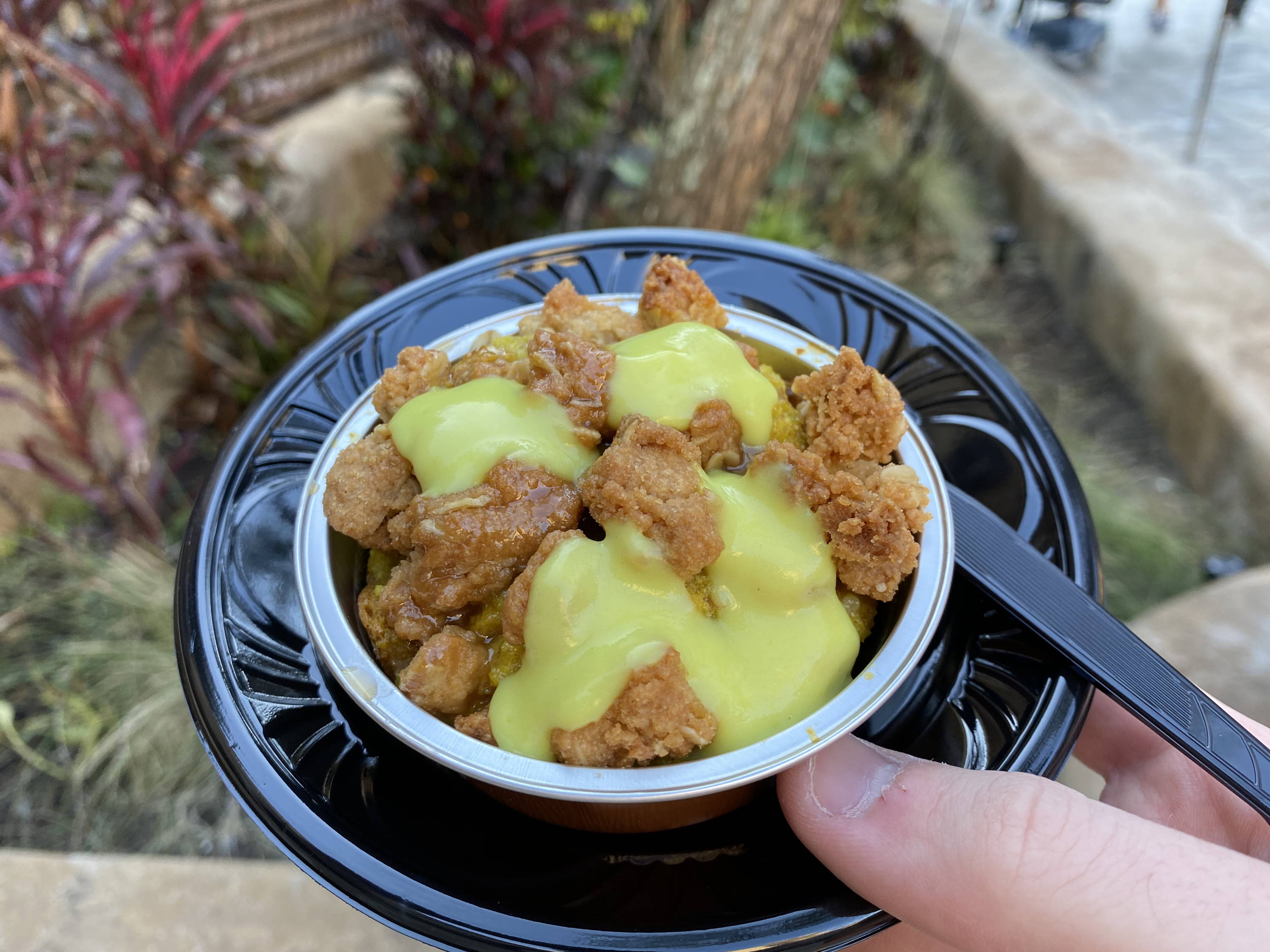 ---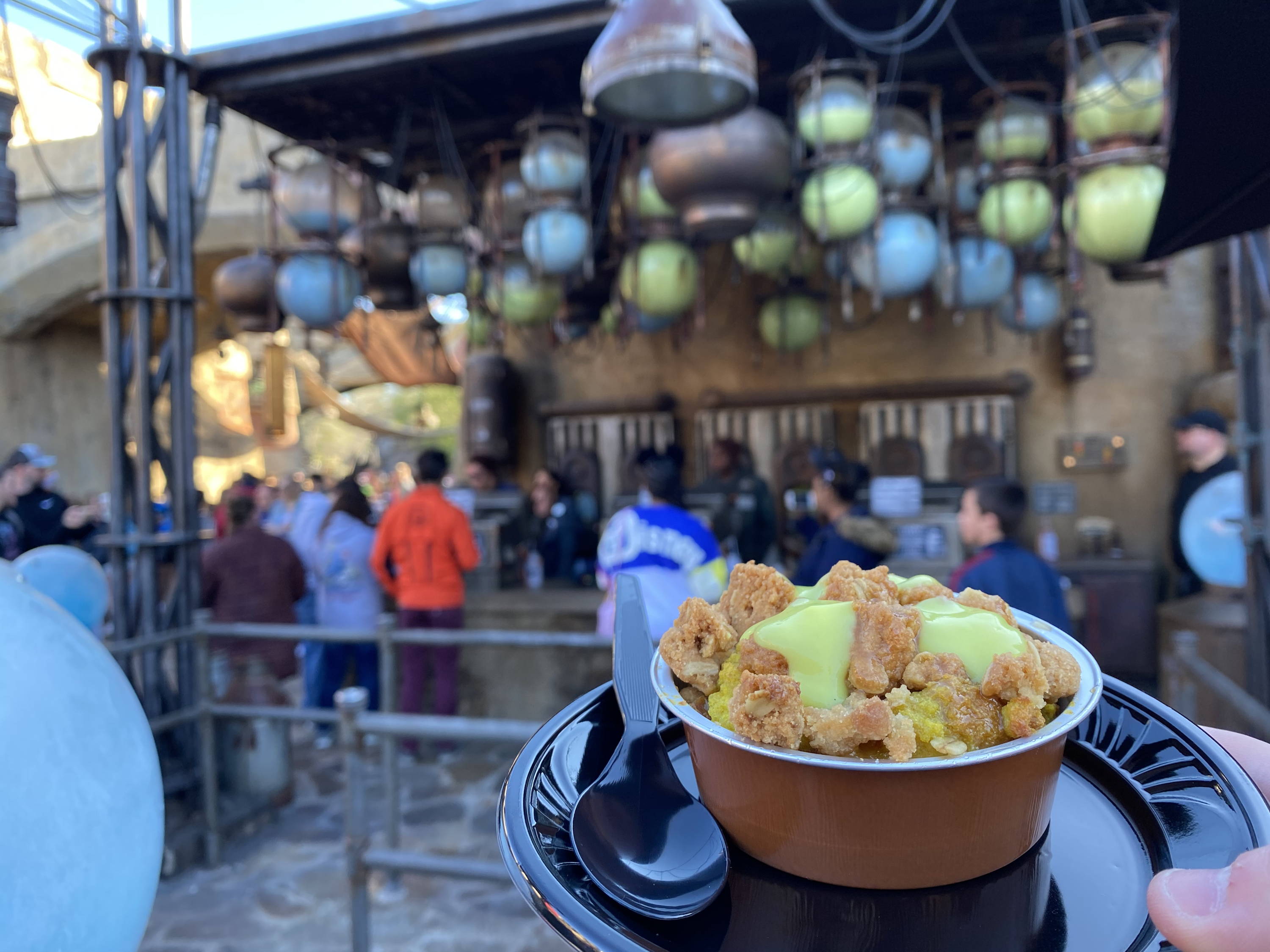 Bread Pudding made with Green Milk
Probably the most highly anticipated new breakfast offering at the Milk Stand was the Green Milk Bread Pudding. While Bread Pudding is one of my all-time favorites, the wonky, slightly sour green milk taste is still dominant in this dish and it really does spoil it a little. Thankfully, the dish is still good overall and WAY better than the solo green or blue milk. The crispy bread crumbles on top add great flavor and help to bring more than just the green milk to the table. This is certainly a novelty food item in Galaxy's Edge and it certainly ended up being my favorite of the three offerings. I highly recommend at least trying it!
Wamba Yogurt Cup - $6.49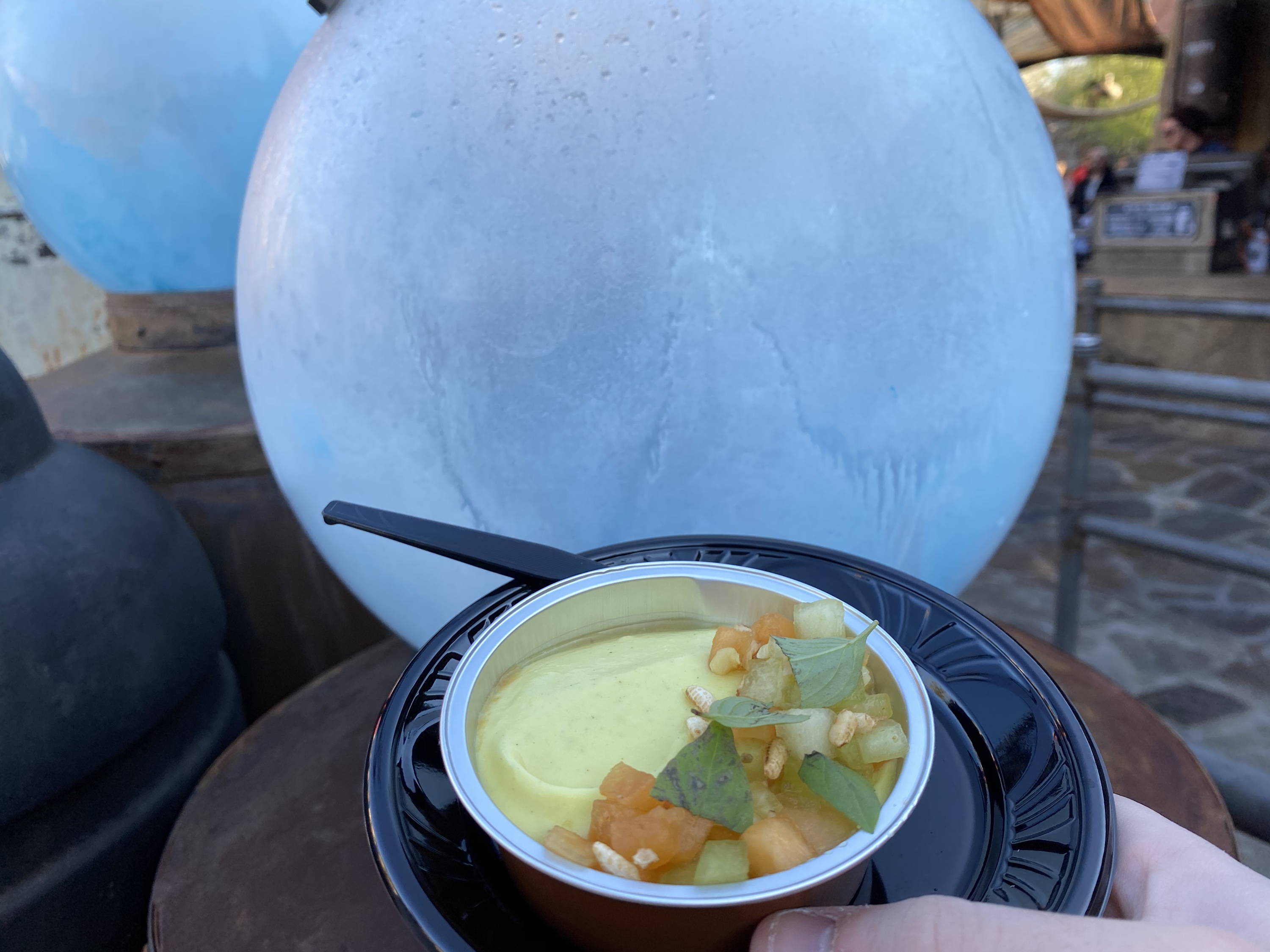 ---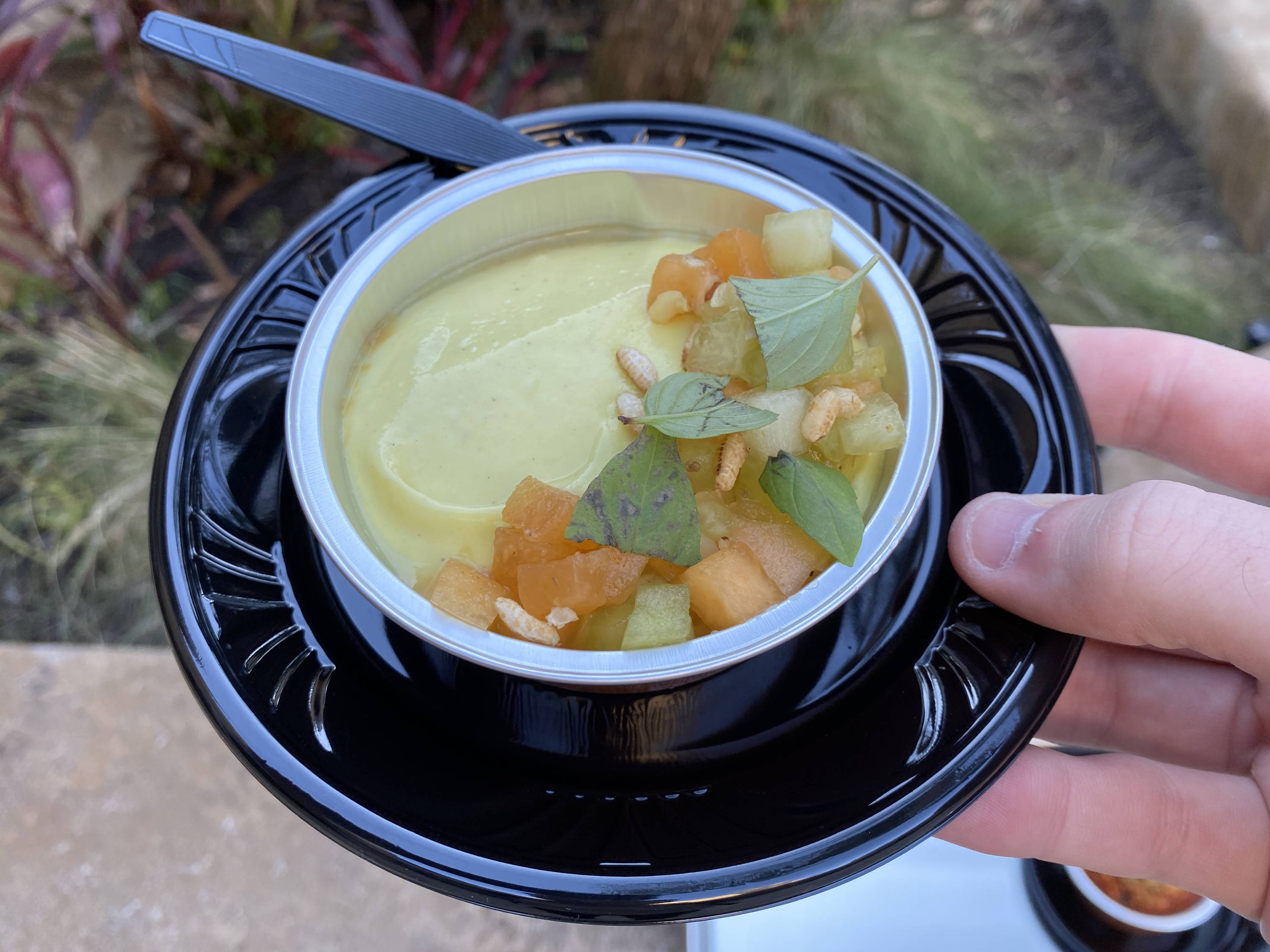 Plant-based Coconut Milk Yogurt with Green Milk topped with Seasonal Fruit
Another great new breakfast dish is the Plant-based Coconut Milk Yogurt. The green milk is significantly less dominant in this dish which is a nice change. You do still get some of that sour aftertaste, but the included seasonal fruit helps to add a more tart touch and a more unique texture, so it's more than just yogurt. This is definitely the lightest breakfast option of the three new offerings, so I'd recommend getting this one if you'll be eating consistently throughout the day.
That's it for the new breakfast offerings at the Milk Stand! Of course, you can still get your Blue and Green Milk fix in both the alcoholic or the non-alcoholic versions throughout the day, and now you can get these new meals to go with it! What will you be trying on your next trip to Batuu? Let us know in the comments below! Bright Suns!
If you liked this article make sure to check out our store here, and use LOSTBROSBLOG for 10% off your first order!