**THIS GIVEAWAY HAS CLOSED**
Calling all Swifties!!
Dear Reader, our resident cutie Lex has the biggest surprise for you all. She is giving away 2 tickets to Taylor Swift's Eras Tour right in our home state of Florida… And we may be on our vigilante sh!t, but we're going to show you all of the ways you can enter to win.
The tickets are valid for the Tampa Show of the Eras Tour happening on April 13th, 2023 (ugh, such a good number!) in Section 244 (see below :)) !! It doesn't take a mastermind to win this giveaway...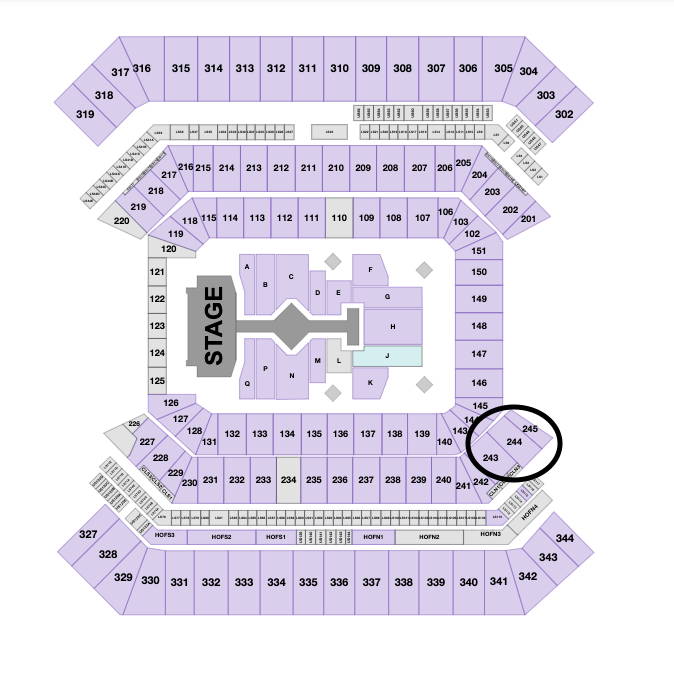 Okay, So Here's How You Can Win
#1 You can purchase a product from our collection inspired by Midnights...
Best believe Lex (+ our incredible designer Sierra w/ the help of our Social Manager Kristyne) has come up with the most unique collection of TS inspired merch yet. The Midnights Collection Volumes 1 & 2 are available in stock and also for pre order (be sure to read your product descriptions for shipping timelines!), and any order placed on or after December 12th, 2022 is automatically entered to win!
Shop both drops... and while you're at it, be sure to check out the amazing videos produced to tie this collection together in such a special way.
ps. if you were able to snag our midnights sticker pack before it went away (still the yearning stays), those also qualified for this giveaway 🖤
---
If you know Lex, you know she loves the connection that these collections bring more than anything. That's why another way you can win these tickets is to write a letter to our PO BOX and tell her what your favorite Taylor Swift song is and why!
Make it special, make it simple. Just a lovely note and a shared bond over our girl will do the trick.
It could even be something like "Your ex- friend's sister met someone at a club and he kissed her... Turns out it was that guy you hooked up with AGES ago- some wanna be Z-Lister. And all the outfits were terrible... 2003 unbearable. Did you see the photos?"
Send any and all mail to us at....
13506 Summerport Village Parkway, #1016, Windermere, FL 34786
Shop our Midnights- Inspired crewnecks for when there's Snow On The Beach (weird- but effing beautiful)
That's it besties. We keep our side of the street clean... (you wouldn't know what I mean) That is how you can win tickets to the Eras Tour!!
We are so excited to be doing this giveaway and so grateful these collections have been as well-loved as we had anticipated and hoped for!
I have this thing.... Where I like Easter Eggs in my blogs. (similar to someone else who loves easter eggs in their content.... hmmm can't put my finger on who that is, but anyway).
This is not a Glitch. If you've made it this far and you want a piece of the midnights collection (+ a couple of goodies) send an email to hello@lostbrostradingco.com with every midnights 3am lyric reference you found in this blog and the first person to email with all correct answers, we'll give you a piece from the collection!
Best of luck to everyone entering and happy giveaway!!!🖤✨🤍
**THIS GIVEAWAY HAS CLOSED :)**