---
It's Time For New! Things!
---
IDK about you guys, but I am so ready for a new year. My 2022 bingo card was random and exhausting and also amazing because we have achieved so much this year!! We are breaking down everything we are excited about that is new AND returning in 2023 at Walt Disney World- and omg is there some sick stuff on here… I could cry just thinking about it.
Bear with me…. This is a good one. Grab a snackie.
---
The 50th Anniversary of Walt Disney World
The World's Most Magical Celebration (AKA WDW's 50th) is ending on March 31st, 2023. They haven't released a lot of information for what that means but we're going to guess that those adorable 50th anniversary costumes for our favorite characters will be retired (bye pretty minnie dress :( ), along with the 50th character cavalcade taking its final lap throughout Main Street USA, and the 50th anniversary-themed treats like the Toad Burger and 50th Sundae at the Main Street Ice Cream Parlor ending that date as well.
With the 50th Celebration coming to an end, that also means the end of the 50th Nighttime Spectacular Disney Enchantmentpresented by Pandora jewelry (lol try telling me you couldn't hear that in your head).
Disney 100
Walt Disney Animation is Celebrating its 100 year anniversary this year, so you know they have got big things planned across all properties for all different types of guests. We are genuinely excited to see what WDA is pulling out for this 100th year. We know the new movie Elemental is sure to bring in large audiences here soon and we are very excited about it. Disney 100 Merch is already making its way through MK right now and it is special- and pricey.
Disney After Hours
The long awaited return of Disney's After Hoursssssssss. We've got hard ticketed events back baby and they are definitely worth the money (if that's how you want to spend it). Honestly, although it does cost a bit more, you do get on the rides with minimal waits and they really are a great opportunity to experience a more "empty" Disney World.
Magic Kingdom prices start at $135-$159 for regular tickets and anywhere from $105- $129 for passholders or DVC members!
Hollywood Studios prices start at $129-$149 for regular tickets and $99-$119 for passholders or DVC members!
Animal Kingdom has no dates available but the site is active so ~hopefully~ we'll have after hours back at DAK asap.
Happily Ever After
Our baby is coming home. (Sorry Wishes Fans) The return manifested by our gal herself Lex. (see below)
Happily Ever After does not have a specific returning date, but it is coming back after the 50th ends… Gotta do something to keep the people coming, am I right? The fan favorite nighttime spectacular will be replacing Disney Enchantment after the 50th, and we can't wait to cry over it. And make products for it. And scream sing it. All of it.
This is really a full circle moment for us.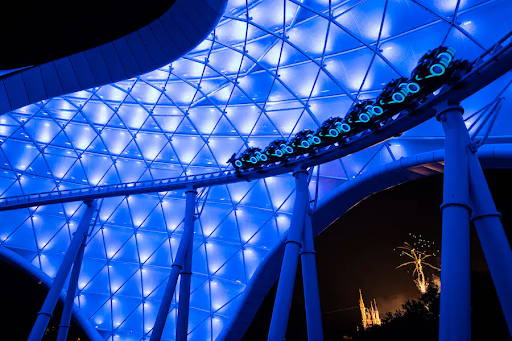 Tron has had MANY an opening date over the years….. We're talking Summer 2021, Spring 2022, and now drumroll please, we have seen enough testing to say I do believe we are solid on a Spring 2023 opening date. (Again- gotta keep the people coming post-50th) This attraction is sure to draw in super large crowds to the kingdom (not to mention harder to get a park pass reservation if that keeps up). We're sure there's going to be some kind of boarding group system similar to what we've seen with Rise of The Resistance, Remy's, and now Guardians in EPCOT.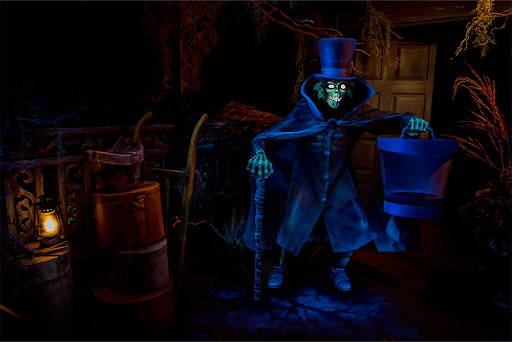 The Hatbox Ghost
Our buddy the Hatbox Ghost will be ~materializing~ in 2023 at the Haunted Mansion in WDW! We've seen him in Disneyland, but this is a fun update for us to have during a refurbishment!! We love to see it- spam Cody and Lex if you want merch for hatbox. I've officially named him Hatbox.
Moana: Journey of Water
Have y'all SEEN!!!! That!!!! Statue!!!!!
You know the one. She's BEAUTIFUL. I am actually way more excited about this walk-through than I was originally!! I really am stoked to see how they play with water and keep us engaged. We love Moana in this office- and we are very excited to see it.
New EPCOT show
There will be a new Nighttime Spectacular to replace Harmonious! When? We don't know! Right now, they say late 2023, but that leaves a lot up for interpretation and teasing. And we all know Disney is quite the tease. Either way- we're STOKED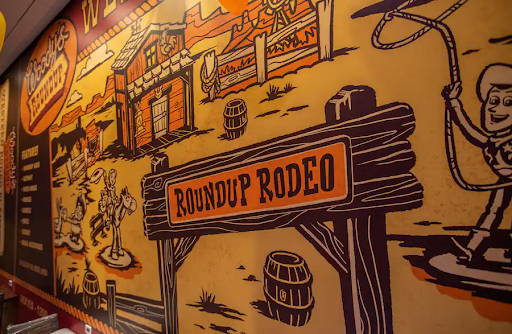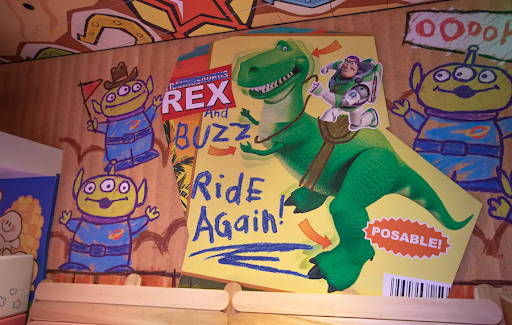 Credit: Disney Parks Blog
Oh baby- this is what we need. More barbecue for the Texan to judge. (It's me- i'm the Texan that will absolutely judge you on your barbecue). I'm looking forward to this (ish?). Do I wish it were more like a Cracker Barrel, down home fried chicken, buttered rolls, dumplins, grandma's pie, all the fixins type southern food? Absolutely- but barbecue is safe! And always like- decent. But like we already have Regal Eagle in EPCOT that I love- and we do indeed have Flame Tree BBQ in DAK that I also like, so like, I'll be the judge! LOL- I will definitely be the judge. The vibe we're catching right now is very much similar to being inside the queue for Toy Story Mania- too much to look at, but also we love it.
This is set to debut at its newly updated opening timeline of Spring 2023. And we will be reviewing it.
Cake Bakeshop
I think their website said it best so here's what we're looking at "[T]his restaurant will offer both savory and dessert menus, along with afternoon tea service, in a whimsical atmosphere that complements the magic of the idyllic charm of Disney's BoardWalk that guests know and love." That's all folks- honestly. Like this looks like the most adorable table service, cute spot for lunch with the pals, and also a fantastic bakery. We looooove seeing the Boardwalk get the update she deserved!
Boardwalk Carousel Coffee Shop
Speaking of the BOARDWALK WOW- If you know anything about Lex (and honestly me too) you know we are big time coffee people!! Carousel Coffee opened the last week of 2022 and we are so $!%@ing excited about it. We are definitely looking forward to another coffee shop to try- and finally a good shop around Crescent Lake that isn't the Market at Ale and Compass (so sorry- i have beef with the Yacht Club). This one looks like a fun place to be, and you know we will be showing you all of the coffee we can.
Things We *hope* get changed or updated in the parks in 2023

A New Park Pass System- We understand why it's here. But like *infomercial man voice*

there's gotta be a better way.

Maybe a Nighttime Parade back at MK? I cannot be the only one who misses the Main Street Electrical Parade!!!! I literally watched a recording of it on my lunch today cause I love it and miss it so much.

Park Hopping rules- let us hop before 2 pm come onnnnnn
In case you're feeling ~nostalgic for the year~ we made the cutest lil recap of 2022 for the Lost Bros and we would LOVE to see you do the same with this sound! tag us on all the things.
---
That's IT people! Everything we are ~hoping~ and praying to daddy Iger for in the new year!
Send us your thoughts and tell us everything YOU want to see in the new year--- and help us by tweeting and DMing us what you want to see us TRY, EAT, RIDE, and DO in 2023!
If you loves this little glimpse into the future - use code LOSTBROSBLOG for 10% off your next LB order and tag us in your merch pics!!!
GAH we are so excited!!
<3