Hello everyone and WELCOME BACK TO THE LOST BROS BLOG!!
We're kicking this thing back off with a round-up of EVERY NEW THING we tried at the 2022 EPCOT Flower and Garden Festival! Note that we won't be covering every single food item we tried in this blog, rather only the new offerings for this year. You can check out our top 5 favorites, best desserts, best gluten-free, and best plant-based blogs for a full recap. There's a ton of new food this year and a ton to go over so let's get started!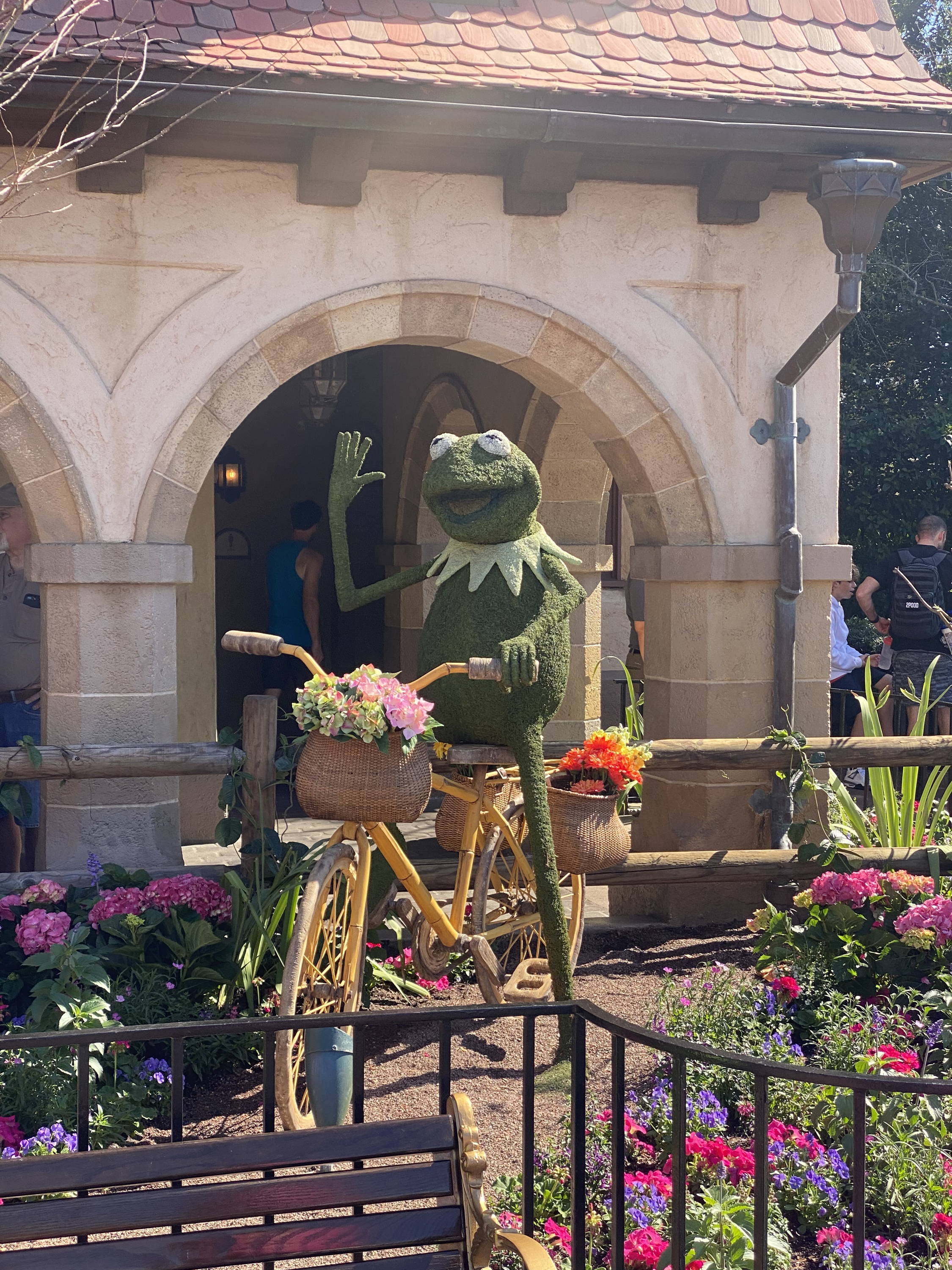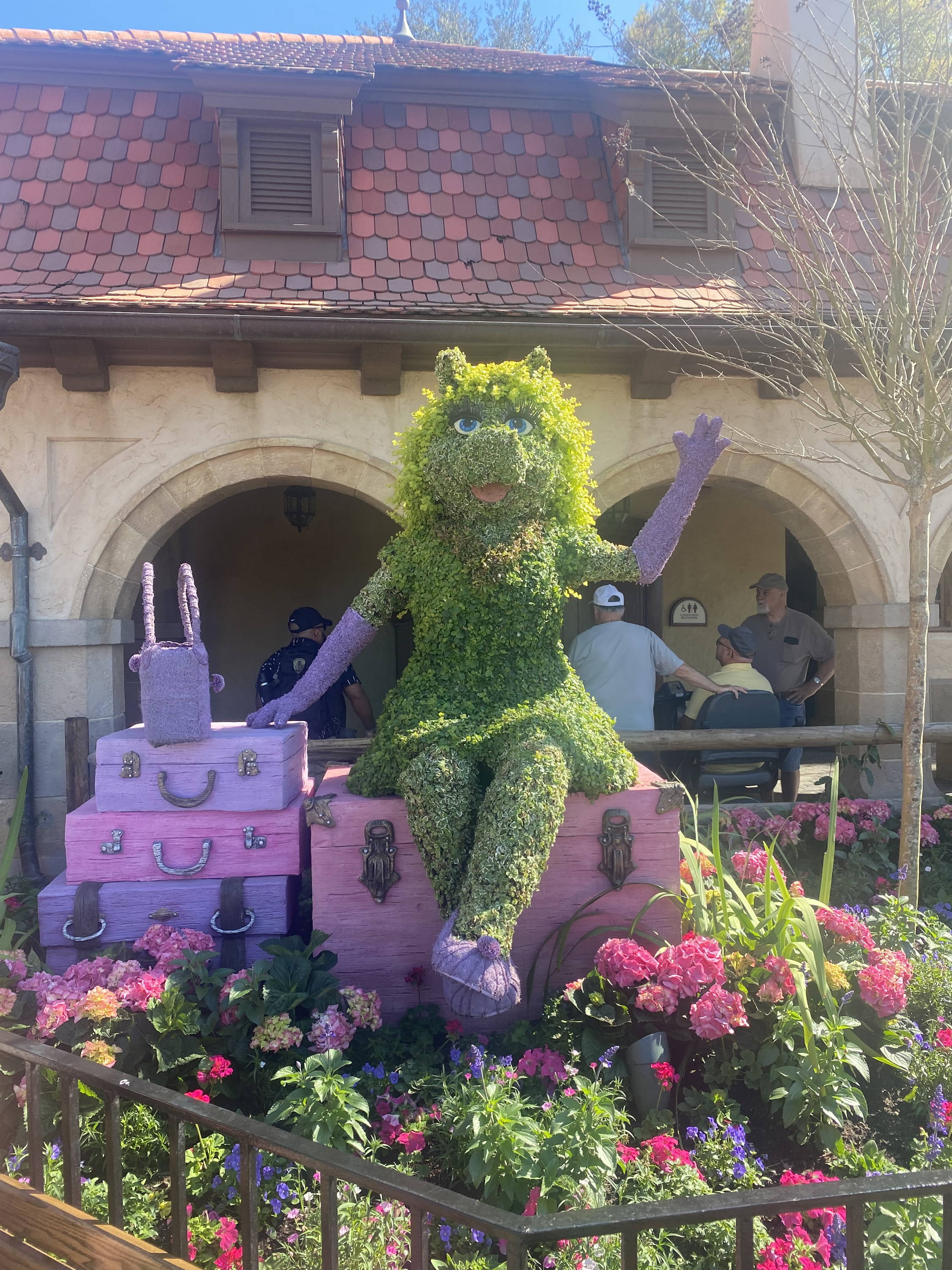 We started our day in what was probably the most anticipated booth of the year, La Isla Fresca AKA "the Encanto Booth" which came complete with the highly anticipated arepa offerings!
Arepa Topped with Chorizo - $6.25
Arepa topped with chorizo (New)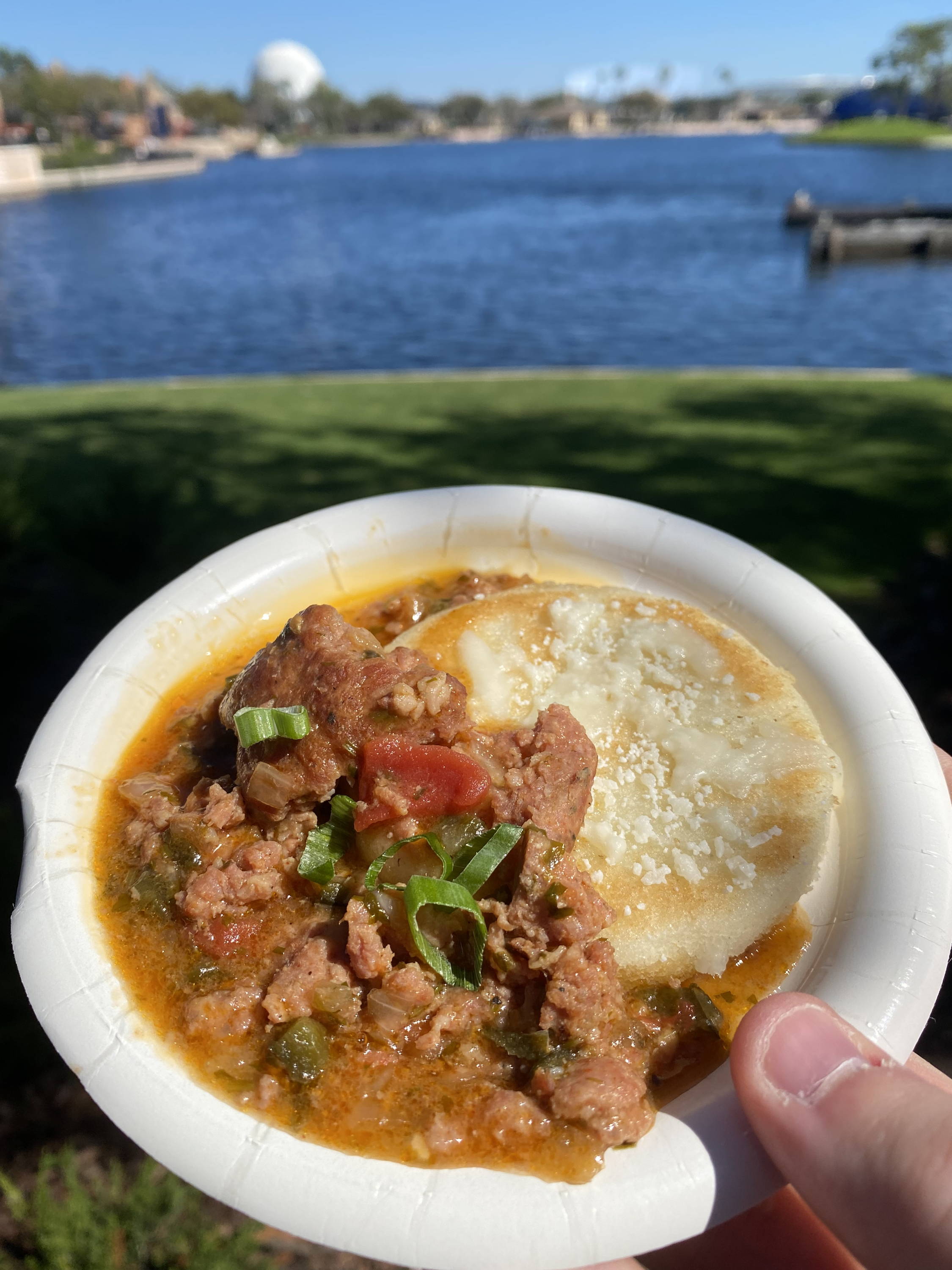 We have to say we were a little disappointed with all of the arepas we got, but we're hopeful that they improve over the life of the festival. These ones were received hardened and were difficult to even cut with a knife. The Chorizo was tasty and had a nice spicy kick to it, but it was also cold and the pool of grease it came sitting in was unappetizing.
Coconut Tres Leches - $4.50
Coconut Tres Leches: Vanilla cake soaked in oat milk, almond milk, and coconut milk with toasted coconut (New) (Plant-based) (Garden Graze)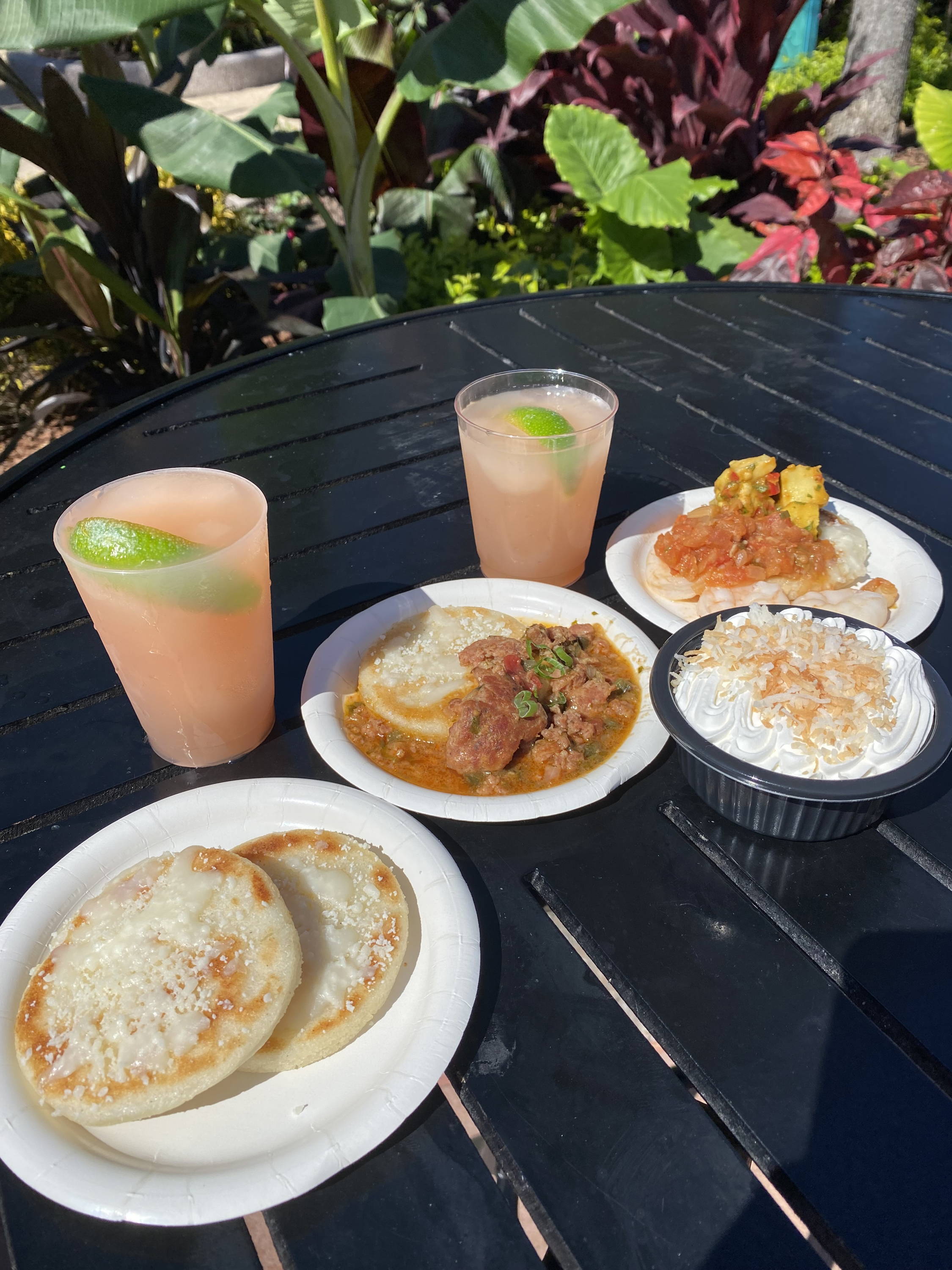 This one was enjoyed by some and not so much by others. It had a pound cake consistency, with the traditional milk at the bottom. The toasted coconut on top added a fun texture and we really loved the decision to make it plant-based by using oat, almond, and coconut milk. For the price, this was a great valued traditional dessert.
Tropical Breeze - $4.50 (non-alcoholic), $11 (alcoholic)
Tropical Breeze: Lemonade, grapefruit juice, and simple syrup (non-alcoholic) with Don Q Limon rum (alcoholic)(New)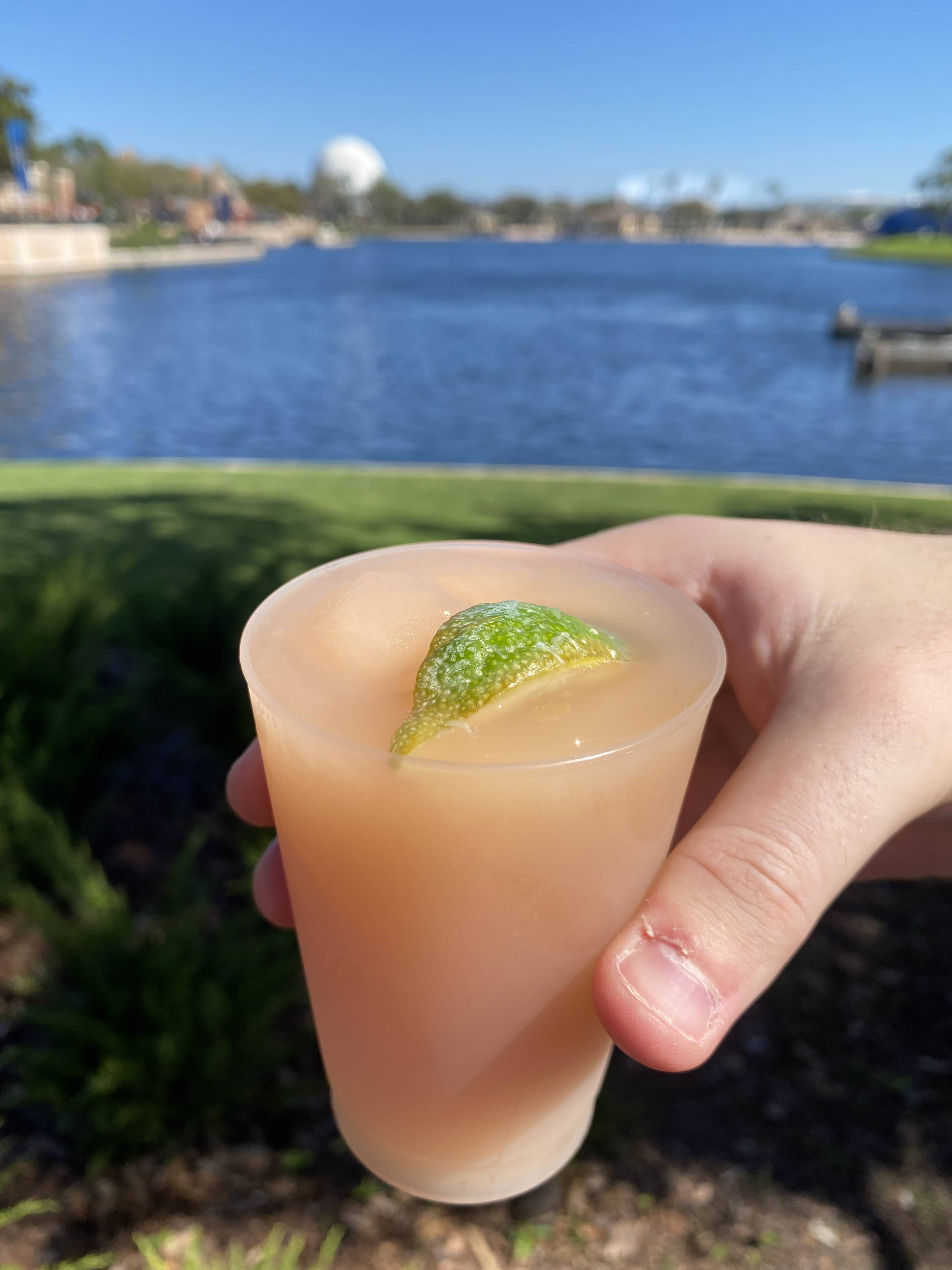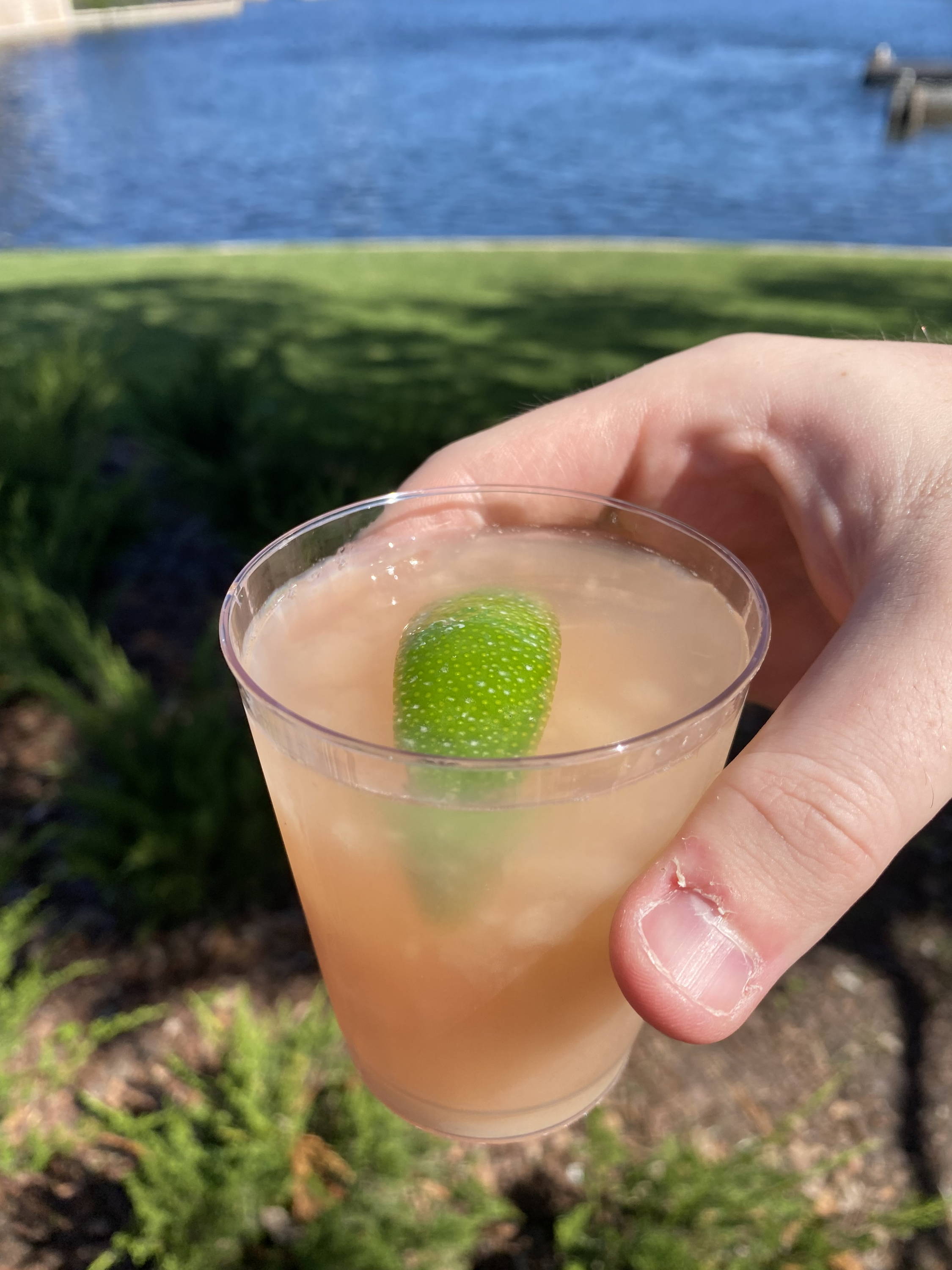 Both versions of these were tasty and very refreshing for a hot day. The alcoholic version came frozen while the non-alcoholic one came on the rocks, so beware of that going in. Both were very tropical in flavor and the alcoholic one was poured pretty strong. These are both highly recommended at this year's festival!
Cider House (United Kingdom)
BLT Scone - $5
BLT Scone with Nueske's applewood-smoked bacon, sundried tomato, and basil (New)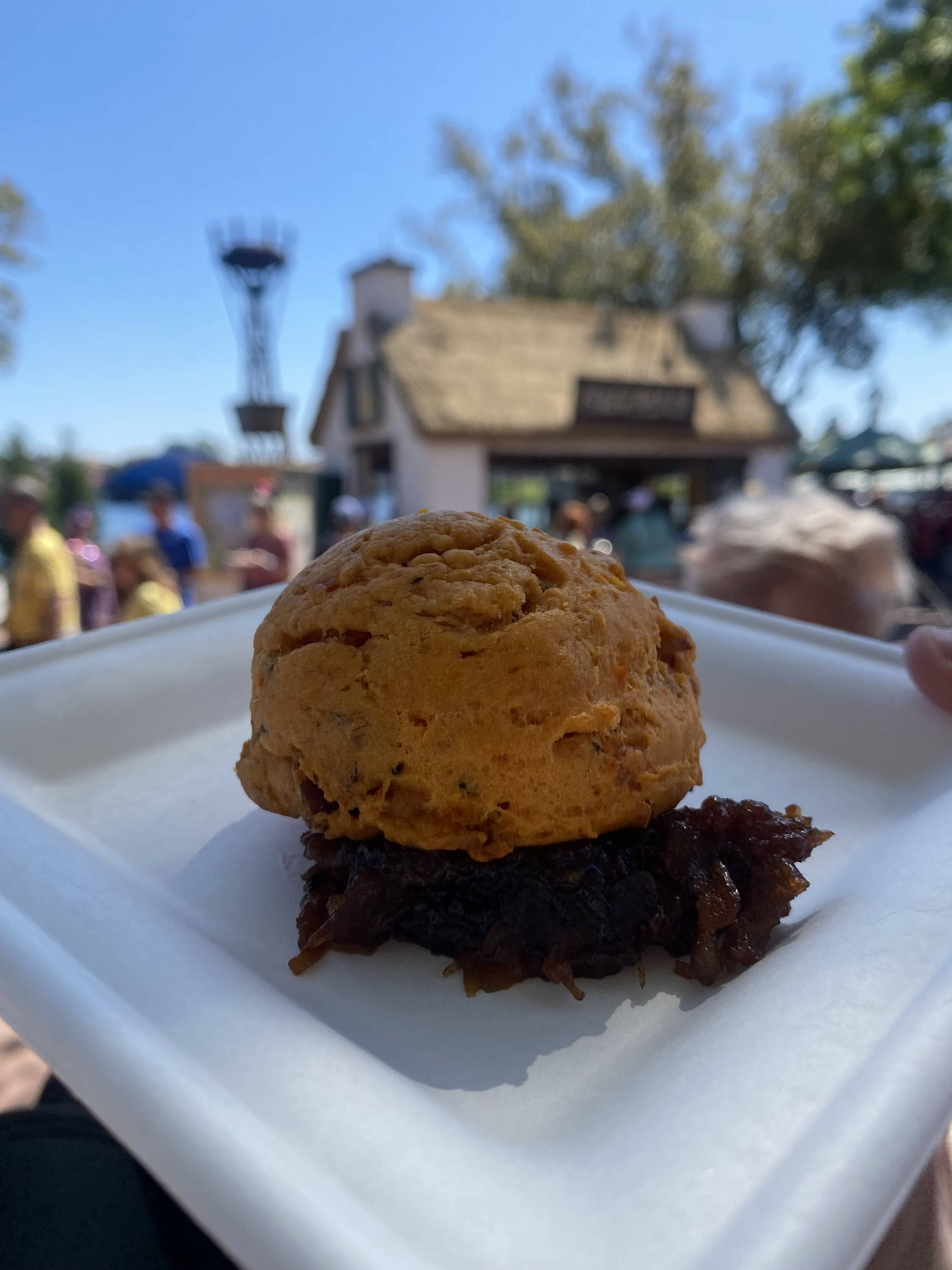 The only new offering at Cider House this year was the BLT Scone, which we all enjoyed. It was one of Cody's favorites from the festival and he says it would be amazing I'm with deli meat. The texture was perfect and the portion was good for the price.
Jardin de Fiestas (Mexico)
Enchilada de Mole Negro - $7.50
Enchilada de Mole Negro: Chipotle chicken in a corn tortilla with mole negro, avocado mousse, crema Mexicana, and queso fresco (New) (Gluten/ Wheat Friendly)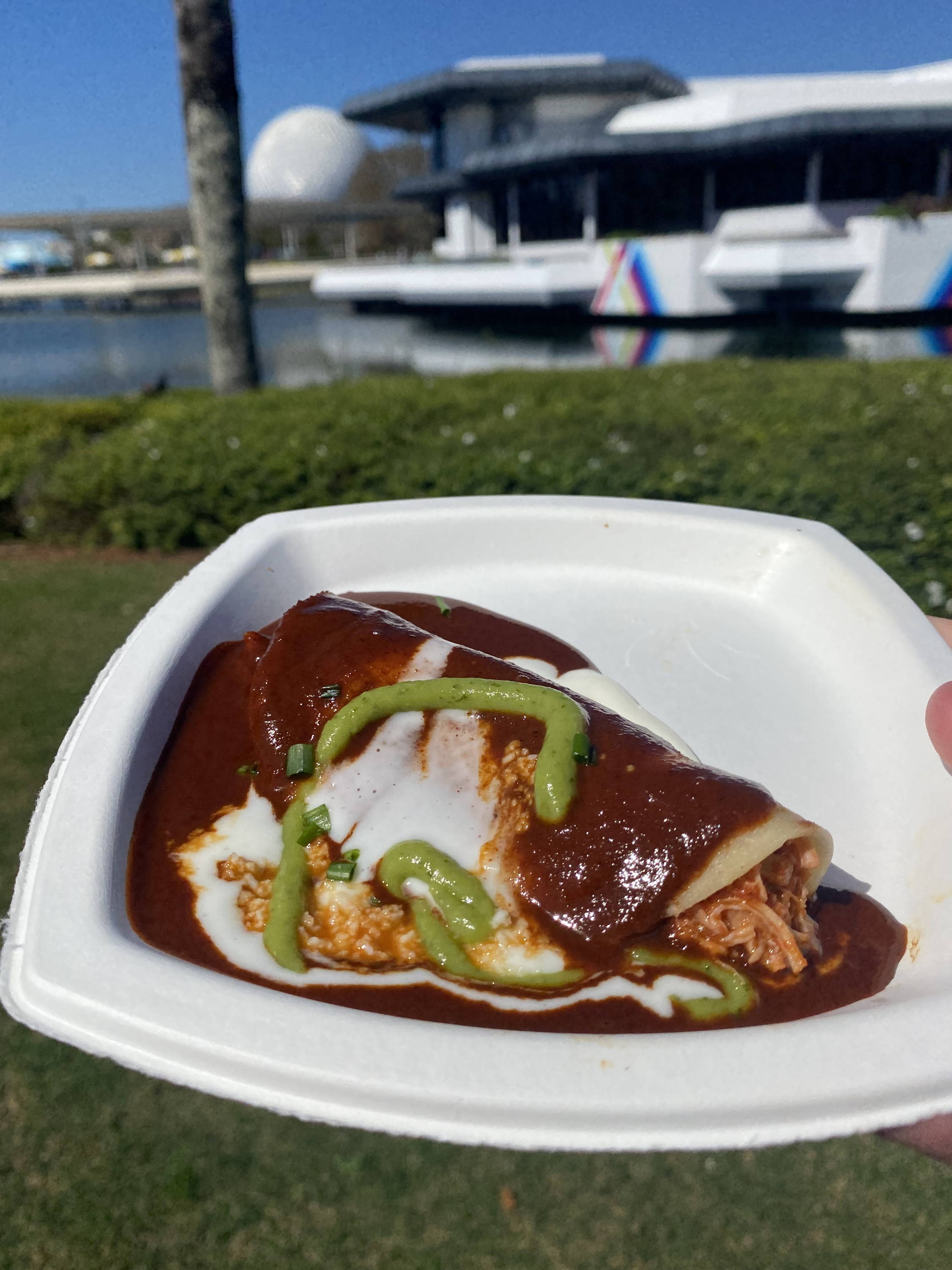 This one was by far our favorite from this booth, and it was one of Cody's highlights from the whole festival. The portion of chicken was plentiful and even overflowing out of the tortilla. The Mole Negro was extremely rich in flavor and had almost a nutty taste to it, while the Avacado Mousse helped to balance out the darker taste.
Taco Vampiro - $8
Taco Vampiro: Barbacoa beef in a corn tortilla with crispy grilled Monterey jack cheese, salsa ranchera, and esquites

(New) (Gluten/ Wheat Friendly)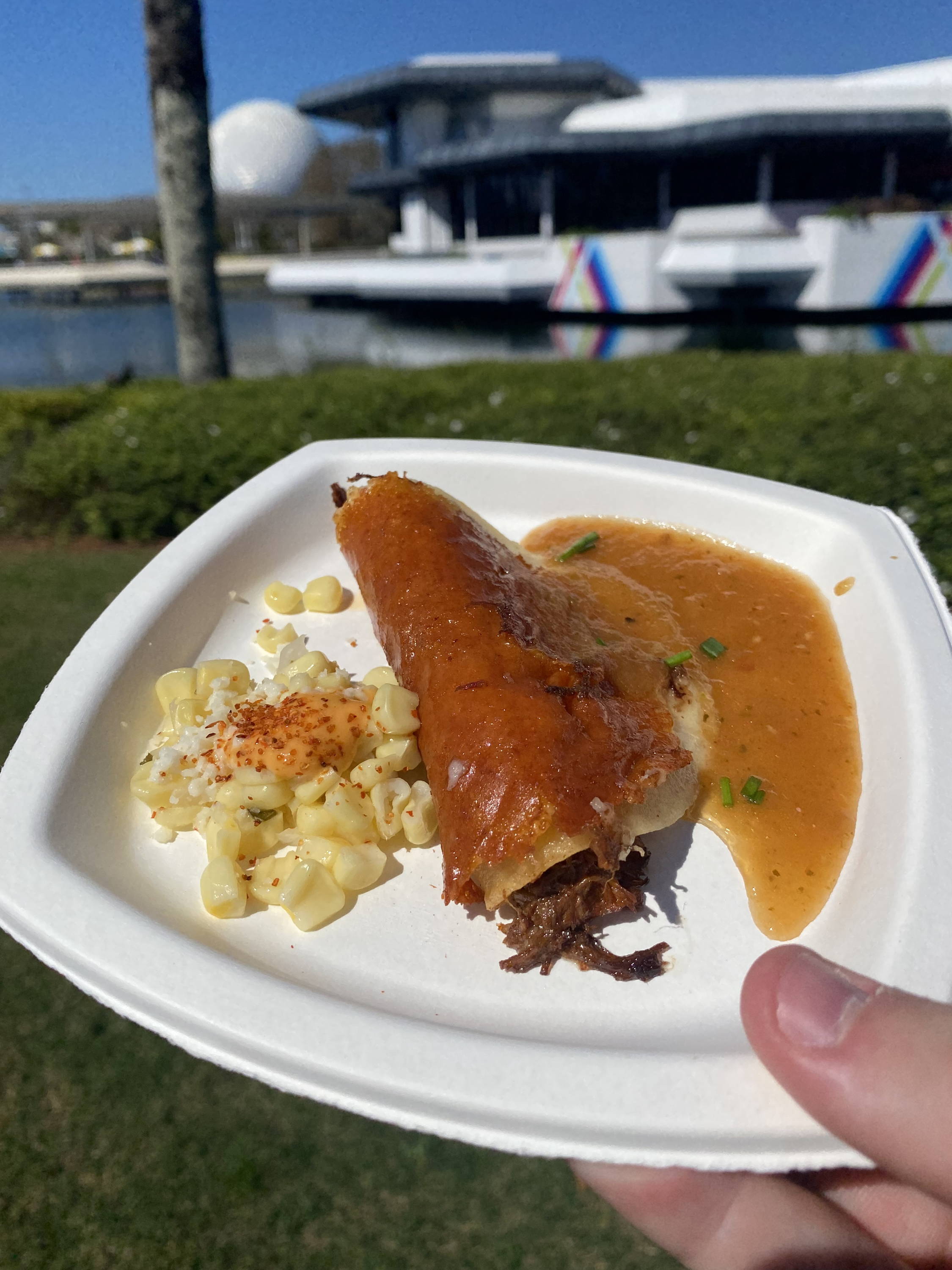 With a higher price point, this one was still tasty but not quite as compelling for the value. The beef was moist and cooked well. The corn on the size was fairly plain and the cheese and salsa ranchera didn't do much for us.
Tostada de Chorizo - $7.75
Tostada de Chorizo: Plant-based Chorizo and black beans on a crispy corn tortilla with avocado mousse and queso fresco (New) (Gluten/ Wheat Friendly)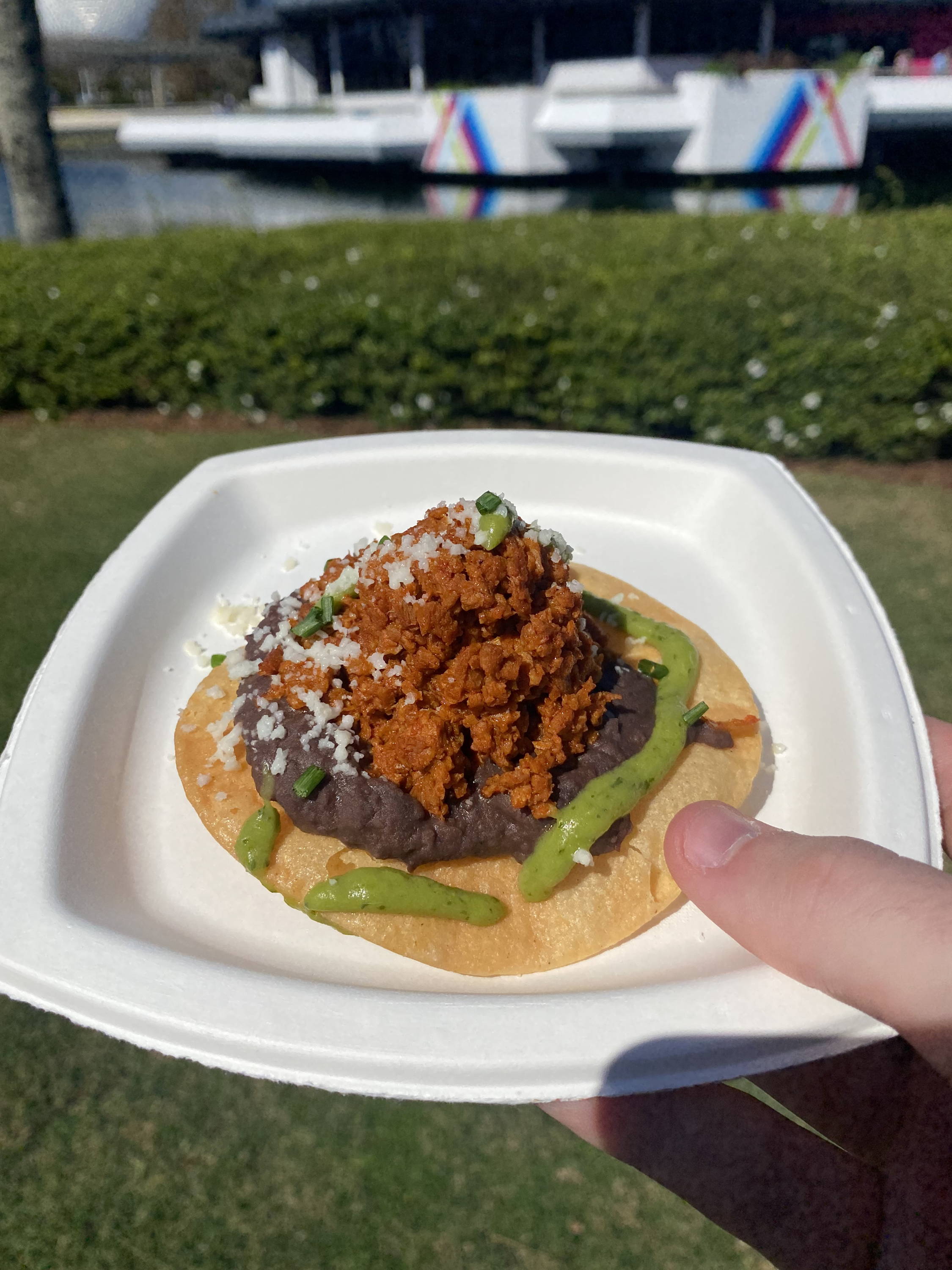 This was one of the best plant-based dishes we've had in recent memory. The tostada was crispy and added a great crunch. The beans didn't do a whole lot for us, but the advocado mousse saved the day again with its refreshing flavor. The impossible Chorizo stole the show though. Cam ate the dish without even realizing it was plant-based and was amazed when he found out. It had a great kick and tasted just like regular meat.
Spicy Mala Chicken Skewer - $6.75
Spicy Mala Chicken Skewer (New)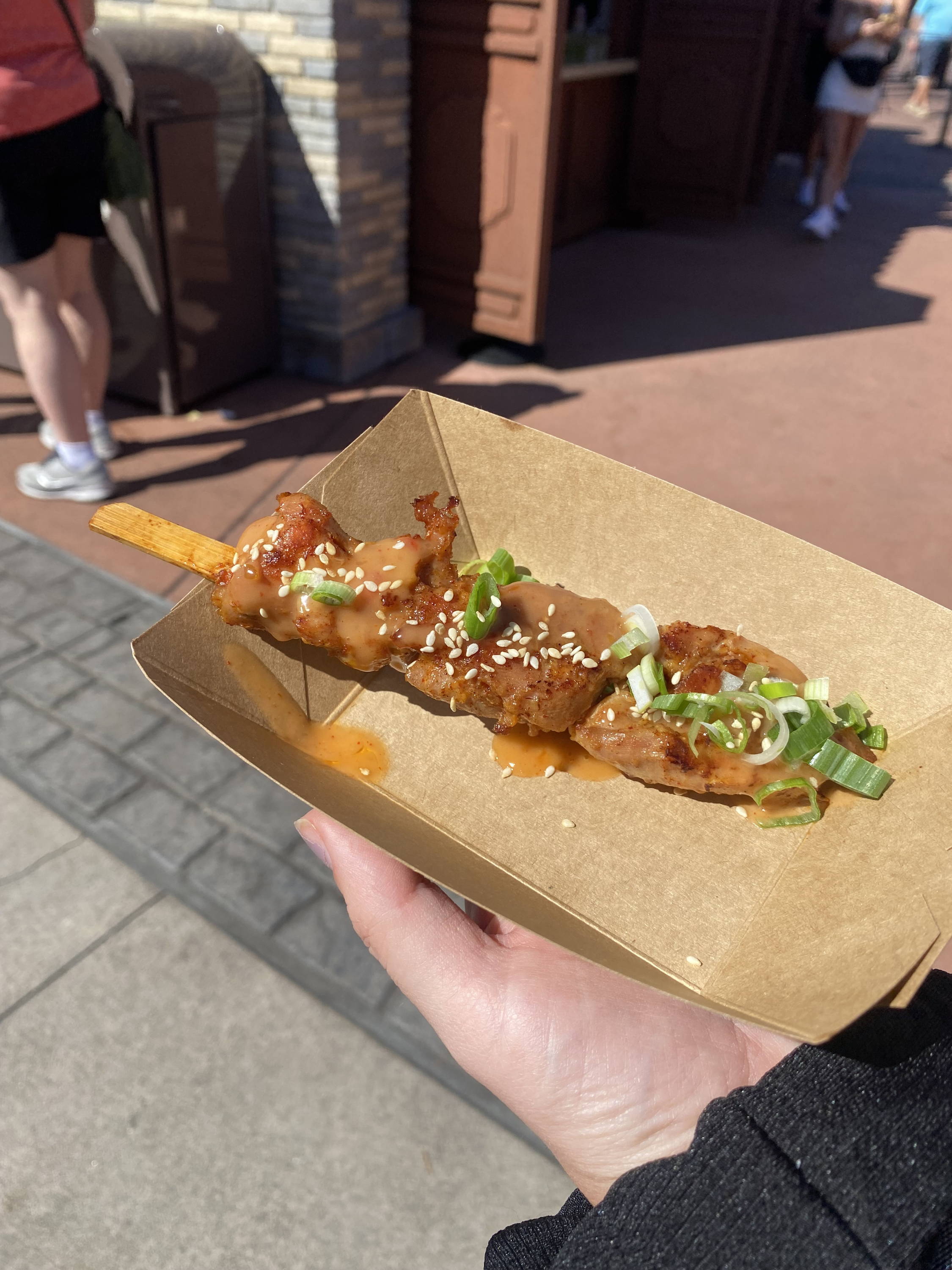 This was another great addition to Lotus House. The portion was just ok for the price, but the sauce and garnishes were sweet and tasty. The chicken was also tender, moist, and tasted great.
Rose Bubble Milk Tea (non-alcoholic) - $8.75
Rose Bubble Milk Tea (non-alcoholic) (New)
It's hard to recommend any drink that costs $8.75, and this one was no exception. It was pushing 90 degrees on this day and walking around with a stomach full of milk just sounded like a recipe for disaster. However, it was still a sweet and floral tasting drink that we liked the flavor of. At its core, if you're a boba fan, this is a great drink. But again, not for us on a hot day like this and the value was poor.
Tangierine Café (Morocco)

Mediterranean Flatbread - $5.75
Mediterranean Flatbread with za'atar, artichokes, olives, mozzarella, and feta cheese (New)
Tangerine Cafe had only one new offering for this festival, but it certainly didn't disappoint! For the price, this is by far one of the best values of the year. The bread was a little crispy but not overcooked. None of us liked the olives that were included so we picked them off, but other than that the spices were fantastic and this was a clearly Moroccan-inspired dish. We highly recommend this one.
Croissant au Fromage de Chèvre, Herbes et Ail Rôtie - $6.75
Croissant with goat cheese, herbs, and roasted garlic (New)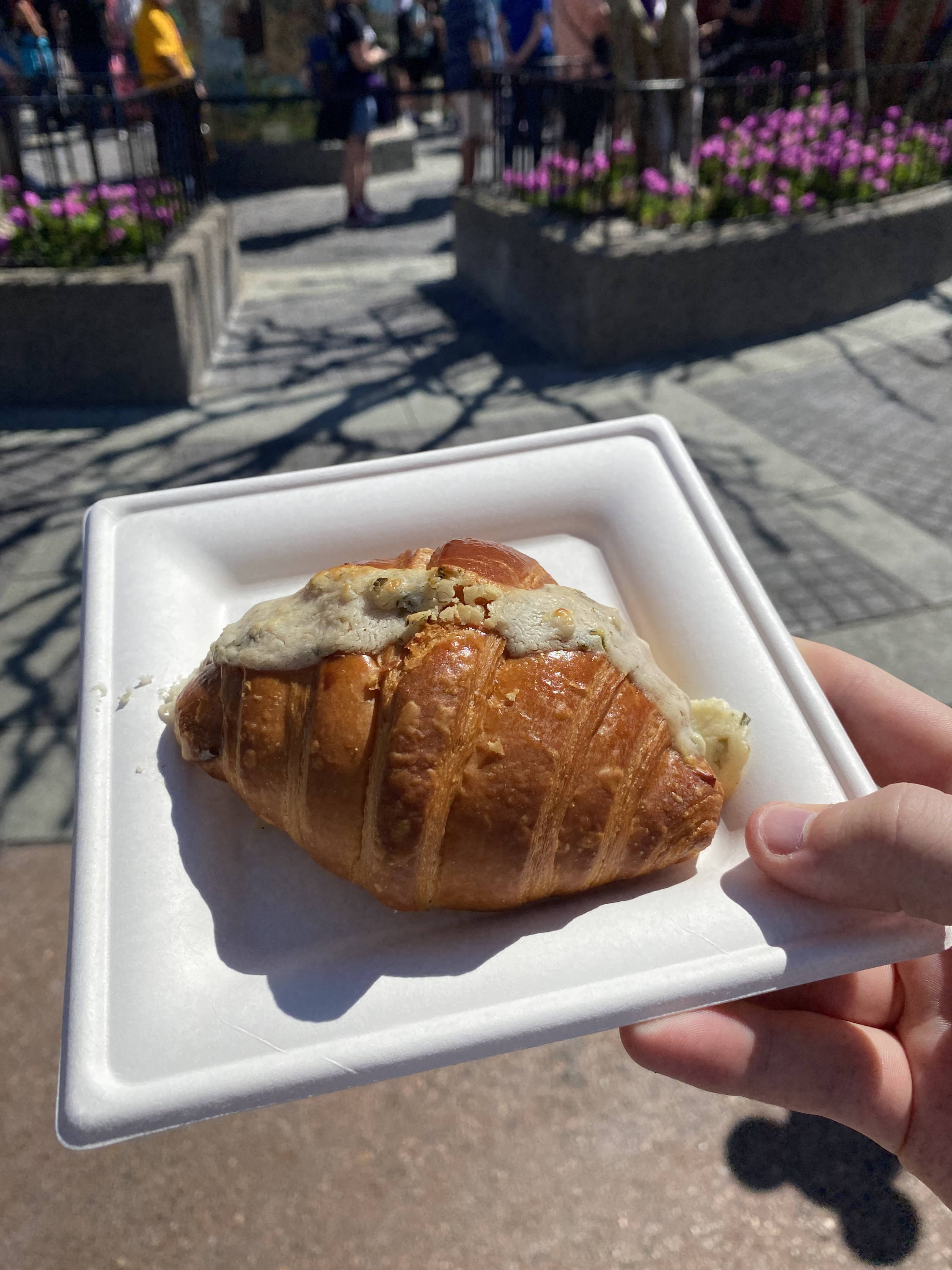 This was another pleasant surprise this year. At first, we were slightly worried about the cheese on top, but after biting into it we realized it was filled with fresh and delicious goat cheese which added a great sharpness to the croissant. This was one of Lex's favorites from the festival.
Salade de Lentilles à la Lyonnaise - $5.50
French Green Lentil Salad with bacon and garlic sausage (New)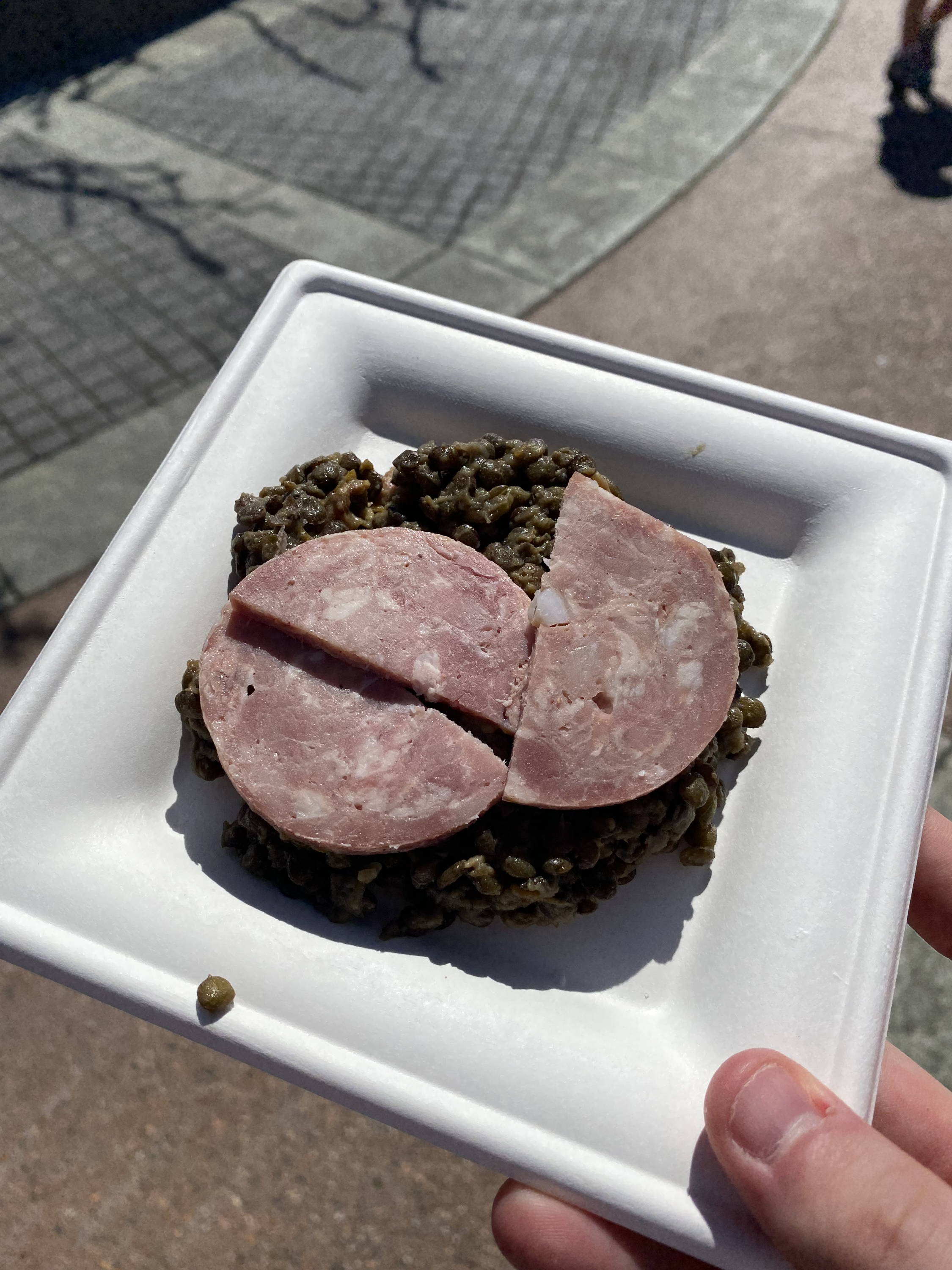 We couldn't help but make fun of the presentation of this dish. Visually, this is one of the worst presented dishes we've ever seen anywhere. The flavor was better but still not good. This is a cold dish and there's just really nothing special about it at all, even for the low price point it still can't be recommended.
Crispy Mojo Marinated Pork Belly - $6.25
Crispy Mojo Marinated Pork Belly, with avocado cream, corn salsa, salsa verde, and plantain chips (Gluten/ Wheat Friendly) (New)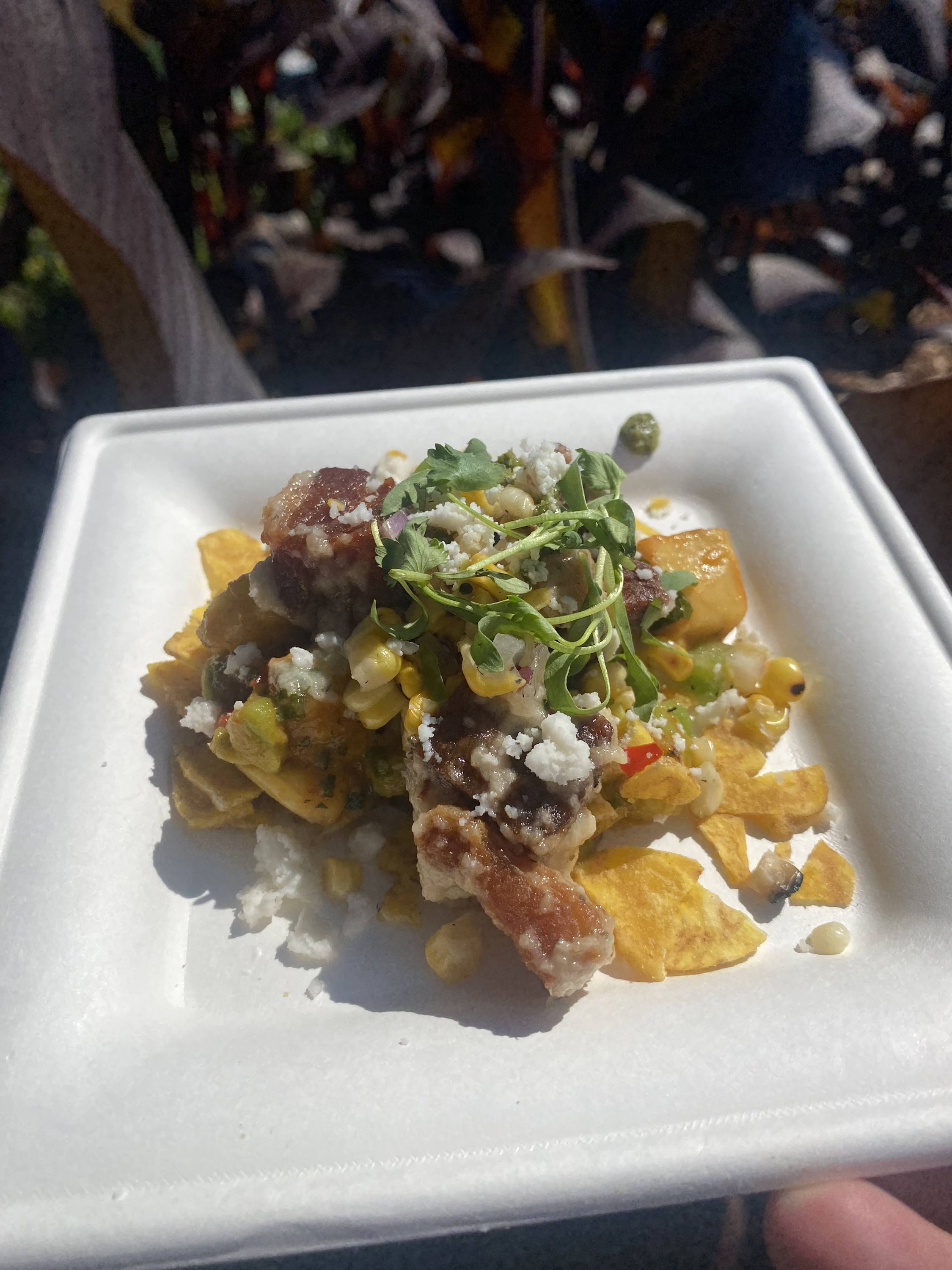 We all really loved the pork belly. It had great flavors with a great blend of different textures. The corn salsa was great and the pork belly was cooked perfectly Lex would come back again just for that!
Grapefruit Tart - $5.25
Grapefruit curd, lychee jam, ginger mousse, and yuzu cream (New)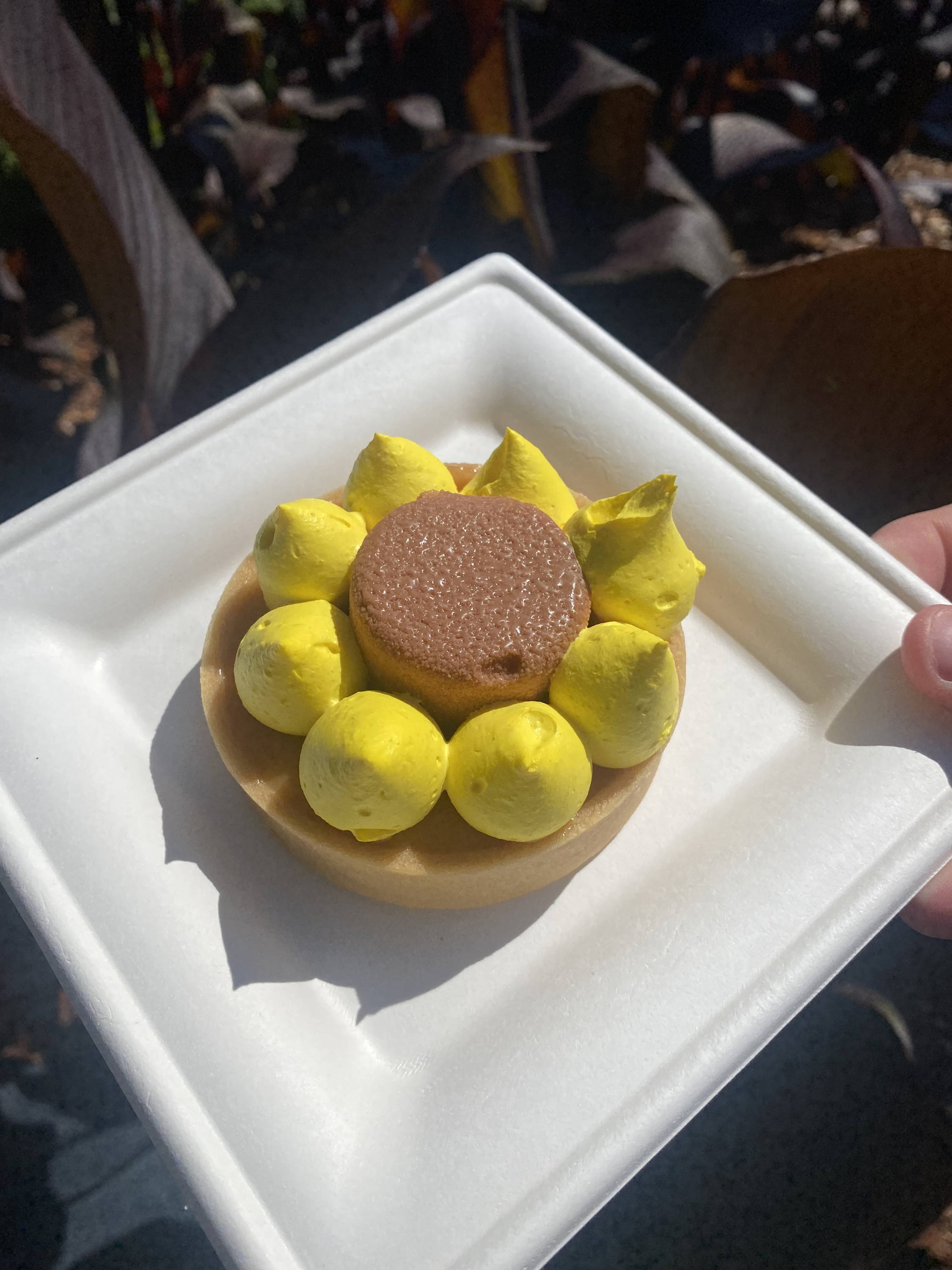 The tart was really great and had several layers of consistency. The grapefruit was maybe a little too much for our palate, but if that's your thing it makes for a great treat!
Chilled Potato and Leek Soup
"Vichyssoise" with chive oil and crispy leeks (New) (Gluten/ Wheat Friendly)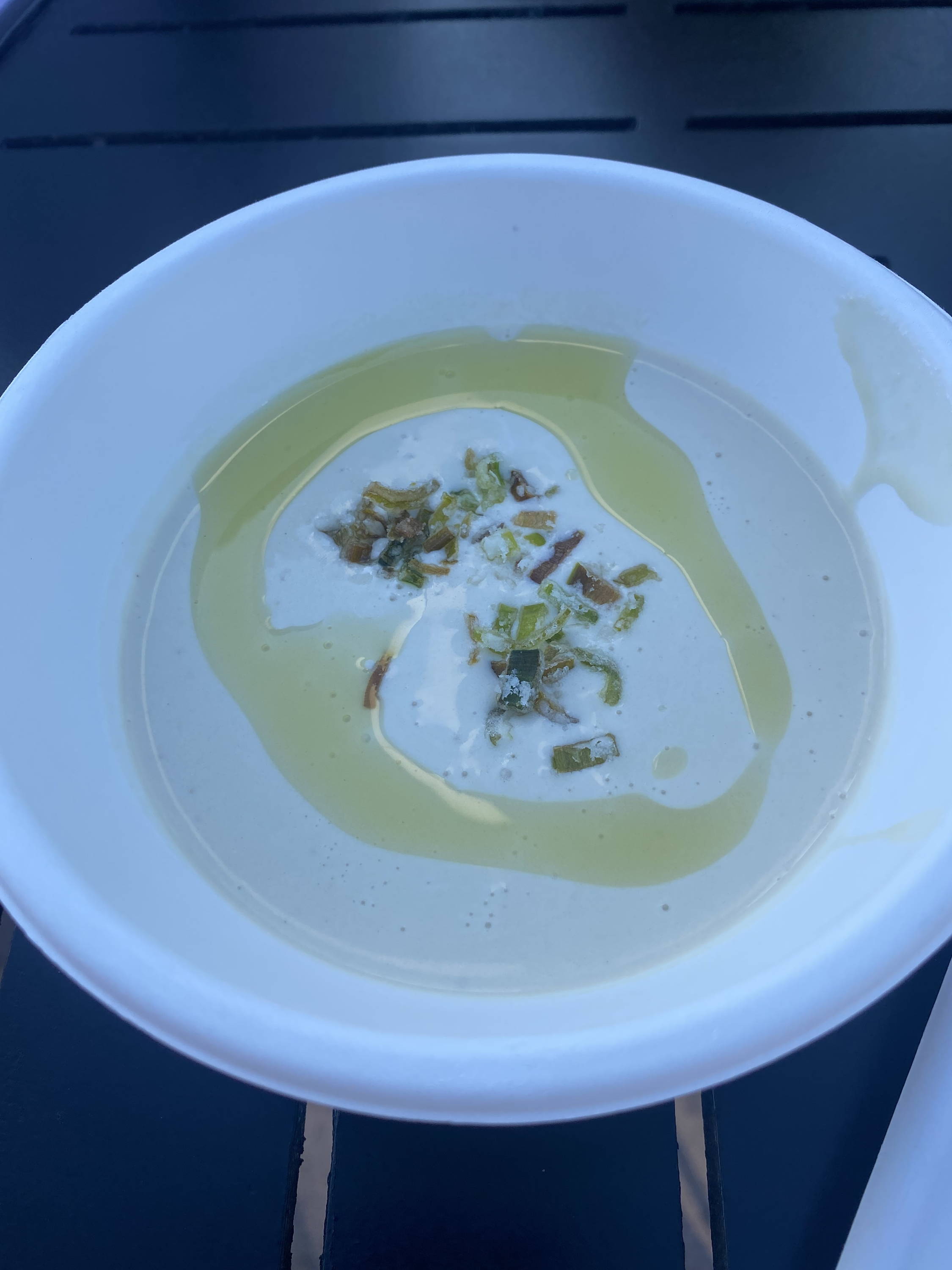 The Farmers Feast booth will have three rotating menus this year and this is the first of the lot. The Chilled potato and leek soup is served cold which we really weren't a fan of. It was very salty, but it did taste just like a potato so if that's your thing, it's worth giving it a shot. It was a skip for us.
Char-grilled Bison Ribe-Eye
Char-grilled Bison Ribe-Eye with creamy leek fondue, roasted carnival cauliflower, Romanesco and port wine-goat cheese butter (New) (Gluten/ Wheat Friendly)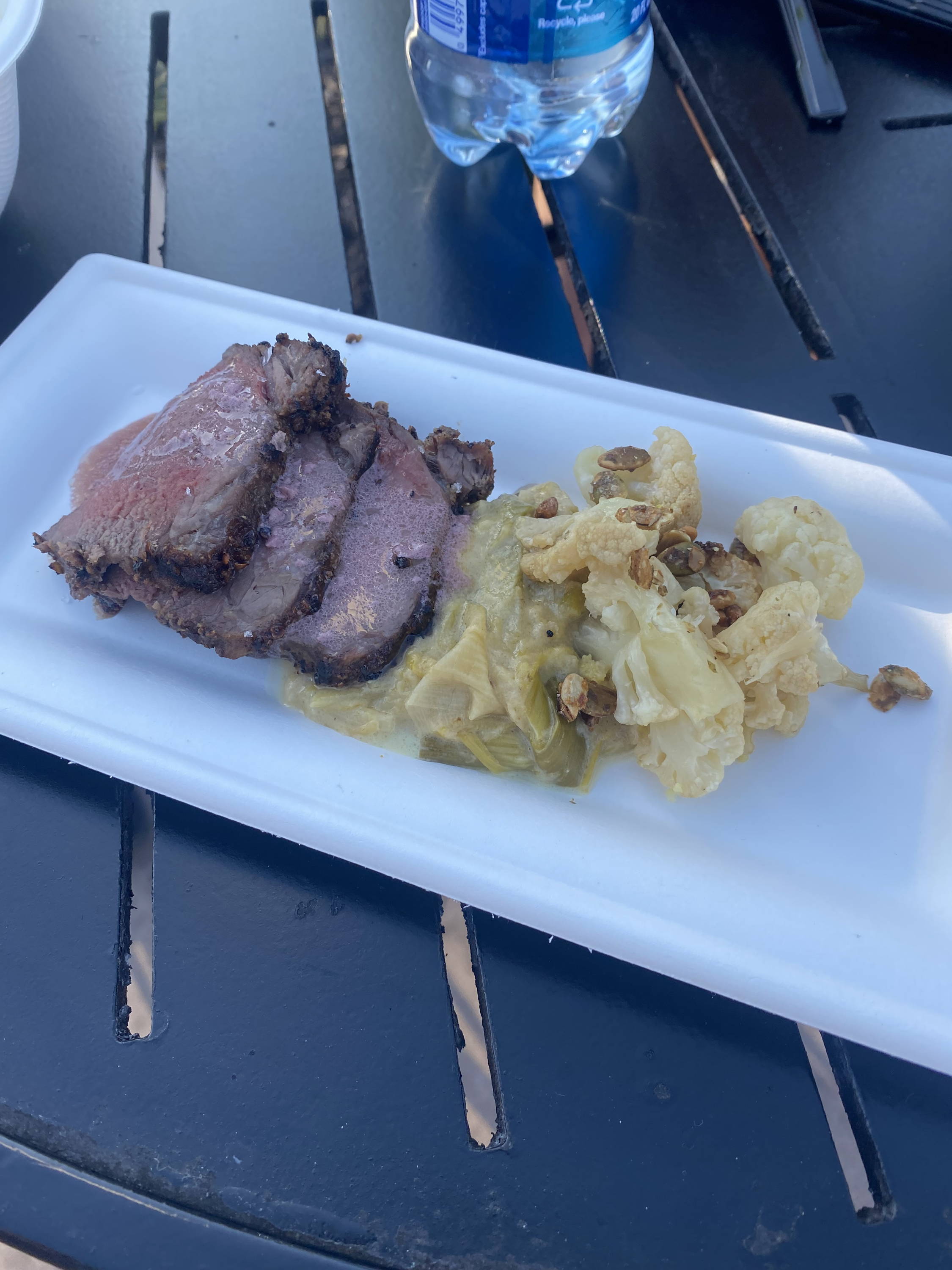 We were all huge fans of this dish and it was Cam's favorite of the festival. The portion was massive and it was cooked to perfection. The leek fondue was a great compliment to the dish and the cauliflower brought it all together. We recommend this one!
Goat Cheese Creamsicle Pop
Goat cheese Crémeux, orange cream, olive oil cake, cranberry sauce, and praline (New)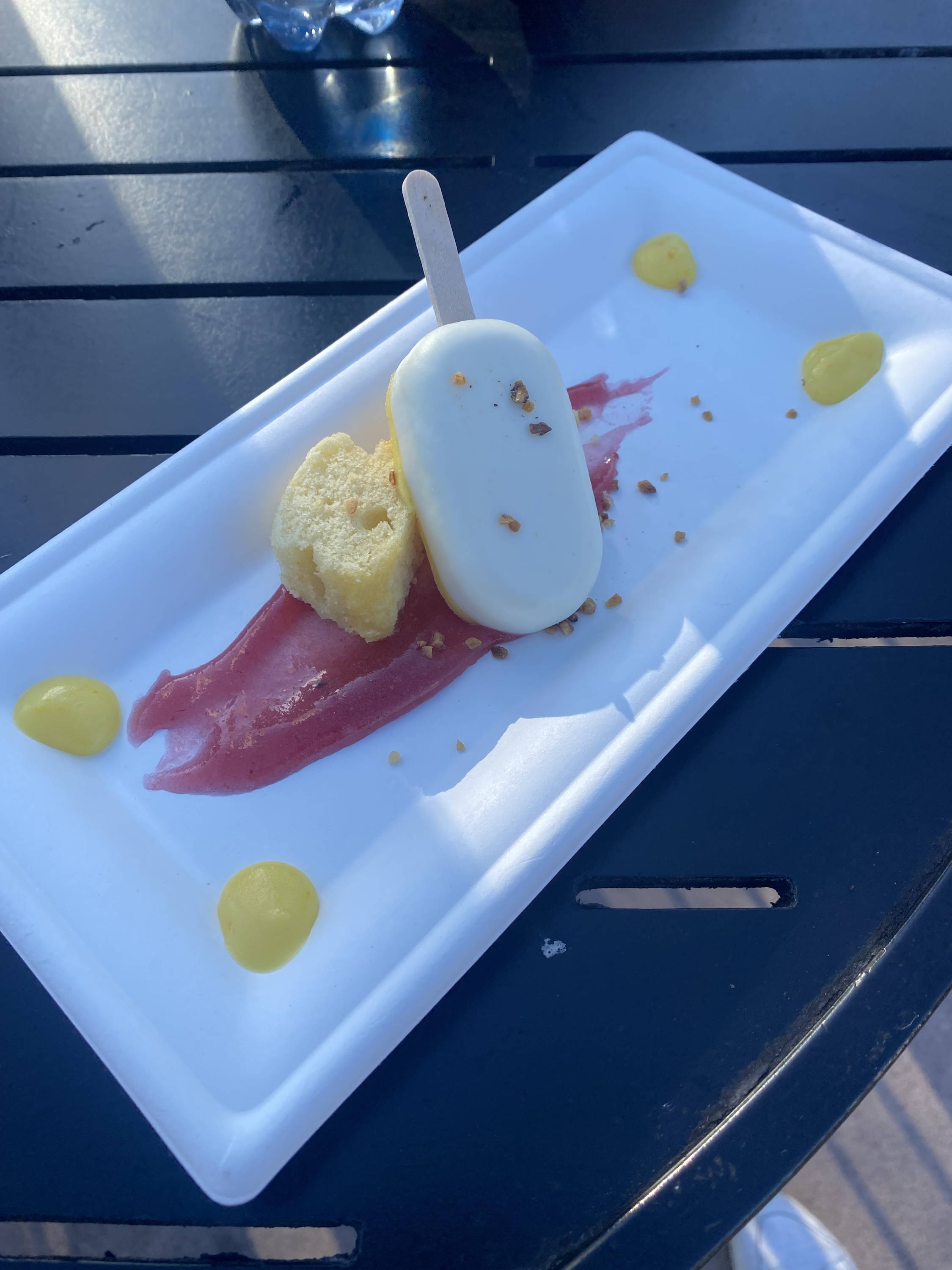 This was an interesting one. The general consensus was that we enjoyed its uniqueness. There is a really strong goat cheese flavor in this and we weren't huge fans of the bread it came with, but if you're looking to try something different this is a great route to go!
Strawberry Cheesecake Funnel Cake
topped with strawberry ice cream, cheesecake crumbles, strawberry drizzle, and whipped cream (New)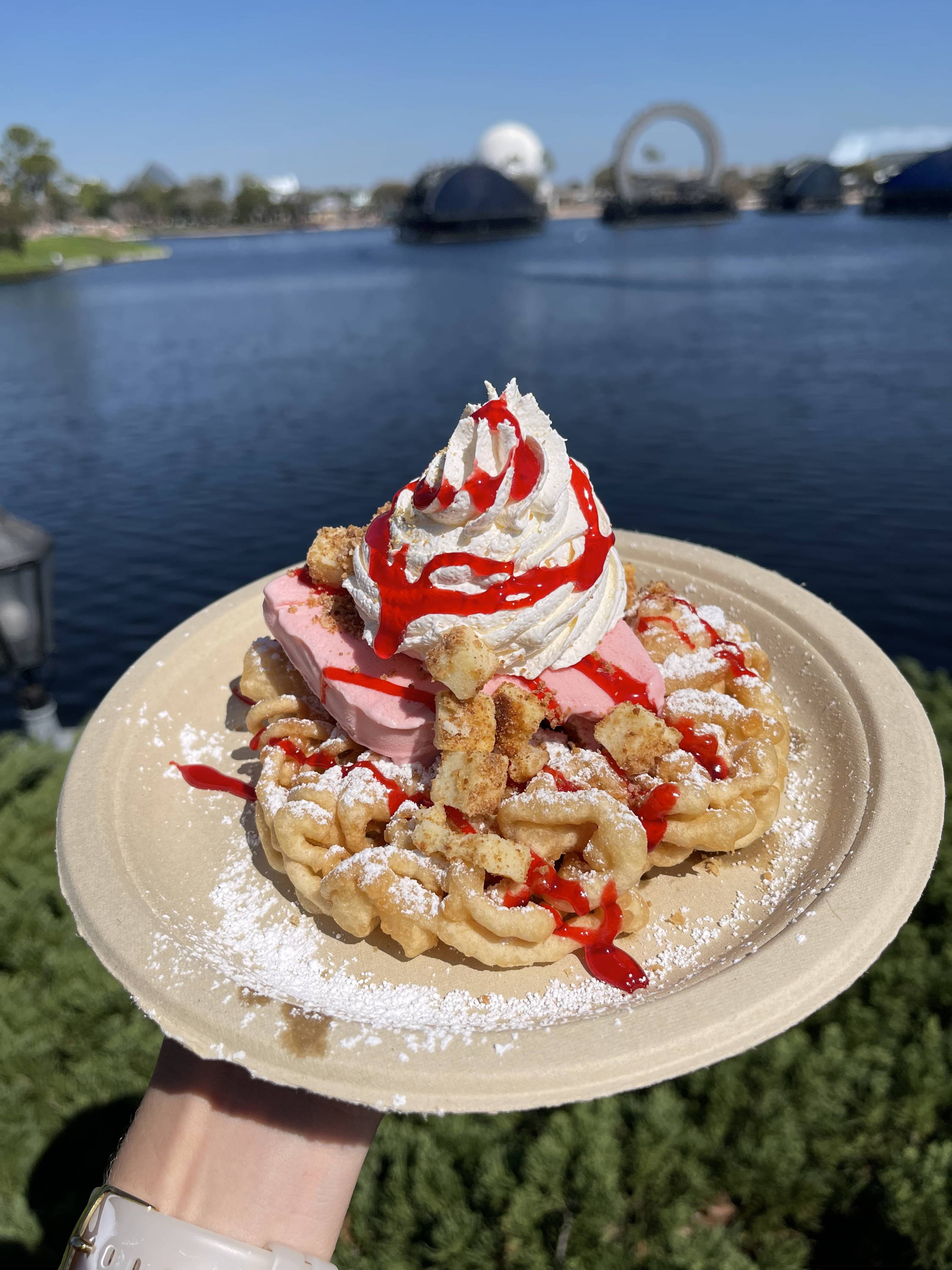 This was one of the better funnel cakes that the kiosk has served. We weren't a fan of the last cherry blossom one, but this one did a full 360 and ended up being the perfect topping for a funnel cake. It included strawberry ice cream, cheesecake bites, and a hearty portion of whipped cream with strawberry drizzle. This is a must-try at this year's festival!
That's it for the new offerings at this year's festival. Be sure to check back as we release our top 5 favorite dishes, our favorite desserts, and our favorite plant-based offerings!
If you liked this article make sure to check out our storehere, and use LOSTBROSBLOG for 10% off your first order!