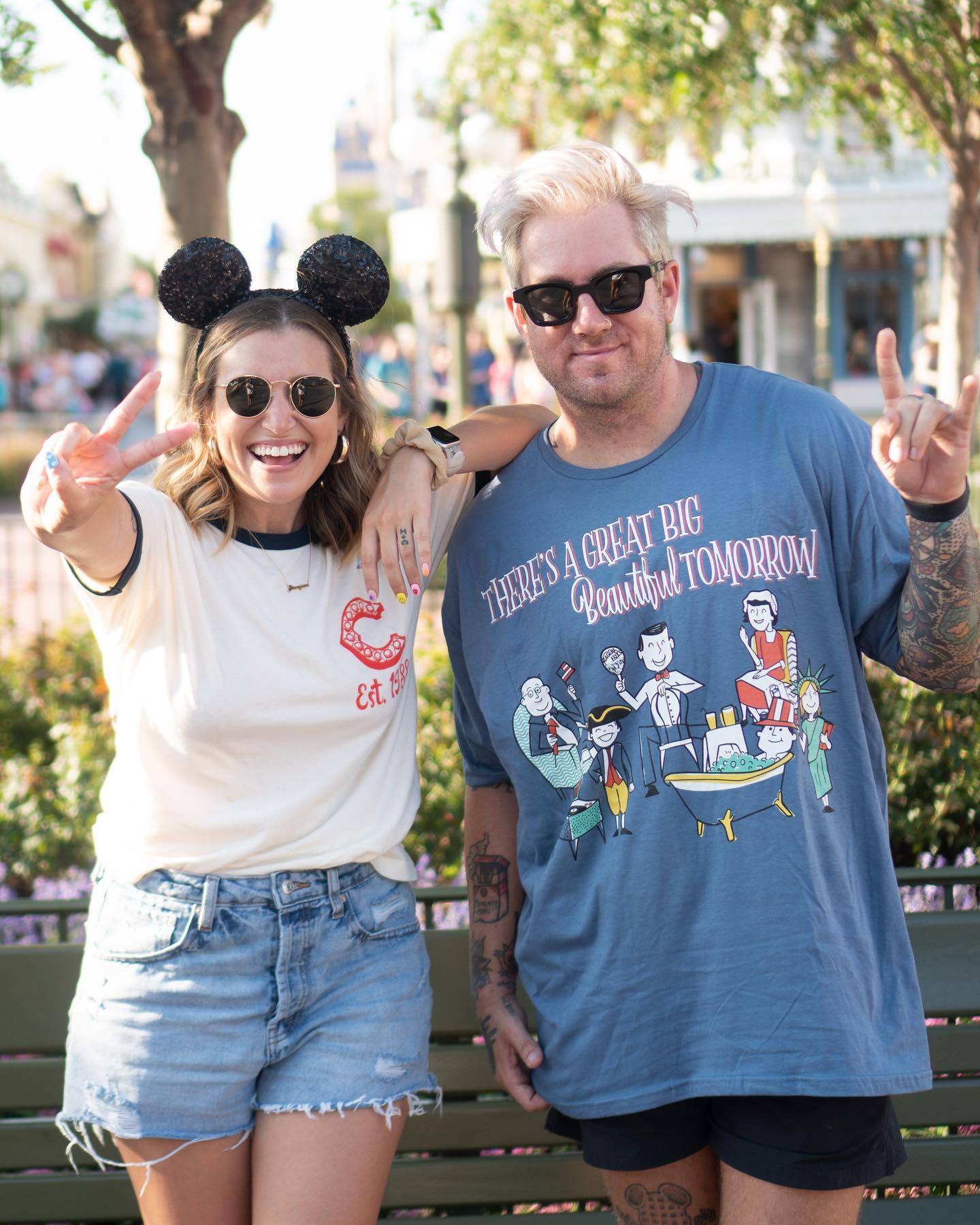 Hot People Don't Gatekeep!!
It's Summer here in Florida which means it's hot and muggy every single day. And we mean every. Single. Day. We do get evening showers just about every day, but those never last all that long and they usually just get rid of the sun, but that heat will stay! So today, we are going to share our tips and tricks (plus some of yours) on how we beat the Florida heat in the summers at WDW!
We asked over on Twitter for your favorite ways to combat these high temps and you gave us some good suggestions and also good laughs. If you wanna give us all the advice you have, be sure to follow along with us over there for memes, product announcements, and streams on consciousness that tend to be really random and make you question our sanity.
---
Always use an umbrella even in the sunshine! No one cares if you think you look silly- it is legitimately 10 degrees cooler without the sun beating down on you and this is how we survive every summer park day. If you've ever seen a photo of Lex looking fabulous on a 95 degree day, you can thank her trusted umbrella for reflecting the sun. And if you've ever seen a group of people walking around with reflective umbrellas and you thought it was a celebrity, it's probably us. Come say hi! lol
Water bottles. If you've heard the term emotional support water bottle and thought "wonder who has those" its quite literally our entire team. These babies go with us everywhere- including parks. I like trying to find mini backpacks that fit mine! Find one with insulation that will keep things cool!!
We also always ask for water cups at Quick Service Locations bc you get them for free!!  
Mini fans. Those neck fans are actually no joke. They will keep you nice and cool and so will the little battery powered ones! If you think you'll use it- then definitely invest in them.
Stay ~Cool For The Summer~ in these tees
---
Do Rides with Indoor Queues- This is a good one and those queues are pumped with that AC to keep things from getting ~stinky~ so take a break in our favorite rides with exclusively indoor queues.
DO:Smugglers Run, Test Track, Most of Flight Of Passage, Pirates of the Caribbean (totally in the shade and covered), Soarin', Living With The Land.
AVOID: All of Toy Story Land lol, Haunted Mansion, Big Thunder Mountain, probably Mine Train, Tower of Terror lol
Stack your Shows during the Heat of the Day. This is another good one! Waits for shows (mostly inside) even if they're outside will only be as long as the show is, so things like Muppetvision, Hall of Presidents (blech), and Philharmagic will all have theaters full of cool air. Do those outdoor rides/queues in the morning or night and save those heat of the day activities for indoor things!

Plan Dining Reservations During The Heat of the Day too! Those sit down restaurants have great food and cold drinks to keep you hydrated in the heat! Sitting down at an indoor restaurant like Liberty Tree Tavern, 50's Prime Time, or even grabbing a drink at Oga's Cantina at an off-time in the sunshine can help you feel refreshed and ready to keep going int othe night. (Just drink LOTS of water- combat that alcohol with hydration folks)
Ride the Monorail Around- Whether its from EPCOT or MK, the monorail has the AC and the seating during the middle of the day. In the morning and evening, it's usually busy, but midday its a great little ride around! Plus, you can always book a dining reservation at a monorail resort and eat lunch a little bit away from the magic and craziness. See Grand Flo Cafe, Kona Cafe, and Steakhouse 71 Lunch. :-)
Keep These In Mind
Cooling towels

Preventive Liquid IV's

Light clothing (Moisture wicking and/or sun protecting!)

Sunscreen

Travel Deodorant/ perfume in your bag to help you feel fresh
---
We hope these tips and tricks have helped you better prepare for how it realy can be here in a Florida Summer. Most importantly wear sunscreen, stay hydrated, and listen to your body!!
If you liked this blog be sure to use code LOSTBROSBLOG for 10% off your next order!
If you want to see more of what we're up to day to day- be sure to follow us on
Insta @thelostbros + tiktok @thelostbros + Twitter @lostbrostweets
---