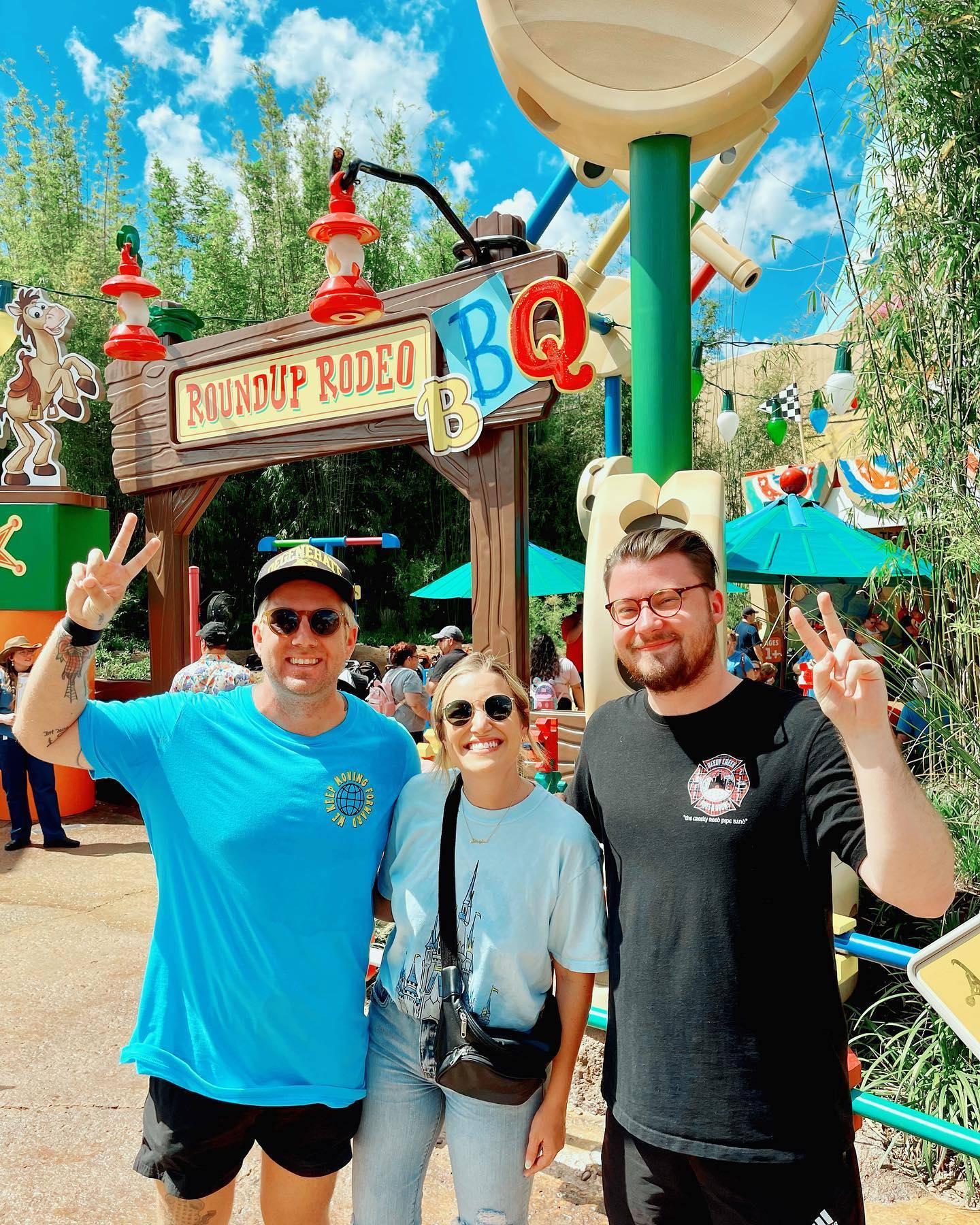 It's time for the Lost Bros round up of the rootin' tootin' time of what we ate at Round Up Rodeo BBQ in Disney's Hollywood Studios!!
Coming in at $45 a plate for adults and $25 a plate for kiddos, this family style (that means if you want more- they bring more! just have to ask for more of whatever you'd like!!) lunch + dinner restaurant has definitely brought something to hollywood studios that's been missing. This is a totally unique dining experience we haven't had in WDW- because we've tried to find something to compare it to- and we can't!
Here we're giving you our totally honest review of this new spot in Toy Story Land and answering the age old family dining price point quesiton, "Is it worth it?"
Yee haw!
---
Tees Made For Studios Days 🥰
---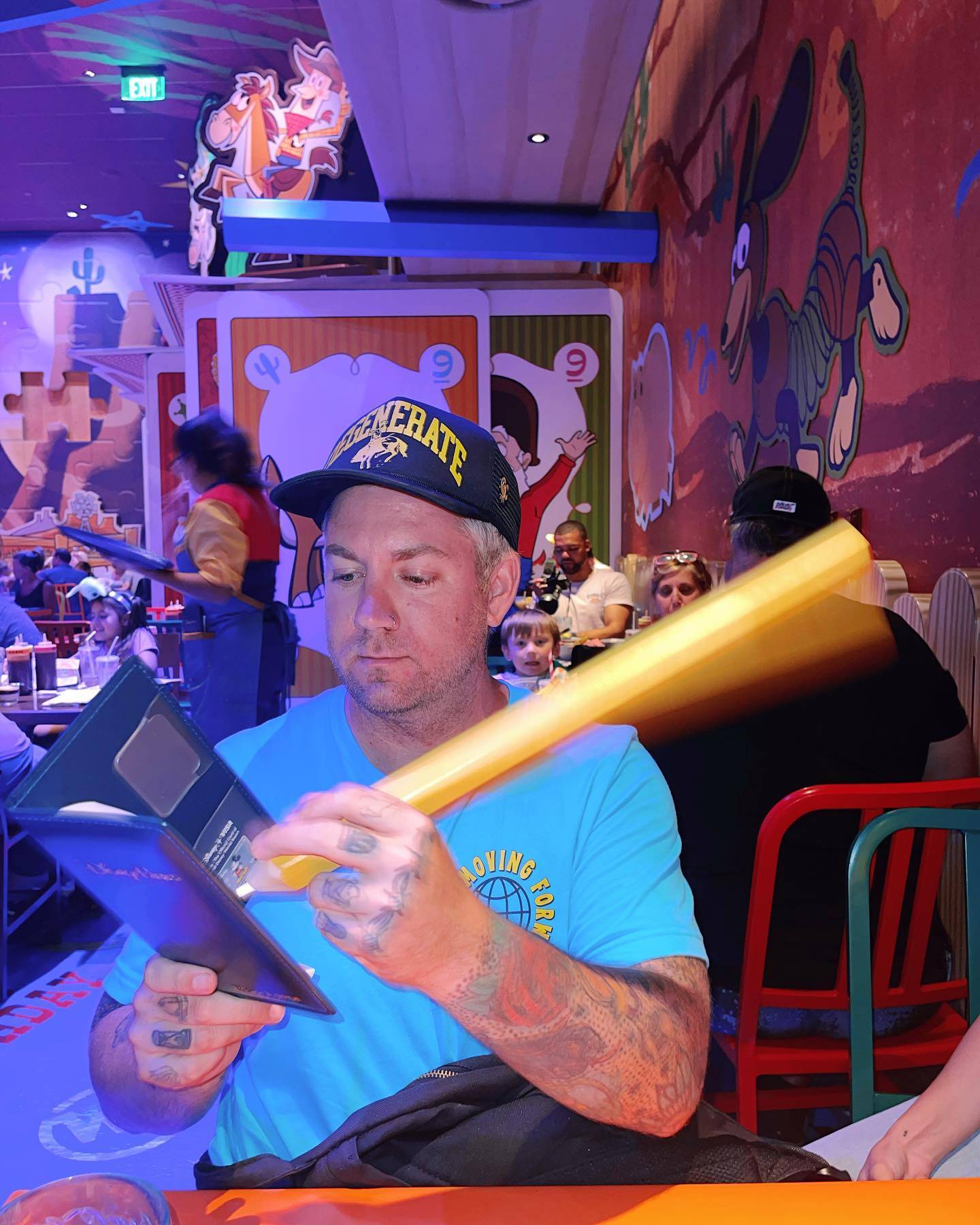 If you're like us and the queue for Toy Story Mania is a favorite- you will love this restaurant. We love entering through a constructed Rodeo Playset, made by Andy of course! When you walk in, you're offered the chance to ride stick horses to the table, and we fully recommend playing it up and galloping.... because why not!
The lighting and entire space really feels like an extension of the TSM Queue and the theming in the dining area is so freaking cute. Shrinking down to the size of a toy gets me every time!
(no spoilers here) There are some fun over the speaker and toy-related actions that happen during the meal too. You'll hear from some of your favorite characters as they navigate living in Andy's Rodeo Set he made out of cardboard, toy boxes, recycling items he's found, and of course the classic building materials of pencils, silly putty, and possibly chewed gum (we'll never really know)...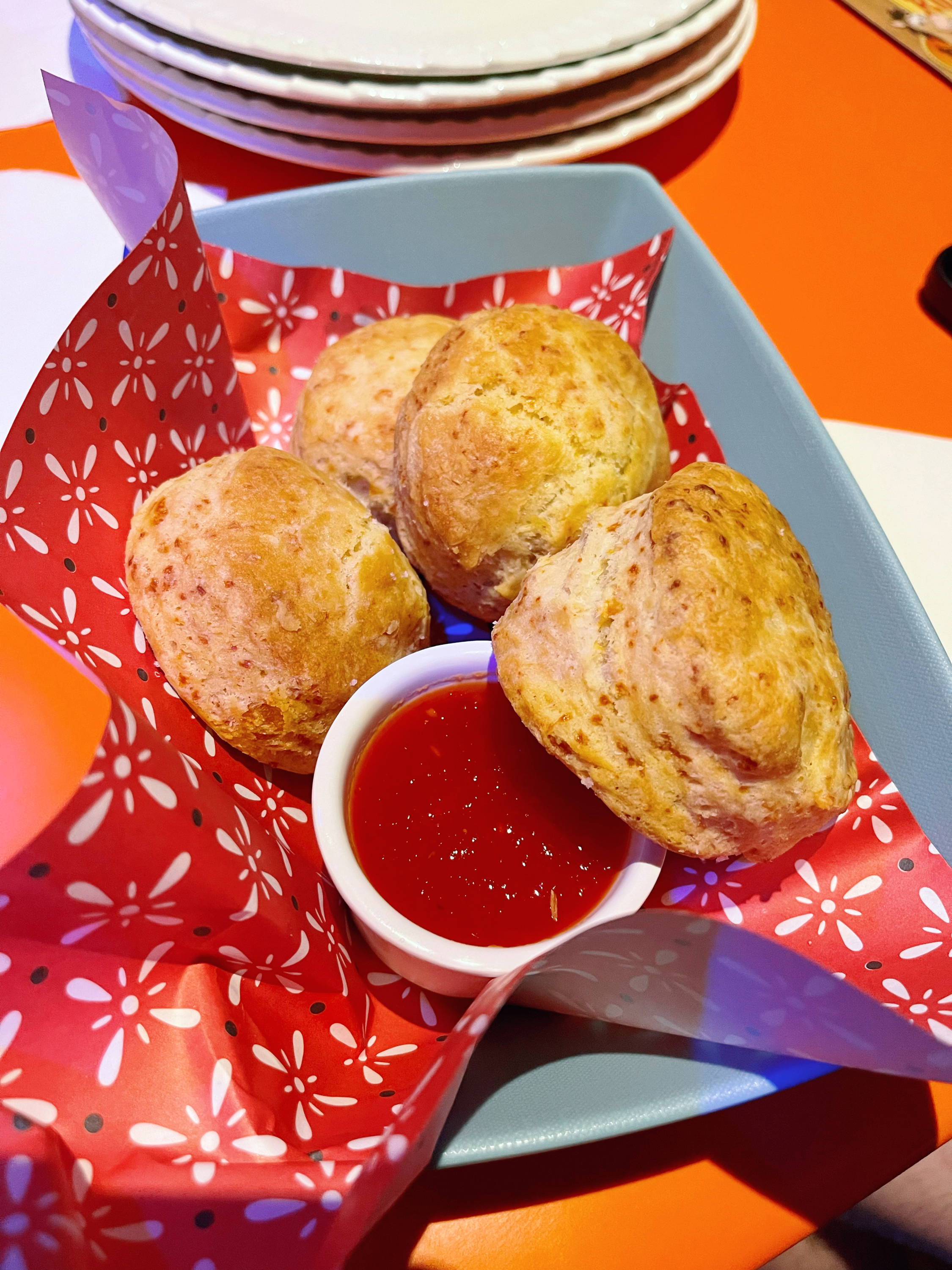 The Prospector's Homemade Cheddar Biscuits with Sweet Pepper Jelly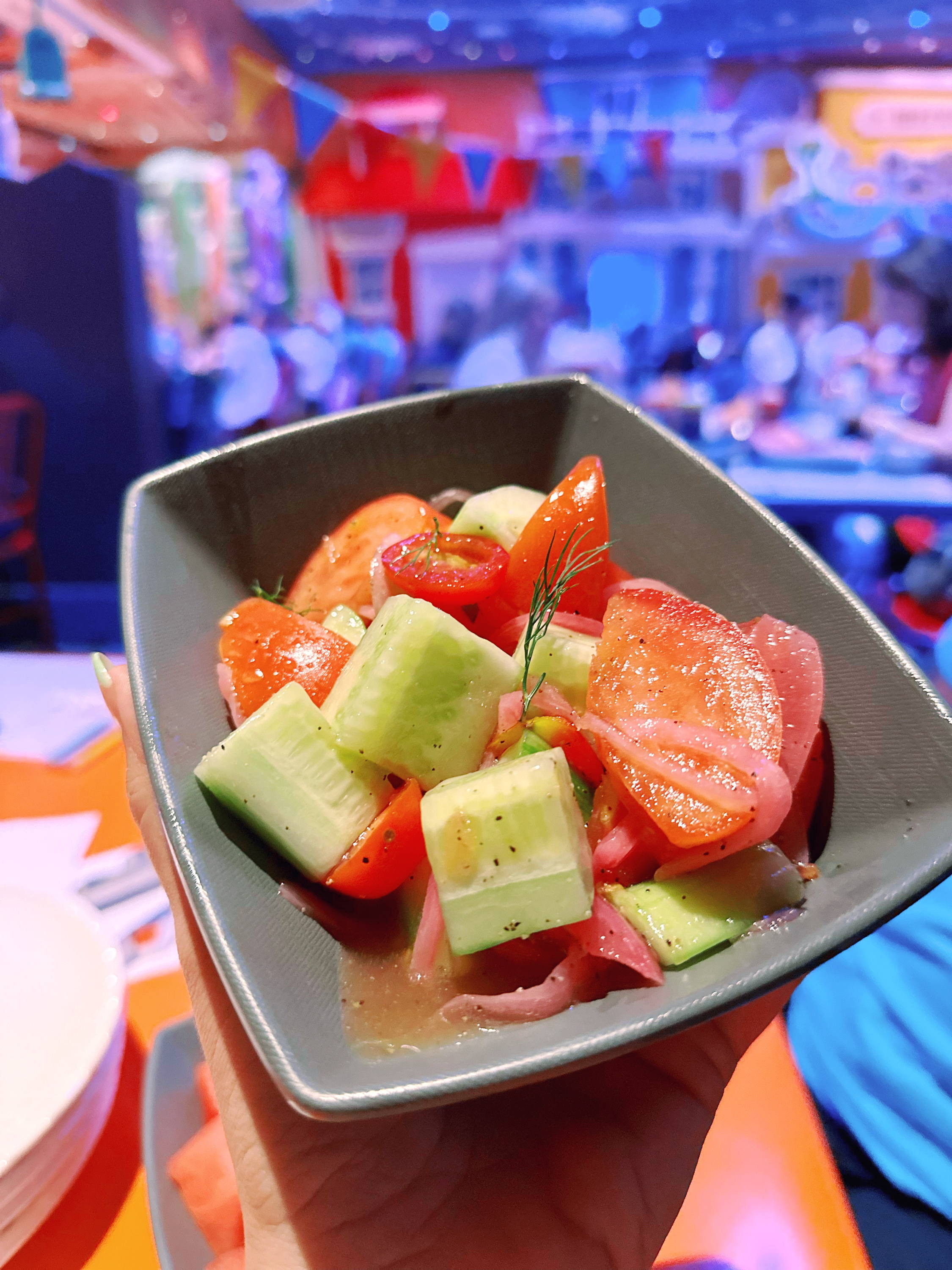 Rootin' Tootin Tomato Salad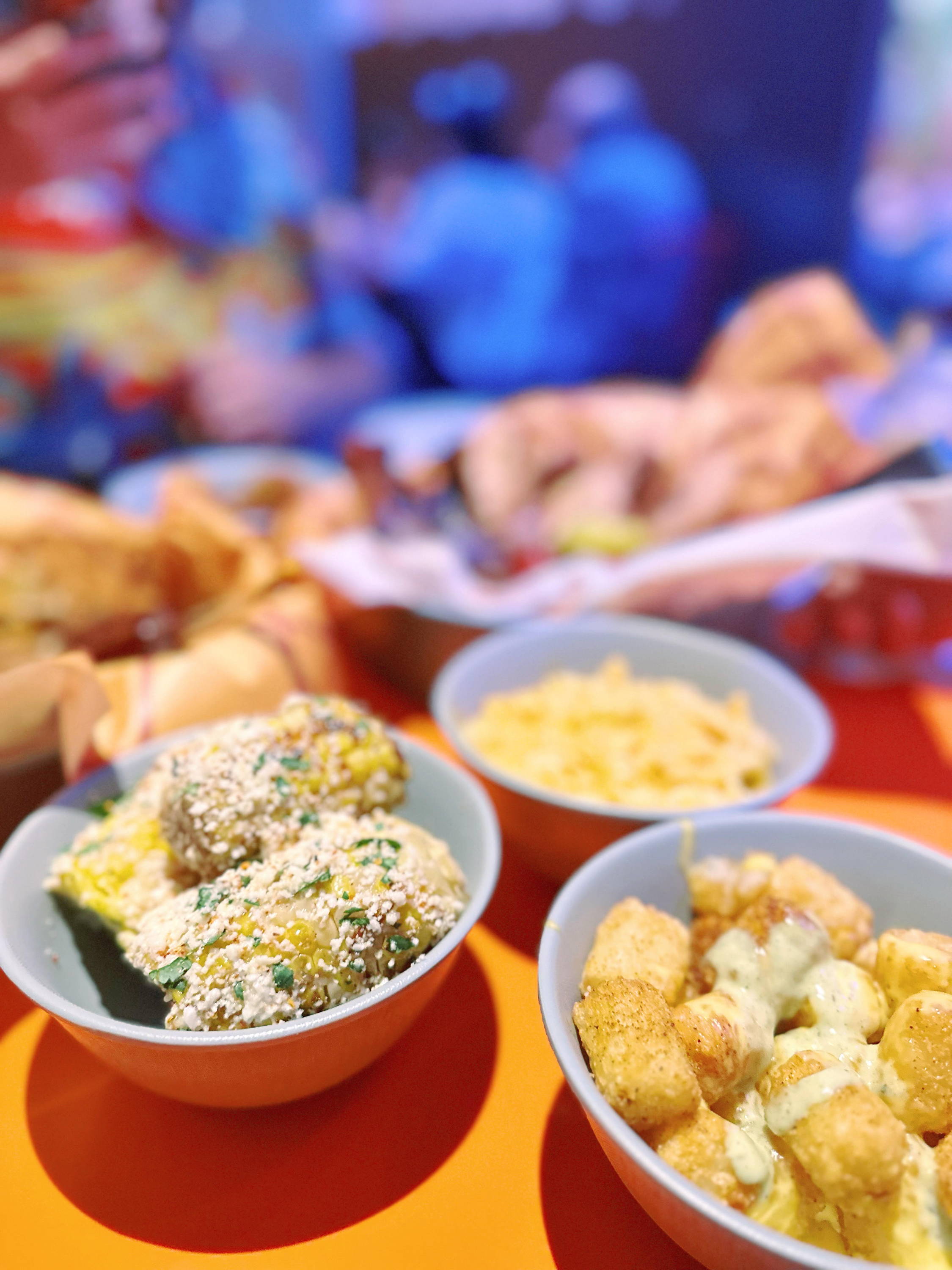 Left to Right: Cowpoke Corn on the Cob, Slinky Doooooooooog's Mac & Cheese, The Married Spuds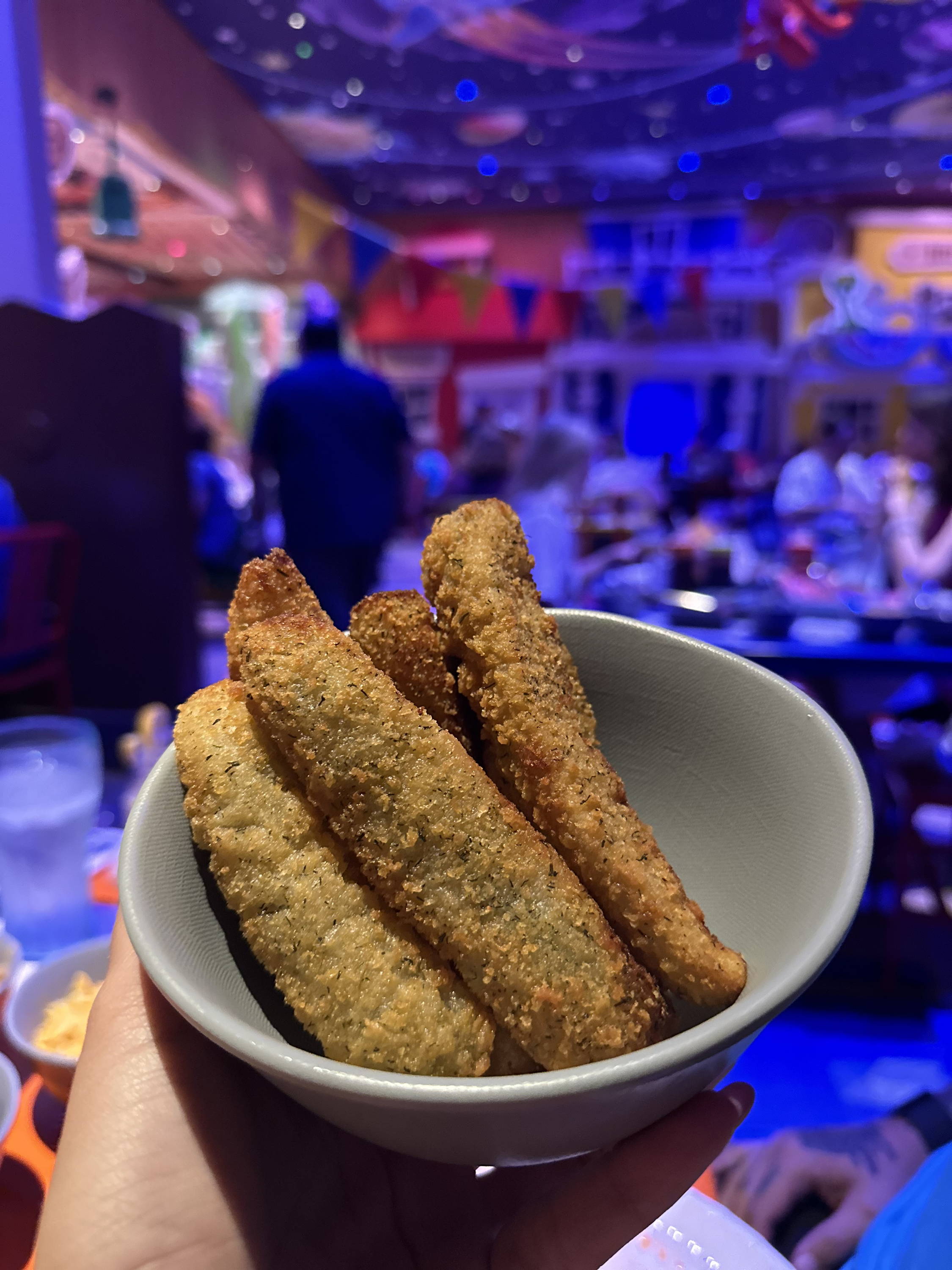 Force Field Fried Pickles

Bread Service:Biscuits made by Prospector Pete! These cheddar babies with sweet pepper jelly are like ridiculously good- honestly they're good without the jelly, but the jelly does make me feel like I'm really back at home in Texas, so no complaits here!
Salads: They bring out 3 salads for the table. A watermelon mint salad (GF/V), a tomato and cucumber salad (GF/V) , and a kale and romaine salad (GF). These were all pretty good tbh, the watermelon "salad" really just was cubed watermelon and mint leaves, but it was refreshing. The tomato and cucumber really stood out for us- because the cucumbers were really yummy.
Sides: They have a choice of 8 sides and you get to choose 4 for the table. Originally if you finished your 4 sides you could go back and choose the 4 other ones as your second helping buuuut when we went back later in the week this was no longer an option (seems like a lot of people were doing this lol).
Our sides for our first round draft pick were mac and cheese (nothing to write home about but honeslty good for what it was- the noodles were so cute! and @ wdw STOP PUTTING GOLDFISH ON MY MAC AND CHEESE. IT'S NOT GOURMET AND IT'S WEIRD), married spuds (Potato barrels with sauce on top. actually really yummy), fried pickles (pickle spears instead of the medallion fried pickles you're used to.... still yummy, but didn't even come with ranch lol. why!) and street corn (really good street corn- but small and if you're like me and don't like touching food- then having to hold this with your hands its stressful and sticky. Plus I had really good street corn- 2x the amount of corn- at EPCOT F&G Fest last week and it was better lol).
The other four sides we tried were the roasted veggies (still yummy, but just regular old roasted veggies), baked beans (a server favorite and honestly really tasty if you like beans!), veggie slaw (mid- but not bad!), and potato salad (a babrecue staple. if you like potato salad you'll like this! but i've genuinely never had a potato salad i've dreamed about... it's always just kind of there lol).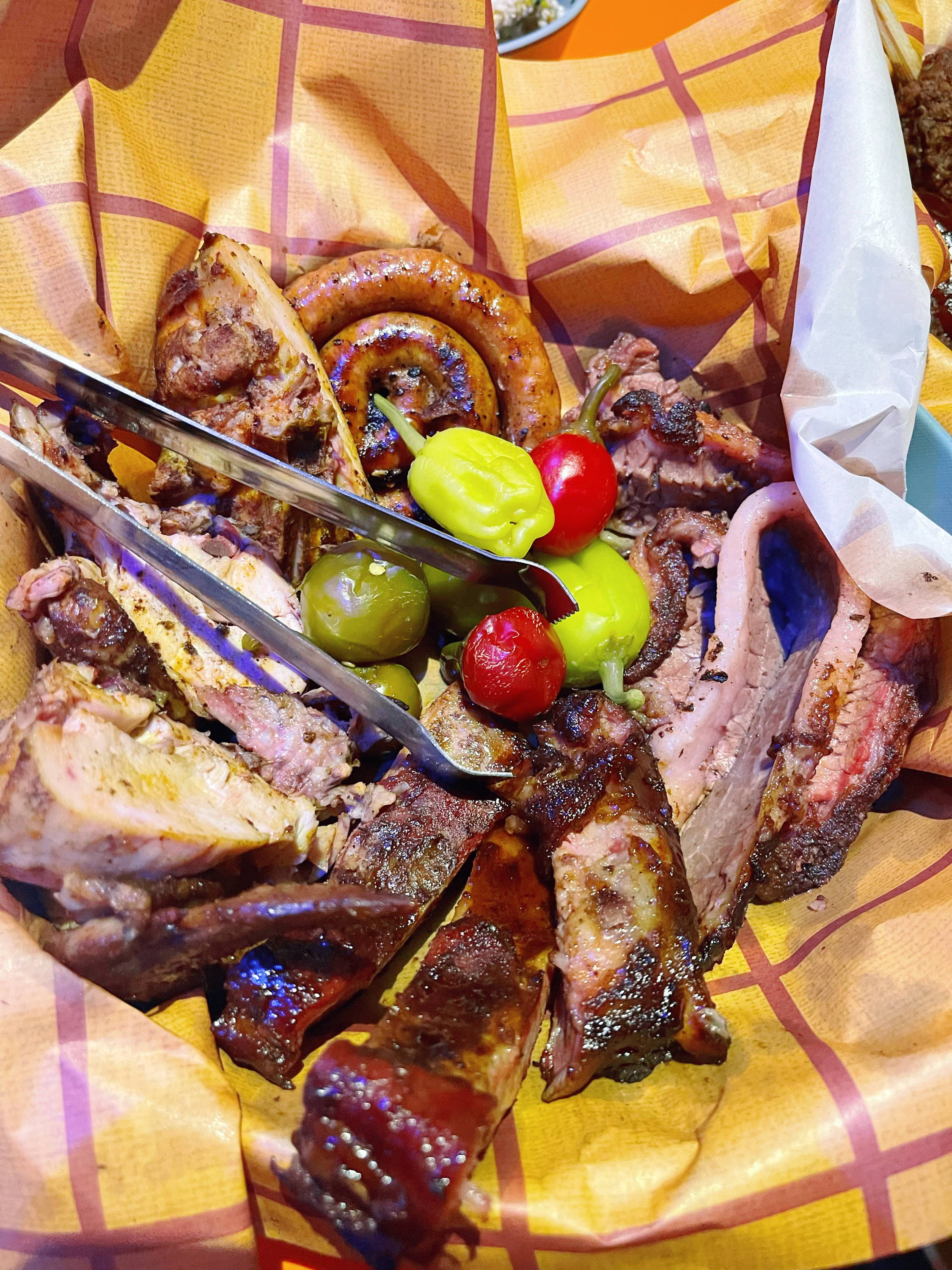 Evil Dr. Smoked Ribs, Buttercup's Beef Brisket, There's a Sausage in my Boot - Fire-grilled Pork Sausage, BBQ Chicken - with Style!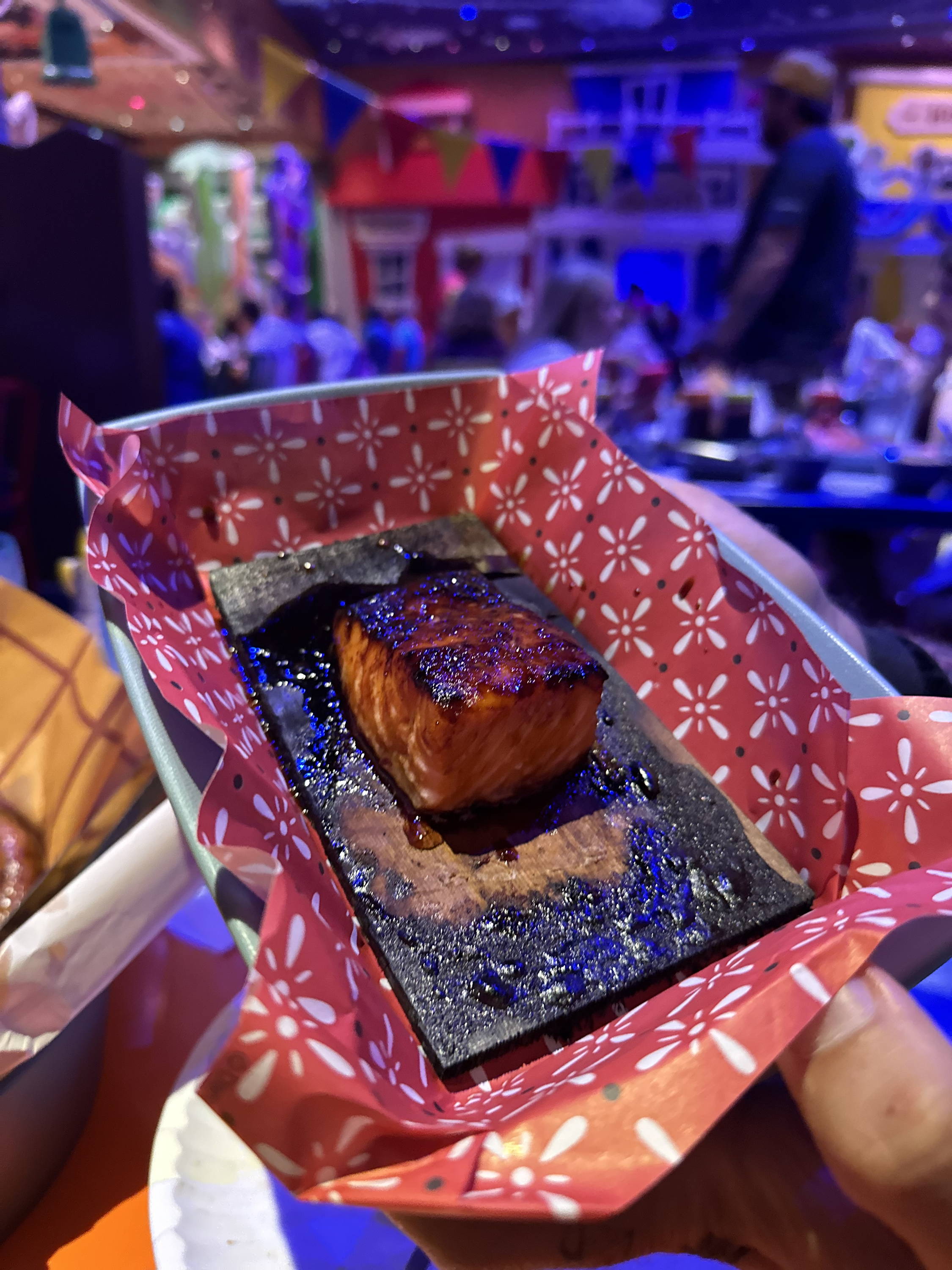 Cedar-Plank Salmon... Not on the Menu. Ask your Chef/Server.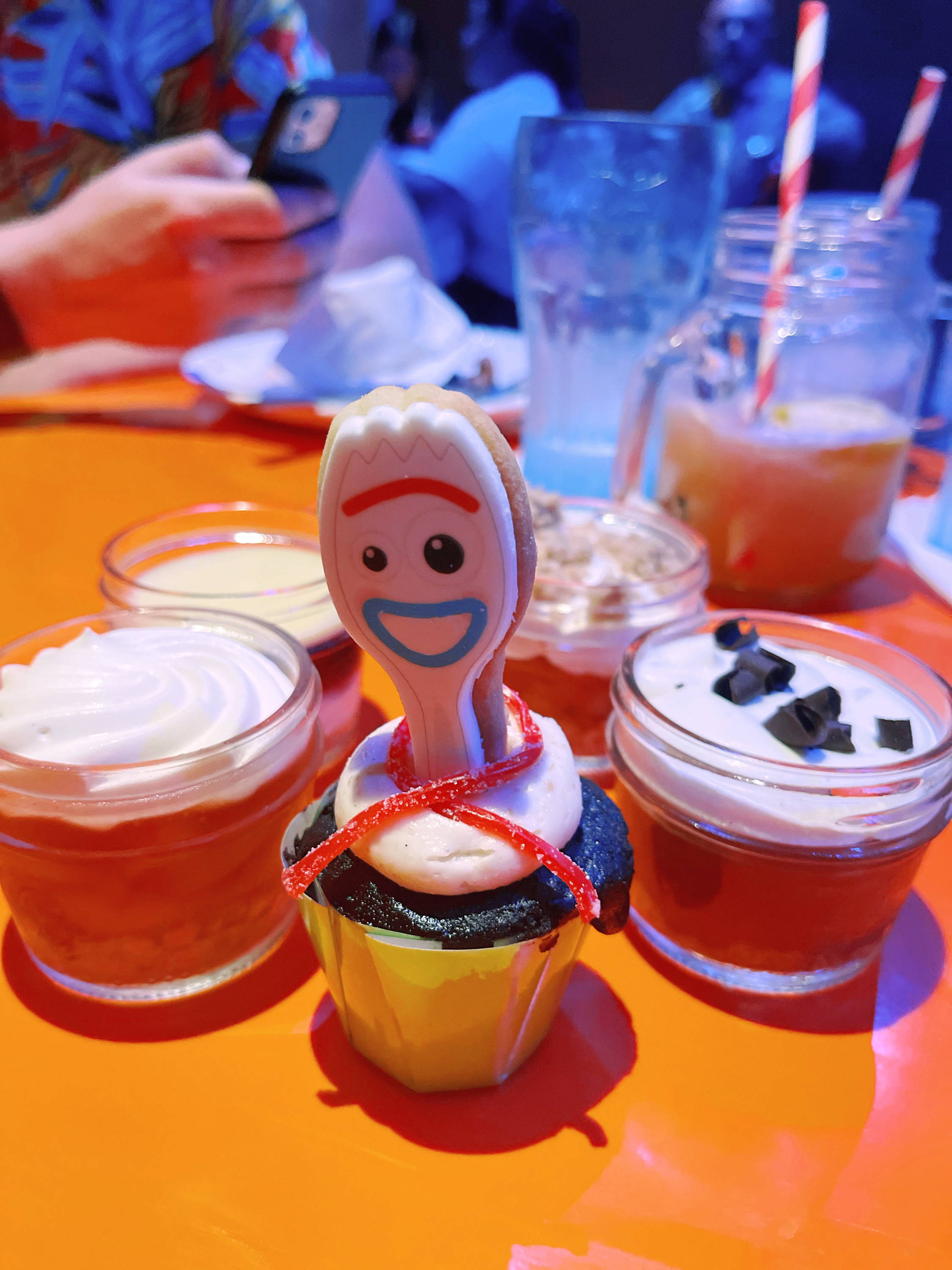 Bo's Lemon and Blueberry Cheesecake, Billy's Chocolate Silk Pie, Goat's Apple Pie, Gruff's Peach-Strawberry Pie (V), Cupcake à la Forky

Main Platters: There are two options for this place- the meats and the plant-based meat. The meat platter comes with brisket (good if you like your brisket a little on the fattier side), ribs (fall off the bone GOOD), chicken (mid- fine. but you can get chicken so many places), and pork sausage (actually the star of the show- was so much better than we were anticipating) + peppers in the middle to eat if thats your vibe. They also have the secret option of a cedar-planked salmon that was tasty and cooked super well!
The second platter is plant based with combat carloflower (really good!!), bratwurst (again, like really good for plant based meat. They use typically Impossible or Beyond brands for these), and rib chop (like chopped brisket- really good and flavorful).
Dessert: 5 desserts to choose from. lemon and blueberry cheesecake (not super cheesecake-y. def a no-bake cheesecake. yummy and sour and sweet!), Chocolate Pie (I think our table was split on half who loved the cheesecake and the other half who loved the chocolate pie. its super yummy and light!), strawberry-peach pie (actually super light and a great summer pie. can definitely taste more peach than strawberry but maybe that was the batch we got!), apple pie (which we all LOVE for sure, but something about apple pie makes me want it warmed with ice cream... not really served cold! but still good!) and finally our cupcake a la forky (the chocolate cupcake with ganache inside and a sugar cookie forky on top. he's cute and hard to eat if you stare into his eyes. also the cookie is hard lol. but the cupcake is really moist and the ganache is delicious!)
Everyone gets to pick 1 dessert, but you're more than welcome to share and your server will totally be okay with it. Soooometimes if you're sweet and can't choose between them all they may let you have all 5. But we wouldn't know anything about that. 👀 👀
More Studios Fits Incoming....
Overall, we would definitely say yes!
We loved this place- we had a lot of fun! Definitely come hungry. There is a ton of food and you can always ask for more so like just eat whatever you like the most haha. If you want 4 plates of mac and cheese (not pointing fingers but literally me), go for it. If you need MORE fried pickle spears- your server will not blink twice. Like do it. You paid the $45 and it is your meal- you eat that street corn besties.
We would def give Rodeo Round up a solid 7/10. We've had better FOOD because of course there are plenty of signature dining options around here, but the atmosphere and everything else about this place makes it super different from anything we have in DHS. We're super stoked to see how this place does and will for sure be coming back to see if they have any updates!!
If you liked this blog be sure to use code LOSTBROSBLOG for 10% off your next order!
If you want to see more of what we're up to day to day- be sure to follow us on
Insta @thelostbros + tiktok @thelostbros + Twitter @lostbrostweets
***