Let's Drink Responsibly in Disney World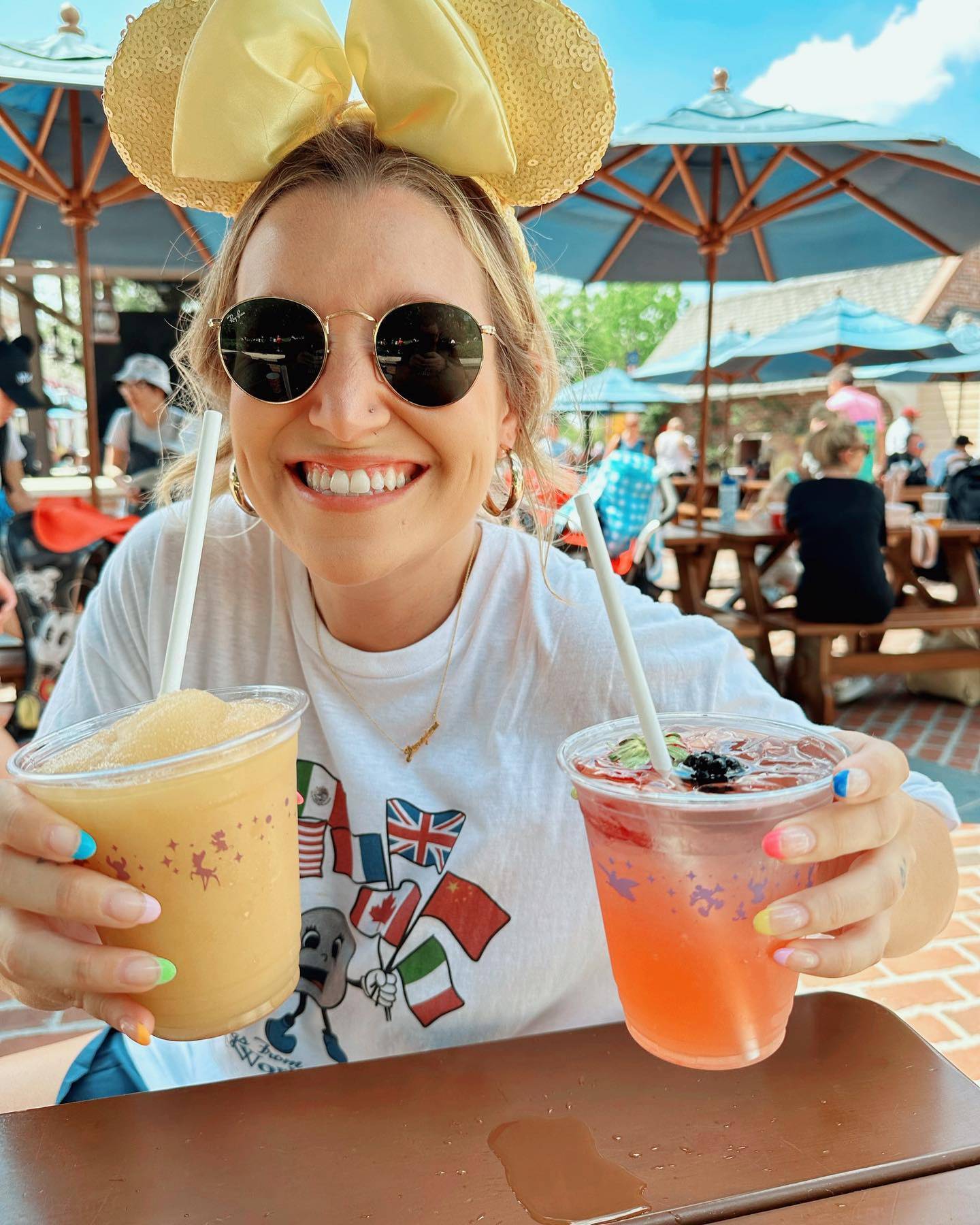 Oh boy have I been WAITING for this one. It's time for our list of our favorite Lounges/Bars in every single Walt Disney World park. For all of our friends over 21 who drink, we have listed our fave bars across the disney parks so you know where to make a pitstop on your trip. All of the locations below typically have little to no wait- unless you're nomad lounge and you apparent always have a full wait list lmao.But besides her, we love to make a stop at any of these spots for a quick drink, a seat in some AC / shade and a fan, and really take in the views. Plus if you haven't people watched in WDW, you're doing it wrong lol.
In case you didn't know, MK is not included on this list because you famously cannot get alcohol anywhere besides a sit down table service restaurant (and even that is a new change!), so this list consists of our favorites from DAK, Studios, and of course our Drink Around The World queen... Epcot. Our qualfications were simple.
You had to be able to sit there and get a drink (non-alcoholic or alcoholic).
It's not a sit-down restaurant. You might be able to order food from an adjoining table service place, but this is no reservation required energy.
It had to have good vibes. lol sounds stupid, but the vibes of a place are important and if you need a quick pick me up - or even just a place to spend a quiet evening, you gotta find a good spot.
Let's get into it.
---
---
Dawa Bar
Hours: 10- 7:30 and/or 30 minutes before park close.
Vibe: Outside Tusker House and Fest of the Lion King. Grab a drink before your show (but you will have to chug it before you enter the theater. godspeed soldier. Warm and people-y always, but a fun stop to people watch and hang out by the river to see characters go by!
Recommendations: Ngumu Jungle Juice (Tusker's famous Jungle Juice + Vodka & Peach Schnapps). Also Harambe Iced Tea (basically a long island iced tea).
Nomad Lounge
Hours: 11 am- park close usually.
Vibe: Outside covered porch area with access to the Tusker House bar menu. Drinks are strong. Cast is friendly. If you get caught here in a thunderstorm you will not be disappointed. Characters do go by on river boats right below you, so that is a definite fun bonus!
Recommendations: Grab some Churros from the restaurant inside (GF and regular!!)
Restaurantosaurus Lounge
Hours: Super limited- basically go to the quick service location and check on the board to see if it's open or not! Very random and secret-y.
Vibe: A super secret menu place that not many people visit because it never has regular hours lol.
Recommendations: Tequilasaurus for Margarita lovers. Paleontology Punch for non-alcoholic friends.
La Cava Del Tequila
Hours: usually 11 am to park close!
Vibe: Inside the Mexico pavillion is the tiniest little tequila bar that is always jam packed and full of energy. Hard to find a sitting place, but you can stand in here easily!
Recommendations: The Avocado Margarita that we couldn't replicate if we tried.... the Chips and guac are mega bomb. + Neil Patrick Harris has his OWN MARGARITA he made here soooo you can try that (The Black Magic Margarita) !!
Space 220 Lounge
Hours: 11:30am to 3:30pm then again 4pm- 8:40 pm.
Vibe: Take the Elevator of my nigthmares (outer space scares me) up to space 220 - the lounge has small plates and you can stargaze out the windows to see all that above earth has to offer. (think the window of rise of the resistance or cosmic rewind). Cocktails are refreshing and pretty and sharable apps are plated beautifully. Expensive but an experience!
Recommendations: The Imagination (w/ pop rocks on the rim lol!!) and the Nebula.
---
Ever wanted a mocktail in EPCOT? We've Got ya covered in this vlog!
---
Baseline Tap House
Hours: 10/11 to 8 pm usually
Vibe: Mostly outdoor picnic seating with other bigger tables inside. Super industrial w/ a couple of small sharable plates like pretzels and charcuterie. (also happens to be my favorite bar on property)
Recommendations: 22oz blood orange hard cider for $12? I think yes. Beer flights are delicious and bar tenders are super knowledgable and sweet. If you want them to pick your flight for you- they totally will!
Oga's Cantina
Hours: 8:30 am (what a wakeup lol) to 11 pm (oh yeah- literally after park close most nights!!)
Vibe: A star-wars inspired cantina with loud and fun cast + drinks that make you feel fuzzy. no literally. it's weird how it does that. The most notorious reservation in all of WDW tbh.... 4 years of this place and it's still hard to snag a reservation that isn't at 8:40 in the morning....
Recommendations: A Fuzzy Tauntaun (you gotta try it once), The Outer Rim, The Baspin Fizz and the Yub Nub. For non-alcoholic friends we looove the Jabba Juice and the Carbon Freeze. Also Cody LOVES a good old fashioned blue milk + cookie! Randomly, and very recently, Oga's updated their charcuterie board to be like mega good all of a sudden. Super unique cheeses and the presentation is so much more fun than it was before. We recently did a Hollywood Studios Day with only bars + shows and no rides and we tried this one out! So be sure to check that out below so you see our full review!!
Tune-In Lounge
Hours: 10:45am - 9:30pm usually.
Vibe: 1950's mom house. Super well themed and attached to one of our fave table service spots 50's Prime Time Cafe.
Recommendations: Grandma's Picnic Punch and Dad's Electric Lemonade are our top picks. They have a full bar- so grab any drink you can concoct before you go see Indiana Jones- that show is way more epic after a double G&T. take it from me lol.
The Hollywood Brown Derby Lounge
Hours: 11:00 am to 9:00 pm
Vibe: Outside the Brown Derby where you can see fun character interactions from your table. On the other side of the restaurant there are really nice covered seats and places that are always shaded for a nice cool down. We loooove this hidden gem!
Recommendations: Basically anything your heart desires. Grapefruit Cake Martinis are absolutely bomb. As are the Gin Mules and the Shimmer Over The Moon. You can get their orld famous cobb salad here, Margarita and Martini Flights, and of course..... charcuterie. lol maybe we need to do a charcuterie round up.
---
Some Great Bar Stops With Little to No Seating
Pongu Pongu in Pandora @ DAK
Thirsty River Bar in Asia @ DAK
Yak and Yeti Quality Beverages in Asia @ DAK
Rose and Crown Walk-Up Bar in the UK @ EPCOT
UK Beer Cart in the UK @ EPCOT
Regal Eagle Walk Up Bar in the American Adventure @ EPCOT
Le Choza de Margarita in Mexico @ EPCOT
Galaxy's Edge Milk Stand on Batuu @ Hollywood Studios
Woody's Lunch Box Walk Up Bar in Toy Story Land @ Hollywood Studios
---
If you liked this blog be sure to use code LOSTBROSBLOG for 10% off your next order!
If you want to see more of what we're up to day to day- be sure to follow us on
Insta @thelostbros + tiktok @thelostbros + Twitter @lostbrostweets