We Loved Not Going To Food and Wine On Opening Day! *not clickbait*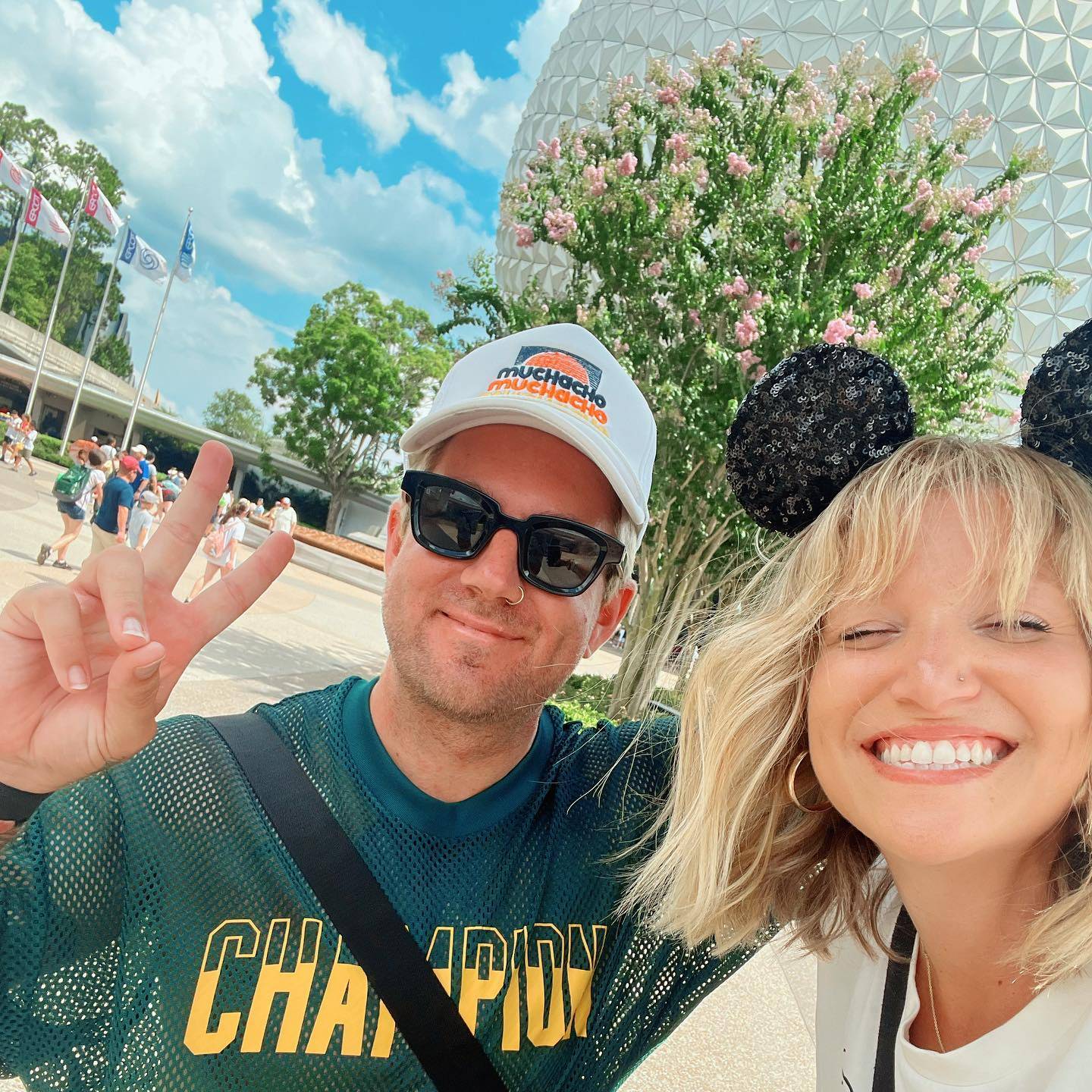 For every "can't miss" food @ EPCOT Food and Wine Festival, there's probably an equal parts terrible food that you should skip. Some of these make us think "why was this created?" and "who okayed this?" and some of them make us think that food was invented specifically to eat this item... and these are no exceptions to those rules.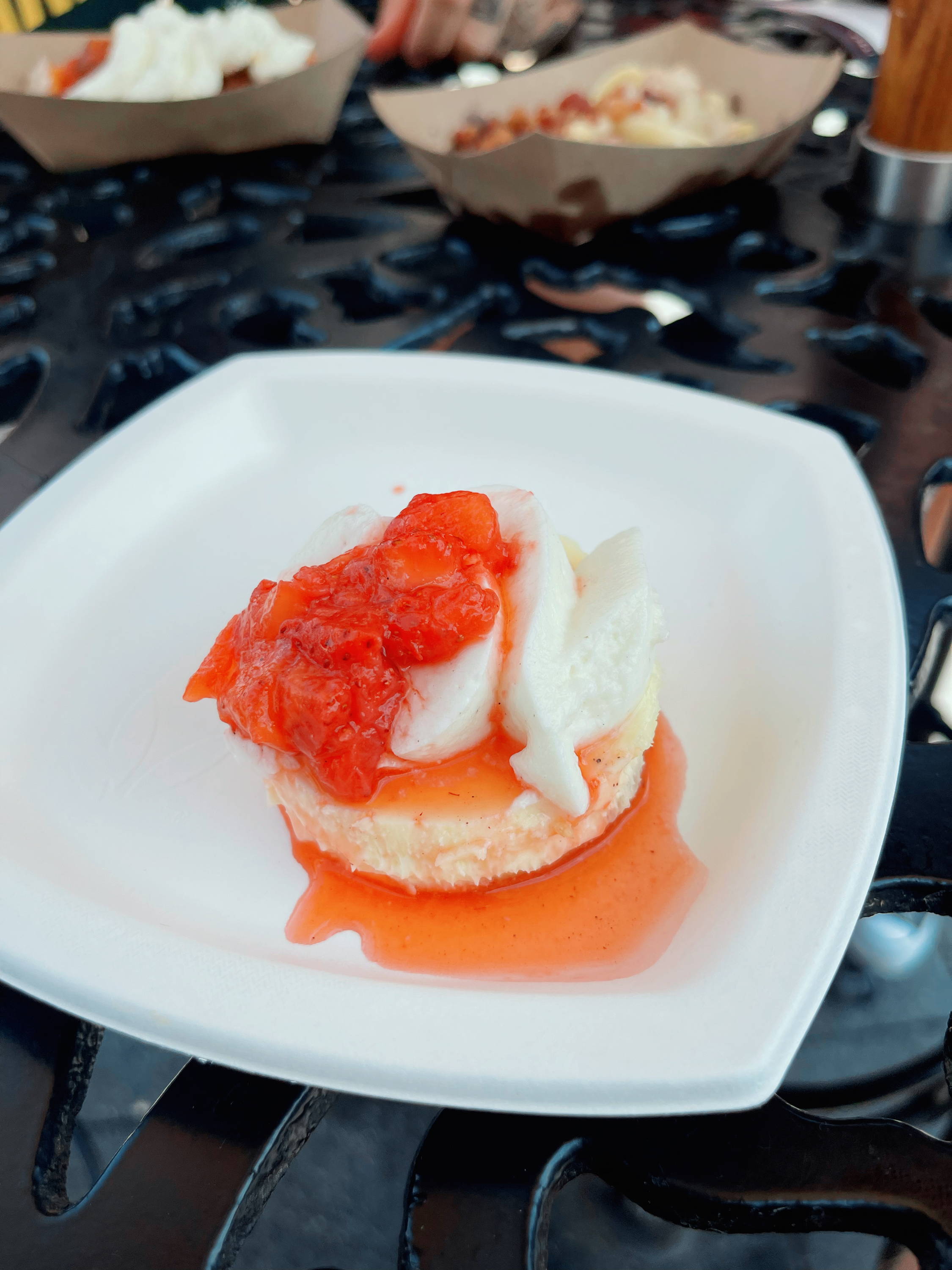 Must-Do: #5 Lemon Ricotta Cheesecake with Vanilla Cream and Strawberry Compote
Location: Italy
Price: $8.00
Italy finally had a food make one of our top 5 roundups, and that's a reason to celebrate! This is a refreshing and tart cheesecake, and it's not too thick/dense, making it a pleasant palette cleanser during a day of sampling!
Cody was a fan of the Italian pasta dish as well, but Lex didn't love it, so give it a shot if you're looking for one more food to try before you get in line for Remy's!
Must Skip: The unnecessarily spicy wings with an unnecessarily long name (aka Unnecessarily Spicy, Yet Extremely Tasty Scotch Bonnet Pepper-Curry Wings with cool cucumber yogurt)

Location: Brew-Wing
Price: $7.50
Yes, these are very hot, most likely the hottest food ever served at Disney (feel free to fact check us on this one), but the problem is in the flavor of the sauce. It's grainy, gritty, and has a slightly off flavor that we didn't love. If you're a big fan of spicy foods, this is probably worth a go just to see if you're up for the challenge, but otherwise they get a big time skip.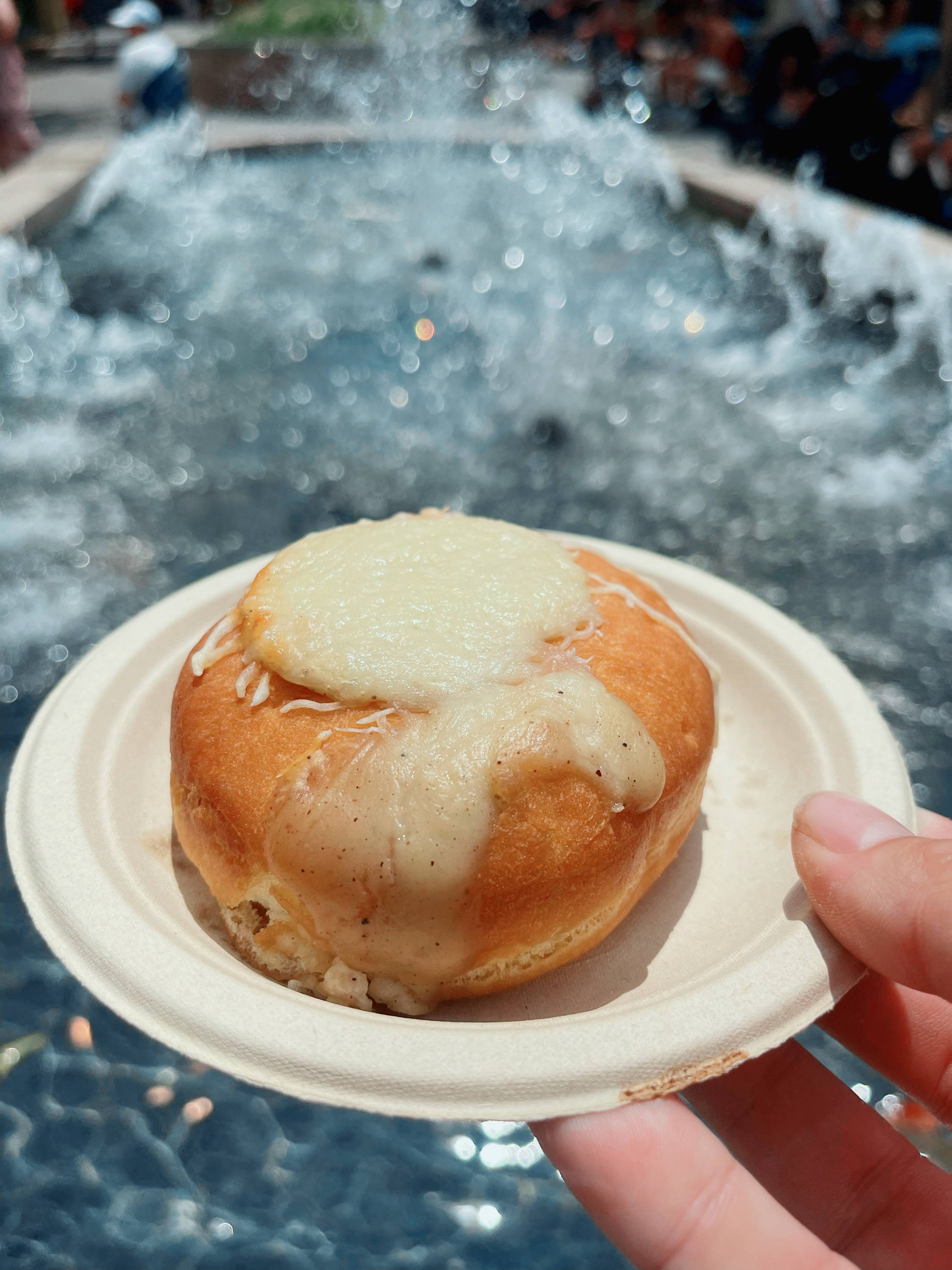 Must Do: #4 Beignet aux Trois Fromages: Warm Beignet filled with Three Cheese Blend
Location: France
Price: $6.95
This is like a flaky, savory, warm hug from someone you love. The goat cheese is the star of the show, but the subtle dough is an excellent member of the supporting cast, allowing its counterparts to shine.
heading into food and wine with the best fits
Must Skip: Italian Hot Beef Sandwich with Shaved Beef, Spicy Giardiniera and Au Jus on a French Roll
Location: America
Price: $6.25
This sandwich is everything you don't want at a food festival. It's boring, safe, and lacking flavor all around. The beef is extra well done, so the texture leaves a lot to be desired. Skip this one and make your way to the next country, then swing through Arby's on your way home if you really regret missing out.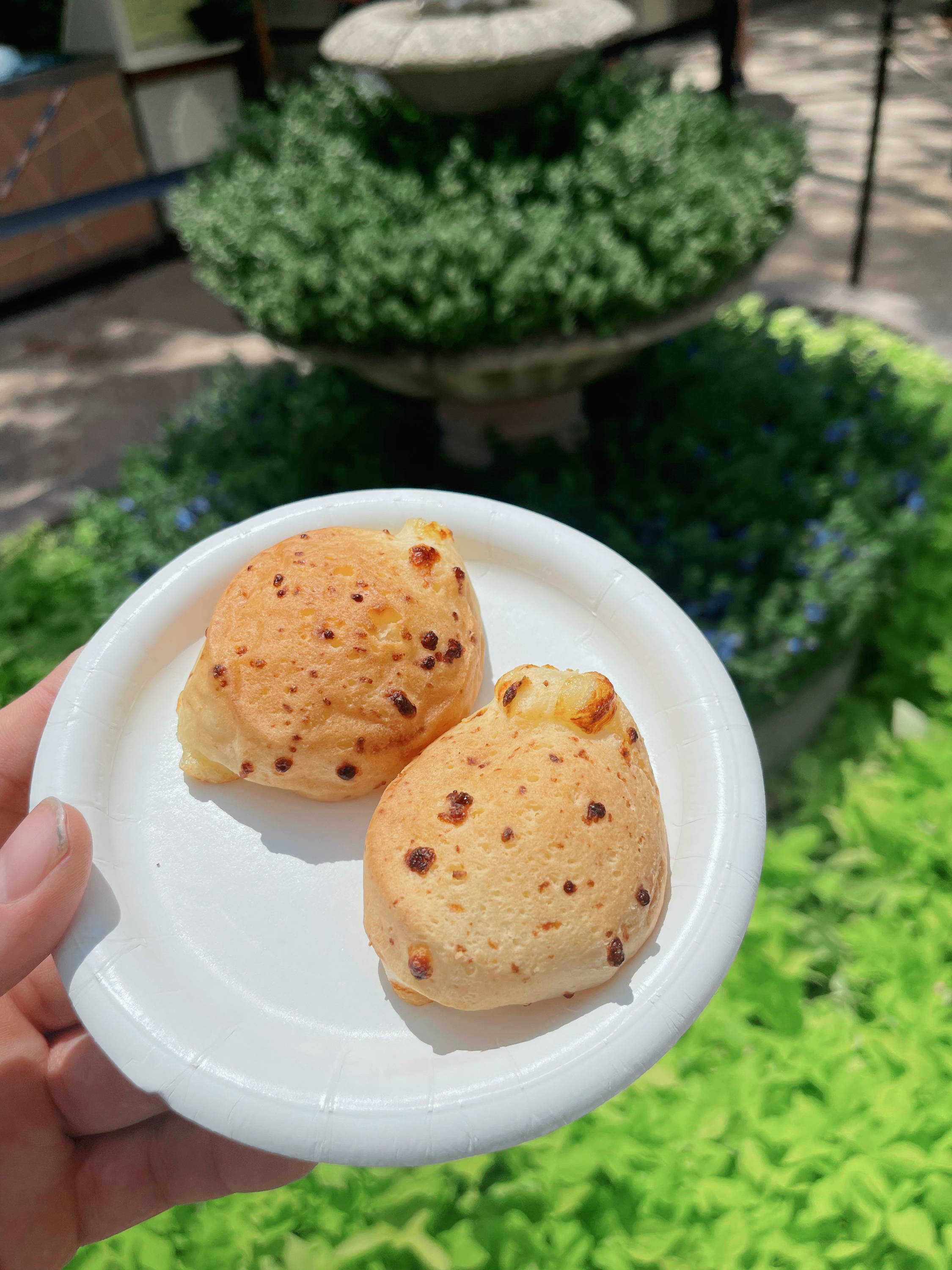 Must Do: #3 Pão de Queijo: Brazilian Cheese Bread
Location: Brazil
Price: $6.25
Description: allison here for a quick soapbox abt my favorite dish 
This is literally the most delicious thing i've ever had. It is a part of my favorite F&W Dinner (a steak from canada, some wine, and this gd bread) It used to be $4.00, so this hurt my HEART, but i'm not shocked the price got raised based on how heavenly this is. A bouncy, pull apart bread that tastes like if someone made a gourmet goldfish cracker bread - but like so good. My favorite snack that's perfect for all weather.
This is a no skip zone.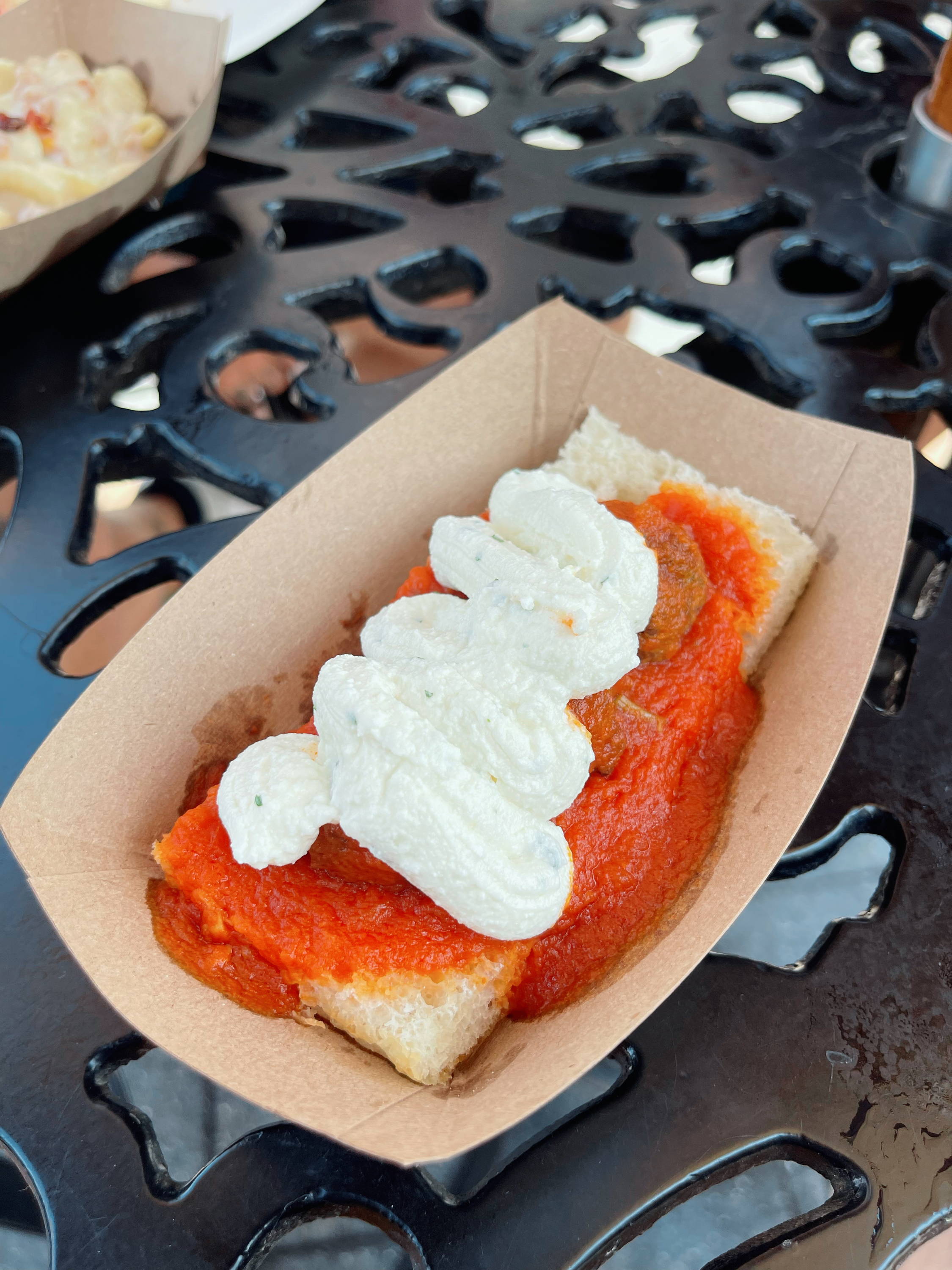 Must Skip: Focaccia Ripiena
Location: Italy
Price: $9.00
This is practically indistinguishable from a Subway meatball sandwich or something you could make in your college dorm. The bread is soggy, the sauce is giving *Lunchables*, and the burrata is just ricotta cheese in a top hat. Italy is known for their historic lack of flavor at F&W, and this is no different. Save your coin and bypass this dish altogether.
Must Do: #2 Spiced Chocolate Tart with BBQ potato chip crust, salted whisky-caramel, and smoked sea salt
Location: Flavors From Fire
Price: $4.75
This one is wild. The tart has a fudgy consistency that is contrasted perfectly by the crunchy crust, and they played it just safe enough for the flavors to play nicely together. This doesn't hit you over the head with BBQ flavor; instead it flirts with the taste buds, offering an intriguing combination of flavors that we've truly never tried before. This is one you should totally check off your list!
tees are always the answer!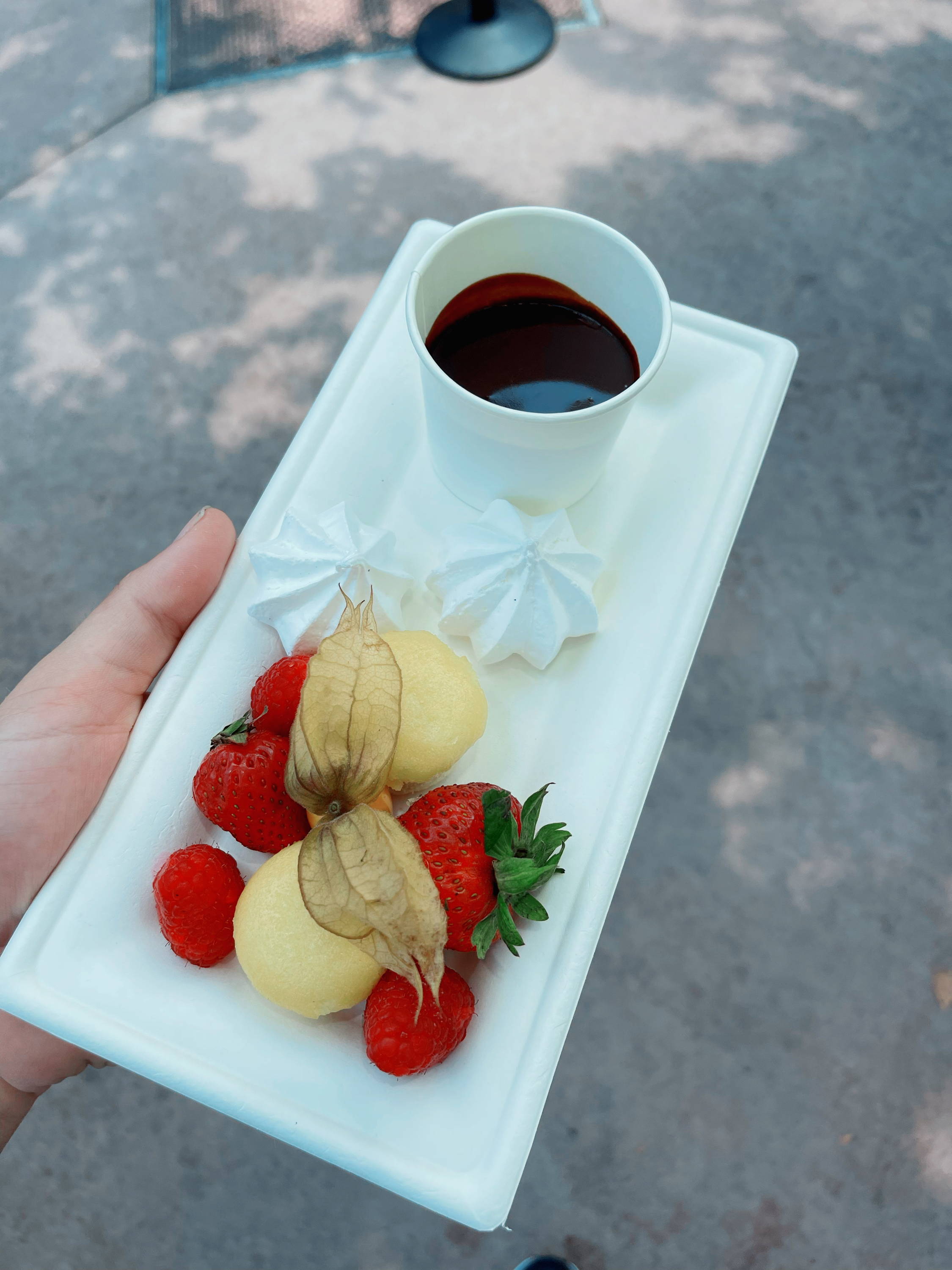 Must Skip: Dark Chocolate Fondue with Berries, Pound Cake and Meringues
Location: The Alps
Price: $5.75
The best bites of this dish are the pound cake and the meringues. The fruit was mushy and of questionable freshness, and the chocolate may as well have come from a squirt bottle. This could've been leveled up big time with some sort of graham cracker crumble or a brûlée'd fruit element, but instead we got a very basic, elementary take on chocolate fondue. If you've got an itch for chocolate, scratch it with any of the other deserts around the World Showcase.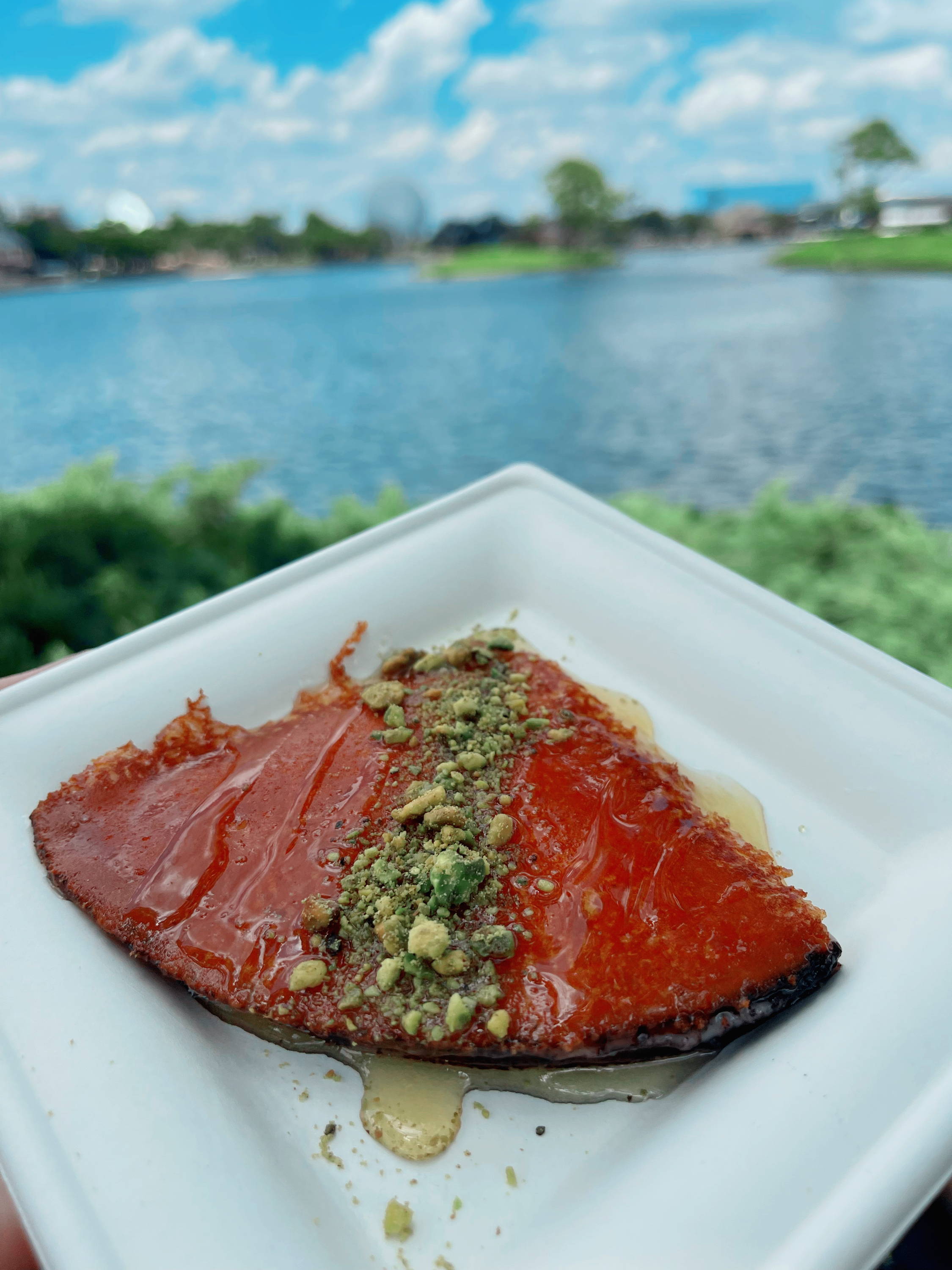 Must Do: #1 Griddled Cheese with pistachios and honey
Location: Greece
Price: $5.00
This dish has everything. Griddled cheese. Pistachios. Honey. What else could you want? It had Cody T turning into DJ Khaled *put in a clip of DJ khaled bring out the lobsters* and Lex turning into a true cheese gremlin. If you're lactose intolerant, take some Lactaid and give it a shot, because this melty, crispy, honey-y dish is so simple yet so complete.
There ya have it folks.... Food and Wine 2023 - the over-hyped treasure we continue to frquent even if some of these bites missed the mark. Be sure to tell us if we missed any of YOUR favorites so we can give them a whirl on our next visit!!
If you liked this blog be sure to use code LOSTBROSBLOG for 10% off your next order!
If you want to see more of what we're up to day to day- be sure to follow us on
Insta @thelostbros + tiktok @thelostbros + Twitter @lostbrostweets