Topolino's Terrace breakfast offers beautiful views, delightful characters, and delicious food at Disney's all-new Riviera Resort
Today's the day! Disney's long-awaited Riviera Resort has officially opened and the Lost Bros are here covering all the new offerings! We started the day at Topolino's Terrace Character Breakfast and were wildly impressed. The restaurant incorporates a great storyline featuring Topolino (AKA Mickey Mouse) himself. The restaurant features a gorgeous rooftop view, exclusive photo opportunities with Mickey, Minnie, Donald, and Daisy in their respective artistic costumes, and, best of all, an outstanding prix fixe breakfast.
The breakfast is $41 per adult and $24 for children ages 3-9. It includes shared pastries and one entree per person. This price is slightly higher, yet still comparable to other character breakfast offerings on property.
Shared Pastries (Chocolate-Chip Muffin, Epi Bread, Croissant, House-made Jam, Honey Butter, Chocolate-Hazelnut Mousse) - 5/5 Cody T Heads
The pastry basket was a great mix of french pastries. The Epi Bread came out on top as the winner of this sharable dish. It offered a fresh, flaky bread that was memorable throughout the meal. The Cinnamon Apple Strudel was also a highlight of the entire meal. The Chocolate Chip Muffins and Croissants were tasty but didn't add anything particularly special to the dish. Of the three spreads, the Honey Butter reigned supreme as it complemented each pastry extremely well and balanced out the flavor. The final highlight was the incredible paint bucket bowl the pastries are served in and the paintbrush butter knife that comes set on the table. Such a detailed touch!
Gluten-Free Pastry Basket - 5/5 Cody T Head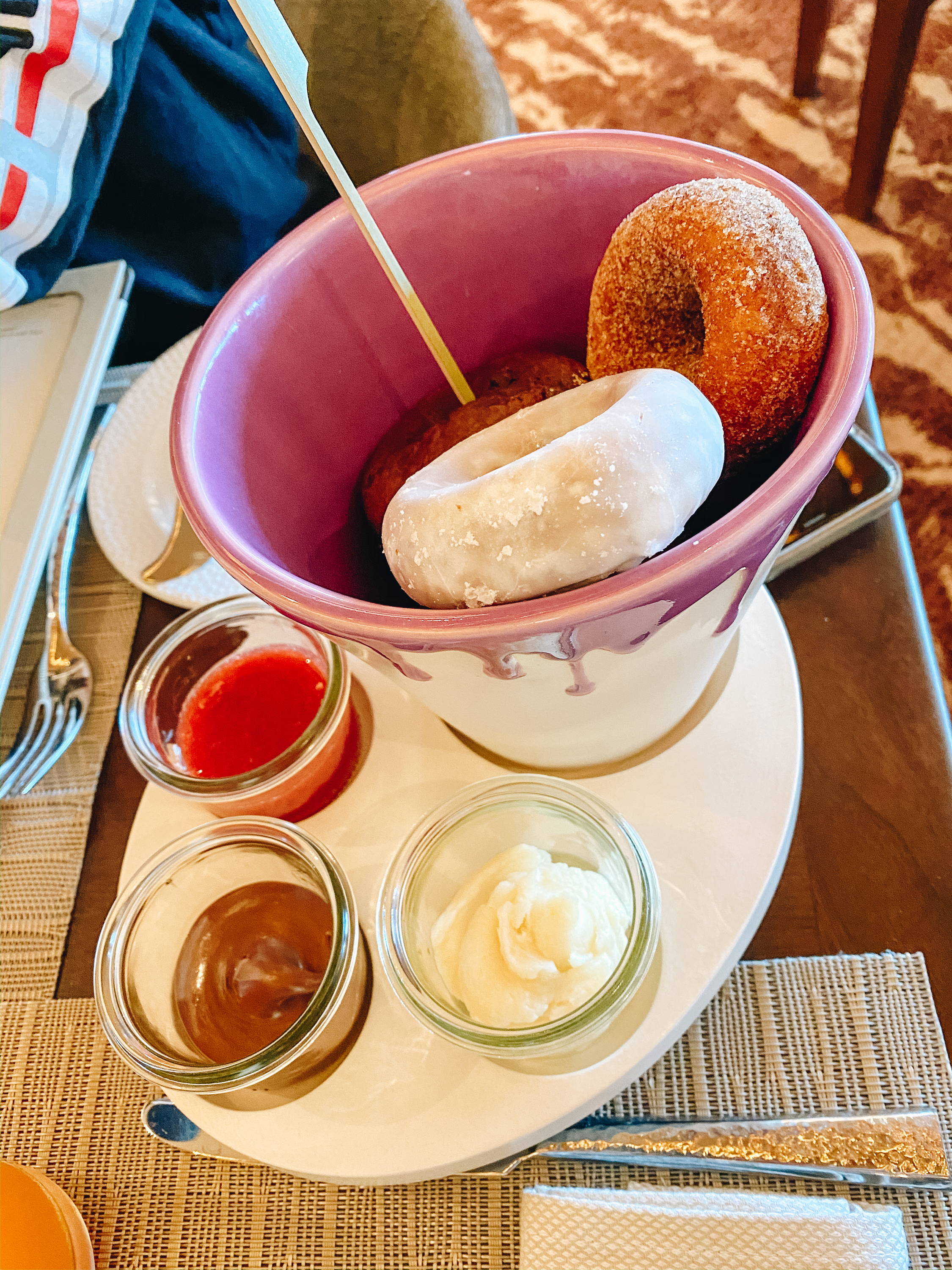 The gluten-free pastry offering included two different types of doughnuts, a cinnamon sugar and a white frosting doughnut. It also included a chocolate-chip muffin and a "plain" roll. The dish also came with the same three spreads as the regular pastry offering which adds fantastic flavor to each pastry.
Wild Mushroom Scramble - Gluten-Free, Plant-Based - 3.5/5 Cody T Heads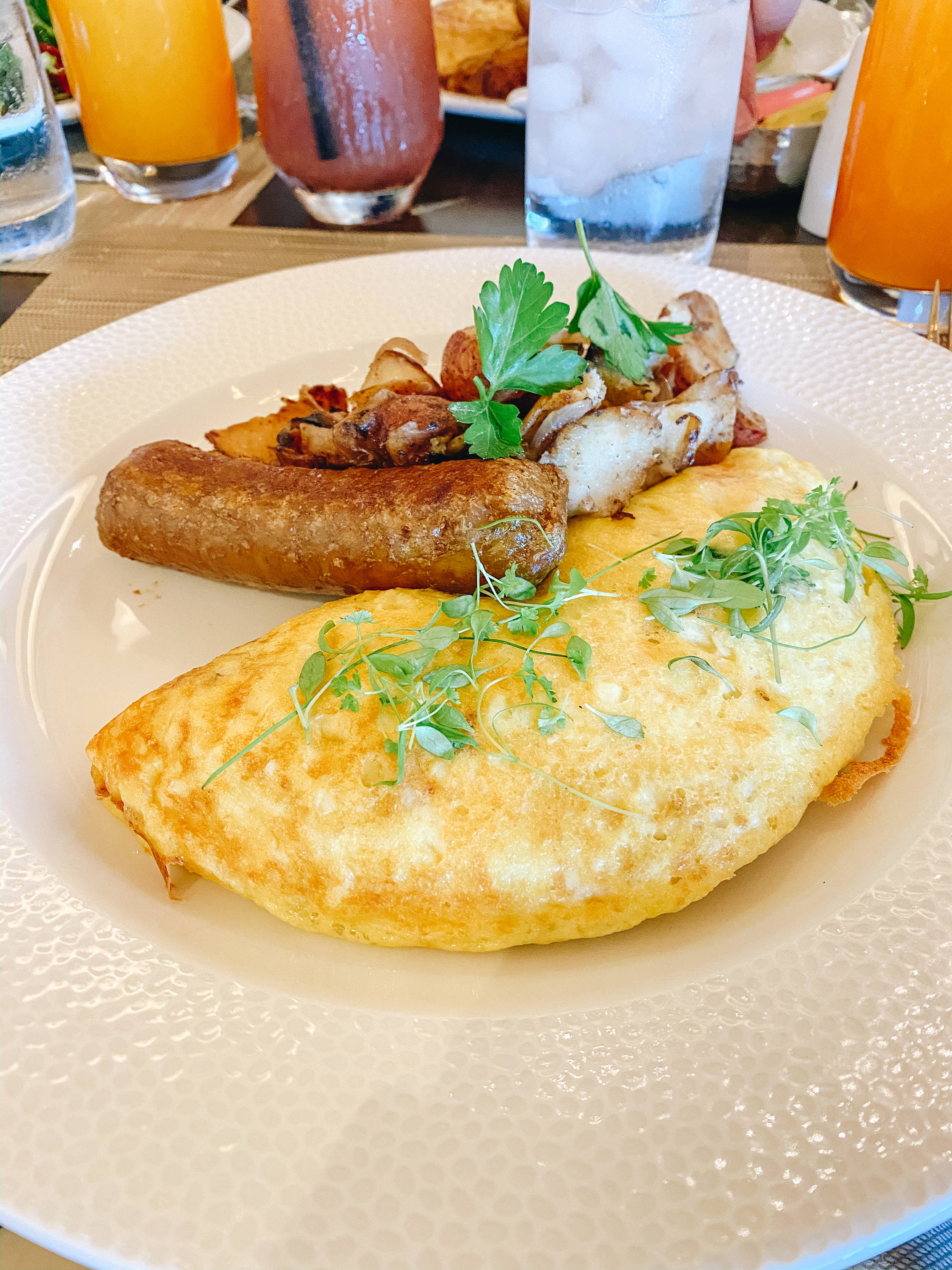 The Plant-based Wild Mushroom Scramble included spinach, plant-based eggs, plant-based sausage, and tomatoes. We've had plant-based sausage before, but plant-based eggs were new to us and we were extremely impressed! For a gluten-free, plant-based option, this was a winner and we'd recommend even to those who don't follow the listed dietary restrictions!
Wood-fired Butcher's Steak - Gluten-Free - 3/5 Cody T Heads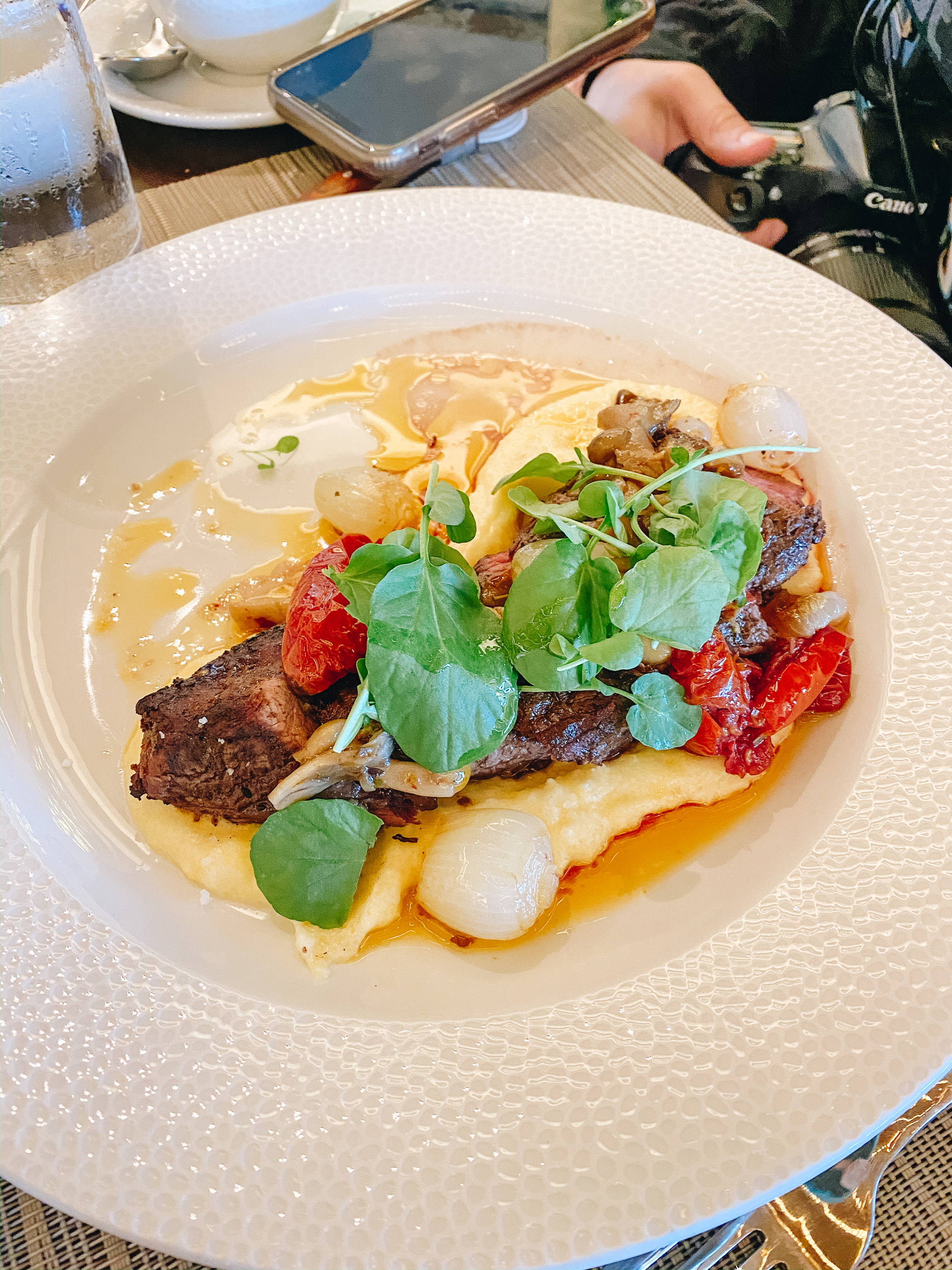 The Wood-Fired Boucher's Steak was something we wouldn't typically get in the morning but we certainly don't regret it! It was served with Polenta, Pomodoraccio Tomatoes, Roasted Onions, Wild Mushroom Conserva, and Watercress. While the watercress was only a light garnish to the steak, it would have been nice to have the field green salad with lemon vinaigrette included as a side salad to the entree. The Polenta was delicious and paired perfectly with the steak.
Croissant au Jambon - 4/5 Cody T Heads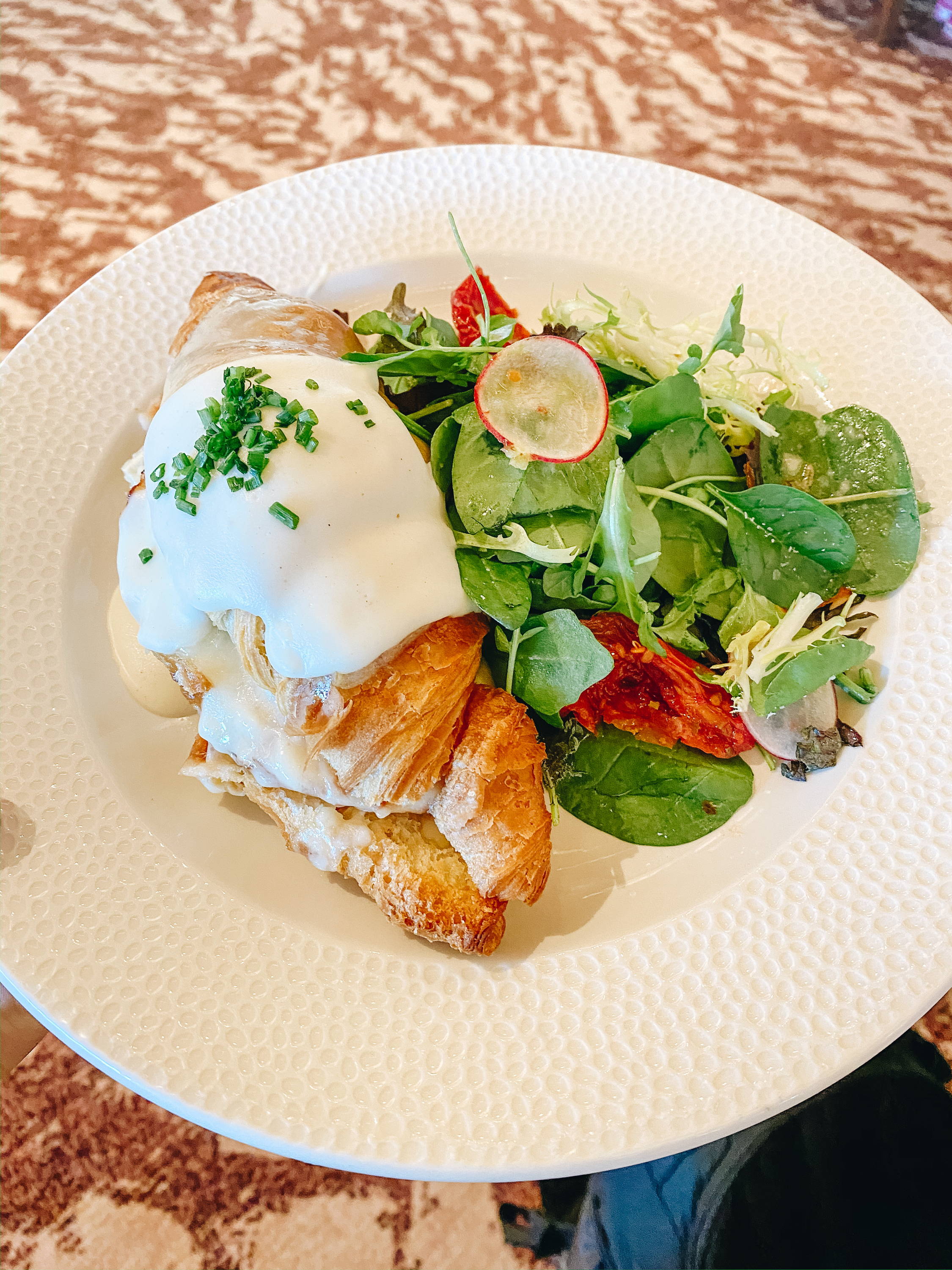 The Croissant au Jambon came with roasted ham with brie cheese and was topped with Béchamel. It was garnished with a side field green said with a lemon vinaigrette. We loved this dish which had a ton of taste, but the Béchamel cream sauce made for an extremely heavy dish that may not be for everyone that early in the morning.
Quiche Gruyère - 4.5/5 Cody T Heads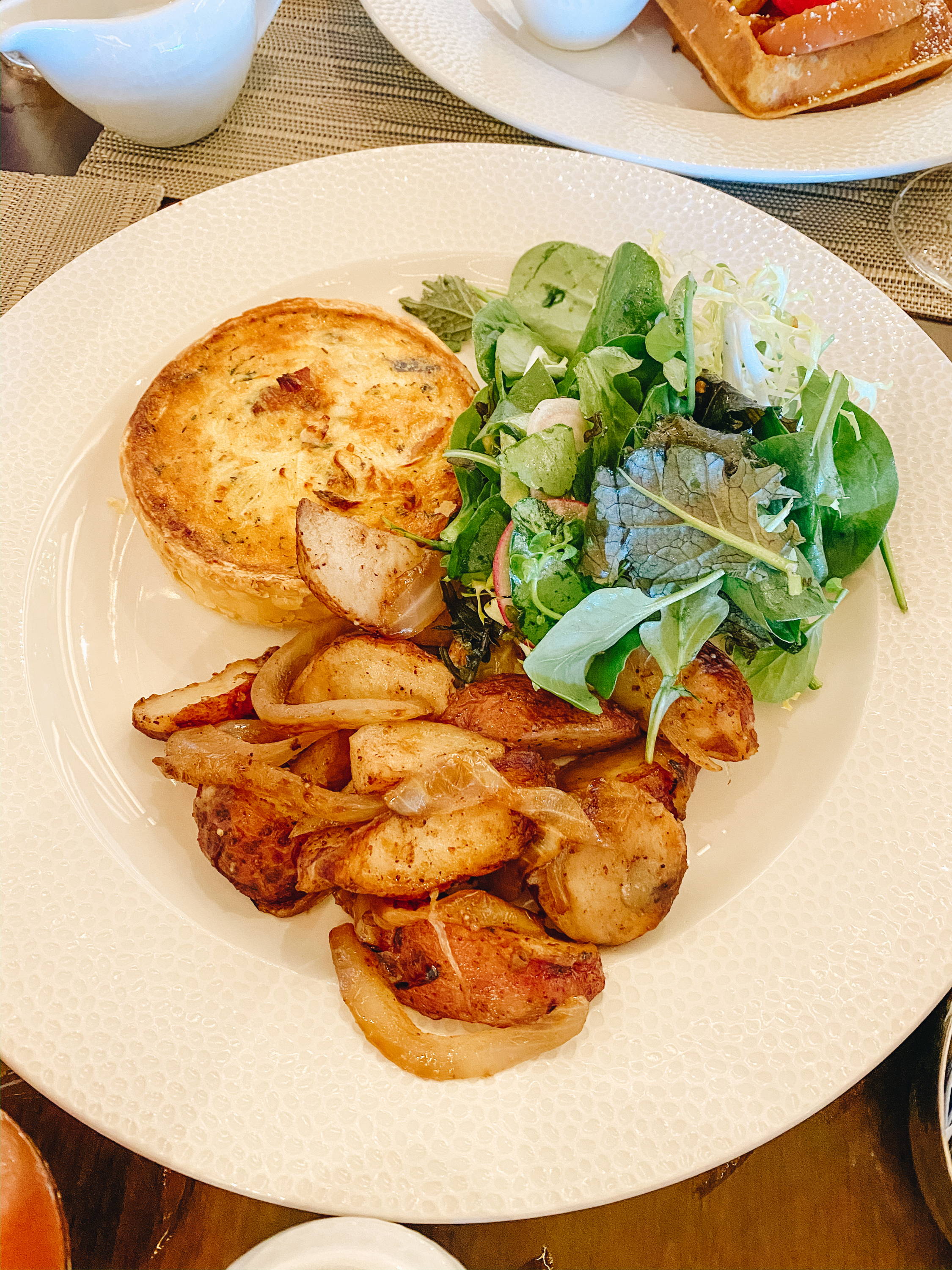 The Quiche came out on top as the favorite entree amongst the group. It included onion, roasted potatoes, and house-made roasted pancetta which was packed with flavor. An acidic field green salad with a lemon vinaigrette was garnished to assist with the savory dish.
Sour Cream Waffles 4/5 Cody T Heads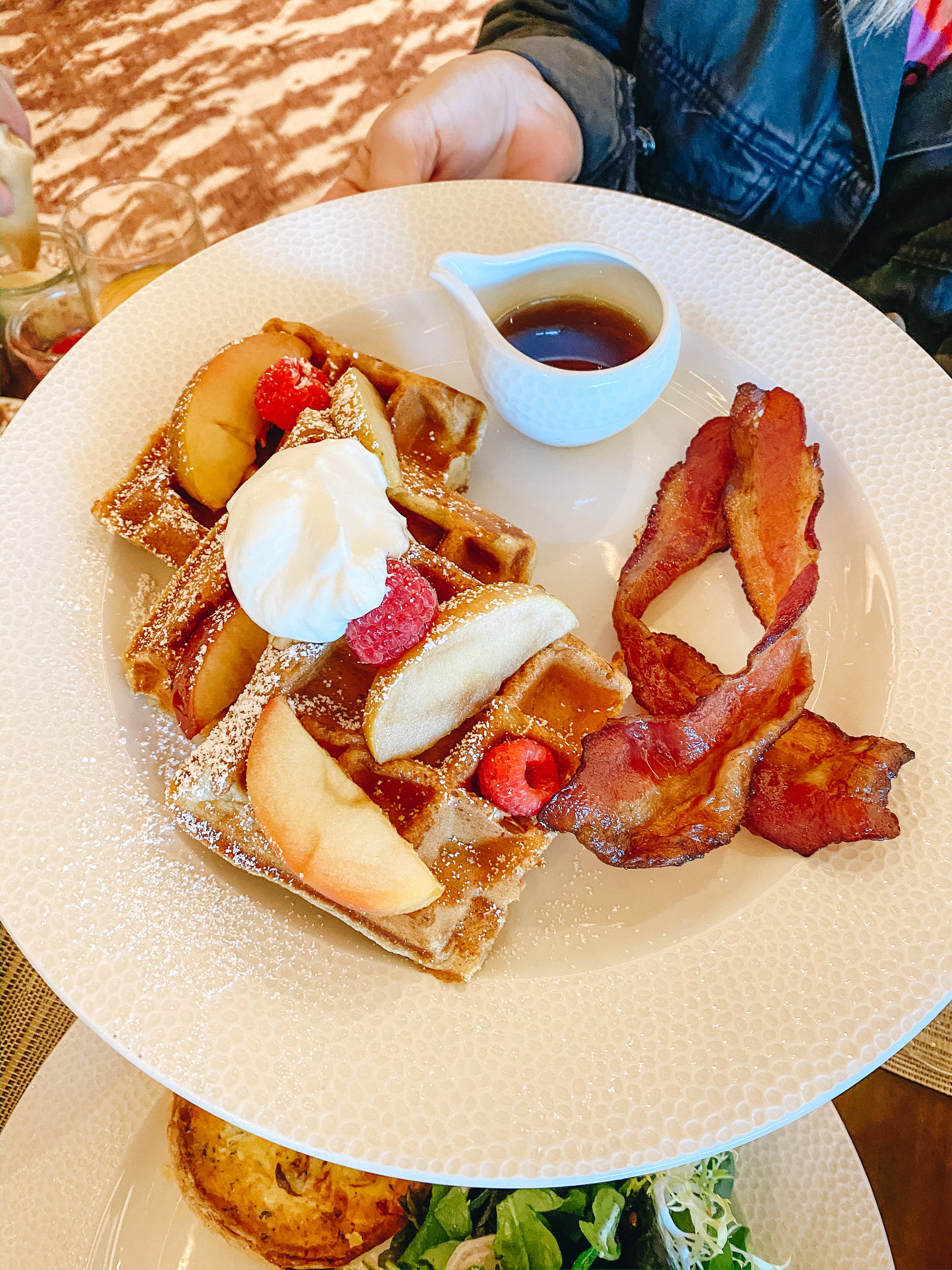 Finally, the Sour Cream Waffles came with roasted apples and berries. The bacon came crispy and the waffles were fluffy and fresh. Our only complaint would be that the apples could have been roasted a little more to eliminate such a crunch within the dish, but otherwise, we were impressed with this traditional breakfast.
Mickey (Topolino) - Painter Outfit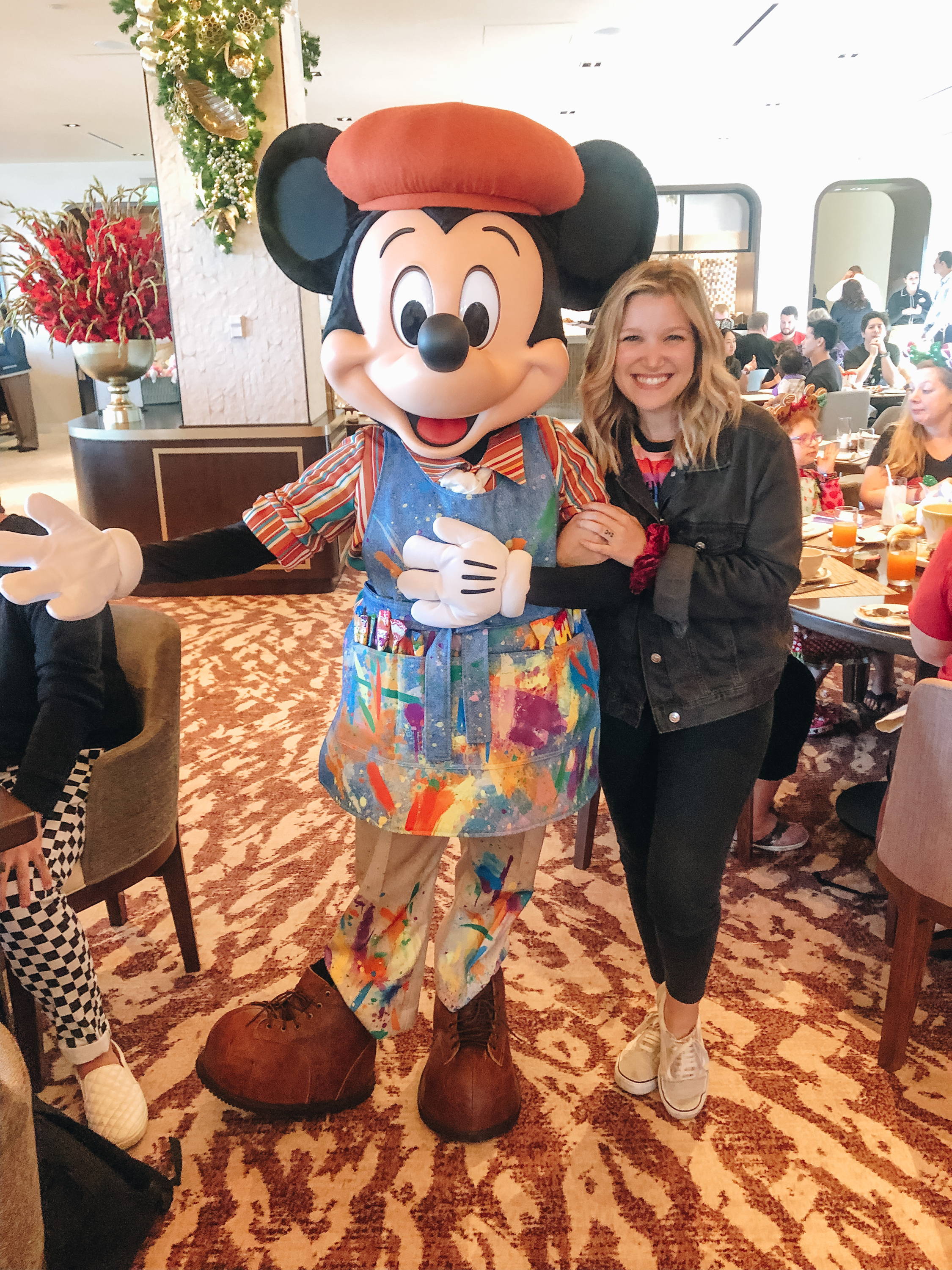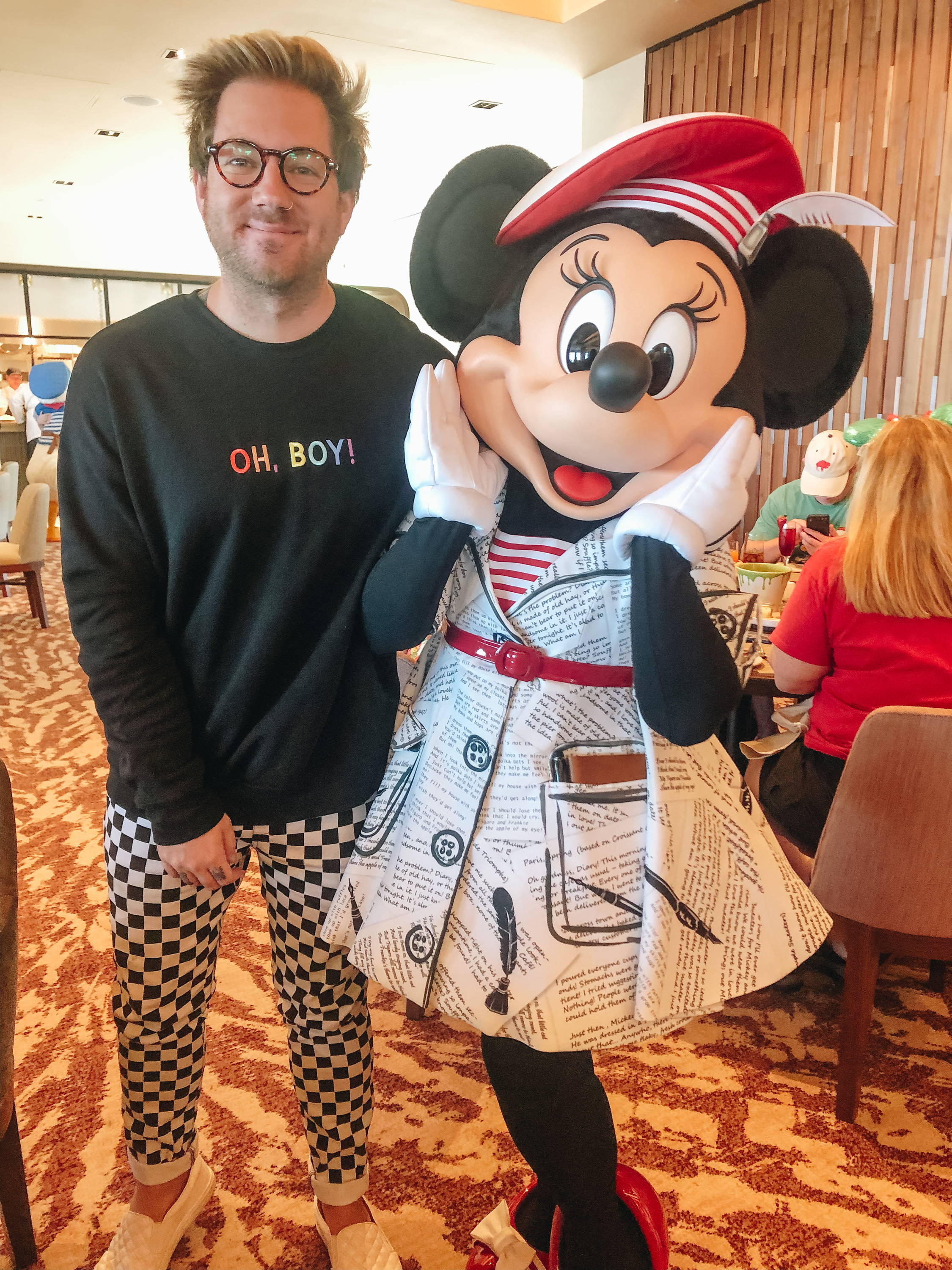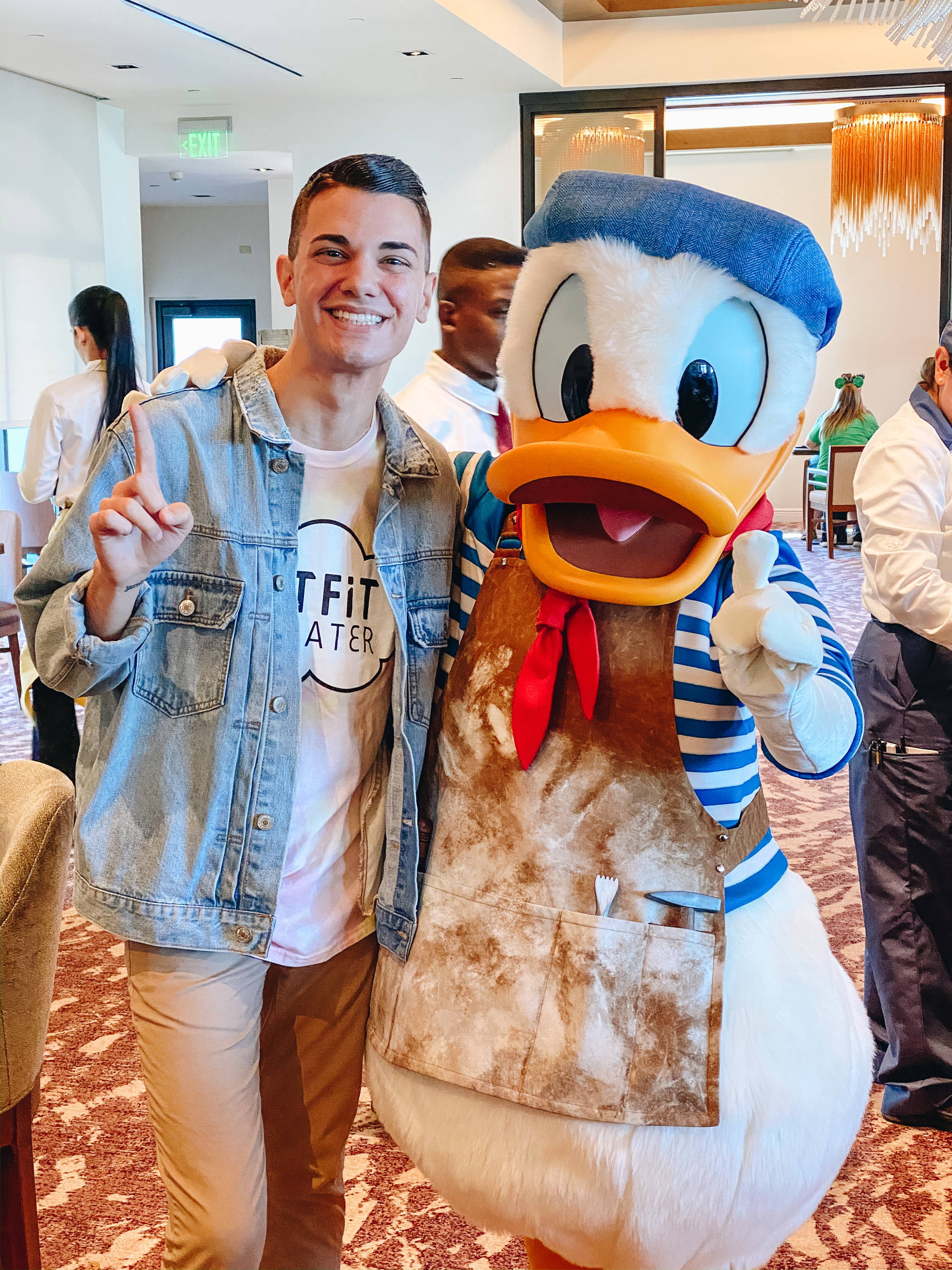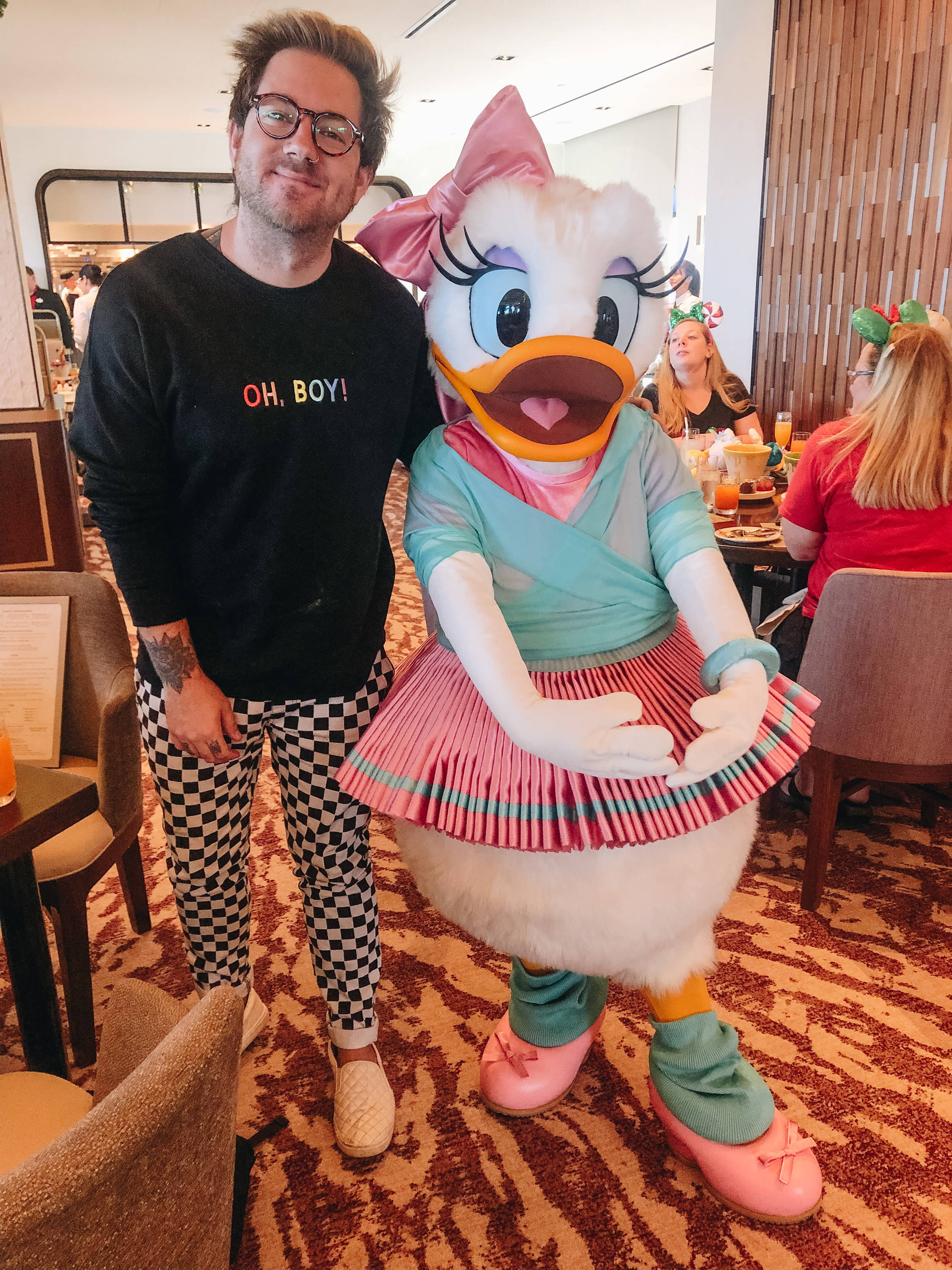 Overall, Topolino's Terrace Breakfast offering was one to return to. The service was fantastic, especially considering the stress of opening day. The character outfits were beautifully designed and unique to the restaurant's story and theme. The food was delicious and the gorgeous decor and rooftop view rounded off the entire experience. We highly recommend making reservations to come check out this all-new offering even if you aren't staying at the resort!
If you liked this article make sure to check out our store here, and use LOSTBROSBLOG for 10% off your first order!