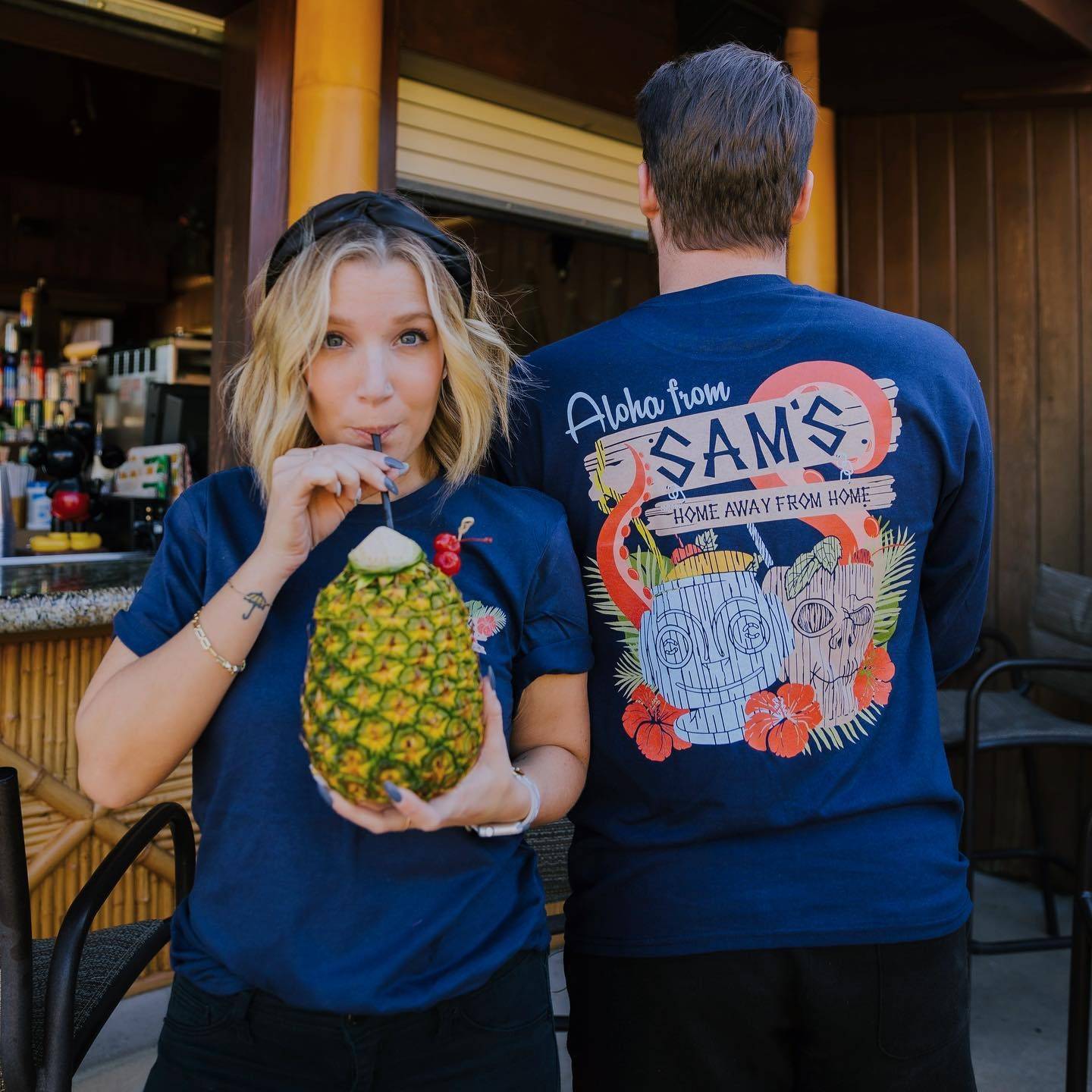 Who said a Disney Vacation is just for kids?
Literally no one forat least the last ten years. And as a team of young adults ourselves, we are very much known to spend an evening -or a very late night- on Disney property soaking up the surreal-ness of the vacation destination we live so close to!!
Some of our favorite spots are lounges (Disney speak for bars) and they are usually open until 11 or 12 at night. They offer a variety of snackies, drinks, and sometimes even entertainment! Many of these spots are family friendly until about 8:30 or so, then they become 21+, so be sure to check with the cast before you go visit!
Without further adooooo here are a few of our favorite places to be after park close!
---
Open Until 10 for For people with Bed times :-)  
Territory Lounge at Wilderness Lodge
You can check out our review of their updated menu down below!
Open Until 11 for Sleepyheads
Enchanted Rose atThe Grand Floridian Resort
Up on the second floor of the Grand Floridian main lobby is Enchanted Rose, a swanky (and very well decorated) lounge fit for even royalty to spend every evening in. This place offers absolutely delicious sharable snacks like charcuterie and flatbread and other snacks you might not want to share- I'm looking at you crab dip.
Enchanted Rose offers a full service bar and a ton of unique cocktails, some even made tableside (!!). Through one side of the lounge is a beautiful library, perfect for a quiet date or get together, and on the other side is a balcony that overlooks a pool and the stunning Grand Floridian Views. Open 3:30- 11pm every day. This is a place you need to visit even just to explore (And snap a few pics)! Menu is newly updated and featured here!!
Ale and Compass Lounge at the Yacht Club
Located in the very fancy Yacht Club on Crescent Lake is the Ale and Compass Lounge, named after the restaurant next door! Located right inside the lobby, this lowly lit, tiny lounge serves specialty marina themed cocktails and appetizers from the restaurant!
The mocktails at A & C Lounge cannot be beat- perfect for all ages and walks of life! Our recommendations are definitely the Roasted Cauliflower and the Parker House Rolls and Spreads (do not s$!% talk the Bacon Jam until you've tried it ok!). We love the energy in the place and its so close to the Boardwalk and Beach Club that a quick walk to ice cream at the end of your night is more than perfect. Open usually 4-11pm! Read up on their tasty eats here!!
Victoria Falls Lounge at Animal Kingdom Lodge
If you're looking for views, vibes, and very strong drinks- look no further than Victoria Falls Lounge in Animal Kingdom Lodge. Right above everyone's favorite buffet Boma is this small full service bar! Rarely crowded and always dimly lit is the name of the game at this lounge, but we are not complaining. Wine flights made up of African wines, specialty cocktails, and liquor from all over the world. Eat a burger, share some fries or goat cheese dip (that stuff slaps)or even take a short stroll outside for breathtaking savannah views and real wildlife! Menu linked here!! See: Zebras, Giraffes, and birds. Also see: Allison crying every time she encounters a giraffe because she thinks they're so freakin cute and it makes her cry more after she's had a glass of african wine.
Also open 4-11 pm! 
Shop our favorite bar wear :-)
Open until 12 for Night Owls
Dahlia Lounge at Coronado Springs Resort
At the top of the Gran Destino Tower at Coronado Springs is the effortlessly beautiful Dahlia Lounge. One of our favorite underrated spots on property. Dahlia is a 2 for 1 special because it's an incredible lounge at night with views of every nighttime spectacular at the parks on the balcony. This place has fantastic drinks and an animated short film that plays on a loop that was made by Walt Disney and Salvador Dali. This short film will have you questioning a lot about their sanity but nonetheless its a fun one after a couple of cocktails.
Don't sleep on the Ham and Cheese Bocadillo and the Crispy Artichokes. They're both stupid good. As for drinks, we're going for Espumoso Punches and Tequila Daisy's. Here's the full menu for your mouth-watering-ness.
There are lawn games and miles of walking trail around the lake downstairs! The art inside the lobby and lower level is spectacular and I could genuinely spend hours walking around Coronado without a care in the world. This lounge is so good. I can live there. Open 5-12!
Three Bridges Bar and Grill at Villa Del Lago at Coronado Springs Resort
Staying at Coronado Springs, we have Three Bridges Bar- an office favorite so favorited it may actually be the favorite of our favorites. Okay, I'll stop saying favorite, but you get the idea. Right out on the lake is the coziest spanish bar with Sangria (!!), Fireplaces (!!!), and CHURROS (!!!!!). Some of the best allergy friendly choices are at this place, from the GF Churros, to the Bean Dip, easy Guacamole, and a plant based Corn Dip so good I would quite literally fight Cody T for it.
Just like Barcelona, the views of the lake and the resort make this spot one of the best- and EPCOT fireworks are right over the water here too. Do yourself a favor and visit Coronado Springs!!!
This special spot is open 4:30-12 and you do not want to miss it.
Trader Sam's Grog Grotto
We couldn't make a favorite lounge list without mentioning the iconic Trader Sam's. One of the busiest lounges on property for a reason- this one is a family favorite until it becomes a full tiki bar after 9. The cast at this location makes the atmosphere energetic and lively- and the snackies are top notch. Cocktails are specialty themed, like many of our other faves, and on top of that, many are shareable!
The theming at the Poly can't be beat as is, but Trader Sam's has it in the bag with the Tiki God realness. Just be careful what you order- cause the Gods will make a mess. *wink wink*
This incredibly popular spot is open  to 
Scat Cat's Club Lounge
~Barry the bee voice~ Ya like Jazz? 
I really hope someone got that reference but it brought me enough joy to leave it in anyways- moving on.
At Port Orleans- French Quarter we have Scat Cat's Club- a New Orleans themed bar with our favorite foods like Po'Boys, Mickey Beignets, and Peach tea cocktails!!! Ok- so Peach tea isn't a food, but if you haven't tried theirs, then you need to.
Scat Cat's hosts live jazz on Fridays, Saturdays, and Sundays at 7:30 pm and it is not to be missed. Get together with friends and family and enjoy some alcoholic beignets (think donut filled with your choice of Baileys, Kahlua, or RumChata) (also think- way better tasting than I thought to begin with).
Open  to 
Tell us YOUR favorite lounges and be on the look out for more chances to sport your faves on property.
If you liked this list use code LOSTBROSBLOG for 10% off your next order on our site!! And follow us on socials for up to date knowledge of all of the alcohol and food we can get our hands on.