Let's Talk About Character Dining At Walt Disney World!!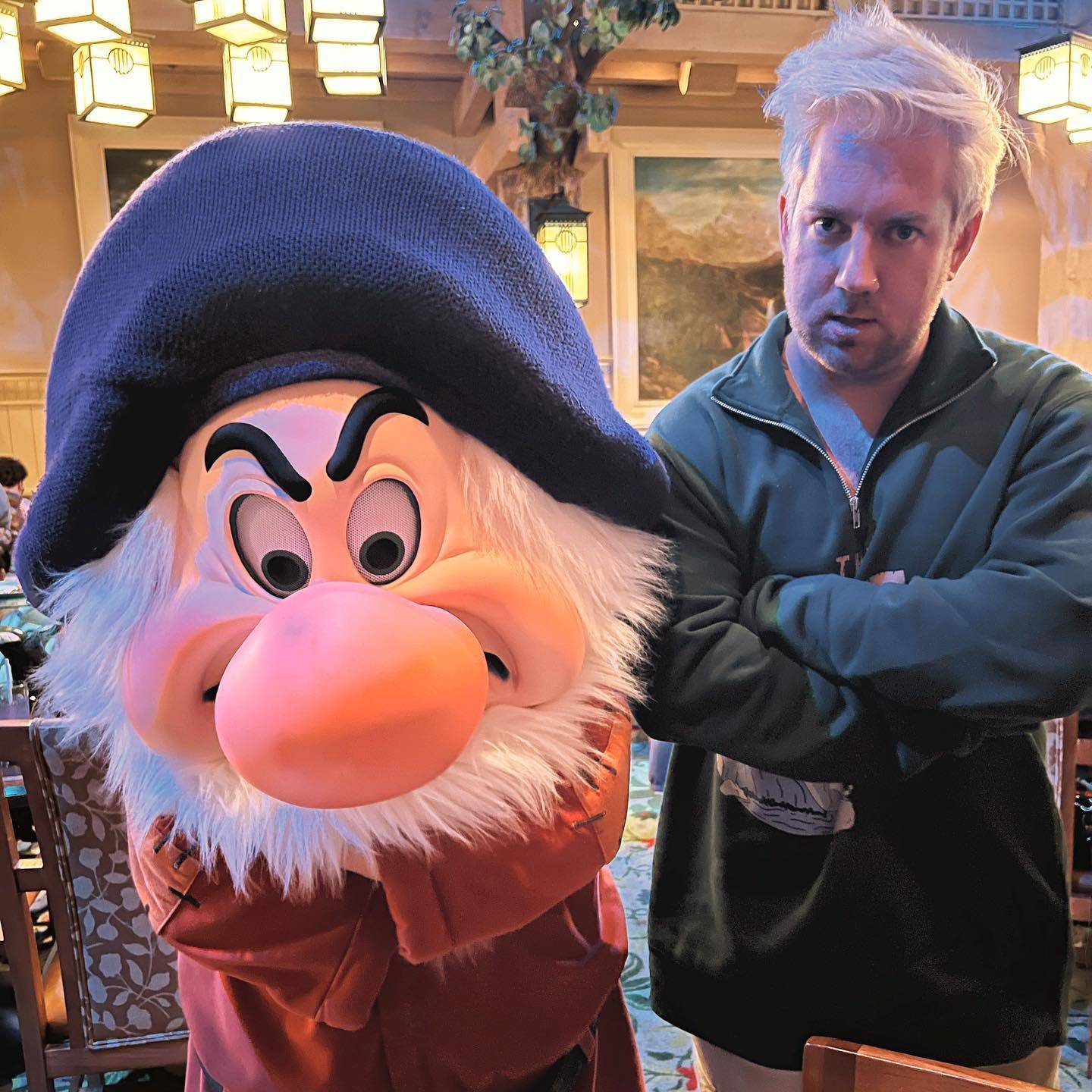 Don't Be Grumpy... We're talking about everyones favorite (and maybe least fave if you're afraid of fur characters lmao) dining experience at Walt Disney World. The forever amazing (and pricey) Character Dining!!
For as much as Character Dining may seem overrated, we really enjoy all of our character dining experiences. The food is always a step above and the character interactions you can get (especially now that we're not longer socially distanced) are all a part of the price and can seriously make for some one of a kind memories for you and your friends and family. Below we're breaking down everywhere you can dine with the Disney Characters in WDW... Resorts and parks alike.
Let's go!!!!
---
This American Norwegian restaurant is hosted by everyones favorite Sister duo- Anna and Elsa of Arendelle! Family Style dishes are served including salad, traditional kjØttkake (meatballs lol) and 2 different desserts all for sharing. $63 for adults and $41 for kiddos under 10. We recently ate at Akerhus for its reopening with the princesses and you can see all of our opinions if you check out our reel below!!
Minnie's Beachside Bash is poppin' over at Disney' Beach Club Resort. For $45 for adults and $29 for children, this is one of the lower priced character meals if you guys are wanting to do character dining on a budget! Characters are subject to change, but usually we've got Minnie, Daisy, Donald, and Goofy in all their beachy best. A Buffet style traditional American breakfast is on display, featuring Mickey and Minnie-shaped waffles, an omelet station, bacon, sausage, french toast, and all the extra fixin's. We have an oldie-but-a-goodie blog on this one right here!
Currently Family Style, but soon to be a long awaited Buffet return, Chef Mickey and his fab 5 besties are serving up traditional American Breakfast at the Contemporary Resort. At $45 for adults and $29 for kids, this is another lower priced character dining option! Fruits and parfaits are on the menu, as well as biscuits, and other traditional selections like eggs, bacon, and Mickey-shaped waffles. For Dinner it's an interesting menu of Plated Items with your selection of sides and Proteins.Dessert is family style and this meal is at $59 per adult and $38 per child.
A staff fave among us, Crystal Palace in the Magic Kingdom is home to our friends from the 100 Acre Wood! Winnie The Pooh, Tigger, Eeyore, and Piglet. (BOB IGER- BRING BACK RABBIT) $45 for adults and $29 for kids in the morning for breakfast. For Lunch and Dinner it's $59 for adults and $38 for children. Breakfast is traditional Pancakes, Waffles, Biscuits and Gravy, Cereal, etc. Easy peasy. Lunch and dinner are delicious offerings like Fried Chicken, Prime Rib, Veggies, and Seasonal Ravioli.
Shop These For Your Next Park Day :)
Cinderella's Royal Table will have Princess Dining back on February 28th 2023, at the moment you are only greeted by Cinderella as you dine. At the moment as well breakfast is $45 per adult and $29 per child. Lunch and Dinner are $67 per adult and $39 per child. These prices may change as characters return… and We will update this as information becomes available! For this Pre Fixe meal, you get your choice of entree for breakfast, and choice of appetizer, entree, and dessert for lunch/dinner. Kingdom inspired dishes such as chicken and pasta, fish, and pork tenderloin are available.
Certainly a UNIQUE dining set up is the one for Garden Grill, Chip 'n' Dale have invited you to their Harvest in EPCOT's The Land Pavilion (and the restaurant slowly spins?? Not too shabby). Food sourced from Disney's greenhouse right in the pavilion as well!! Chicken, Mac and Cheese, Salad, Mashed Potatoes, etc. Join Chip, Dale, Pluto, and Farmer Mickey for Lunch or dinner. Adults are $55 and kiddos are $36.
Hollywood and Vine has 2 completely different character dining choices depending on your wants or needs! You like Disney Junior friends?! Look no further than breakfast time. Characters like Vampirina and Fancy Nancy join us for pastries, french toast, and other traditional American breakfast foods. $42 for adults and $27 for kids!
For Lunch and Dinner, (a Cody and Lex all time FAVE) Minnie and her buddies do seasonal parties based on the time of year! Spring Time, Summertime, Halloween parties, and Winter Bash are all on the list. Food consists of buffet style $59 per adult and $38 per kid. Salmon, Shrimp, Chicken, Steak, and a million different sides. Check out the vibes below!!
Lilo and Stitch host their Best Friends Breakfast at 'Ohana. It is $45 for adults and $29 per child! This is a family style dining experience with breakfast skillets and house made pineapple-coconut bread that is literally legendary. This is one of the more unique dining options, as you really can't meet Lilo out in the parks! And you can meet most of the Fab 5 almost anywhere. PLUS- there's stitch waffles!!!!
Story Book Dining @ Artist's Point

Open only for dinner is this ABSOLUTELY BANGER MEAL with character appearances by Snow White, some of the Dwarves, and at the end of the meal a greeting with the Evil Queen herself (spooky). $64 for adults and $39 per child… with shared appetizers, a choice of entrees, and shared desserts. This is another super unique character dining experience and we LOVED it when we went on the 85th anniversary of Snow White. Our experience is in the insta post + reel below!! (I mean look at that happy Lex!!!!)
Character Dining in DAK all day baby- we do LOVE Tusker House. Buffet style is BACK at this popular joint with African inspired cuisine and our favorite buddies. Fun fact- Donald once proposed to me at Tusker House and I still think about it. (Although I hear he does it with everyone?) Anyway, breakfast is $45 for adults and $29 for kids and has a variety of American and African inspired breakfast options- including Simba waffles!!!! Lunch/Dinner are African inspired buffets that come out to $59 per adult and $38 per kiddo. We've got a pretty sick review of it right here for you!!
Topolino's Terrace - Flavors of the Riviera Breakfast

This is hands down my FAVORITE character dining experience at WDW. The Food at Top's is pun fully intended top notch. The fits that Mickey and friends wear are so cute!! And the views from the top of the Riviera cannot be beat. The characters are at breakfast only, as this becomes afancy place for dinner, but for brekkie its $45 per adult entree and $29 for kids- with shared pastries to start that are to die for!! We have a review of it right here if you wanna see our picks!  
Honorable Mention: Be Our Guest

A Pre Fixe Meal just like Cinderella's Royal Table, but the Beast of Beauty and the Beast makes his rounds checking in on guests in his restaurant. He will pose for photos, but this is not considered anactual character dining choice by Disney Standards!
---
There you have it folks, everywhere you can do some dinin' with your faves in WDW. Let us know where youre favorite character dining spot is and tell us WHICH ONE WE SHOULD TRY NEXT.
I'm trying to get a staff brekkie at 'Ohana personally. 😇
If you loved this blog be sure to use code LOSTBROSBLOG for 10% off your next order on our site!!
See ya reaaaaalll soon.