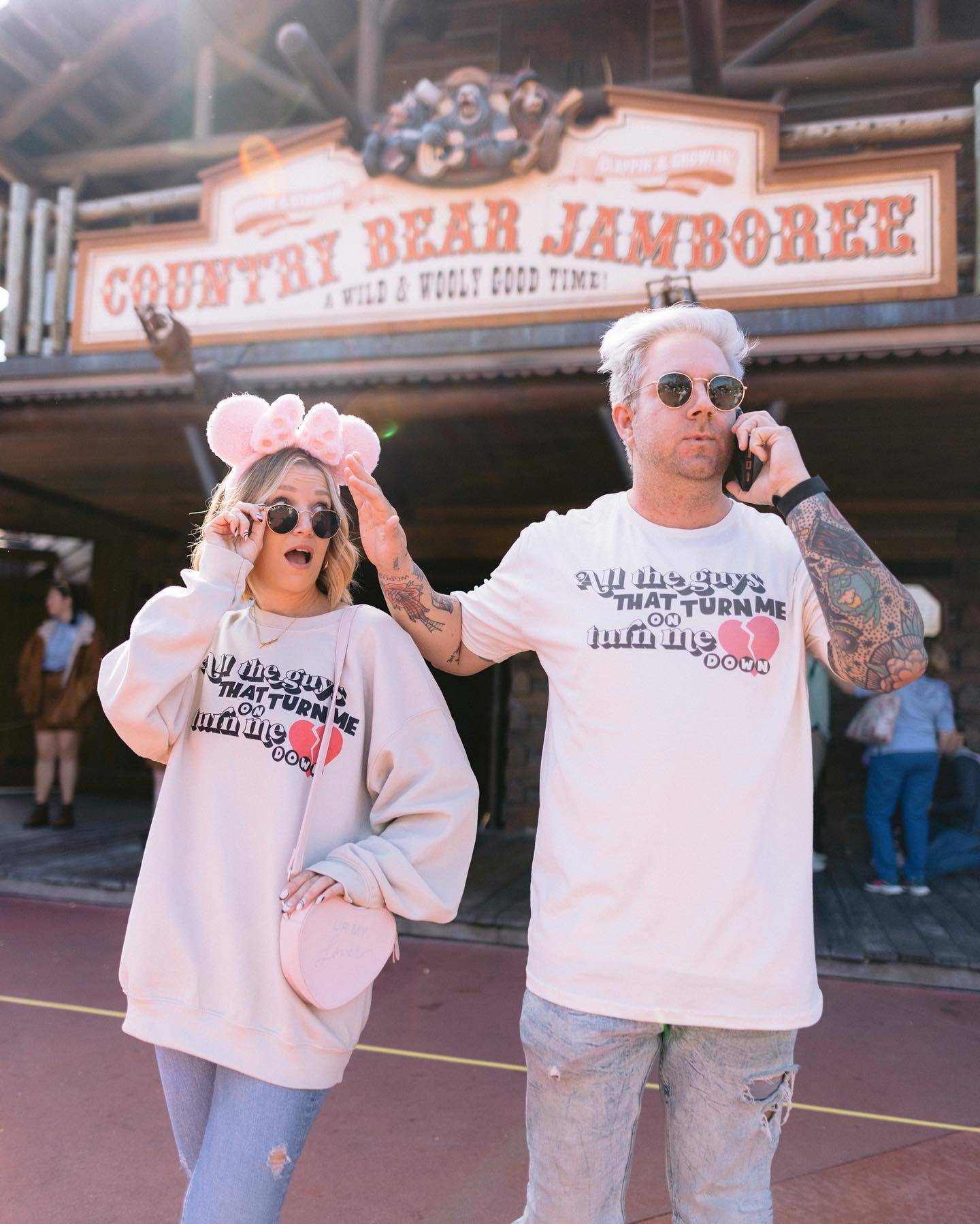 WHO SAID DATE NIGHT HAD TO BE BORING?
What's up Lover Bros- it's the week of loving yourself and loving the people around you!!!! Loving everybody. We've got date spots on the blog today. Date spots perfect for a self-date, a friend date, or a romantic date. Literally all of the above!!
You don't have to have a partner to give and receive all the love we've got to give. So follow along w/ me as I show you my favorite underrated date spots around Walt Disney World - NOT in the parks. Cause of course you can go on a park date- but this is for every other time.
If you L-O-V-E to Match With Your Loves - Here Are Our Picks
From like - Anywhere but MK.
Okay, okay, everyone sees fireworks from inside Magic Kingdom- blah blah boring booooo throwing tomatoes- totally kidding but still. Who wants to deal with those crowds?! Not me, LOL. So instead, we love seeing the fireworks from unexpected places!!! Here are our faves.
Citricos- Nice, fancy dinner? Delicious food? Sign me up. If you ask to be sat by the window during showtime you can see the fireworks!
Fort Wilderness Beach- go to Fort and get to Pioneer Hall (like you're going to Hoop-Dee-Doo- which we also recommend and have a blog onright here!!) Outside there's a food truck, a walk up lounge, and beach access so you can take the boat to MK or sit on the beach and have a sick view of the fireworks! So pretty and unique.
Polynesian Beach - Similar to Fort, if you go to the Poly (park there if they'll let you lol, or park at the TTC and walk) walk past the Great Ceremonial House and out onto the beach and you'll be able to see the fireworks across Seven Seas Lagoon! They blast the music through the beach as if you're there in the park and we do LOVE it. Plus you can eat yummy poly food. 10/10
Contemporary Balcony - Ok this one isn't as much of a secret anymore but if you're on the floor of the Contemp with Chef Mickey's and the shops there's a door leading out onto a balcony that overlooks the entire park! An especially good view of Tomorrowland and the monorail going by, this is a crowd fave for a reason.
Just like- The Whole Resort.
Listen we are Coronado Springs Lovers around here. I will write that place love letters. I love it so much. There is so much to do you almost don't have to leave the resort at all lol.
But here are some fun little date spots we know about
Painting Class -Colors of Coronado is $35 per person and you get to paint a special art piece with the help of an instructor! This experience is 2 hours long and happens every Friday @ 1 pm at the gorgeous Toledo restaurant on the 16th floor.
Coronado Spanish Mosaic Class -At $25 per person this is SUCH a fun activity for friends and fam!! A Mickey Mosaic making class up in Dahlia Lounge. This one happens on Mondays, Wednesdays, and Saturdays!
Sangria University -Another FAN FAVE- literally my favorite thing i've done at WDW since living here- Sangria University is a 2 hour course teaching you about the history of sangria and liquor at both DisneyWorld and in Spain as a whole. Usually held at Three Bridges Bar and Grill on the lake (another favorite restaurant). 4 glasses of sangria + you get to make your OWN at the end. You must be 21 to attend and this is a $59 class- but honestly so worth it to me.
Every Disney Resort has a flurry of recreational activities and cast members ready to play games, watch movies, and do activities with you. Reach out to concierge or cast at the resort for a schedule and a full list of things to do! But honestly here are our faves:
-Campfire Sing Along / Movie Under The Stars With Chip'n'Dale @ Fort Wilderness
A Meet and Greet w/ your fave munks when the sun goes down
-Art Class
A flat fee per person for your own unique piece of art- usually themed to the resort!  
-Roasting S'mores over the Fire
A flat fee for all of your smore supplies and then you get to roast marshmallows allll evening.
-Movie Nights
Disney Resorts blow up massive projectors on the lawn of their resorts (or sometimes over by the pool or beach!) and play Disney Movies every night!
Whether you're drinking or snacking there are a million options when you want to do a Monorail Crawl (i.e. monorail resort hopping at Contemp, Grand Flo, and Poly) or a skyliner crawl (hello a million resorts along the skyliner I won't even name them all). We did a full skyliner crawl deep dive a while back and it still stands true as one of my FAVORITE things to do. A perfect plan for a non-park vacay day, and so much fun for everyone involved (unless you're deathly afraid of the skyliner which i'm known for but I manage by closing my eyes and squeezing someone's hand while we ride).
You can check out everything we like to do atSkyliner Resorts right here!
A Good Casual Date Night Fit
In Disney Springs right next to the superior Orange parking garage (I will not be taking other opinions- this is the only right answer), there is a 3 story- count 'em- 3 story Coca Cola store. We all know Disney has a longstanding relationship with Coca-Cola and even has Club Cool sponsored by them in EPCOT, but did you know that you can try alllll of those worldly Coke flavors plus more at Disney Springs? At the rooftop bar on top of the Coca-Cola store, you can sample all of the flavors of soda from around the world + specialty cocktails, Icees, and regular Coke of course. This is a super fun activity for date night or friends going out. Make it a game and see how many flavors you'll dare to try.
Cirque Du Soleil: Drawn To Life
Drawn to Life, the newest Cirque show in Disney Springs is a wonderful show about the history of animation. Tickets start at $85 and it really is fun for the whole family!! While you're in Springs you can eat at some of our favorite restaurants like Wine Bar George, The Edison, Enzo's Hideaway, and a fave sushi place Splitzville Luxury Lanes (Yeah- sushi from a bowling alley seems trippy but like trust us).
Amorette's Cake Decorating Class

On the pricier side, we have Amorette's Patisserie and their legendary cake decorating class. This one is $199 per person- so like yeah very special and steep for date night haha, but you get to decorate and take home an entire Mickey Cake that you make yourself! Very much a special occasion experience.
We hope you loved these unique date night spots in WDW!
Let us know your favorites and for sure follow us on Instagram to see all of our adventures and add our favorites to your vacay list.
If you liked this blog be sure to use code LOSTBROSBLOG for 10% off your next order!
If you want to see more of what we're up to day to day- be sure to follow us on
Insta @thelostbros + tiktok @thelostbros + Twitter @lostbrostweets