One of the most popular Disney Springs holiday offerings from 2019 has returned for another year at Jock Lindsey's Hanger Bar! The menu features both new and returning festive food and drinks and today we ventured out to the bar to give them a try!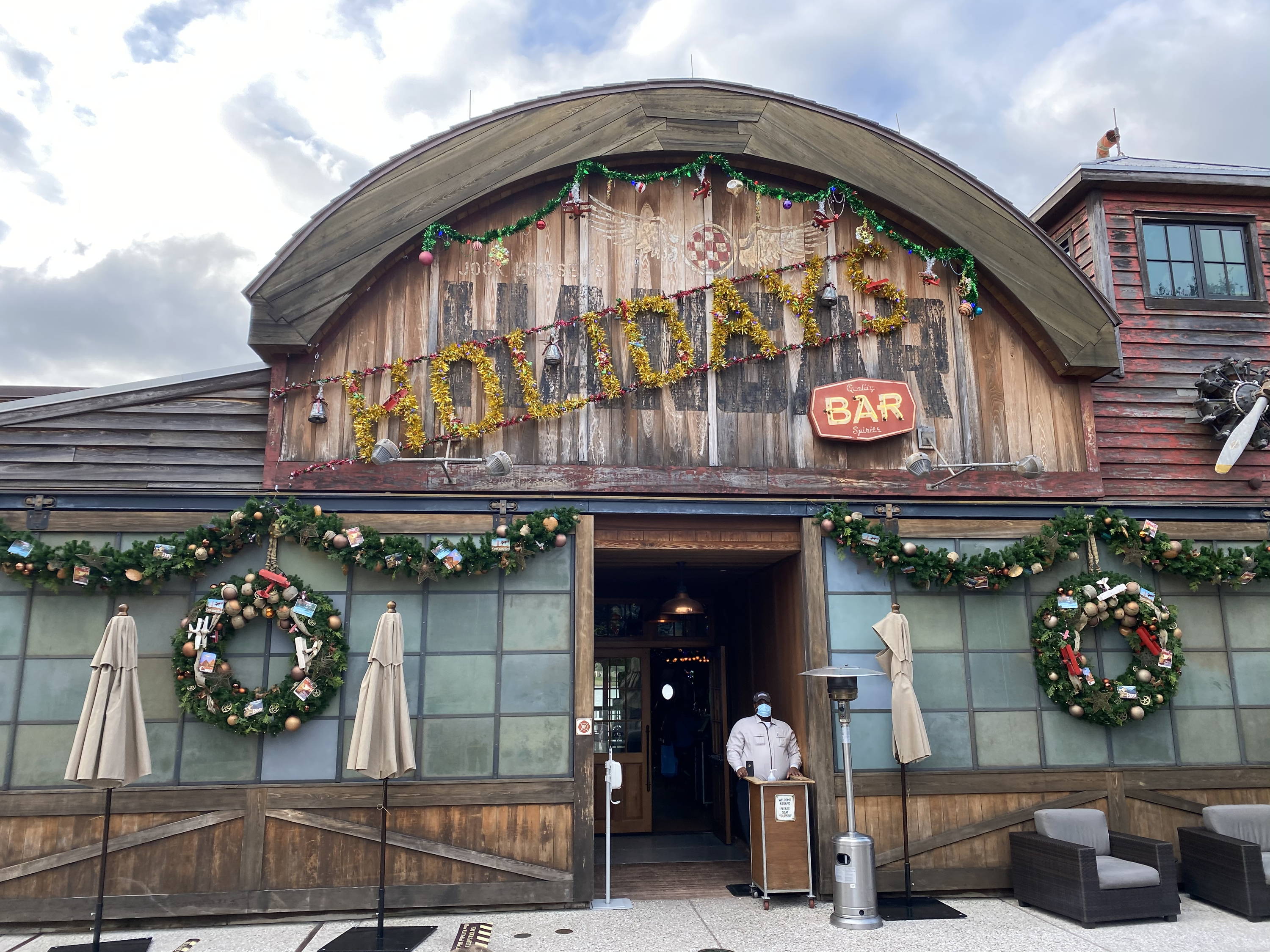 The two returning favorites from last year's menu are the C9 Light Deviled Eggs and the Jock's Holiday Nog drink. New items added this year include Grandma's Favorite Sliders, Papa Noel's Churrasco, Milk and Cookies by the Fireside, Cranberry Kringle, Mistletoe Mule, and the Berry Merry Margarita. While the holiday menu is fairly small, keep in mind these are all in addition to the current regular menu offerings.
In addition to the Holiday food and dink, Jock's Bar also got decked out with Christmas decor!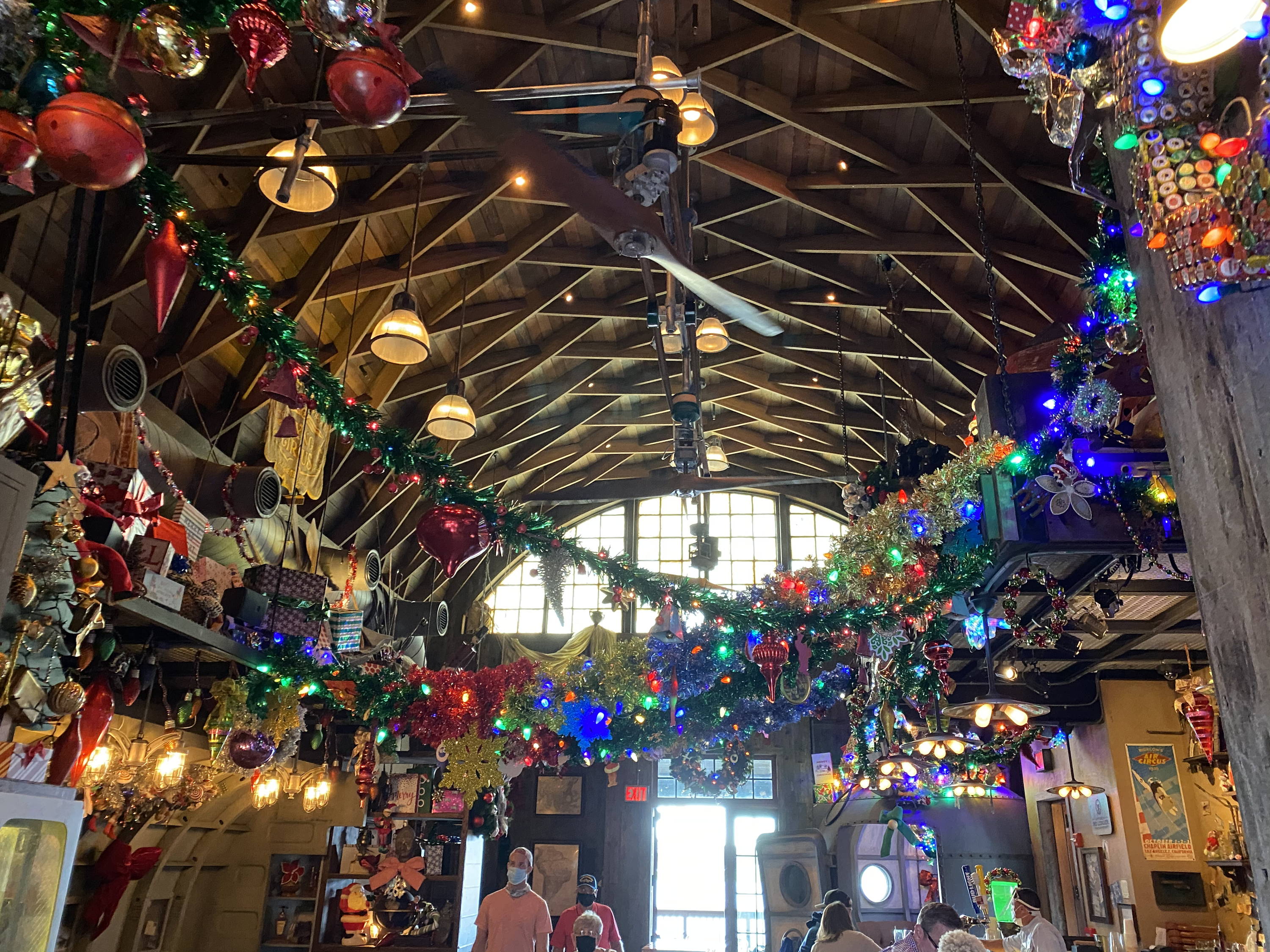 ---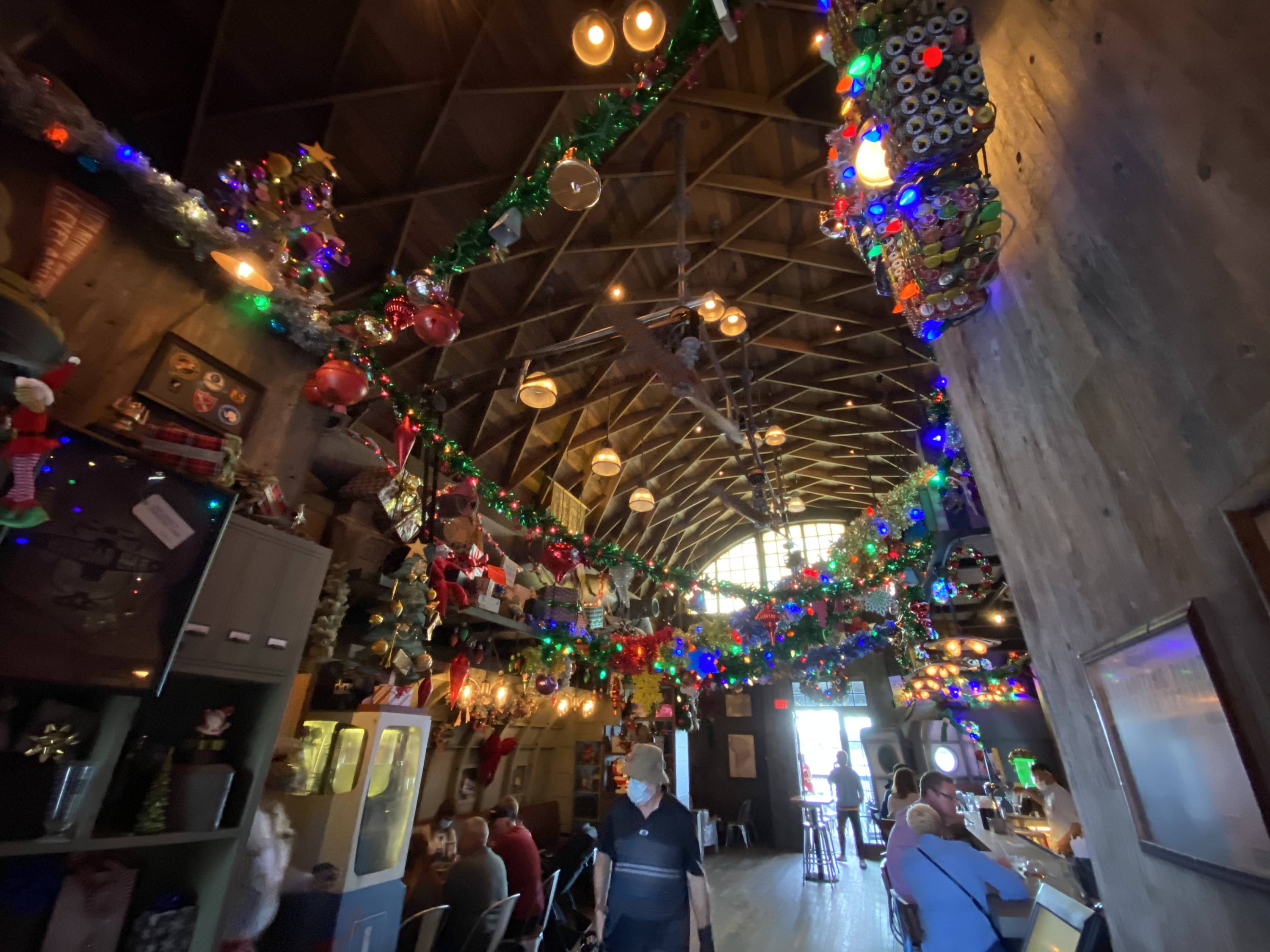 ---
---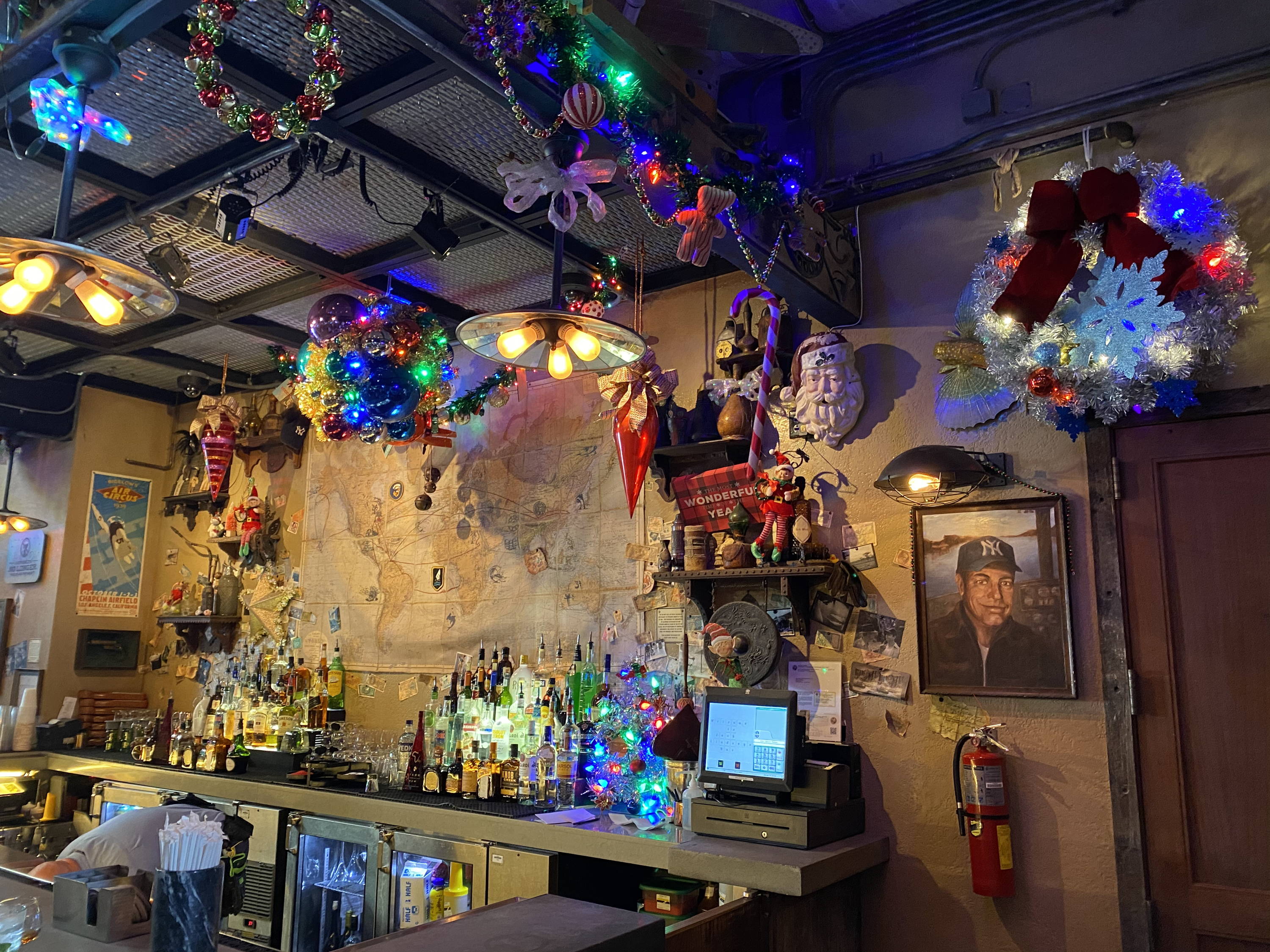 ---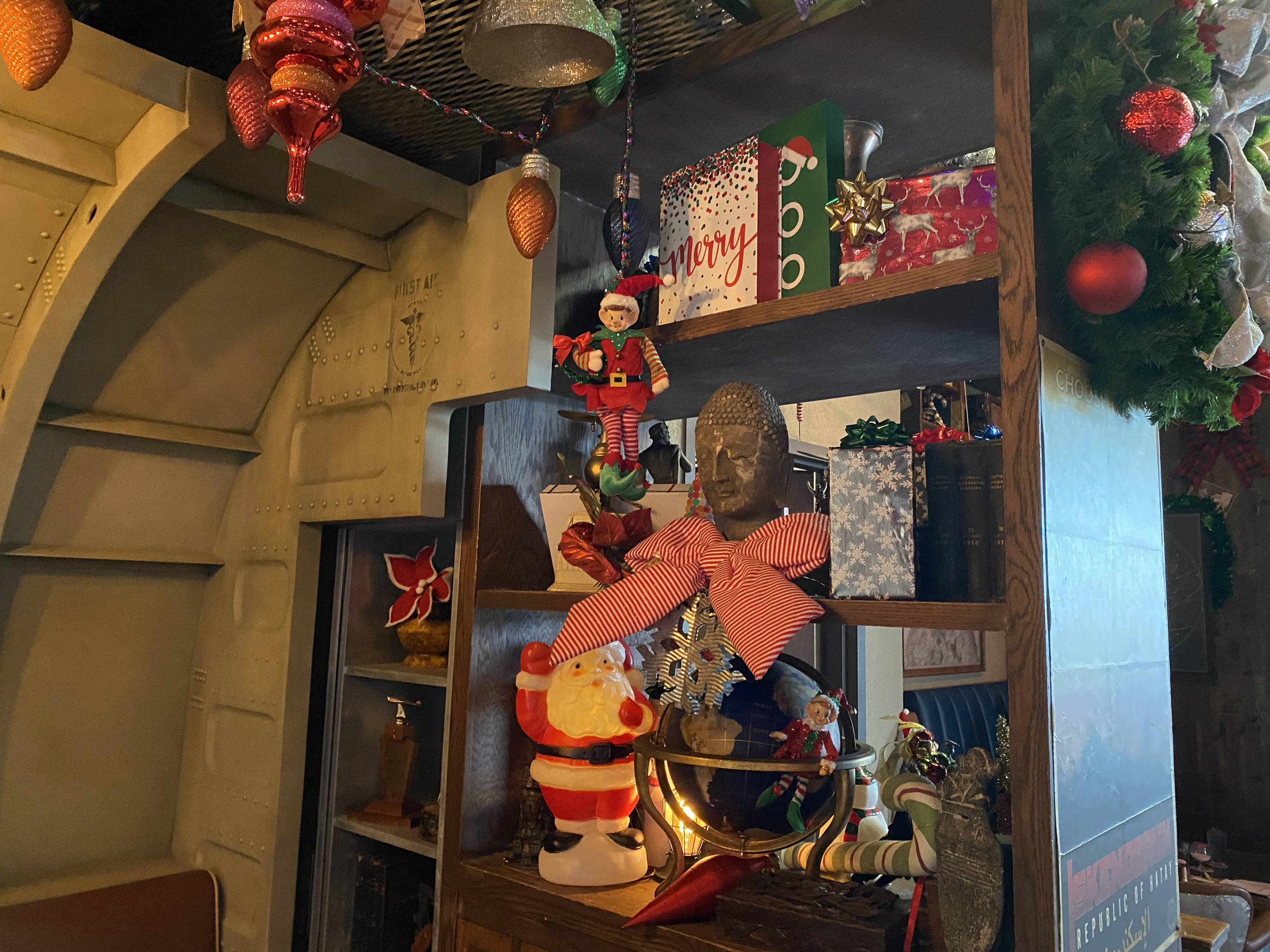 ---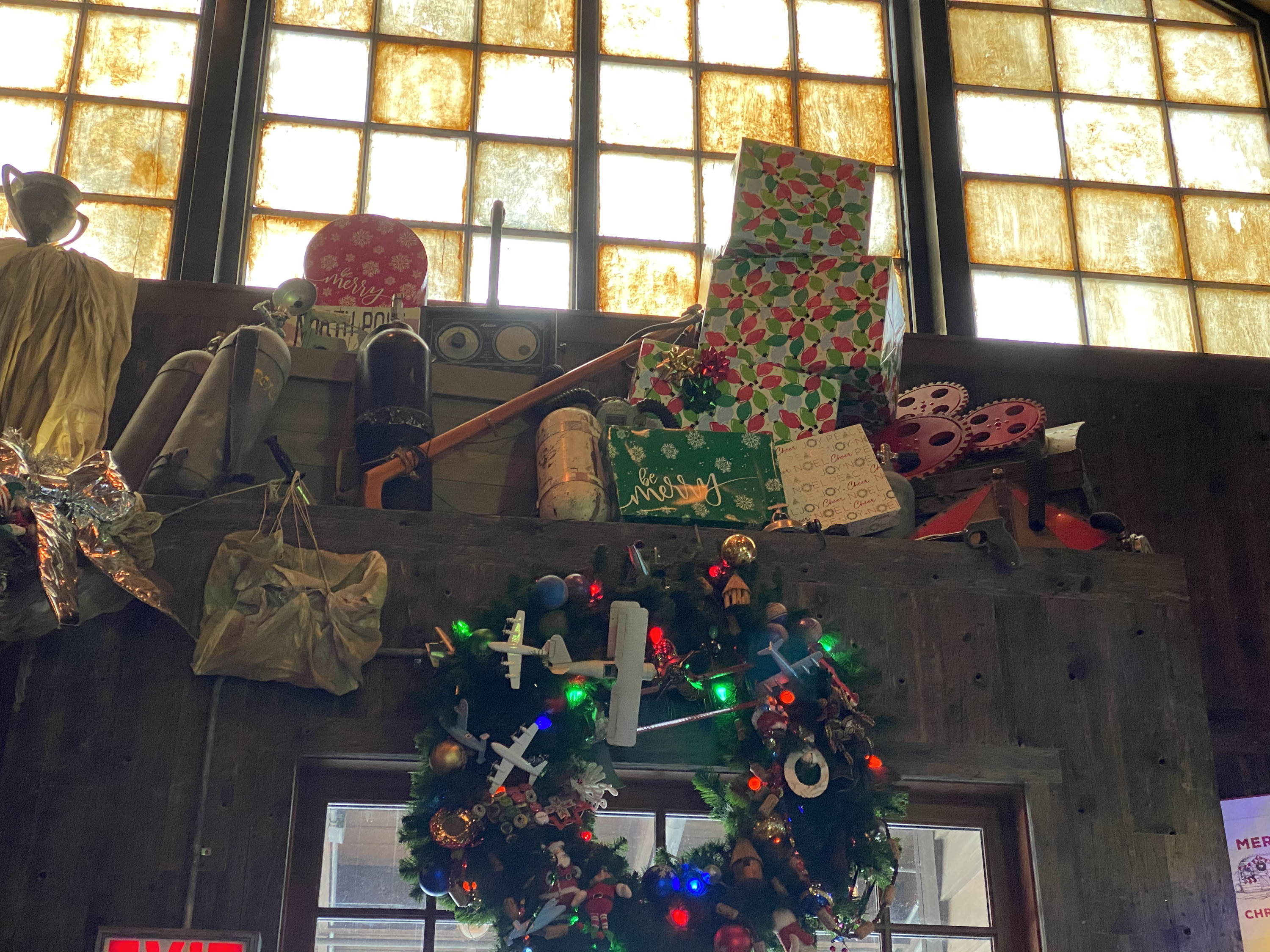 ---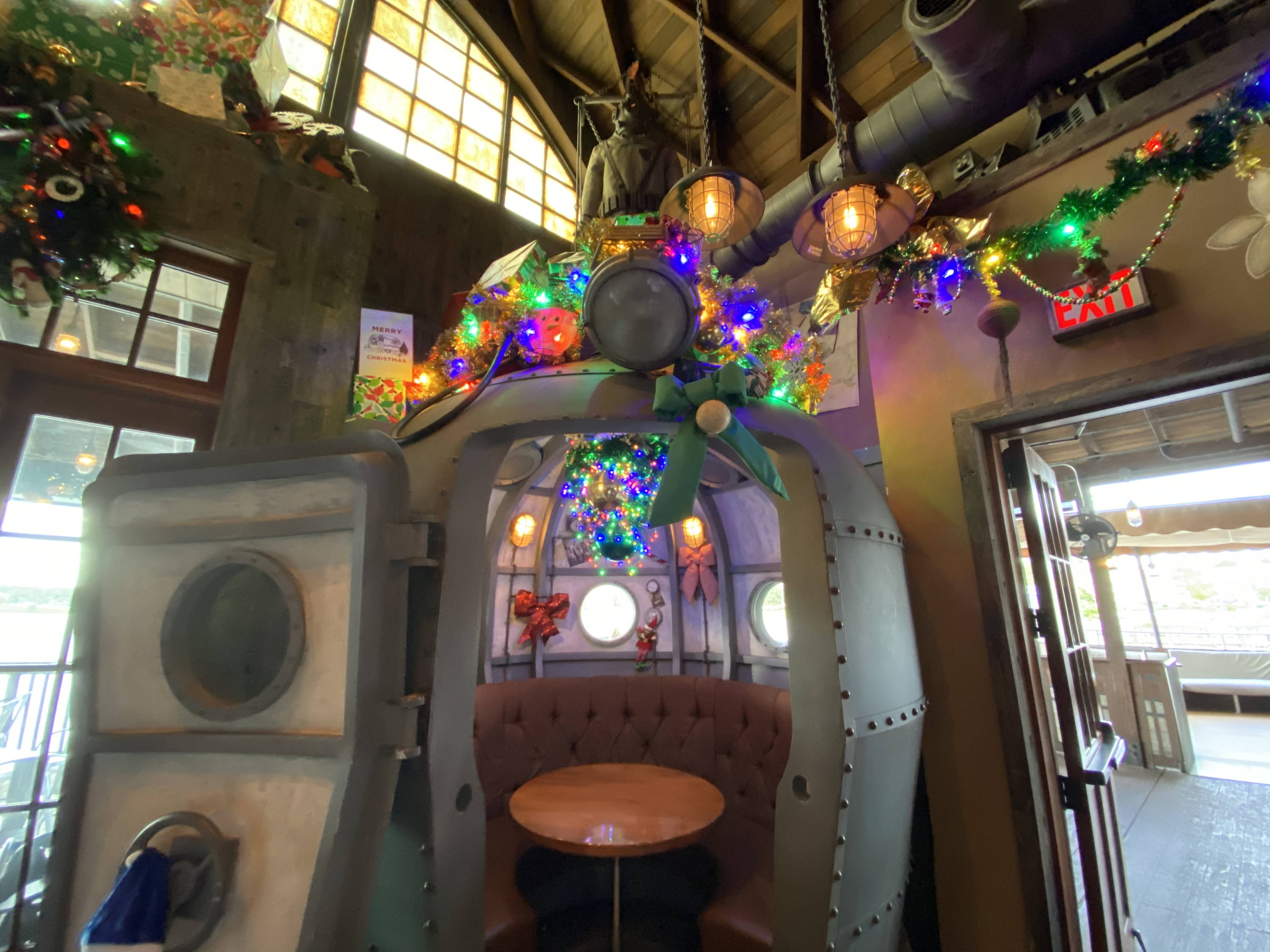 ---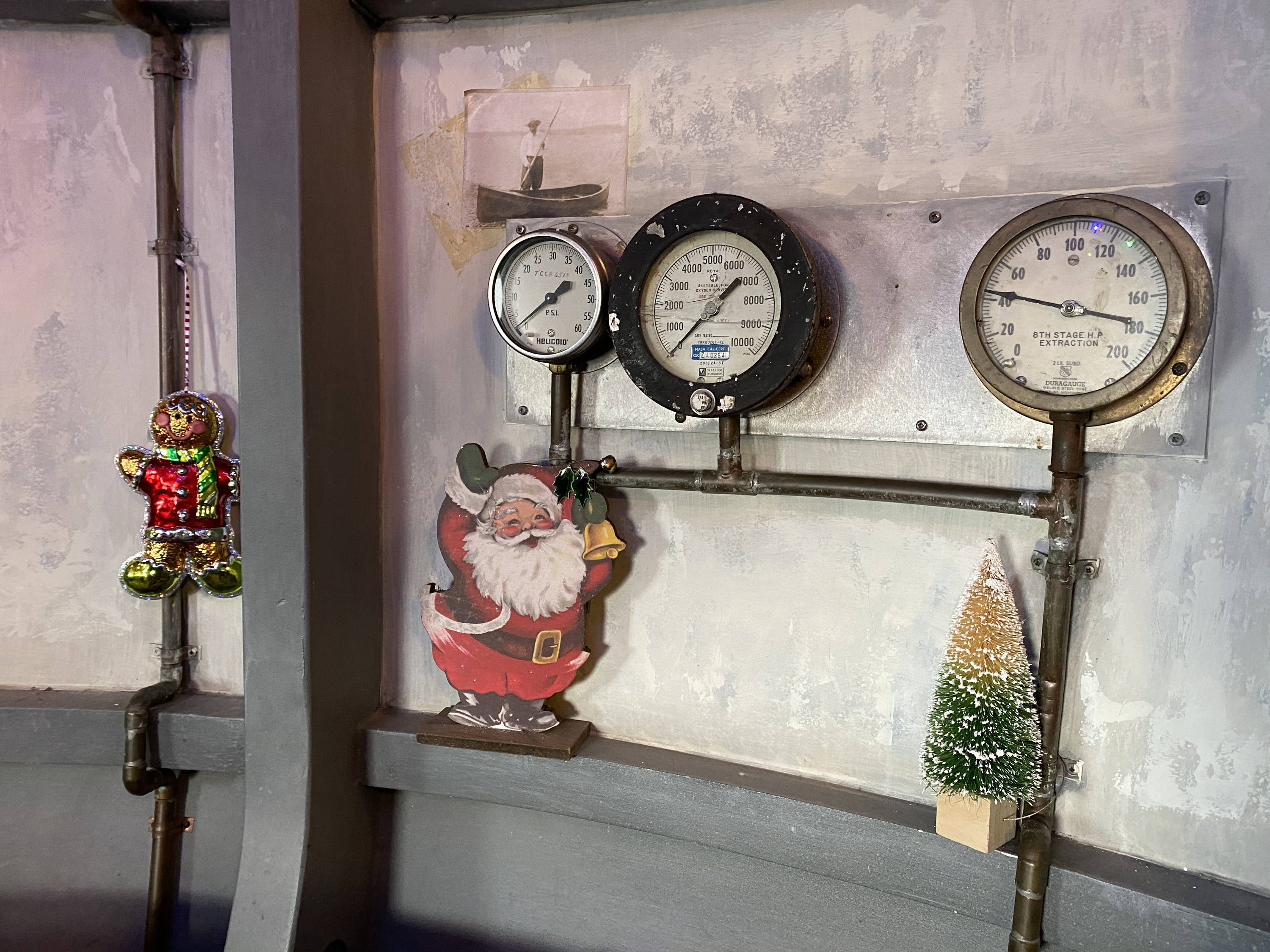 ---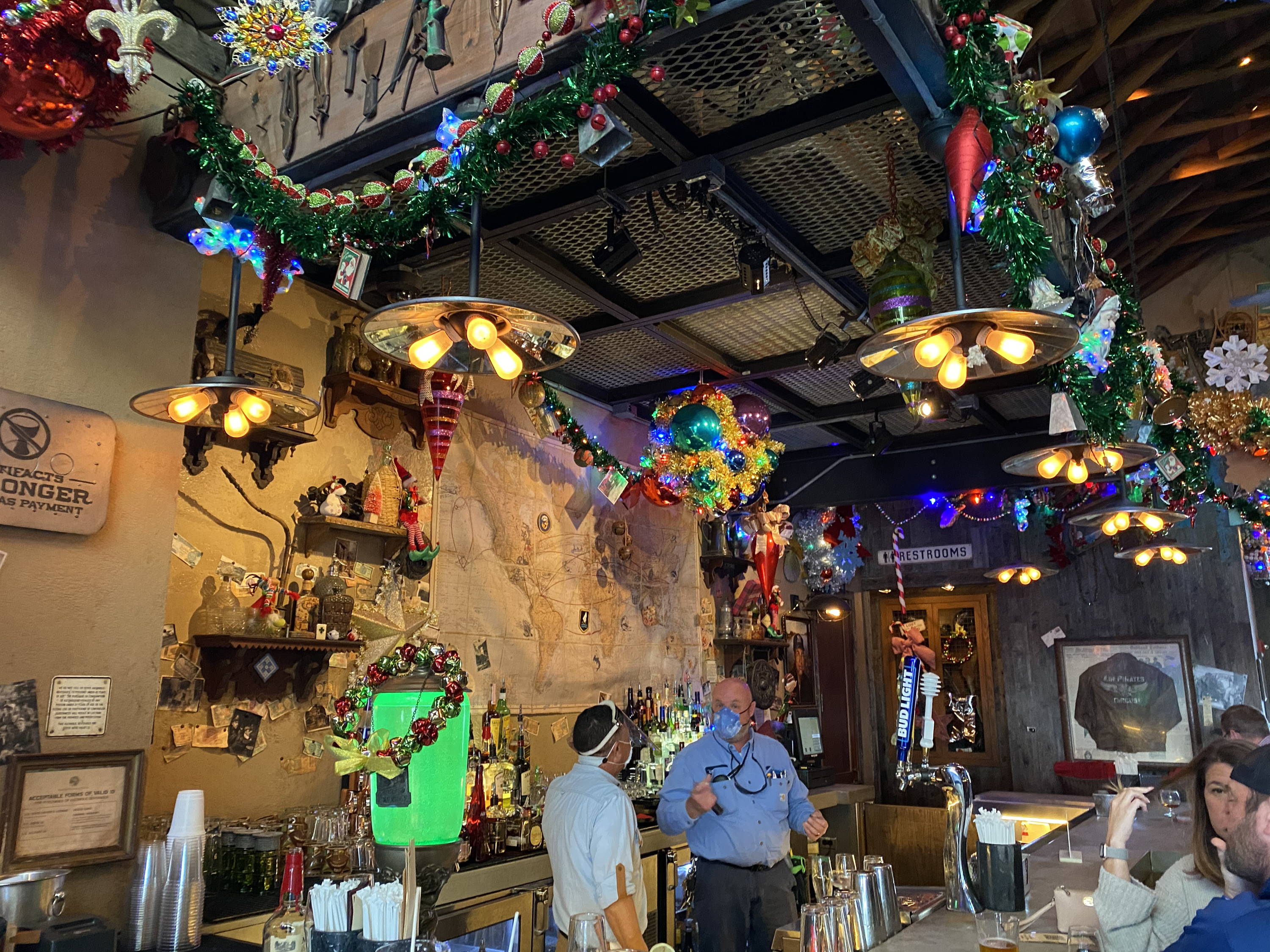 ---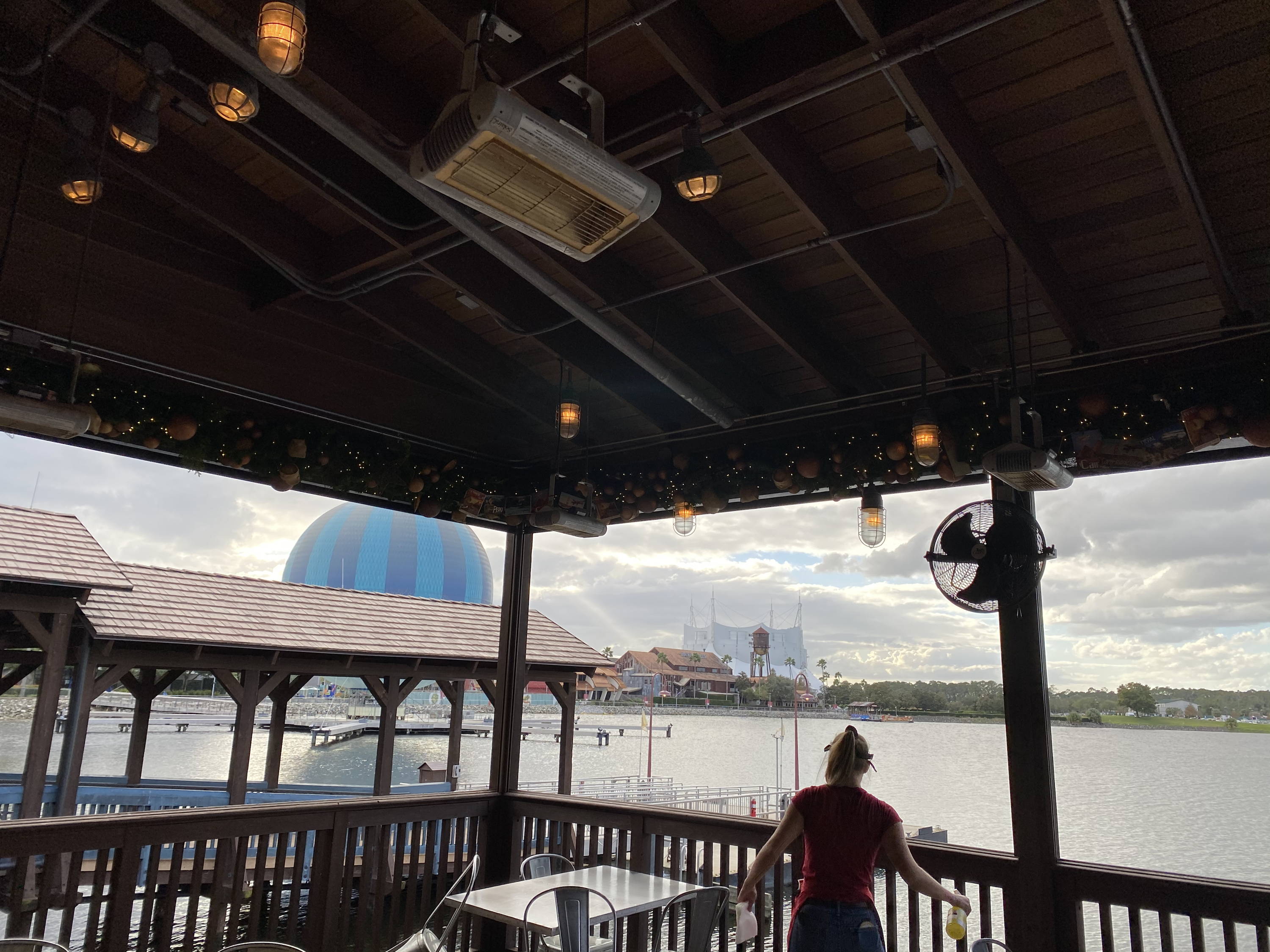 ---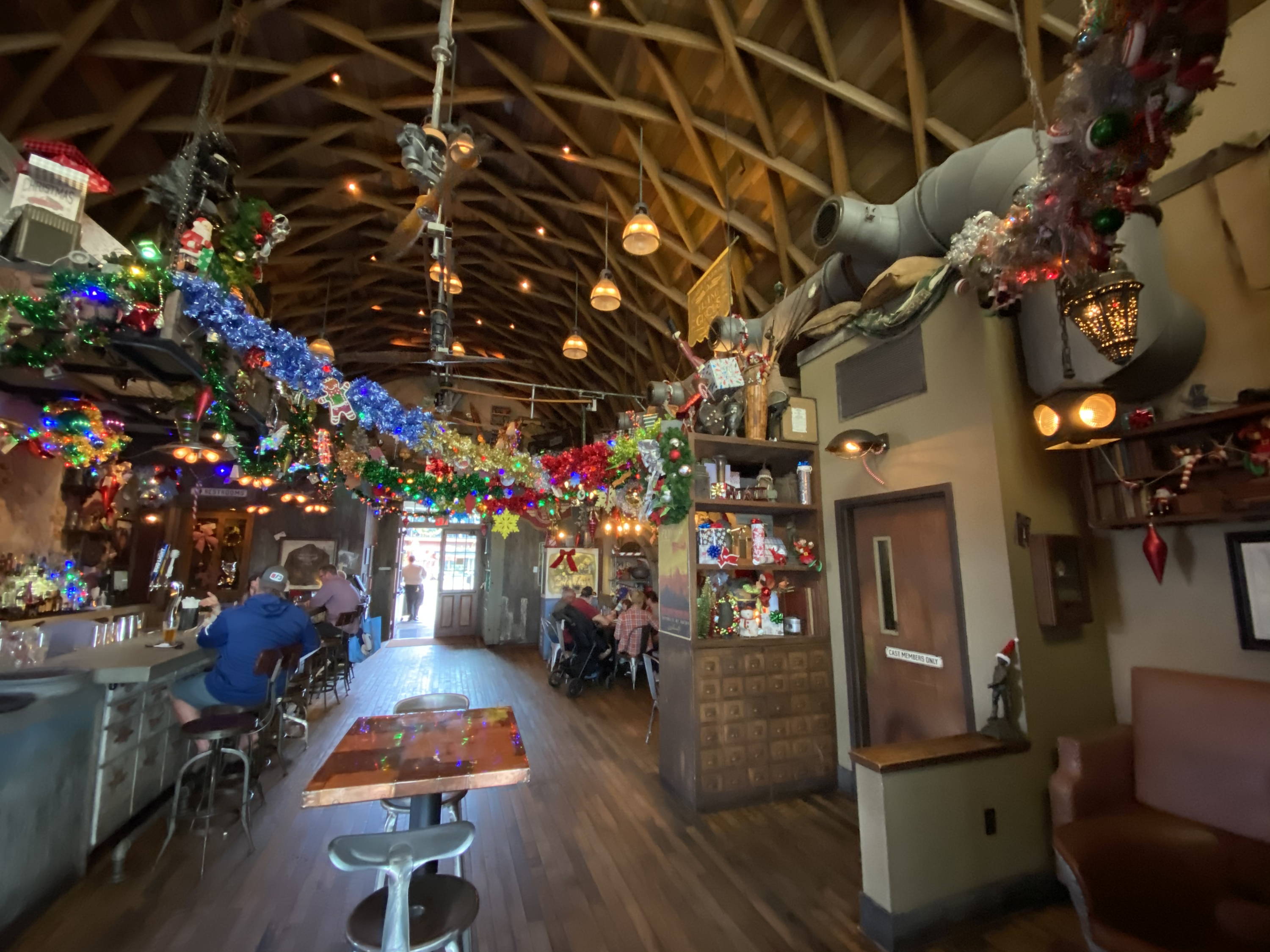 As you can see, the over-the-top Christmas decor fills the entire bar with cheesy Christmas gags, lights, and garland throughout. It makes the vibe extremely homey and festive. Now let's talk about food and drink!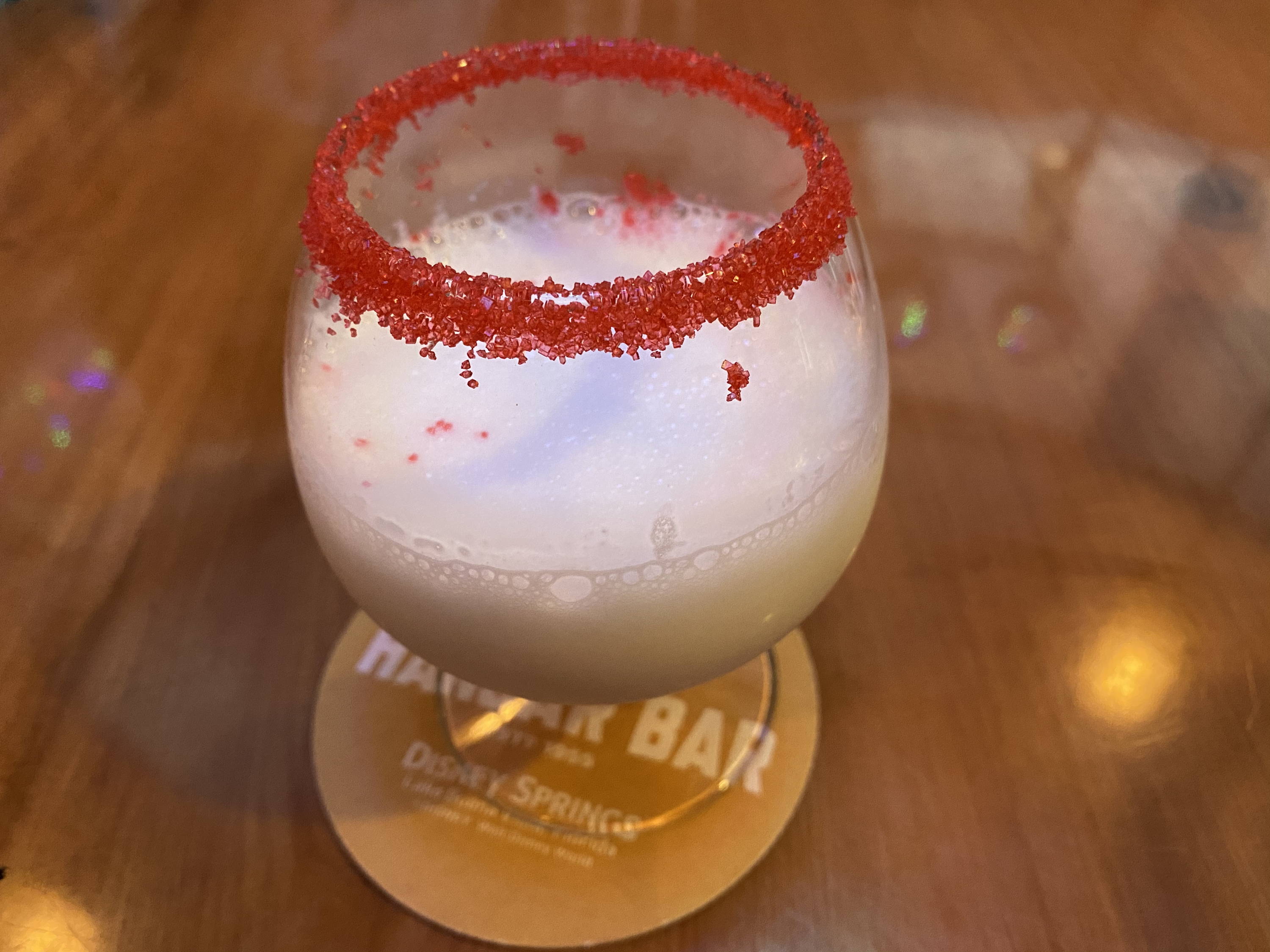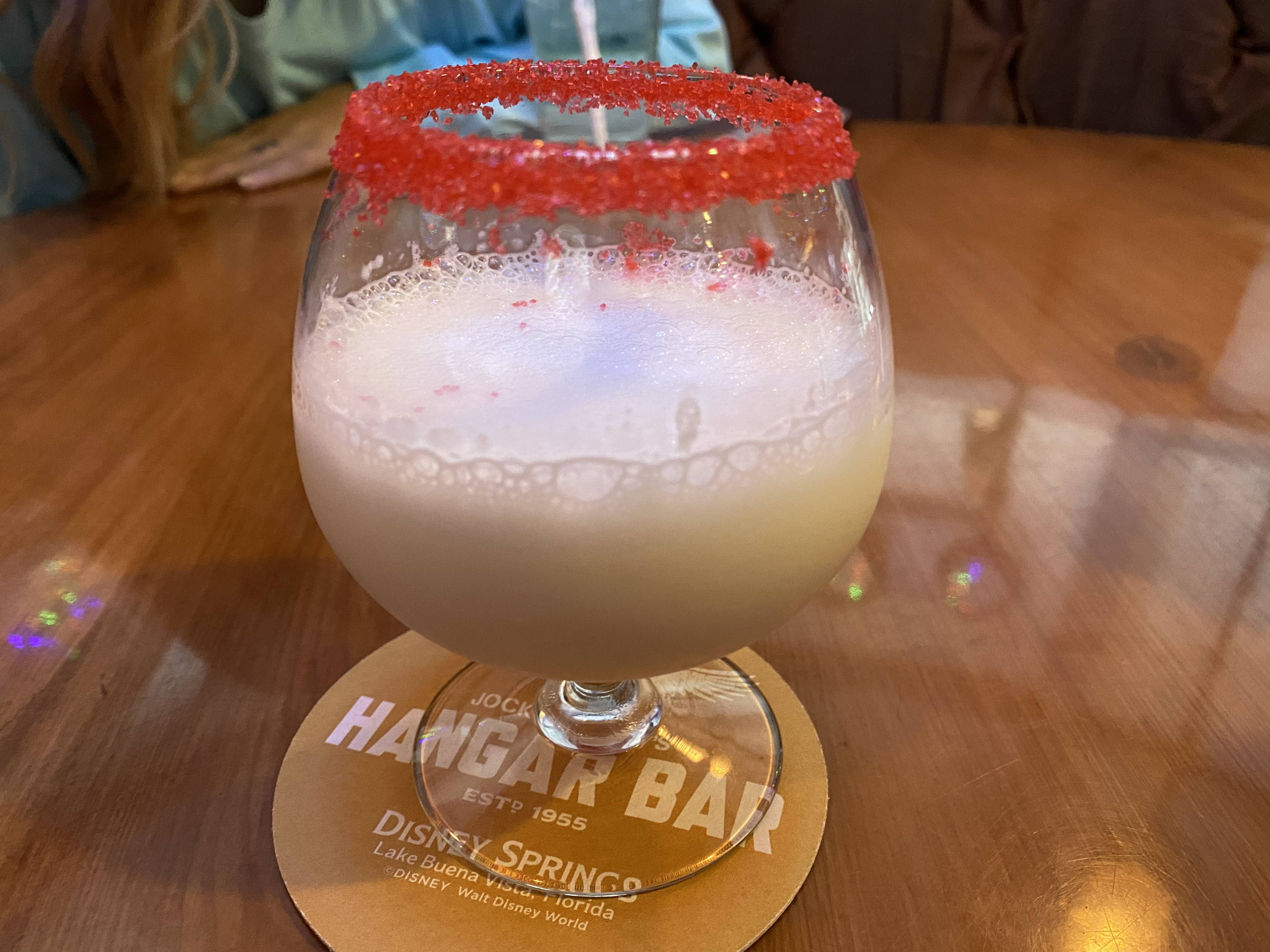 Jock's Holiday Nog was the only returning Holiday Menu drink from last year, but it was just so good that we had to get it again. Nobody at the table were particularly huge eggnog fans, but this drink works so well because it really doesn't taste like eggnog. Served with Rum Chata, Tito's Handmade Vodka, Frangelico, with a hint of Vanilla and a sugar rim, Its both aesthetically festive and tastes just like the holidays with a kick. We have to recommend this one which takes a more creative angle over some of the other Holiday drinks like the margarita or mule!
C9 Light Deviled Eggs - $12.00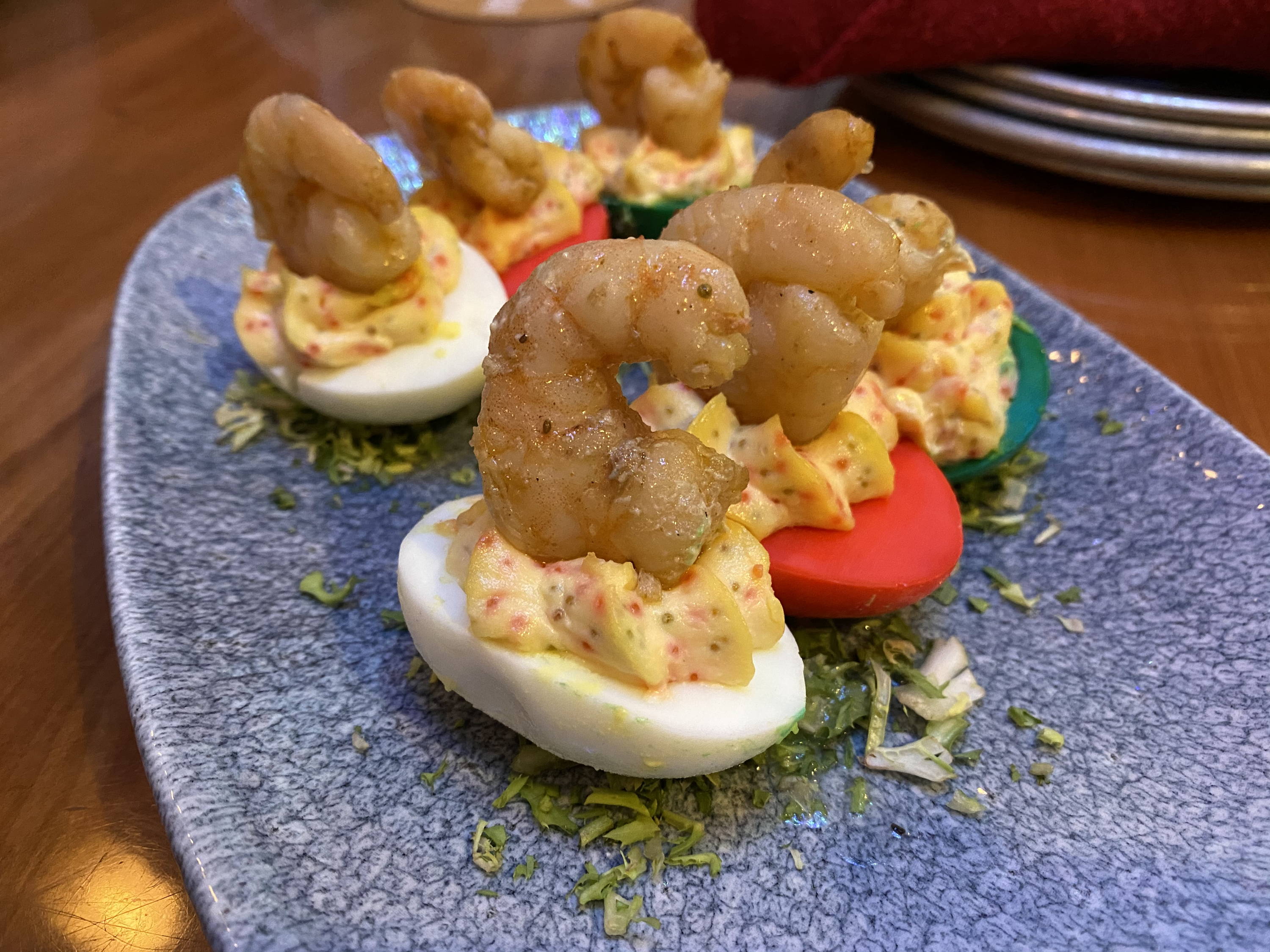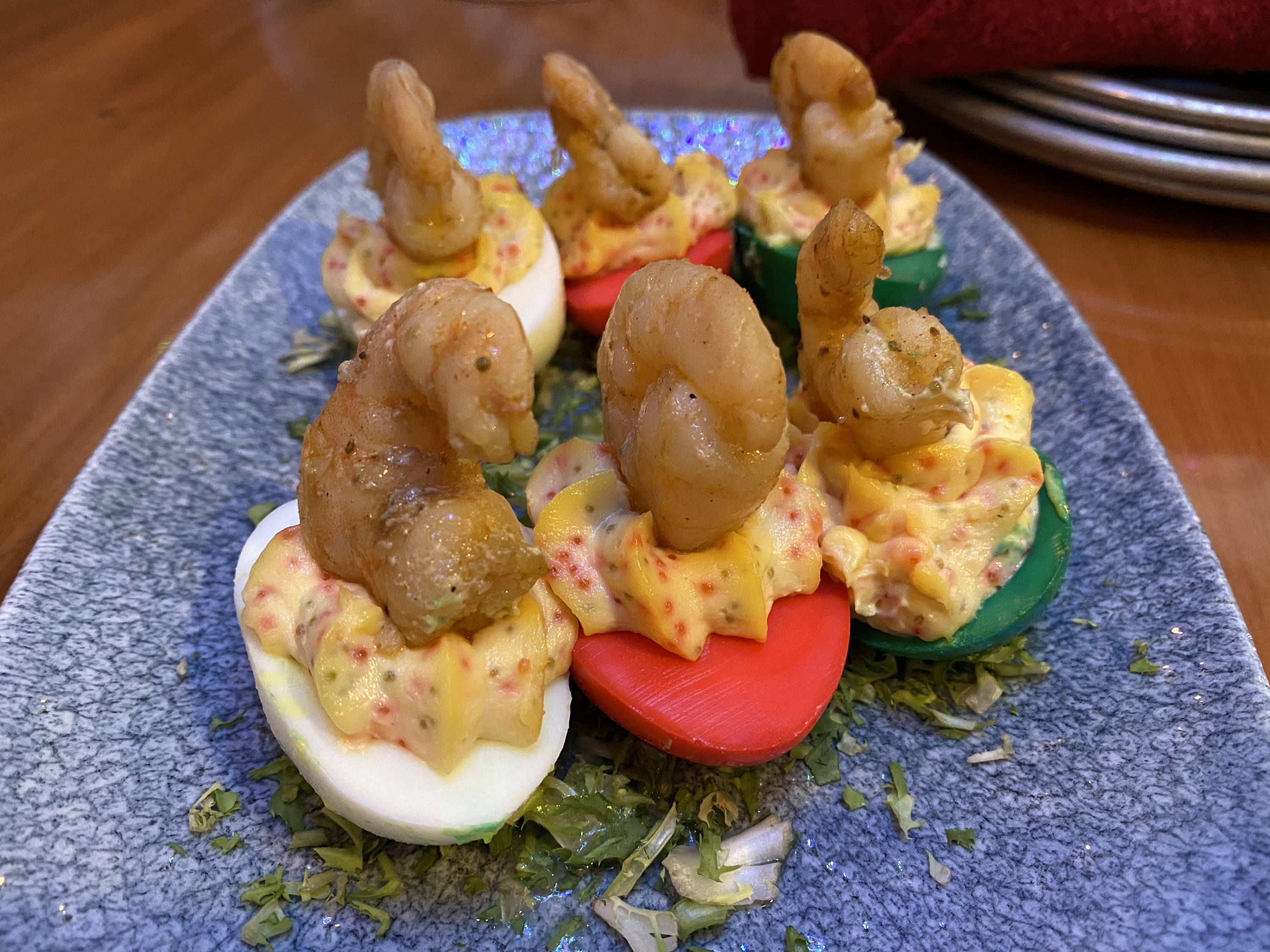 This dish is composed of Colored Eggs with Shrimp and Tobiko Caviar. Basically, this dish is made up of everything I hate so I'm calling in Lex to help me write this review: "The eggs were.... interesting lol. Not sure how I feel about shrimp with deviled eggs so probably wouldn't get again. Although the coloring was cute and festive, go to Homecomin' instead and get the best deviled eggs on property!!"
Grandma's Favorite Sliders - $14.00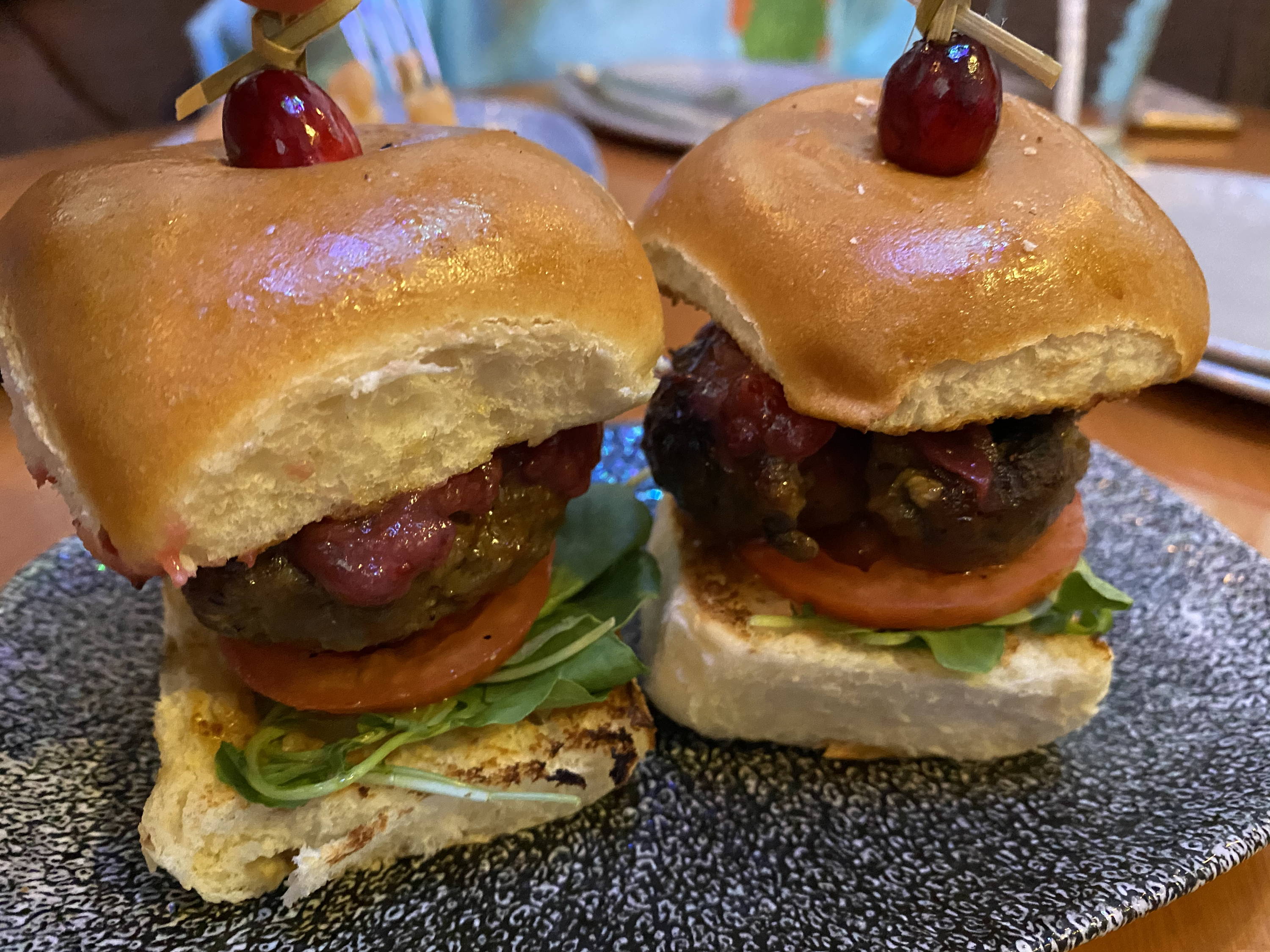 Grandma's Favorite Sliders was a gastropub-esq take on your traditional bar slider. Served with Venison, Cranberry Bacon Jam, Tomato and Watercress, the sliders were in the holiday spirit with the Cranberry Bacon Jam, but fell short as the strong flavors from other elements of the dish completely overpowered the jam. The Venison was cooked well and tasted really gamey, so beware of that going in. While the slider was a creative take on your traditional slider, it worked just ok and as someone who isn't particularly fond of Venison, I was disappointed in the lack of Cranberry Bacon Jam and I wouldn't get it again.
Papa Noel's Churrasco - $14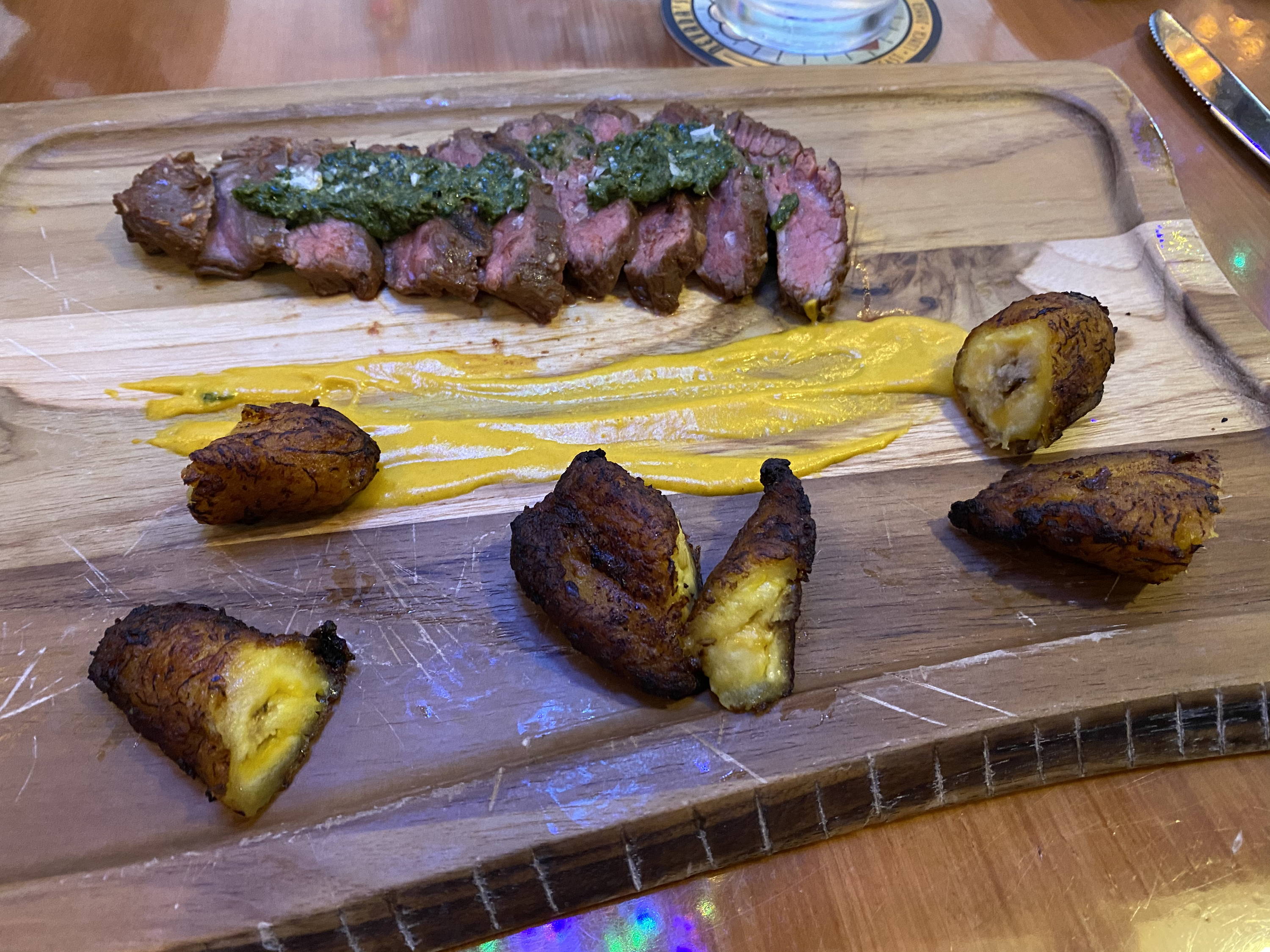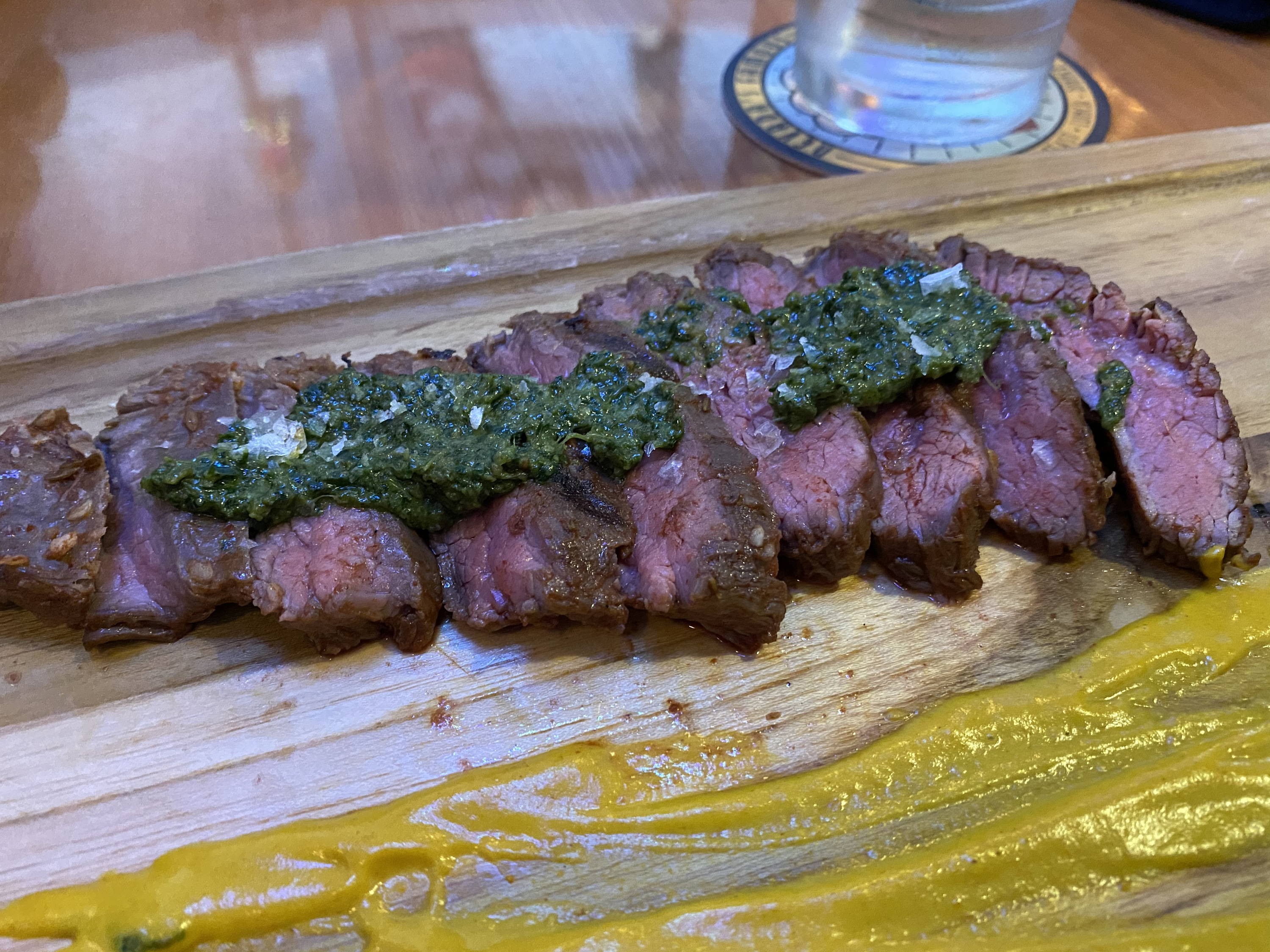 The fact that Papa Noel's Churrasco and Grandma's Favorite Sliders are both the same price is something that isn't illegal but feels like it should be. Where Grandma's Favorite Sliders fell short, Papa Noel's Churrasco totally made up for it. Served with Grilled Flank Steak with Pumpkin Seed Chimichurri, Fried Sweet Plantains, and Spicy Aji Amarillo Peanut Sauce, this dish was cooked to perfection and offered a great meat with an even better side of Fried Sweet Plantains, which tasted just like candy. The Spicy Aji Amarillo Peanut Sauce was EXTREMELY spicy so be careful if you're not a fan of spice. Thankfully it's served on the side so you have the option to add the heat at your desire. While the Pumpkin Seed Chimichurri didn't have any noticeable pumpkin flavor, it was still a great sauce to drizzle over the steak and made for a great meal all together. My one complaint about this one is that the portion is pretty small if you're sharing with a group, however this was by far my favorite menu offering on the Holiday menu and if you refuse to order off the regular menu, this is what I'd most recommend!
Milk and Cookies by the Fireside - $25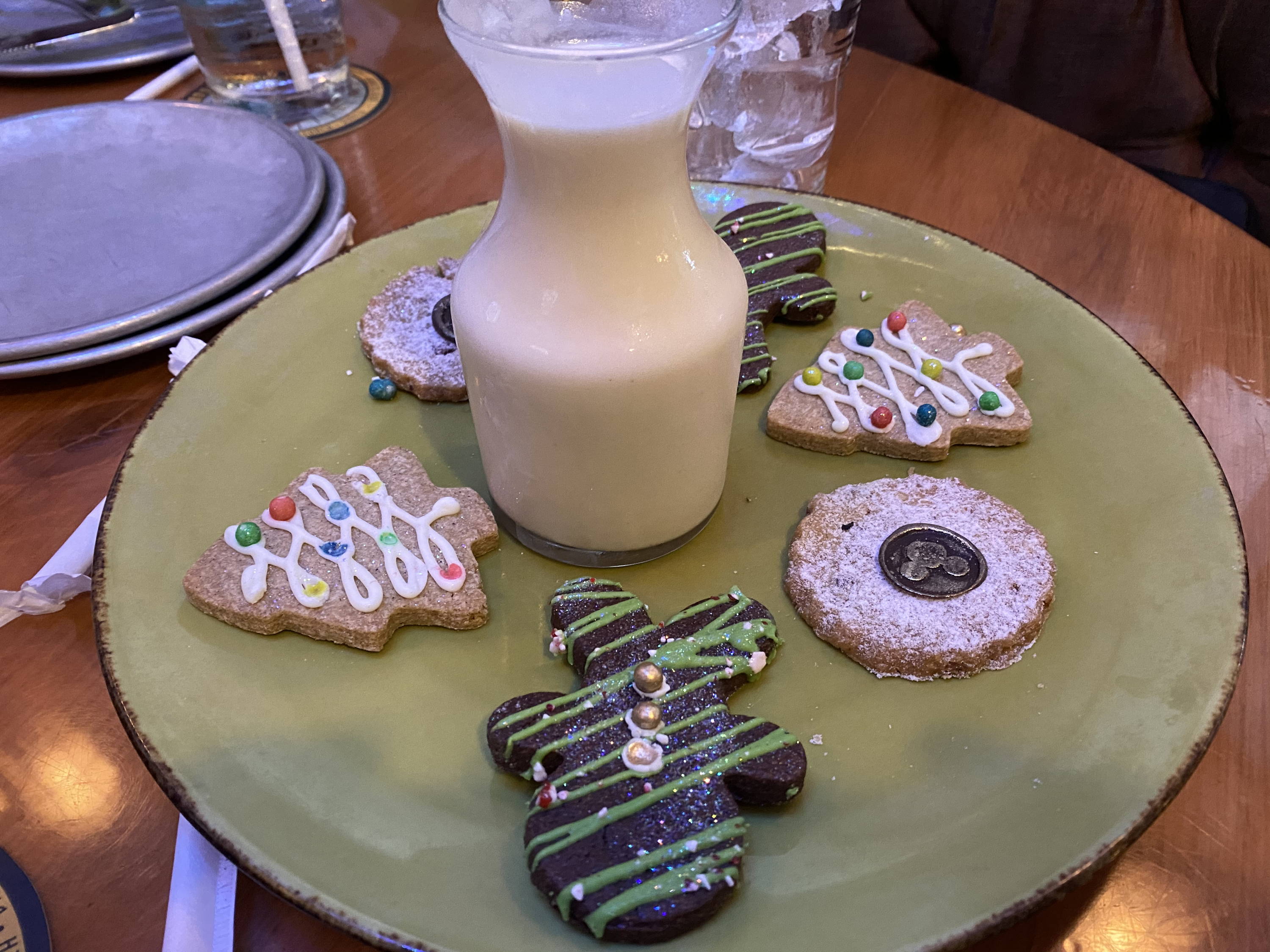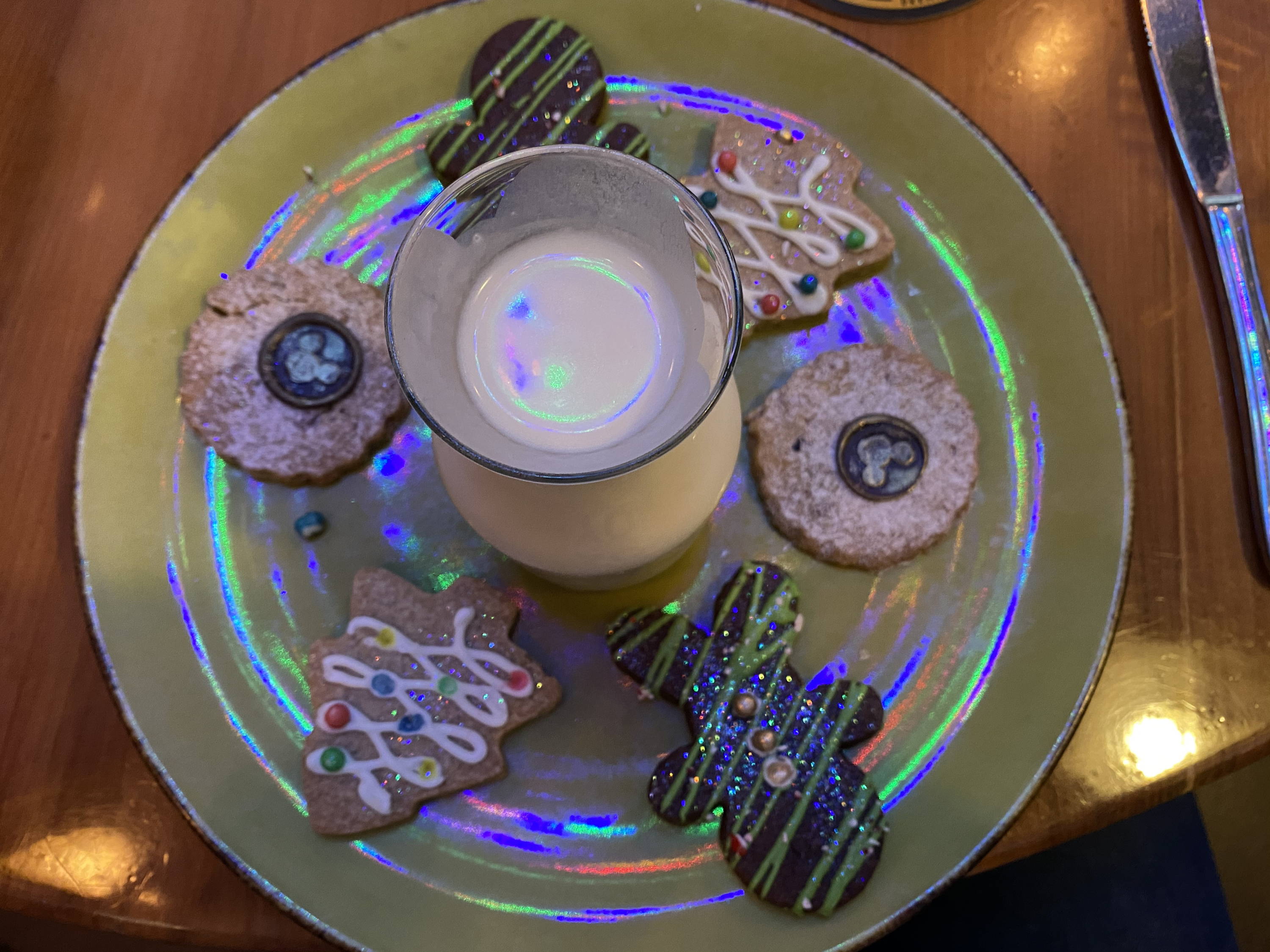 This is another dish that I just really don't understand. Served as Coquito with Malibu Rum with Chocolate Peppermint Gingerbread Men, Spiced Sugar Christmas Tree Cookie, and Butter Pecan Signature Cookie. At a $25 price point for a glass of Coquito and six cookies that I could get from Publix, this dish is the furthest thing from justifiable I may have ever seen at Disney World. We see similarly priced items at places like Enchanted Rose where you get a table side cocktail in the $20-$25 price range, but this trend of double-priced menu items for minimal extra effort just has to go. The sugar Cookes were extremely stale, unfresh, and none of them tasted partially like their flavor. The Coquito was good but still a very small portion that you really can't split between three people (probably not even two). As nice of a holiday vibe this dish gives off, it isn't good and the price is outrageous for what you get.
That's all for Jock Lindsey's Holiday Bar! This holiday overlay is a really neat bonus we get at Disney World in addition to the Jingle Cruise (and now Figment Holiday Sweater) and it's a must-visit during any trip to Disney Springs. The menu items are creative yet a little disappointing on price and execution, and the holiday decor is festive af. I'd recommend going for the Holiday atmosphere and drinks, but sticking with the regular menu when it comes to food. I can't wait to return next year to see what Jock Lindsey comes up with next!
If you liked this article make sure to check out our storehere, and use LOSTBROSBLOG for 10% off your first order!