"I hope this doesn't ruin actual Thanksgiving."
That was the thought that persisted in my mind throughout the six days I ate nothing but Thanksgiving sandwiches. I mean, realistically, how much worse could my Thanksgiving get in the year of the COVID-19 pandemic? Was I really all that concerned with possibly eating enough turkey and stuffing to make me sick of both dishes by the time the big day rolls around? How on Earth was I more concerned with that than not being able to see my grandmother?
This year broke my brain, but it hasn't yet broken my holiday spirit.
Every year, I get pumped whenever fall rolls around. It's my favorite time of the year. It gets slightly cooler outside, each month has a major holiday, and everyone is just generally in a better mood. Of course, this year was different — between the tense election and an untreatable virus running rampant across the country, many of the usual events were canceled. Everyone's a little on edge, and everyone is just wanting to get this hell year over with.
As mentioned before, Thanksgiving will be very different. Many won't be able to visit home this year, and many will have to find something new — myself included. I didn't really think much of it until my friend Beth tweeted "I need [Nael] to do a definitive ranking of all Thanksgiving sandwiches in Orlando. The people are crying for this." I have no idea why she tweeted this out at 5:48 a.m. on a Saturday, but the idea intrigued me. I wasn't unfamiliar with reviewing food on social media; just two months prior, I reviewed a chicken tender milkshake on Instagram. (Yes it was the worst thing I have ever ingested). With that, my research began.
I was thinking there would be maybe four or five sandwiches around town. I was certain this wasn't something that people were necessarily clamoring to eat around November, especially since people only really eat Thanksgiving food once every year. I found 15. I ended up only eating 12 because two of them were really just turkey sandwiches with a festive name, and the other was from Subway. I'm sorry, I just don't like Subway. Also, it's a national chain, and I'm trying to keep it as local as possible.

The Wawa Gobbler was the first sandwich I tried. I'm going to say this right off the bat: it looks disgusting. I'm not going to sugarcoat this. This sandwich is like an early-morning airplane look: messed up hair, Crocs, sweatpants, and an oversized hoodie. You know you look like shit, but that doesn't matter. You're there for one reason, and that reason isn't to look pretty. It's to sit in a cramped, uncomfortable tube for a few hours. This sandwich doesn't need to look pretty — it just needs to fill you up and remind you that Thanksgiving is approaching. This sandwich gets the job done. It has all of the fixings — chunks of turkey, dressing, mashed potatoes, gravy, and cranberry sauce — which is something I've learned to appreciate, since so many of the other sandwiches in this piece decided to leave so much out! For the price, it's fine. The sloppiness of the presentation just made me feel more at home, if I'm being honest. This felt like a real leftovers sandwich.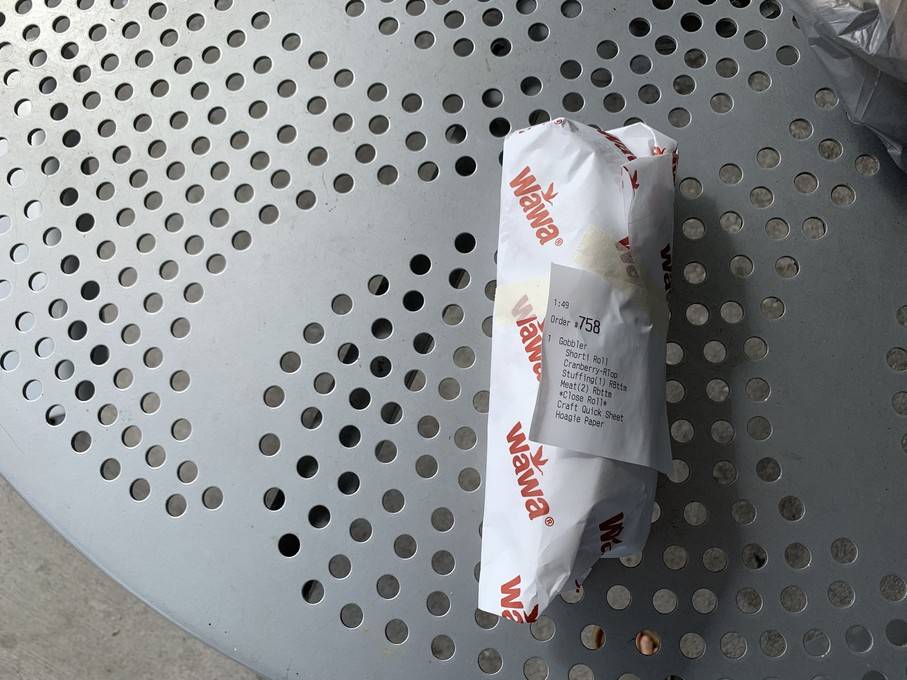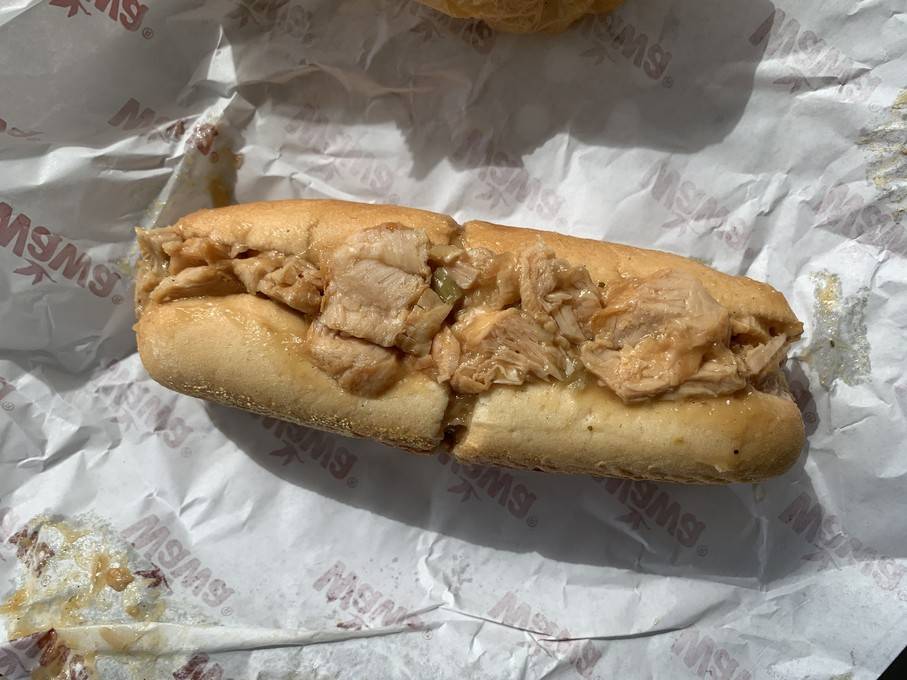 Now, this was a surprising find: Thanksgiving bao. This sandwich has roasted duck rather than turkey. In the Wawa Gobbler review, I made a point to mention how so many others in this piece decided to leave out certain traditional elements, much to my annoyance. This sandwich is no exception. It has basically everything else, though: sage stuffing, hoisin cranberry sauce, and a turkey dripping just for dipping or coating. There is also a bonus in that a portion of each sale goes to Giving Kitchen, a hospitality nonprofit that does a lot of excellent work, such as providing relief to out-of-service workers in the industry. This sandwich was a wonderful surprise, taking traditional American Thanksgiving fare and giving it a twist with Chinese-inspired ingredients and preparation. It exceeded all of my expectations.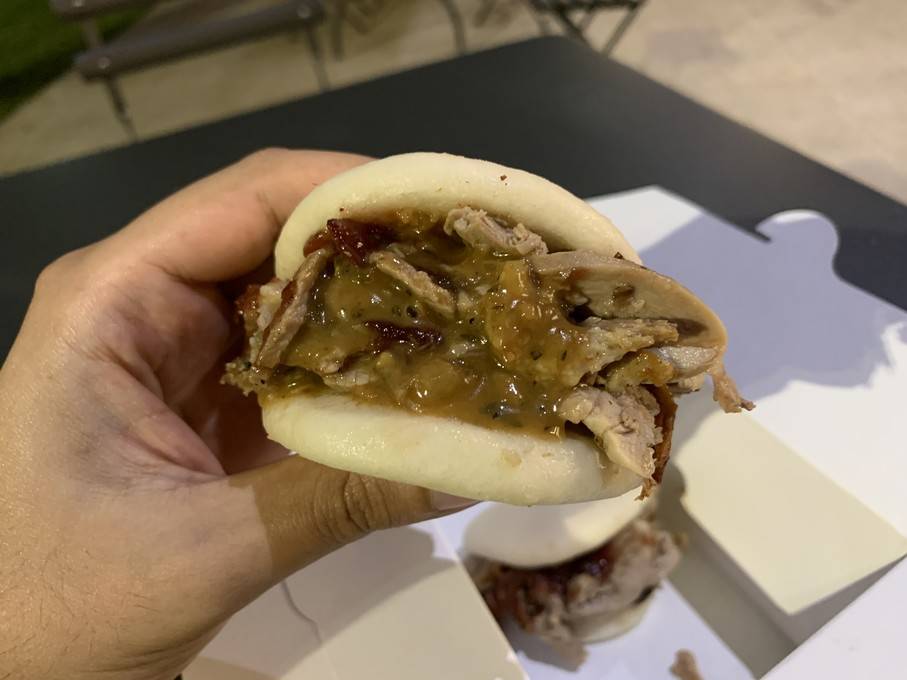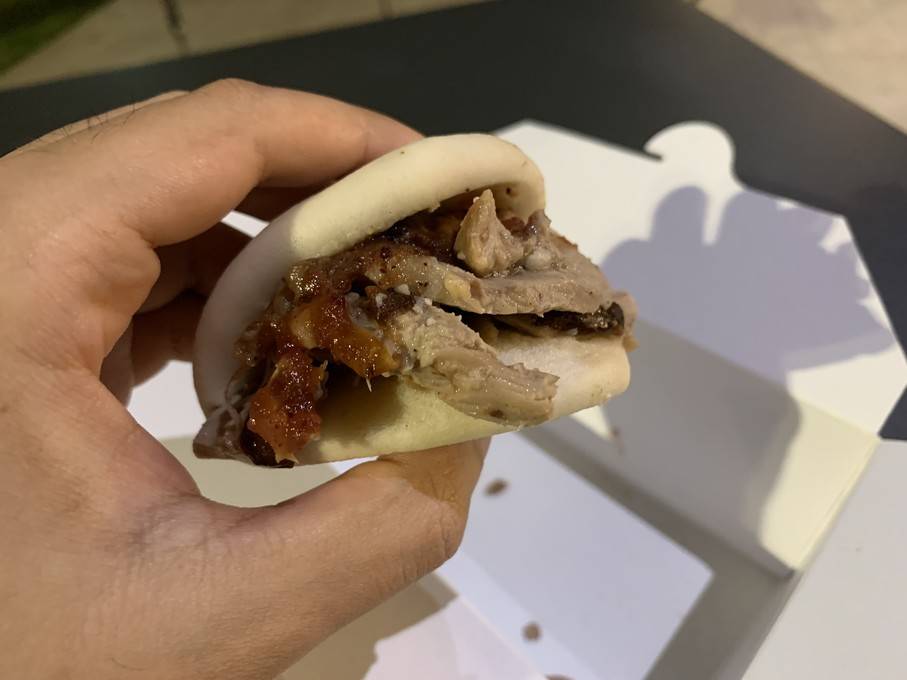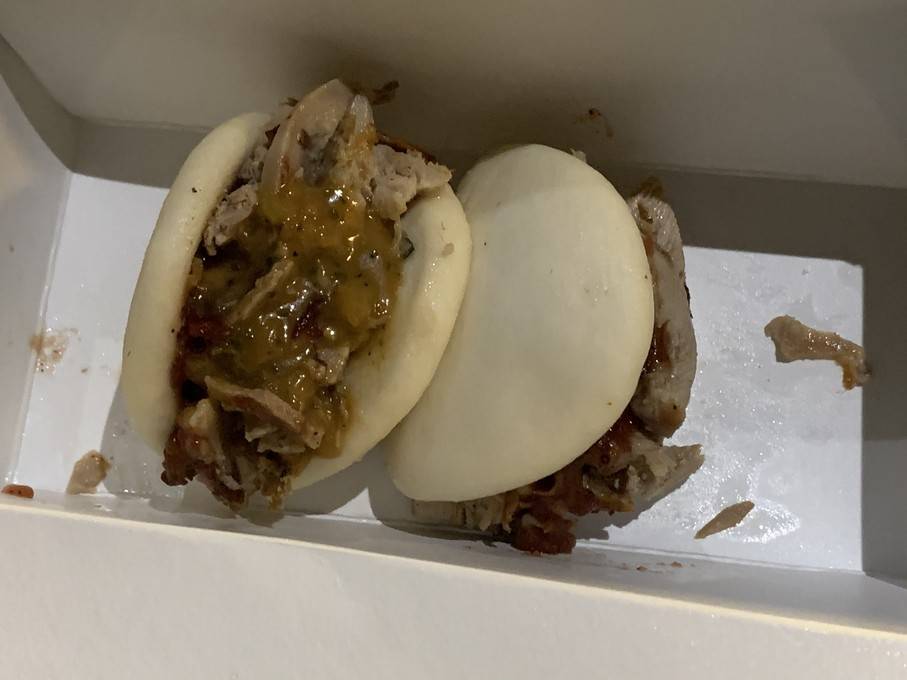 Next up is The Pilgrim from 4Rivers. This one was just…boring. It looked okay, it tasted okay, it had most of the ingredients I expected, and yet I still left feeling empty. Maybe it was the kind-of dry turkey, maybe it was the lack of any character, or maybe it was the fact that it doesn't come with any goddamn sides. I walked away neither feeling disappointed nor fulfilled. How does something check off all of the boxes on paper, but still fail to meet expectations?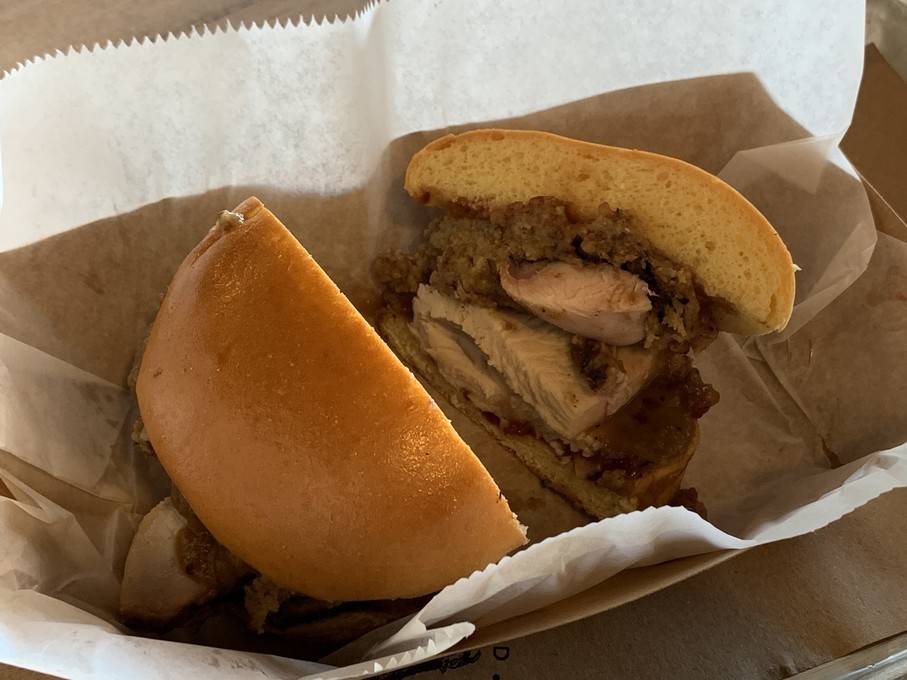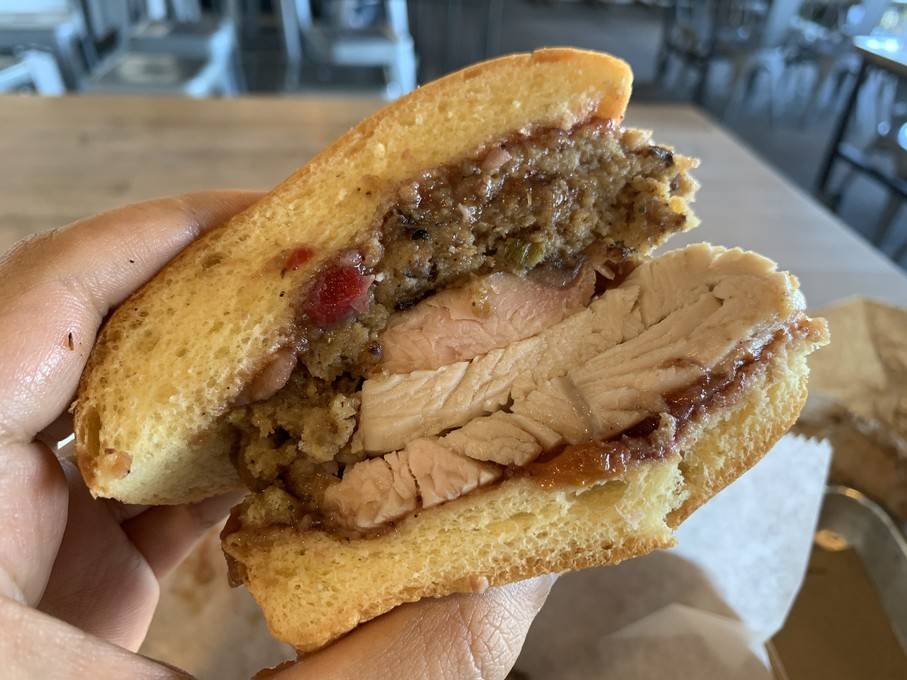 Now this...this is a sandwich. This was a Thanksgiving explosion, and it was probably my favorite of the bunch. The sandwich is stuffed with chunks of freshly roasted light and dark turkey meat, stuffing, cranberry aioli, gouda, and fried onions, and it was served with a bowl of bone broth turkey gravy for dipping. Jesus Christ — what a sandwich. This is what all American-style Thanksgiving sandwiches should aspire to be. The sandwich also comes with a side of sweet potato tater tots, which really has no competition as far as sides go. As far as competitors go, this sandwich is Mike Tyson biting the ear off of Evander Holyfield. This is a Thanksgiving beatdown. It is unapologetic and knows it's the best around.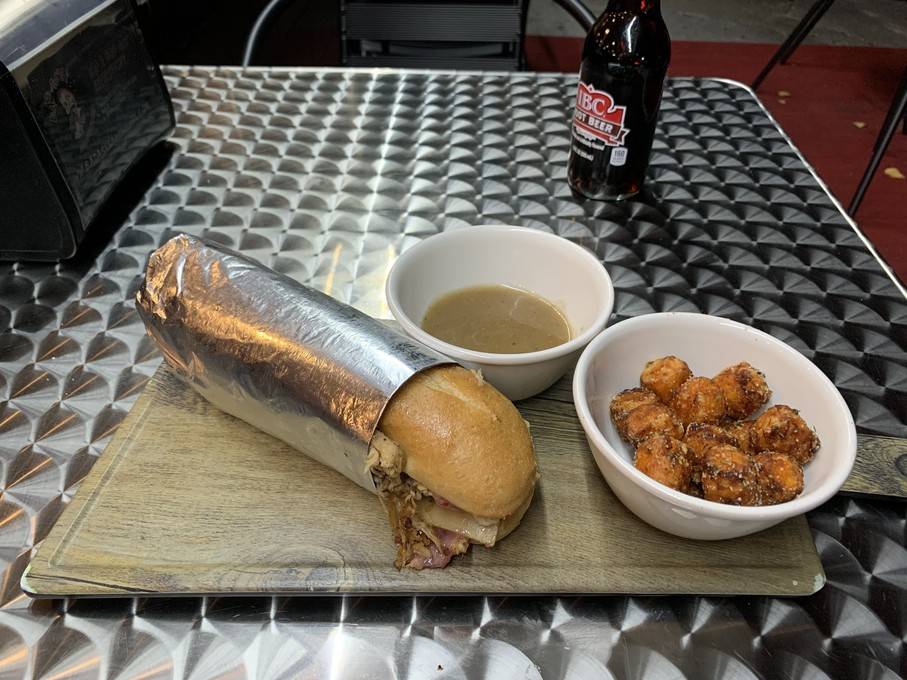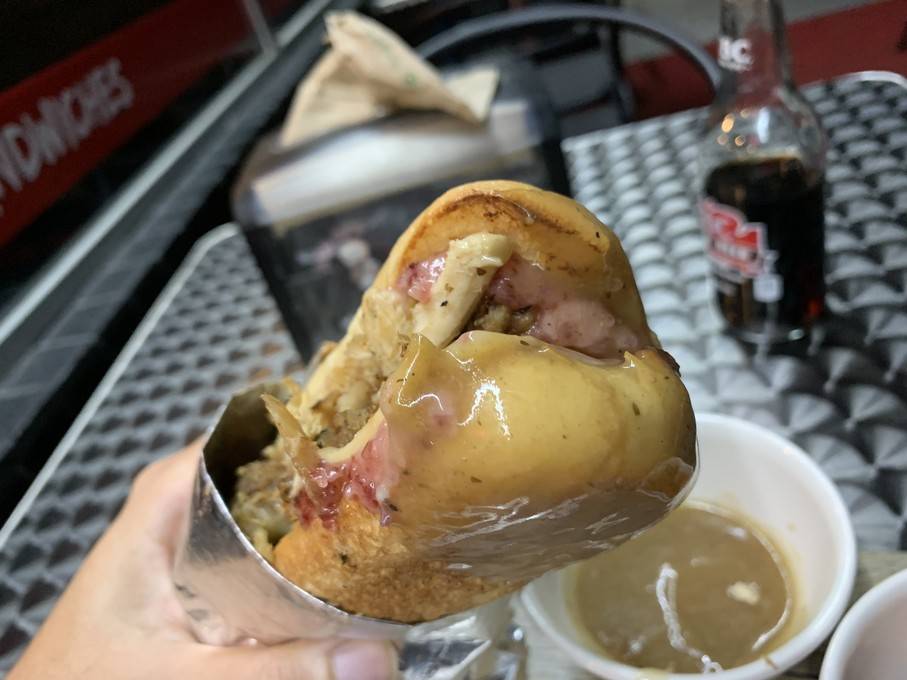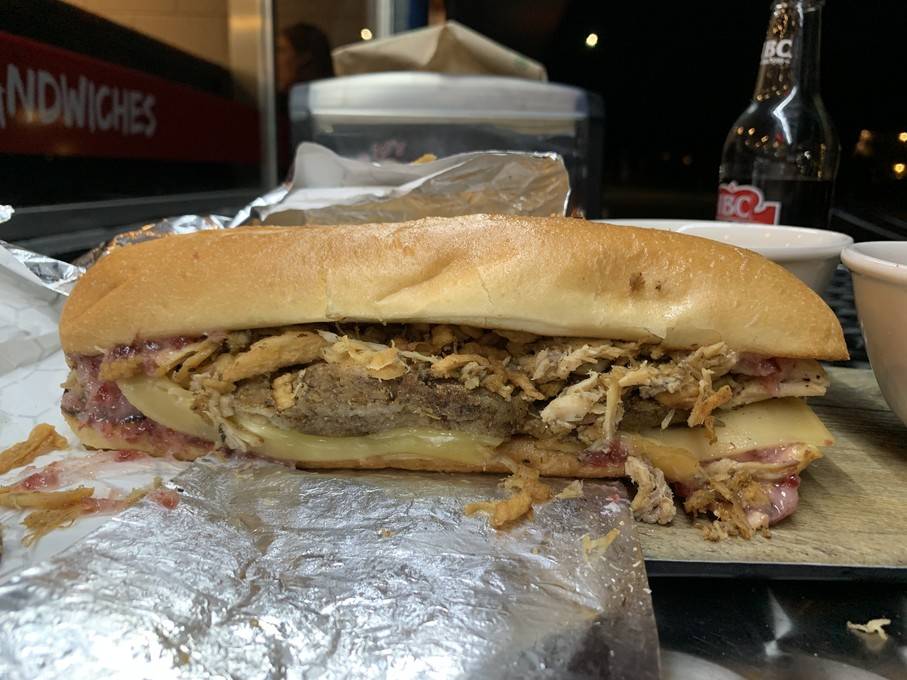 This one was disappointing. It was just a turkey sandwich with cranberry sauce. The worst part is they made sure to include mayonnaise, but not stuffing or gravy, in a Thanksgiving sandwich! It almost felt like I was being insulted in two different ways: once as a fan of Thanksgiving, and once as a fan and loyal consumer of chicken tender sandwiches. I didn't expect a lot out of Publix, but I expected more out of this sandwich.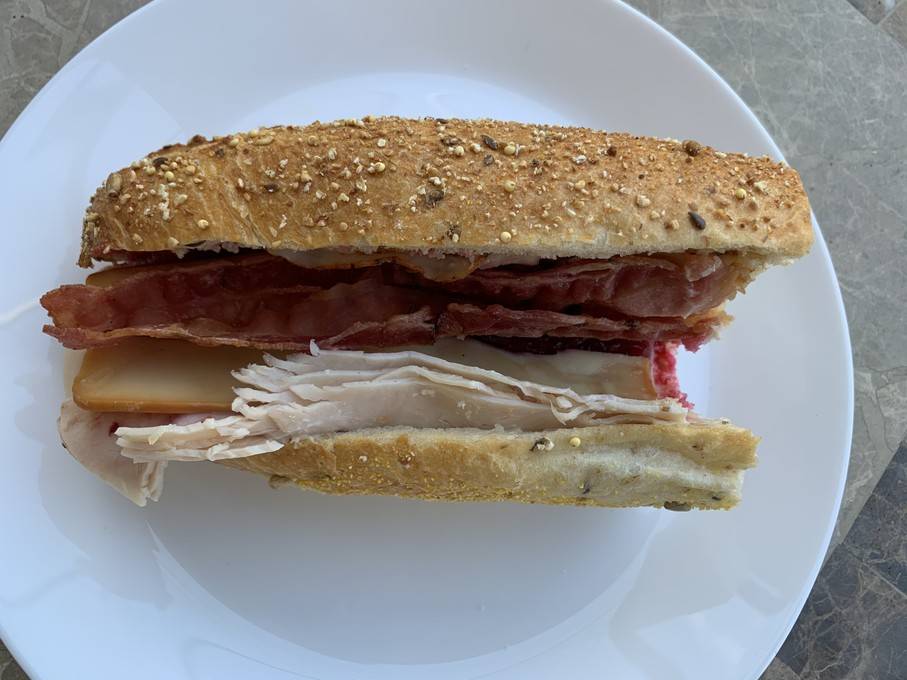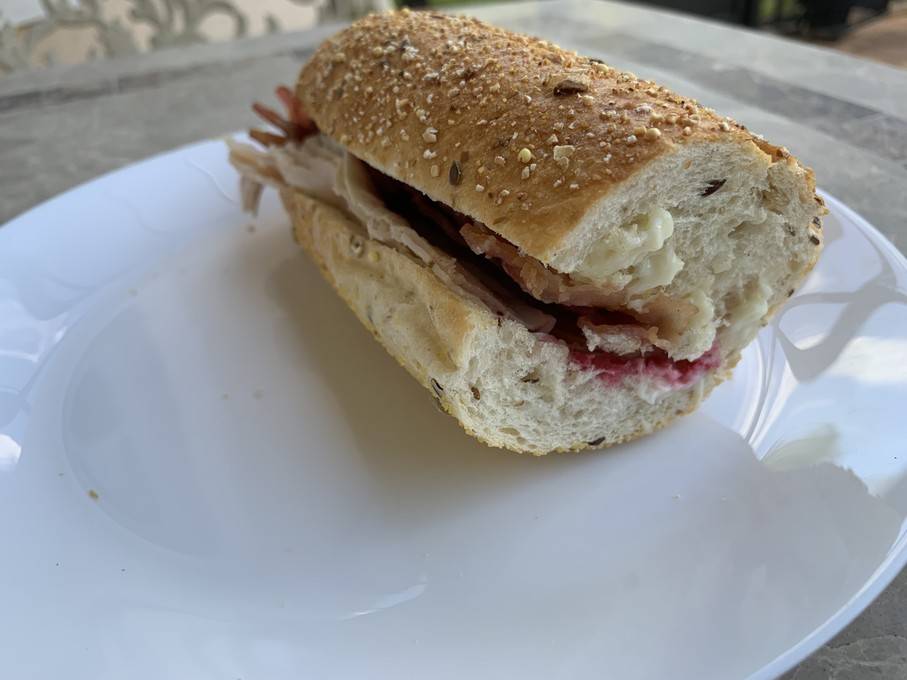 Mama Ling Ling's sandwich is basically an Orlando icon at this point. It's definitely the most well-known local Thanksgiving sandwich, but it may also be the most well-known sandwich in all of Orlando. It also has a bit of a cult following. When I first announced I was going to do this, I received several messages about this sandwich. I've had it in the past; it's one of the two year-round Thanksgiving sandwiches in this piece. It's also probably the only sandwich I have had at Pom Pom's.
That said, there's a reason why this sandwich is so beloved: it'sgood. It has all of the requisite elements, and each layer is solid. It has turkey slices, gouda, stuffing, mashed potatoes, ginger-cranberry chutney, cream cheese, and a side of gravy. The cream cheese was surprising, but goodness, it's somehow better than mayonnaise. It's not my top Thanksgiving sandwich, but it's worth the drive. It's very good, and worth the years of hype surrounding it.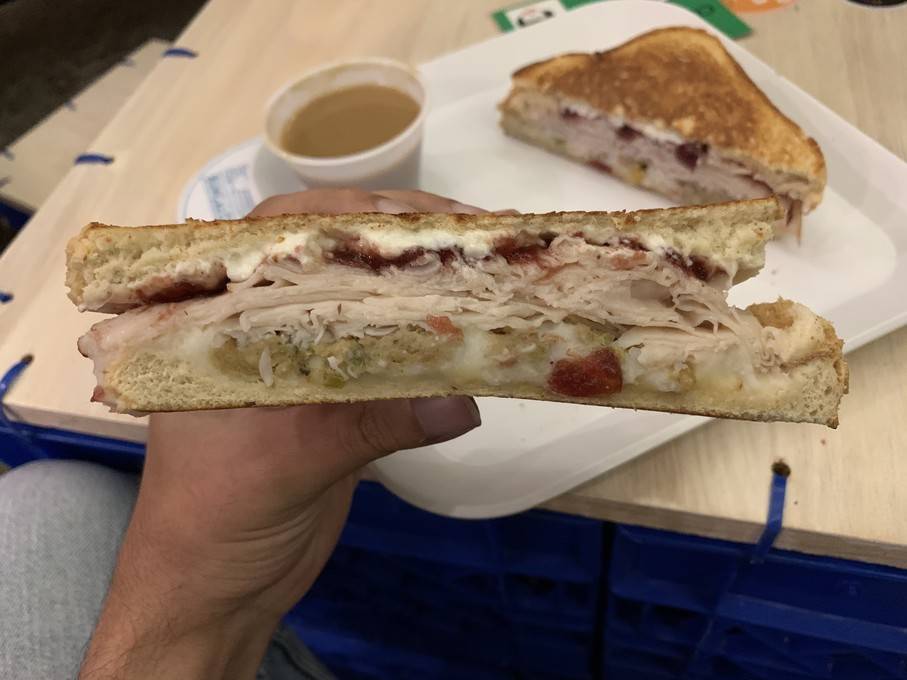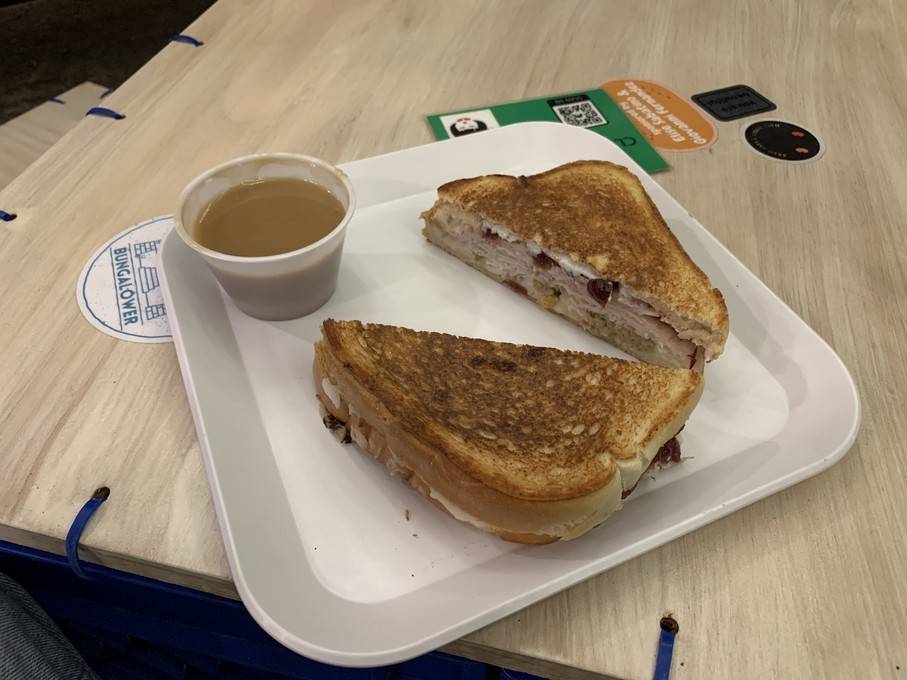 This one was weird. PDQ's sandwich had a lot of the same issues as the Publix sandwich, but it was more enjoyable. It's basically their regular sandwich, but with fried turkey and cranberry sauce instead of fried chicken and their house sauce. Was it technically a Thanksgiving sandwich? Yes. Did it taste like one? No. I guess the fried turkey was cool, but that's really all it has going for it.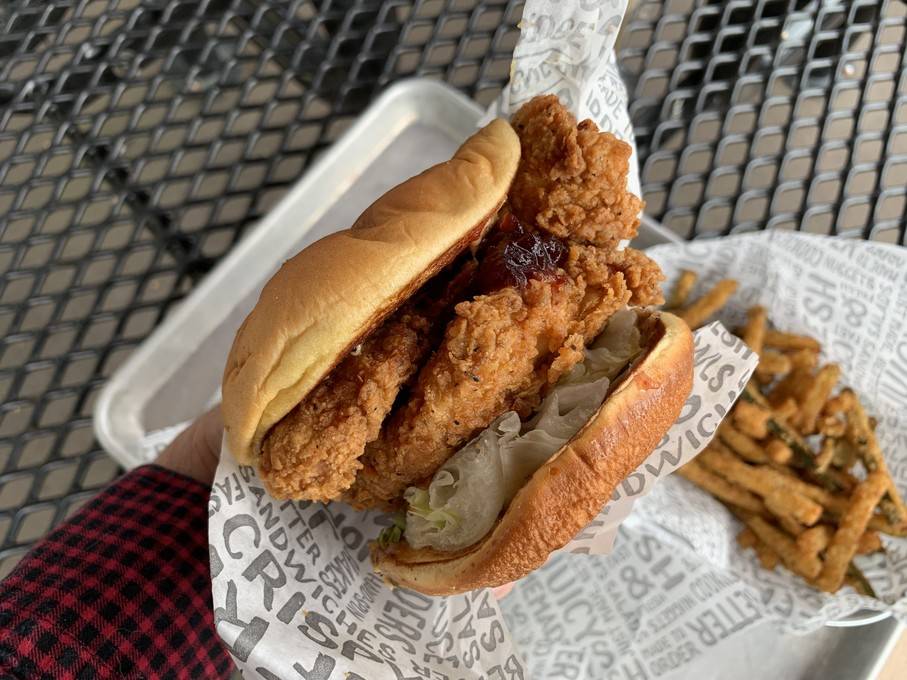 So, here's the thing: this is yet another sandwich where the only Thanksgiving elements are the turkey and the cranberry sauce. However, D-Luxe Burger added their own twist to it. It's a turkey burger, with a bacon-cranberry jam (yum), and a fried butternut squash risotto cake. Okay, it's a little bit strange, but does it taste good?
Well, it's okay, but it doesn't really taste how a Thanksgiving sandwich should taste. It's a decent burger, but definitely the weakest Thanksgiving sandwich on property. The fried risotto cake made the burger unnecessarily cumbersome. The bacon-cranberry jam was pretty good though.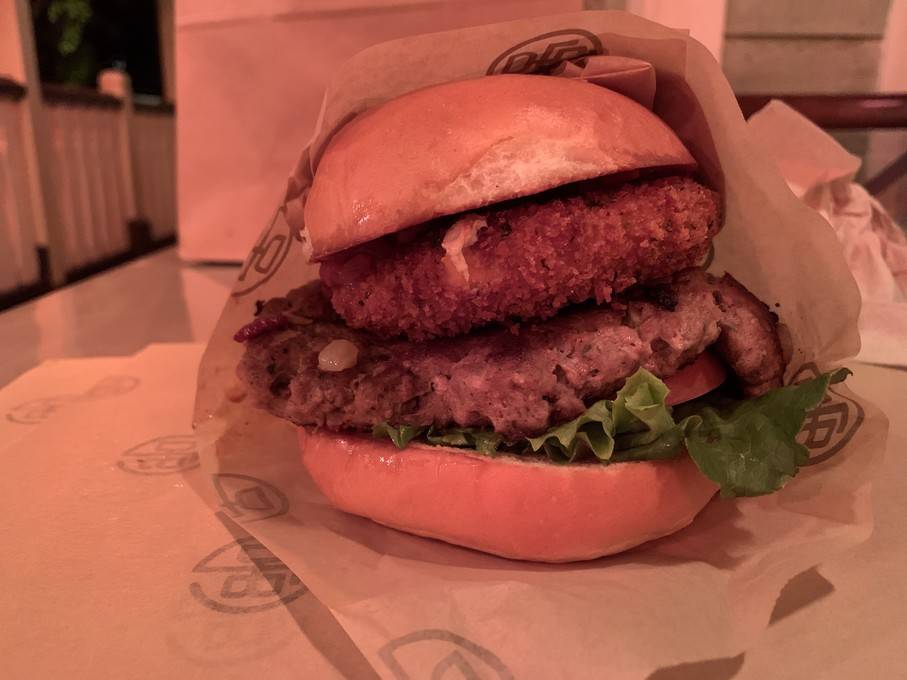 This was a goddamn journey, but almost worth it in the end. This sandwich is at Fort Wilderness, which means Disney doesn't make it easy to get. You have to park, wait for a bus, then board a bus, and ride it until the end of the line. You step off the bus, walk past the empty shell of Pioneer Hall, and then, finally, you have made it to P&J's. Now, hopefully this isn't the norm, but it took me around 45 minutes to get my sandwich, which just added to the hassle of retrieval. Mobile order pickup for P&J's takes place in the former buffet line for Trail's End, between Pioneer Hall, Trail's End, and the former site of the abandoned River Country water park that is now an abandoned Disney Vacation Club resort construction site. You almost get the sense that you probably shouldn't be there.
So, back to the sandwich. This is another ugly duckling, but it was pretty tasty. It has smoked turkey, gravy, cornbread stuffing, and orange-cranberry sauce — nothing crazy, no-frills. Just the works. It's fine, but is it worth the hassle to retrieve it? Probably not, especially when there are better options on Disney property. The fried chicken though? Banging. Always worth the hassle.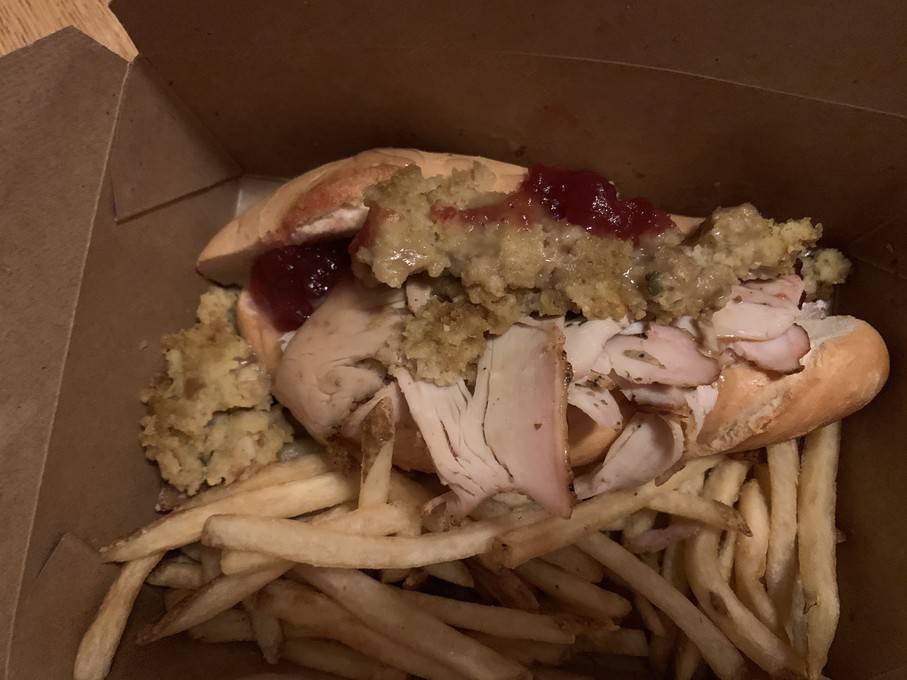 Thanksgiving Crepe (Universal)

This is more of a wrap than a sandwich, I guess. (Please do not argue with me about whether or not a wrap is a sandwich). This is another one that was a bit of a hassle to retrieve, but unlike P&J's, that won't always be the case. In my case, I had to wait in a slow-moving queue as it started to drizzle. And it wasn't the regular kind of drizzle — it was the annoying, misty kind. (I didn't have a raincoat or an umbrella because Dark Sky told me it wasn't going to rain).
This one didn't do much for me. I commend Universal for doing something different with their in-park food options, but this just didn't hit. Like the 4Rivers sandwich, it checked all of the boxes ingredient-wise, but the crepe was really the only part that stood out. Also, they usedcraisins instead of a cranberry sauce... still unsure how I feel about that.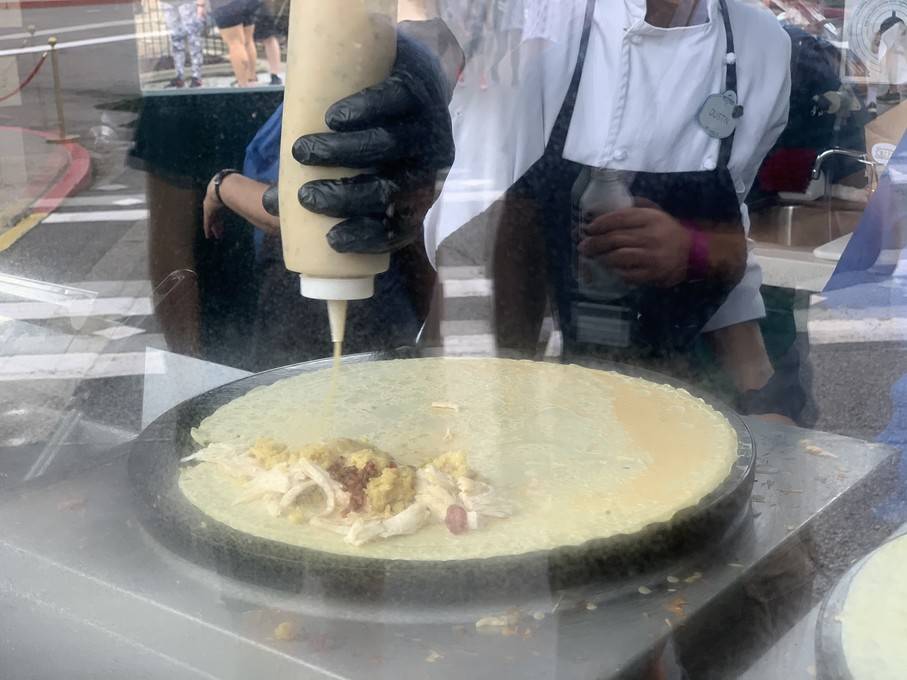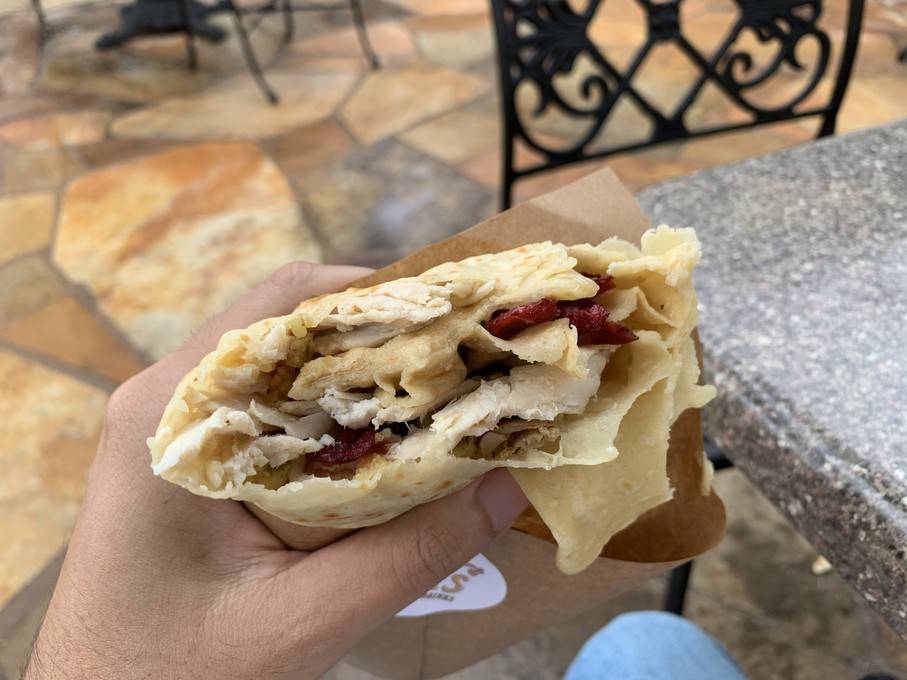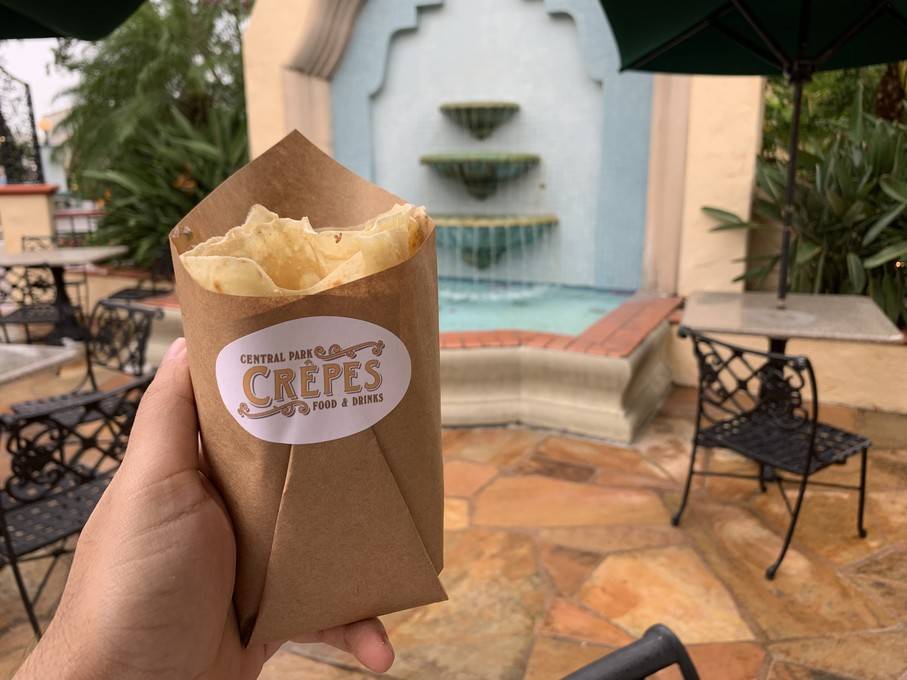 When I added the Thanksgiving sandwiches from Disney hotels to my to-eat list, I honestly wasn't expecting much. I thought they were all going to use the same recipe, and I was surprised and relieved when I realized each sandwich I found was unique in some way. Boardwalk Bakery's sandwich had all of the fixings, but with a twist: roasted turkey breast, Italian sausage stuffing, cranberry relish, and gravy on warm, freshly-baked ciabatta bread. It had basically everything I was looking for, but it went above and beyond what I was expecting. I don't know if my expectations going in were that low or if the sandwich was just that impressive, but this was easily a top five sandwich for me.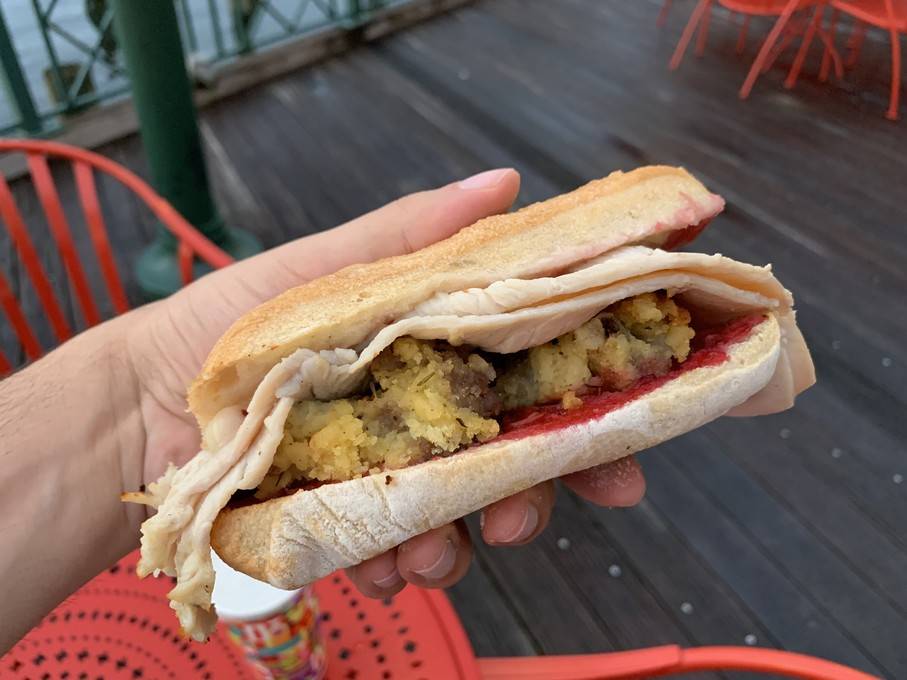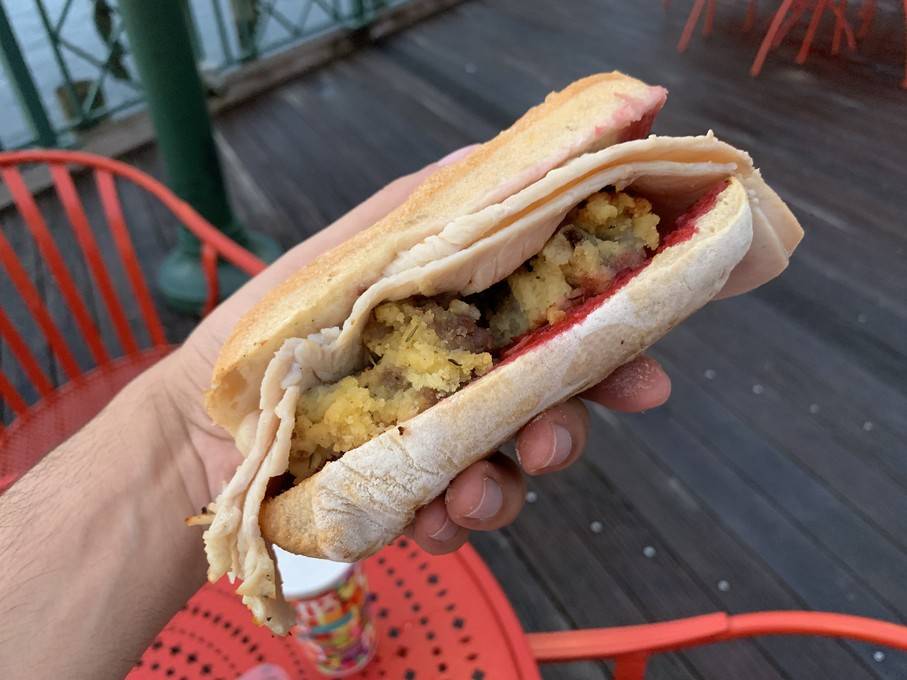 And here it is, probably the one sandwich everyone was waiting to see: the Earl of Sandwich Holiday Sandwich. This sandwich has been around for several years now and is a favorite among Disney-goers. Like Mama Ling Ling's Thanksgiving sandwich at Pom Pom's, this sandwich has a bit of a cult following and is available year-round. This was actually my first time having it in several years. After they made the sandwich available year-round, it kind of lost its allure for me. Also, with the change from Downtown Disney to Disney Springs, more restaurants moved in, pushing Earl of Sandwich a little bit out of the spotlight (*coughs* Chicken Guy).
This sandwich has all of the fixings, but it also has mayonnaise. The mayonnaise is also unnecessary here. Seriously, what's up with the mayonnaise? That said, I completely forgot how good this sandwich is. In fact, it was so good, I momentarily forgot that they made the sandwiches smaller and raised the prices. I'll probably have it again next year when things are hopefully more normal.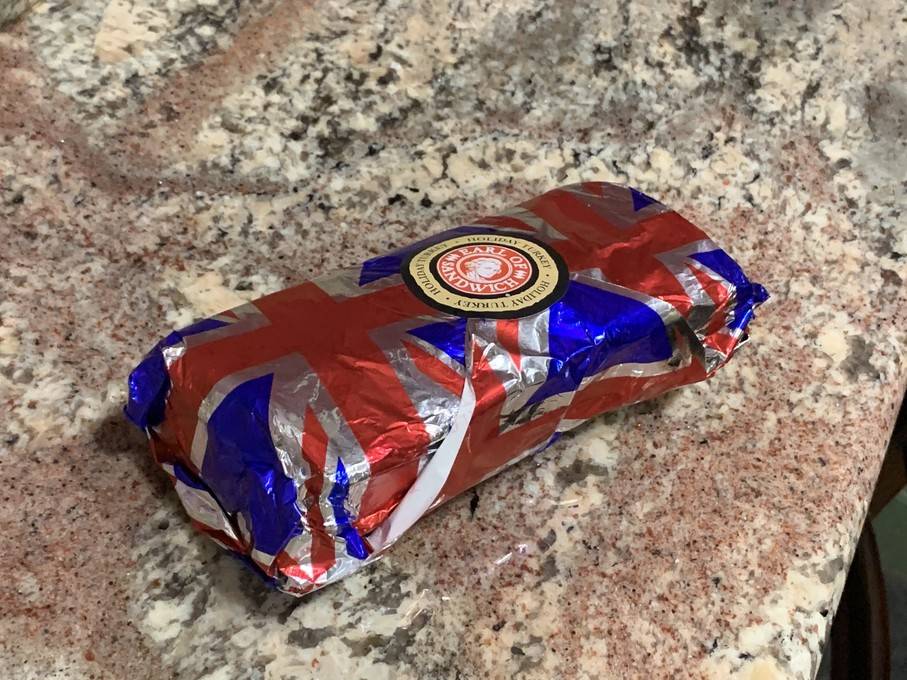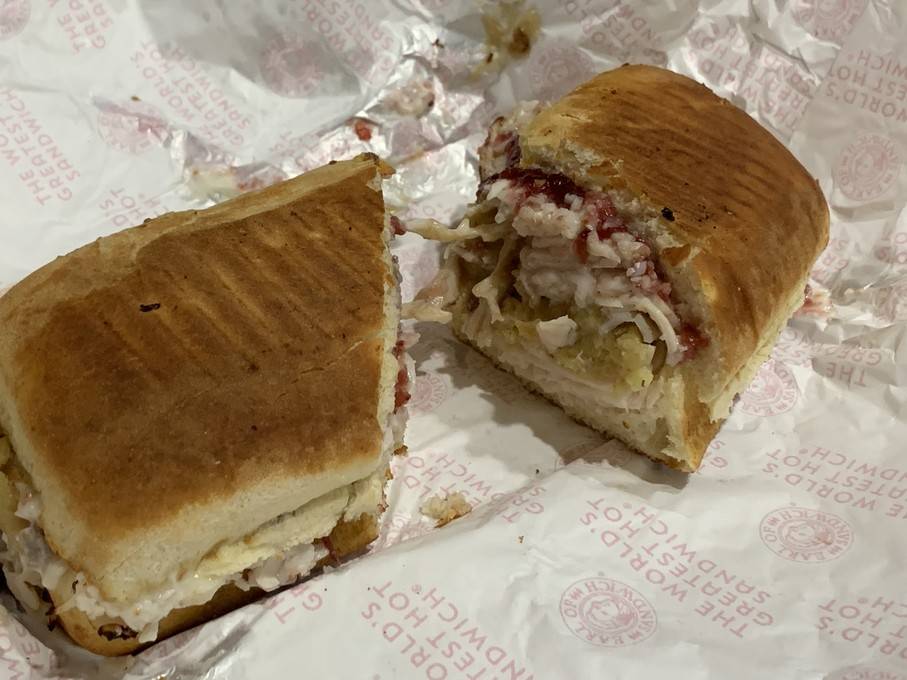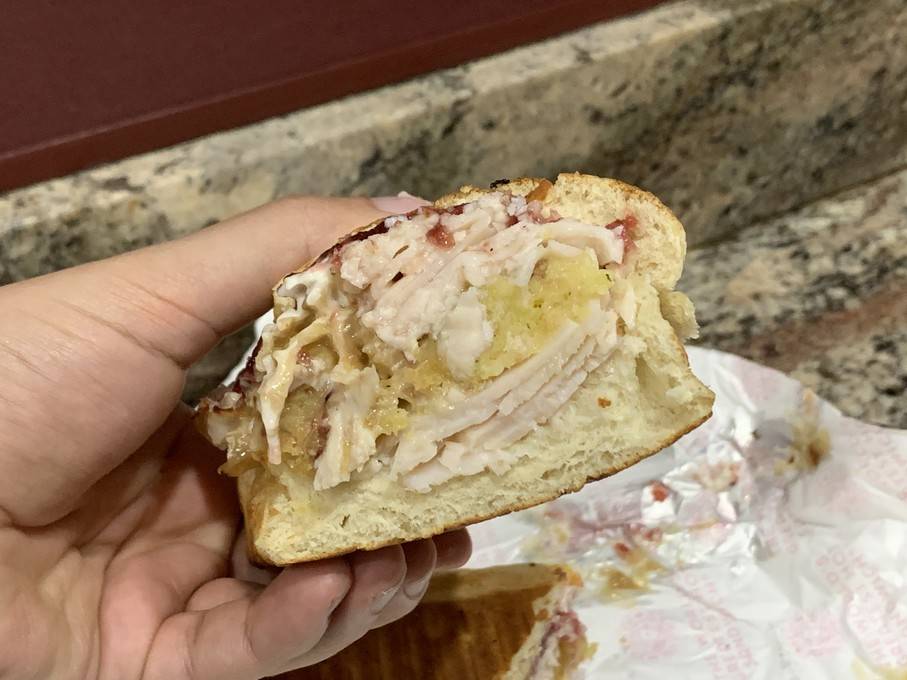 Superlatives
I don't feel like ranking these sandwiches is fair, so I've come up with a few different superlatives instead.
Best Overall: Bad As's
Best Thanksgiving with a Twist: Hawkers
Best Side: Bad As's sweet potato tater tots
Best Sandwich Despite Being a Pain in the Ass To Get: P&J's
Best Sandwich with Mayonnaise: Earl of Sandwich
Best Sandwich with Turkey Chunks: Bad As's
Best Sandwich with Sliced Turkey: Pom Pom's
Best Stuffing: Boardwalk Bakery
Best Gravy: Hawkers
Best Cranberry Sauce: D-Luxe Burger
Best Sandwich That Would Definitely Get the "You Tried" Gold Star From Tumblr: Wawa
Best Thanksgiving Feel: Bad As's
Best Sandwich with the Least Covid-19 Exposure Risk: PDQ
Best Sandwich with the Least Amount of Thanksgiving Elements: PDQ
Best Sandwich That Is at Least Better Than Subway: Publix
Best Smoked Thanksgiving Sandwich: 4Rivers

Will I do this again? Maybe not. If I do, I'll at least make sure to give myself some more time and not eat them all over the course of six days.
If you liked this article make sure to check out our storehere, and use LOSTBROSBLOG for 10% off your first order!