Welcome back to our coverage of the Epcot International Festival of the Arts 2020! Allergy and Dietary restrictions are a big focus for us here at The Lost Bros, and we wanted to try every single Gluten-Free and Vegan dish being offered at the festival this year! Below you'll find all the information you need to eat Vegan or Gluten-Free at Festival of the Arts, as well as a short review, pricing, and booth information for each dish. Let's get started!
Pan-Seared Scallop with Chorizo, Roasted Red Pepper Coulis and a Parmesan Crisp - $6.75 - Artist's Table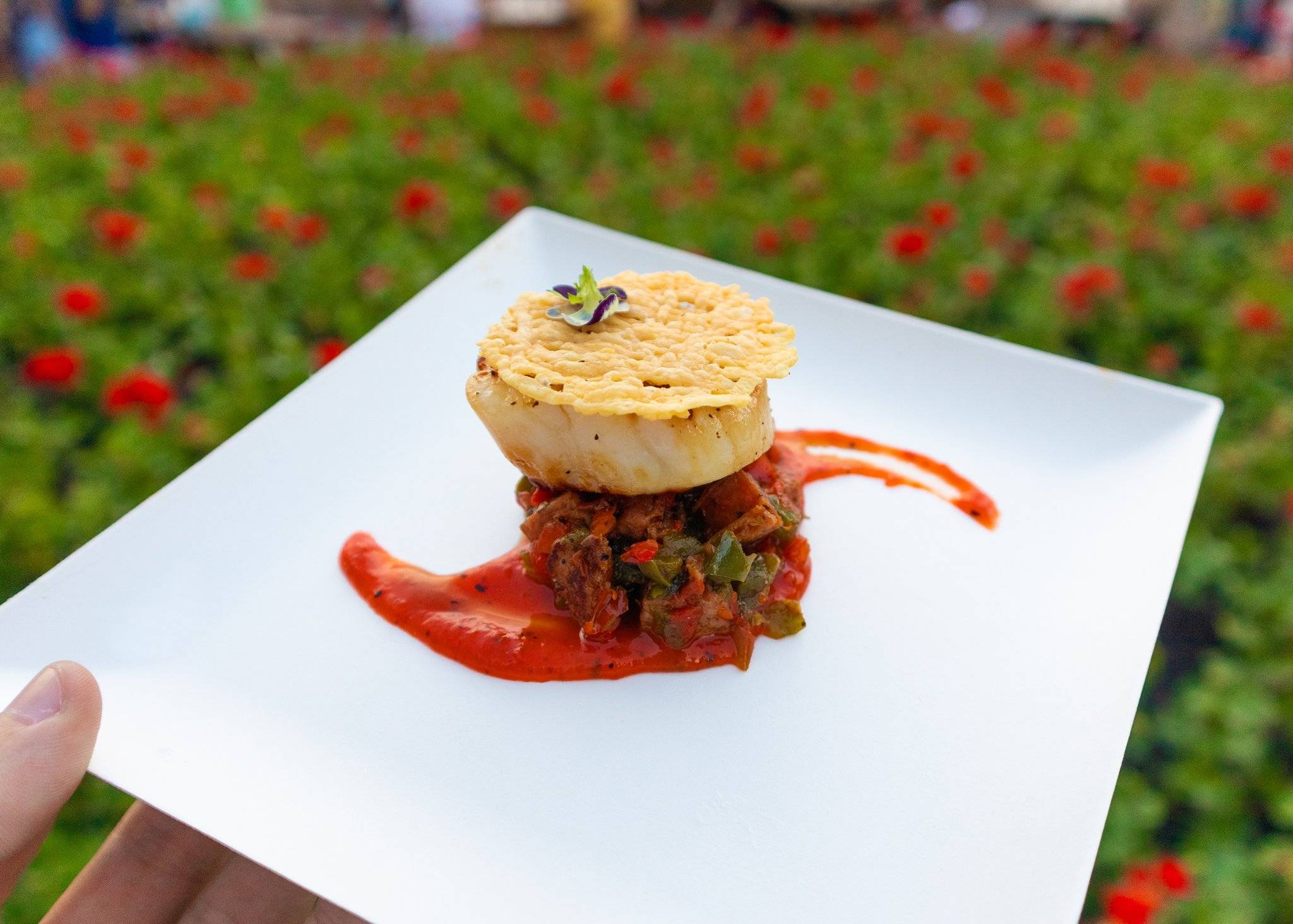 This gluten-free dish makes a return from last year and we highly recommend this one! the portion size is small but for the $6.75 price point we loved it last year and think its a great returning favorite this year too!
Seared Corvina with braised Ratatouille and Lemon-Thyme Beurre Blanc - $7.50 - Cusine Classique
This gluten-free dish is the only one we didn't try at this year's event. I'd highly suggest trying out this delicious looking option for yourself whether you plan to do all gluten-free items or not. Ratatouille is a pretty rare dish at Disney World so it's an interesting take on the plate, and the seared corvina adds an even more unique element and ultimately makes the $7.50 price point justifiable. Give this one a try and let us know how you liked it!
Sous Vide Chicken Roulade with Apples and Sage served with Warm Brie Fondue, Blueberry and Beet Gel and garnished with Beet Chip Crumbles - $6.75 - Pop Eats
This gluten-free dish can also be made dairy-free, just ask for the dish to be served without the brie cheese! This one made our list of top 5 overall dishes at the festival this year so we highly recommend picking it up! Pop Eats has the most gluten-free options of the festival this year, with a whopping two dishes, so we recommend starting here if you're a gluten-free festival-goer.
Shrimp Ceviche with Lime Mint Foam - $6.00 - Pop Eats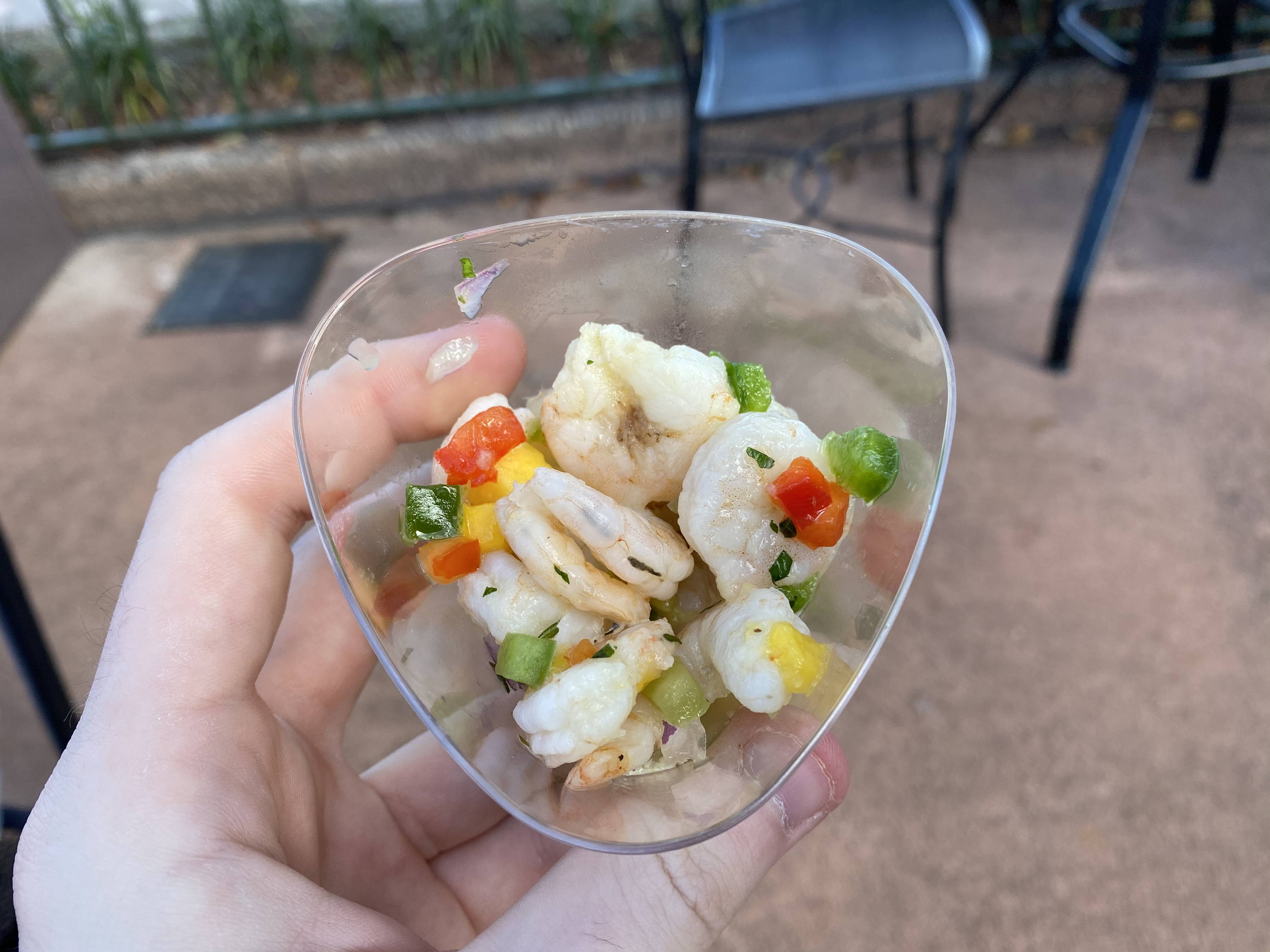 The other gluten-free dish at Pop Eats is the Shrimp Ceviche with Lime Mint Foam. This one actually made our list of top 5 LEAST favorite dishes at the festival this year,However, with a whopping four gluten-free options total at this year's festival, we'd recommend just going for it to try for yourself.
Plant-based Bratwurst with Spicy Turmeric Aïoli, Coffee Barbecue Jackfruit and Slaw - $9.50 - Refreshment Outpost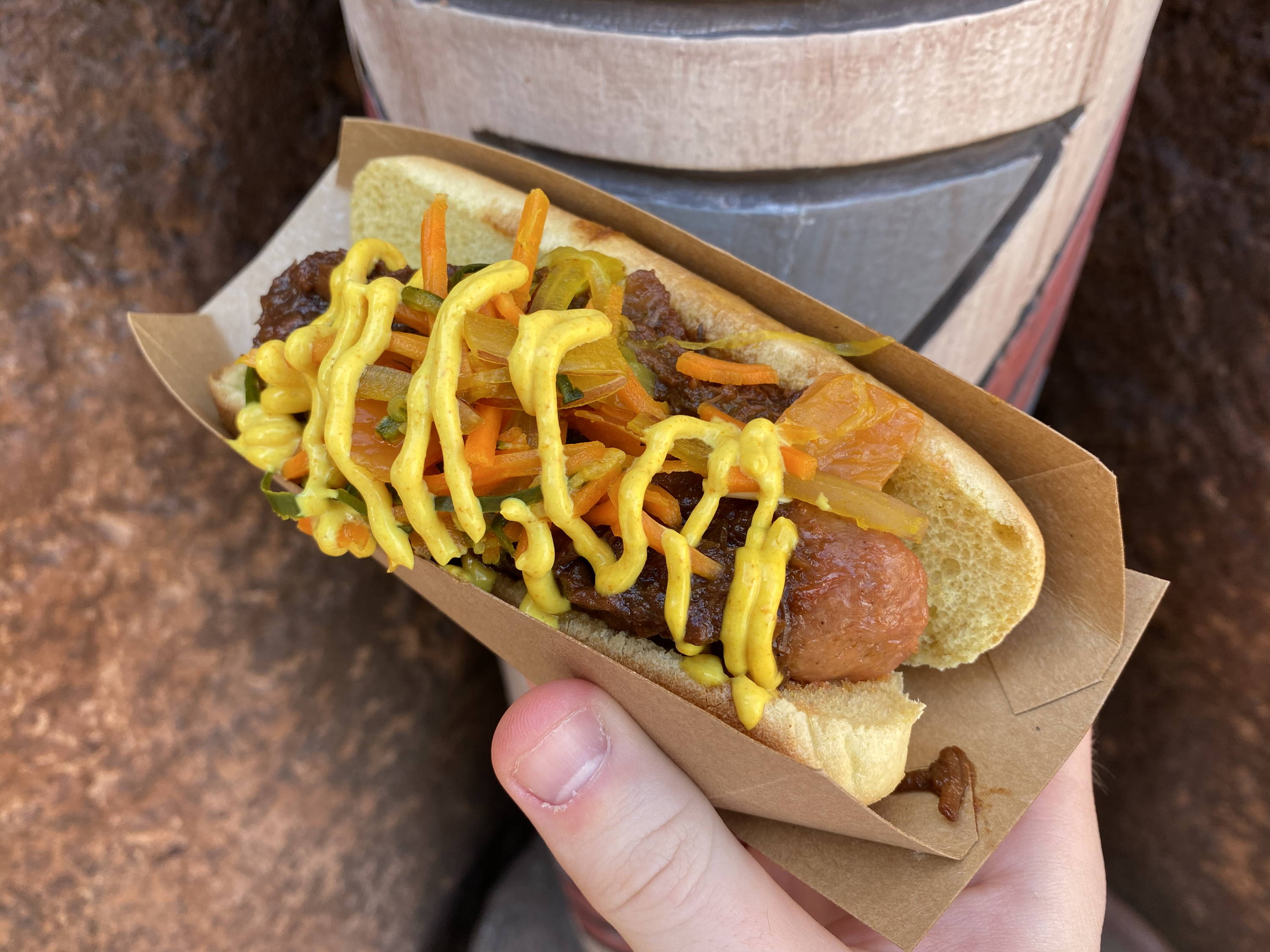 The one and only plant-based offering at this year's festival is the plant-based bratwurst with spicy turmeric aioli, coffee barbecue jackfruit, and slaw. This was another dish that made our top 5 favorites and we highly recommend it! The one downside of this one is that it can take up to 10 minutes to prepare, which we were warned about before even ordering it. Beware of this before ordering, but if you're willing to wait you won't be disappointed!
Those are all your gluten-free and vegan options for the Epcot International Festival of the Arts 2020! We still can't get over how delicious the plant-based offering was this year! Be sure to follow us on Twitter at @TheLostBros and send us pictures of what gluten free and vegan dishes you get this year!
If you liked this article make sure to check out our store here, and use LOSTBROSBLOG for 10% off your first order!