For Us To Be The Sunshine State, It Sure Rains A Lot!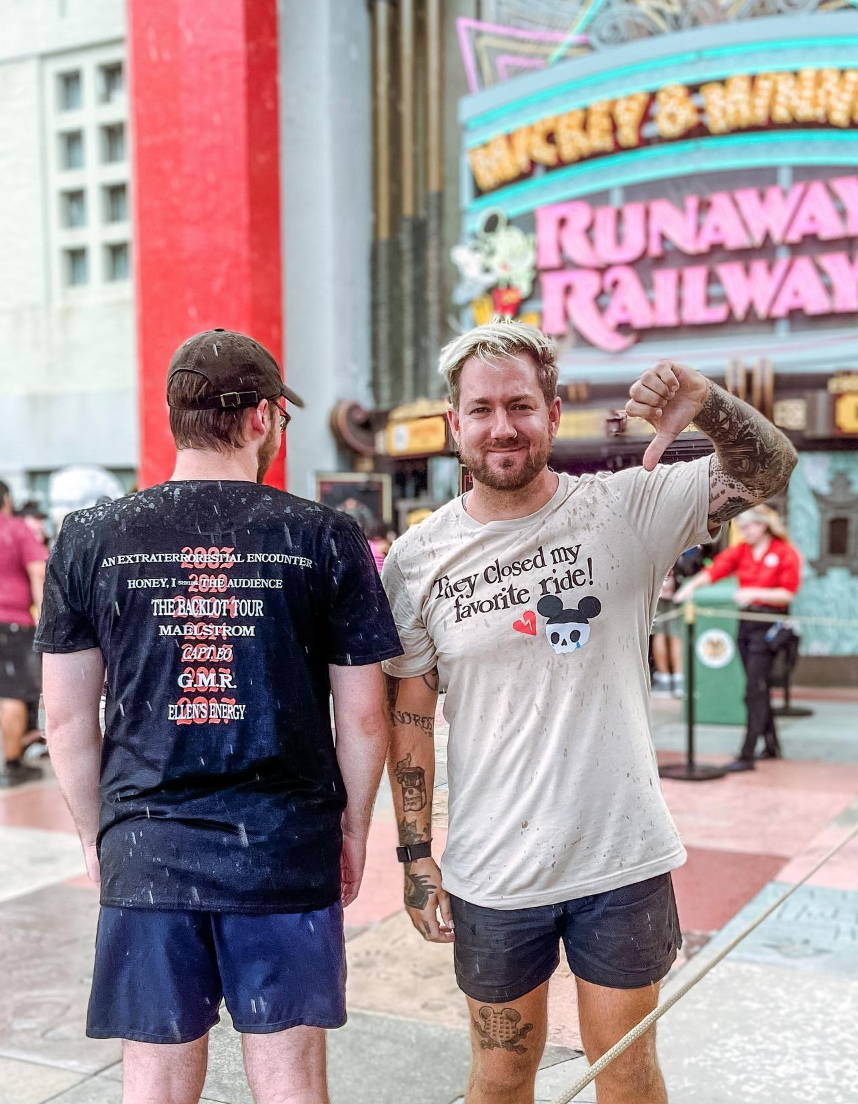 Florida may be the sunshine state, but it rains nearly every day here from about May to October. And while this seems like something easy to plan around on a Walt Disney World vacation, these storms come literally out of nowhere and tend to disappear just as quickly as they popped up. So today on the blog we're giving you all of our tips and tricks for how to handle WDW in the rain. The cold rain, the hot rain, the sunny rain (it happens!), and the torrential hurricane-like rain. Let's go!
*Scar Voice* Be Prepared...
Rainy Day Styles That Won't Go See-Through On Ya
Ponchos and Umbrellas are your friends! If you have a stroller or backpacks in your party, definitely consider finding some of those tiny packable ponchos for your family, or if not ponchos, then umbrellas for everyone. They do have Ponchos and Umbrellas for sale in the Disney Parks and Resorts, but they are at theme park prices and they do sell out sometimes! Best course of action is to just bring it… Because it's better to have it and not need it then get caught in an Ursula-Like storm and have nothing to cover up with.
Shoes are another big one. While we all love to wear cute shoes, if you know it may rain on you, consider bringing shoes you don't mind getting wet (a pair of sneakers that can be thrown in the dryer or left outside to dry, or even an additional pair of chacos/flip flops). Weirdly, these parks FLOOD. Like big time ankle deep water in some parts of the parks! Especially Hollywood Studios and Magic Kingdom, so definitely be aware of that when you're packing shoes.
Packing extra accessorieslike hair ties or clips, a stick of deodorant or perfume are also ways to kind of help get yourself through these storms. If you have long hair, pulling it up is the quickest way to alleviate some of the heat and get any wet hair off of your neck and shoulders. Plus, with a refresh like deodorant and/or perfume, you can genuinely feel like a new person in a matter of minutes post-storm.
Besties, we understand that there is no easy way to plan around pop-up thunderstorms, but here are some tips to remember during your day to help you out.
Similar to our Guide To Surviving The Heat, we also recommend maybe scheduling some of those indoor sit-down dining reservations during those afternoon shower times. Eat that late lunch/early dinner when you know there may be a big rainstorm and avoid having to walk around in it with all 13 of your family members. Honestly- a pro tip in general is to eat at off times like 3-5 pm for dinner.... This is how you avoid the crowds, get to maybe walk-up at a sit down restaurant you weren't thinking you'd be able to get into, or even snag a last minute reservation hours before you get to eat! We've done this during rain and shine at lots of popular spots by getting there when they open in the morning and chatting with cast about what they have available!
Take advantage of some Unique Rain Only Experiences! The Rainy Day Parade in Magic Kingdom only happens when it's raining but not lightning. Our character friends have umbrellas and are driven on trolleys safely throughout the normal MK parade route. This is something that you ironically cannot plan to see, but if you do, rest assured they definitely make the most of this little parade down main street! Another thing we love to do is experience those indoor shows like Frozen Sing-Along, MuppetVision-3D, and Philharmagic.
Watch Us Have a Splash Getting Rained On In Hollywood Studios!
Check the weather frequently- and look at the sky. These storms come out of absolutely nowhere sometimes, so if you're on top of checking that weather then it will be way easier to anticipate a downpour. The Skyliner does go down when there is lightning in the area- so for transportation's sake, be sure to know and plan an alternate way to get to where you're going!
Plan to do your outdoor attractions/queues in the morning and early afternoon. Our Florida Showers tend to happen around 3pm and throughout the night into around 8pm, so getting those outdoor rides out of the way in the morning will lower the chances that your party will miss out on those rides due to inclement weather! Disney will close outdoor rides like Slinky Dog Dash, Seven Dwarfs Mine Train, and Big Thunder Mountain. The only fully outdoor ride I know of that does not go down for weather is Kilimanjaro Safaris- and in this case, you may have the coolest rain safari ever, see the most interesting animal encounters, and also probably get a little misted in the process.
We hope you were able to find some good tips for staying dry in these florida summers! :)
If you liked this blog be sure to use code LOSTBROSBLOG for 10% off your next order!
If you want to see more of what we're up to day to day- be sure to follow us on
Insta @thelostbros + tiktok @thelostbros + Twitter @lostbrostweets