*Breathe In, Breathe Out*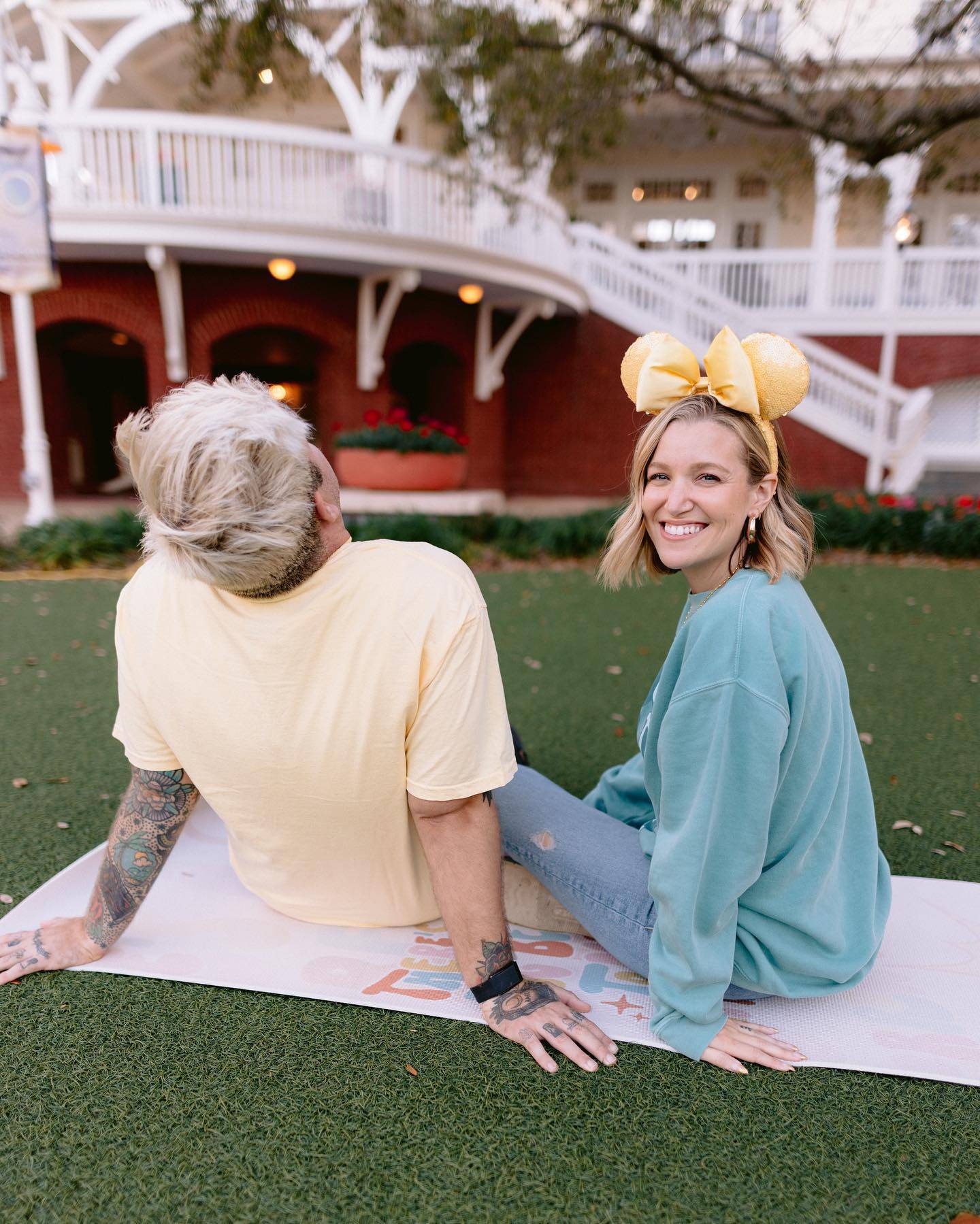 If there's one thing you can count on us speaking out about it is the importance of your mental health first. Even. In. Disney World. I know, I know, that's crazy to think about, but in the hustle and bustle of your busy vacations it's more important than ever to take a step back and pause and give yourself some space or stillness in the middle of a -very- overwhelming atmosphere.
In line with our Mental Health Week Drop, today, I am breaking down all of my favorite quiet places in the parks... Places to be still, to people watch, to take a phone call maybe, or just sit and eat some corn dog nuggets in peace! And maybe, just maybe, for a moment, you'll forget you're in a theme park.
Carousel of Progress - Magic Kingdom
An air-conditioned theater attraction in tomorrowland showcasing one family throughout history as their homes and lives change with the times. (bonus points for time out of the sun + a midday rest)
Tommorowland Transit Authority People Mover - Magic Kingdom
An omni-mover attraction in tomorrowland giving you a tour of the entire land with a relaxing voiceover and incredible views. (bonus points for the breeze + an inside look at space mountain)
Kilamanjaro Safari - Animal Kingdom
A truck ride to see all of the live animals that live on the Harambe Wildlife Reserve at DAK. (bonus points for a unique journey every trip + not a bad seat in the house)
Navi River Journey - Animal Kingdom
A slow moving boat ride in the bioluminescent forest on Pandora. (bonus points for the relaxing music and low lights + perfect for a little rest and recharge)
The Train to Rafiki's Planet Watch
The train ride up to Animation academy, Conservation Station, and the DAK Affection Section (bonus points because you see backstage animal areas + there's literally never a line)
Spaceship Earth - EPCOT
A slow moving omni-mover attraction taking you through communication in history. (bonus points for low wait times, air conditioning, and a soothing narration)
Living With The Land - EPCOT
A slow boat ride throughout atmopsheres and biomes to show us how we grow and harvest plants for our nourishment (bonus points for being inside the green house + the ride smells so good)
One Man's Dream - Hollywood Studios
A 20 minute movie showcasing the highlights of Walt Disney's beginnings with his animation company. (bonus points for, yet again, AC, comfy seats, a fun little walk around exhibit outside, and a movie that will inspire you and get you a little teary eyed)
---
Beautiful Tomorrow Restocks Incoming...
---
I am the first to admit thatI, as a 25 year old girl, still get overstimulated after years of living and working in and around the theme parks! Some days they're just a lot- and if you (or little ones especially) aren't used to the energy, it is SO easy to be overstimulated, worn down, and irritable in the most magical place on earth. So here are the "pause, lets take a break" spots where you can go and eat some food, cool off, let your baby have a stroller nap, etc. etc. Use your imagination and take a break in these favorite places.
Storybook Circus - Magic Kingdom
Back past the craziness of Dumbo is quiet seating + a Railroad stop. Great for all of the above. Stroller naps, phone calls, a quick 5 min meditation, etc.
Hub Grass - Magic Kingdom
Our favorite stop for a morning coffee or an afternoon snack pick me up. (be careful though- cause this does close for VIP guests during fireworks times)
The Back of Morocco - EPCOT
This pavillion is quiet and beautiful. A million things to explore and little spots to sit in the shade.
Quick Service Seating in Japan -EPCOT
Up in the trees is shady seating for sushi, drink sipping, and people watching. Quiet and comfortable. Right by a beautiful water fountain.
Launch bay/ animation courtyard - Hollywood Studios
This area is almost never crowded. Star wars memorabilia in an air conditioned buidling. Low-key meet and greets, clean spaces, and no claustrophobia.
Municiburg - Hollywood Studios
Sometimes closed for a backstage area, the section themed to The Incredible family right outside of Toy Story Land is usually quiet and full of hidden easter eggs from the movies. Great photo ops, benches for resting, and i've never been near a stranger there.
Asia - DAK
There are hidden coves around Asia in DAK (mostly seating by the lake) that are always quiet and calm. You can still hear the monkeys- but other than that- pretty quiet. Plus, there's a Joffrey's cart in Asia that rarelyhas a line. Save yourself and go there instead of starbucks.
Rafiki's Planet Watch - DAK
Similar to the train ride there - Rafiki's is a relaxing look through animal care and up close experiences with the domesticated wildlife on property. Take a drawing class, watch the vets take care of animals, and walk the trail back and forth.
---
Create The World Of Tomorrow w/ These
---
The Slower Side Of Resorts
Even in the most crazy resorts on property, you can still find some spots to rest in. But these resort spots come without the cartoons, the noise, and the hustle we are so used to seeing at the resort bus loop at 7:30 in the morning, you know? These spots are for your morning coffee, your meditation, a quiet moment away from your snoring family member, you get the jist...
Coronado Springs
A mega expansive moderate resort with a million paths to walk and day dream on. A full lake to walk along. Lawn games, lots of outdoor seating, lots of grassy areas for meditation, laying out, yoga, etc.
Port Orleans: French Quarter + Riverside
Another Expansive Moderate resort with all of the walking and exploring space you could want. Quiet, beautiful, and there's always a space where you can find absolutely no body.
Riviera
The Newest DVC resort is bustling, but we still love it for a nice relaxing walk, swim, jog, or skyliner trip if that calms your nerves. The fountains and the mosaics are serene and welcoming. The lake brings you back to center. Really a beautiful resort.
Animal Kingdom Lodge
The best resort to be one with nature and wildlife. (Book a Savannah view room and you will not be disappointed) Outside there's animal watching, walking areas, and nightly activities like nighttime viewings of the savannah.
Yacht + Beach Club
Nestled in cresent lake means there's ample space to walk around on. Beach club has many coves to walk through, sit on benches, or go out back and sit on the beach on a swing or a lounger. Watch the fireworks, watch a movie on the beach with the rec team, or just look out at the boardwalk skyline.
Grand Floridian
The last hustling hotel, but still somehow the most relaxing. Close to Magic and easy to walk to nearly everything, but still doesn't feel like it. Pools to relax at, lots of outdoor activities, seating, and easy to find spaces where you wont see too many other people besides yourself. 
---
Shop Our Emotion-Inspired Goodies
---
Check Out Our Reels About Your Mental Health At Disney
That ties up our favorite break spots around the Walt Disney World Resort. We hope you find some comfort and peace on your next Disney Day, whether it be with one of our tips or some tips of your own.
Don't forget to use code LOSTBROSBLOG for 10% off your next purchase on our site!
And you can shop our full mental health week 2023 collection right here.