THE PERFECT MK DAY DOESN'T EXI... WAIT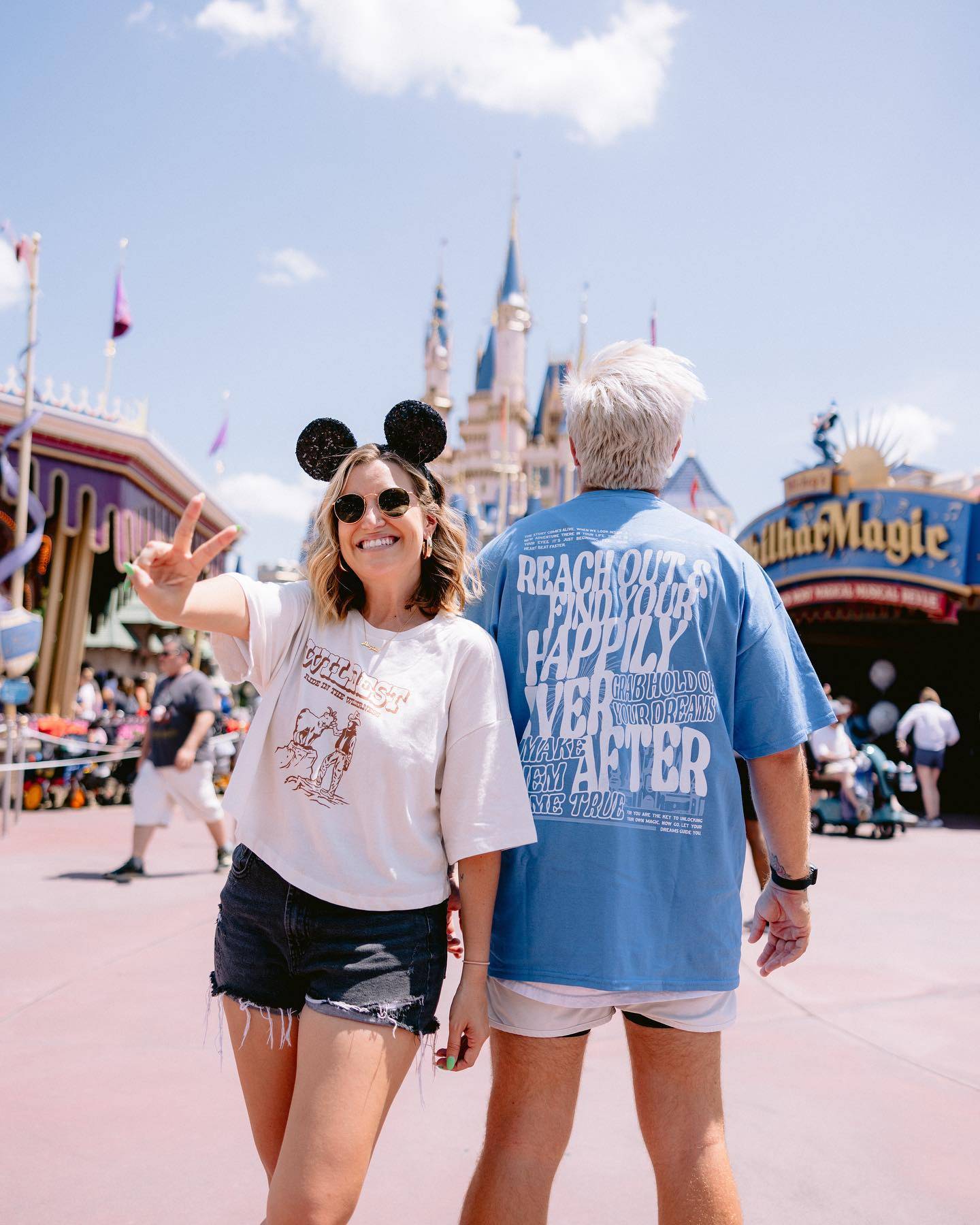 Updated May 1st, 2023
We are definitely known for a hub grass and chill kind of vibe aorund our office, but that doesn't mean we don't know how to jam pack plan the perfect FULL MK day. Disney trips? Exhausting. Full Park days? OOF! But We've got you. Here is how to plan the BEST Magic Kingdom Day for your crew.
Best Day Ever... with these fits!!
Park Reservations
As of right now park reservations are stiiiill a thing. When you buy tickets for your party, keep in mind that everyone must have a park pass reservation that can be selected through the Walt Disney World Website or your My Disney Experience App. We cannot stress enough how annoying it is to get ot the park and see that you don't have a reservation. Plus, they will NOT let you in without a reservation, and its hard to get them the mnute you're trying to enter the park (it's happened, but it's not easy to do). If you have park hopper tickets, you will be able to hop to another park at 2pm local time without an additional reservation to the 2nd, 3rd, or 4th park you choose to enter. Hope that makes sense!
Dining Reservations
For any Disney Restaurant you can make a reservation starting 60 days in advance at 5am est. We definitely recommend doing this for those biiiig name restaurants like Cinderella's Royal Table and even Be Our Guest. For less popular table service picks like Liberty Tree Tavern and Tony's Town Square, you can honeslty find those reservations nearly day of depending on the time of year you go. Other than that, MK doesn't have a ton of our favorite food options and we honestly just do quick service and snackies here.
Genie+ and Individual Lightning Lane (ILL) Selections
If your party is like a "I want to do literally as much as possible in this day and I don't care what it costs me" kind of people then definitely definitely purchase Genie+. Genie+ is the updated fastpass system that does cost anywhere from $15 to $32 per person per day- varying based on the traffic and time of year. ILL's are an a la carte add on (starting aroun $16 per person) on top of your G+ purchase that gets your front of the line access to the most popular rides in every park. In the case of MK- that's Seven Dwarves Mine Train and Tron: Lightcycle/Run. Decide as a party if you want to use them- bc honestly in these busy seasons they're worth it, but you have to use it right!!
Weather
Dress for the weather. Dress for comfort. You heard it from us. We love a cute park fit (helloooo our entire shop is dedicated to it), but dudes- wear something you can walk around in. This means Sneakers. Good Socks. A sweater if its cold. A tee/tank (and sunscreen) if it's hot. And it gets brually hot. be prepared to sweat a ton in the summer and absolutely freeze for about 10 days in february.
You can check out our Ultimate Guide To Packing For Your WDW Vacation right here. This is a life saver when it comes to packing for your trip!!!
The Morning Of Your MK Day...

Set that alarm besties. If you want to ride Tron you are going to need a boarding group! The most controversial virtual queue system that we all love to hate tbh. The queue opens at 7am- not a minute earlier. So be up at like 6:55 and on your phone. Be sure to have confirmed your entire party has park passes and is willing and able to ride... We have alllll been there where someone in our party isn't on our friends and family list and/or doesn't have a pass and have to scramble to make them one at 6:59. The Virtual Queue waits for NO ONE. So right at 7 on the dot you better hit join queue ASAP. Once you're through and have your queue screenshot that baby and keep it safe. This way you know your boarding group.
This is also when you can make your Genie Plus/ Individual Lightning Lane (what an effing mouth full) Selections for the day. So use the recommendations everyone has told you and book what you can as early as you can... bc every time you scan in for 1 you can book another! so the earlier and the faster the better! (If you buy ILL and get a tron queue you do get to ride it twice soooo that's pretty cool)
We don't like highkey love any food at MK besides Sleepy Hollow and Casey's Corner. So We have compiled a list of all of the quick service options that we feel like are satisfactory at MK. Those are listed here.
We recently tried a whole bunch of new breakfast in Magic Kingdom and it was all really good, so if you want that info it's right here.
As far as sit downs, if you want to take time out of your day to eat at a sit down we do not blame you! It can be hot and exhausting in these parks and a nice break in the AC is sooo nice. We have a list of our favorite table service picks in WDW right here! But in MK we defffffinitely say Liberty Tree Tavern and Be Our Guest stand out fo us!
This is tricky based on your group!!! So make sure everyone has looked into what they want to do all day! Height requirements pending, make sure everyone has a list of their must-do's, and their would-be-nice's, and their absolutely-not's. For us, we love a good coaster. For some people they're afraid of heights or drops! You've gotta know your people.
We ranked the top Shows, Dark Rides, and Coasters in WDW so this will give you a good idea of what we love/hate about these different aspects of the parks, but do your own research and come together to chat about what you want the day to be.
The Castle Stage has a welcome show at park open every morning! This is a short welcome to the park for the day with a few of your favorite characters!
The Castle Stage Show Mickey's Magical Friendship Faire happens daily (barring any weather delays or cancellations) at 10am, 11:10 am, 12:50pm, 1:55 pm, and 4pm! People do line up for this so grab a snack and camp out at least about 20 minutes before the show starts for a good spot.
The Festival of Fantasy Parade happens from Frontierland, through Liberty Square, and ending at the end of Main Street USA at 12pm and 3pm every day(again barring weather delays and cancellations!). This parade is beloved and full of energy and we definitely recommend it.
"Okay I know what I want to do? How do I do this?"
So once you've gotten everyone's lists and made some sort of idea of what you'd like to do, now's the time to assemble. Get your genie+ reservations made and decide what time to get to the park (buses are reliable, but leave earlier than you think you need to. Like an hour+ before you actually want to be stepping in the park.
Try to have some sort of plan as far as where to start and end so you aren't bouncing back and forth across the massive park- It gets exhausting!
This may seem wild, but here is what a normal Itenerary may look like for a jam packed MK day.
6:30 - Awake
6:55 - double check boarding group for Tron
6:59 - refresh refresh refresh that app
7:00 - grab your boarding group!
7:30 - Breakfast in room / Resort
8:00 - get in line for buses
9:00 - Park Open (possibly an 8:30 park open if you have early park hours with your resort stay!)
9:00 - Welcome Show
9:15 - Start in whatever land you want, but hop in line for the highest wait time first and get it out of the way (Mine Train, Space Mtn, Jungle Cruise Etc.)
We suggest allowing yourself at LEAST an hour per ride wait in your schedule, some rides more and some less. Pirates? Less. Space Mountain? More. and keep checking that app for those wait times and down times. This is how the rest of MY day personally will go...
9:30 - Mine Train
11:00 - Winnie The Pooh
12:00 pm - Snack Break / Lunch
12:45 - The Little Mermaid
1:30 - Small World
2:00 - Haunted Mansion
2:45 - Line up for parade in frontierland
3:00 - Parade
3:30 - Tron Boarding Group
4:30/5 - Space Mountain
6:15 Peoplemover
7:00 - Monsters Inc. Laugh Floor/ Carousel of Progress (you pick!)
7:30 - Buzz Lightyear OR Snack time :-)
8:00 -Barnstormer/Dumbo/ Tea Cups (you pick!)
8:45 - Find a Spot for Happily Ever After (Good Luck lol)
9:00/ 9:15 - Happily Ever After
9:45 - fight the crowds over to adventureland
10:00 - Jungle Cruise / Pirates of the Caribbean / Big Thunder Mountain Railroad
10:45 - Depending on waits mayyy be able to hop in line for one of the above. Or speed walk it across MK for a spin on something else again. As long as you get in line before the park closes (on this day aka 10:59) you get to ride!
11:30 - Shopping, bussing, monorailing, etc. back to your resort :)
A note about the above schedule! Obviously wait times, down times, preferences, and park hours will subject ALL of this to major changes. This is what I did the last time I was in MK and I didn't have Genie+ buuut the parks were not all that busy and I did like SO much.
Any of these ride times can be swapped for a genie+ experience, any shorters wait times meanmore time for extra things !! Mickey's Philharmagic, Hall of Presidents, Country Bears, Tiki Room etc. Some of these are must do's for people so swap them out for other rides if you'd like! This is alllll just a skeleton for what I did. Obviously there are things that pop up like Characters roaming, planned meet and greets, cavalcades, etc. and you can always stop and do that.
The point is to have a good fun day and not stress!! If you want to slow down, slow down, if you want to do more do more. There's no WRONG way to do Disney World unless you just literally pay for genie+ and do nothing with it. That's just wrong.
There you go folks! There's how to have the best magic kingdom day!!
We hope these tips and tricks helped you out and gave you some perspective! There will never be enough time to do EVERYTHING in MK in one day, so we definitely recommend this one as a 2 day park!!
As always, If you liked this blog be sure to use code LOSTBROSBLOG for 10% off your next order!
If you want to see more of what we're up to day to day- be sure to follow us on
Insta @thelostbros + tiktok @thelostbros + Twitter @lostbrostweets